These Cabbage Recipes are filled with so much flavor! From fresh, crunchy slaws and salads, to warming cabbage soups and tender baked cabbage and everything in between – prepare to be inspired! Many Vegetarian and Vegan options!
The humble cabbage has so much to offer -including amazing health benefits, versatility in the kitchen, a long shelf life, affordability, and accessibility- one of winter's best treasures.
Cabbage Slaw And Salads
Crunchy clean satisfying coleslaws and salads made with fresh cabbage. The perfect side dish to any meal, or a delicious addition to sandwiches, wraps, and tacos.
Cabbage Soups And Stews
Versatile cabbage cooks up tender and succulent, melting into soups and stews, soaking up the flavor and imparting perfect texture. These cozy warming cabbage soups are perfect for the cooler months. We love this Vegan Cabbage Soup!
Cabbage Side Dishes
Showcasing cabbage in its pure form- cooked to mouthwatering perfection, this slow-braised cabbage pairs well with so many things!
Cabbage Dinner Ideas
Dinner with cabbage front and center. These recipes do not disappoint with their satisfying flavor. Many vegetarian cabbage dinner options that are quick and easy! One of our favorites is the Stuffed Turkish Cabbage Rolls – which are vegan-adaptable!
Fermented Cabbage
Deliciously tangy and full of crunchy texture, fermented cabbage is abundant with healthful properties and so easy to make! Here is a collection of easy fermented cabbage recipes from simple sauerkraut to kimchi!
7 Amazing Health Benefits of Cabbage!
Cabbage is good for the heart -raising levels of beta-carotene, lutein, and other heart-protective antioxidants. It can help lower "oxidized" LDL, which is linked to the hardening of the arteries.
Cabbage reduces inflammation.
Cabbage improves brain function and properly activates the nervous system because it is rich in iodine.
Cabbage supports digestive health– a great source of insoluble fiber ( keeps things moving!) it also feeds our healthy gut bacteria and helps to heal our gut lining, preventing leaky gut.
Cabbage supports liver health -containing glutathione and sulforaphane, which improve the detoxifying function of the liver.
Cabbage is nutrient dense– high in vitamin K and vitamin C, manganese, folate, and potassium, cabbage is also rich in phytonutrients.
Cabbage helps regulate insulin and may help prevent type 2 diabetes.
Cabbage Faqs
What is the best way to store cabbage?
Place the entire unwashed uncut head of cabbage in plastic and store in the vegetable drawer in the fridge. It will keep this way for up to two months. Once the cabbage is cut or shredded use it within 3 days.
Can you freeze cabbage?
Cabbage freezes well blanched and unblanched (up to 2 months) and is best used in cooked recipes.
Which cabbage is the healthiest?
Cabbage that is grown closest to you, free of herbicides and pesticides, and usually found at your local farmers market is the healthiest! Or purchase organic cabbage from your grocer. Dark purple cabbage contains more polyphenols and cancer-fighting flavonoids than green cabbage but green cabbage still offers up amazing health benefits.
What can I do with lots of cabbage?
Ferment it! Fermented Cabbage lasts indefinitely in the proper environment. Make Kimchi or Sauerkruat both full of healthy probiotics.
Why do you soak cabbage in water?
Soaking cabbage in cold water is a simple way to crisp it up and reduce its pungent bite.
What is the healthiest way to eat cabbage?
Cabbage is healthy in any form- raw, cooked, grilled roasted, steamed and sauteed, but we love the probiotics in fermented cabbage like kimchi and sauerkraut and feel this is the healthiest way to eat cabbage.
Is raw cabbage good for the gut?
Raw cabbage is considered to be an excellent prebiotic- providing fuel and food for the good bacteria already in our large intestines, keeping them well-fed and strong so they can help stave off bad bacteria.
Print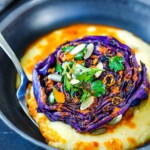 26+ Amazing Cabbage Recipes!
Author:

Sylvia | Feasting at Home

Prep Time:

15

Cook Time:

20

Total Time:

35 minutes

Yield:

4

1

x

Category:

dinner, main

Method:

baked

Cuisine:

American

Diet:

Vegan
---
Description
Our Best Cabbage Recipes! The health benefits of cabbage are impressive, and these delicious cabbage recipes make cooking and eating cabbage such a pleasure! Healthy easy recipes the whole family will love: Cabbage Steaks
---
2

small cabbages (small are better than large, see notes)

4 tablespoons

olive oil
salt and pepper to taste

2 teaspoons

smoked paprika

1 teaspoon

granulated garlic

1/2 teaspoon

Aleppo Chili flakes (or use regular chili flakes)
lemon zest from one lemon
optional: 1/4 cup parmesan
Italian parsley
Sauce: Pickled Pepper Vinaigrette or Gremolata (pick one)
Serve over mashed potatoes, creamy polenta(in photos) , or creamy risotto.
---
Instructions
Preheat oven to 400F
Cut the stem end off the cabbage, about one inch from the bottom. Continuing in that direction, cut 1-inch slices. You should have 3 per cabbage. Save the ends and tops for another use- slaws, salads or stock.
Place cabbage on a parchment-lined sheet pan (prettier side down). Brush liberally with olive oil, sprinkle generously with salt, pepper, smoked paprika, garlic, and chili flakes. Carefully turn them over and repeat- olive oil, salt pepper, smoked paprika, garlic and chili flakes. Sprinkle with the lemon zest. Save the leftover oil for touch-up.
Roast for 20 minutes on the middle rack (if adding parmesan, add it at minute 15) check, and continue baking if needed, until the middle is fork tender.
While the cabbage steaks are roasting, make the sauce and side ( here, we've used creamy polenta).
Assemble: Place the creamy polenta in a wide shallow bowl, carefully top with a cabbage steak; if it looks dry, brush with a little more olive oil, top with fresh parsley and spoon the sauce over and around the cabbage steaks. Serve with a knife and fork.
---
Nutrition
Serving Size:

1 cabbage steak

Calories:

147

Sugar:

7.5 g

Sodium:

450.9 mg

Fat:

9.8 g

Saturated Fat:

1.4 g

Carbohydrates:

15.6 g

Fiber:

4.8 g

Protein:

3.2 g

Cholesterol:

0 mg
Keywords: 25 cabbage recipes, cabbage recipes, best cabbage recipes, healthy cabbage recipe, vegetarian cabbage recipes, cabbage recipes dinner