How to make Salvadoran Pupusas!  Pupusas are griddled Salvadoran cakes made with masa flour (or rice flour) filled with beans and cheese (optional).  Serve Pupusas with Curtido and Salsa Roja.  A simple, easy vegetarian version of Pupusas, that is Vegan adaptable! Video.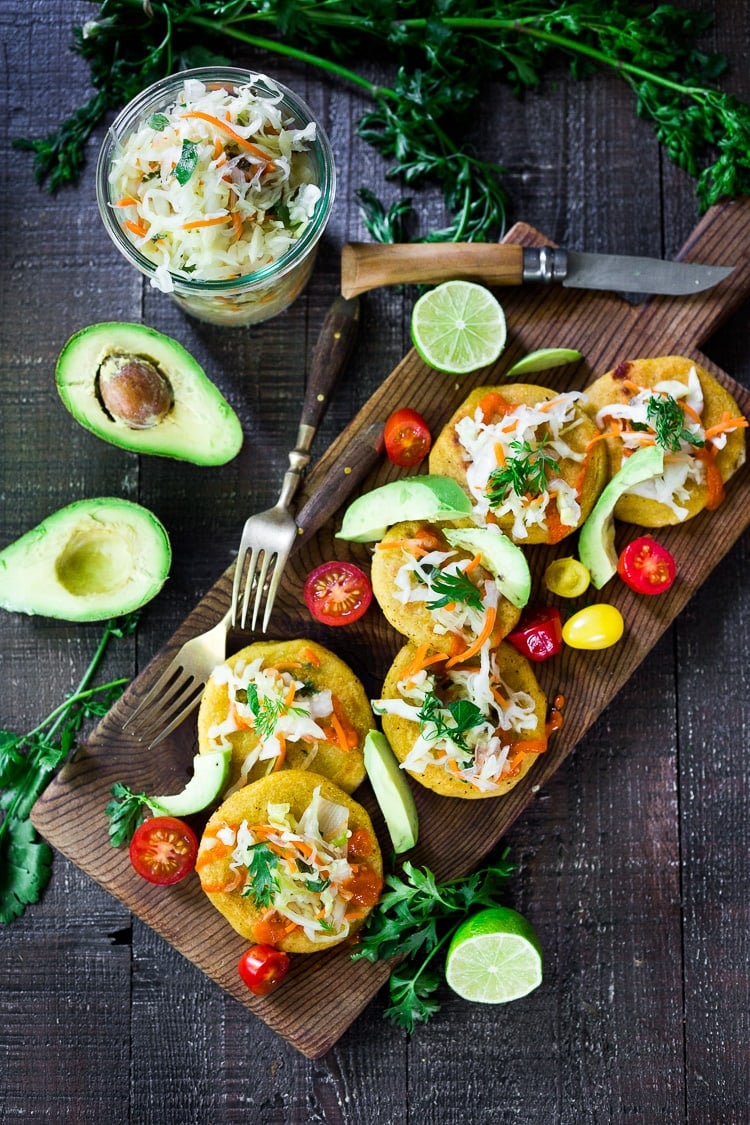 Your healing lifts up the ocean of existence. When you heal, we all heal. ~ Yung Pueblo ~
A Salvadoran-inspired meal, Pupusas are griddled masa cakes that can be stuffed with a variety of fillings. Serve them up as a tasty appetizer or a delicious meal with Curtido (a lightly fermented Salvadoran slaw) and Salvadoran Salsa, called Salsa Roja.
Here we've simplified them and kept them vegetarian -with refried black beans, cheese, caramelized shallots, cilantro, and scallions, but these could easily be made vegan or feel free to add cooked meat if you like.
You'll love how flexible and adaptable they are, and I know you will come up with your own filling variations!  Plus, they are just fun to make!
This take on Pupusas is nicely balanced with refreshing, lightly fermented slaw, called Curtido and optional Salvadoran Salsa Roja.
Salvadoran Pupusas| Video
Ingredients in Pupusas
masa harina corn flour (be sure you are using cornflour- not cornmeal! Some versions use rice flour)
warm water
Optional Fillings:
Cheese- Oaxacan Cheese, mozzarella or jack
refried beans , pinto beans, red beans, black beans
 shallot or onion
 chopped cilantro
 scallions, finely sliced
How to make Pupusas: step by step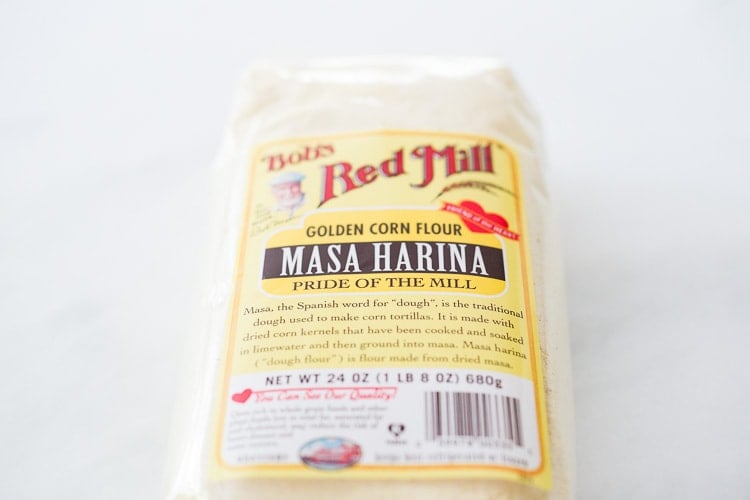 Step one:
It starts with masa harina or cornflour. FYI, Polenta (or cornmeal)  is not the same as corn flour- it is not as fine- so be sure you are using corn flour, not cornmeal.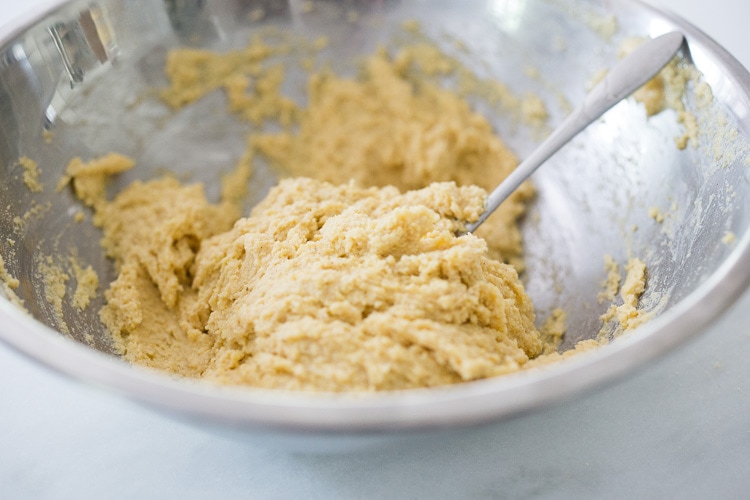 Step two:
Make a simple dough mixing warm water, oil, salt and masa harina corn flour.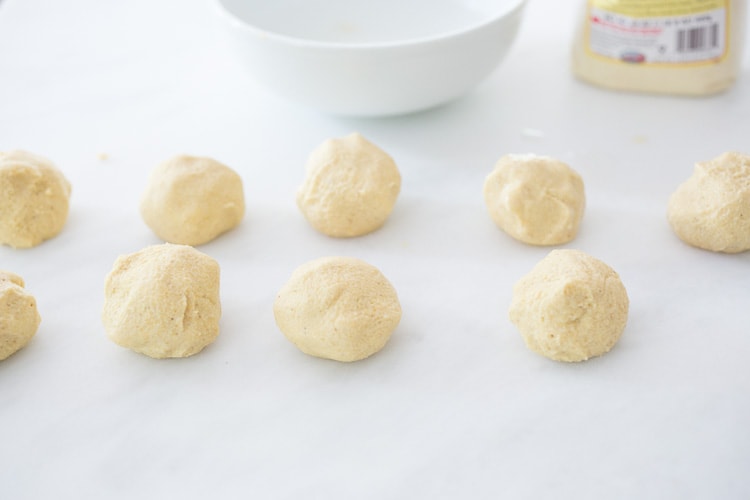 Step three:
Form into equal-sized balls.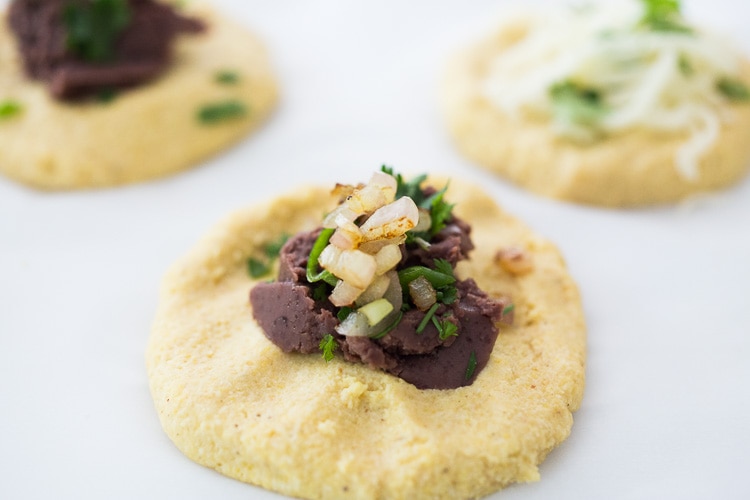 Step four:
Flatten into disks and add fillings. Above I've tried a vegan, refried black bean version with shallots, scallions, and cilantro. And here below I've filled with cheese. You can also use vegan cheese. My favorite is a combination of all- refried black beans, cheese, shallots, cilantro, and scallions….so tasty!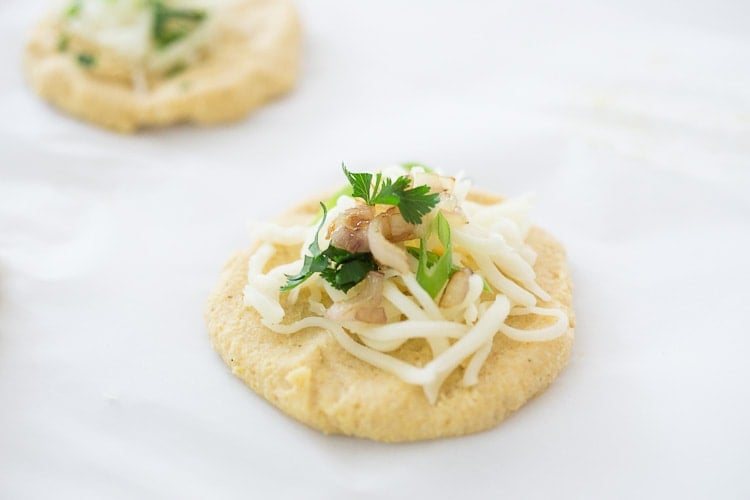 Step five:
Pull the edges up around the filling to form a ball. It's easiest to just do this in the palm of your hand ( but I was photographing).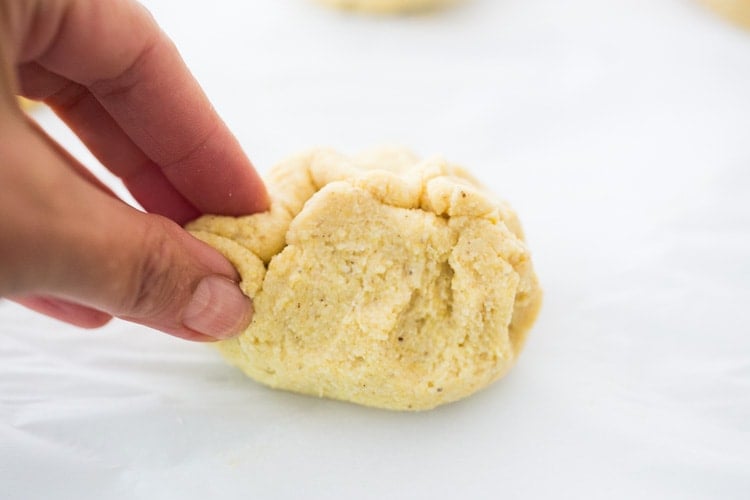 Basically, you are encasing the filling. With greased hand form a smooth ball (with the filling is inside).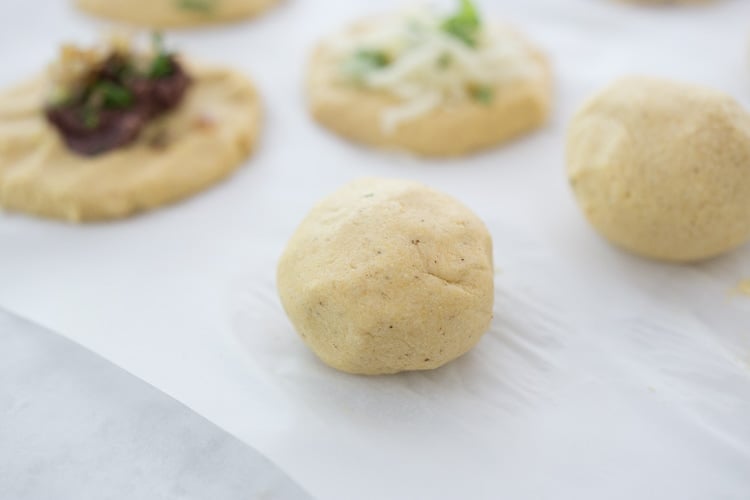 Step six:
Flatten the filled balls, to create a 4-5 inch wide cake, about ½ in thick. Feel free to go thinner if so inclined- a little more traditional!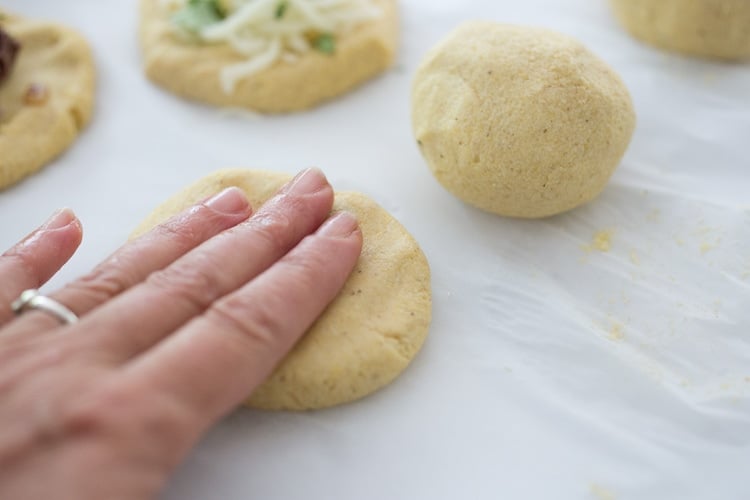 Pupusa tip: 
You'll know the pupusas have the right moisture content if the edges don't crack. See recipe notes for an easy "test".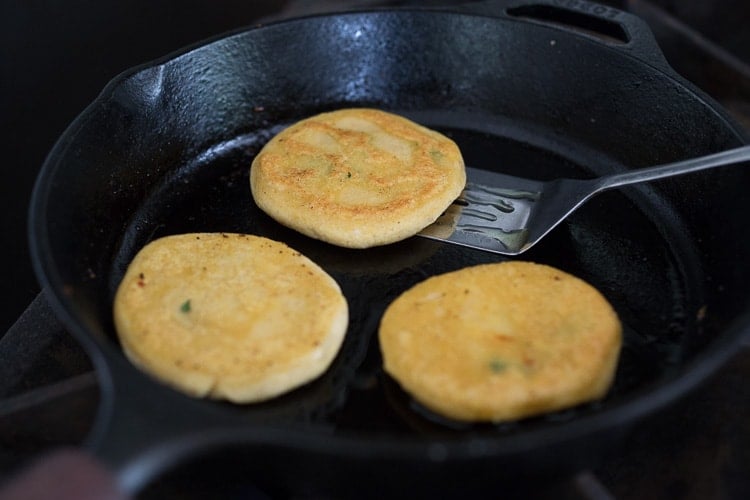 Step six:
Pan-sear the pupusas on each side for 5-7 minutes, or until golden and crispy and insides are warm and melty.  Keep in a warm oven until ready to serve.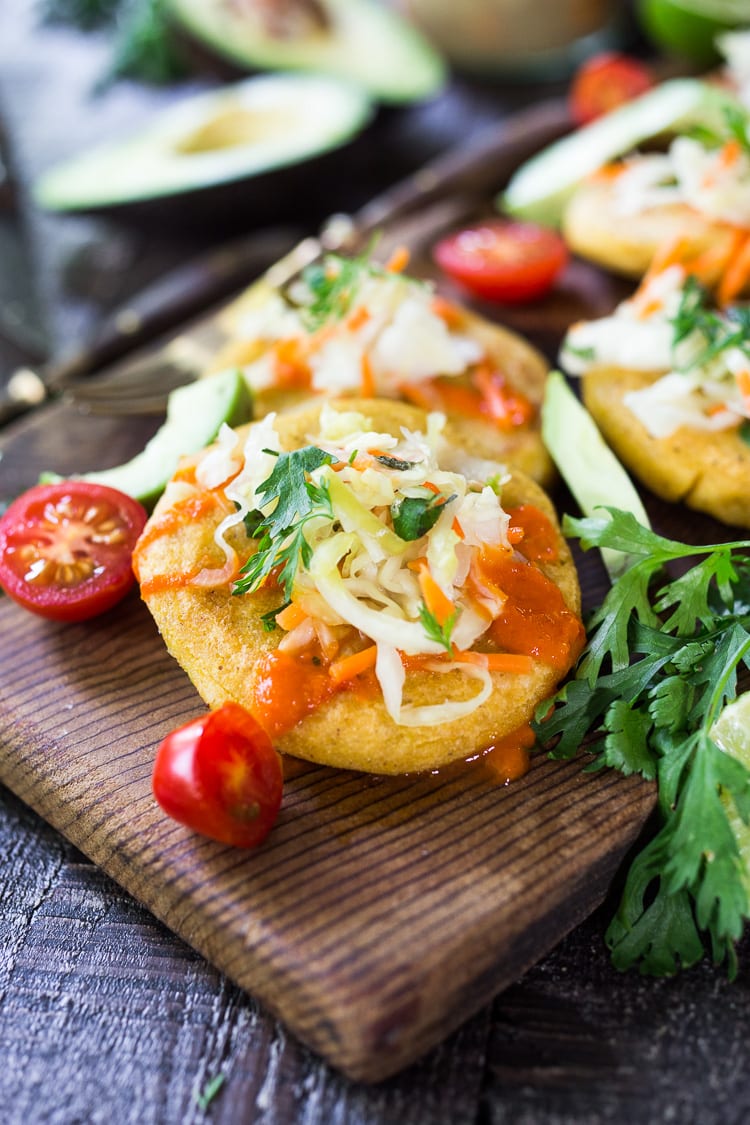 What to serve with Salvadoran Pupusas
Salsa Rojo (see recipe below)
avocado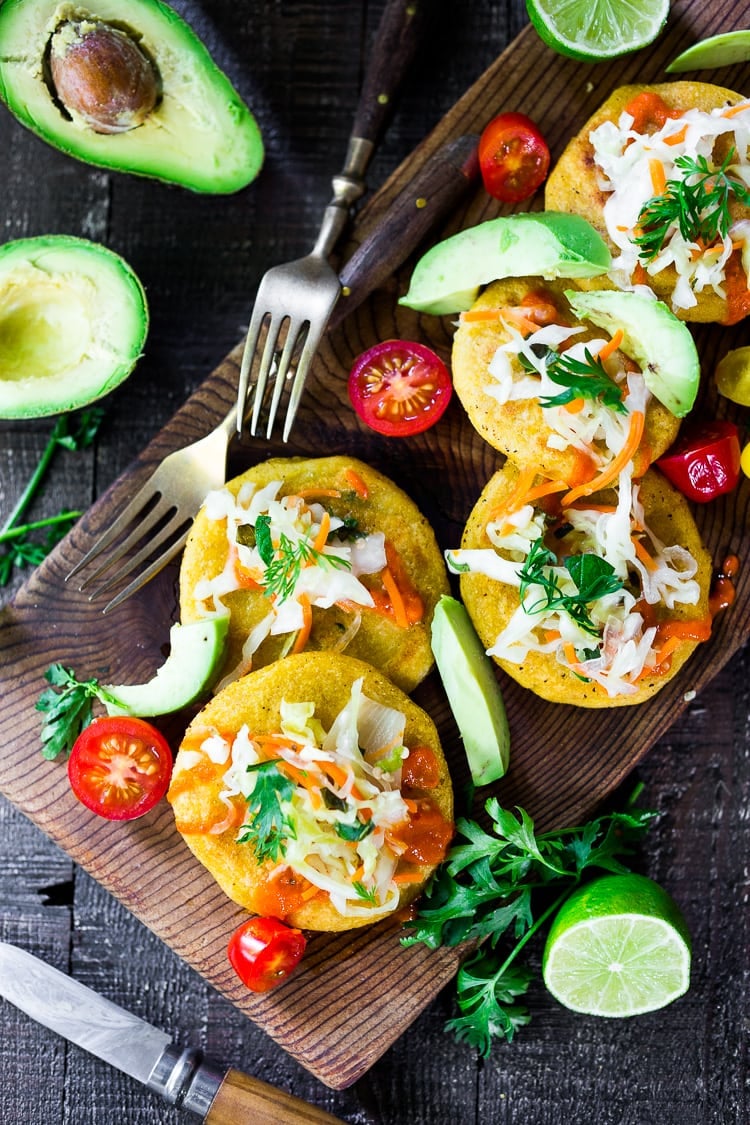 I really love the flavor of these Pupusas and I hope you enjoy making them as much as we do!
Let us know what you think in the comments below!
xoxo
Print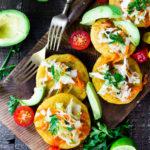 Salvadoran Pupusas!
Prep Time:

30

Cook Time:

15 mins

Total Time:

45 minutes

Yield:

8

cakes

1

x

Category:

appetizer, main

Method:

Stove top

Cuisine:

South American

Diet:

Vegetarian
---
Description
Pupusa Recipe – a simple step by step guide to making griddled Salvadoran Corn cakes filled with refried beans and cheese with cilantro and scallions. Easy and delicious! Vegan adaptable!
---
Fillings: (see notes)
1/2

–

1

cup

shredded cheese- Oaxacan Cheese, mozzarella or jack

1/2

–

1

cup

refried beans (homemade or out of a can) Refried black beans are great here

1

shallot, diced & sautéed

1

–

2

tablespoons chopped cilantro

1

–

2

scallions, finely sliced
Serve with  Curtido, Salsa Roja (or hot sauce) sour cream or avocado, cilantro, lime.
Salsa Roja Ingredients:
---
Instructions
Mix the masa harina flour with salt in a medium bowl. Add the warm water and oil and kneed until it becomes a pliable dough. (see notes)
Fill a bowl with warm water ( for hand dipping) with a tiny splash of olive oil.
Prepare your fillings, gathering them around. If using the shallot, finely chop and saute until deeply golden and tender.
Dip your hands in the oiled water, divide the dough in half. Then form 4 equal-sized balls (with each half), a total of eight similar-sized balls, dipping your hands in the water as needed to prevent sticking.
Flatten a ball into a 4 inch round in the palm of your greased hand, creating a cup. (TIP: If the edges crack or crumble, the dough needs a little more water.)
Place a little of the filling inside (1 tablespoon beans, 1 tablespoon cheese, 1 teaspoon shallots, cilantro and scallions) and fold the edges up and around up to enclose. Roll into a neat, sealed round ball.
Flatten one more time using your two palms  ( to about ½ inch thick) and place on a parchment-lined sheet pan. Repeat with all the pupusas.
Heat 1-2 tablespoons oil in a cast iron skillet over medium heat. Cook each side until crispy and golden, about 5-7 minutes, each side. Keep warm in an oven until serving.
Serve with Curtido, Salsa Roja or  hot sauce, sour cream or avocado, cilantro and lime.
To make Salsa Roja: 
Place all ingredients (except the oil) in a blender and puree.  Heat oil in a medium pot.  Carefully pour in the tomato mixture- it will spatter so hold a lid over the pot at an angle, like a shield with the other hand. Bring to a simmer, and simmer gently for 20 minutes, until thickened and darkened. Cool and serve.
---
Notes
To test the dough for the right water content, form a ball the size of a golf ball. Flatten, if edges split or crack, you may want to add little more water. Alternatively, if the dough feels sticky add little more corn flour.
You can keep these totally vegan by leaving out the cheese (or using alternative meltable vegan cheese).
I like the combination of using both refried black beans and cheese, along with the shallots, cilantro and scallions. Up to you. You can keep them kid-friendly by just using cheese.
Make a double batch, saving leftovers to be reheated for another meal.
To make the Salsa Roja.
Nutrition
Serving Size:

2 cakes

Calories:

286

Sugar:

3.6 g

Sodium:

1016 mg

Fat:

5.6 g

Saturated Fat:

1.9 g

Carbohydrates:

51.7 g

Fiber:

5.8 g

Protein:

9.2 g

Cholesterol:

7.9 mg
Keywords: pupusas, pupusa recipe, how to make pupusas, what is a pupusa, masa cakes, Salvadorian masa cakes,