Korean-Style, Kimchi Fried Rice, a 20 minute vegetarian dinner, packed full of flavor & veggies, topped with an Egg (or Crispy Tofu). Swap out Cauliflower Rice for a Low Carb option! Healthy, vegan-adaptable and delicious! And of course, you can make your own homemade kimchi – super easy!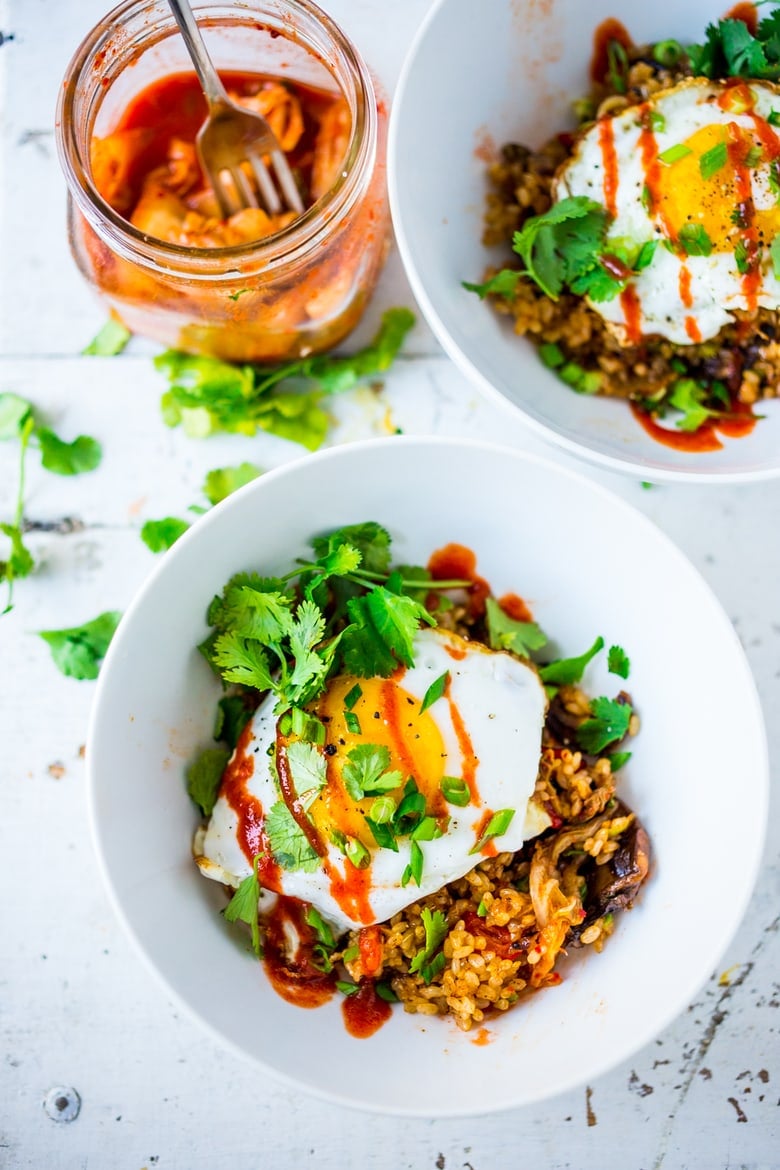 Whatever arises, love that.
~Matt Kahn~
I 'd like you to meet my new best friend – Kimchi Fried Rice! Breakfast, lunch, dinner, or for a late-night snack – this flavor bomb hailing from Korea is sure to satisfy and can be made in under 20 minutes! A delicious healthy weeknight dinner in no time flat!
To boost nutrients, use brown rice ( or cauliflower rice) and add your favorite veggies to the mix. I've purposely made a point of tossing in fresh seasonal veggies or the last of the stray veggies in the fridge.
Today it was mushrooms and bell peppers, the night before it was shredded Brussels sprouts and carrots. The eggs came from my friend's very happy hens. If going vegan, swap out the egg for crispy tofu.
The best thing about this Kimchi fried rice, besides how delicious it is and how fast it comes together, is how good kimchi is for us! Fermented foods, including delicious kimchi, increases the good bacteria in our gut, and many believe that the secret to overall good health starts in the gut.
I'm inclined to believe this, but don't take my word on it – do your own research and see what you find.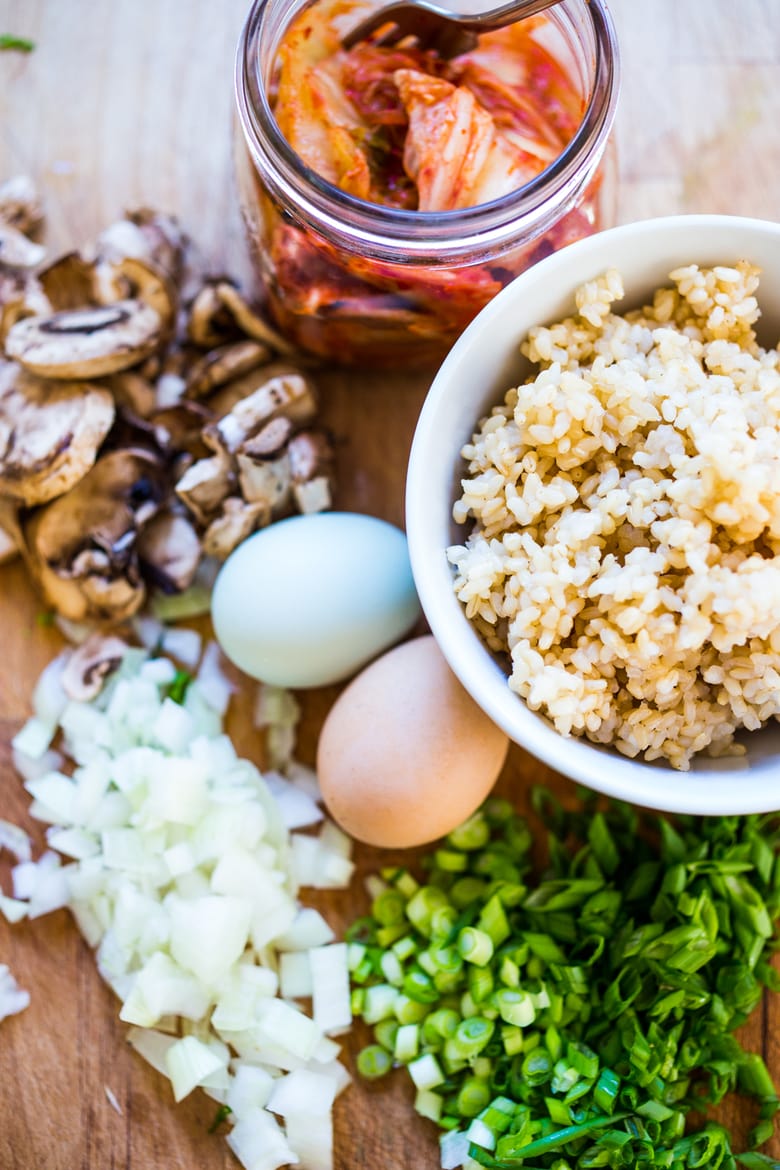 Kimchi is surprisingly easy to make at home. Once the initial 15 minutes of prep is done, let nature take its course. For a fun and simple project, give it a try sometime! Here is a simple step by step Kimchi Guide.
If wanting to purchase Kimchi, you'll usually find it in the refrigerated section of your grocery store, or at Asian markets.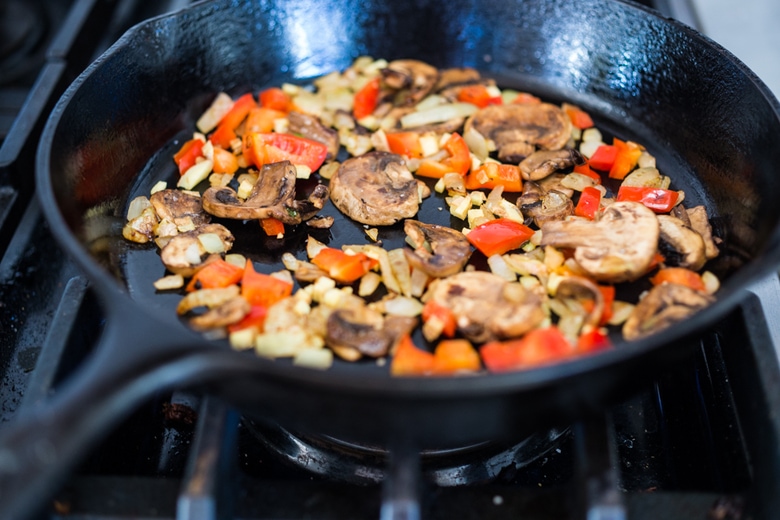 In a large skillet add onion, ginger and any veggies you like. Zucchini, carrots, bell pepper, mushrooms, peas… up to you!
Leftover chilled rice always makes the best fried rice-because it is drier! It also makes this recipe come together so quickly. Here I'm using brown rice from last night's curry dish.
Make sure to chop the kimchi up into smaller pieces first, so its flavor disperses more easily.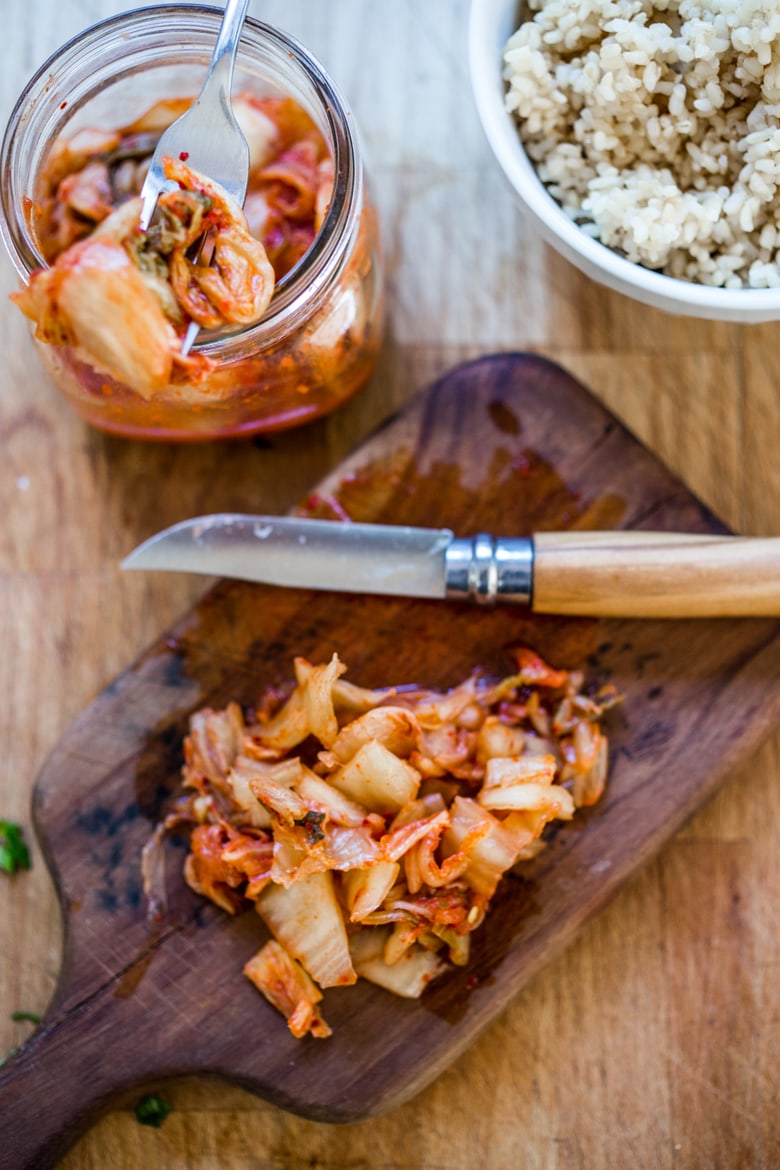 If you've never attempted homemade kimchi– now is your chance. It really is so EASY!
Saute the veggies with the kimchi which will actually flavor the rice, and you may not need any additional seasonings. but if wanting a bit more depth, a little splash of soy sauce is optional.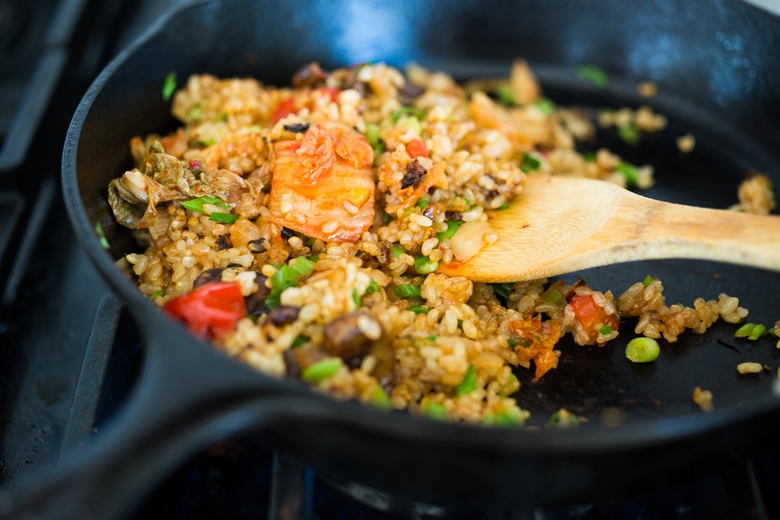 Once the rice and kimchi is warmed through, toss in scallions, taste, adjust salt and plate.
Top the Kimchi Fried Rice with an egg if you like. For the photo I cooked the egg sunny side up, but my preference is over easy. The soft yoke is broken over the rice and adds a delicious richness.
A little pan-seared crispy tofu is a nice vegan option too!
Make sure to use a little Sriracha or hot sauce and garnish with cilantro…this really elevates it!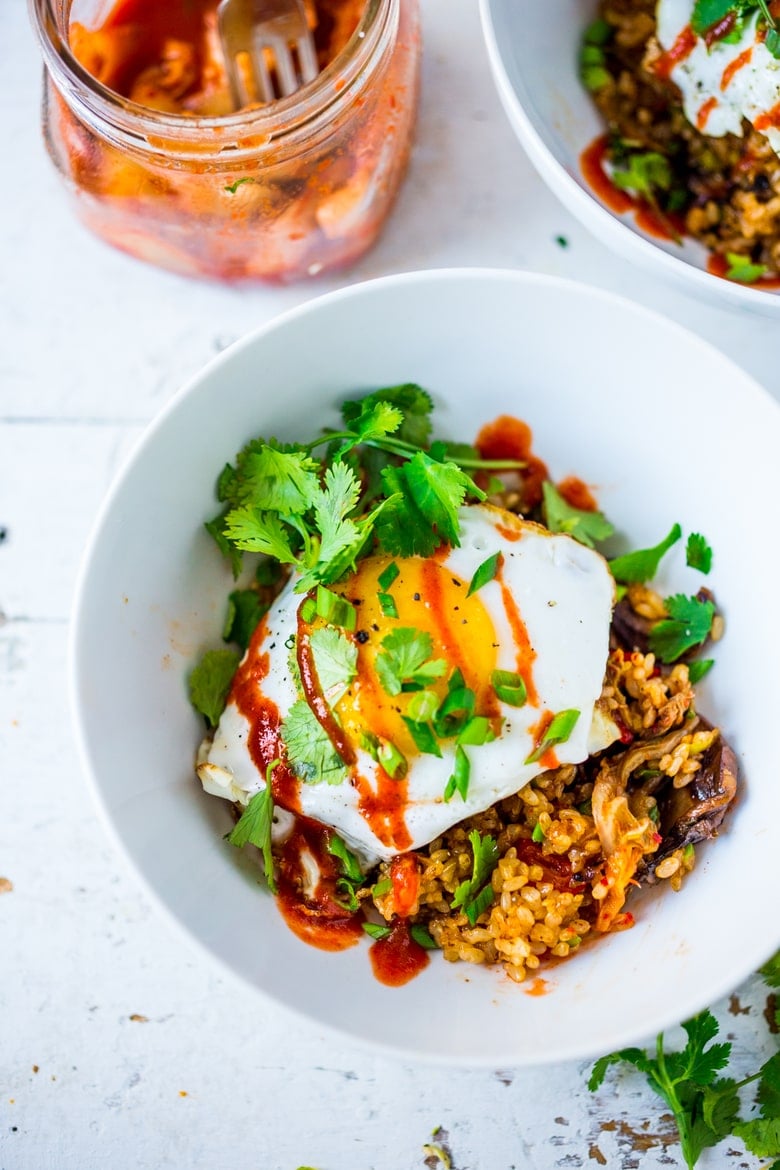 I'm so excited for you to try this Korean-style Kimchi Fried Rice because I know you will love it!
xoxo
RELATED!
Print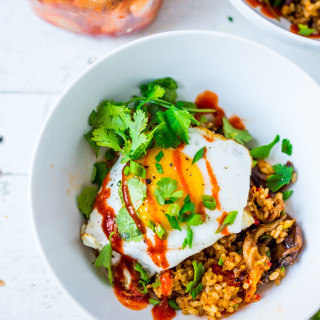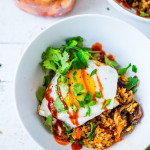 Kimchi Fried Rice
Prep Time:

5 mins

Cook Time:

15 mins

Total Time:

20 mins

Yield:

2

Category:

weeknight dinner recipe, main, vegan

Method:

Fried

Cuisine:

Korean
---
Description
Kimchi Fried Rice! A fast and healthy Korean-style weeknight dinner, packed with flavor & veggies, topped with an Egg (or Crispy Tofu). Swap out Cauliflower Rice for Low Carb! Healthy and flavorful! EASY!
---
1

–

2

tablespoons oil (peanut oil gives this great flavor!)

½ cup

onion- diced

2 teaspoons

finely chopped ginger

1

–

2

cups chopped veggies – mushrooms, red bell pepper, zucchini, peas, carrots

½ cup

kimchi– chopped, more to taste.

2 cups

cooked, chilled rice

½ teaspoon

soy sauce (optional, only if necessary)

1/2 teaspoon

bonito granules (optional, but yummy!)
salt and pepper to taste

¼ cup

chopped scallions

⅛ cup

cilantro
———–

2

large eggs, poached, fried – or top with crispy tofu!
---
Instructions
In a large skillet, heat the oil over medium-hight heat. Add onion and saute for 2-3 minutes, stirring, then turn heat down to medium. Add ginger and veggies. Saute until ginger is fragrant and veggies are tender, stirring often, about 5-7 minutes.
Add chopped kimchi, and cook until heated through, about 1-2 minutes. Add rice, and continue cooking and stirring until warm and combined, about 3 more minutes.(Add a bit more oil or a little water if too dry.) Taste and adjust flavor by adding soy sauce, salt, bonito granules as desired. (*Kimchi adds a lot of saltiness, so add salt sparingly and to taste, as each  kimchi is different. If tasting bland, add soy sauce.) Stir in the scallions.
You could also stir in a handful of greens at this point, like baby spinach or arugula.
Divide among two large bowls.
Top with fried or poached egg.  Sprinkle with cilantro and a generous squirt of Sriracha sauce. Serve immediately, breaking the yolk and letting act as a sauce over the rice.
---
Notes
Leftover rice always makes the best fried rice! This is because it is drier! Freshly warm rice will most often turn to mush, so plan ahead here!
Keywords: Kimchi fried rice, Korean fried rice, best kimchi fried rice, kimchi fried rice vegan, vegan kimchi fried rice, healthy kimchi fried rice,
SaveSave
SaveSave
SaveSave
SaveSave
SaveSave
SaveSave