A delicious recipe for Fesenjan, a Persian Walnut Pomegranate Stew with chicken or chickpeas, or both! Earthy, rich and tangy, this luscious stew is bursting with Middle Eastern Flavor! Vegan adaptable. With a Video.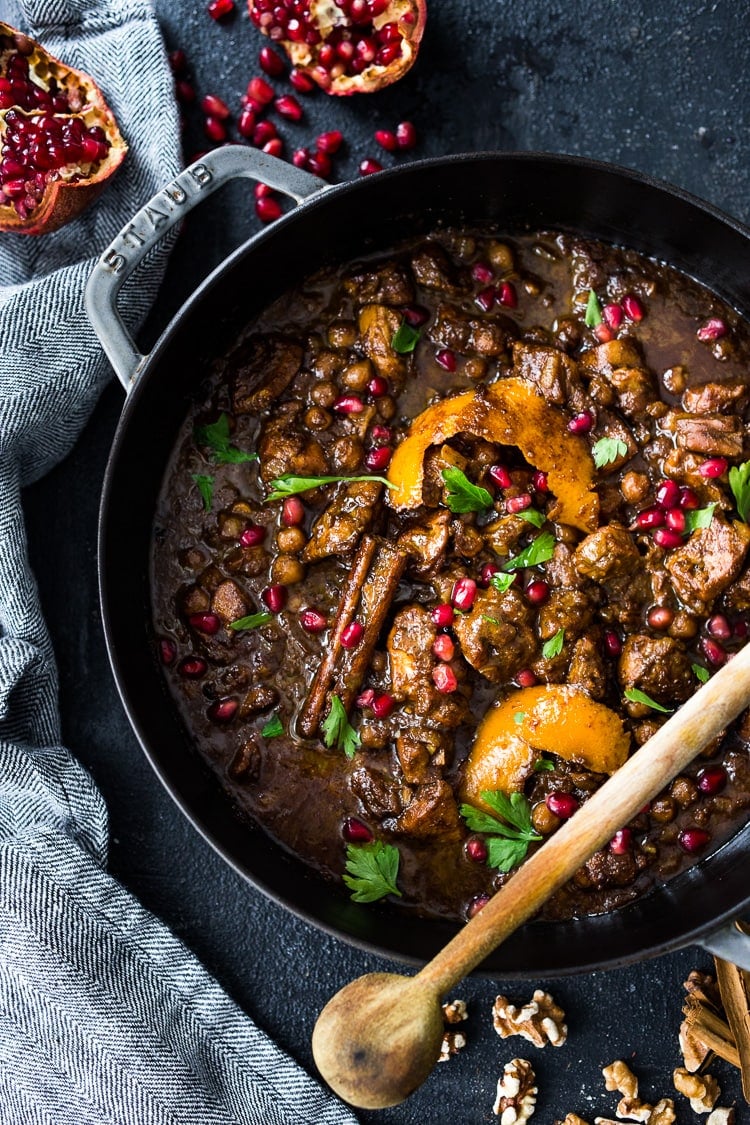 When we let go of insisting that we are who we think we are and that the world should give us exactly and only what we want, all things shine forth.

John Brehm (The Poetry of Impermanence, Mindfulness, and Joy)
Introducing Fesenjan (pronounced FESEN-joon)- a classic Persian dish made with chicken, ground walnuts and pomegranate -earthy, tangy and deep, Fesejan is soulful and oh so satisfying.
The flavorful sauce is sumptuous and rich from the ground walnuts, with a pleasant tanginess from the pomegranate molasses. The warming spices of turmeric, cinnamon and nutmeg add a whisper of the exotic, transporting you away to far-off places. And if you get the balance just right, Fesenjan is downright swoon-worthy!
This version can be made deliciously vegan with chickpeas! Or use chicken and chickpeas, if you prefer, as we have done here.
Origin of Fresenjan
Fesenjan originates from Northern Iran where pomegranates grow happily near the Caspian Sea. It is believed that pomegranates originated here and in the Persian culture, represented immortality and fertility. This traditional Persian stew dates all the way back to the Persian Empire (500 BC) and was often made on the night of winter solstice (called Yalda) the darkest night of the year. For more info on this beautiful Iranian winter tradition- visit here.
How to make Fesenjan | Video
Fesejan Ingredient Notes
walnuts– earthy and rich creating so much flavor depth.
chicken thighs (boneless, skinless) or sub chickpeas
spices: turmeric, cumin, cinnamon stick (optional), cinnamon, nutmeg– magical flavor.
orange zest– bright and tangy.
chicken stock– or sub veggie broth.
pomegranate molasses (or make your own- see notes)– this will set apart this dish, creating amazing exotic flavor.
pomegranate seeds– beautiful and tasty for garnishing.
See the recipe card below for a full list of ingredients and measurements.
How to make Fesenjan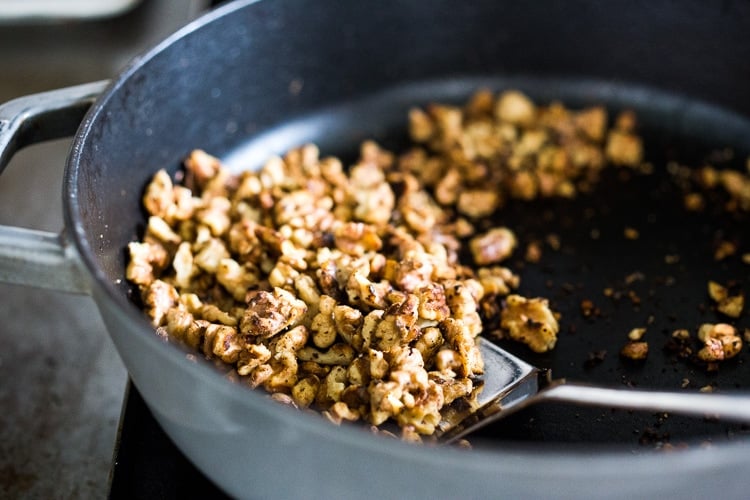 STEP ONE: It starts with toasting 2 cups of walnuts which will become the base of the sauce. Using fresh walnuts (that are not bitter) is essential here.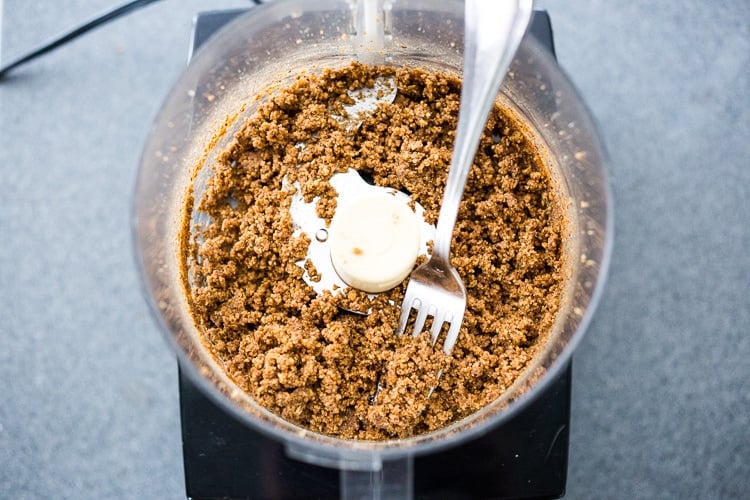 Grind the toasted walnuts.
This week I'm partnering with California Walnuts to create this cozy dinner. The addition of toasted walnuts gives the stew a wonderful richness.
TIP: It is important to use fresh walnuts for this recipe, and I wanted to share how I keep nuts fresh by storing them in the freezer.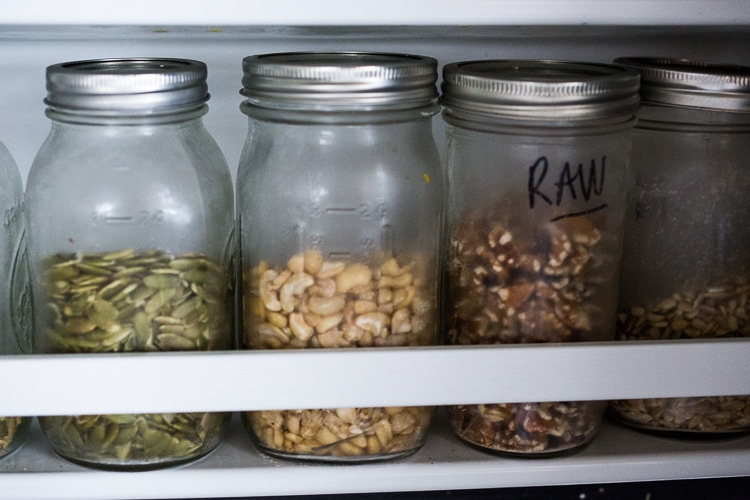 Freezing the walnuts keeps them from getting bitter.
STEP TWO: If using chicken, cut them into bite-sized pieces and brown and set aside. Keep in mind, you can keep this vegan with chickpeas!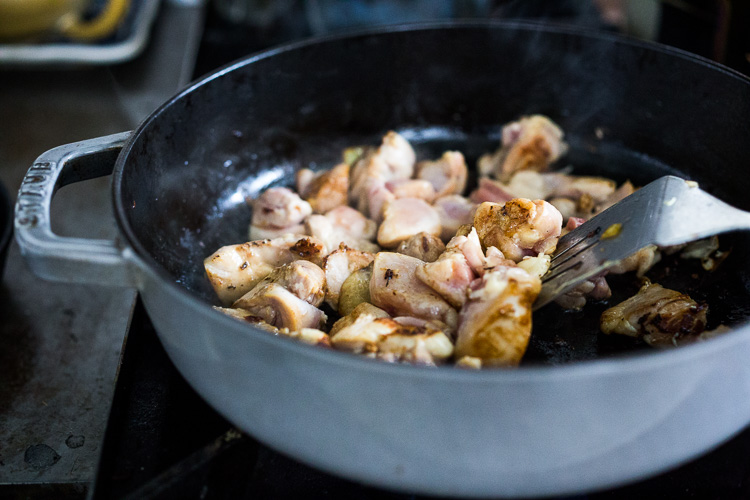 STEP THREE: Caramelize the onions and garlic. Take your time here…this is where the flavor is developed.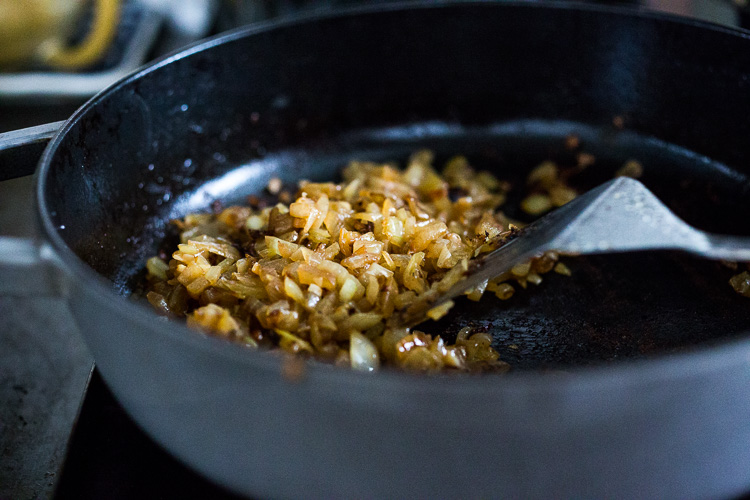 STEP FOUR: Add the fragrant spices and toast them for a few minutes, intensifying the flavor. Add the orange zest.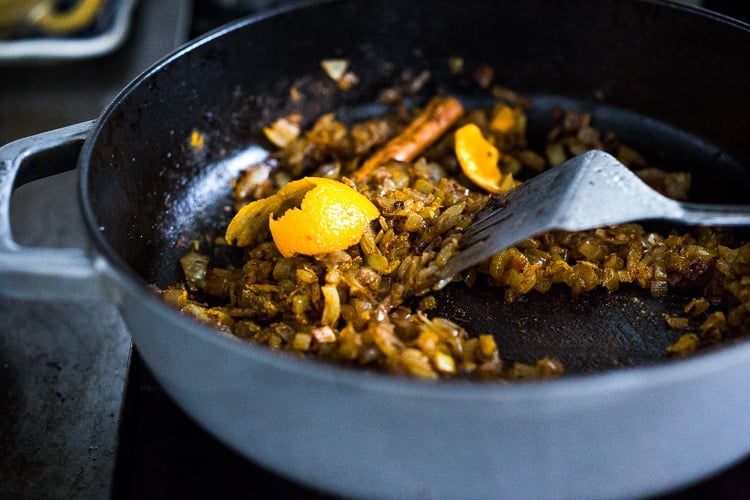 Orange zest and Pomegranate Molasses both give this a tangy brightness.
STEP FIVE: Add the Pomegranate Molasses.
Pomegranate Molasses can be found in specialty grocery stores and ethnic markets, and sometimes in the ethnic section of your grocery store, but if you can't find it, just buy a little bottle of POM, (pomegranate juice) and make some at home – by reducing the juice in a saucepan.
(Just an FYI – it is easiest if you make the Pomegranate molasses ahead, as it takes 45-55 minutes to reduce on the stove. See recipe notes.)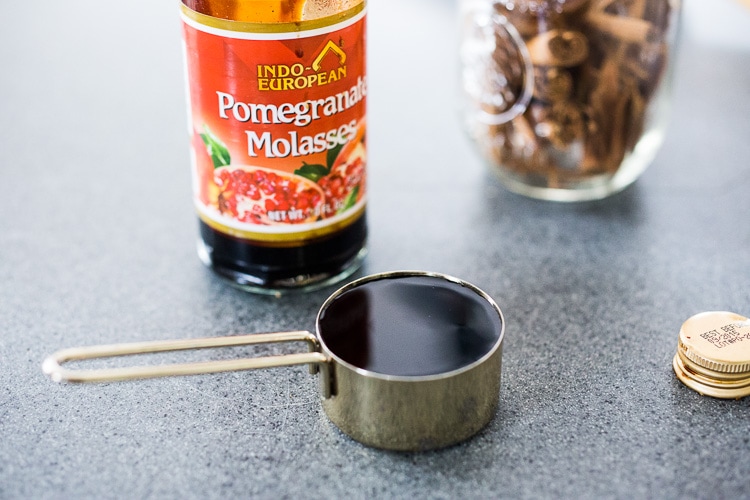 STEP SIX: Add the broth, the ground walnuts and the chicken and simmer, covered, for 45 minutes.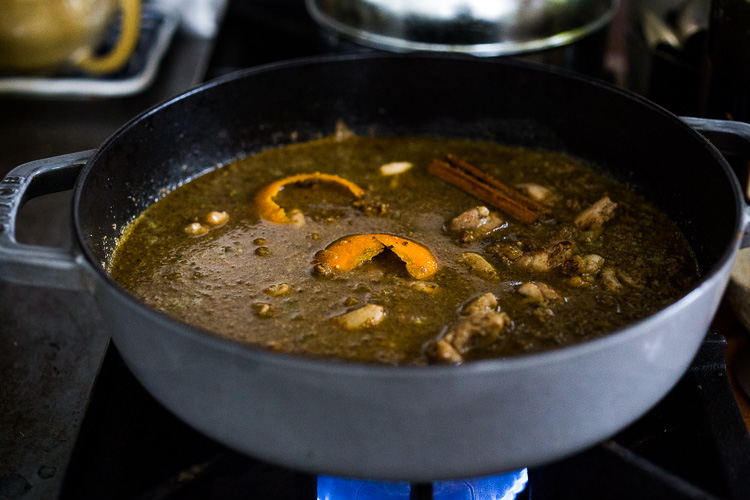 STEP SEVEN: Add the chickpeas. A quick note- you can also make this without the chickpeas- just add more chicken. See notes!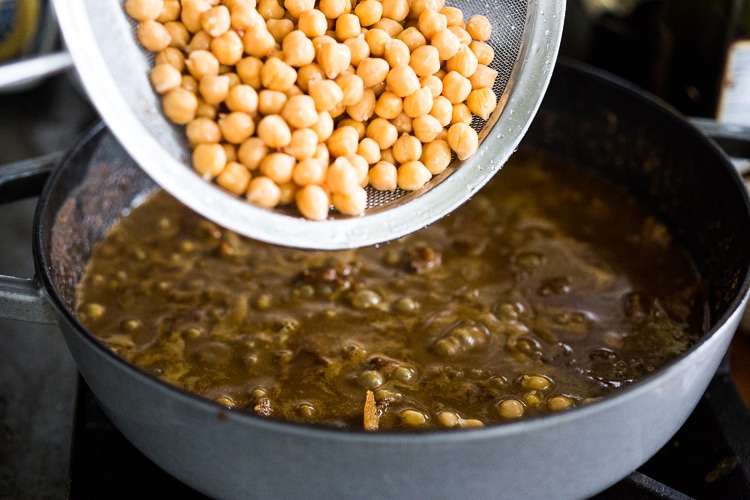 STEP EIGHT: Reduce the stew uncovered, until thickened, and the oil begins to rise and shimmer on the top.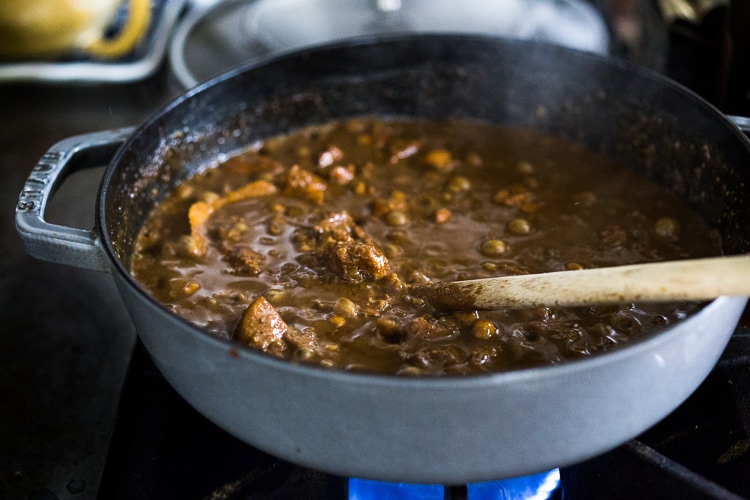 STEP NINE: Garnish with fresh pomegranate and parsley.
Serve this with saffron-infused basmati rice or Tah Dig (Persian Rice).
I really love the adaptability of this stew. The flavorful toasty walnut base is sumptuous and luscious and really can be paired with many things.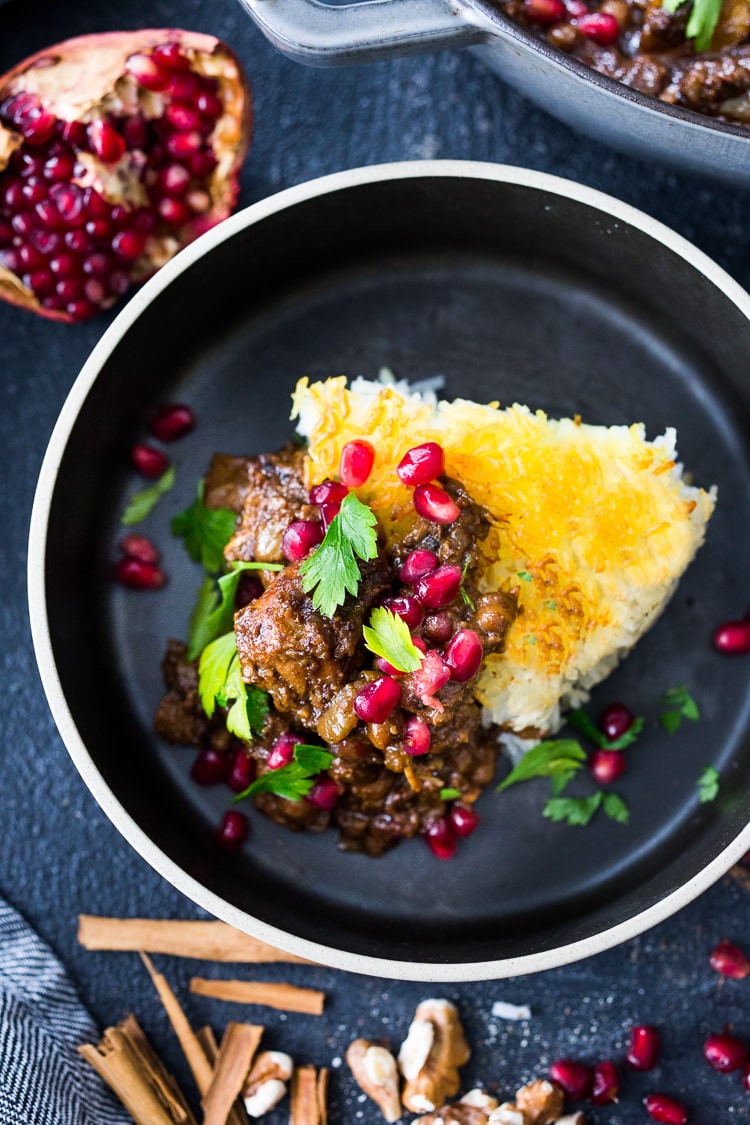 What To Serve With Fesejan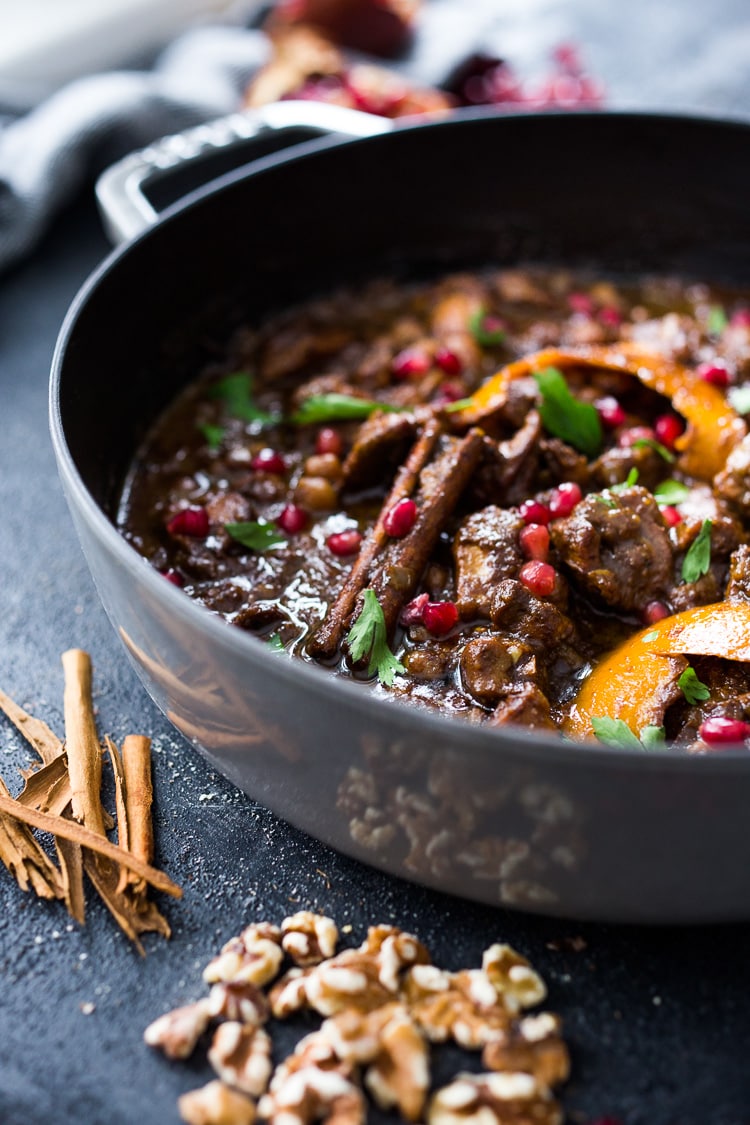 More Recipes You May Like
Fesenjan Recipe FAQS
What is Fesenjan made of?
A traditional Persian dish with chicken simmered in a ground walnut and pomegranate molasses sauce-earthy, tangy and deeply delicious.
What is the difference between pomegranate molasses and regular molasses?
Regular molasses is from the left over process of making refined sugar. Pomegranate molasses is pure reduced pomegranate juice.
Why do my walnuts taste bitter?
Walnuts are high in oil and can go rancid quickly if not stored properly, which results in an unpleasant bitter and acrid taste. Buy your walnuts as fresh as you can and store in the fridge or freezer for a longer shelf life and more nutrion!
The perfect way to celebrate winter solstice or delicious any time of year. Hope you love this Fesenjan Recipe as much as we do.
xoxoxo
Love this recipe? Please let us know in the comments and leave a 5-star ⭐️⭐️⭐️⭐️⭐️ rating below the recipe card.
Print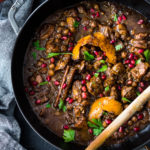 Fesenjan
Prep Time:

15 mins

Cook Time:

75 mins

Total Time:

1 hour

Yield:

4

-6

1

x

Category:

Chicken, Stew

Method:

Stove Top

Cuisine:

Middle Eastern, Persian
---
Description
A delicious recipe for Fesenjan, a Persian Walnut Pomegranate Stew with chicken and chickpeas. Earthy, rich and tangy, this is bursting with Middle Eastern Flavor!
---
2

cups

walnuts

1

–

1 1/2

pounds

chicken thighs ( boneless, skinless) or see notes for vegan options
generous pinch salt and pepper

2 tablespoon

olive oil plus 1 T butter (divided)

3

cups

yellow onion, diced ( 1 1/2 onions)

4

cloves garlic, rough chopped

1 teaspoon

turmeric

1 teaspoon

cumin

1

cinnamon stick (optional)

1/2 teaspoon

cinnamon

1/2 teaspoon

nutmeg

1/2 teaspoon

ground black pepper
orange zest- 3 large strips (1/2-inch x 2-inch slices -see photos!) use a veggie peeler.

2

cups

chicken stock or broth ( or sub veggie)

1/4

cup

pomegranate molasses or syrup (or make your own- see notes)

2 tablespoons

honey or maple syrup

1 1/2

teaspoon salt

1

can chickpeas ( drained, rinsed) optional, see notes.
serve with saffron infused rice or Tah Dig ( Persian Rice)
Garnish- chopped Italian parsley and pomegranate seeds
---
Instructions
Heat a dutch oven over medium-low heat and toast the walnuts, stirring every couple minutes, until golden, roughly 10 minutes. At the same time, chop the onions and garlic. Cut the chicken ( if using) into 1 inch pieces and season with salt and pepper. Drain and rinse chickpeas if using.
Set toasted walnuts on a plate to cool. Then place in a food processor and pulse until finely ground.
Wipe out the Dutch oven and drizzle with a little oil and sear the chicken until golden. Set aside. Using the same pan, heat oil and butter over medium heat. Add onions and cook until soft, golden and fragrant, about 5-6 minutes. Add garlic, cook for 3-4 more minutes. When onion garlic mixture is deeply golden, add the cinnamon stick, turmeric, cinnamon, nutmeg, cumin and orange zest, and toast for 1-2 more minutes.
Add the broth, sraping up any browned bits. Add pomegranate molasses, maple syrup, and 1 ½ teaspoons salt, the seared chicken, ground walnuts and bring to a boil, stirring.
Cover and reduce heat to low. Simmer 45 minutes, covered, stirring every 15 mins.
Uncover, add chickpeas, and continue simmering until the stew has thickened and reduced, 10-15 more minutes, stirring.
Garnish with fresh pomegranate seeds and fresh parsley.
Serve with saffron-infused basmati rice, quinoa, or Persian Rice.
---
Notes
If you can't find pomegranate molasses, make your own by pouring 1 cup pomegranate juice, 1 tablespoon maple, 1 tablespoon lemon juice and a pinch salt into a small pot. Bring to a boil, lower heat to medium-low, and simmer for 45 minutes until reduced to 1/4 of a cup. Set aside to cool.
If substituting chickpeas for the chicken: Use 2 cans ( 3 cups) rinsed and drained, and add to the stew, after it cooks for the 45 minutes. Alternatively, you could also use 1 can chickpeas and cauliflower florets.
If you don't want to use chickpeas, increase chicken thighs to 2 -2 ¼ pounds.
Nutrition
Serving Size:
Calories:

532

Sugar:

6.7 g

Sodium:

1031.3 mg

Fat:

37.2 g

Saturated Fat:

4.4 g

Carbohydrates:

29.8 g

Fiber:

5.7 g

Protein:

23.2 g

Cholesterol:

71 mg
Keywords: Fesenjan, Fesenjan Recipe, Persian Stew, How to make Fesenjan, What is Fesenjan, Fesenjan Chickpeas, Fesenjan with Chicken,