Persian Chicken with Chelow and Yogurt Sauce is a flavorful Middle Eastern meal you will love!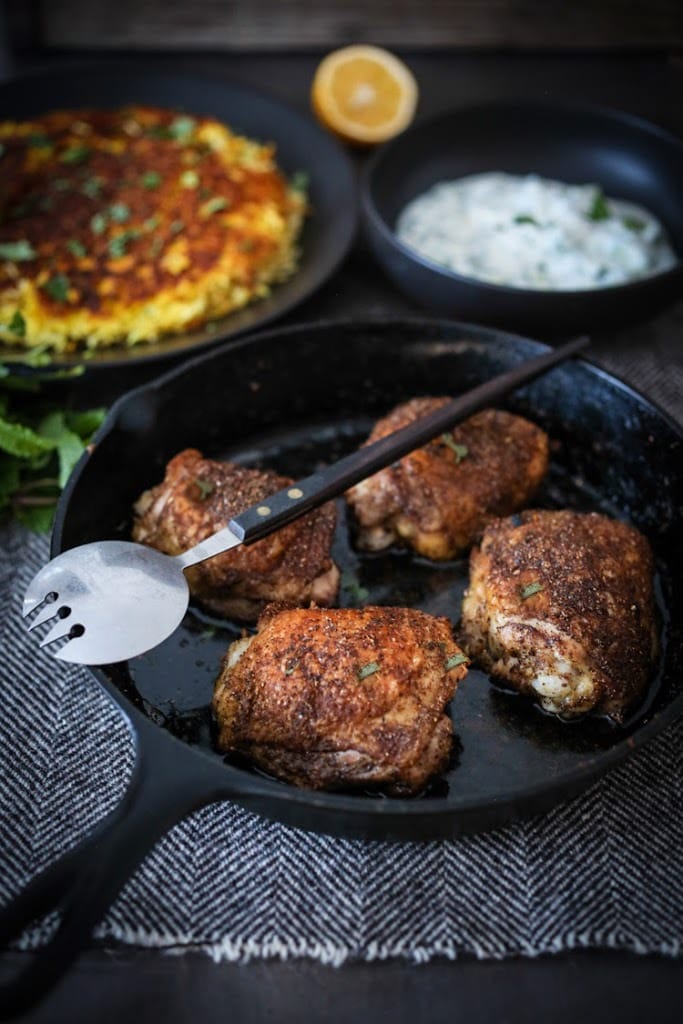 Introducing Persian Chicken!  The chicken portion of the recipe is fast and easy –made with an Arabic spice blend, called Baharat, that can be whipped up in minutes.
The word "Baharat" simply means "spices" in Arabic, and this wonderfully complex blend has a unique balance of  flavors. The chicken is rubbed down with salt and Baharat Spice, seared on the stove and finished in the oven until golden and crispy.  Serve with saffron rice, cucumber yogurt sauce and salad and you'll have a simple, delicious, Middle Eastern style dinner.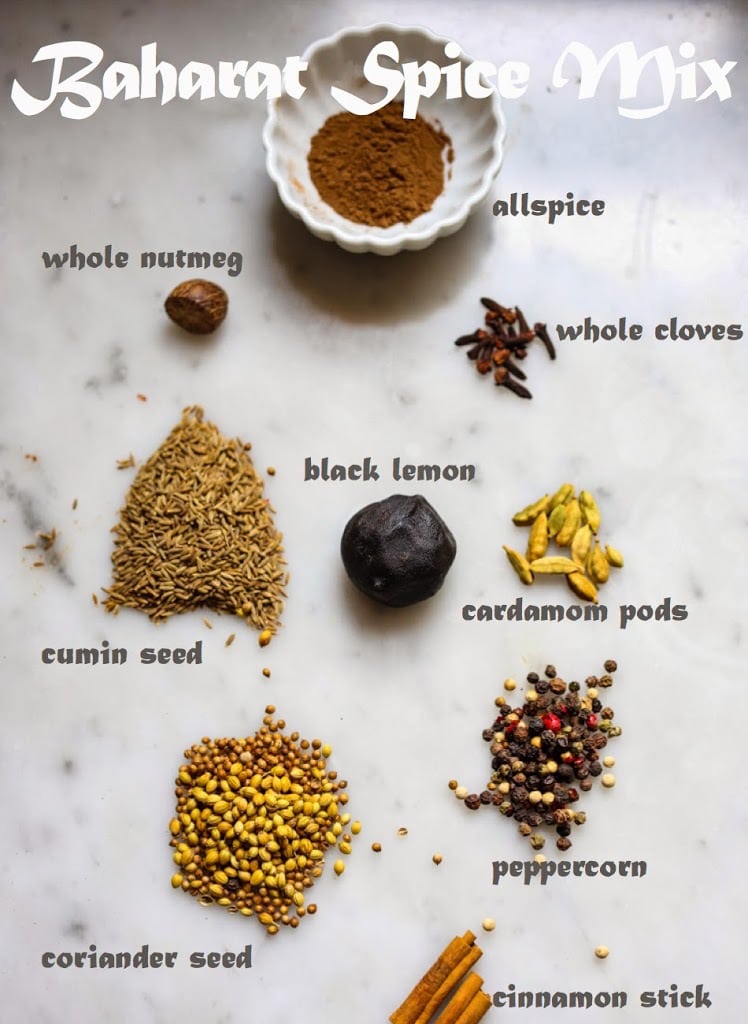 Baharat is often used in Arabic cooking-  most commonly in Persian and Turkish dishes to add spice and a little heat to meat dishes, couscous, and tagines. The warm exotic flavors of  Baharat are an easy way to spice up simple dishes and give them a little intrigue.
To make the Baharat spice mix, place all the spices in a coffee grinder, and pulse until it is ground. If you can't find Black Lemons, don't fret, just leave them out.
If you don't have whole seeds, but have the ground spice, it's perfectly OK to substitute ground spices, although the more whole seeds you have, the better the flavor. But don't let the lack of the whole seeds stop you from making this.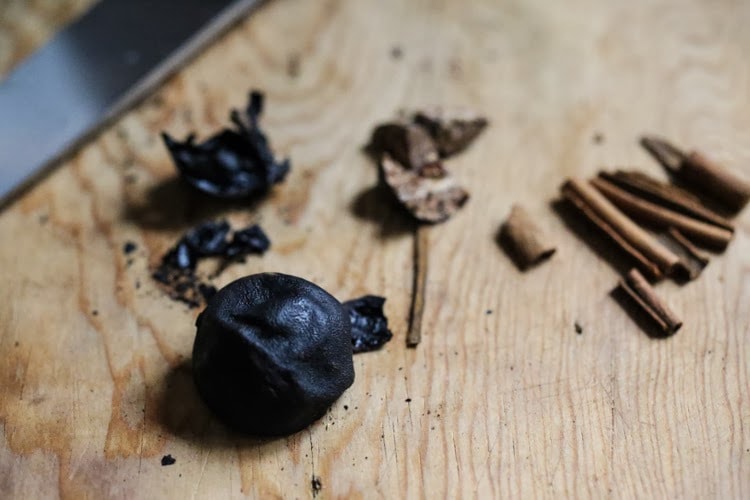 Black Lemons are actually dried limes, and owe their misnomer to the English translation from Arabic. They're used in Middle East cooking to add sourness or acidity to chutneys, soups and stews and even ground into flat breads.
Ground Black Lemons have a sweet-tart flavor that is unique and really has no substitute, so for this recipe, leave it out if you can't track one down. You can also order them on-line.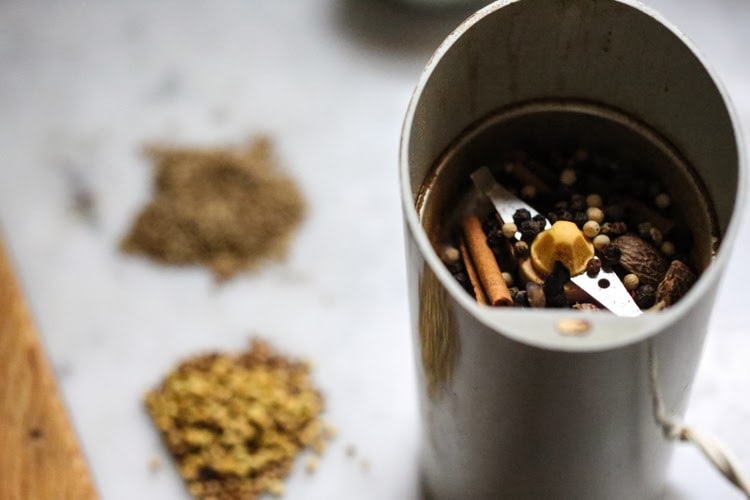 Because the spice blend contains no
salt
, be sure to
salt
the chicken first, before rubbing on the spice. Be generous with the Baharat spice, rubbing both sides. For this recipe, I personally like bone-in, skin-on,
chicken thighs
best, but feel free to substitute.
This spice blend would also taste great on tofu, with
salt
and a little cornstarch mixed in with the Baharat, and then seared.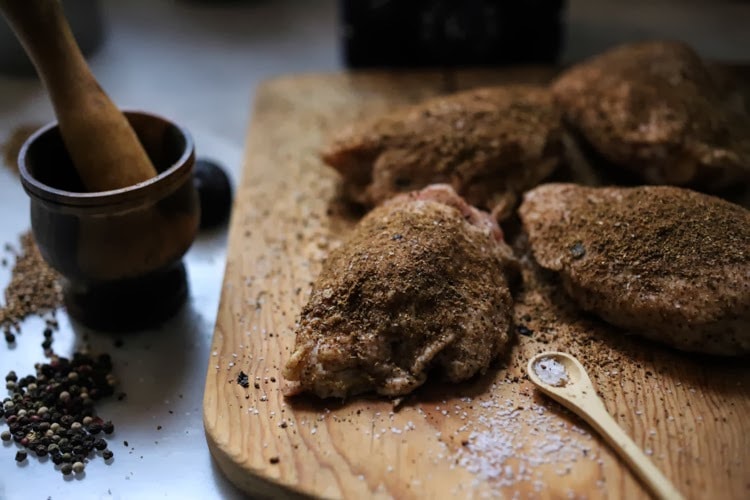 To make the chicken, heat 2 T oil over medium high heat. When oil is hot, add chicken, skin side down and sear until golden brown about 3-4 minutes.  Turn heat to medium.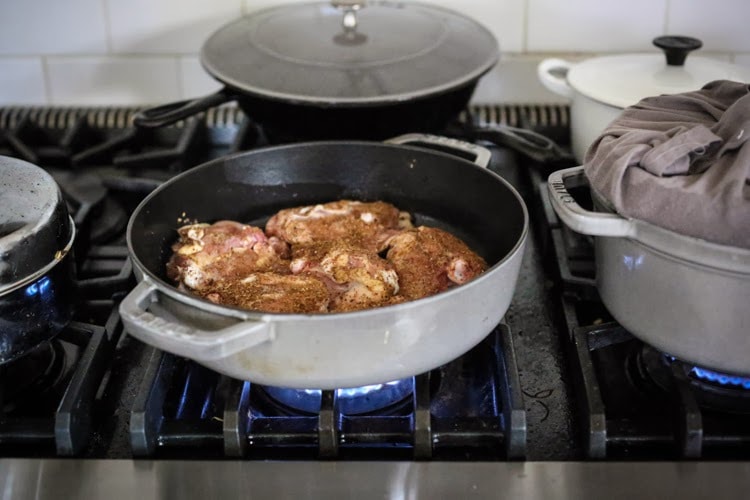 Turn the chicken over and sear 3-4 minutes before placing in a 400 F oven to finish.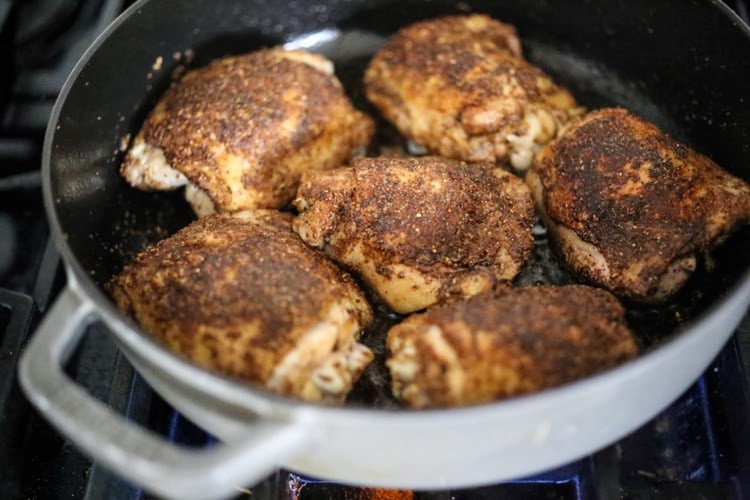 When it comes out, the skin will be crispy and flavorful, and the meat tender and juicy.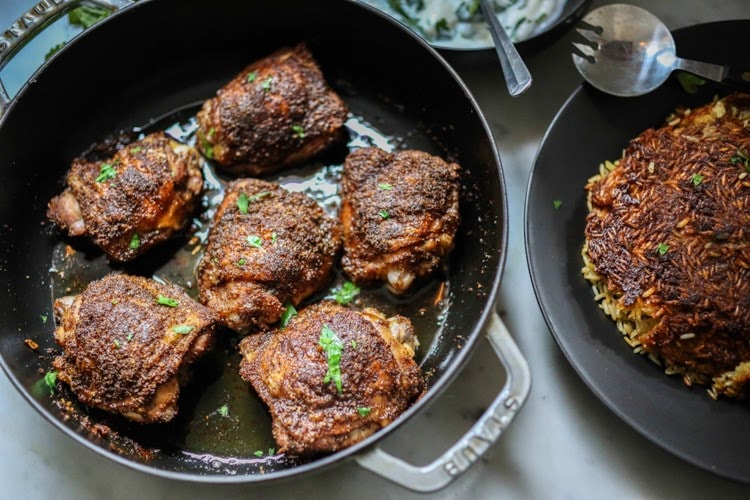 While the chicken is in the oven, make the easy flavorful
Tzatziki Sauce
!
If you would like to try making the Chelow Rice dish ( Tahdig)  with crispy yogurt
saffron
crust, here is a step by step. I would recommend reading the whole recipe first, so you grasp the concept and time commitment and start this before you prepare the chicken. It takes about 1 ½-2 hours.
Chelow is a Persian rice dish with a crispy
saffron
yogurt crust. The crust is called Tahdig, a Persian word meaning "bottom of the pot" where the crispy crust forms while cooking. This recipe is often simply called "Tahdig".
The pot of rice is inverted and this lovely golden top is created. Because the tahdig is considered the very best part of the meal, i
t is traditionally served to guests first.
Now…if you don't want to fuss with the Chelow, make simple
saffron
-infused (or turmeric)
basmati rice
.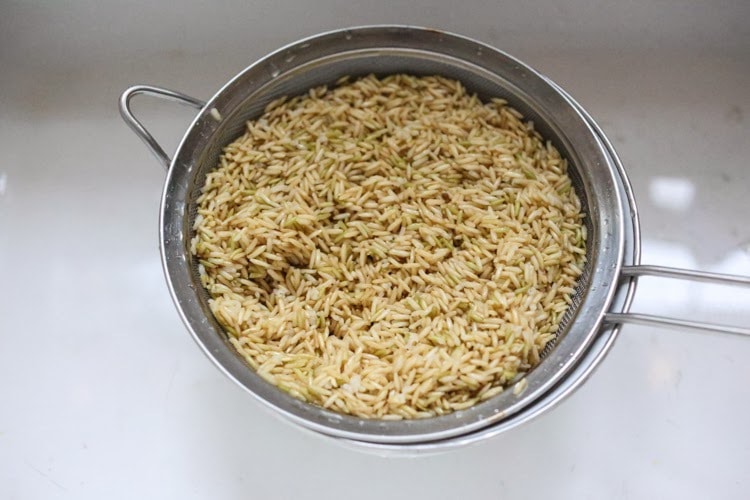 To make Chelow, use long grain basmati rice or long-grain Jasmine rice. Do not use short-grain rice.    Rinse the rice several times and parboil the rice: cook it like you would pasta, in generously salted boiling water until al dente.
Depending on the rice, this will take 5 -10 minutes. Brown rice takes a bit longer. You want the rice to be almost done. This is key.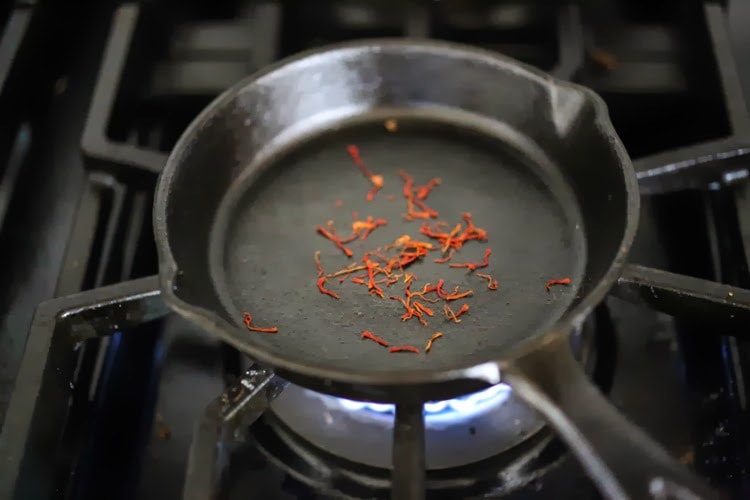 While the rice is boiling toast a pinch of saffron for a minute. Place it in a bowl, with 2 T of the boiling salted water. Let is sit and infuse the water.
( You can substitute turmeric for the saffron, if you prefer, and skip toasting it)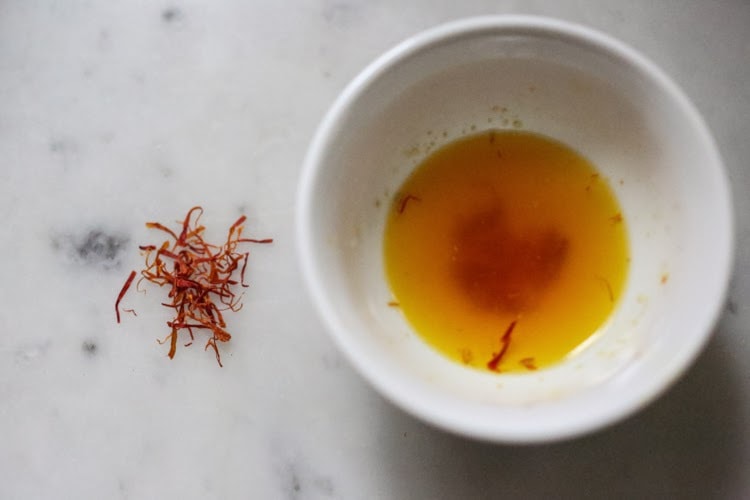 In a medium bowl, mix together ¼ cup plain yogurt and 1 egg. The egg is optional, so if you don't like eggs just leave it out. Add a generous pinch of
salt
, and the 2 T of
saffron
water ( or turmeric water) and stir.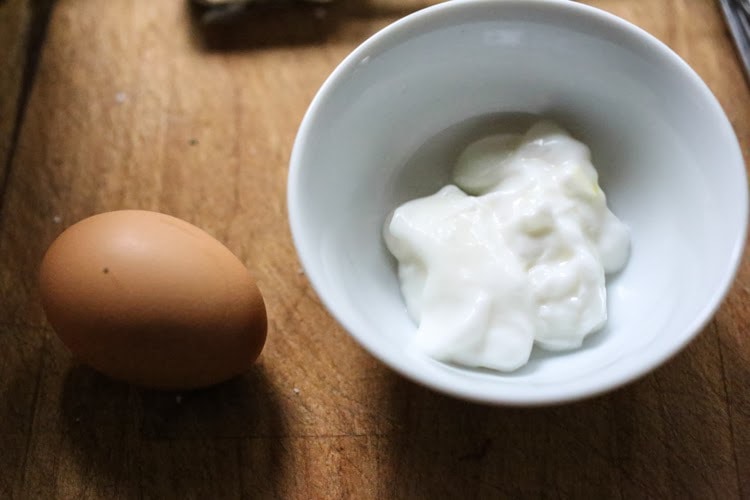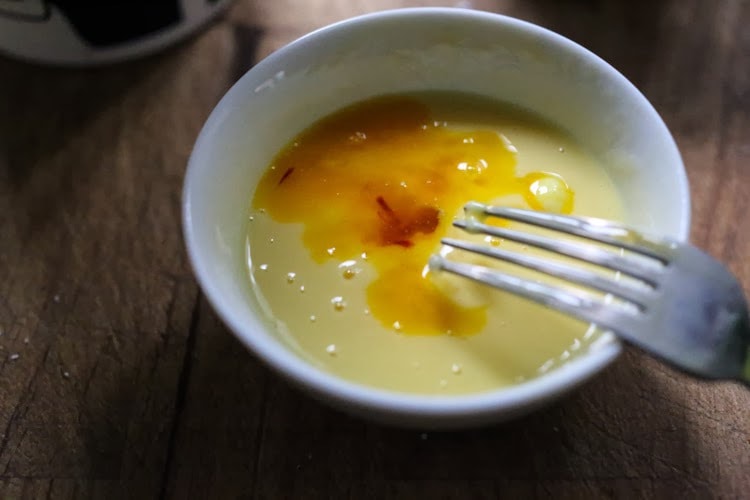 Once the rice is par-boiled, strain and rinse again several times until the water runs clear, removing all the starch. Drain. Stir  in 1 Cup of the parboiled rice to the yogurt saffron mixture. Set aside.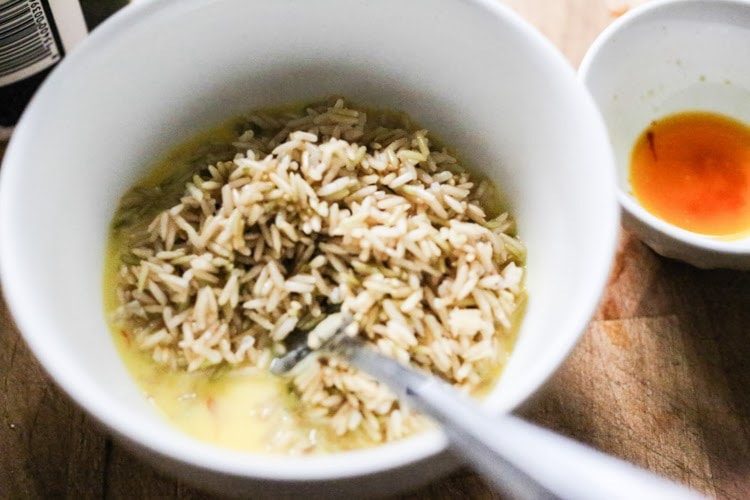 Here is where it gets tricky. If you have a good nonstick pot or high sided nonstick sauté pan, with a tight-fitting lid, that measures 8-10 inches in diameter, use it.
Or, if not, use a
dutch oven
but make sure to line the bottom with parchment, tracing the bottom of the pot on the parchment to create a circle, and cut it out.
The
parchment
will allow the tahdig, or crust, to come out all in one piece. Without the parchment, I could not get the crust to release. But I don't have a nonstick pot.
After lining the pot with a circle of
parchment
, add butter,
olive oil
and water ( over the
parchment
) and heat over med-high heat. This will begin to sizzle up a storm. Give a quick stir, turn the heat down and add the
saffron
yogurt rice mixture, pressing down lightly to create the crispy base layer.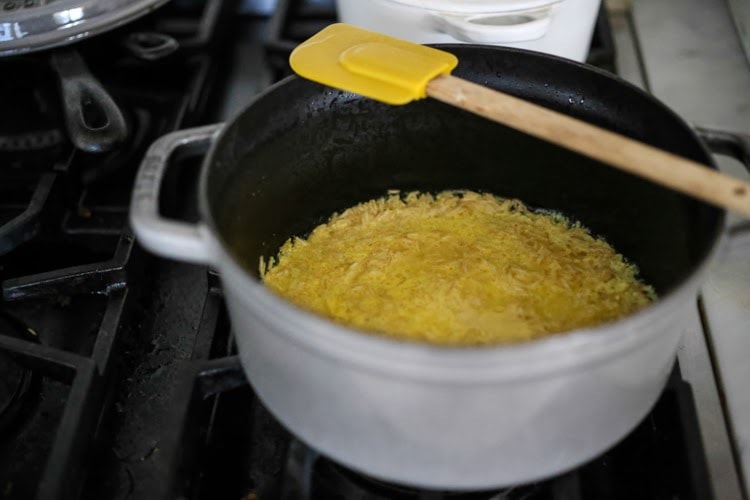 Then spoon in the rest of the rice and form a pyramid, so the rice is higher at the center.   Don't just dump it all in or you'll end up with heavy rice.
At this point, you could also layer in fresh herbs like dill or parsley or cilantro, and nuts like
pine nuts
or
pistachios
, and/or dried fruit like golden raisins or dried apricots as you are spooning the rice in.
Cumin seeds
or
coriander seeds
are a nice touch too.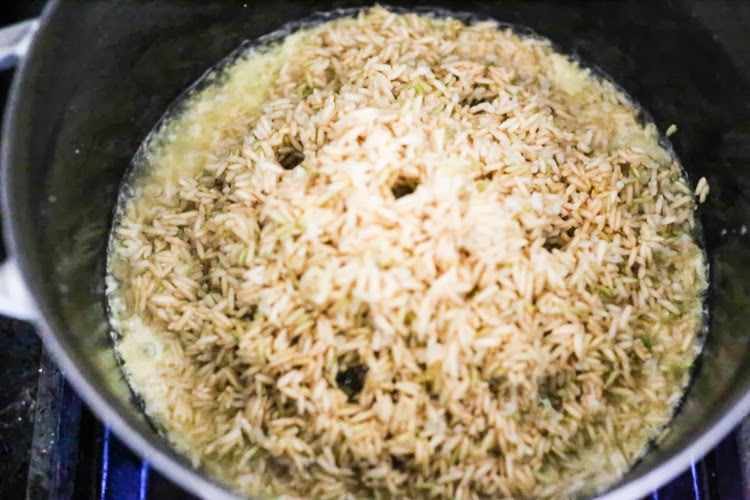 Poke several "steam holes" into the rice with a chopstick or the end of a wooden spoon.
Cover the pot with a kitchen towel and then the lid.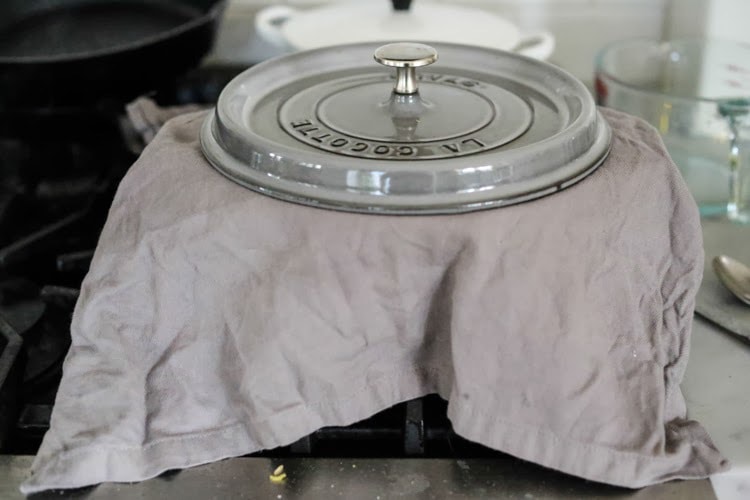 Fold the corners up over the lid so they don't catch on fire.
The towel prevents the steam from dripping back down into the rice.
You could also use a couple layers of paper towels.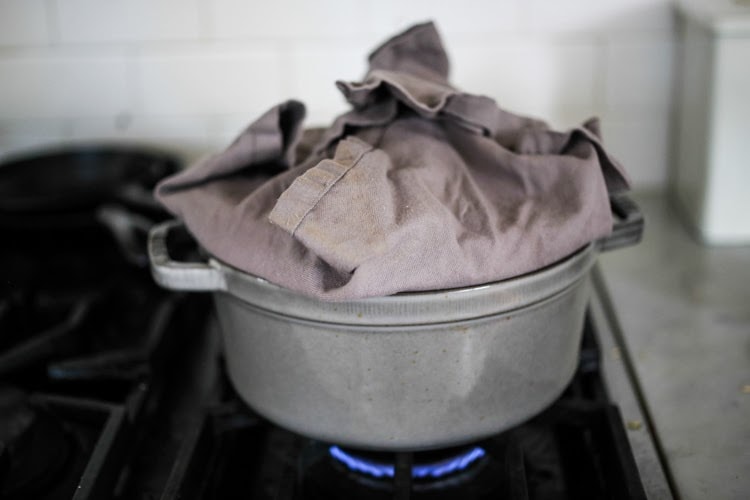 Turn the heat to medium-high for 2-3 minutes until you see visible puffs of steam. This will be obvious -so wait until you see it. Once you see the puffs of steam, turn heat to medium-low for 25 minutes. Don't be tempted to remove the lid.
After the timer goes off, place the whole pot in a sink or large bowl filled with very cold water, for one minute, so water is at least 2-3 inches up the sides. This will shock the rice and help it release from the sides.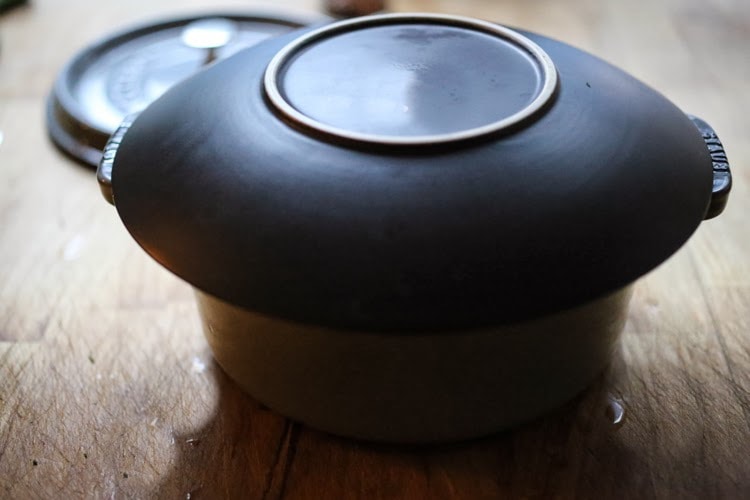 Remove the rice lid and towel, place a large platter or plate on top, and invert the whole thing. It's easier with help. Once turned over, give the pot a good shake, knock on the top a few times so the crust releases. And hopefully, the crust will come out perfectly golden brown and in one piece. If the crust breaks, piece it back together and sprinkle fresh herbs over top – it will still taste good. The rice should be light and fluffy.
The first time I made this, the rice was not cooked enough, because I used brown
basmati rice
, and did not parboil it long enough. The crust had to be scraped from the bottom of the pan.
The second time I made this, I parboiled the rice too long and the rice was mushy and heavy. And the crust still had to be scraped from the pan. I tried various pots, pans, and it wasn't until I used regular long-grained
basmati rice
and
parchment
, did the crust come out in one piece and the rice turn out fluffy and light.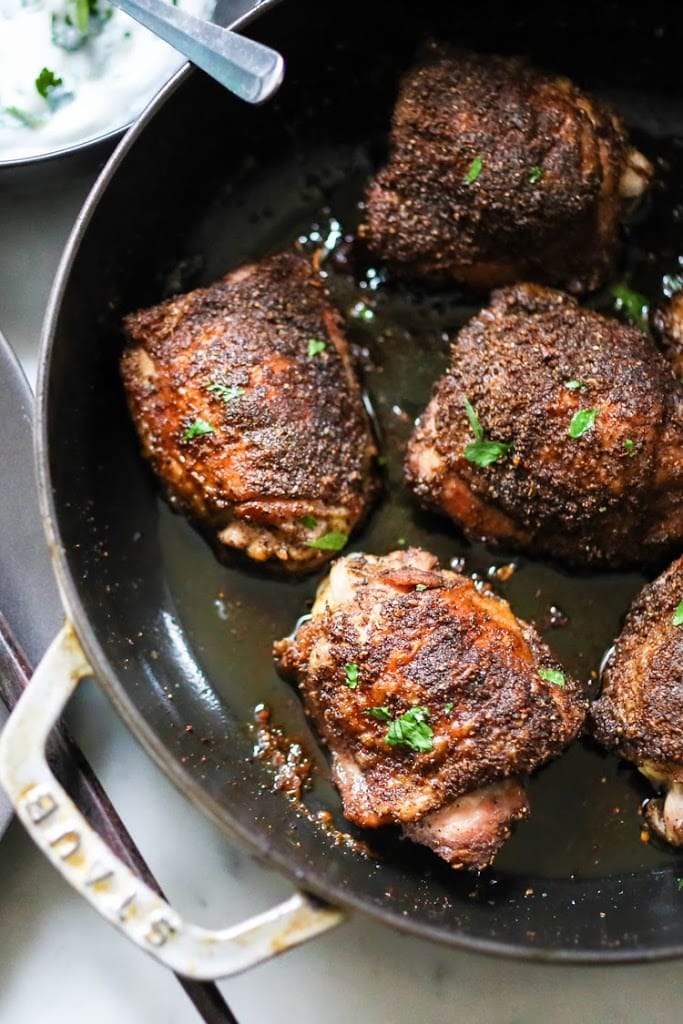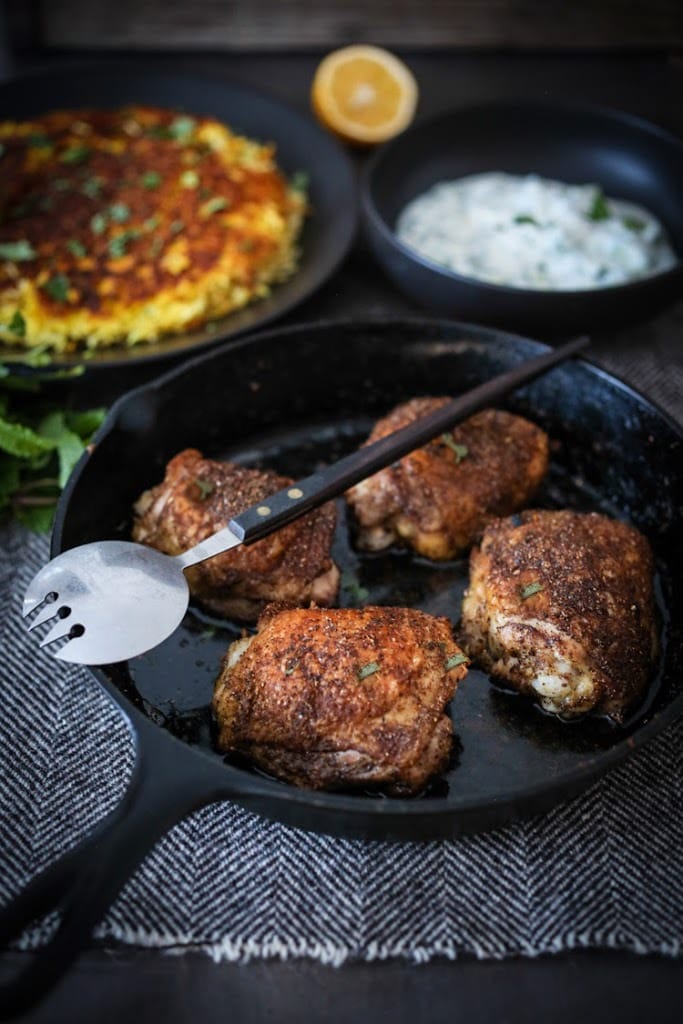 Hope you enjoy this Persian Feast!
Print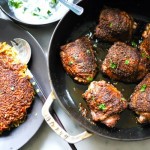 Persian Chicken with Chelow and Yogurt Sauce
Author:

Sylvia Fountaine

Prep Time:

60

Cook Time:

60

Total Time:

2 hours

Yield:

4

-6

1

x

Category:

Main

Method:

Stove top

Cuisine:

Persian
---
Description
Persian Chicken with Baharat Spice served with
saffron
yogurt crusted Chelow Rice and cucumber yogurt sauce.
---
Persian Chicken
4

–

6

Chicken thighs, bone in, skin on.

2 Tablespoons

Baharat Spice Blend ( see below)
Salt to taste ( 1 teaspoon per pound)

2

T olive oil
Baharat Spice Blend
1

T cumin seeds (or

1

T ground)

1

T coriander seeds ( or

1

T ground)

1

T whole peppercorns ( or

2 tsp

)

1/2

of one whole nutmeg ( or

1 tsp

ground)

10

whole unpeeled cardamon pod or (

1/2 tsp

ground)

2

inches piece cinnamon stick (or

2 tsp

ground)

1/2 tsp

ground allspice

8

whole cloves (or

1 tsp

ground)

1/4

of a black lemon (optional)

1

star anise ( optional)
Chelow with Saffron Yogurt Crust (serves 6-8)
2

cups

long-grain white basmati rice

10

cup

Water and 1 tablespoon salt for par-boiling (you will drain this)

3 tablespoons

hot water

1

pinch saffron (

10

–

20

threads) or 1/2 tsp tumeric powder

1/4

cup

plain yogurt

1

egg ( optional)

1/4 teaspoon

salt

1 tablespoon

olive oil

1 tablespoon

butter
Cucumber Yogurt Sauce ( or make this Tzatziki Sauce!) 
1

cup

plain thick Greek yogurt

2

small Persian cucumbers cut lengthwise, then thinly sliced ( or

1

C English cucumber) Skin ok.

2

–

3

T chopped fresh mint, dill, Italian parsley or cilantro ( or a combination is nice)

1

–

2

T lemon juice

1

–

2

minced garlic cloves

1/2 tsp

kosher salt -or salt to taste.
pepper to taste, white pepper is a nice touch.
---
Instructions
Make Barahat Spice: Toast all whole seeds in a dry skillet, then pulse all in a spice grinder until ground. If using ground just stir toegher.
Pre heat oven to 400F
Sprinkle both sides of chicken generously with kosher salt. Rub in a generous amount (¾ teaspoon each) of Baharat Spice on both sides of each piece of chicken. If you have time to do this 30 minutes ahead, before cooking, even better!
Heat oil in a large oven proof skillet over medium high heat. Sear chicken, in hot oil, skin side down for 3- 4 minutes, until golden and crispy. Turn over and sear other side, turning heat down to medium. Sear another 3-4 minutes. Place the skillet in the middle of the oven, uncovered, and baked until cooked through, about 15- 20 minutes or until internal temp reaches 170 F ( for thighs) and juices run clear. Remove from the oven and let rest 5 minutes before serving.
To make Chelow:
Parboil rinsed rice in 10 cups of salted water, and cook uncovered, like pasta, until grains have opened up- are just tender, yet still al dente, about 7-8 minutes, or longer if using brown rice. Drain.
In a medium bowl, mix saffron threads with 3 Tablespoons boiling water ( just borrow from the boiling rice ). Set aside 5 minutes. Add the yogurt, generous pinch salt and 1 egg (optional) and stir.
Add about 1 Cup of the parboiled rice into the bowl with the Yogurt Saffron mixture.
Line the bottom of 8-10 inch diameter deep sauté pan or pot (that has a tight-fitting lid) with a circle of parchment paper. Place on the stove over Med heat. Add butter, olive oil over the parchment. When the butter has melted, swirl it around to coat parchment, add the yogurt saffron rice mixture in an even layer over the parchment. Spoon in the rest of the rice, gently building a pyramid ( don't just dump it in- or will lose its light quality).
At this point- you could also layer in fresh dill, mint, or parsley, slivered almonds, pine nuts or even golden raisins, or dried apricots, cumin seed or coriander seed.)
With the end of a wooden spoon poke 5-6 steam holes down through the rice.
Cover pot with a thin kitchen towel then place the lid over the towel and fold the corners up and over the lid, so the edges don't catch on fire. See photo.
Turn heat to Med-high for 2-3 minutes then turn to low heat for 30 minutes. Don't be tempted to uncover.
After 30 minutes, either fill the sink or large bowl with cold water deep enough to submerge the pot 2-3 inches up the sides.  Place the rice pot in the cold water, to shock it, to help it release from the sides… for a few minutes. Remove lid and towel. You could also run a spatula around the edges.
Place a large platter or plate over the top of the pot, and invert the whole thing, shaking a little and knocking the bottom of the pot so it releases. Hopefully, it comes out in one piece. If it sticks, using a sharp metal spatula, scrape and coax it out, piecing it together over the rice. Sprinkle with fresh herbs, like parsley or mint, or dill. Serve immediately!
To make Cucumber Yogurt Sauce, stir everything together in a medium bowl.
---
Notes
The baharat spice and yogurt sauce can be made ahead.
---
Keywords: Persian chicken recipe, baharat chicken recipe, baharat spice recipe, chelow recipe, tahdig recipe, Iranian chicken, persian chicken thighs,