A quick and easy recipe for Roasted Carrots with cumin and coriander seeds, over a creamy Maple-Tahini Sauce, sprinkled with Pistachios, Dukkah and Aleppo chili flakes- a tasty vegan side dish that pairs with many things.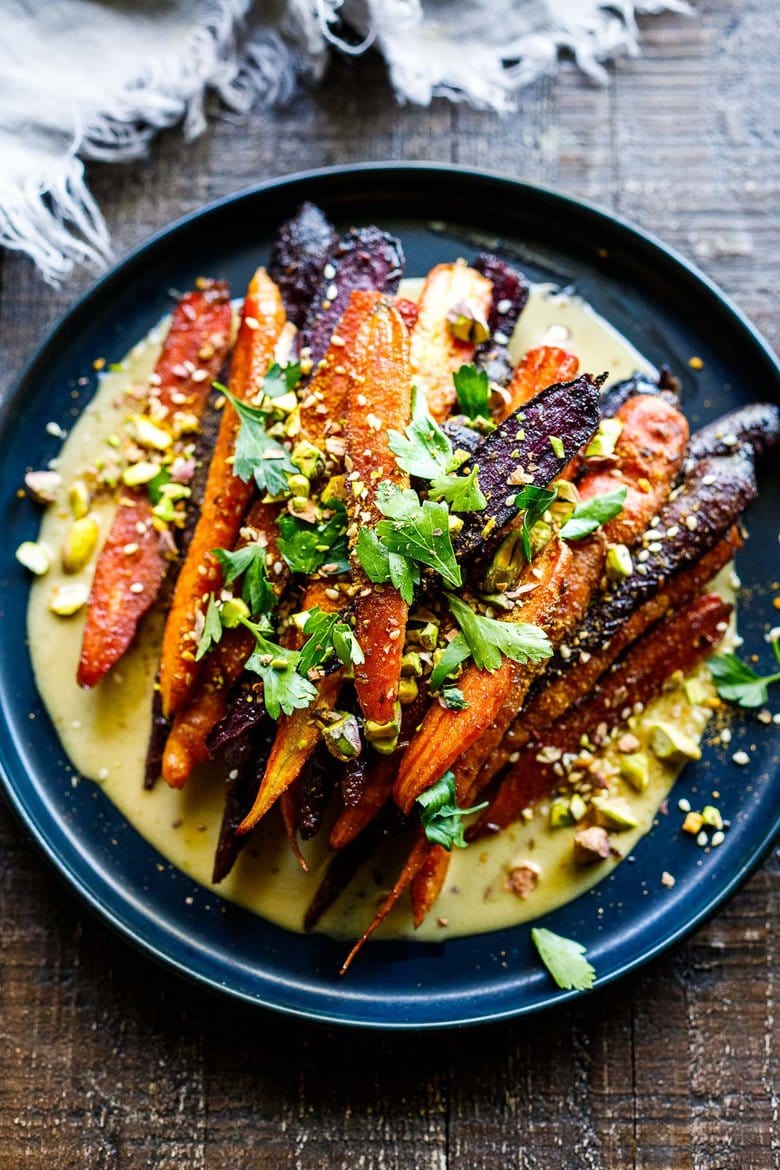 Here's a recipe for Roasted Carrots we've been enjoying for the past few years, that I've been meaning to share. Every time I make these, the carrots just seem to magically disappear. They are even good the next day, served cold!  Even though it's just Brian and I we manage to get through them pretty easily.
I love the combination of flavors here- whole cumin and coriander seeds, paired with the slightly sweet Tahini Sauce and the crunchy Dukkah and pistachios and a little hint of heat from the Aleppo chili flakes, really highlighting carrot's, inherent sweetness, instead of contrasting it. It feels decadent, all the while remaining vegan.  It's a dish my Egyptian father would have really loved.
What you need for Roasted Carrots
Fresh carrots – fresh farmer's market carrots are best here. Try to choose ones of equal diameter, and keep in mind smaller ones can be roasted whole, so I try to get these.
maple syrup– use real maple syrup or honey or agave.
spices: cumin seeds and coriander seeds–using the whole seeds give great texture here!
Salt and Pepper 
Maple Tahini Sauce (optional but TASTY), yes you can serve the carrots without the sauce, but why???
Garnishes: Dukkah, Toasted Pistachios, Parsley or Cilantro, Aleppo Chili flakes
How to make Roasted Carrots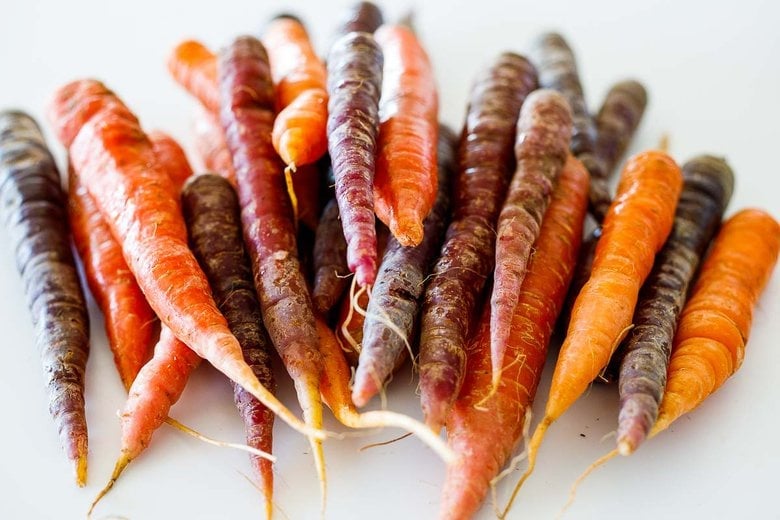 Step one: Prep!
When it comes to fresh carrots, I honestly don't botter peeling. Give them a good wash or scrub if needed and just rim the ends. Cut any larger ones in half lengthwise. You want them all to be around the same width so they cook evenly. If your carrots are wider than an inch, cut them all in half to shorten the cooking time.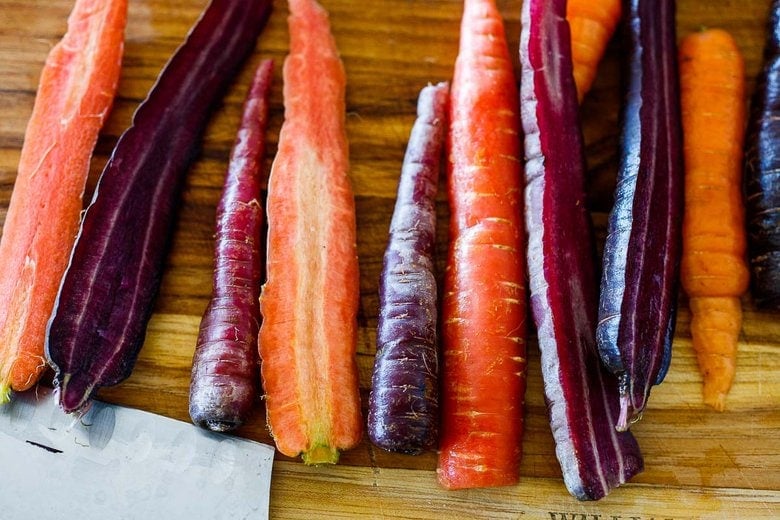 Step two: Season the carrots
Toss the carrots with the olive oil, maple syrup, cumin and coriander seeds, salt and pepper and place on a parchment-lined sheet pan, spread out.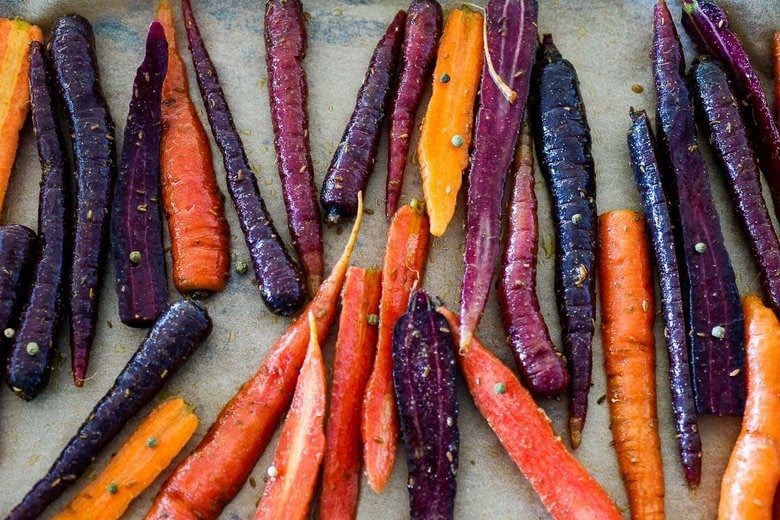 Step three: Roast the carrots @ 425F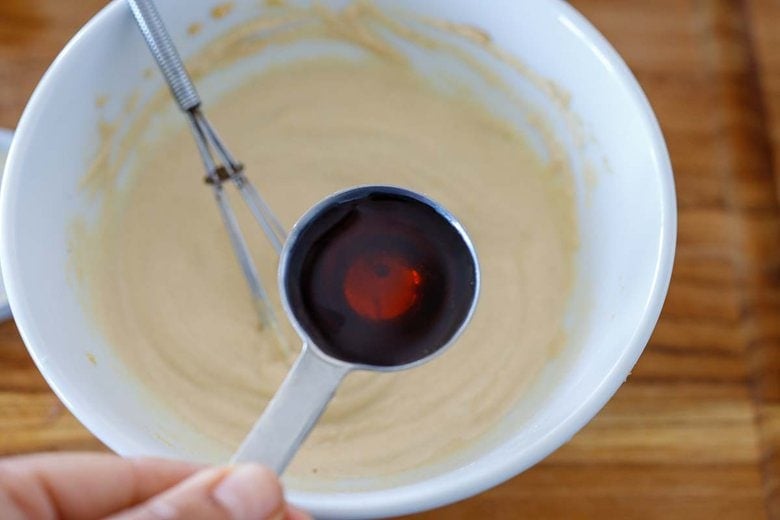 Step four: Make the Maple Tahini Sauce
While the carrots are roasting away in the oven, make the quick sauce.
Step five: Plate the roasted carrots
Spread the Maple Tahini Sauce on the bottom of a platter or large plate. Pile up the tender warm roasted carrots, going in the same direction.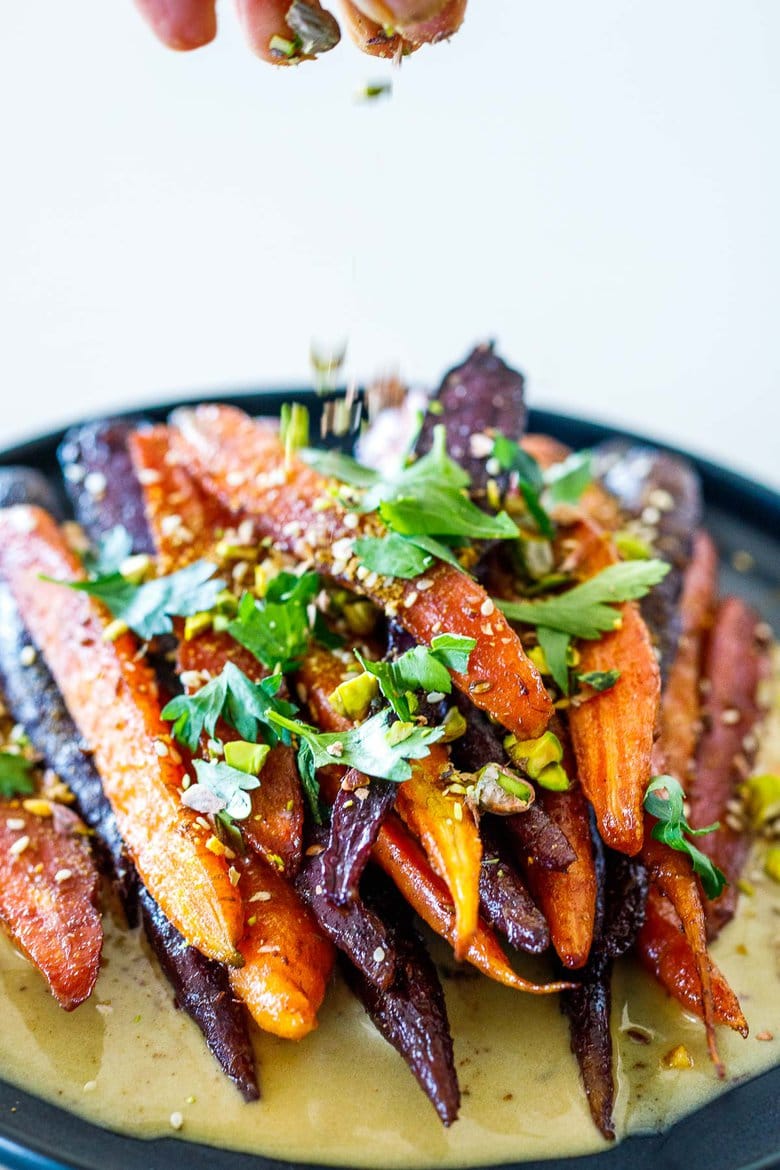 Step six: Garnish the carrots
Sprinkle the carrots with Dukkah and toasted pistachios. Add chili flakes- Aleppo Chili flakes are nice here.
The spiciness of the chili flakes goes nicely with the sweetness here, so don't skip it.
Garnish with something green- parsley or cilantro.
What to serve with Roasted Carrots?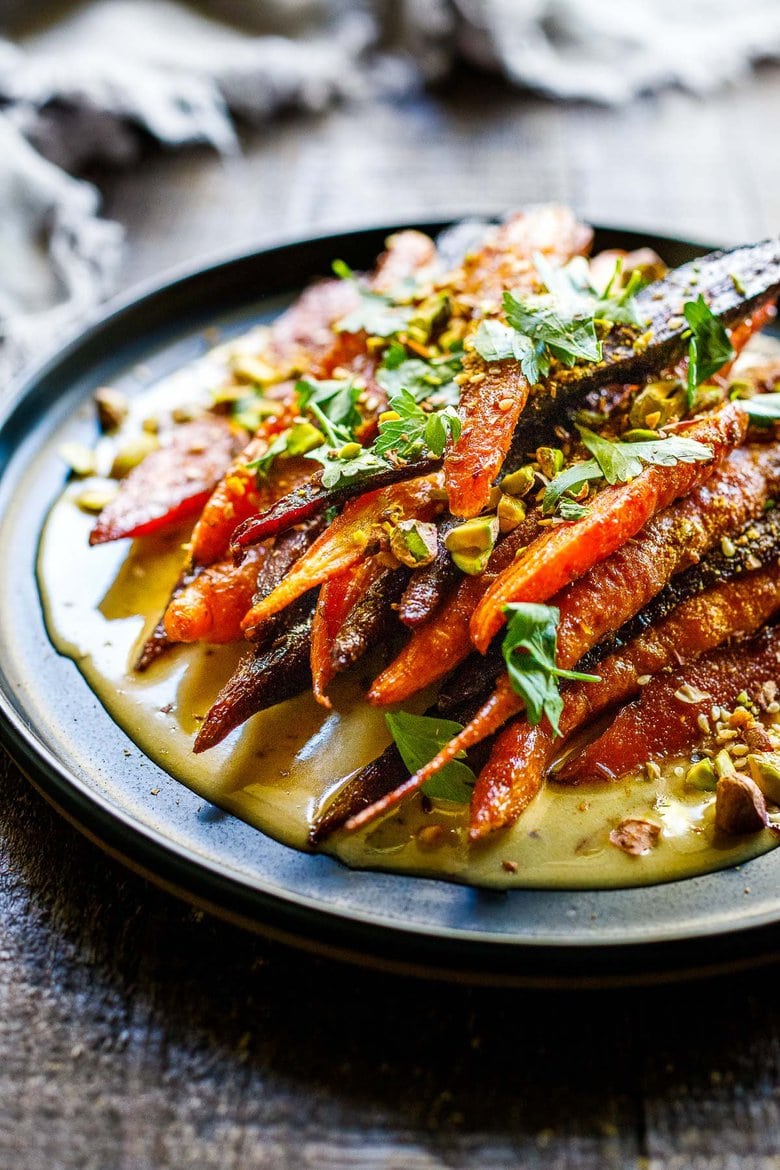 On the home front: 
The day after my father died, I crossed paths with a coyote. I couldn't help but wonder if it was him (my dad), saying hello or goodbye, in his way, and somehow it brought me a bit of comfort. For the next several years many coyotes would come to visit, often at poignant times.
Perhaps the most memorable visit was down in Muir beach as I was walking to the Zen Center, at dusk. The moon hung heavy and huge over the hill and a lone coyote called out repeatedly- as if he were crying out to me! How badly I wanted to howl back, and in retrospect, I very much regret that I didn't. It was my dad's birthday.
All this, to say… this past memorial day, our puppy Lumi came in from the backyard, huddling close to me, just shivering. What could be out there, I thought, perhaps a dear? But low and behold, standing as still as possible, so very close, was a coyote, an unexpected wildness that took my breath away. Time stood still, and once again, I felt a bit of him there, just saying hello, then loping off into the wild.
xo
More carrot recipes you may enjoy:
Print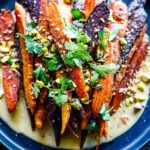 Roasted Carrots with Tahini Sauce
Prep Time:

10

Cook Time:

25

Total Time:

35 minutes

Yield:

4

-6

1

x

Category:

sides, vegan

Method:

roasted

Cuisine:

Middle Eastern

Diet:

Vegan
---
Description
A quick and easy recipe for Roasted Carrots with cumin and coriander seeds, over a creamy Maple-Tahini Sauce, sprinkled with Pistachios and Dukkha, a tasty vegan side dish that pairs with many things.
---
Tahini Sauce
1/4

cup

thick tahini paste (stir it first)

3

–

4

tablespoons of water, more as needed

1 tablespoon

maple syrup

1/4 teaspoon

salt, more to taste

1/4 teaspoon

pepper, more to taste
Garnish: Dukkah, Pistachios, Aleppo chili flakes, Parsley
---
Instructions
Preheat oven to 425F
Cut carrots so they are roughly equal in width- leaving thinner one's whole.  Place in a bowl and toss with olive oil, maple, salt, pepper, cumin seeds and coriander seeds, coating well.
Spread out on a parchment-lined sheet pan, and roast until fork-tender at the thickest part, 20-30 minutes.
While the carrots are roasting make the sauce. In a small bowl whisk tahini and water until smooth. Add more water if needed to get it looser if needed. Add maple, salt, and pepper. Spread the Sauce out on a large plate or platter.
When the carrots are tender, pile them up over the sauce.
Sprinkle with Dukkah, pistachios, and fresh parsley.
---
Notes
Leftover roasted carrots will keep 4 days in the fridge.
Nutrition
Serving Size:

4 ounces

Calories:

146

Sugar:

9.4 g

Sodium:

374.3 mg

Fat:

8.1 g

Saturated Fat:

1.1 g

Carbohydrates:

18 g

Fiber:

3.9 g

Protein:

2.9 g

Cholesterol:

0 mg
Keywords: roasted carrots, roasted carrots with Tahini sauce, roasted carrots with sukkah