Soulful, comforting Sweet Potato & Lentil Dal topped with a flavorful "tempering oil". A quick 30 minute vegan meal that is simple to make and full of fragrant Indian spices.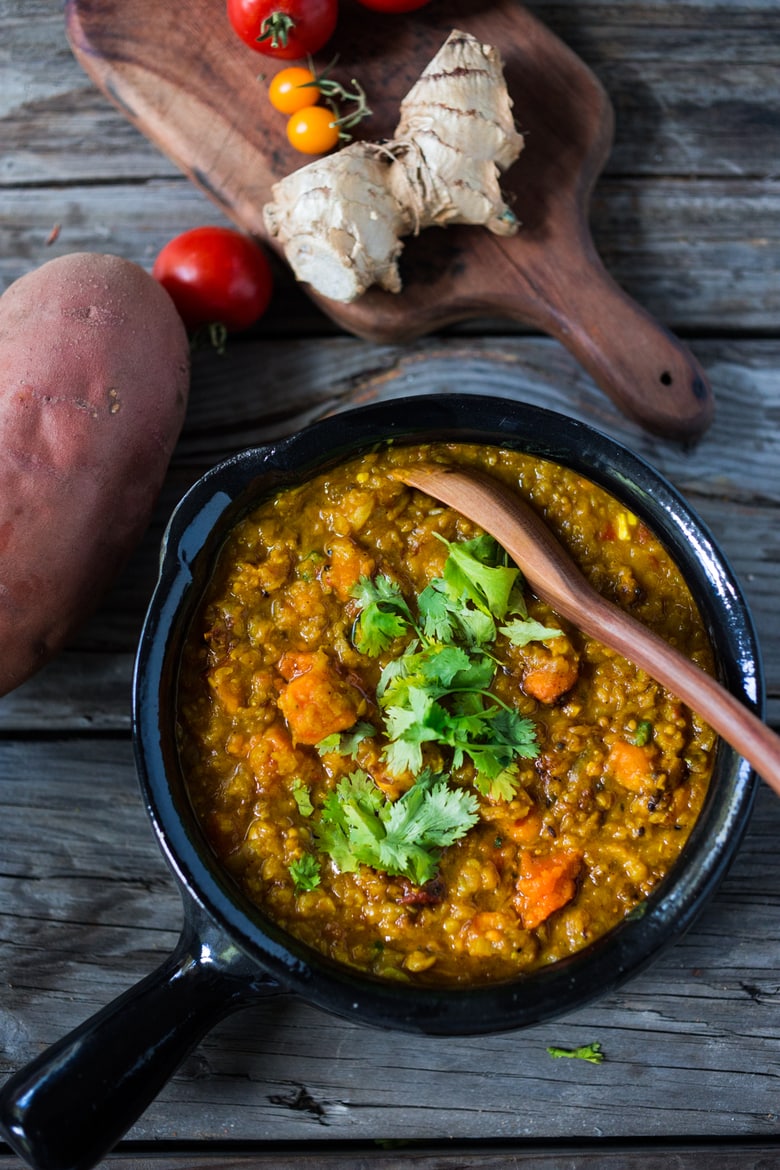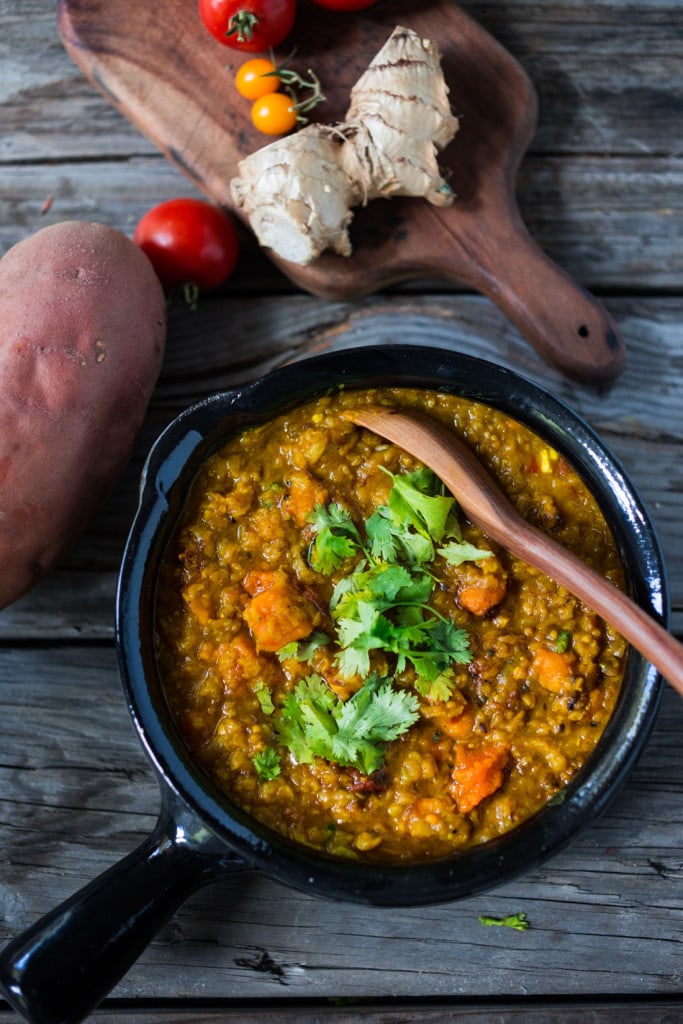 No matter how successful we have been in the outer world, judged by standards external to us, if we are not living in accord with the intent of our soul, depression is likely to follow.
~James Hollis~
Indian Sweet Potato Lentil Dal is humble comfort food for the soul. Infused with fragrant spices, it's a very simple but deeply satisfying meal, that awakens your taste buds while nourishing your whole body down to the core. A lentil stew of sorts, it is finished with an optional, but delicious, "tempering oil," which is basically whole spices like fennel seeds and cumin seeds briefly seared in oil (or ghee), releasing an incredible aroma into the house, before it is drizzled over the dal for an extra burst of flavor.
For added texture, sprinkle with coconut flakes. Serve this with fluffy basmati rice or toasty naan bread, for a fast 30 minute, economical, soul-satisfying meal. To me, this is pure comfort food.
The wonderful thing is this can be personalized to your taste. Today I added a stray sweet potato, but try adding roasted cauliflower, roasted butternut, peas, carrots, bell pepper, spinach, kale, or any other vegetable that needs to be eaten. You can also add cooked chicken if so inclined, although it is traditionally vegetarian. The ghee (clarified butter) is of course optional, but I have to say it is so yummy! It can be found at Trader Joe's and upscale markets like Whole Foods.
Dal, if unfamiliar, is a thick, flavorful vegetarian stew commonly found all over India, Nepal, Pakistan, Sri Lanka and Bangladesh. It's a main staple not only because it is comforting and hearty, it is also a very inexpensive source of protein and sustenance. What makes this special are the warming spices. Traditionally dal is served over rice, or scooped up with roti (a tortilla-like bread) or mopped up with chapati (naan bread). It's delicious over other whole grains too – like quinoa, farro or buckwheat.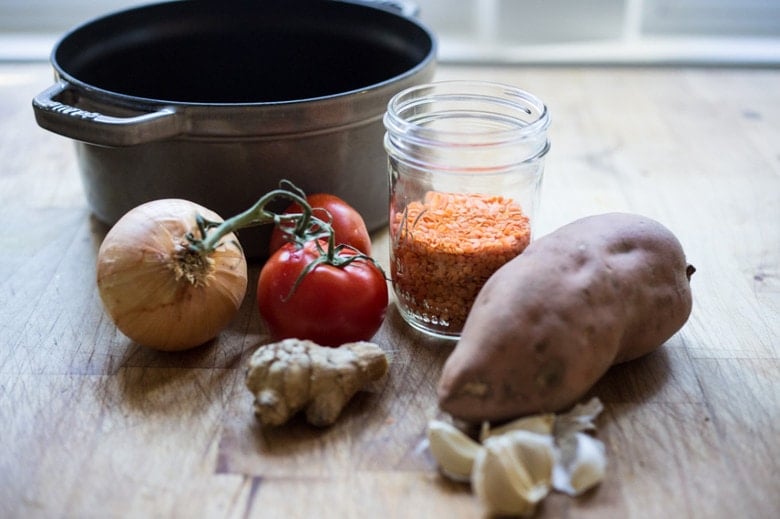 The word "dal" also refers to a dried pulse that has been "split" – most commonly you see this with lentils, peas and some beans. Here I used red lentils that have been in my pantry for….I don't even want to tell you how long! I guess the good thing is they really don't go bad, or so I tell myself, as I think about the 10-year-old beans and peas still sitting on the shelf.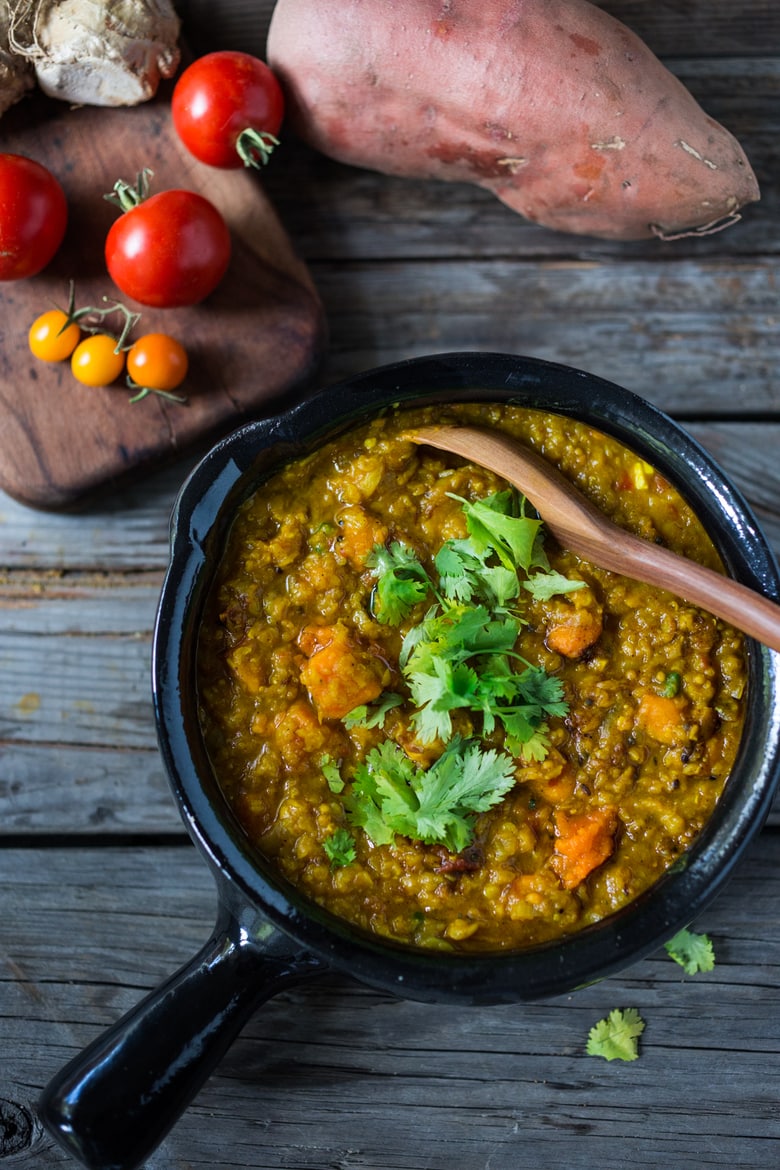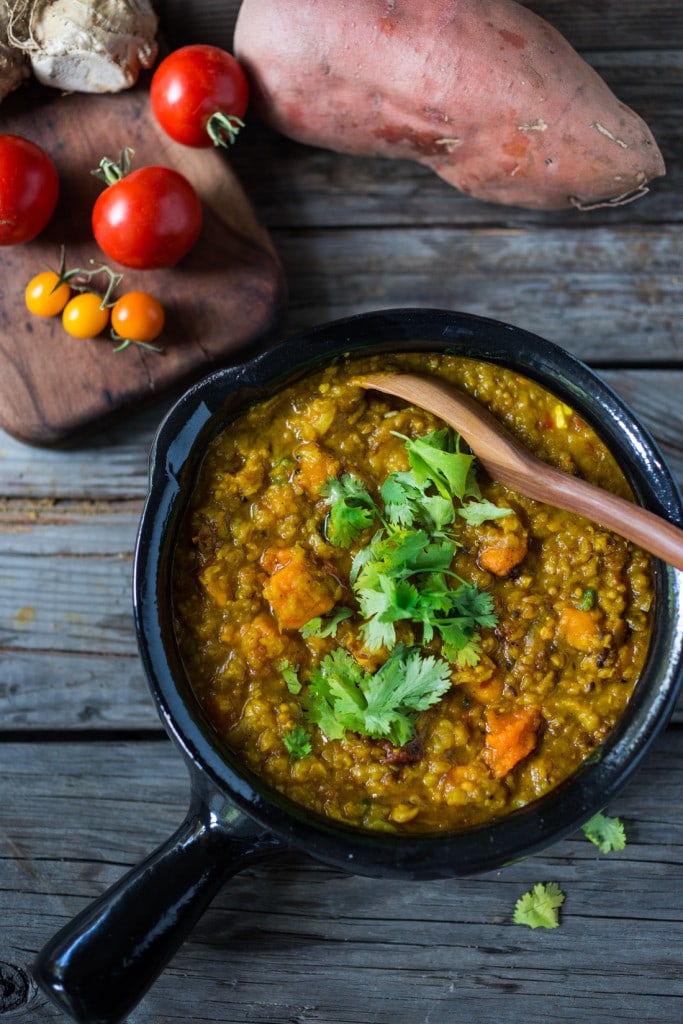 The leftover dal makes for a nutritious and filling lunch and can be microwaved and scooped into pita or served over quinoa. I hope you like it!
Please remember to rate the recipe – this encourages others to make the recipes too!
Print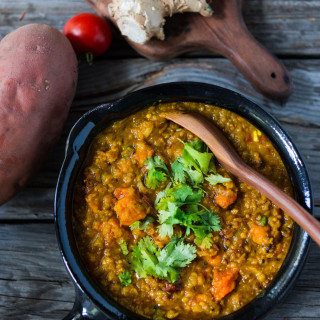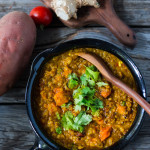 Lentil Dal with Sweet Potatoes
Prep Time:

10 mins

Cook Time:

20 mins

Total Time:

30 mins

Yield:

4

Category:

Vegetarian Main

Method:

Stove top

Cuisine:

Indian
---
Description
Soulful, Comforting Red Lentil Dal with Sweet Potatoes and a flavorful "tempering oil". A quick 30 minute meal that is simple to make and full of fragrant Indian spices. Vegan!
---
Ingredients
1 cup

red lentils (split lentils)

1

yellow onion, diced

1 tablespoon

grated (or minced) fresh ginger

4

cloves garlic – minced

1 teaspoon

cumin seeds (or substitute ground cumin)

1 tablespoon

Garam Masala Spice

1 teaspoon

fenugreek leaves ( optional, but tasty)

¾ teaspoon

salt

1 teaspoon

honey or maple

2

bay leaves

1

serrano chili pepper, (or jalapeño) slit down the side vertically (optional)

1

medium sweet potato or yam, diced into ¾ inch cubes, skins OK (other veggies include cauliflower, green peas, spinach, kale, carrots, etc)

3 cups

water

2

medium tomatoes, diced (or

one

can diced)
Handful fresh cilantro leaves or chopped scallions for garnish
Flaked coconut- optional
Tempering oil – highly recommended!!!
---
Instructions
Rinse lentils and soak in a bowl of water.
In a large heavy bottom pot or Dutch over, heat oil over medium high heat.
Saute onion for 2-3 minutes, stirring, then add ginger. Saute two more minutes, then add garlic and turn heat to medium. Add spices, salt, bay leaves and chili. Stir for another minute letting spices toast, then add honey, and sweet potatoes.
Strain lentils and add to the pot, along with water and tomatoes. Give a stir, bring to boil, cover, and turn heat down, and let gently simmer, about 15 minutes. After 15 minutes, uncover and check consistency, If watery, continue to simmer uncovered until it reduces and becomes thicker.
Adjust salt, adding more to your taste, keeping in mind you want this to be slightly salty if serving over rice.
Make tempering oil to drizzle over top:  heat oil or ghee over medium high heat, add seeds and curry leaves and swirl or stir until you hear popping, about 30- 45 seconds. Turn heat off. Spoon it over the dal, after plating it up.
Serve with toasted naan bread, or basmati rice, garnishing with cilantro and flaked coconut.
---
Notes
 I really like adding roasted veggies to this. Roasting the sweet potato (or cauliflower or carrots etc) gives this a better texture in my opinion. But to save time here, I added the sweet potato directly with the lentils to cook. Up to you!
Keywords: Dal recipe, lentil dal, vegan dal recipe, easy dal recipe, lentil dal recipe, red lentil dal, how to make dal, what is dal?, dal makhani vegan