Authentic Tom Kha Gai – a simple delicious recipe for one of Thailand's most popular soups! Full of fragrant Thai ingredients like lemongrass, kaffir lime leaves, ginger, and galanga root, this Thai Coconut Chicken Soup can be made on the stovetop or in an Instant Pot. Paleo, Gluten-free and Vegan-adaptable. Includes a Video!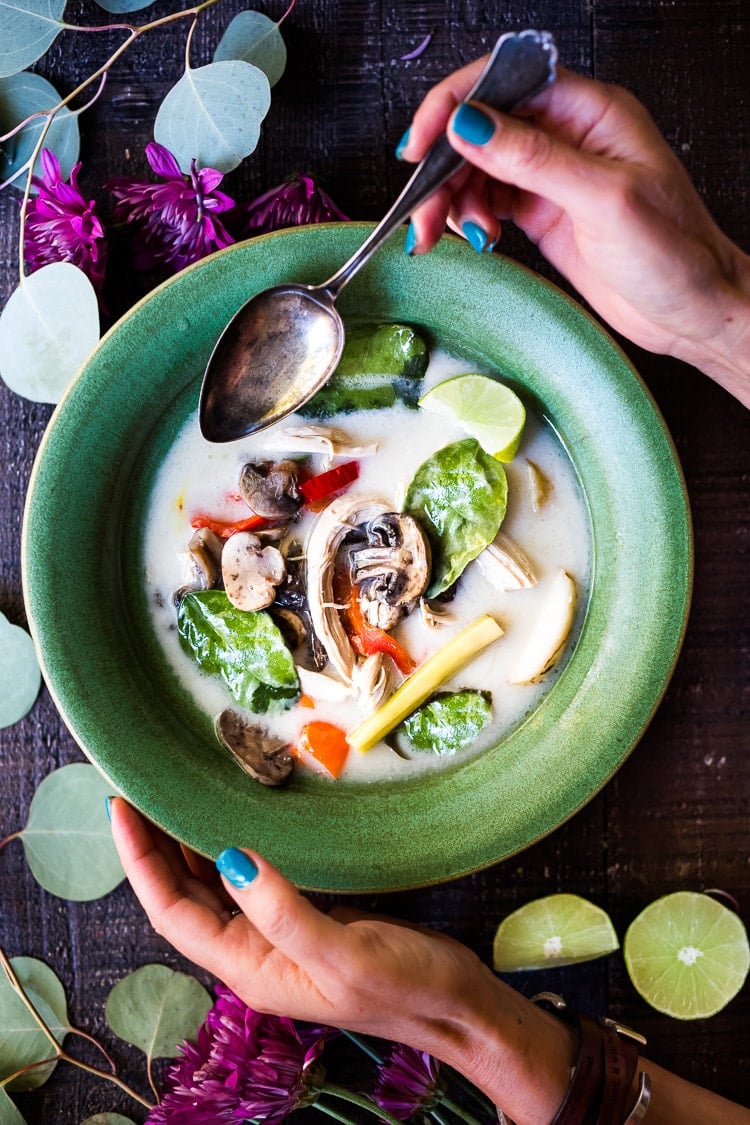 I would say that there exist a thousand unbreakable links between each of us and everything else, and that our dignity and our chances are one. The farthest star and the mud at our feet are a family; and there is no decency or sense in honoring one thing, or a few things, and then closing the list. ~Mary Oliver 
This authentic recipe for Tom Kha Gai (Thai Coconut Chicken Soup) is full of amazing flavor and can be made quickly and easily on the stovetop or in an Instant Pot pressure cooker.
What makes this recipe for Tom Kha Gai recipe truly authentic, is the use of galangal root. 
What Does Tom Kha Gai mean? 
Tom Kha Gai translates to Chicken Soup with Galangal.  Tom means SOUP, Kha means GALANGAL and Gai means Chicken.
Here, Galangal root is the star of the dish. And believe me, it will elevate. Galangal is hard to find at regular grocery stores and may require a trip to your local Asian Market, but trust me when I tell you, you'll love yourself for it. So will your family.
And what is nice is, you can buy extra galangal root and kaffir lime leaves and freeze them for future use, because I promise you'll want to make this soup again. Soon!
The rich, fragrant coconut broth is especially comforting when feeling under the weather. Here's another Thai soup you'll love… Tom Yum Soup!
 Tom Kha Gai | 60-sec video
---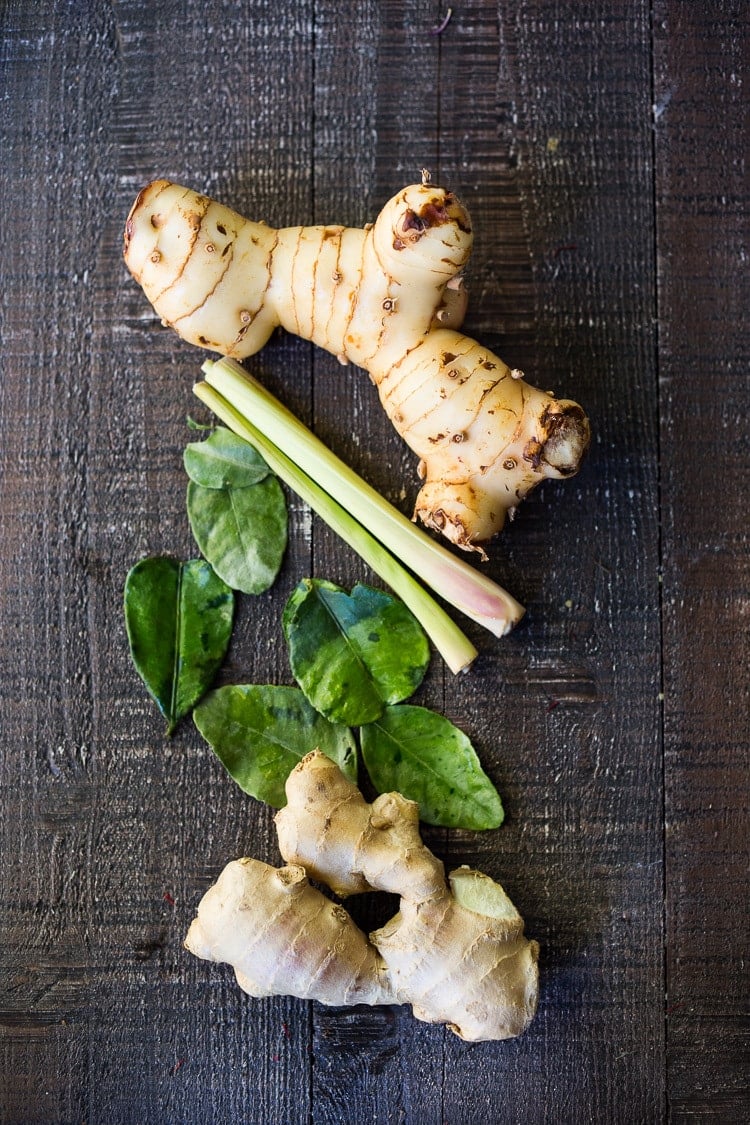 What is Galangal Root?
Galangal root (also called galanga)  looks very much like ginger but tastes very very different. It has an exotic pine flavor, that in my opinion, totally makes the soup. Like I mentioned above, the word Kha means galangal.  So don't make the soup, until you have time to go to the Asian Market.  Trust me.  😉
While you are there, pick up some kaffir lime leaves, fresh ginger and lemongrass. Both the galangal and the kaffir lime leaves may be in the frozen section of the market. You may also find chopped frozen lemongrass, which I happen to love because then there is always some on hand in the freezer.
While I haven't made a vegan version of this yet, I know it is possible using tofu (or fried tofu) and this vegan fish sauce.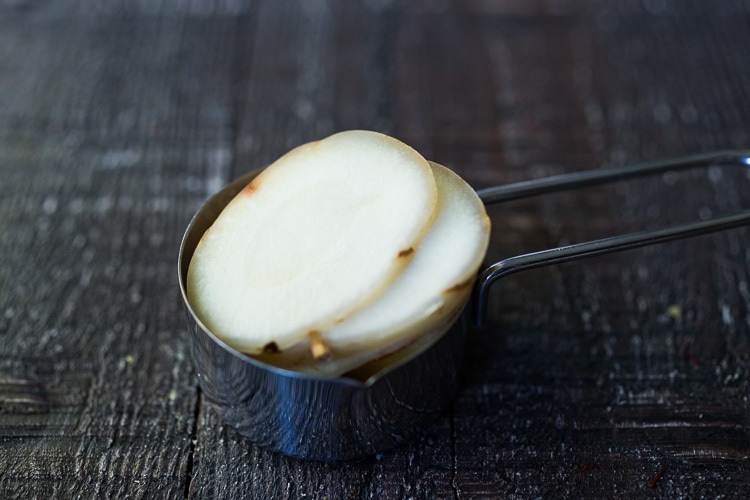 You'll need about a quarter cup of both galangal and ginger and just a heads up- you don't need to peel the ginger or the galangal, just thinly slice. There are some who believe ginger doesn't belong in Tom Kha, but I still like to add both. Up to you.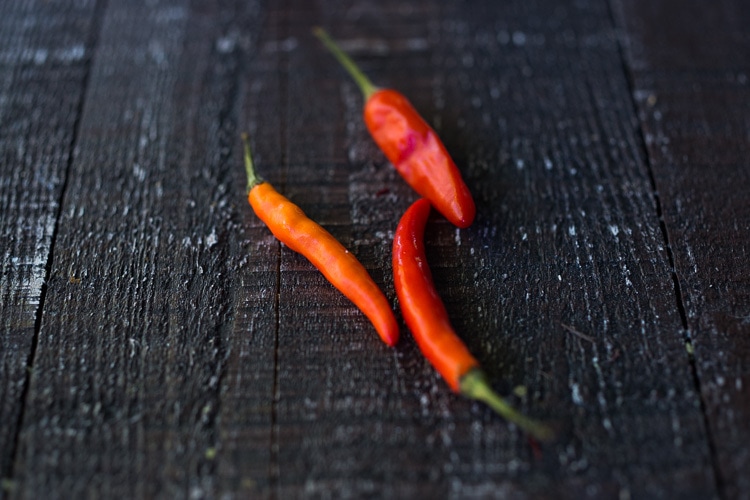 Thai red chilies are a nice addition to the soup too, but you can also use chili paste.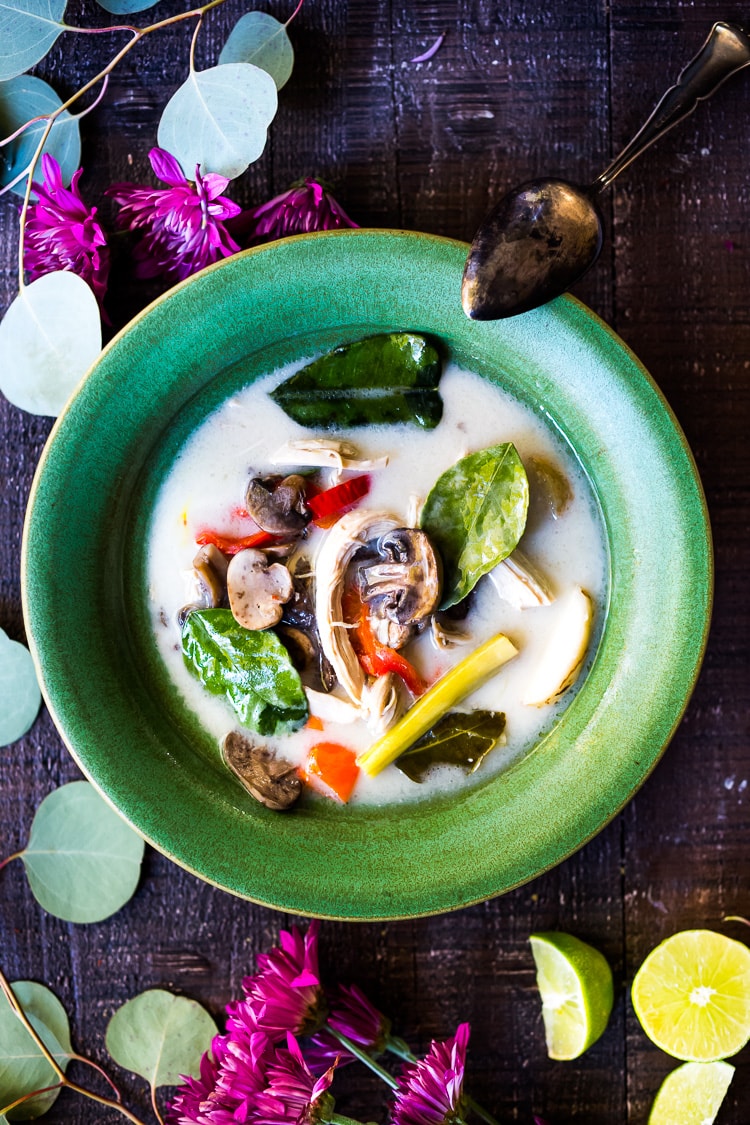 Can Tom Kha Gai be frozen?
Yes, Tom Kha Gai freezes well. Make a big batch and freeze for busy nights.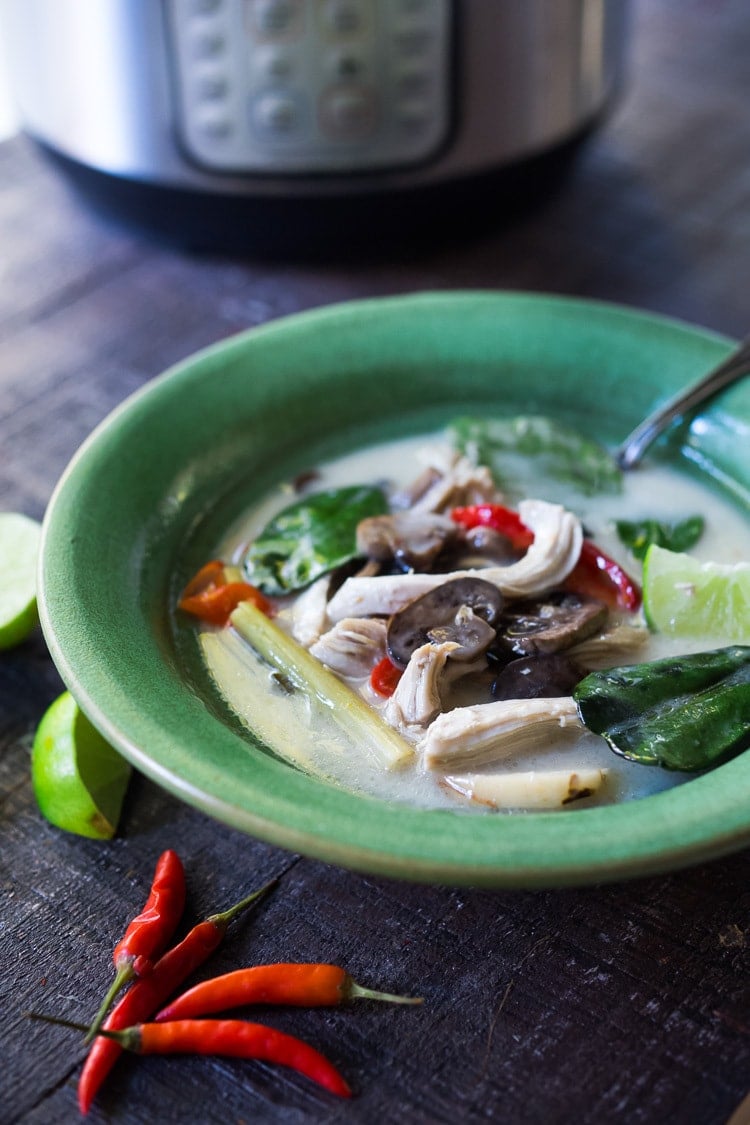 Instant Pot or Stovetop Tom Kah Gai
Make the Tom Kha Gai in an Instant Pot with chicken breast or chicken thighs, or cook it more authentically on the stovetop.
Your choice!
The instant pot version is very quick and easy- just put it all in the pot and set. When it's done squeeze with fresh lime and serve in bowls. Feel free to add cilantro.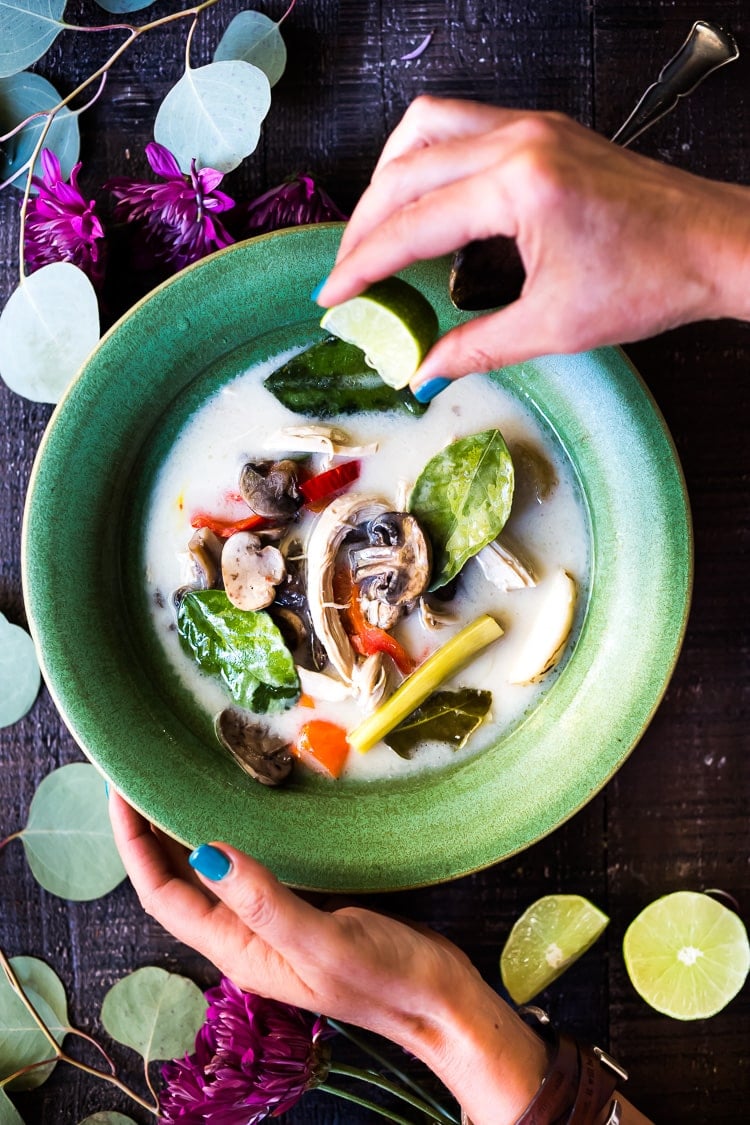 Enjoy this Tom Kha Gai – a warming Coconut Chicken soup that is full of amazing Thai flavor.
What is the Difference Between Tom Yum Soup and Tom Kha Gai? 
The primary difference between Tom Yum Soup and Tom Kha is that Tom Kha is richer and creamier by adding coconut milk. Tom Yum Soup is brothy, spicy, and sour and is typically made with a spicy paste. Tom Kha is rich and creamy, with sweeter notes.
You may also like these Thai Recipes:
Print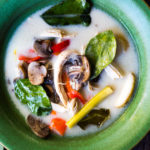 Authentic Tom Kha Gai Soup
Author:

Sylvia Fountaine

Prep Time:

10

Cook Time:

20

Total Time:

30 minutes

Yield:

8 cups

(

4

servings)

1

x

Category:

soup, gluten-free, vegan-adaptable

Method:

instant pot, stove top, pressure cooker

Cuisine:

Thai
---
Description
Learn how to make authentic Tom Kha Gai (Thai Coconut Chicken Soup) with this simple delicious recipe. Can be made in an Instant Pot or on the stove top. Gluten-free and vegan adaptable! Updated 3/20 ( see notes)
---
1

–

2

shallots, diced

1/4

cup

ginger, sliced into 1/8 inch thick disks, skins ok ( 2 inch piece)

1/4

cup

galangal root, sliced into 1/8 thick disks, skins ok ( 2 inch piece)

3 tablespoons

finely chopped lemongrass– or use lemongrass paste.

2

cups

chicken broth or veggie broth

1

lb

boneless, skinless chicken- whole breasts or thighs (or sub 1 pound crispy Tofu)

8

ounces

mushrooms (oyster, shiitake, cremini, or straw mushrooms) or sub other veggies like bell pepper, snow peas, etc.

2

–

4

fresh Thai Chilies, or add chili paste to taste at the end

3 tablespoons

fish sauce (or sub vegan fish sauce)

1 1/2 teaspoons

salt
————–
2 x

14

–

ounce

cans of coconut milk (full fat)

3 tablespoons

lime juice (

1

–

2

small limes) to taste

2 teaspoons

palm, coconut or brown sugar
Serve this on its own, over rice or rice noodles!
---
Instructions
Instant Pot Instructions:
Place everything in the instant pot

except lime juice, coconut milk and sugar

– leaving the chicken thighs or breasts whole. Don't forget the salt. Give a stir. 🙂
If using chicken breasts, pressure cook on high pressure for 7 minutes, or 10 minutes for thighs. If using tofu, pressure cook 4 minutes.
Naturally release for 10-15 minutes. Shred the chicken into bite sized pieces using two forks and add the coconut milk, sugar and lime juice. Taste- adjust salt, lime and spicy heat. Serve with a lime wedge.
Stove Top Cooking instructions:
Slice the chicken into thin bitesized pieces ( across the grain) and season with salt and pepper and set aside.
In large heavy bottom pot or dutch oven, saute shallot in a little oil over medium heat. Add ginger, lemongrass, lime leaves and  galalagal and 2 cups broth and simmer gently for 5 minutes, letting the broth infuse. Add the chicken (or tofu) and mushrooms and gently poach, simmering for 3-4 minutes or until chicken is just cooked through. Stir in the coconut milk, fish sauce, chilies, and salt and bring to a gentle simmer. Add the lime juice and sugar. Taste. Adjust salt and lime and the spice level by adding more chili paste.
---
Notes
It may smell "fishy" at first, but after you add the lime juice, it will all balance and mellow out.
When making the stove top version, sometimes I'll poach whole chicken breasts in the infused broth (covered) then shred with 2 forks- a little longer cooking time, but no pre-cutting required. Then add the remaining ingredients. 🙂
Boiling coconut milk will take some it's lovely sweetness away, so don't over boil it or over cook it, just simmer gently and not for too long. 🙂
To make a vegan version, sub veggie broth for the chicken broth. Add crispy tofu. ( Pan- sear cubes of tofu in a skillet, with olive oil, salt and pepper) Add other veggies if  you like! Sub vegan fish sauce for regular fish sauce.
Feel free to serve over rice or rice noodles.
The soup freezes well!
RECIPE UPDATE: I changed the Instant Pot version, to add the 2 cans of  coconut milk AFTER pressure cooking. Some folks had issues with the coconut milk curdling during the pressure cooking.
Nutrition
Serving Size:

1 1/2 cups using chicken breast

Calories:

461

Sugar:

3.4 g

Sodium:

1123.7 mg

Fat:

33.9 g

Saturated Fat:

28.3 g

Carbohydrates:

9.5 g

Fiber:

0.7 g

Protein:

25.6 g

Cholesterol:

66.2 mg
Keywords: instant pot tom kha gai, tom kha gai soup, tom aha recipe, authentic tom aha gai soup, vegan tom kha recipe,