Smoked Mushrooms can be made on your stovetop in just 15 minutes! A simple EASY way to add depth, flavor, complexity and intrigue to vegan and vegetarian dishes.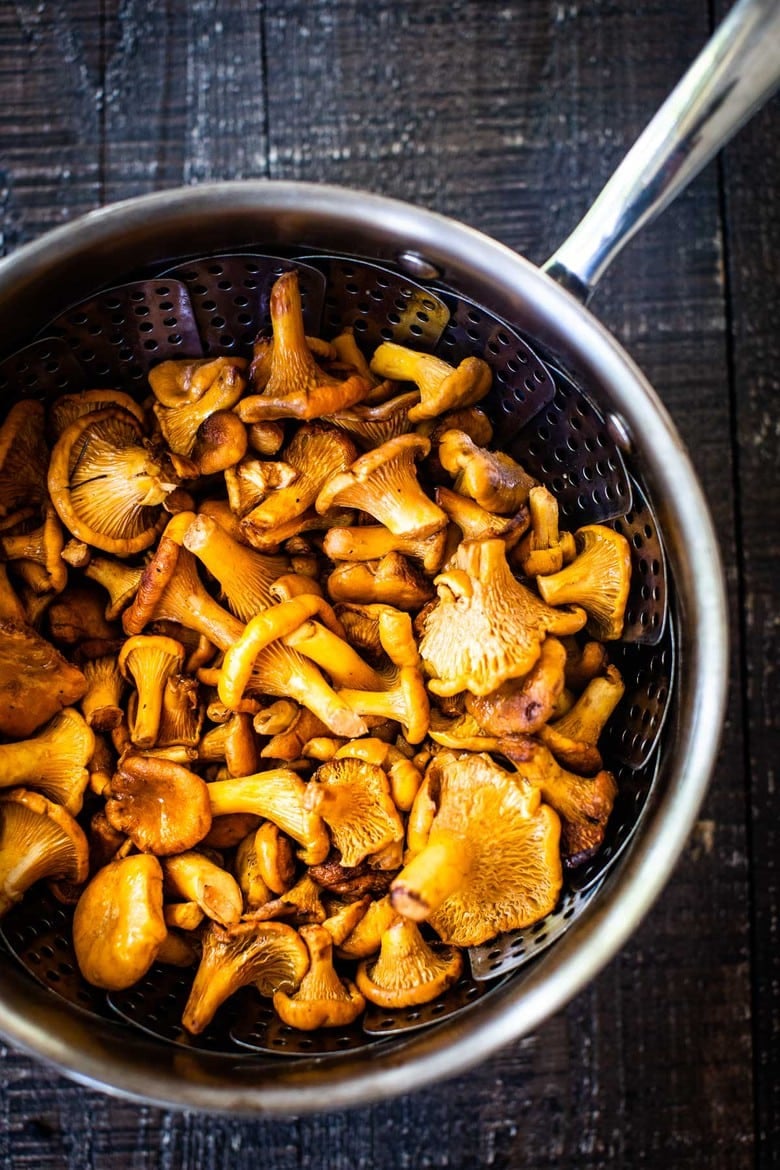 Here's another catering technique I used in my previous life that added that extra "wow" to dishes we were already making – Smoked Mushrooms! Now before you start thinking that it's too hard or too complicated- or even wonder why anyone would want to smoke mushrooms- and no I 'm not getting psychedelic on you friends- just hear me out. 🙂
Many of you converting to the vegan lifestyle, miss the depth, smokiness and "meatiness", of meat or grilled meats.  This technique helps. Smoking mushrooms gives them a delicious depth and complexity. I love adding smoked mushrooms to pasta dishes, ramen, lasagna, enchiladas, or a whole portobello for the tastiest veggie burger ever!
Of course, you can also grill them with wood chips or use a smoker, but that can be a chore, especially in winter.
This technique is ridiculously easy, and requires no special equipment and only takes 10-15 minutes on your stovetop!  I can't wait to show you how to do this!
What you need for SmokeD Mushrooms!
Medium pot with a tight-fitting lid.
Strainer basket to fit inside the pot.
Wood chips (or loose leaf tea) I've found that milder varieties work best here, especially for delicately flavored mushrooms like chanterelles, but feel free to play around and use what you want. You can also use loose-leaf tea!  Green or Black! If smoking whole portobellos (for burgers) you could try a deeper flavor like mesquite.

Alder
Apple
Almond
Cherry

A piece of foil.
Mushrooms: use wild or tame mushrooms or a combo of both! Shiitakes, portobello, morels, chanterelles, button or cremini, maitake or oyster!
How make Smoked Mushrooms

Place a double layer of foil on the bottom of your pot.
Top with your wood chips or pellets. Use 1/8 cup to 1/4 cup depending on the amount of mushrooms. Start conservatively.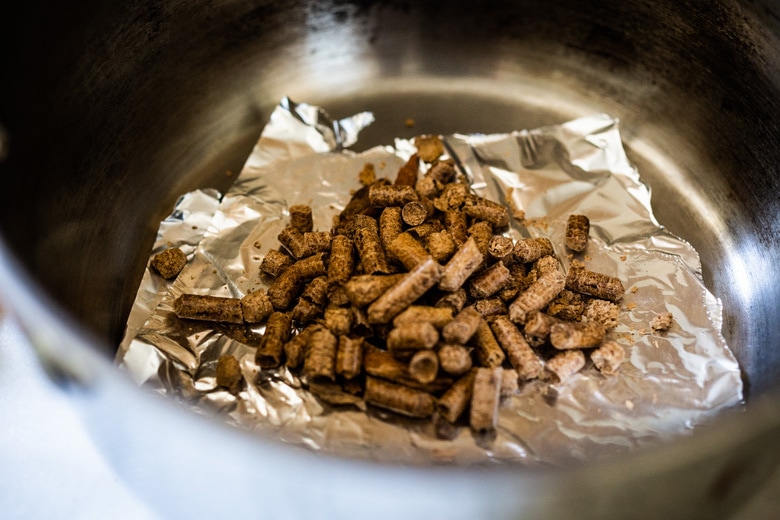 Place the steamer basket over the wood chips.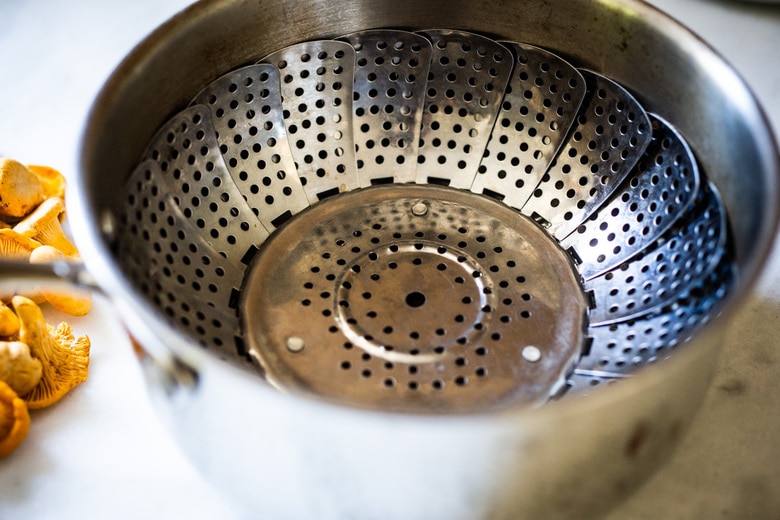 Toss mushrooms with very lightly with olive oil, salt, and pepper.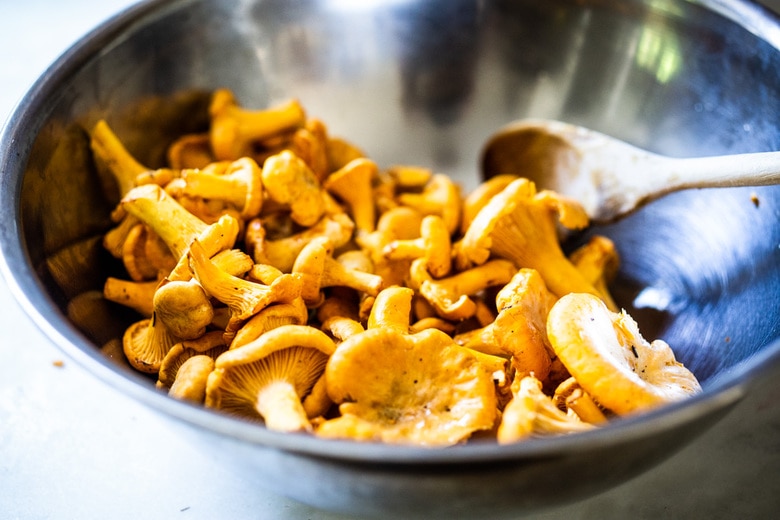 Place mushrooms in the steamer basket and place it on the stove.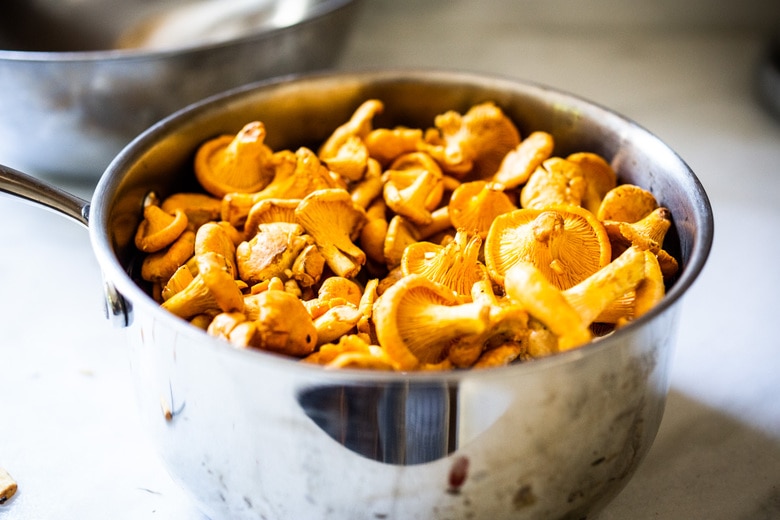 Turn your hood on and turn the heat to med-high.
Wait, until you see smoke. This may take 5 minutes or longer. Be patient.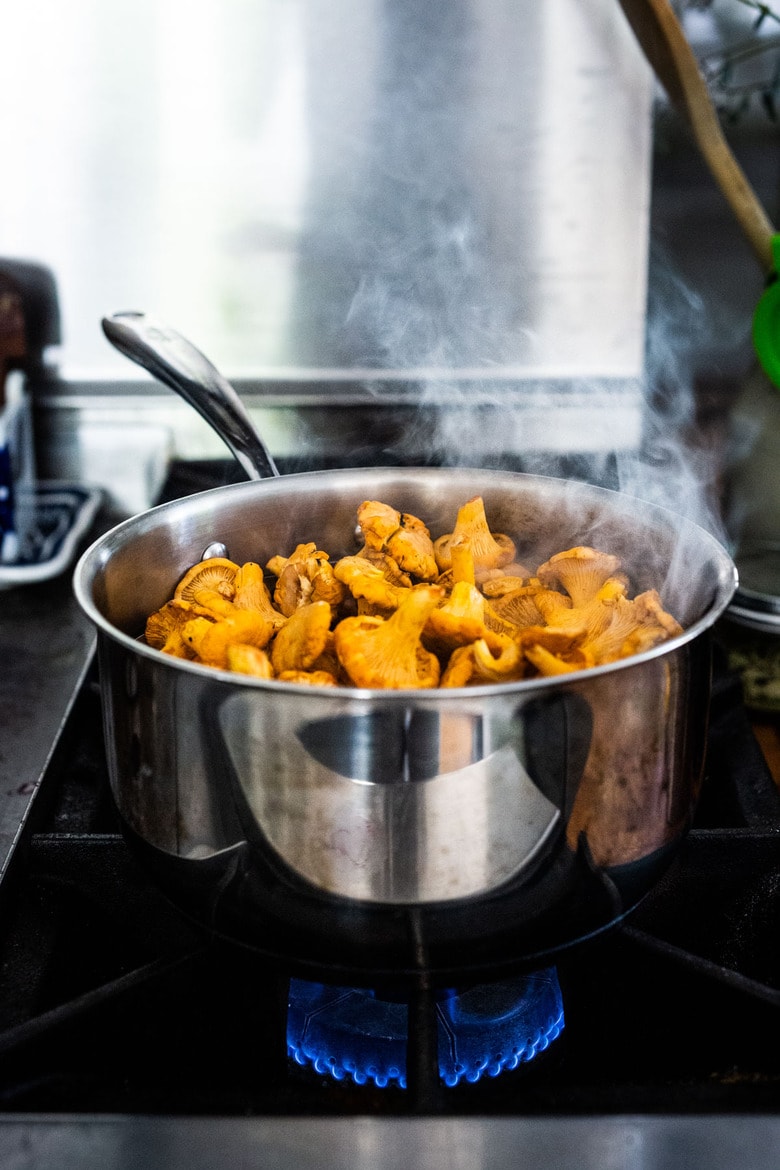 Once you see smoke, cover tightly.  Lower heat to medium.
Smoke them lightly, perhaps 4-6 minutes.
You can test one at 4 minutes, and continue adding time if you like.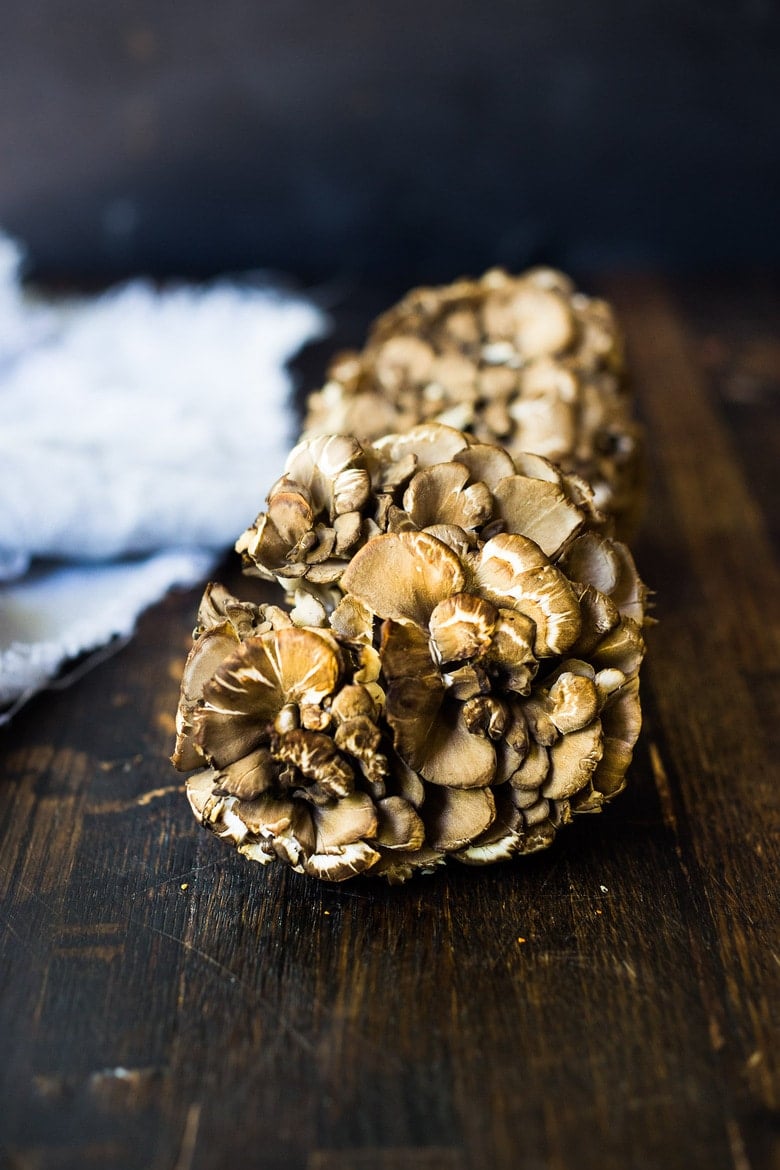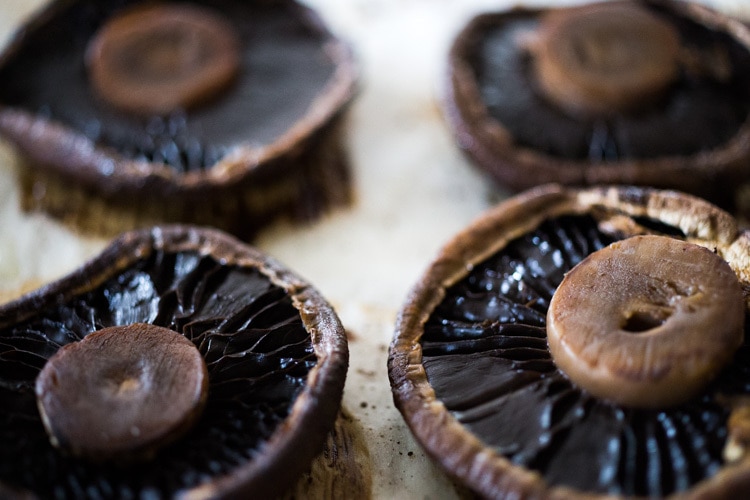 Once the mushrooms are smoked, continue cooking like you normally would. Saute in a little olive oil, roast or drop them into soup or ramen just like this.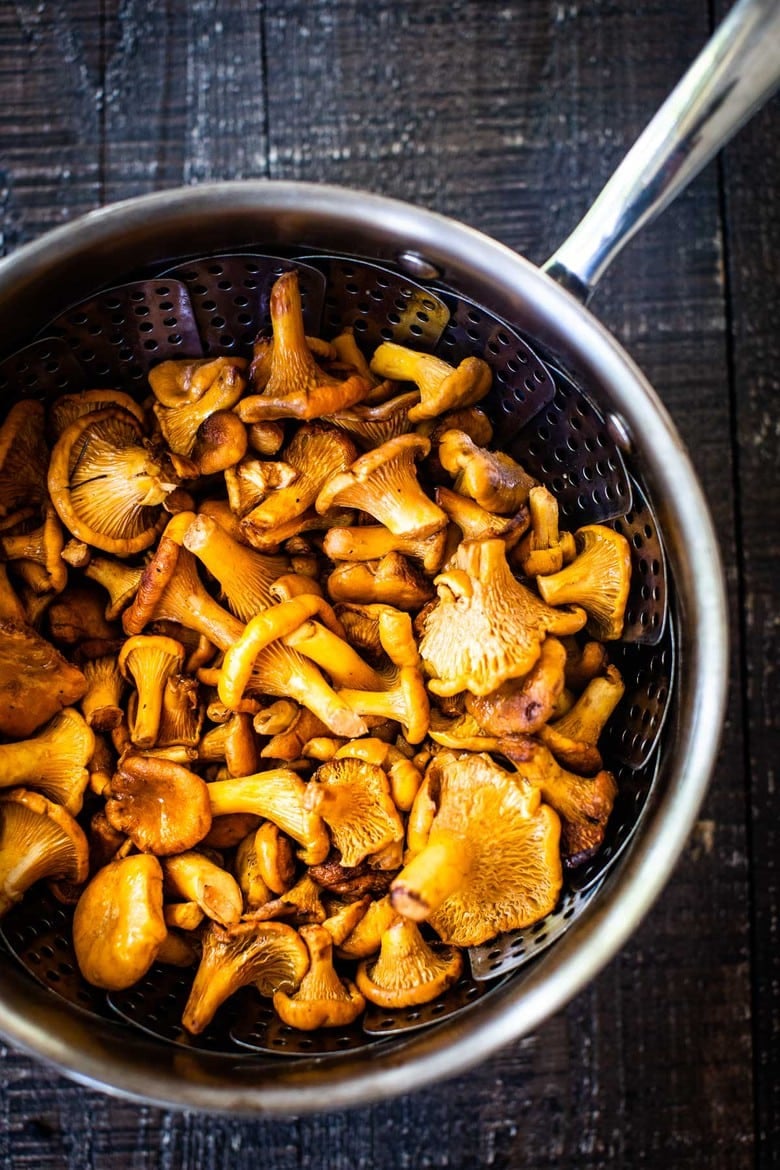 So simple.
Take this and run friends! Next thing ya know, you'll be smoking beets, butternut, fish, potatoes, tofu… YUMMMM! The sky is the limit.
I'm already so proud of you. xoxoxo
You may also Like
Print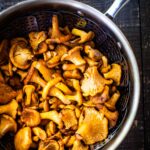 Smoked Mushrooms (on your stovetop!)
Author:

Sylvia Fountaine

Prep Time:

8

Cook Time:

8

Total Time:

16 minutes

Yield:

2

-

4

cups

1

x

Category:

vegan, vegetables, dyi,

Method:

smoked

Cuisine:

Pnw
---
Description
How to smoke mushrooms on your stove top! Elevate your vegan and vegetarian mains with Smoked Mushrooms! This simple easy technique requires no special equipment and can be made on your stovetop. Add flavor, complexity and depth to dishes you are already making, in 15-20 minutes!
---
3

–

4

tablespoons

finely shredded

wood chips (or pellets) -Alder, Apple, Almond, Cherry etc. Or try tea!

2

–

3

tablespoons. (see notes)

1/2

–

1

lb

mushrooms, cleaned. (leave whole, or cut, up to you) Shiitakes, Button, Cremini, Portobellos, Chanterelles, Porcini, Maitake, any sturdy mushroom.
drizzle of olive oil (or use spray olive oil)
pinch salt and pepper
---
Instructions
Clean and place mushrooms in a bowl. Lightly coat in olive oil (too much oil will interfere with smoke)

so go light here,

tossing gently.  Sprinkle with salt and pepper.
Place a double layer of foil in the bottom of a medium pot. Place wood chips on top, in a little mound. Place strainer basket over top. Place mushrooms in the strainer basket.
Place the pot on the stove and turn to medium high or high heat. Leave uncovered until you see smoke. TURN HOOD ON! Once you see smoke, then tightly cover. Wait 30 seconds, then turn heat to medium.
Be conservative and don't "over smoke"! Smoke for 3-4 minutes for a mild smoke flavor-  or go longer  5-7 minutes for a more intense smoke flavor (great for broths, vegan ramen, etc.). It is easy to over smoke them so perhaps be conservative the first time. If not sure, pull out a tester at 3-4 minutes, replacing the lid.
As they smoke they will steam slightly, but most likely not cook fully- especially if only smoking for 5 minutes.
Then cook the mushrooms as you normally would- either sauteeing in olive oil or butter, or roasting. If adding to soups, or broth-based soups, just drop them in as they are.
Enjoy!
---
Notes
It is easy to over smoke these- so go lightly your first time! You want to still be able to taste the mushroom itself!
If your wood chips are large chunks, try to cut them down a bit. I just use a sharp chefs knife. Or try a meat tenderizer ( or hammer), to break them apart. You want small pieces of wood here for a faster smoke point.
I find subtler wood flavors are better with mushrooms.
2-4 tablespoons of loose leaf black tea or green tea is also nice to smoke mushrooms.
Nutrition
Serving Size:

4 ounces

Calories:

35

Sugar:

2.2 g

Sodium:

595.7 mg

Fat:

1.6 g

Saturated Fat:

0.2 g

Carbohydrates:

3.7 g

Fiber:

1.1 g

Protein:

3.5 g

Cholesterol:

0 mg
Keywords: smoked mushrooms, smoked mushroom recipe, how to smoke mushrooms on a stovetop, stovetop smoker, stovetop smoking