Calling all mushroom lovers! Here are the most delicious mushroom recipes to fall head-over-heels in love with. Earthy, meaty and flavorful mushrooms are a cook's dream.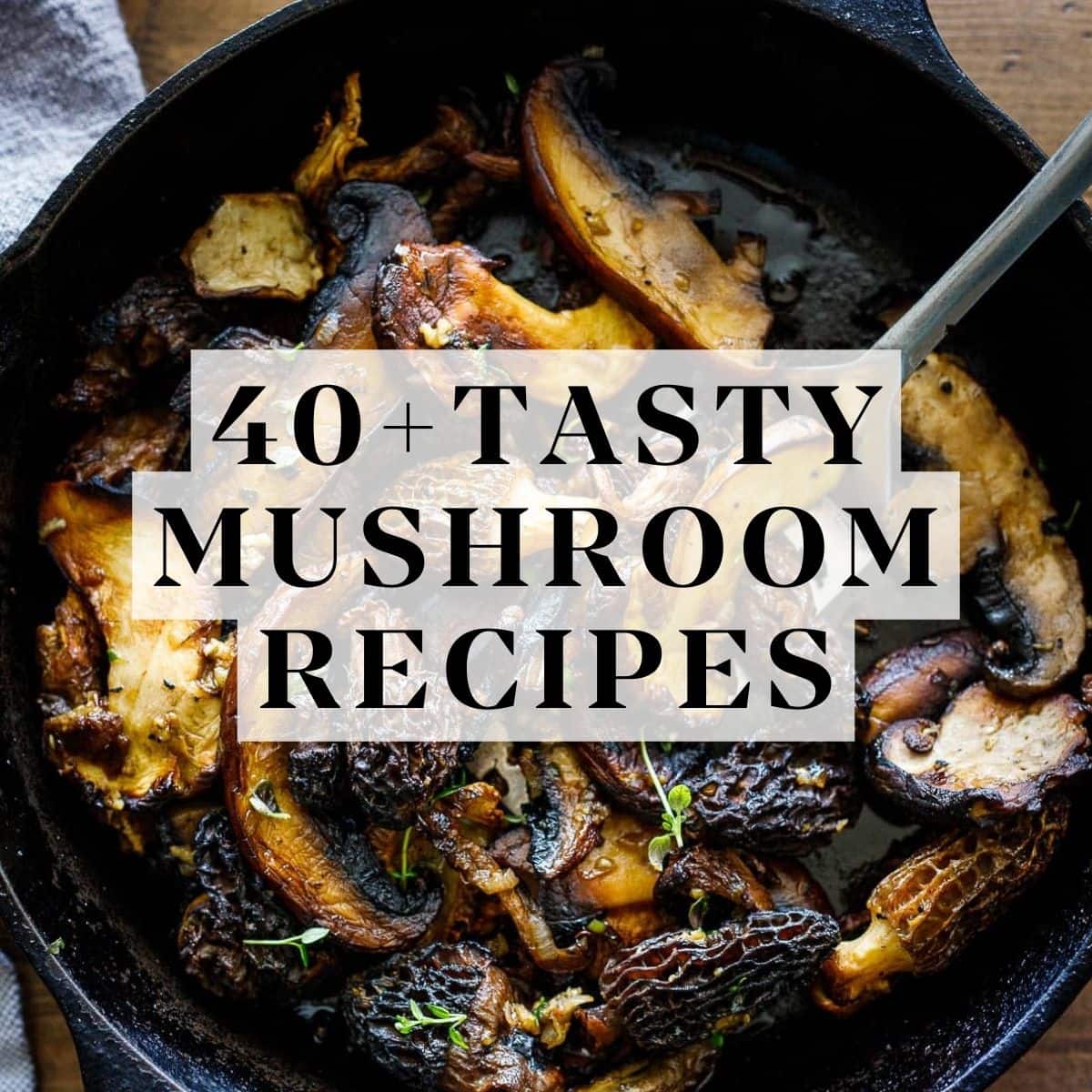 This collection features our favorite mushroom recipes from around the globe. From mouthwatering mushroom dinners to pastas, soups, salads and everything in between, there is something for everyone.
And now our best mushroom recipes…
Mouthwatering Mushroom Dinners
These hearty dinners all feature mushrooms front and center. Whether you are cooking with wild mushrooms or tame mushrooms, these healthy mushroom recipes will satisfy you.
Mushroom Pasta
These mushroom pasta recipes are homey and comforting, perfect for date nights or cozy evenings at home. All of these are vegetarian and many are vegan or vegan-adaptable.
Creamy Mushroom soup
Mushroom Soup for the soul
We love the depth and umami that mushrooms bring to soups and stews. So meaty, savory and earthy! Here are a few of our favorite mushroom soup recipes we think you will love.
30-Minute Mushroom recipes
These simple weeknight dinners can be made in under 30 minutes. Made with your choice of protein- tofu, chicken or shrimp, they are versatile and easy.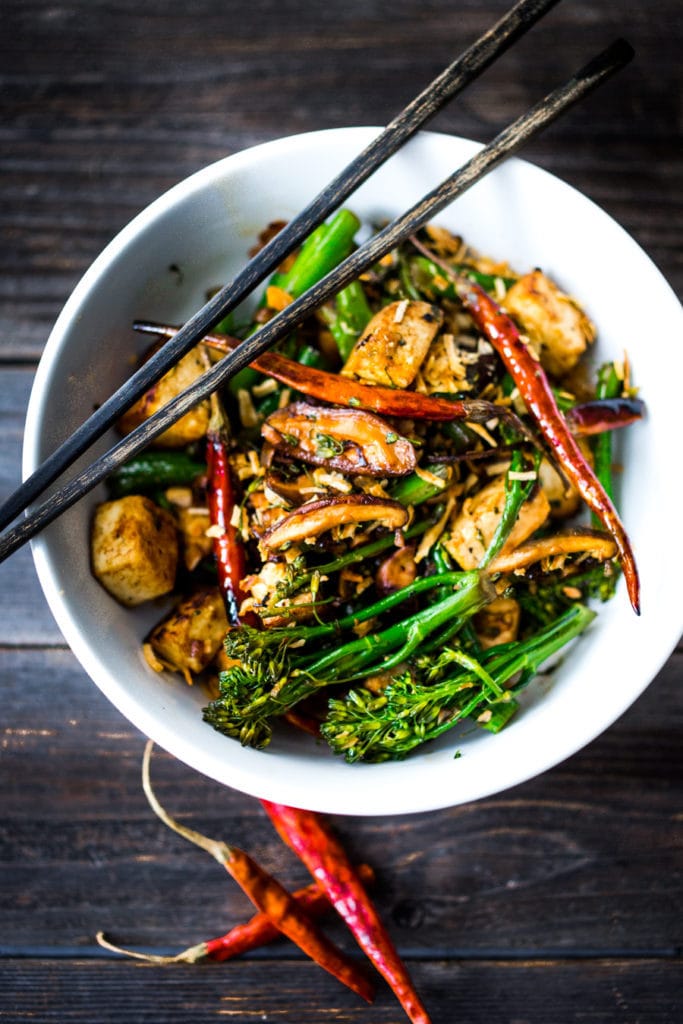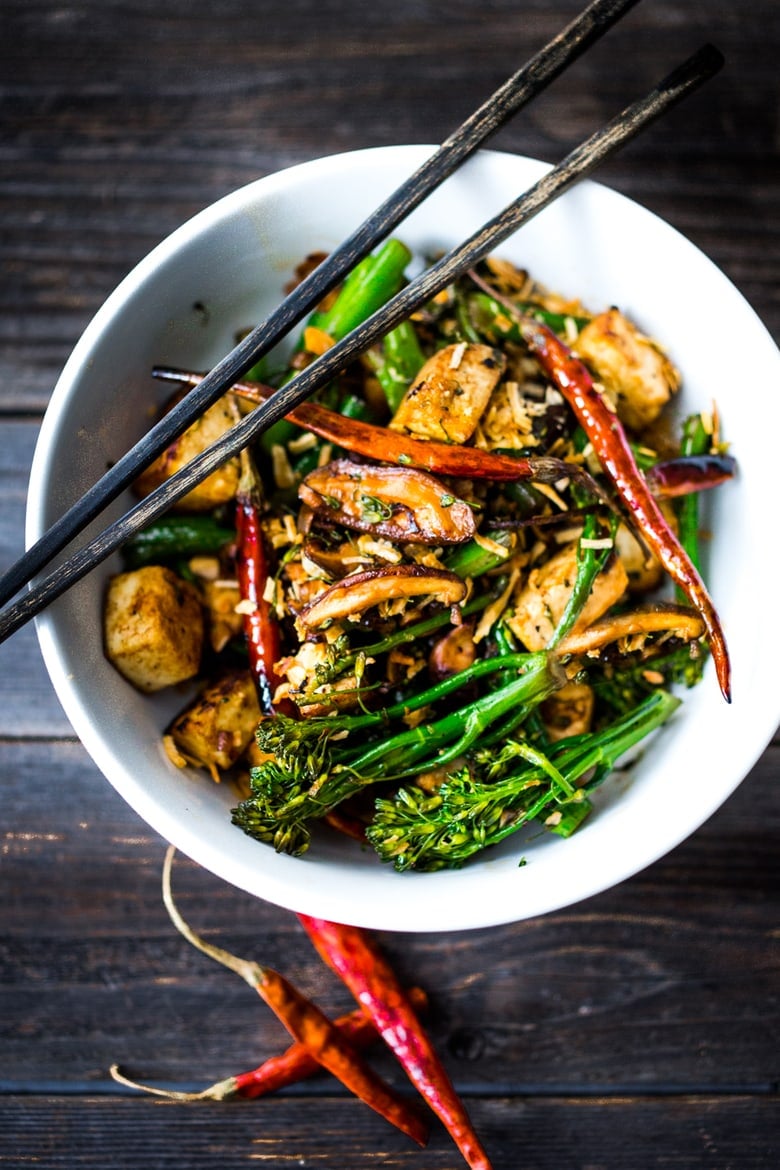 Tofu Stir-Fry with Broccolini and Mushrooms
Flavorful recipe for Tofu Stir-Fry with Broccolini and Mushrooms – this can also be made with shrimp or chicken -simple, flavorful vegan and gluten free, fast and easy!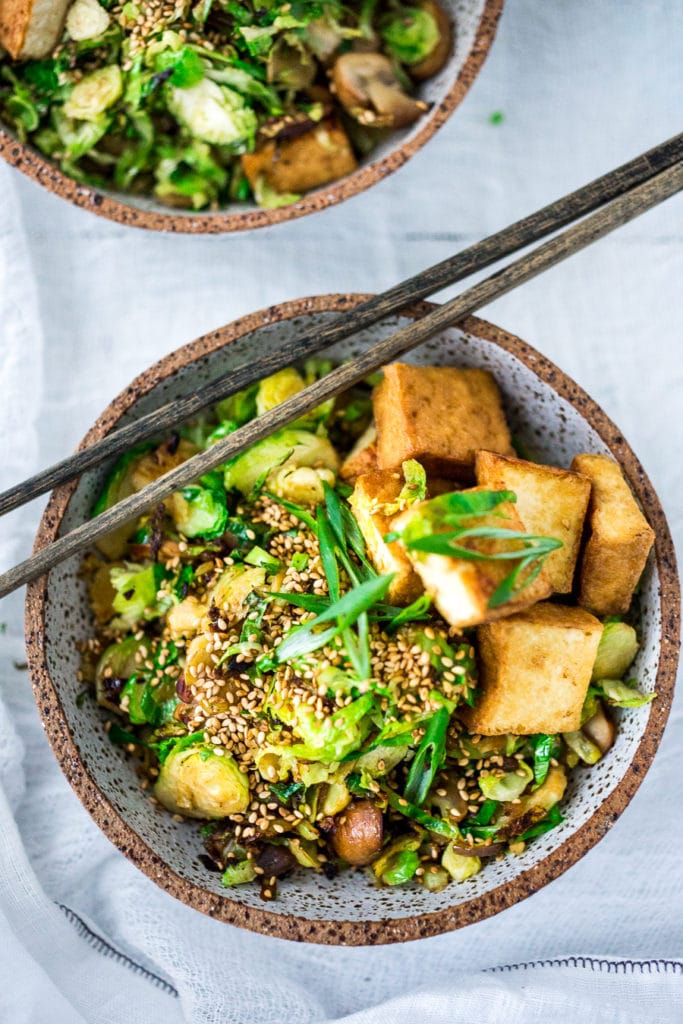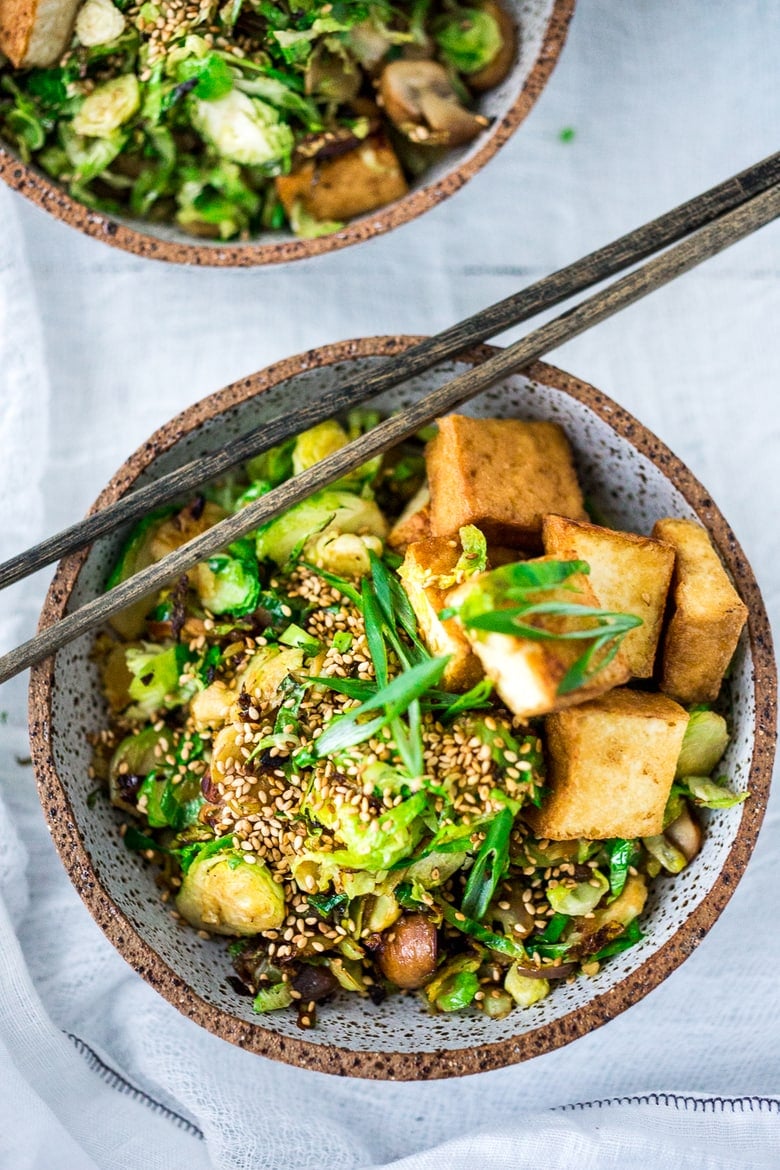 Stir-fry Tofu, Brussels Sprouts & Mushroom Bowl
Stir-fry Tofu, Brussel Sprouts and Mushroom bowl with sesame seeds, scallions and Sriracha – a quick healthy dinner.
Mushroom Bowls
These hearty flavorful Buddha Bowls feature mushrooms front and center.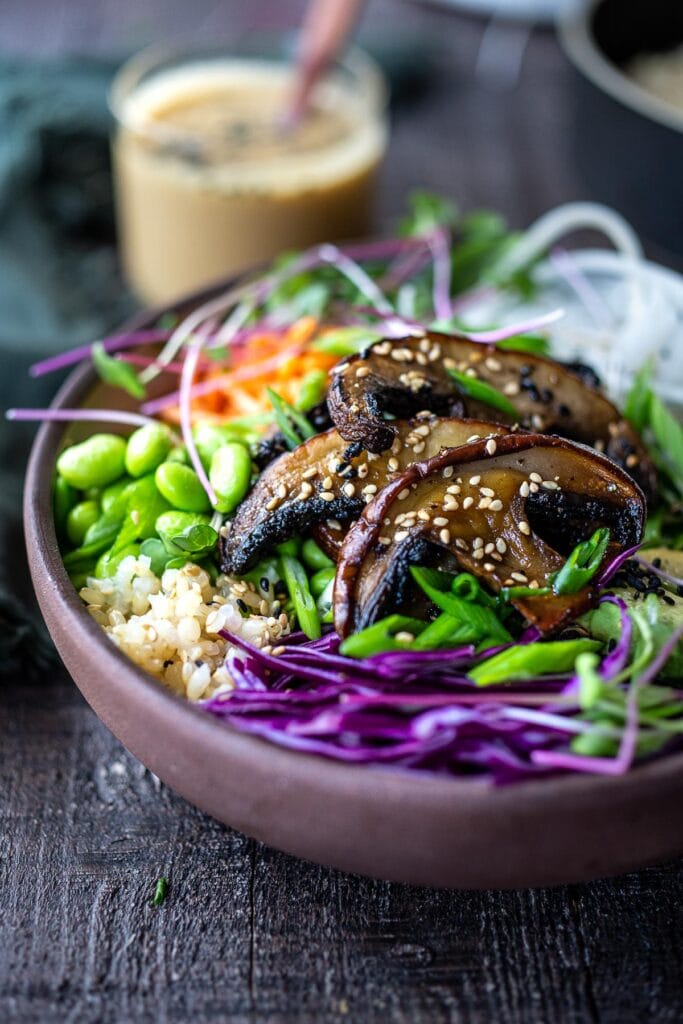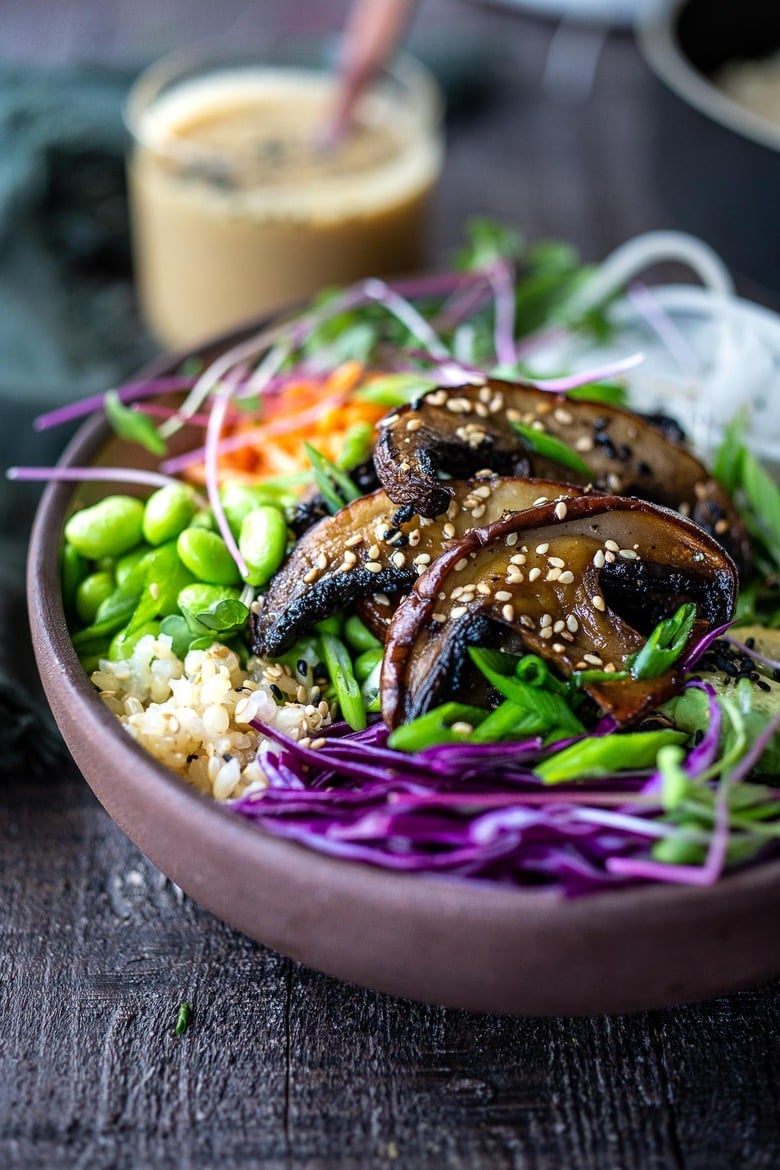 Miso Mushroom Bowl
This plant-based Miso Mushroom Bowl is served over a bed of warm brown rice, topped with healthy veggies and drizzled with the tastiest Sesame Miso Ginger Dressing (that you'll want to put on everything)! Vegan & Gluten-Free.
Mushroom Salads
We love serving earthy mushrooms in salads. A great way to feature maitake mushrooms, morels and oyster mushrooms!
Mushroom Sides
These mushroom side dishes will elevate any meal!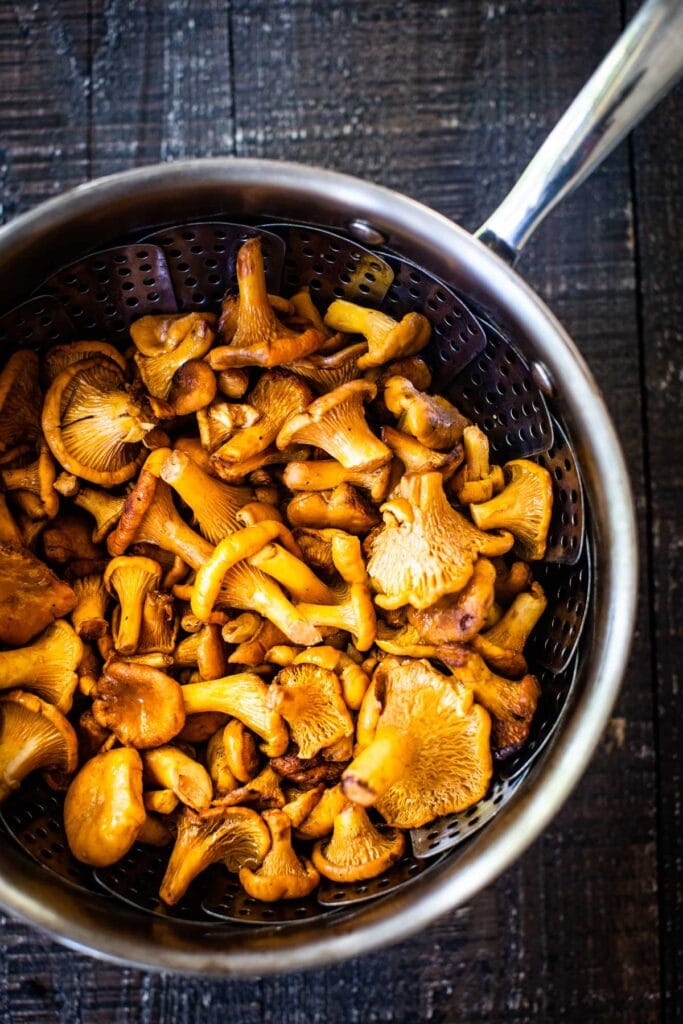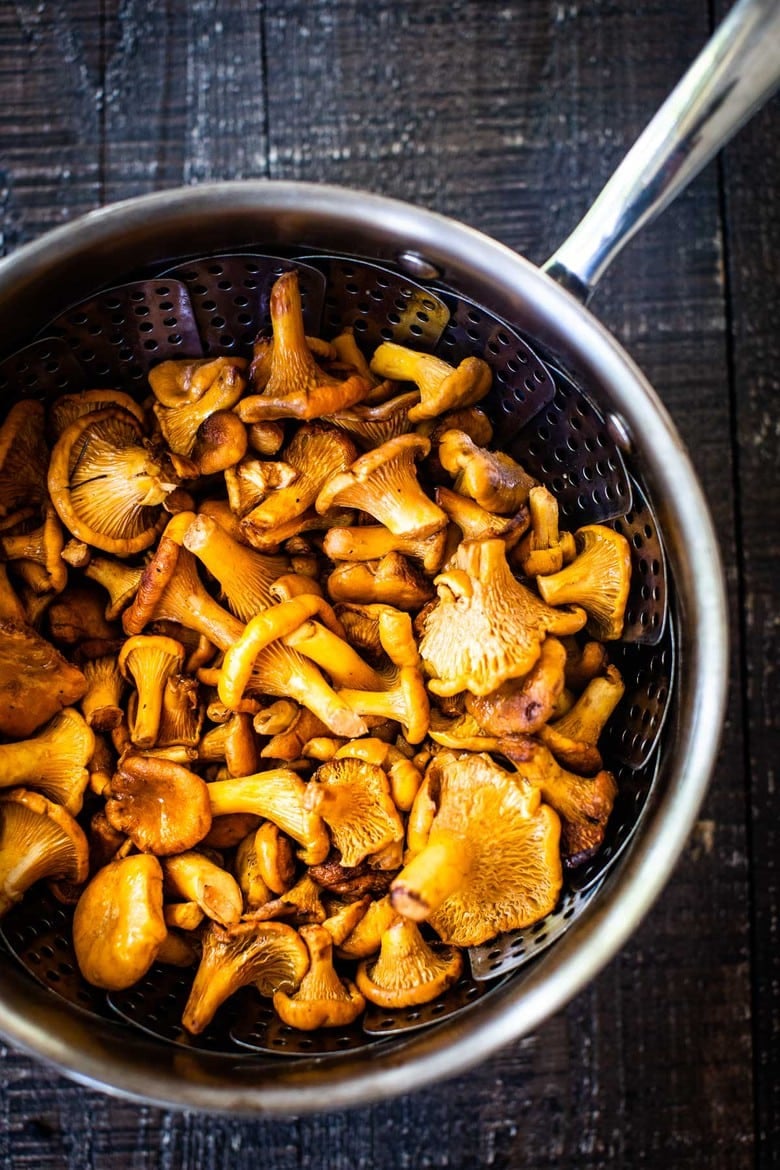 Smoked Mushrooms (on your stovetop!)
How to smoke mushrooms on your stovetop! Elevate your vegan and vegetarian mains with Smoked Mushrooms! This simple easy technique requires no special equipment and can be made on your stovetop. Add flavor, complexity and depth to dishes you are already making, in 15-20 minutes!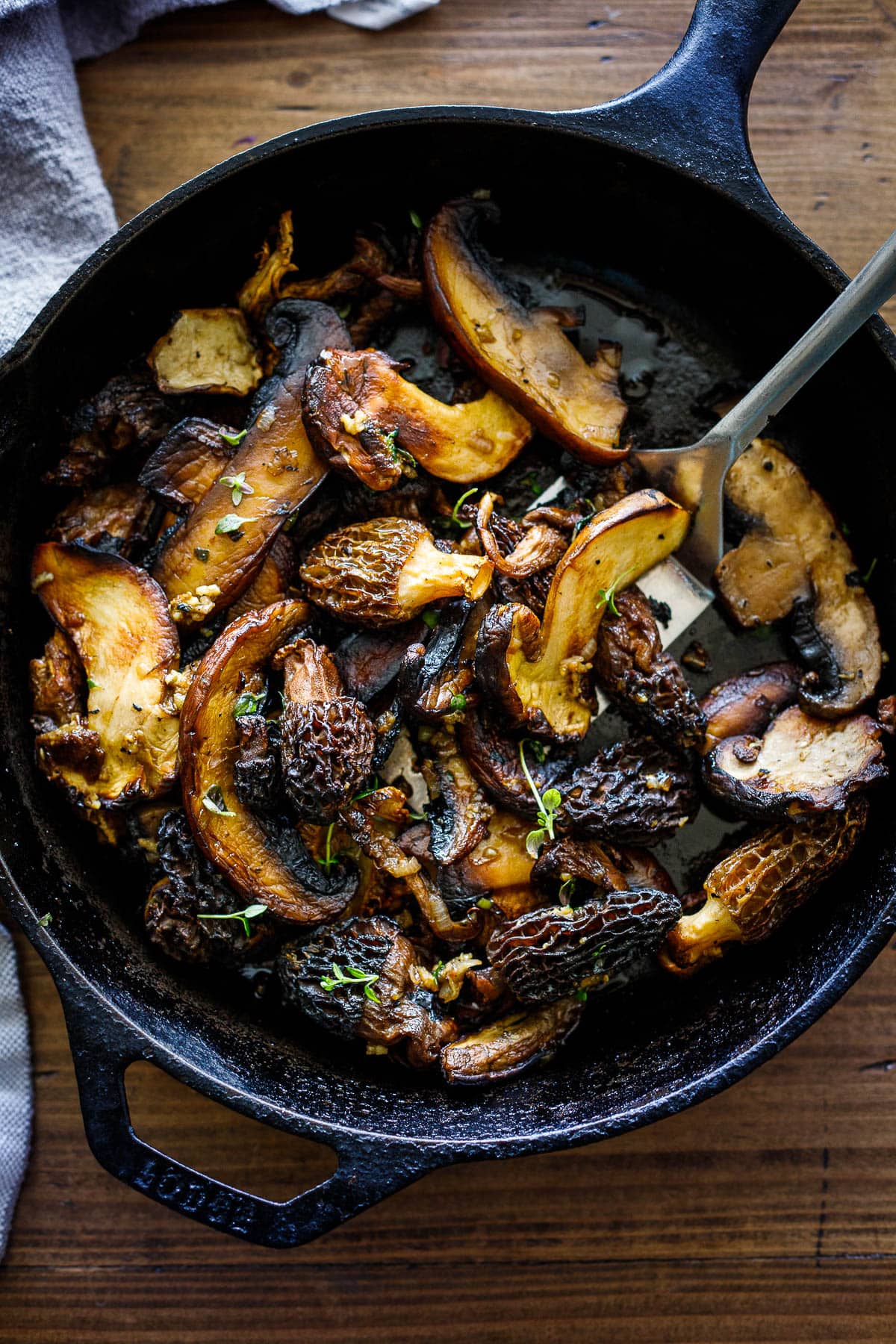 Simple Sautéed Mushrooms
These simple Sautéed Mushrooms can transform even the humblest of meals into a feast! Quick, easy and full of nutrients, a delicious healthy side dish that pairs with many things!
Mushroom Appetizers
These light and savory appetizers are a beautiful start to any meal.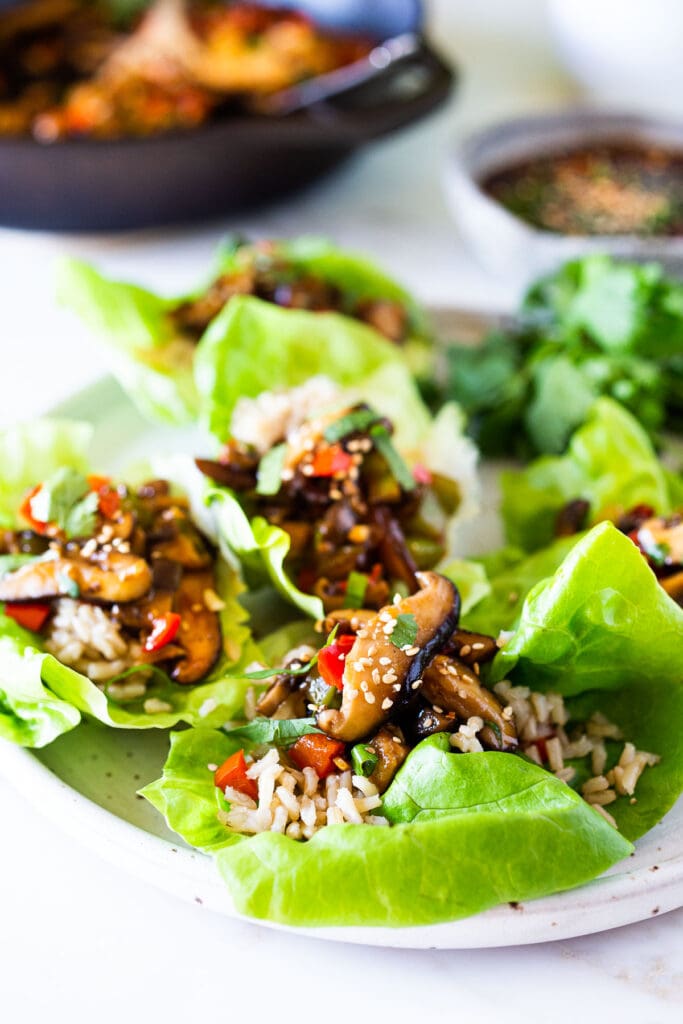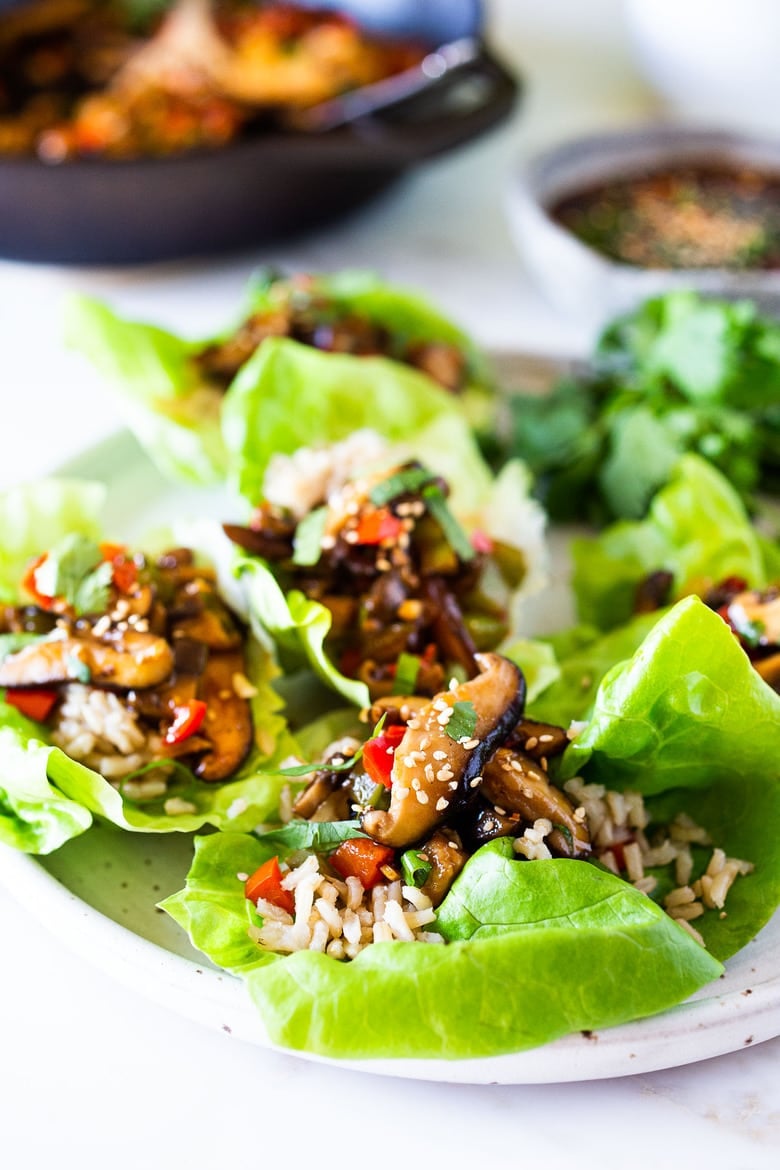 Teriyaki Mushroom Lettuce Wraps
Delicious Vegan Lettuce Wraps are filled with Teriyaki Mushrooms and brown rice- an easy Asian-inspired lunch idea or appetizer that is healthy, vegan and satisfying. Gluten-free Adaptable! Made with Homemade Teriyaki Sauce.
Mushroom Powder!
Mushroom FaQs
Are mushrooms healthy?
Mushrooms are low in both calories and carbs, while providing a wealth of macro and micronutrients – B vitamins, selenium, zinc, Vitamin D, and copper.
Mushrooms are high in antioxidants, particularly ergothioneine and glutathione, which may protect cells from damage.
What are the best ways to cook mushrooms?
Mushrooms can be sauteed, grilled, roasted or simmered, all with great results.
What are the most popular mushrooms to cook with?
Button, cremini, portobello, shiitake, oyster, morel, chanterelle, porcini, enoki and maitake.
What is the best way to store mushrooms?
Mushrooms' high moisture content makes them very perishable. Store them in a paper bag or container with airflow to allow air circulation. Mushrooms can also be wrapped in a paper towel and placed in an opened plastic bag. Mushrooms can last up to 10 days in the fridge if stored properly.
What is the best way to clean mushrooms?
Use a brush or rough towel to brush away any loose debris, keeping mushrooms dry instead of washing them in water. If mushrooms are very dirty and must be washed, make sure to towel dry or air dry them on a sheet pan before cooking.
Print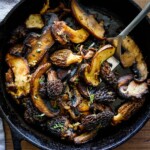 40+ Amazing Mushroom Recipes!
Prep Time:

5

Cook Time:

15

Total Time:

20 minutes

Yield:

4

1

x

Category:

main

Method:

stovetop

Cuisine:

American

Diet:

Vegetarian
---
Description
Earthy, meaty and flavorful, mushrooms offer a plethora of uses in the kitchen! Here are our 40 Best Mushroom Recipes from around the globe: Mushroom Cacio e Pepe
---
Simple Sauteed Mushrooms
16

ounces

mushrooms- cremini, button, shiitake, portobellos, chanterelles, morels, porcini, oyster

1 tablespoon

butter or ghee

1 tablespoons

olive oil
salt and pepper to taste

1

shallot, finely diced

2

garlic cloves, rough chopped

1 tablespoon

fresh thyme, sage, or rosemary
optional: splash white wine, red wine, marsala wine, sherry wine, ruby port, etc.
optional additions: truffle oil, soy sauce, fresh flat-leaf parsley.
---
Instructions
Clean mushrooms using a dry brush or towel. If very dirty, wash or soak in water, pat dry and allow to fully dry on the counter or on a sheet pan in a warm oven. Key is to start with DRY mushrooms.
Cut or tear to a similar size- roughly 1/2 inch thick.
Heat oil and butter in a large saute pan or cast iron skillet over medium-high heat. Add mushrooms and season with salt and pepper. Saute until just beginning to brown about 5 minutes.
Lower heat to medium or medium-low. Add shallots, garlic and thyme, continue sauteeing until fragrant and mushrooms release their liquid, and cook this off, another 5-7 minutes.
Add a splash of wine if you like, to deglaze the pan. Cook this off.
Taste and adjust salt and pepper. Add a few drops of truffle oil to elevate ordinary mushrooms, or a few drops of soy sauce if seeking deeper umami flavors. The key is to use a light hand. For brightness a little fresh parsley is nice.
---
Notes
Serve atop your favorite pasta, or as a side with chicken, fish, over pizza, etc.
Nutrition
Serving Size:

½ cup

Calories:

93

Sugar:

2.8 g

Sodium:

599.1 mg

Fat:

6.6 g

Saturated Fat:

2.4 g

Carbohydrates:

7.6 g

Fiber:

1.4 g

Protein:

3.3 g

Cholesterol:

7.6 mg
Keywords: mushroom recipes, 40 mushroom recipes, mushroom recipes easy, mushroom recipes healthy, mushroom pasta recipes, mushroom soups, mushroom dinner recipes