Grilled Portobello "Steak" Salad with Avocado and Lime… a hearty satisfying meal that is vegan and gluten-free!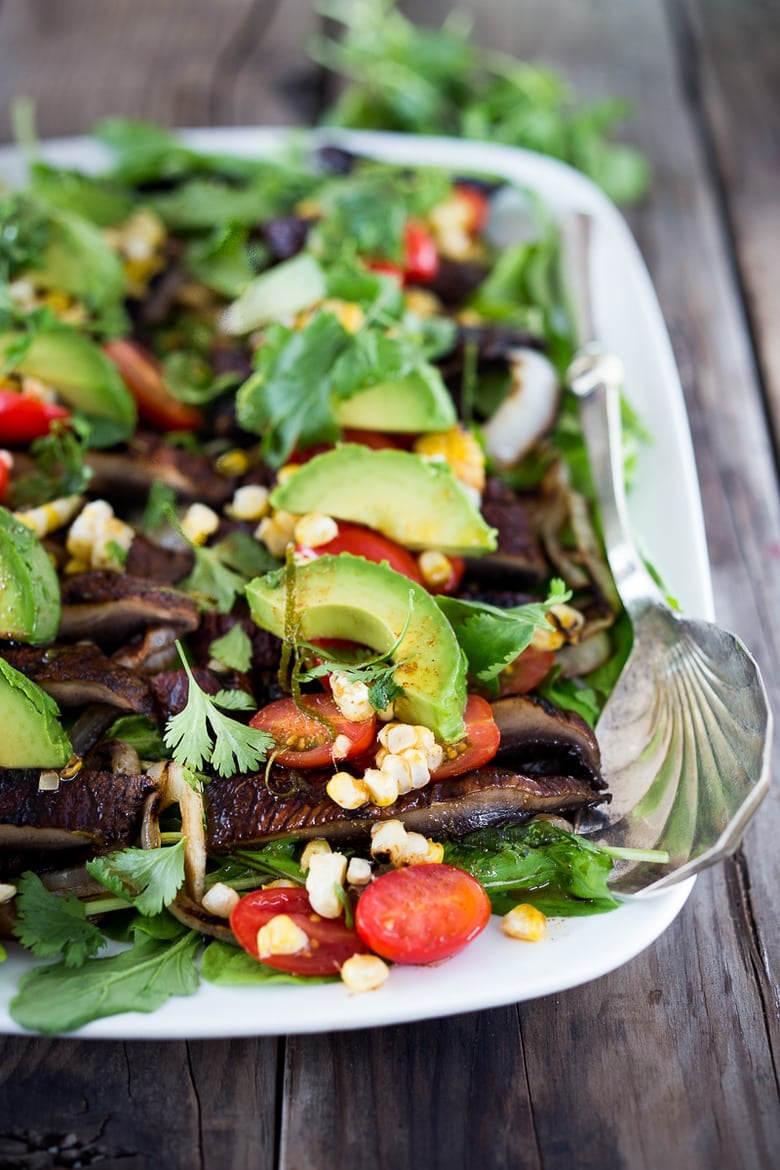 Meaty and hearty, it's hard to believe this Grilled Portobello Steak Salad with avocado and lime, grilled sweet onions, grilled corn, vine-ripened tomatoes and cilantro is completely vegan and gluten-free.
It's a very satisfying and filling weeknight meal, one that comes together very quickly- in under 30 minutes – perfect for hot summer nights on the patio.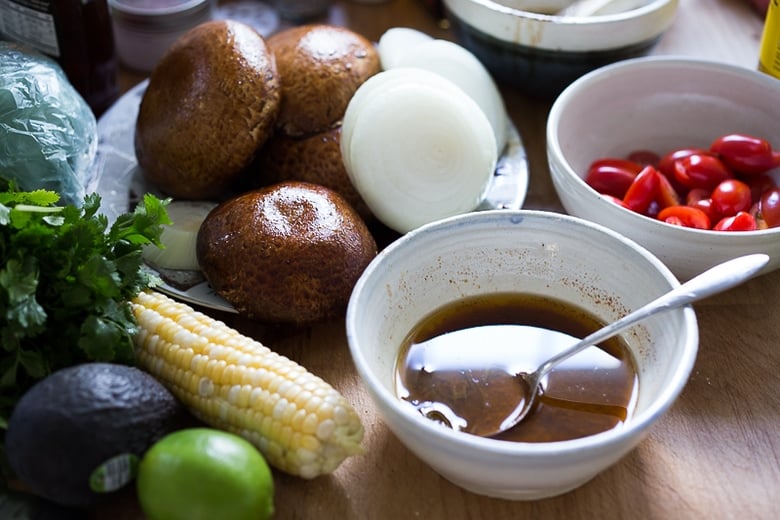 After our three weeks in Japan, I was more than a little surprised to find little juicy tomatoes growing in our garden so early this year, perfectly sweet and ripe. How quickly summer has come! Freshly picked arugula from Urban Eden Farms and sweet summer corn and Walla Walla onions from the local farmers market, made it into the recipe as well.  The Smokey Lime dressing is earthy and flavorful with just a hint of heat and sweetness. Brian devoured this salad and seemed pretty satisfied and content, not even noticing the lack of meat.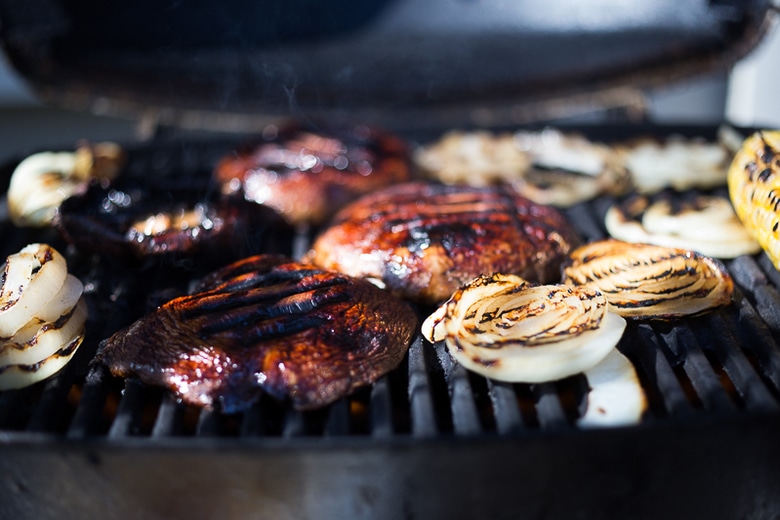 The grilled portobello mushrooms and sweet onions get brushed with a mix of olive oil, soy and balsamic, along with the fresh corn.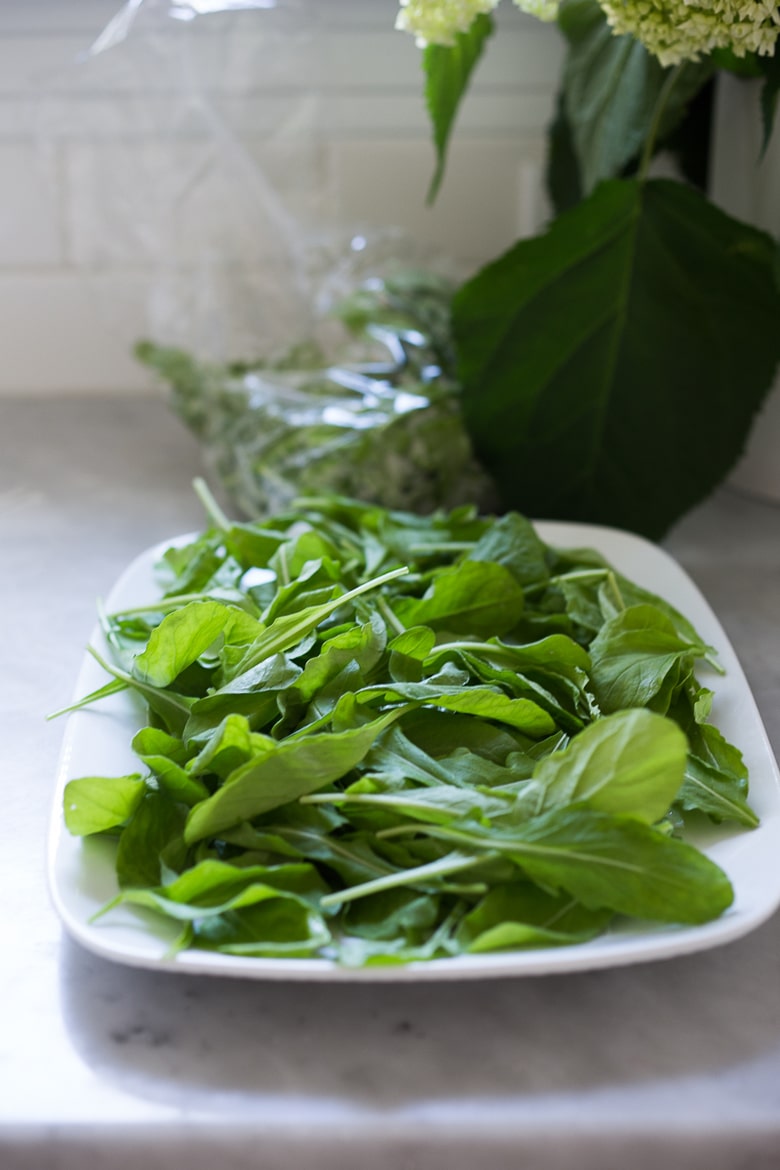 Make a bed of lettuce. Here I used arugula, but any of your favorite will do fine. Scatter the onions, then the mushrooms then the corn and tomatoes.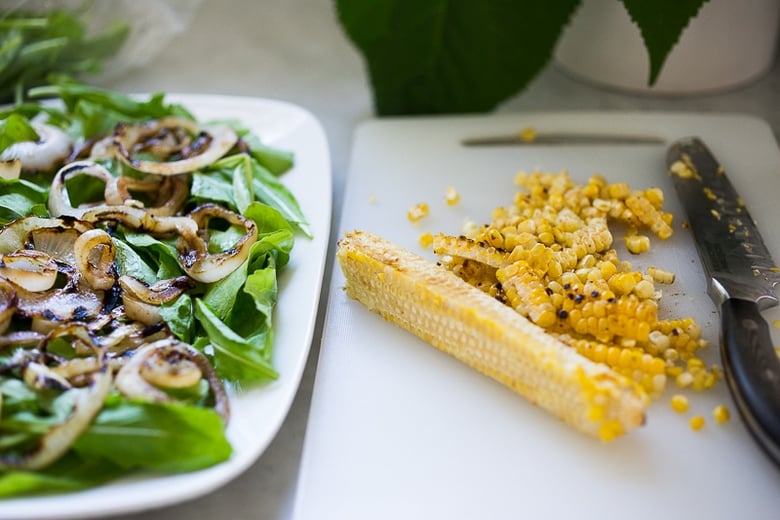 I like to make two rows, then pile them up high.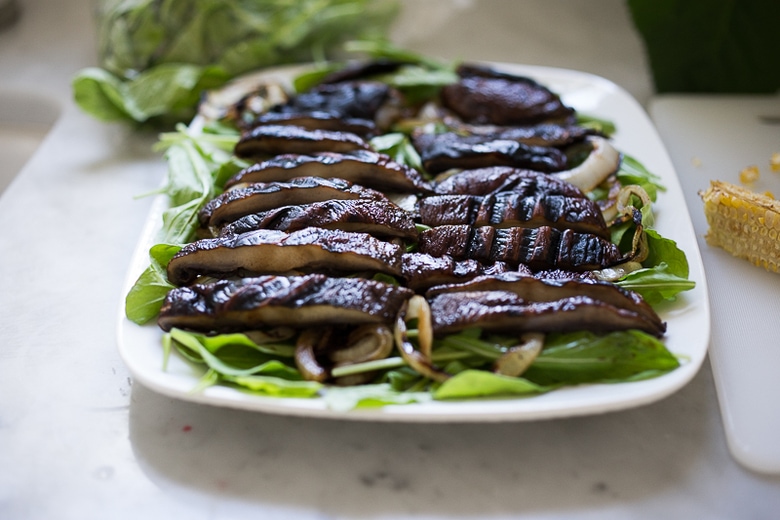 The grilled portobello mushrooms are so beefy, and the marinade gives them even more umami flavor.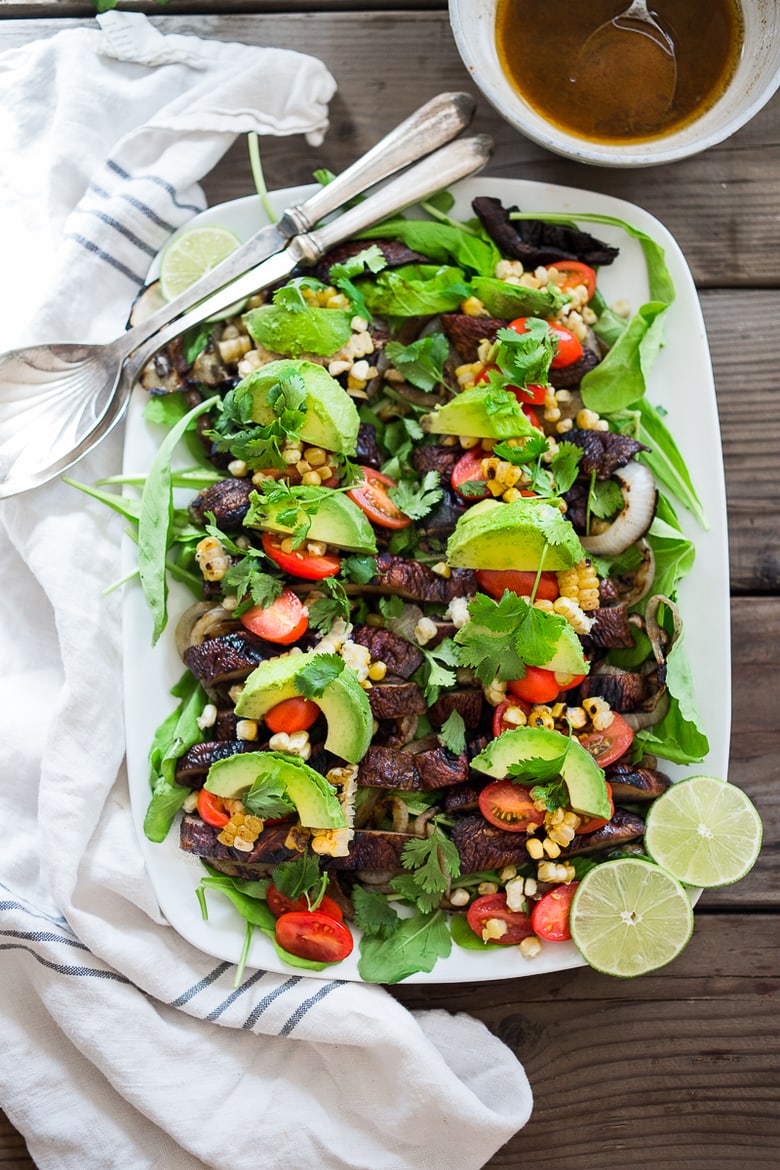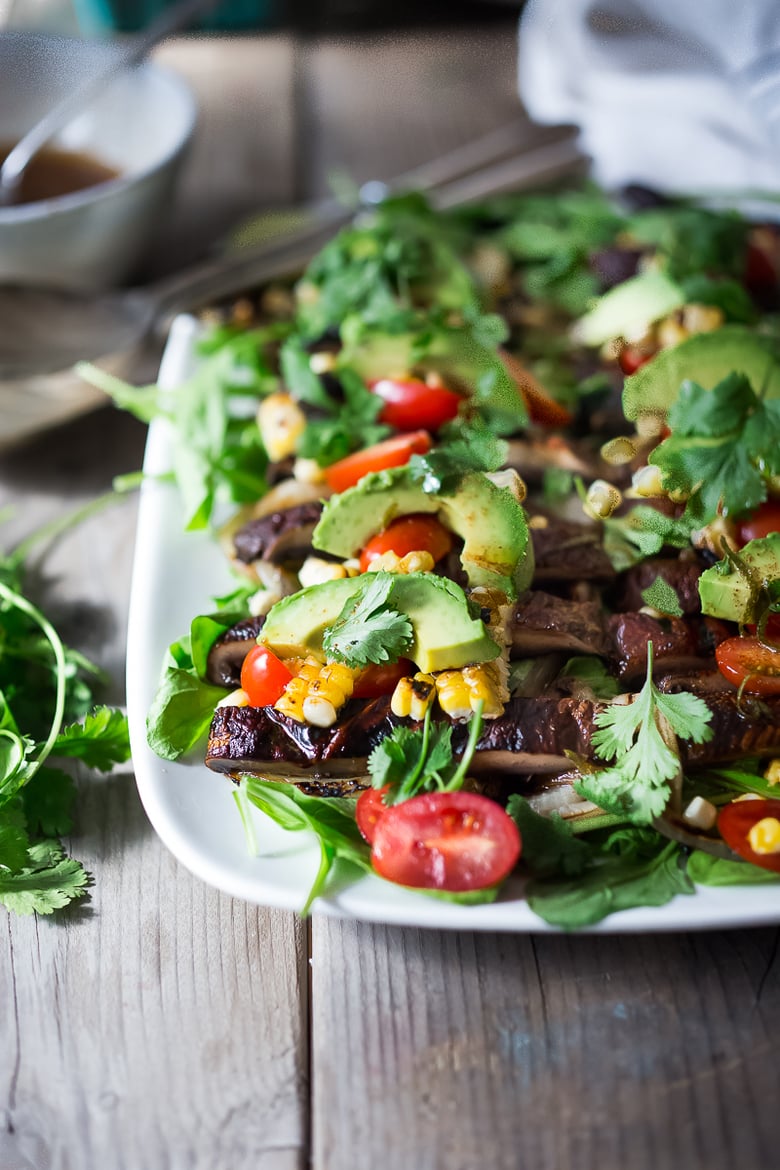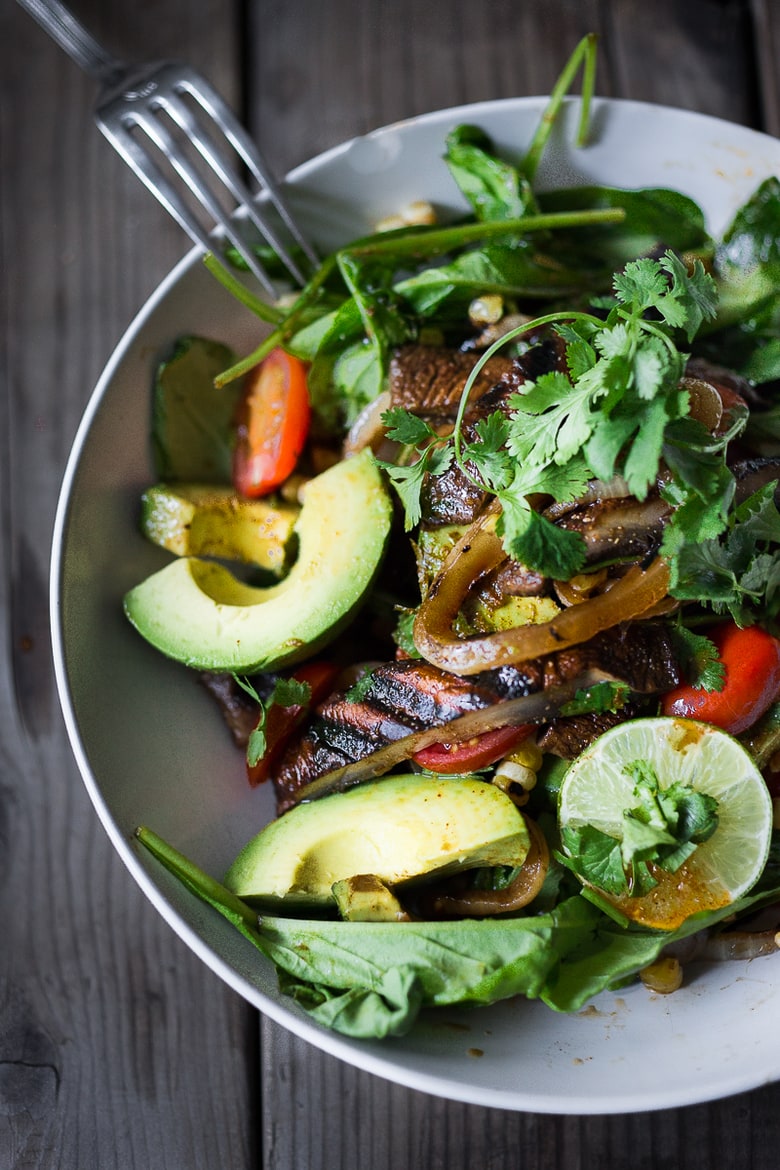 Enjoy and have a happy weekend!
Print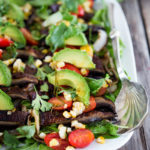 Portobello Steak Salad with Corn and Tomatoes
Prep Time:

20 mins

Cook Time:

15 mins

Total Time:

35 mins

Yield:

2

-3

1

x

Category:

Entree Salad

Method:

Grilled

Cuisine:

Vegan, Gluten Free
---
Description
A hearty, delicious Grilled Portobello "Steak" Salad, entree sized and perfect for eating outdoors in the summer.
---
---
Instructions
Preheat grill on high heat.
Mix oil, soy and balsamic in a bowl.
Remove portobello stems and brush mushrooms lavishly with marinade, set on a plate.
Peel and slice the onion into ½ inch thick rounds. Place on the plate with the mushrooms.
Shuck the corn, also place on the plate.
Slice the tomatoes in half. Slice the Avocado, chop the cilantro.Set aside.
Whisk the dressing ingredients together in a very small bowl.
Place the Portbellos ( gills up) sliced onion and corn on the grill. Turn heat to med-high. Baste onions with marinade. Cover and let all cook 5 minutes. Rotate mushrooms, flip onions ( baste) and turn corn. Cover. Let cook 3 minutes. Flip mushrooms, basting them, rotate corn, and remove any onions that are done, or move them to the side. Cook 2-3 more minutes. Remove.
To Assemble:
On a large platter, lay down a bed of arugula or greens of your choice. Scatter with grilled onions. Slice the mushrooms and lay them over the top the onions. ( You could place them in two long rows if you want.) Place the tomatoes over the mushrooms, also in two long rows. Slice the corn off the cobb, and place over the tomatoes. Add avocado slices, chopped cilantro. Spoon the dressing over the entire salad. Sprinkle with a little salt and pepper and serve.
Add crumbled cheese if you like ( like goat, feta, queso fresco) or keep it vegan.
---
---
Keywords: Grilled portobello salad, mushroom salad, grilled portobello mushrooms, vegan steak salad, portobello recipes