This Grilled Peach Salad with aurugla, goat cheese, basil, slivered almonds and a White Balsamic Vinaigrette – highlights fresh seasonal peaches!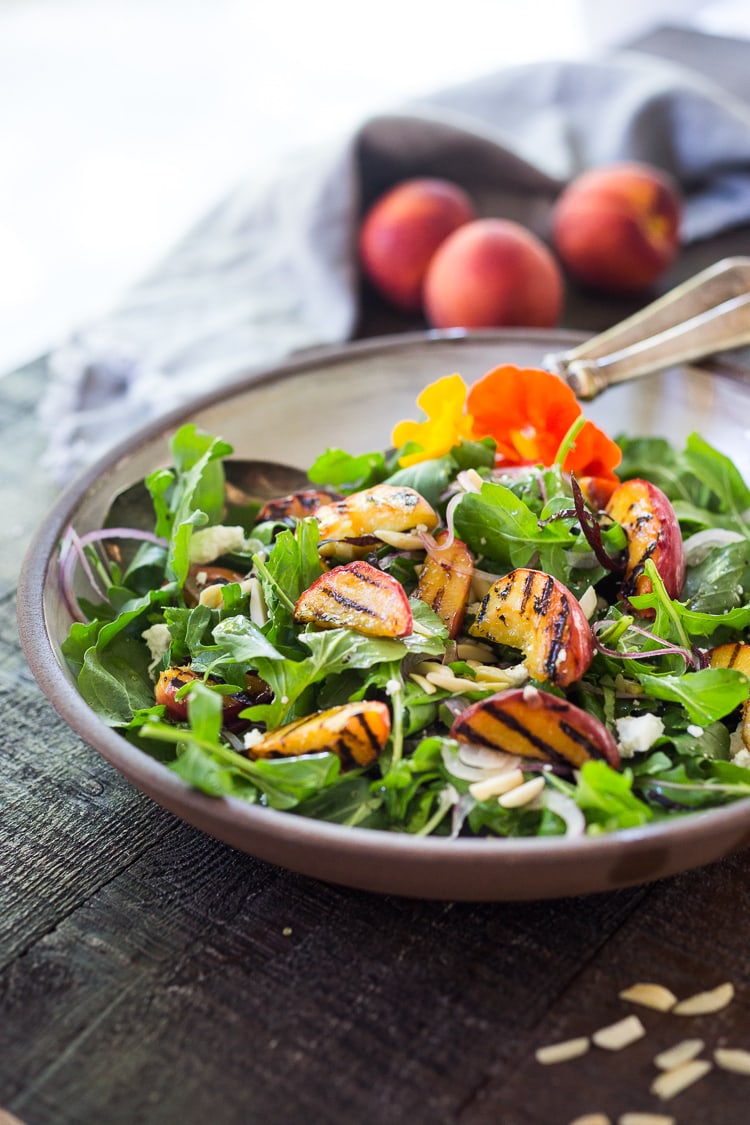 Growing up, my parents in their frugality would often buy produce in bulk from roadside stands. It was just the three of us, yet whole boxes of whatever was in season were purchased, at a discount of course, and the challenge was to eat the whole box of peaches, cucumbers, tomatoes, oranges, okra, or eggplant, before the contents went bad.
There were days in summer, where all we ate were peaches. Breakfast, lunch and dinner. Peaches. Or so it seemed…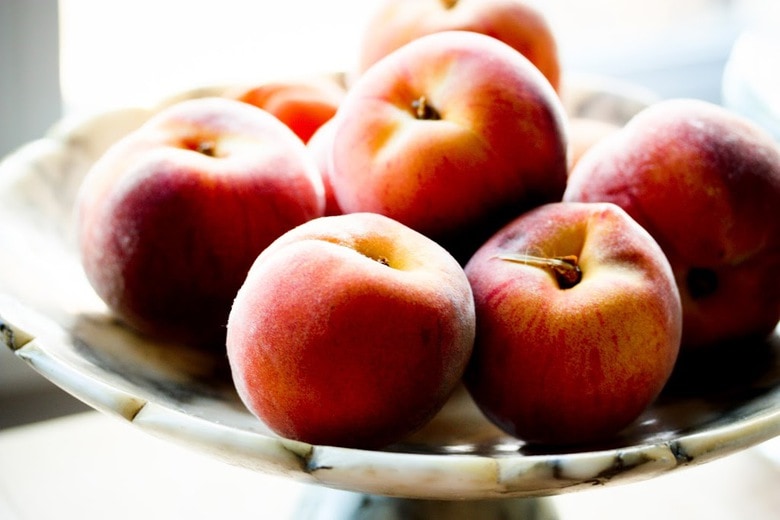 As I write this, the smell coming from the paper bag in the kitchen fills the house with deliciousness. It's the scent of summer.  It brings me back to my old growing up kitchen, so long ago, with that 60's daisy wall paper on the ceiling, and sticky hands and cheeks.
To this day, my favorite way to eat a peach is still leaning over the kitchen sink.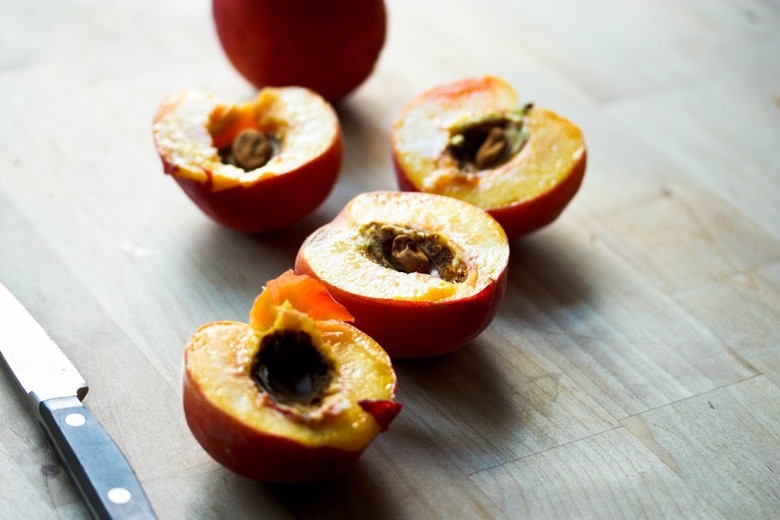 You really don't need to do too much to a good peach. Sliced over vanilla ice cream for a refreshing dessert, or over your morning yogurt and granola, they are mouthwatering. I also really love them in salads.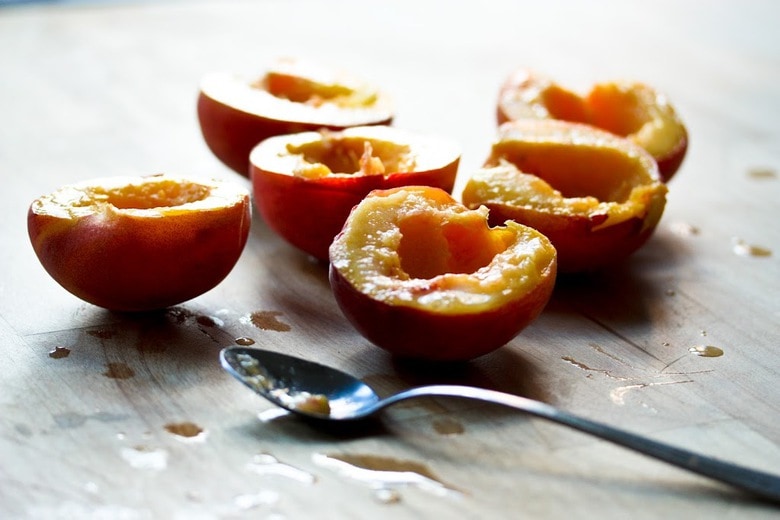 People sometimes ask me how to pick out a good peach. The first clue is always by their scent. You can't judge a peach by its looks alone.
A beautiful rosy colored peach may be utterly tasteless. A not-so-pretty, dented, lopsided, or bruised peach may be surprisingly flavorful.  Your best bet, is to let your nose be your guide. Their smell will mimic their taste. A good peach will smell of sweet nectar.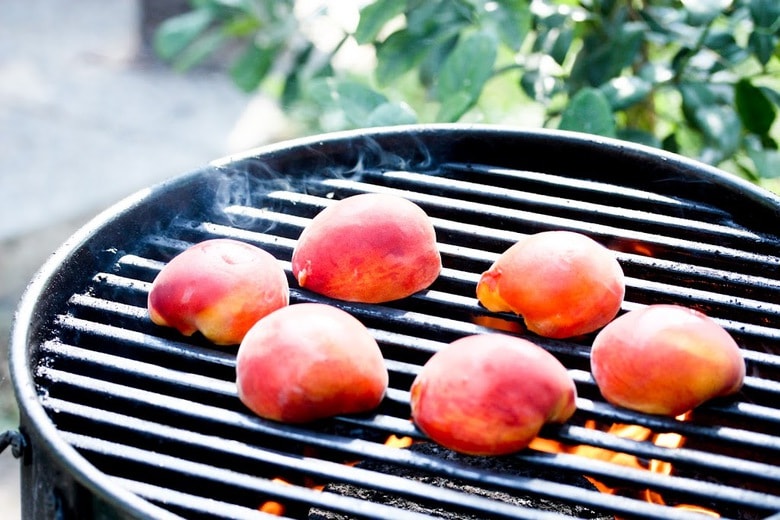 When looking at color, look at the background color of a peach, not just the beautiful reds and oranges. When the overall background color, behind the red and orange hues, turns golden, the peach is at its peak.  It should also feel weighted and heavy and the flesh should give to the touch. Peaches can ripen after they are picked, but they don't get any sweeter. Like apricots, the longer they are allowed to mature on the tree, the sweeter and more concentrated the flavor.
The most obvious way, of course, is to just try one. If the juices are running down your chin and elbow, chances are, it's probably a good peach.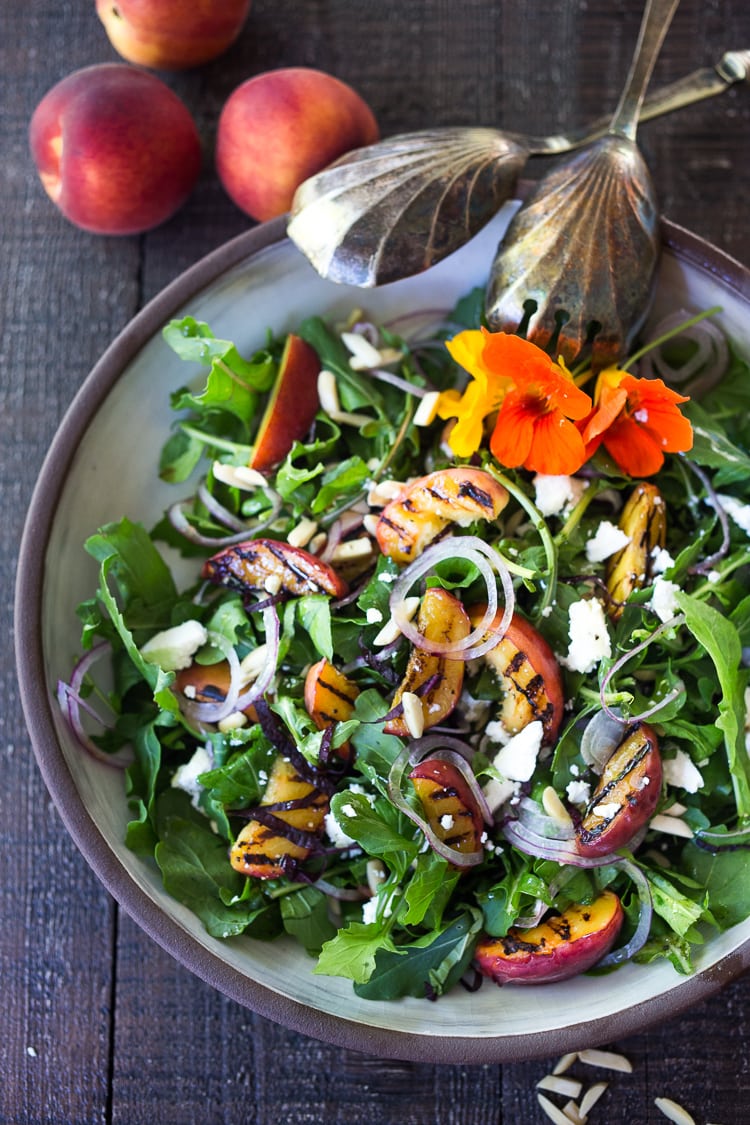 These are organic peaches called Early Red Havens. They were grown by Bob and Shelly Berryman of Twin Springs Organic Farm in Rice, Washington, who have been growing certified organic peaches every summer since 1981.
Juicy, sweet and super fragrant, to me, these peaches are perfection. Each peach is tree-ripened and then hand picked. They go back to the same tree several times, only picking the ones that are at their ideal ripeness, ensuring each peach has reached its peak flavor. Peaches are "climacteric", meaning they can ripen after they are picked. But they can't get any sweeter. Sweetness and flavor come from being allowed to mature on the tree, before they are picked.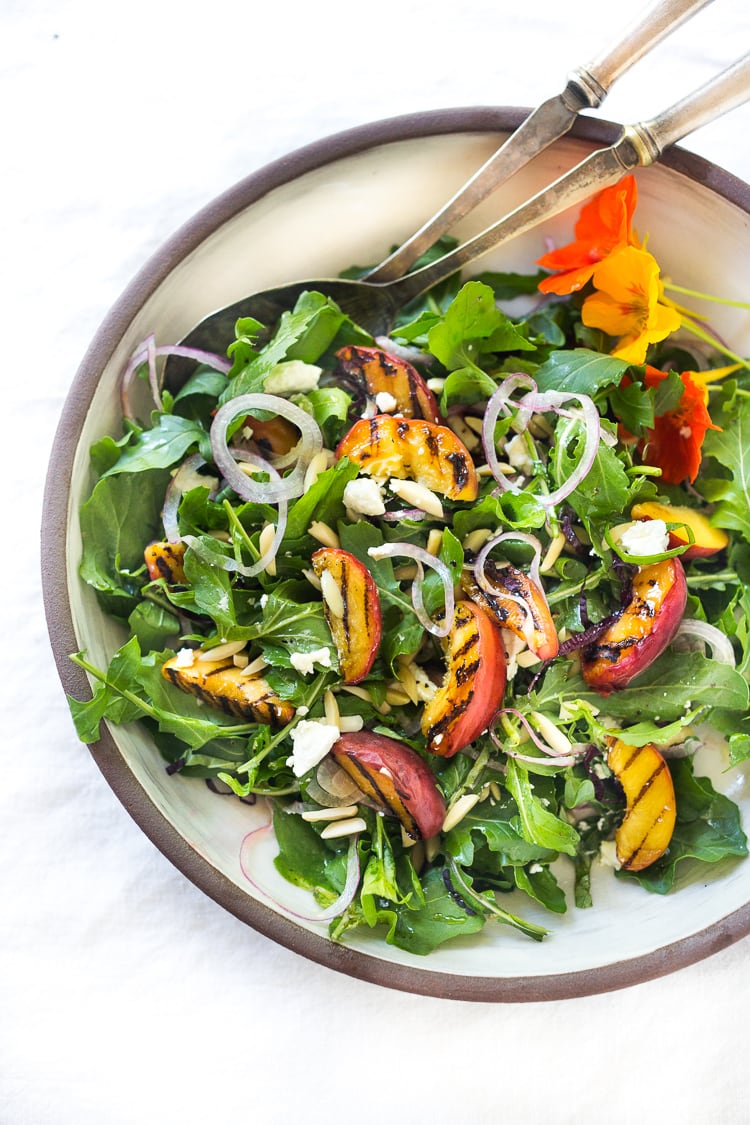 Their peaches are grown in an arid dry region of Washington, near lake Roosevelt. This perfect combination of dry climate and fertile soil allows the sugar content and flavors to become really concentrated. You can find them at the Thursday Market on Perry Street and the Liberty Lake Market on Saturdays. They also can be found in Seattle.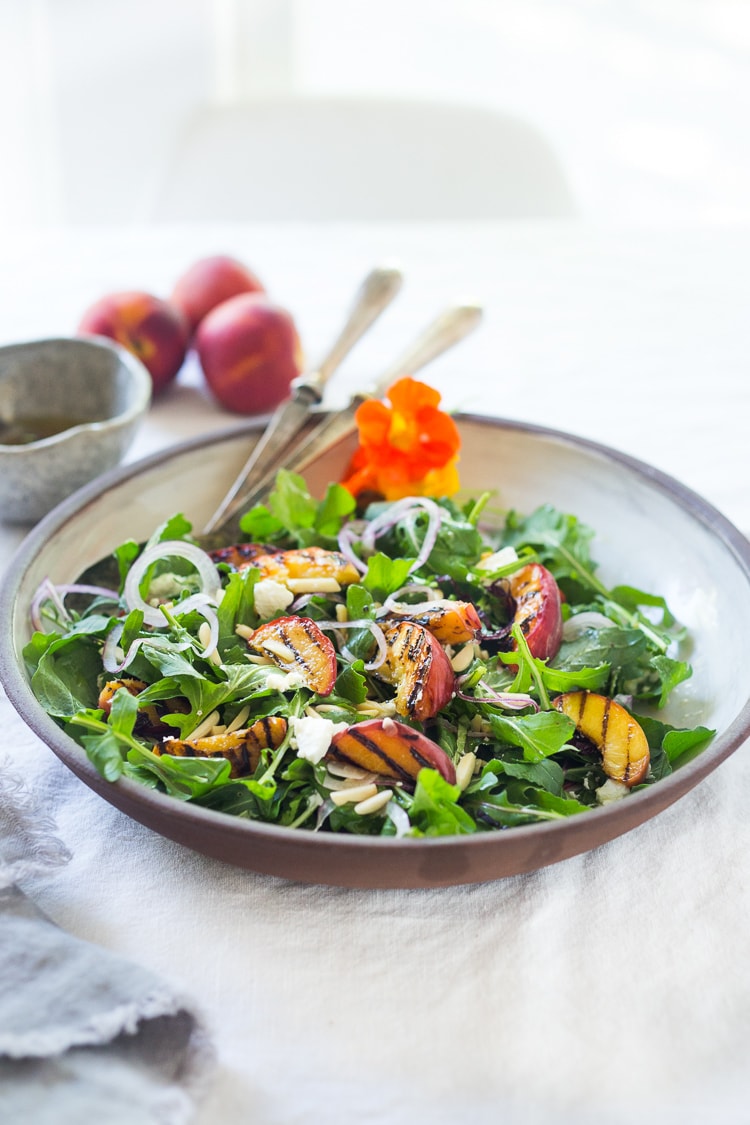 This salad is an easy way to try grilled peaches. Although I have to admit, when short on time, I make the same salad with out grilling the peaches and it's really just as good. But for the sake of trying something different, this is worth a shot.
There are hundreds of varieties of peaches which can be further classified into clingstone, freestone or semi-freestone. This tells us basically, how firmly the peach attaches to the pit. Clingstones stubbornly attach to the pit, making halving them a little more difficult.
The first step in making this salad is removing some of the fuzziness off the peach. Use a dry towel and gently buff the peaches. If the peach is very ripe, this may tear the skin. Instead, hold under a running faucet and with your fingers, gently rub. If you are not a fan of peach skin, it's actually really easy to peel off after the peaches are grilled. Or beforehand, dip them in a hot water bath for a few seconds and the skins will slip right off. Halve the peaches.
Because these are clingstones, the flesh held on so tightly to the pit, the pit split apart. I will say that freestones are easier to work with, especially if you are making large quantities, but the extraordinary flavor of these clingstones are worth the little extra effort.  In small amounts, scooping out the seed is not that difficult.
Make an easy vinaigrette with white balsamic vinegar, olive oil, salt, pepper and a little honey or agave.
I like using white balsamic vinegar verses regular balsamic in this vinaigrette because it's a little lighter and brighter on the palate and also doesn't dull the gorgeous color of the peaches. But if you can't find it, a good quality balsamic works just fine.
Lightly brush a little olive oil or some vinaigrette on the peaches and place on a preheated grill set to Medium. Make sure your grill is good and clean, using a wire brush to scrape off past endeavors.
Once you lay the peaches down, don't fiddle with them. Just let them sit and develop grill marks. About 5 minutes later,  gently flip one and see if it is nicely grilled and ready to turn. When they are, carefully turn them, with a metal spatula, and try to retain some of the grill marks. Grill for just a minute or so.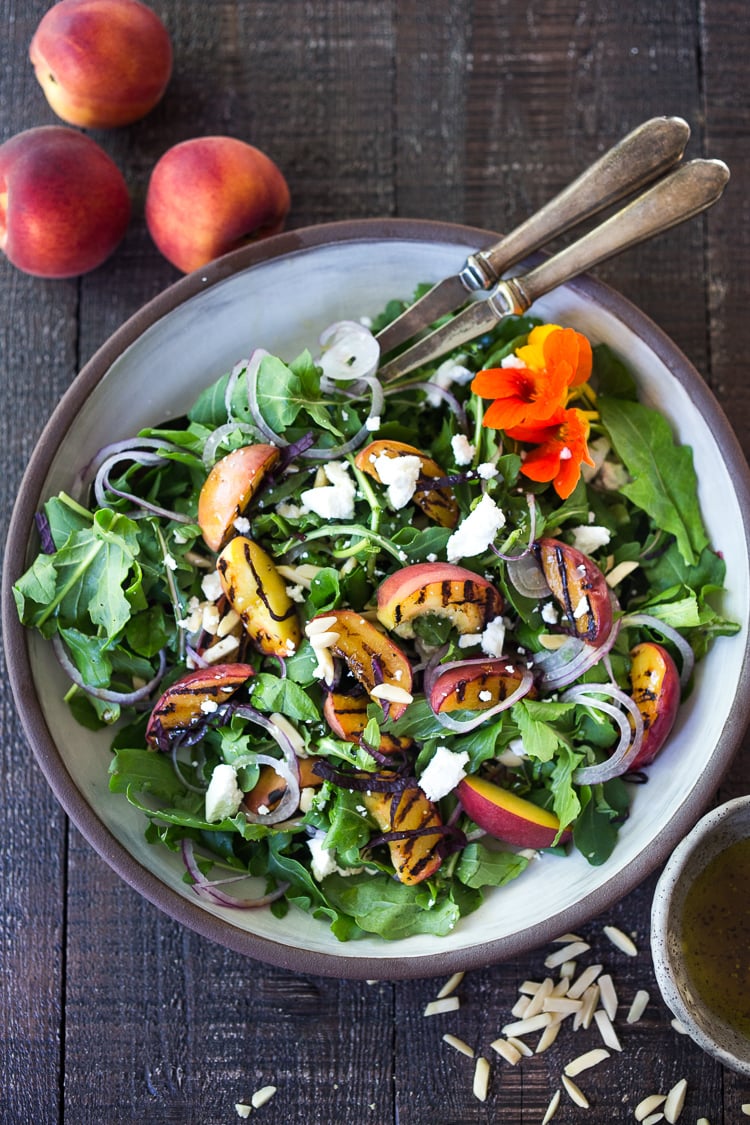 When selecting cheese, choose one that is not too salty. Chèvre, fresh mozzarella, or a fresh sheep's milk cheese work great. Salty cheeses, like feta, not so great.
Enjoy and let us know what you think in the comments below!
xoxo
More peach recipes!