Grilled Salmon is very simple, quick and easy and can be done in several different ways. Here's a simple guide to help you grill salmon, depending on the type, cut, marinade or seasonings. See recipe for Grilled Miso Salmon below.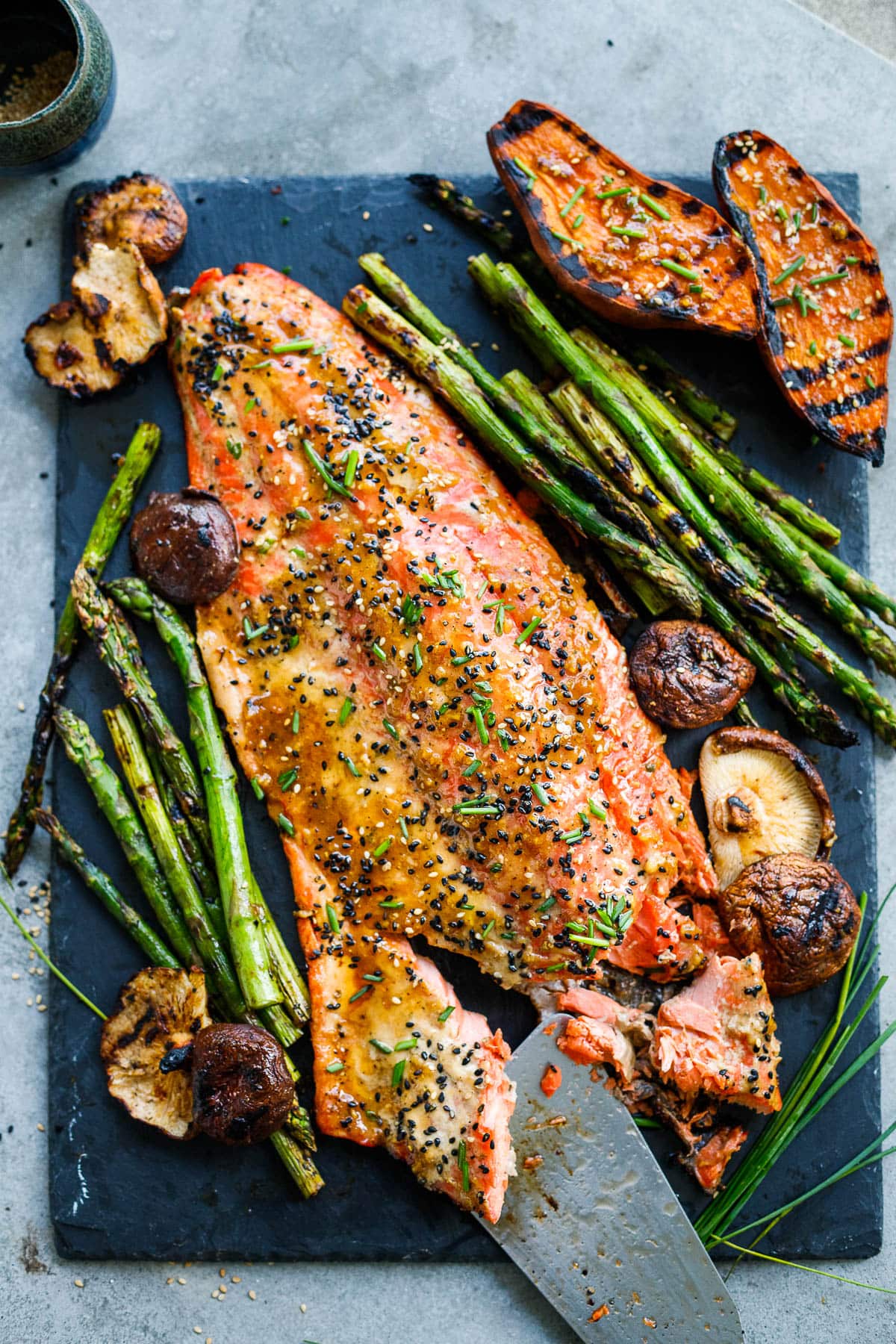 When our heart opens, we find Truth in every season and every moment of our life. Nothing is excluded; no one is separate. ~Dorothy Hunt
This week I received numerous emails asking about the best way to grill salmon. I thought I'd put together a post on how to do this, sharing some tips I've learned along the way.
In our catering business, grilled salmon was one of the most requested entrees we served. Literally, after grilling thousands of pieces of salmon, I'm hoping there is something even experienced grillers will find useful here.
Grilling salmon depends on:
The type or variety of salmon you have.
The cut of salmon and whether the skin is on or off.
The type of seasonings (marinade, dry rub or paste).
Common Varieties of Salmon
The type or variety of salmon makes a difference in grilling because different varieties contain different oil content levels and are of different thicknesses.
King Salmon and Atlantic Salmon are rich, oily varieties that are pink-fleshed and are thicker by nature, making them harder to overcook. The oil content will keep them from getting dried out. Hands down my favorite salmon to grill is Wild King Salmon- also the most expensive. See below on how to source sustainably raised, antibiotic-free Atlantic Salmon.
Sockeye Salmon and Coho Salmon have beautiful bright red flesh, are generally thinner than King salmon or Atlantic, and have a low oil content. They have a really clean fresh ocean taste, which I love, but when grilled need to be watched like a hawk so they don't overcook- as they cook quickly. The prized Copper River Salmon falls into this category.
Cuts of Salmon to grill
Whole Salmon Filets- are a whole side of salmon, deboned, typically with the skin left on. The best way to grill these is to oil, salt and pepper the skin side really well, and grill on a greased grill with the skin side down so it crisps up. The skin can be eaten and is actually one of my favorite parts, if crispy. The flesh can be treated with a dry rub or marinade. Do not marinate the skin side, or your skin will get soggy. Typically, when grilling a whole filet, only grill the skin side, unless you are very adept at flipping and have two extra large metal spatulas. Try adding wood chips to infuse the salmon for even more flavor.
Cut Salmon Filets- are smaller cuts of one side of the salmon. These can be grilled with the skin removed or left on. Both sides of the salmon can be grilled, unless very thin, then I usually just grill the skin side.
Salmon Steaks – are slices of the salmon straight through both sides of the salmon, right through the backbone, typically an inch thick, with the skin on and bone in. Both sides of the salmon can be grilled.
How to grill A Whole Salmon Filet (Skin-On)
Step One: Brush the skin side generously with olive oil, and season generously with salt  (See detailed recipe below).
Step Two: Season the flesh side. Use a marinade, dry rub or paste. On this Copper River Salmon, I'm using the miso marinade from recipe card below.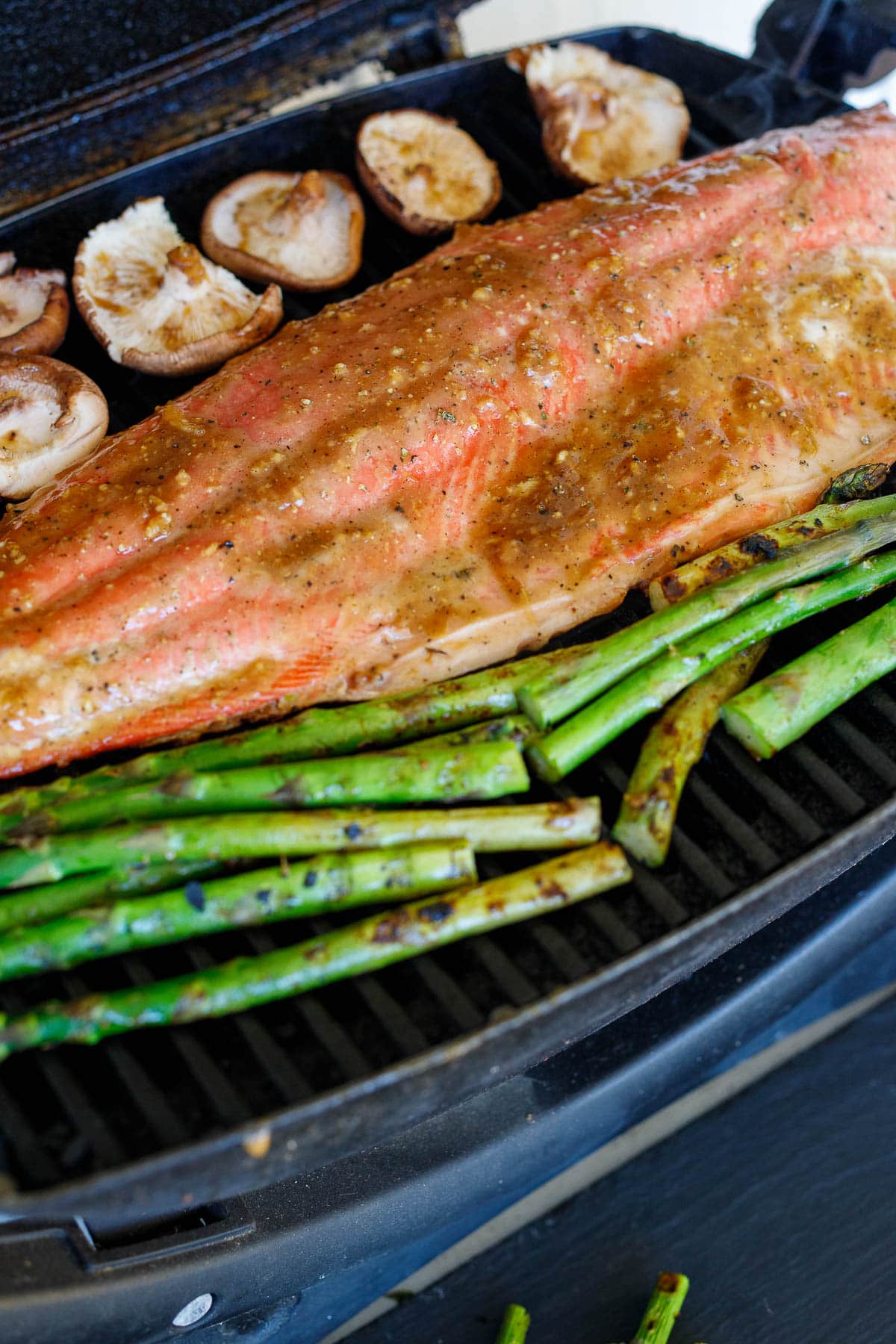 Step Three: Grill salmon with the skin side down. 
Grill over a WELL greased grill over medium heat, covered, until the internal temp at the thickest part is 125-130F.  You can lay the salmon skin right on the greased grill. Do not fiddle with it.
As the skin sears, it will release itself from the grill. No need to flip a whole filet.
If you have an extra thick piece of salmon, lower the temp, and after good grill marks appear, feel free to rotate creating crosshatch grill marks.
To remove: Use 2 thin metal spatulas to transfer to a platter.  This is easiest with 2 people.
Salmon Seasoning Tips
Pastes: If grilling Sockeye Fillet or Coho Salmon filet (less oily salmon), I recommend using " paste" ( mix a dry rub or spice mix with olive oil– add salt, minced garlic, etc.) or a marinade to coat the salmon flesh to help prevent it from drying out.
Dry rubs:  Best on Oily Salmon– like King Salmon or Atlantic Salmon. Examples include- Cajun Seasoning, Zaatar, Dukkah, Five Spice, Mexican spices ( taco seasoning), etc.
Marinades: Best on skin-off salmon (or use a brush on the flesh side)  Chermoula,  Miso Marinade (see below), Szechuan Sauce , Teriyaki Sauce, Preserved Lemon Gremolata, Gremolata, Green Harissa Sauce, Harissa Paste
Expert TIP #1: NEVER marinate the skin side of salmon, it will get soggy. Brush marinade or paste on top of the flesh only. ALWAYS lightly oil and salt the skin and keep it DRY so it crisps. Soggy skin is really unappealing.
Expert TIP #2: Add the element of smoke. Applewood chips and oak chips are nice. When you preheat the grill, place a half cup (DRY) of apple wood chips in a foil packet with an opening or use an empty tuna can.
Expert tip #3: Always grease the grill well.
Expert Tip #4: Don't overcook the salmon ( perfect at 125F), and don't cook too aggressively (medium heat is best) , or the salmon will release its albumin (a white protein that oozes out).
Note: You can also use a nonstick grill grid. But in my opinion, you honestly don't need one, if you grease the grill well. Plus, non-stick is usually coated with stuff you don't want to eat. At least I don't. Up to you. In catering, we always grilled directly on the grill grates, no matter the type of salmon, skin on or off.  
*If you insist on cooking on top of something– please don't use foil, the aluminum will leach into the food. Use a cast iron skillet or griddle, if you must- and use the wood chips, otherwise, you might as well just pan-sear. 😉

Here above is an example of skin-on salmon topped with a zesty, herby olive oil paste (from this recipe) with smoked applewood.
I'm testing out a grill grid, which, truthfully,  I never used again.  I felt it just created more work with having to clean it. The only reason I would use this again, is perhaps over a campfire, possibly. Up to you.
Grilled Salmon Fillet (skin-off)
Step one: Brush with olive oil and season.  This can be as simple as salt and pepper, or use a favorite spice rub or a use marinade. Marinate salmon up to 48 hours before grilling. Note: If there is acid (lemon juice or vinegar) in the marinade, it can cook the salmon so a shorter 30-90 minute marinade is best in that case.
Step Two: Grill on medium heat, greased grill, turning it over. Cook until internal temp is 125-130F and cooked to medium, slightly translucent in the center. This takes about 7-9 minutes total, depending on how thick the salmon is.

Here is an example of a piece of grilled skin-on salmon with a Mexican spice rub from our Grilled Salmon Salad post.
Again, grill both sides, crisping up the oiled and salted skin side. Serve this with the skin side up, to keep it crispy.
FAQ'S
Do you have to flip salmon on the grill?
No need to flip whole filets. But you certainly can flip salmon that is cut into individual pieces. If the skin is on the salmon, grill that side longer.
How long should you grill salmon?
It depends on the type of salmon and the thickness of the cut. This can range from 5 minutes to 20 minutes. Salmon is best cooked to medium. A good rule of thumb is to remove the salmon at 125F-130F at the thickest part, keeping in mind it will keep cooking at bit. An easy test is to press down with a fork, it should flake easily with a translucent center.
What is the white stuff that comes out of salmon? 
The white stuff on salmon is called albumin. It is a natural protein that squeezes out of the flesh when salmon is cooked too hot, too fast. The idea is to keep this in the flesh. So cook salmon at medium to help keep this at bay. If salmon has skin on it, grill longer on the skin side.
How do you know when salmon is done?
Perfectly grilled salmon is moist, flavorful, and succulent. When overcooked, it dries out and becomes tough.  To grill salmon perfectly, remove it from the grill when cooked to medium (125F) while there is still some translucency in the middle. Either use a thermometer or a sharp knife and use it to peek into the thickest part. If the fish is flaky, but still has some translucency in the middle, it is done.
What type of Salmon to Buy?
Some of you may be wondering which salmon you should buy. Here are some general guidelines to help you make an informed decision.
Pacific Wild Salmon-  Pacific salmon are found in the Pacific ocean and there are 5 main varieties: King Salmon, Coho Salmon, Sockeye Salmon, Pink Salmon, and Chum. Pacific Salmon is mostly caught in the wild, either in the ocean or in freshwater rivers, although there are a few farmed salmon enterprises.
Atlantic Salmon- Atlantic Salmon, originally from the Atlantic ocean, is now endangered in the wild, so all Atlantic Salmon are now farmed. Farmed Salmon that is not sustainably raised  (raised in high-density net pens) can have damaging effects on nearby coastlines and waterways, and the salmon itself is often treated with antibiotics, pesticides, and dyes.
Sustainably-Farmed Atlantic Salmon are raised in closed tank aquaculture or in low-density net pens- which do less damage to the environment and create healthier fish. There are several sustainably-farmed Atlantic salmon varieties available.  Skuna, out of Vancouver Island offers up sustainably farmed salmon as well as Nordic Blu Salmon, which you can often find at Whole foods.
Salmon substitutes: Other fish like Arctic Char, Ocean Trout and Steelhead are close substitutes to salmon if salmon is not an option.
TIP: If new to cooking salmon- fattier, oilier salmon like king salmon or Atlantic salmon is much more forgiving, as it is harder to overcook it and dry it out. If suing salmon for sushi, look for "sushi-grade" salmon.
Frozen Salmon: If buying frozen salmon, opt for those that are flash-frozen and vacuum-sealed.
Smell: Whichever salmon you choose, it should smell clean and fresh like the ocean. If it smells "fishy", I would reconsider. 😉
Sustainability – learn more here:  Monterey Bay Aquarium's Seafood Watch Program.
I opt for wild salmon in the summer when it is in season, and in the winter go for a sustainably raised variety.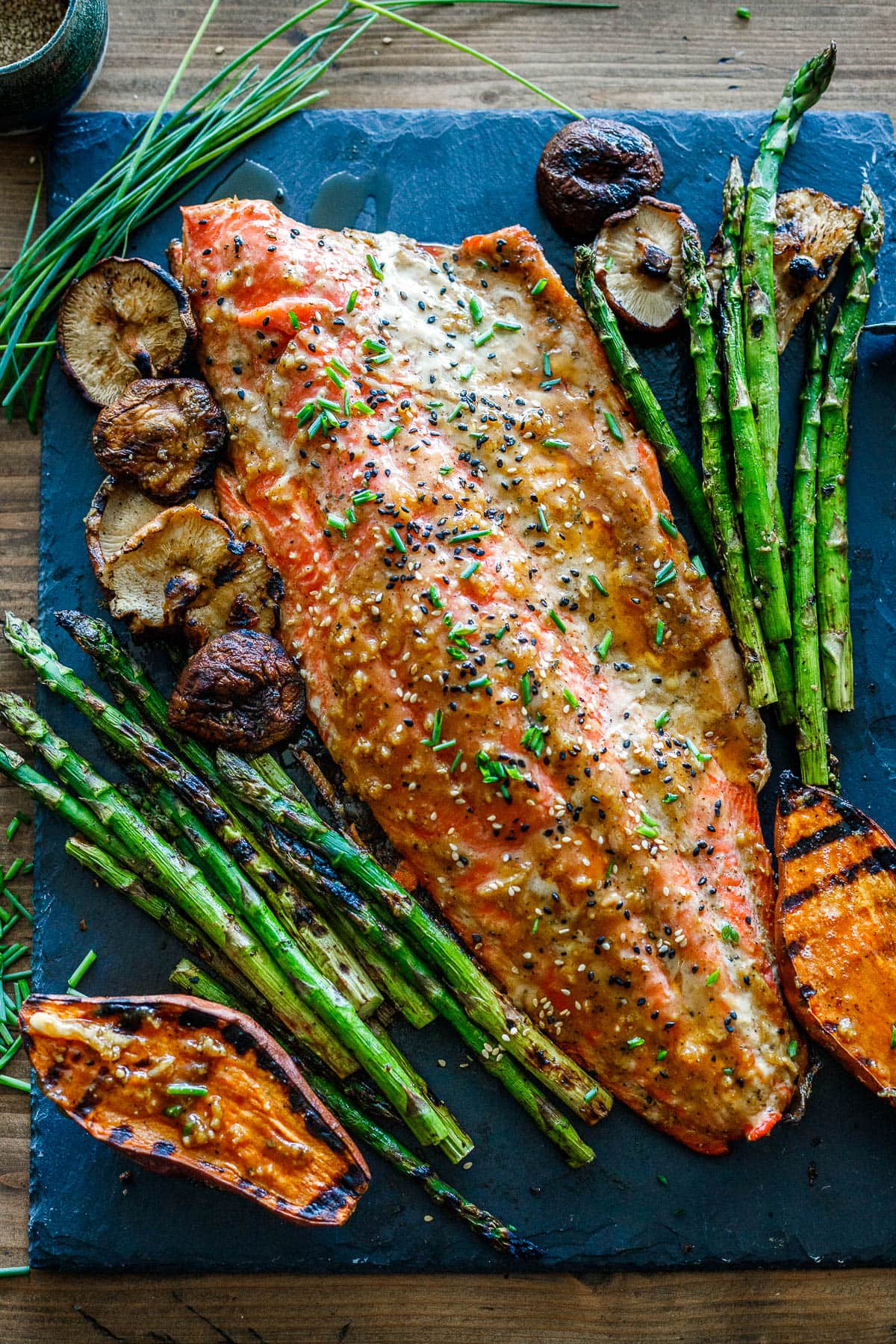 Enjoy the Grilled Miso Salmon Below!
xoxo
More Salmon Recipes you may enjoy
Print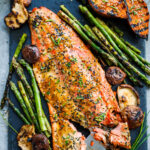 Perfect Grilled Salmon
Prep Time:

15

Cook Time:

15

Total Time:

30 minutes

Yield:

6

1

x

Category:

fish recipe

Method:

grilled

Cuisine:

American
---
Description
Perfect Grilled Salmon: An easy guide with a recipe for Grilled Miso Salmon- a simple, easy delicious recipe made with whole salmon fillet.
---
---
Instructions
Preheat grill to Medium (325F-350F). Add wood chips if using- see post body.
If using skin-on salmon, pat the skin side dry, brush with olive oil and season with salt. Place on a piece of a parchment-lined sheet pan, skin down.
Whisk the marinade ingredients until smooth in a small bowl. Brush liberally over the salmon, saving the rest for basting while grilling. You can refrigerate this overnight for more flavor.
Grease the grill well. Carefully place the whole salmon over the grill. Feel free to add grillable veggies. Cover for 5 minutes and check.
If using a whole fillet, do not flip, just continue cooking covered until the internal temp at the thickest part reaches 125-130 (Medium).  Inside should be flakey, with a slight translucency in the middle.
Remove the salmon fillet using 2 metal spatulas, place it on a platter and serve immediately.
(If grilling individual pieces, place skin side down first, grill for 5 minutes or until skin is crispy, turn over if you like, and cook for just a few more minutes, until internal temp reaches 125-130F. )
---
Notes
Nutrition
Serving Size:

4 ounces

Calories:

280

Sugar:

7.3 g

Sodium:

170.3 mg

Fat:

14.8 g

Saturated Fat:

2.2 g

Carbohydrates:

10.7 g

Fiber:

0.5 g

Protein:

24.4 g

Cholesterol:

52.1 mg
Keywords: grilled salmon, how to grill salmon, grilled miso salmon, grilled salmon fillet,