Our 25 Best Salmon Recipes – a collection of grilled salmon recipes, baked salmon recipes, easy salmon dinners, healthy salmon recipes, and salmon salads. Salmon is so versatile; it can be cooked in a pan on the stovetop in minutes, baked in the oven, or on the grill! Scroll to the bottom for our Salmon Guying Guide. 
Quick and Easy Salmon Dinners!
These easy salmon dinners are quick to make with a short list of  ingredients. Most can be made in under 30 minutes!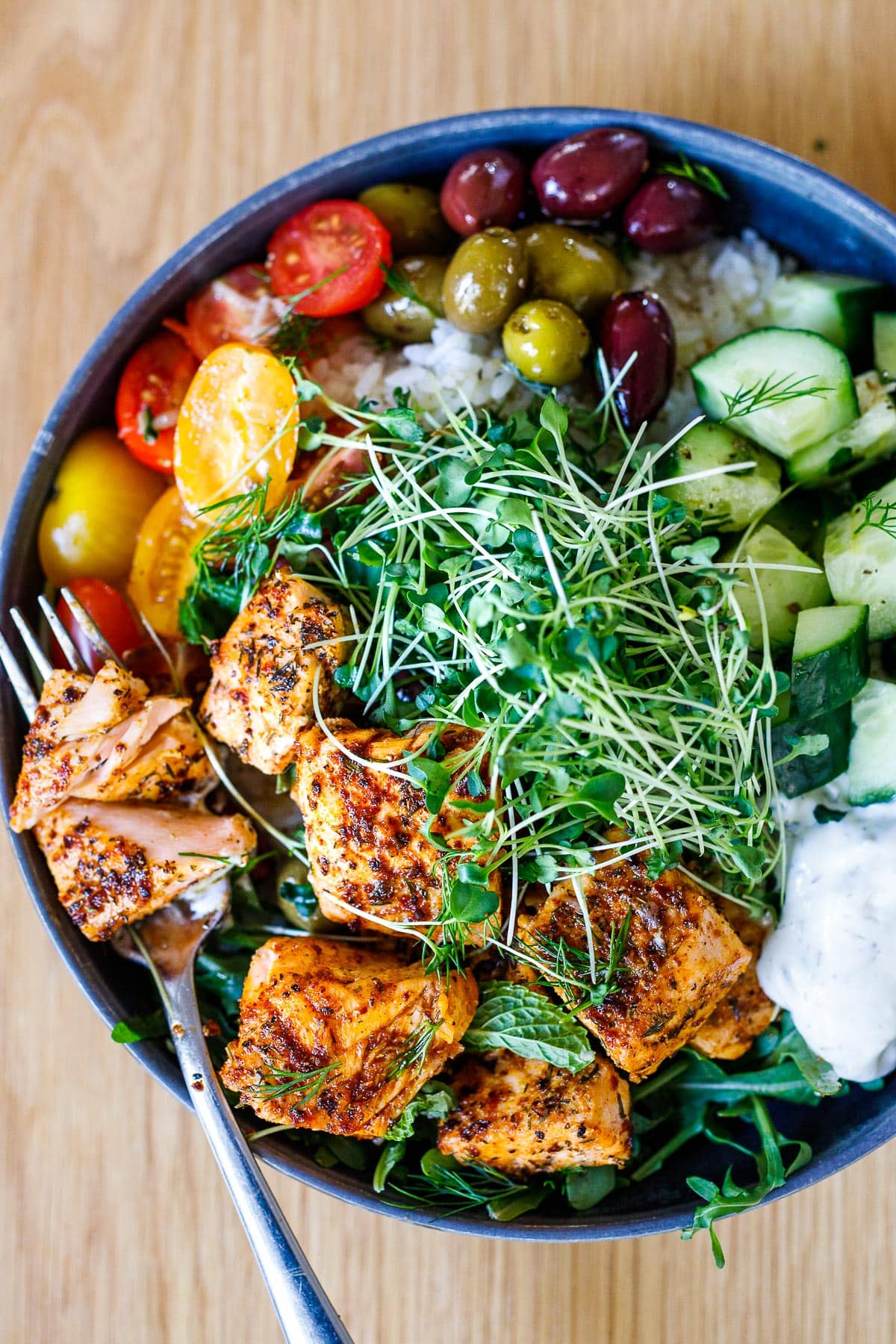 Delicious and healthy Greek Salmon Bowls with seasoned pan-seared salmon, rice, greens, olives, tomatoes, cucumber, tzatziki and lemony greek dressing. A delicious healthy meal you will want to put on repeat. 
Teriyaki Salmon| 60-second video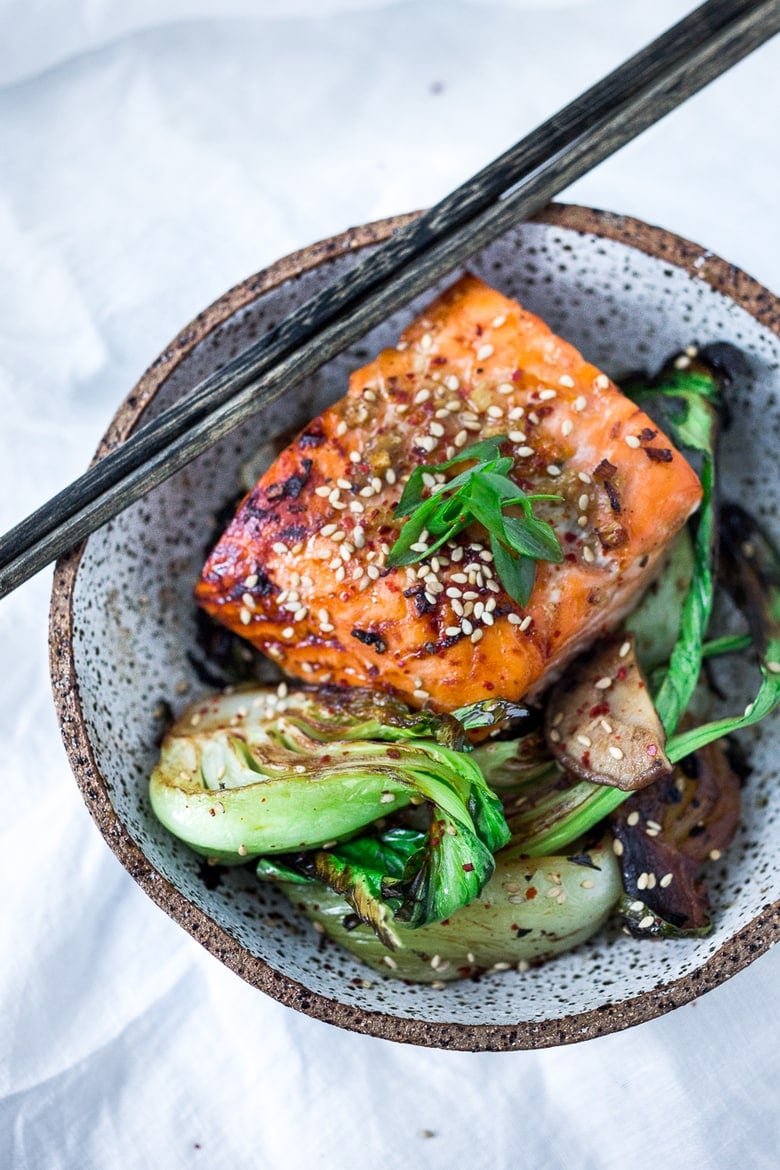 One of our favorite baked salmon recipes, this  Sheet-Pan Teriyaki Salmon with Baby Bok Choy, is a delicious healthy dinner that can be made in 25 minutes.

The BEST Salmon Chowder recipe using fresh salmon, can be made in about 30 minutes on the stovetop. Fennel bulb gives this a lovely flavor, while a little smoked paprika adds a subtle smokiness without adding bacon. Low-carb, Keto, and dairy-free adaptable, it's a simple, delicious meal that is perfect for entertaining.

An amazing favorite salmon recipe is Furikake Salmon Bowls!  Seared Salmon with Sesame oil paired with veggies, avocado and rice is a fast and easy weeknight dinner that healthy and delicious.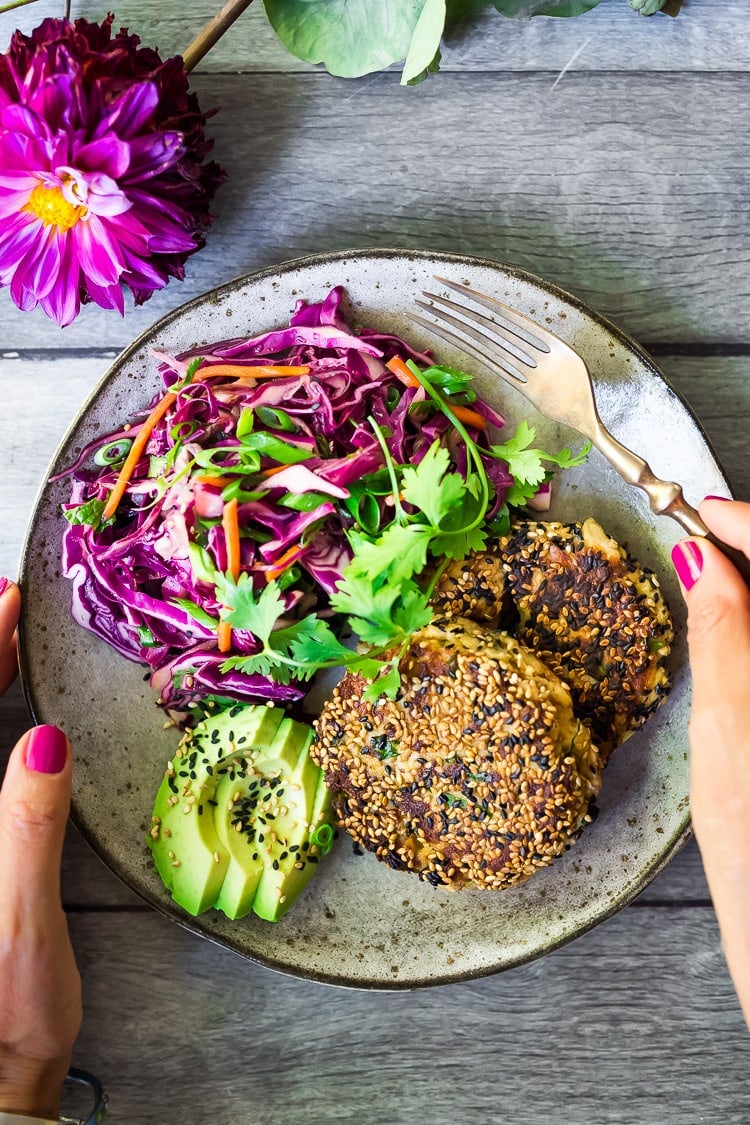 Quick and Easy Salmon Cakes- a simple pantry recipe that can be whipped up in 20 minutes, perfect for midweek meals! These salmon patties feature 3 different variations – Asian Salmon Cakes, Mediterranean Salmon Cakes and Nordic-style Salmon Cakes! You can even use these as a Salmon Burger!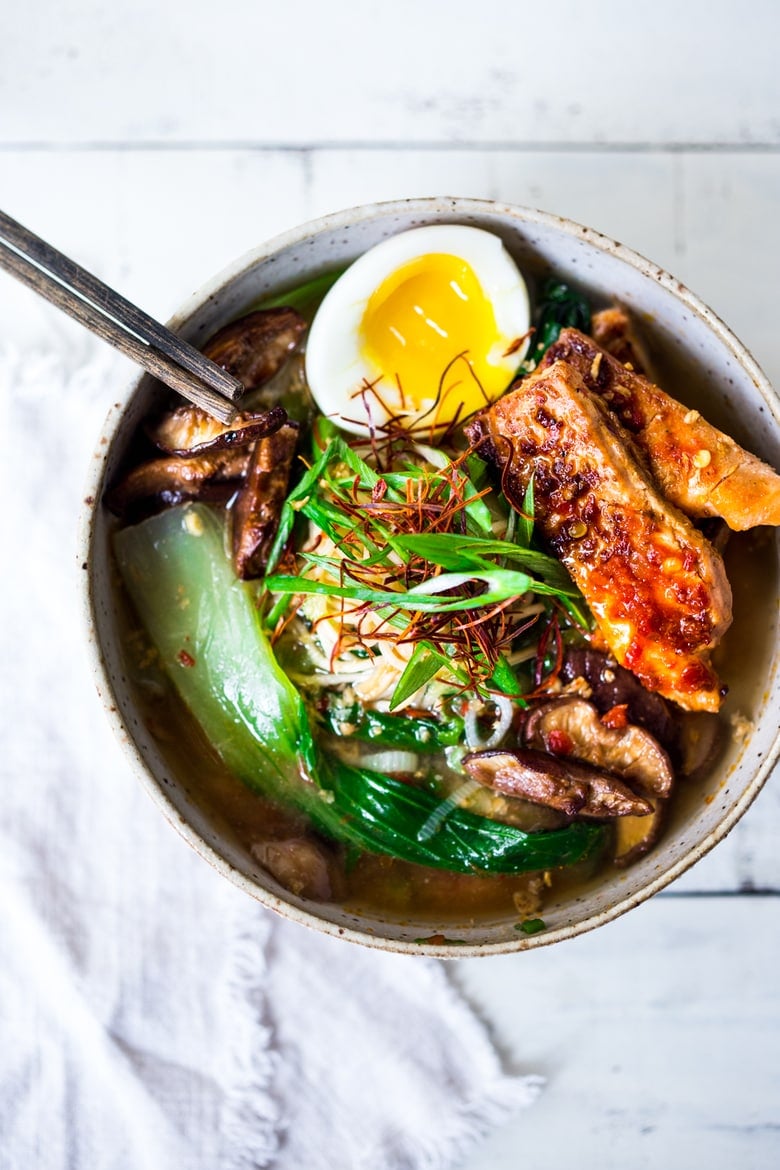 This Spicy Miso Ramen Recipe is topped with the most flavorful Chili Roasted Salmon and swimming with baby bok choy and shiitake mushrooms in the most flavorful ramen broth! Use ramen noodles, or rice noodles. A delicious weeknight dinner!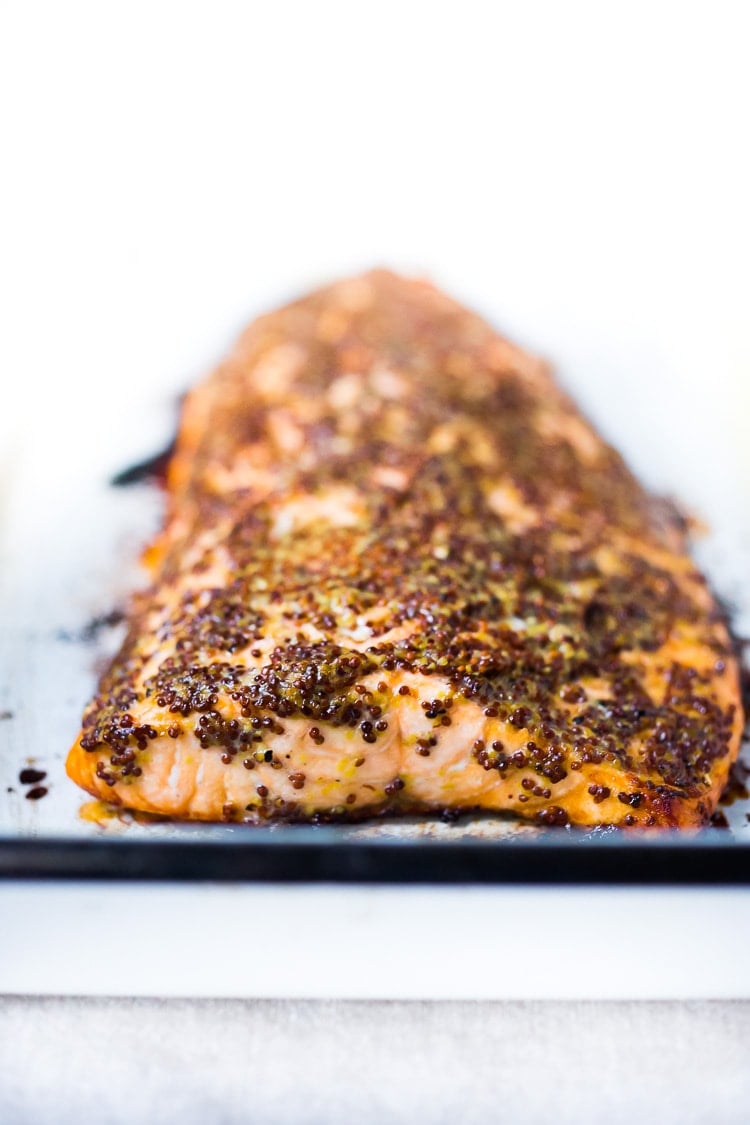 Simple and easy, this Mustard Salmon is baked on a sheet pan and requires only three ingredients!  Easy, fast and full of flavor! The perfect weeknight meal!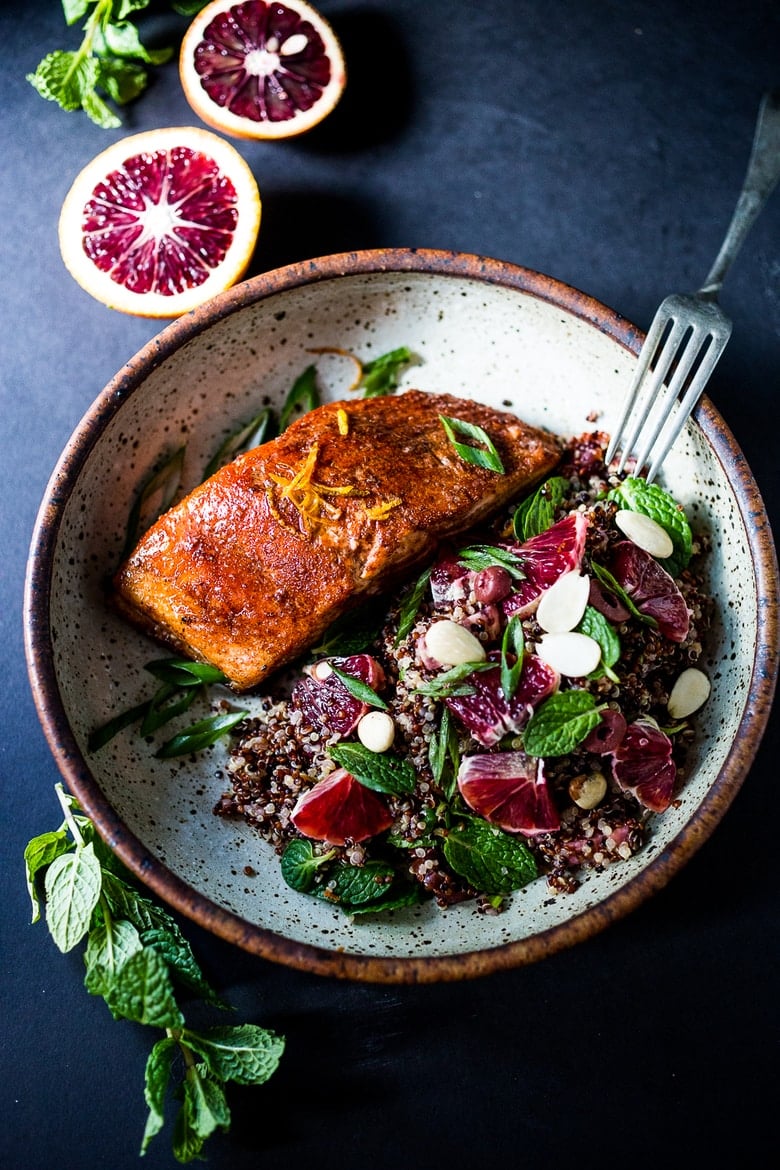 A healthy, delicious salmon recipe for Moroccan Salmon, paired with a Quinoa salad with orange, mint, almonds and olives. Simple, fast and easy.
Baked Salmon Recipes (Sheet-pan dinners!)
These baked salmon recipes are simple to put together with minimal hands-on time and easy clean-up.  We love the simplicity of these sheet pan dinners, perfect for busy weeknights letting the oven do most of the work!

Szechuan Salmon with Scallion Green Beans baked in the oven can be made in just 30 minutes. One of our most flavorful baked salmon recipes- perfect for a deliciously healthy weeknight dinner!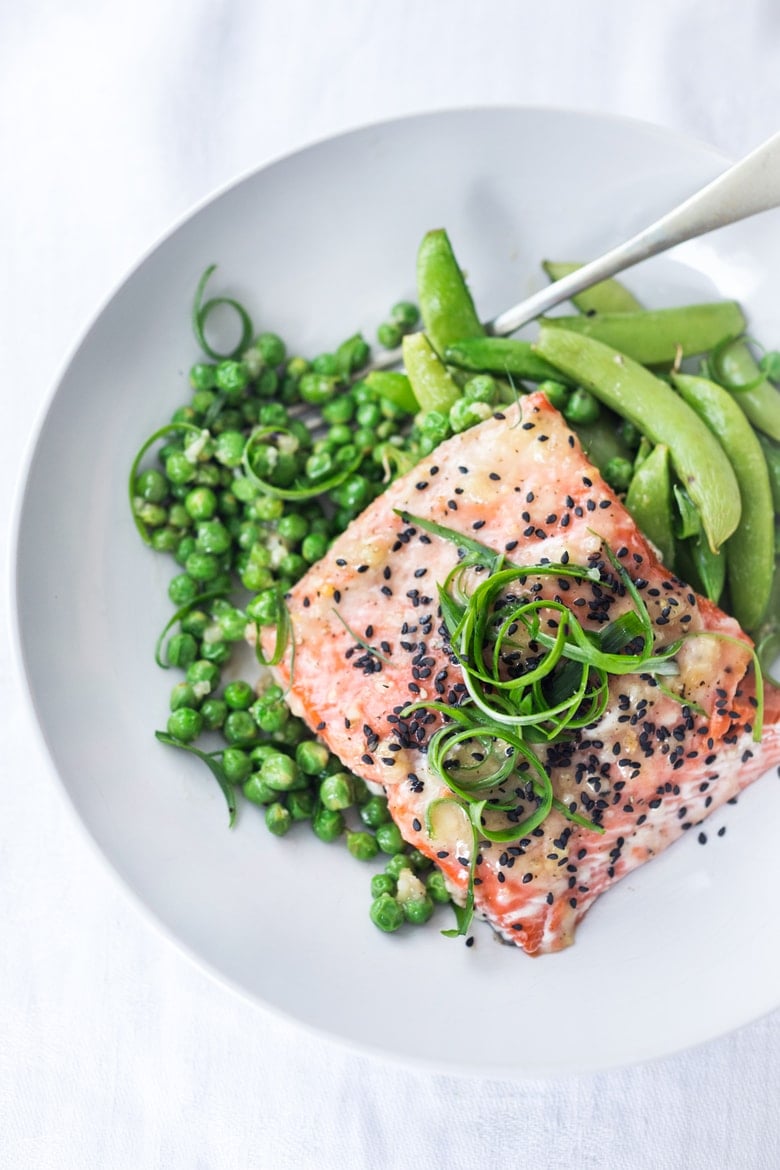 Here's the easiest recipe for Baked Miso Salmon – a fast and healthy salmon recipe that can be paired with seasonal veggies- for a weeknight dinner that can be made in under 25 minutes. Add red pepper flakes or sriracha for a little heat! One of our favorites.

Citrus Baked Salmon with roasted fingerlings and kumquats in a flavorful citrus marinade. With only 15 minutes of hands-on time, this simple easy salmon dinner recipe is perfect for busy weeknights!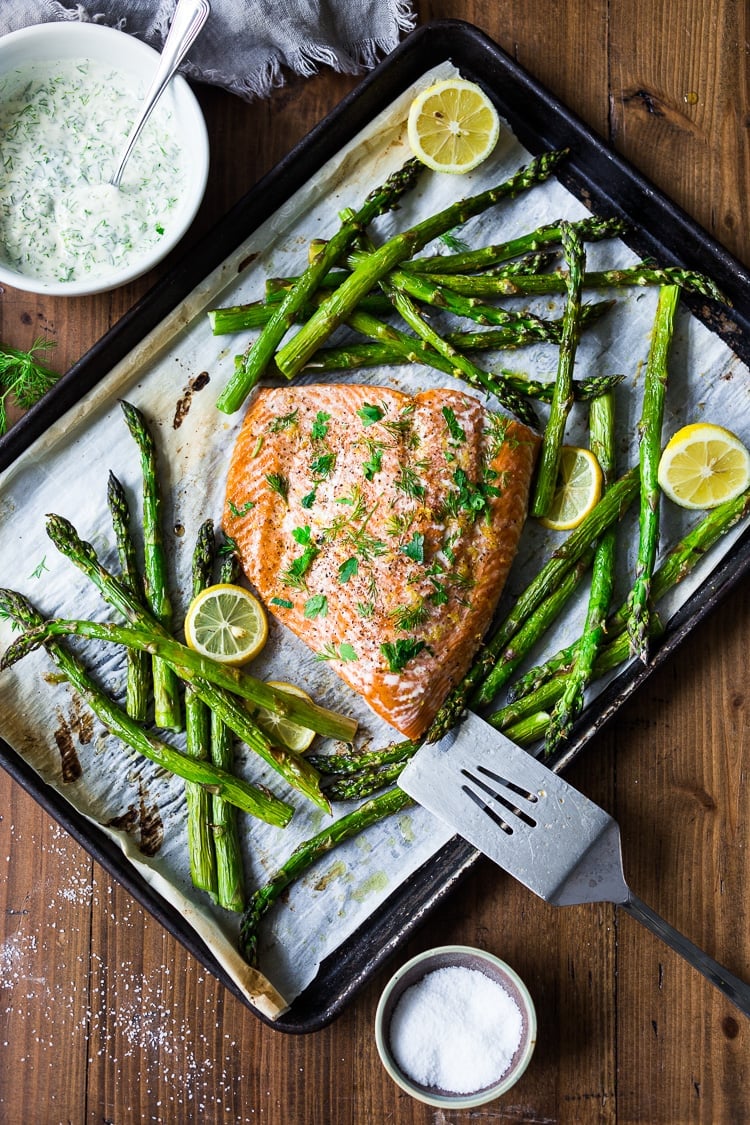 One of our favorite salmon recipes, Roasted Salmon with Asparagus and Dill Sauce, a simple sheet-pan dinner that comes together in 30 minutes. Just 10 minutes of hands-on time and one baking sheet!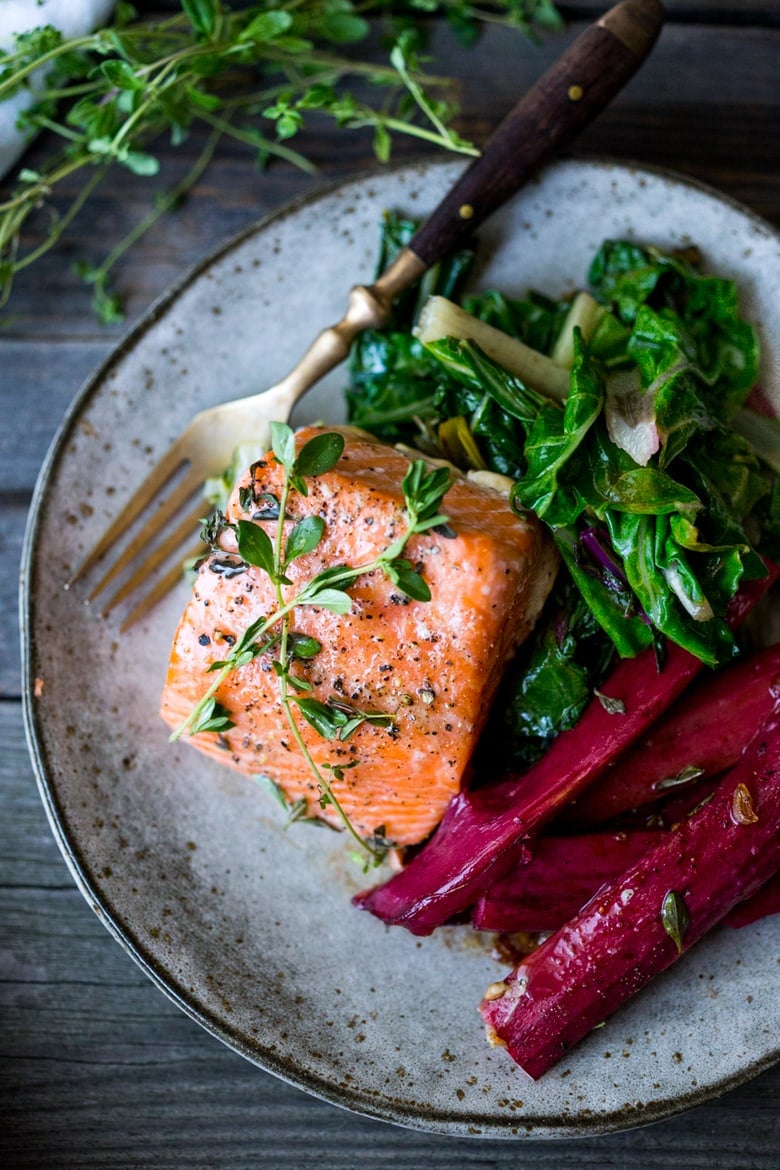 Simple Baked Salmon with salt, pepper, olive oil and a maple glaze, served with roasted rhubarb and wilted chard,  a healthy, delicious 25-minute salmon recipe!
Grilled Salmon Recipes!
Salmon just loves to be grilled!  Fresh wild salmon is in peak season during the early summer months, the perfect time to fire up the grill. Here is a selection of our favorite grilled salmon recipes with a basic how-to recipe in the recipe card.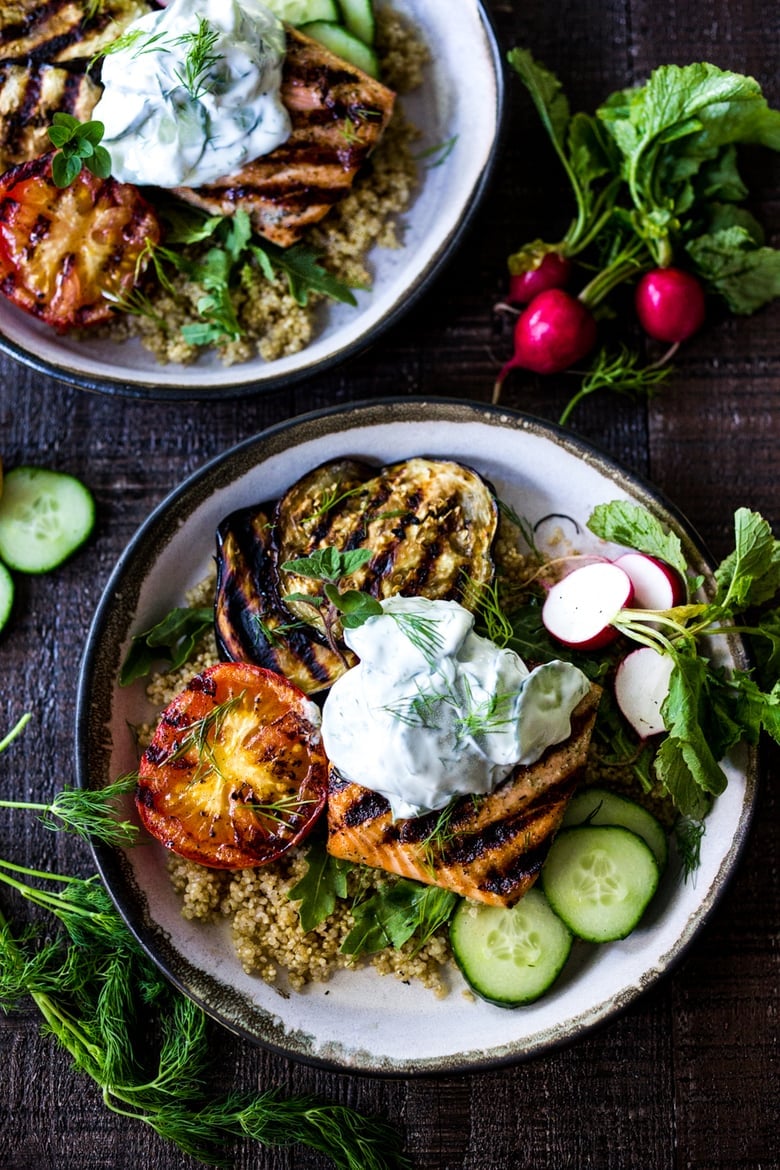 One of our best salmon recipes, these Grilled Salmon Tzatziki Bowls are full of flavor and loaded up with healthy veggies!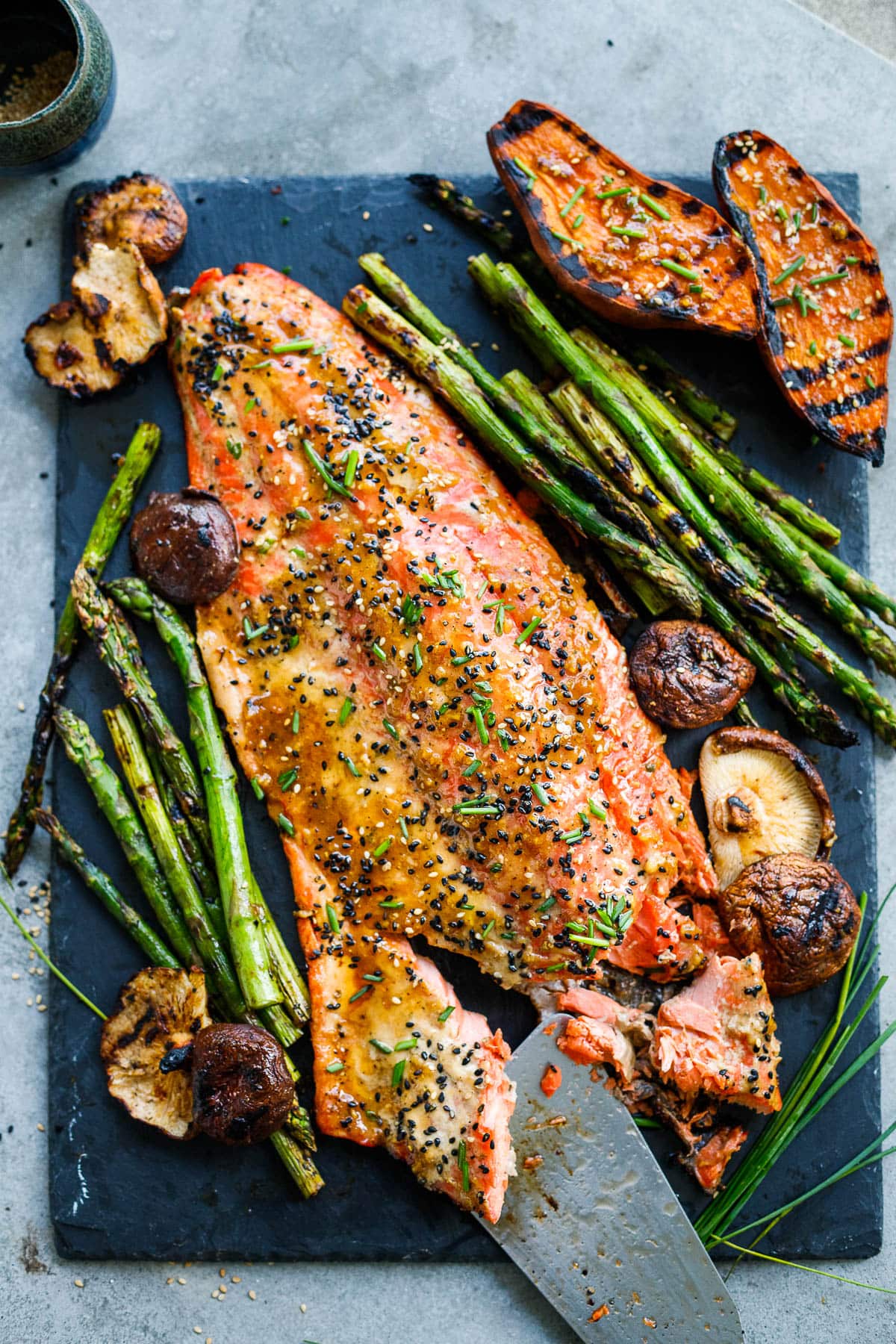 Perfect Grilled Salmon: A simple guide on how to grill salmon + plus a recipe for Grilled Miso Salmon with ginger!

We saved the BEST for last. This Grilled Salmon with Pickled Huckleberries is hands-down my personal favorite. I know it sounds a bit strange- but when we used to cater huge events, it was the most requested recipe from our guests.  Light and delicious and full of flavor, huckleberries are just slightly pickled giving the salmon a surprisingly wonderful brightness. No huckleberries? Try this with fresh blueberries!
Summery Salmon Salads and Sandwiches
My dream meal is a piece of perfectly cooked salmon over a bed of greens. I can't tell you how often I crave this!  Here are some healthy salmon salads to get your creative juices flowing.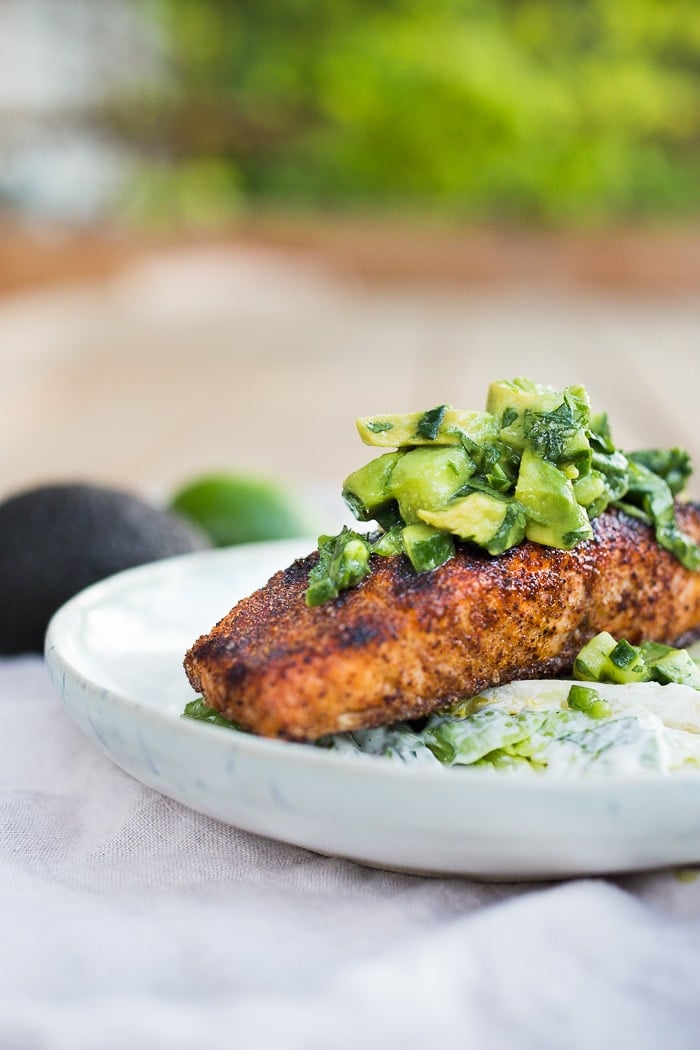 Grilled Salmon Salad with Avocado-Cucumber Salsa and over a bed of Little gems, with a Creamy Cilantro Dressing.  A perfect light dinner entree!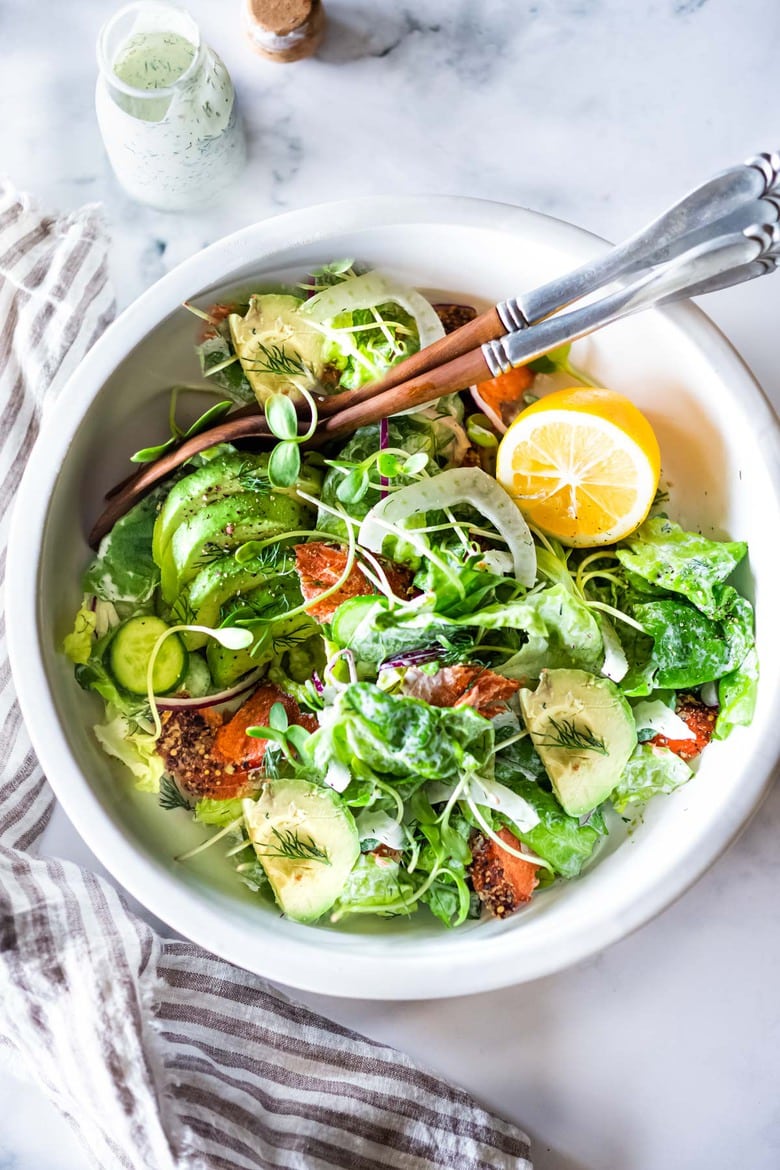 Smoked Salmon, Avocado and Fennel Salad with butter lettuce and creamy Dill Dressing. Fast and easy, this hearty entree salad makes for the best delicious lunch or dinner main.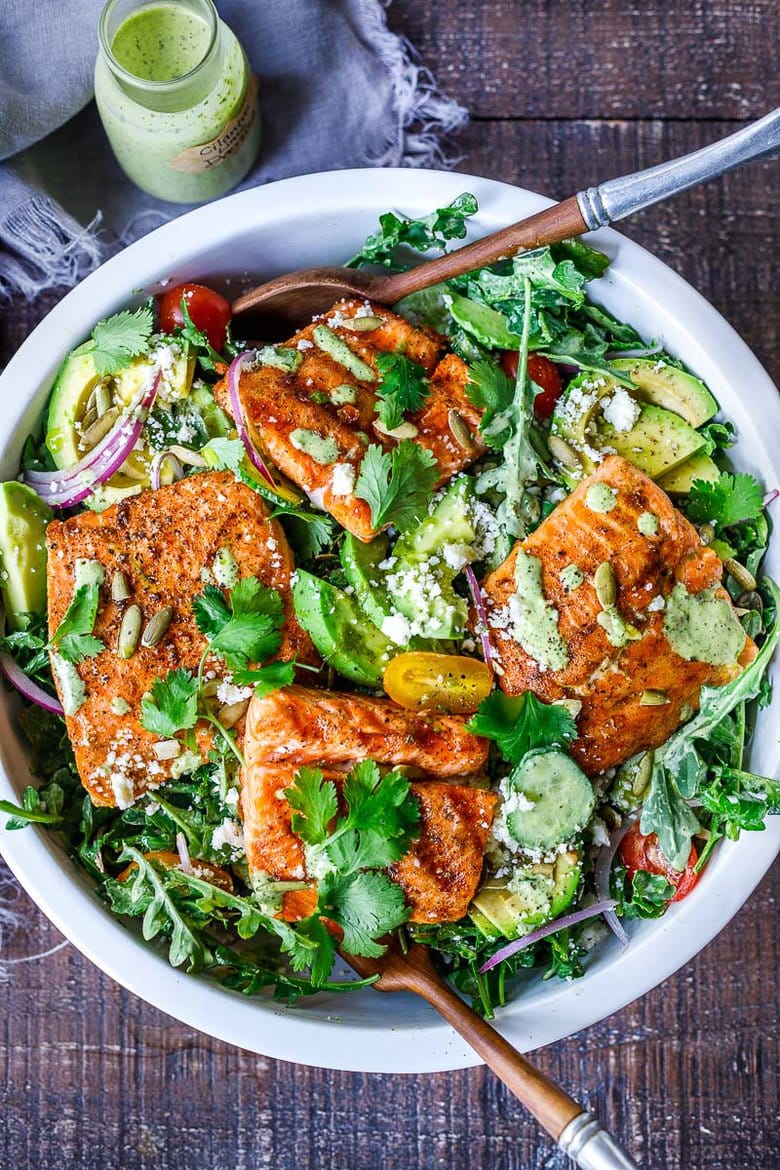 This Grilled Salmon Salad with Creamy Cilantro Lime Dressing is perfect for summer barbecues and outdoor gatherings. Chock full of fresh organic produce, not only is this entree salad healthy and easy to make, it's bursting with delicious summertime flavor! Keto and Low-carb.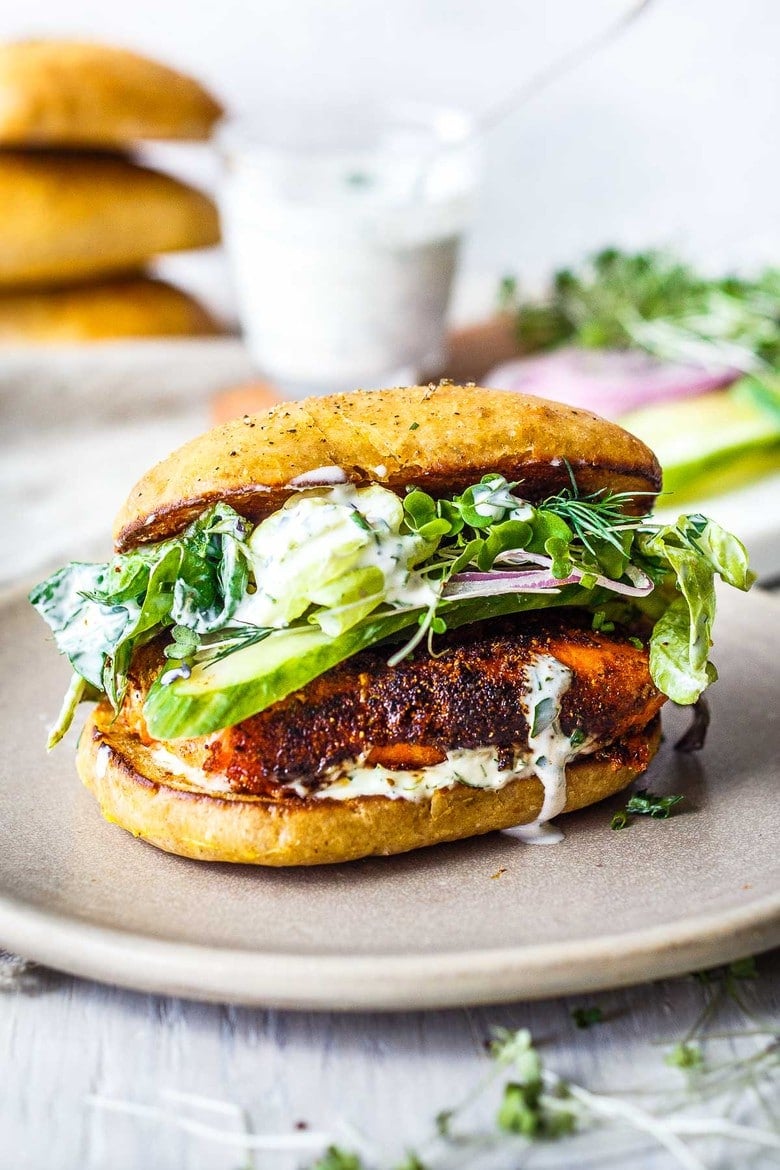 One of our favorite salmon recipes is this incredibly delicious Blackened Salmon Sandwich!  A succulent crispy crusted, cajun spiced salmon fillet tucked into a toasted bun with fresh greens, cucumber, red onion, drizzled with creamy Dilly Ranch Dressing.
Fun & Elegant Salmon Dinners (perfect for entertaining!)
We know how much you enjoy entertaining, and salmon is the perfect protein to serve. It can be rustic or fancy and everything in between- so versatile! These salmon dinners are sure to please.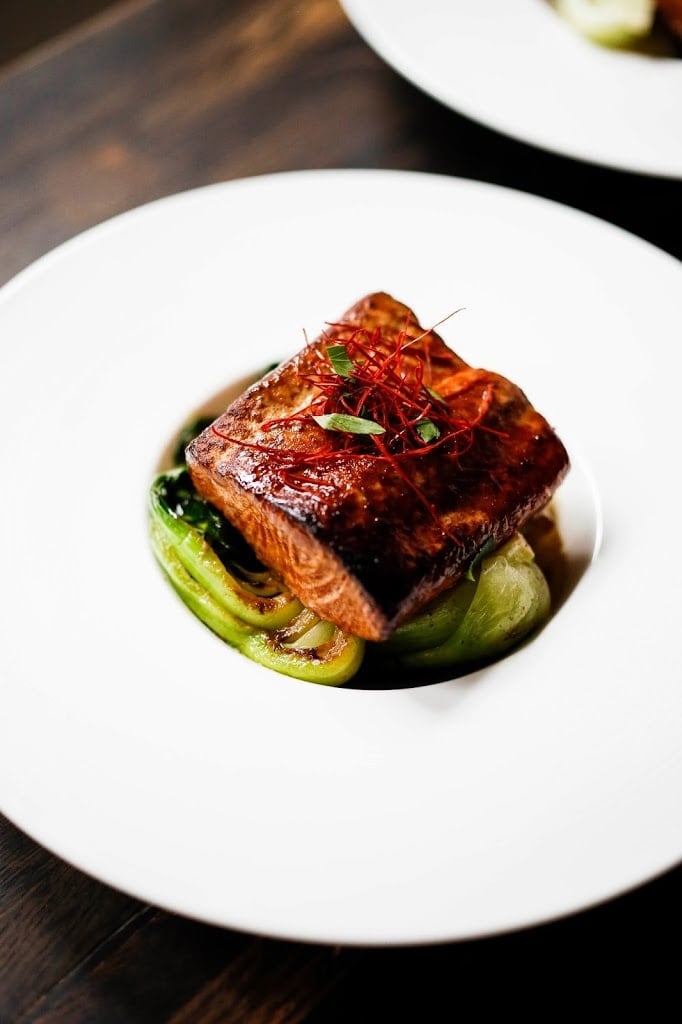 Tea-smoked Five Spice Salmon sounds complicated and fancy but honestly couldn't be more simple! The flavors will delight you and all you need is a wok! Easy step-by-step recipe for an elegant meal. You can totally do this!
This delicious salmon recipe features Baked Salmon with Lemon and Thyme served over a bed of  Braised French Green Lentils.  An amazing, simple and healthy dinner recipe! Perfect for weeknights or entertaining.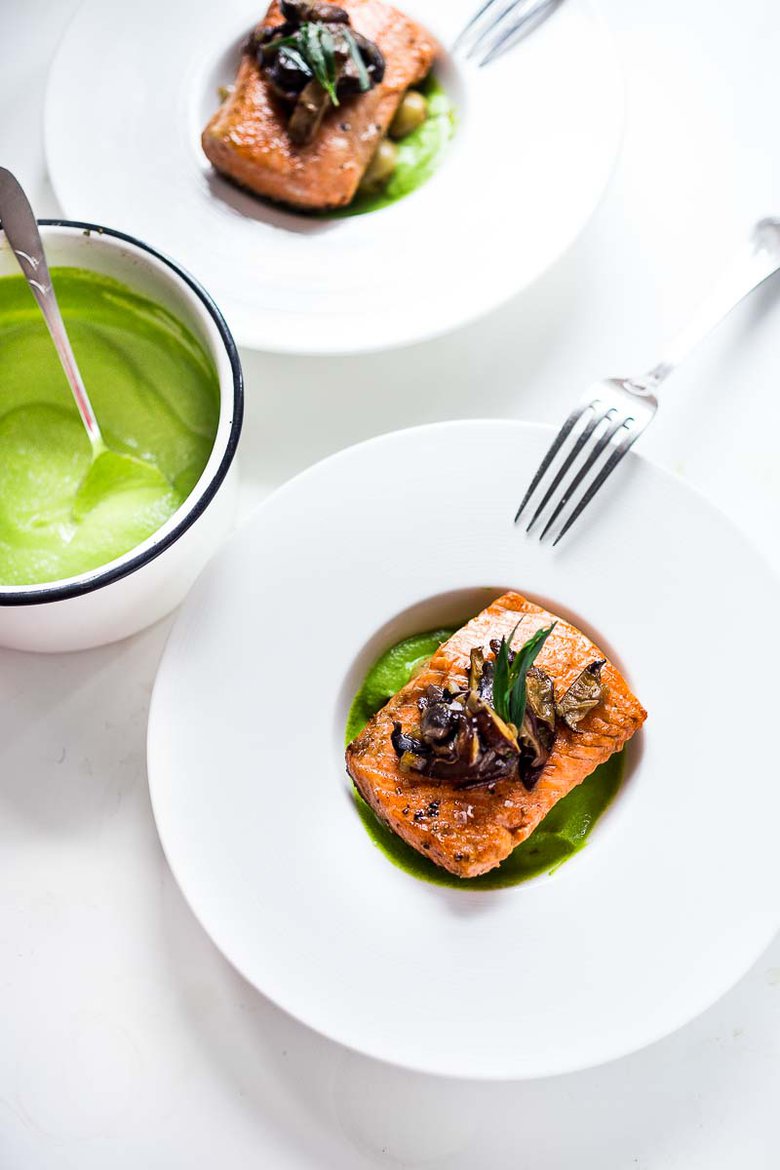 This elegant dish and be made with Steelhead or Salmon- its top with sauteed mushrooms, over a bed Truffled Spring Pea Sauce with baby potatoes. If you ask me, it is heavenly. It is not a hard recipe, and you'll feel very pleased with yourself after making this, I promise.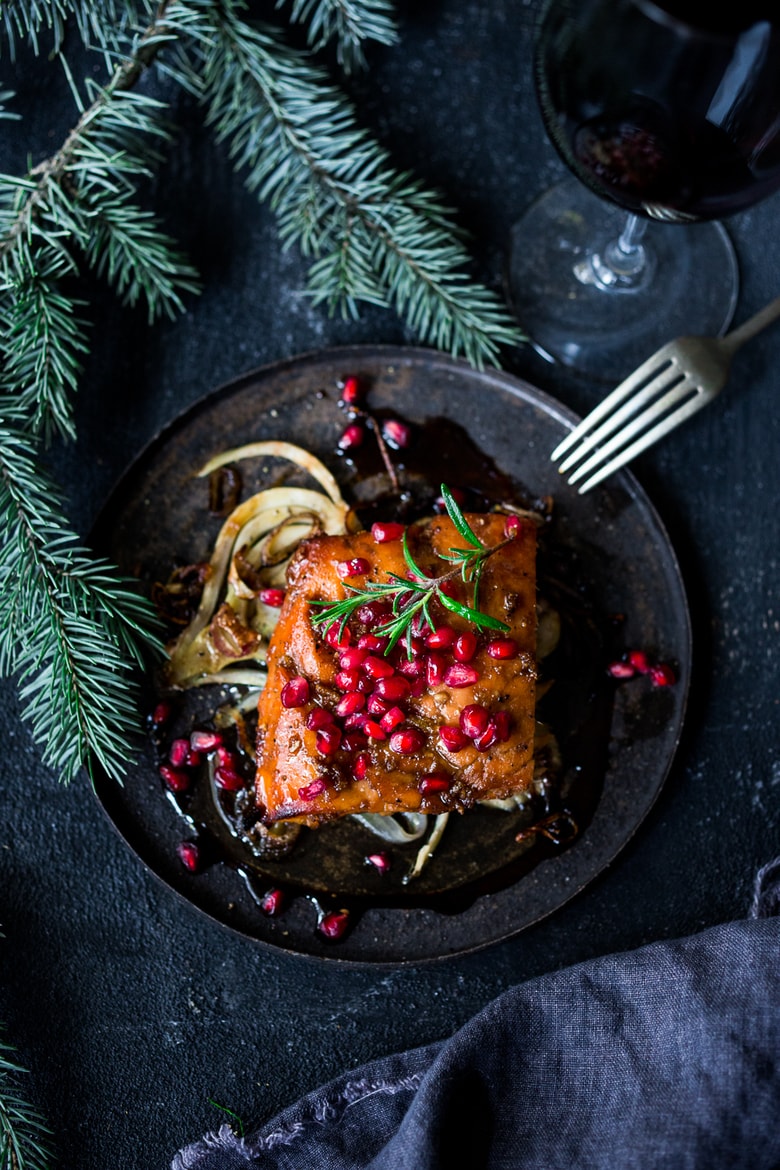 Roasted Pomegranate Salmon with braised fennel – baked on a sheet pan. A delicious and festive dinner that can be made in under 30 minutes, perfect for holiday dinners and gatherings.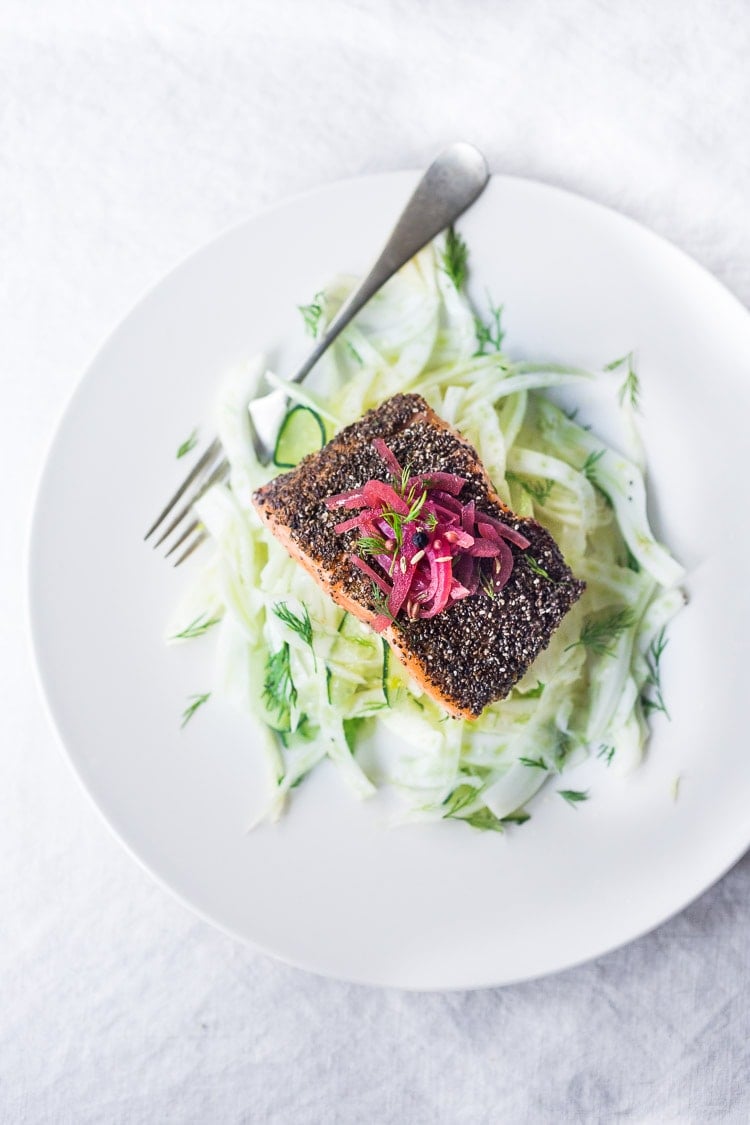 This Chia Crusted Salmon, served over cool crunchy fennel slaw, topped with quick pickled onions, may look fancy, but it is much simpler than you think! Plus it's light and healthy and fresh!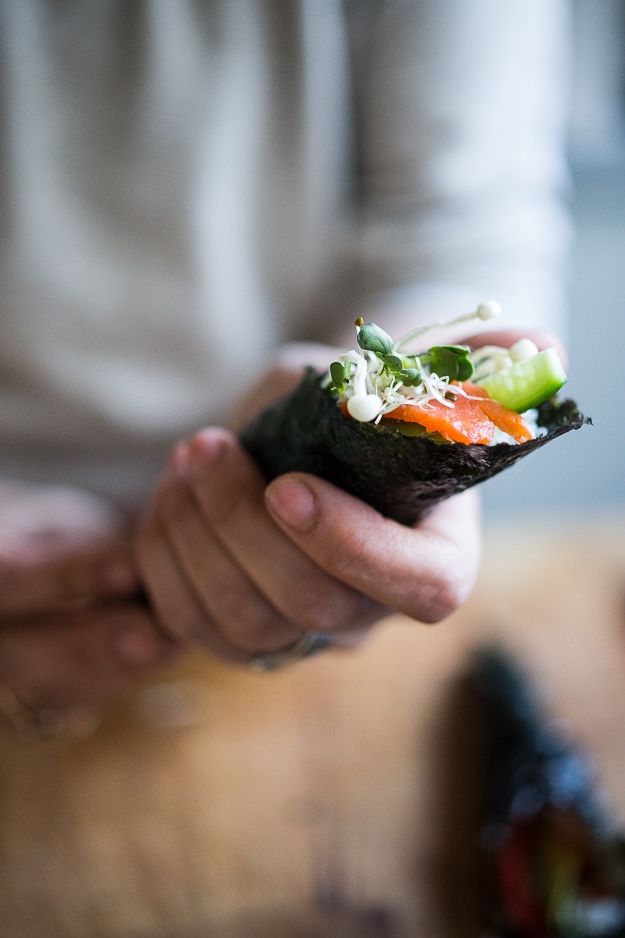 Perfect for entertaining, these Salmon Hand Rolls (aka Temaki) with smoked salmon, avocado, cucumber, shiitakes and daikon sprouts are easy and fun to make! Your guests will love them – and for a fun interactive dinner, have them roll their own!  Healthy, light, and tasty, these make for the perfect summer meal.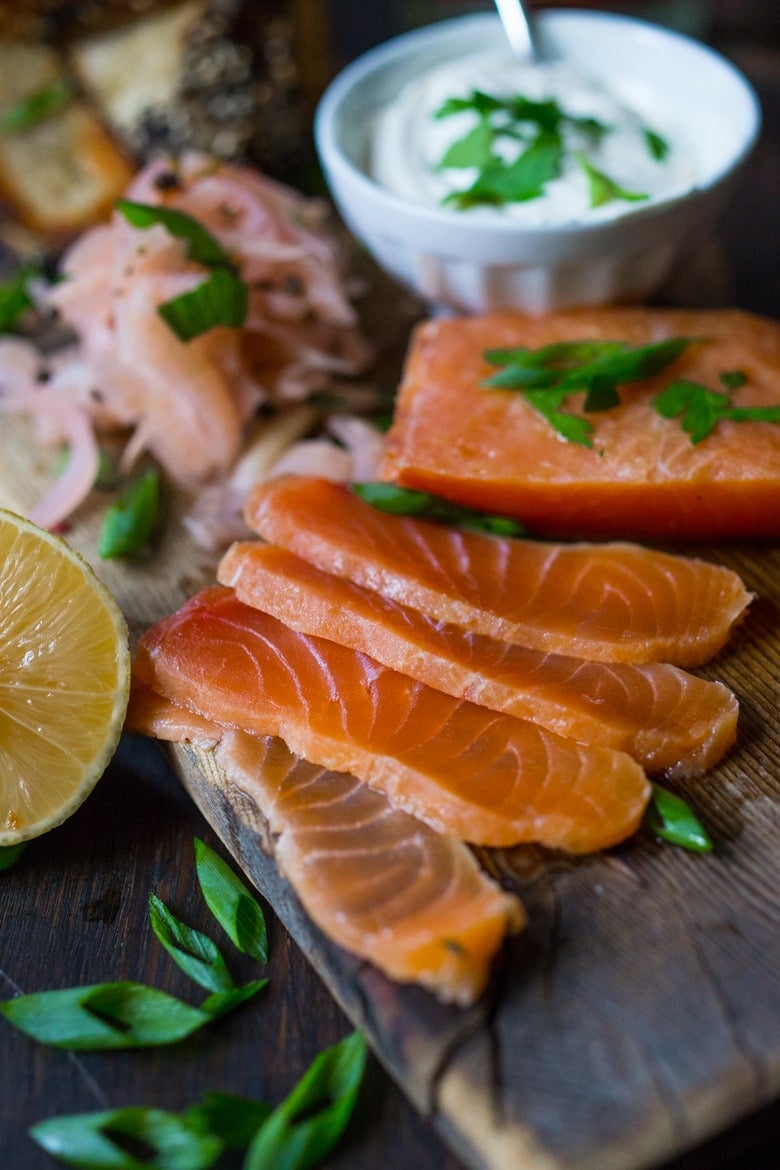 WOW your guests with your own homemade Lox!  It is easier than you think and can be used on bruschetta, charcuterie boards,  bagels, sushi or salads!
Salmon Faqs
What is the best cooking method for salmon?
Salmon is so versatile; it can be cooked in many different ways with good results! Grill it, pan-sear it, bake it, broil it, or simmer it in soups and stews. The secret is just not to overcook it.
What does salmon pair well with?
You can never go wrong with serving salmon with a vegetable side dish. Asparagus, green beans, Brussels sprouts, and broccoli are all good options. A hearty green salad or a tangy slaw are other good options. If looking for a starch, consider creamy polenta, mashed potatoes, pasta, lentils or fragrant rice.
What flavors go best with salmon?
Some of our favorite flavors to pair with salmon include: miso, teriyaki, Szechuan, citrus, thyme, ginger, garlic, alliums, dill, mustard, honey, brown sugar and maple.
What type of Salmon to Buy?
Some of you may be wondering which salmon you should buy. Here are some general guidelines to help you make an informed decision.
Pacific Wild Salmon-  Pacific salmon are found in the Pacific ocean and there are 5 main varieties: King Salmon, Coho Salmon, Sockeye Salmon, Pink Salmon, and Chum. Pacific Salmon is mostly caught in the wild, either in the ocean or in freshwater rivers, although there are a few farmed salmon enterprises.
Atlantic Salmon- Atlantic Salmon, originally from the Atlantic ocean, is now endangered in the wild, so all Atlantic Salmon are now farmed. Farmed Salmon that is not sustainably raised  (raised in high-density net pens) can have damaging effects on nearby coastlines and waterways, and the salmon itself is often treated with antibiotics, pesticides, and dyes.
Sustainably-Farmed Atlantic Salmon are raised in closed tank aquaculture or in low-density net pens- which do less damage to the environment and create healthier fish. There are several sustainably-farmed Atlantic salmon varieties available.  Skuna, out of Vancouver Island offers up sustainably farmed salmon as well as Nordic Blu Salmon, which you can often find at Whole foods.
Salmon substitutes: Other fish like Arctic Char, Ocean Trout and Steelhead are close substitutes to salmon if salmon is not an option.
TIP: If new to cooking salmon- fattier, oilier salmon like king salmon or Atlantic salmon is much more forgiving, as it is harder to overcook it and dry it out. If suing salmon for sushi, look for "sushi-grade" salmon.
Frozen Salmon: If buying frozen salmon, opt for those that are flash-frozen and vacuum-sealed.
Smell: Whichever salmon you choose, it should smell clean and fresh like the ocean. If it smells "fishy", I would reconsider. 😉
Sustainability – learn more here:  Monterey Bay Aquarium's Seafood Watch Program.
I personally opt for wild salmon in the summer when it is in season, and in the winter go for a sustainably raised variety.
We would LOVE to hear what your favorite salmon recipes are… or perhaps some new ones you would like to try! Leave us a comment below.
Ok- have a great weekend.
xoxo
More Recipe Collections you may like:
Print
25 BEST Salmon Recipes!
Prep Time:

10

Cook Time:

10

Total Time:

20 minutes

Yield:

4

1

x

Category:

main, salmon

Method:

grilled, baked

Cuisine:

American
---
Description
Here are our 25 BEST Salmon Recipes! Rich in healthy fats (omega 3's) and an excellent source of protein, salmon provides so many amazing health benefits.  Salmon is versatile, cooks up quickly and makes the whole meal feel more elegant: Easy Grilled Salmon.
---
---
Instructions
Preheat grill to medium.
Cut salmon in to 4 pieces and place in a bowl. Lightly coat with olive oil,  season with salt and pepper and zest from one lemon. Add the garlic and thyme, gently tossing to coat.
Cut the lemon in half and place on the grill, open side down.
Place salmon on the grill, skin-side down first, and grill 4-6 minutes, covering. The skin should release itself naturally from the grill. Flip and cook for 2 more minutes or until your desired "doneness". Keep in mind thinker pieces may take longer, and thin pieces may take less time.
Squeeze with the grilled lemon.
Serve salmon immediately or refrigerate for mid-week meals for up to 3 days.
---
Notes
No grill? You can also bake the salmon in  375F oven until cooked to your liking.
Nutrition
Serving Size:
Calories:

193

Sugar:

0 g

Sodium:

640 mg

Fat:

10.7 g

Saturated Fat:

1.6 g

Carbohydrates:

0.4 g

Fiber:

0.1 g

Protein:

22.6 g

Cholesterol:

62.3 mg
Keywords: best salmon recipes, salmon recipes, salmon recipe, healthy salmon recipes, best salmon recipe, grilled salmon recipes, baked salmon recipes, pan seared salmon, salmon salads