Salmon Lox is delicious in so many things. We use it on bagels, in omelets, on bruschetta, in sushi, or on a cheese board! Turns out it is easy to make at home, plus making it from scratch is super affordable.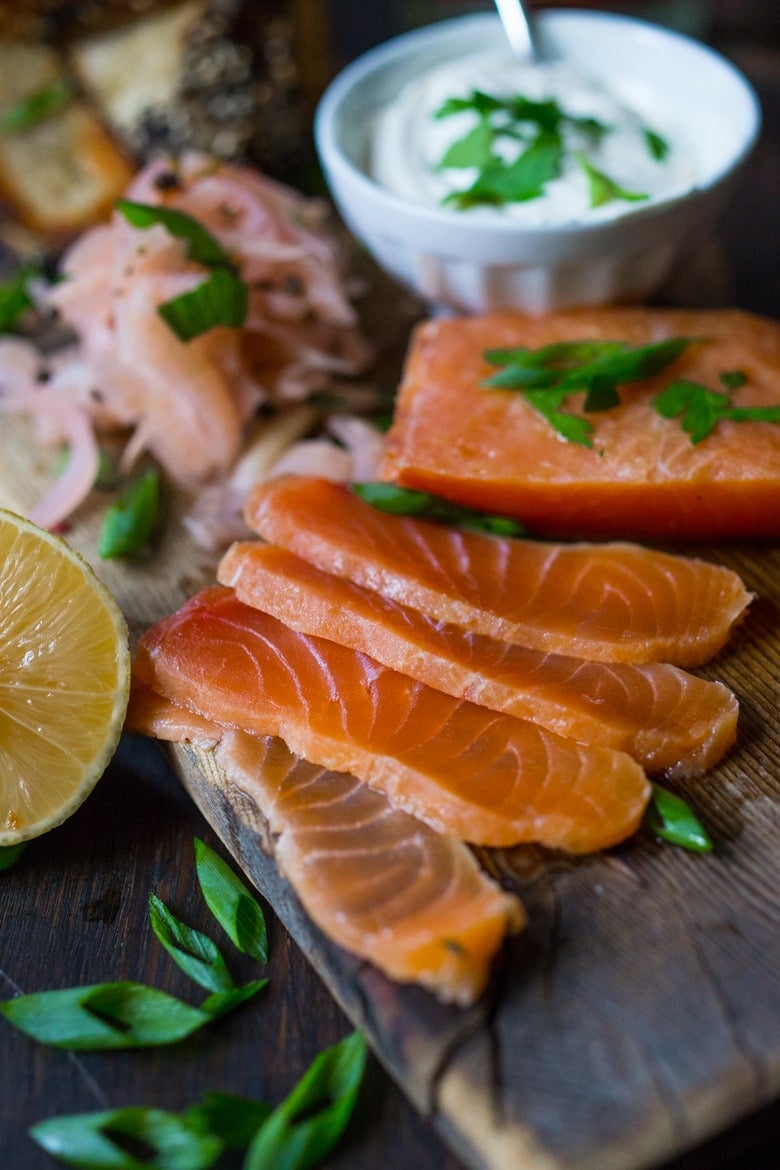 Have you ever made salmon lox at home? This Easy Lox Recipe only requires 2 ingredients, and only a few minutes of hands-on time, before going in the fridge.  After 36 hours of salt curing in the fridge, the resulting lox is done! Buttery and delcious, just slice it up, and it's ready to use. You'll find a hundred uses for it.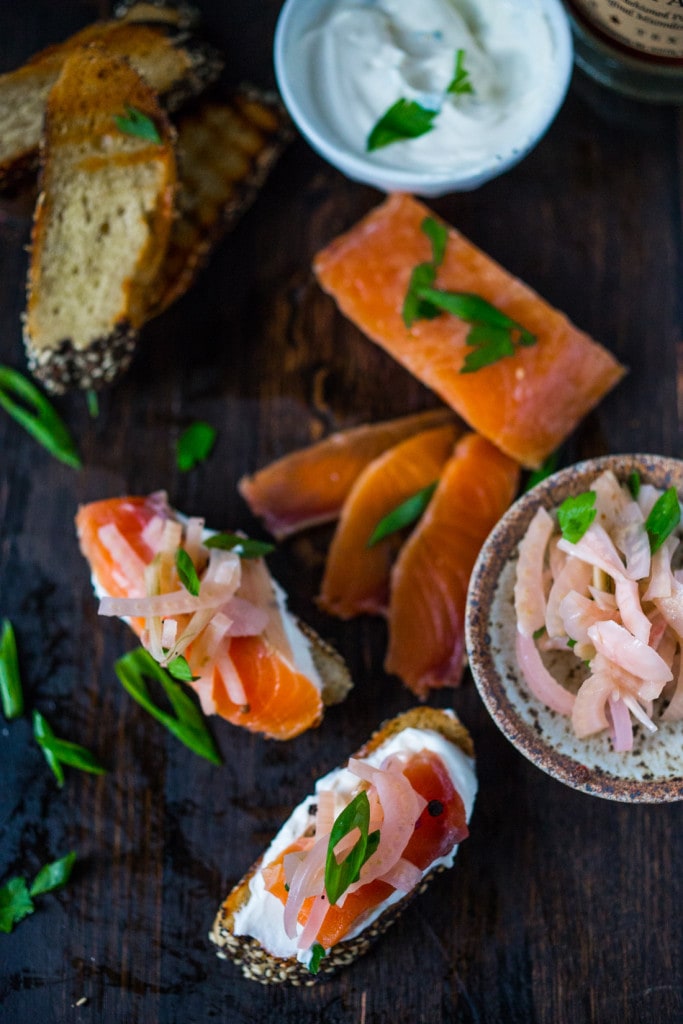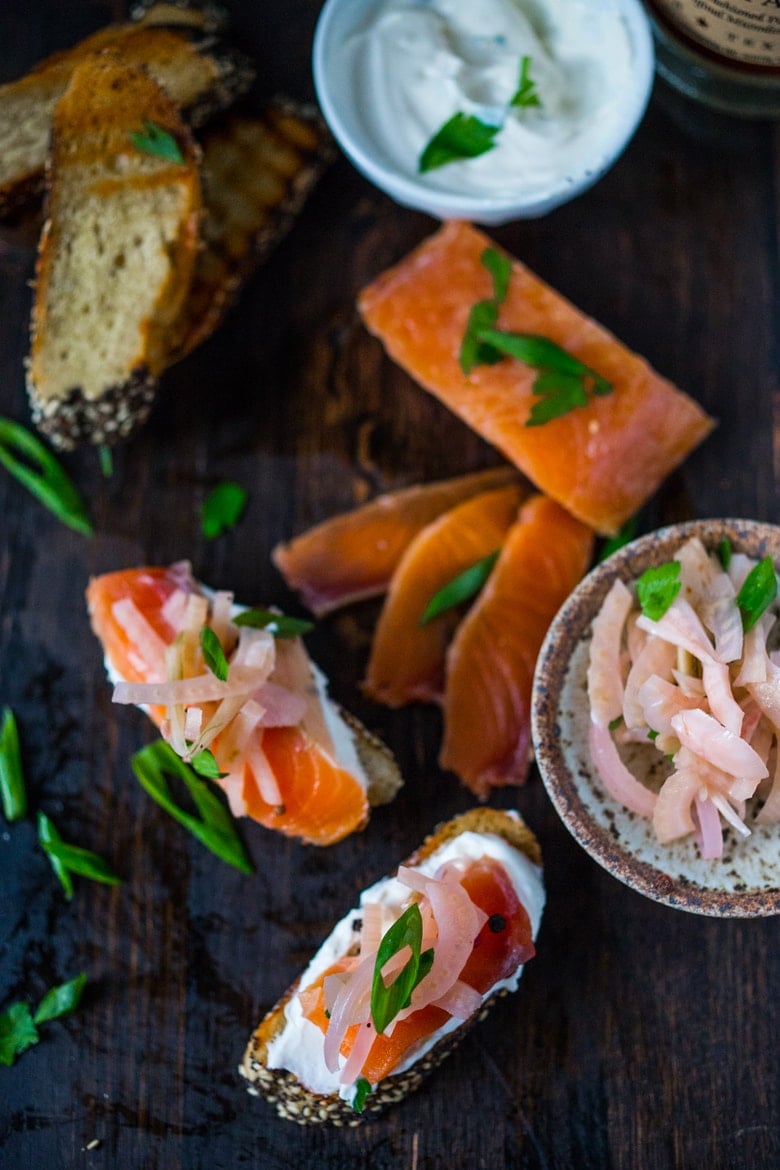 What is Salmon Lox?
Salmon Lox is salmon that has been "cured" in salt rather than cooked or smoked. People often mix up smoked salmon with lox- and these are actually quite different. Smoked Salmon is smoked, lox is cured in a salt crust- meaning the salt cures the salmon- the salmon is technically uncooked. This was an old way to preserve fish before refrigeration.It is a straightforward, fun process that is easy to make at home, quite economically, with very little hands-on time.
What is the secret to the Best Salmon Lox?
The quality of the Salmon! Wait until salmon season to make the best lox.  You want to use wild salmon, king salmon if possible. Nothing farmed.  Lox tastes buttery, smooth and slightly salty like the ocean- not fishy whatsoever!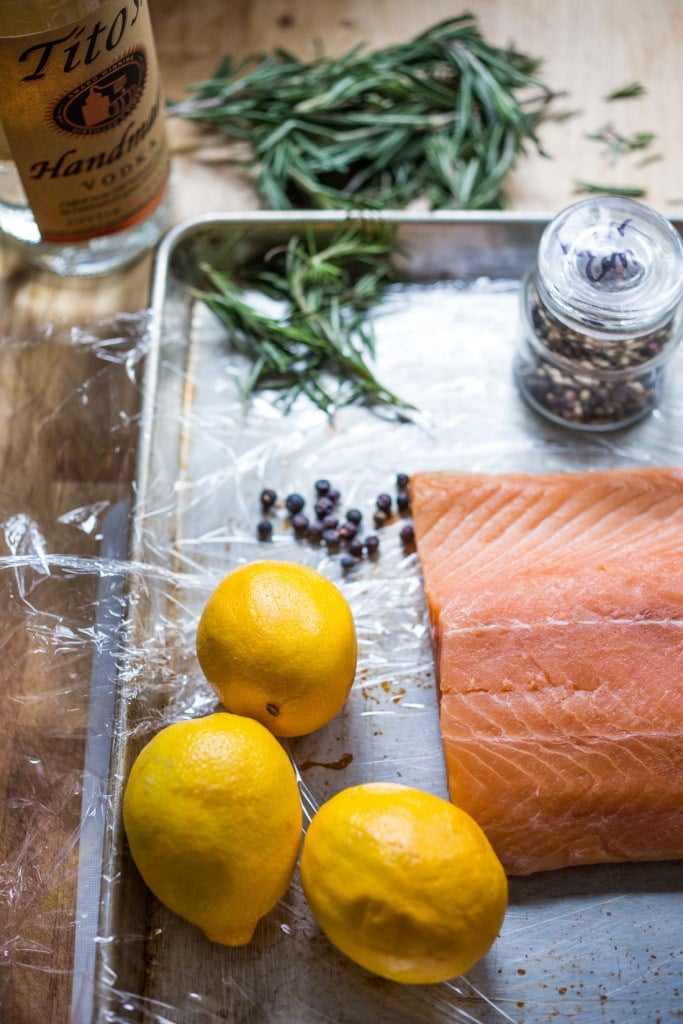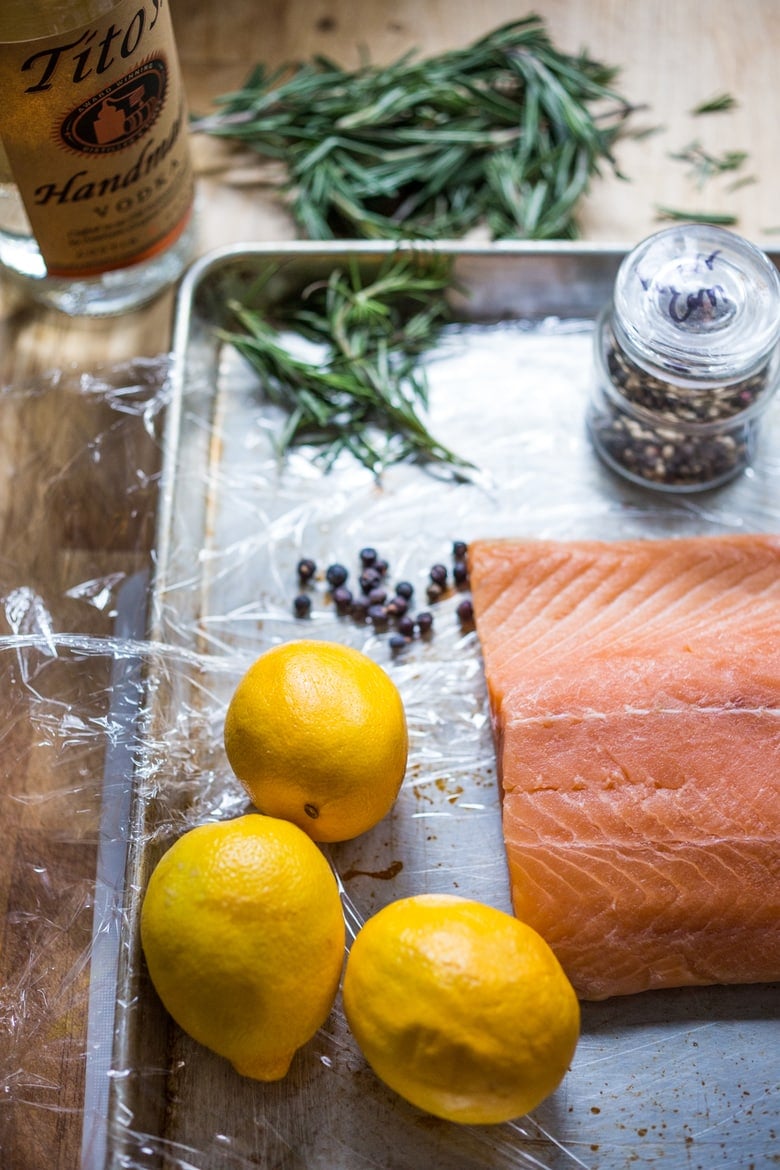 What you'll need to make Salmon Lox
You only need salmon and salt to make lox,  but we like to have fun around here!
Salmon- opt for skinless, wild salmon for this recipe. Because this is cured and not cooked, you want a high-quality sushi-grade salmon free of hormones or antibiotics. I prefer wild king salmon because it is fattier and thicker, but most any wild salmon will work.
Salt: Coarse Sea Salt or Kosher salt
Lemon Zest (optional)
Pepper (optional)
Sugar (optional)
Herbs– rosemary, thyme, dill or tarragon (optional)
Vodka– optional!
Variations
This time around I used crushed juniper berries, peppercorns and rosemary for a wintry twist, though in Spring, I would veer towards fresh dill or tarragon. Play around with this, make it your own and have fun!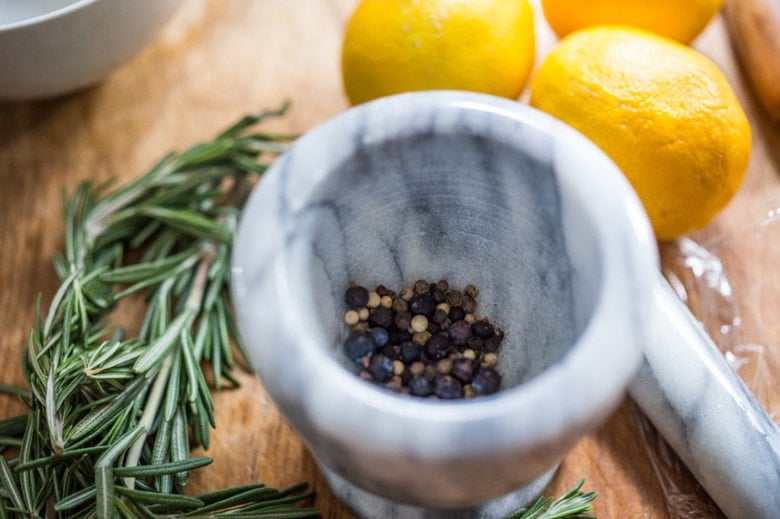 How to make Lox
We are spicing up the salt here a bit with fresh herbs, lemon zest and spices.
Please know you can go with a plain and simple salt crust.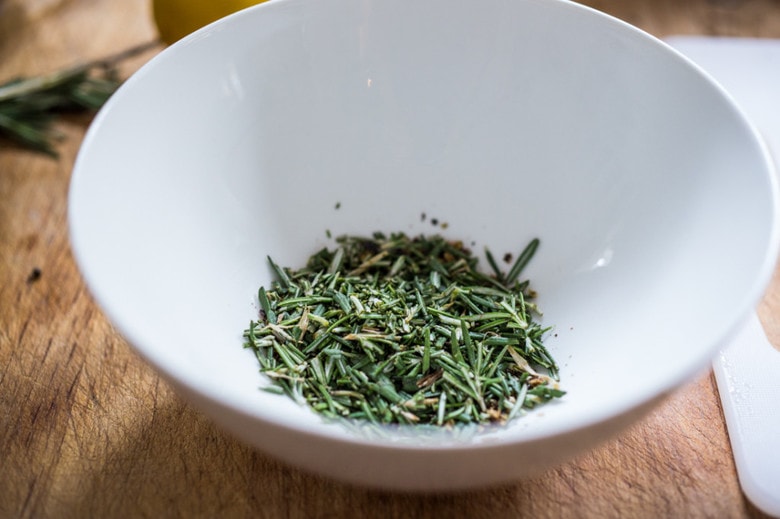 Add chopped rosemary or any herb you like! Thyme is nice too.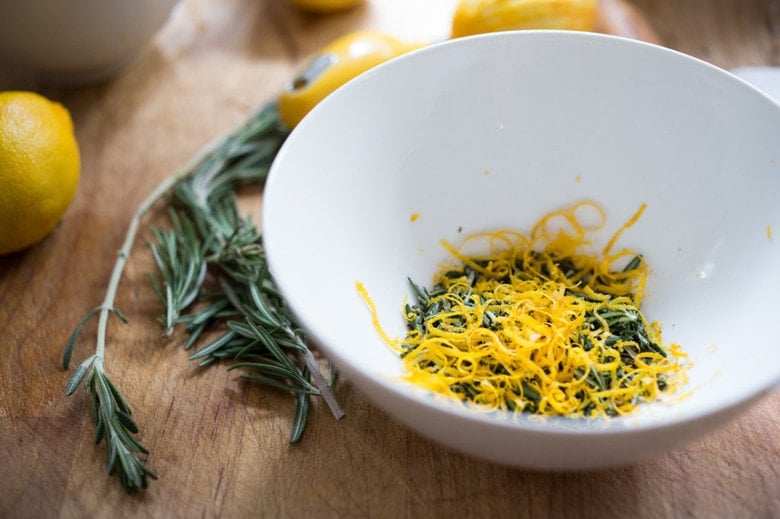 Add zest from one or two lemons.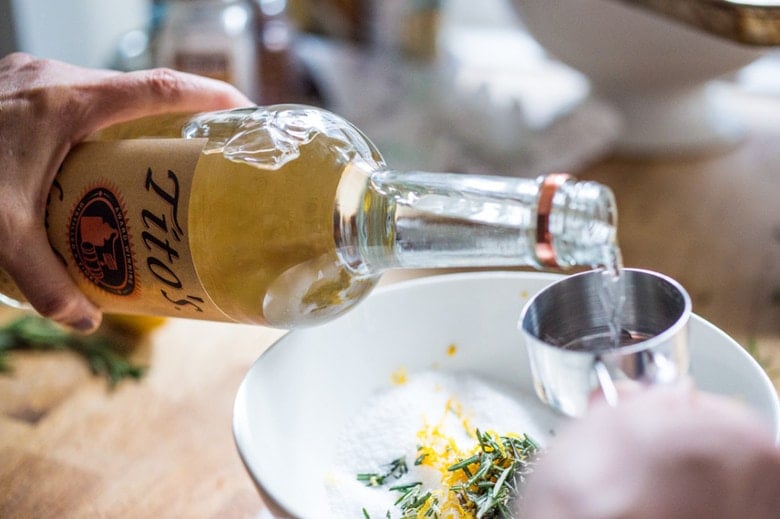 Add salt, sugar and optional Vodka, just enough to moisten. VODKA IS OPTIONAL.
TIP: To add a bit of smoky flavor you could add a few drops of liquid smoke, some smoked paprika or even some smoked salt. Mix this up well.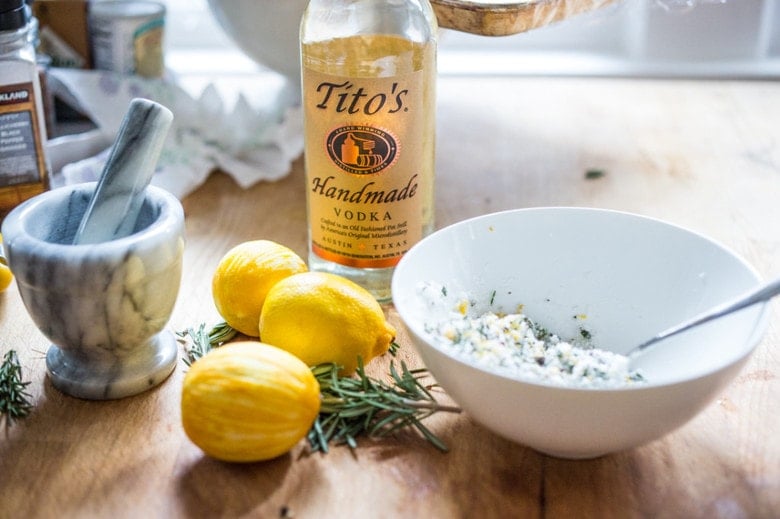 Place the salmon on a piece of parchment or plastic wrap, then coat the salmon with the salt mixture- evenly as possible on both sides.
Wrap the salmon tightly and place it on a sheet pan or in a baking dish.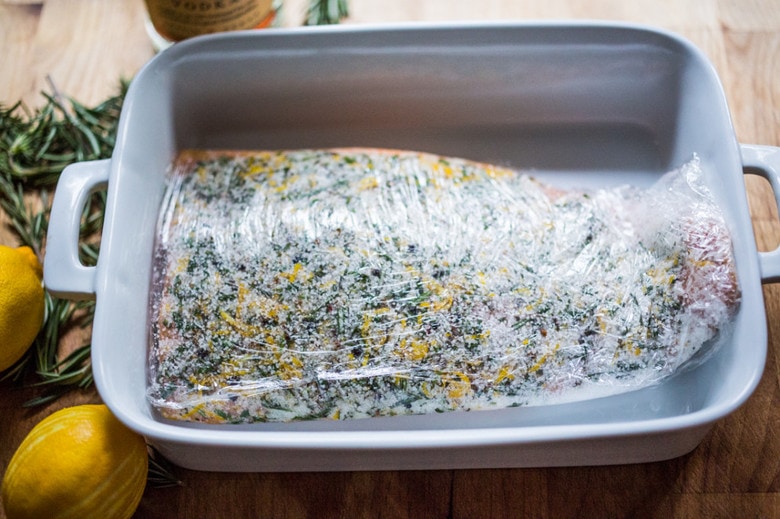 Place another sheet pan or baking dish over the top and press down. Weigh the salmon down with something heavy like cans. This will press the salt into the salmon.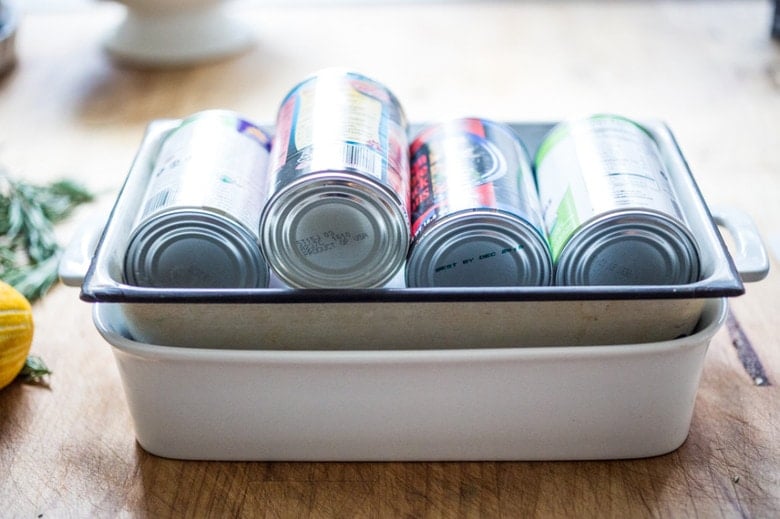 Refrigerate for 24 -48 hours.
Note that any longer than 48 hours will produce very salty lox, so I've found the optimal time is 36 hours! Rinse off the curing salt well, and pat dry. Then slice thinly.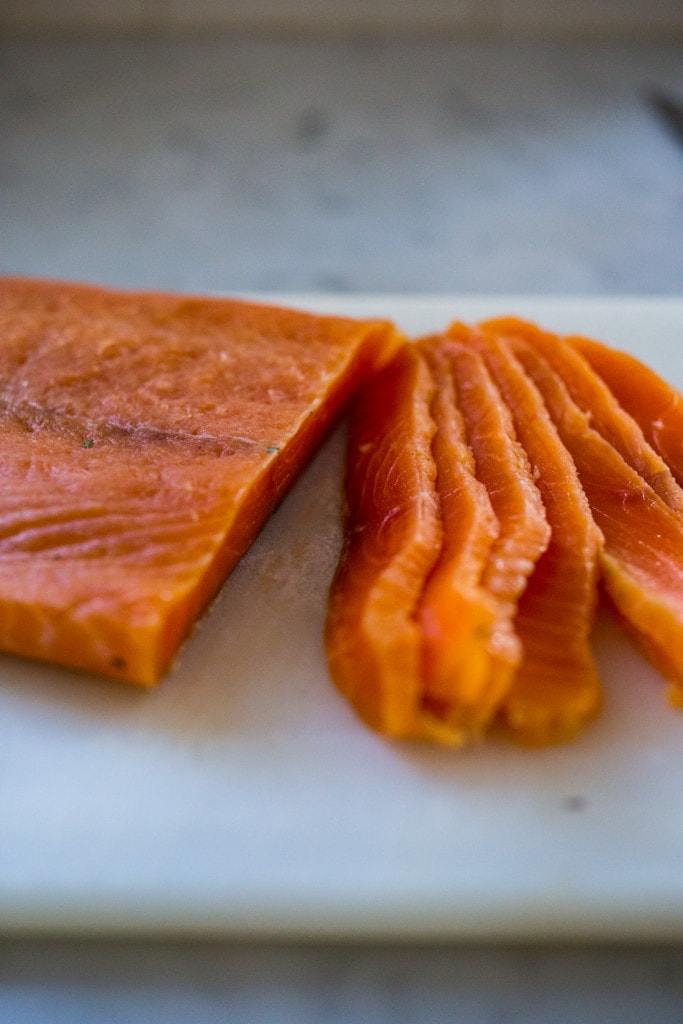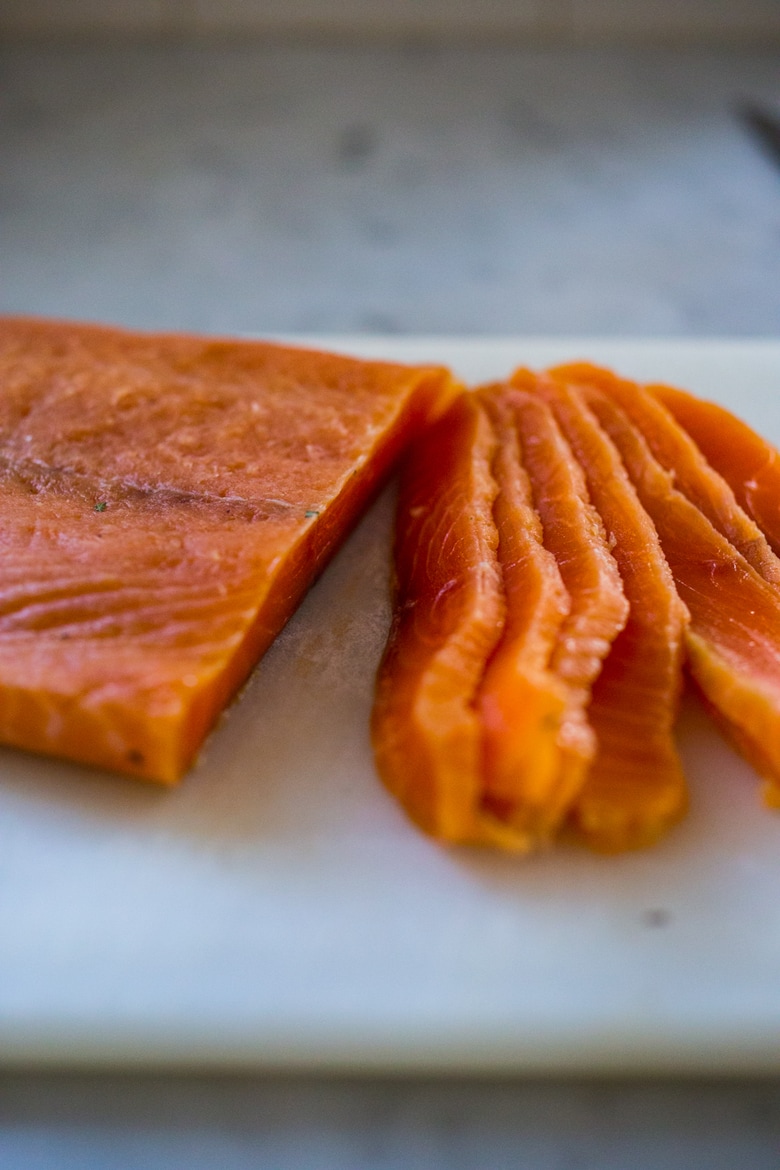 PRO TIP: To slice this EXTRA thin, freeze the cured salmon for an hour -so the salmon firms up before slicing.
Ways To Use Salmon Lox
The possibilities are truly endless.  Here it's served as a holiday appetizer, Nordic style, with rye crostini, pickled fennel bulb, mustard seeds and creme fraiche.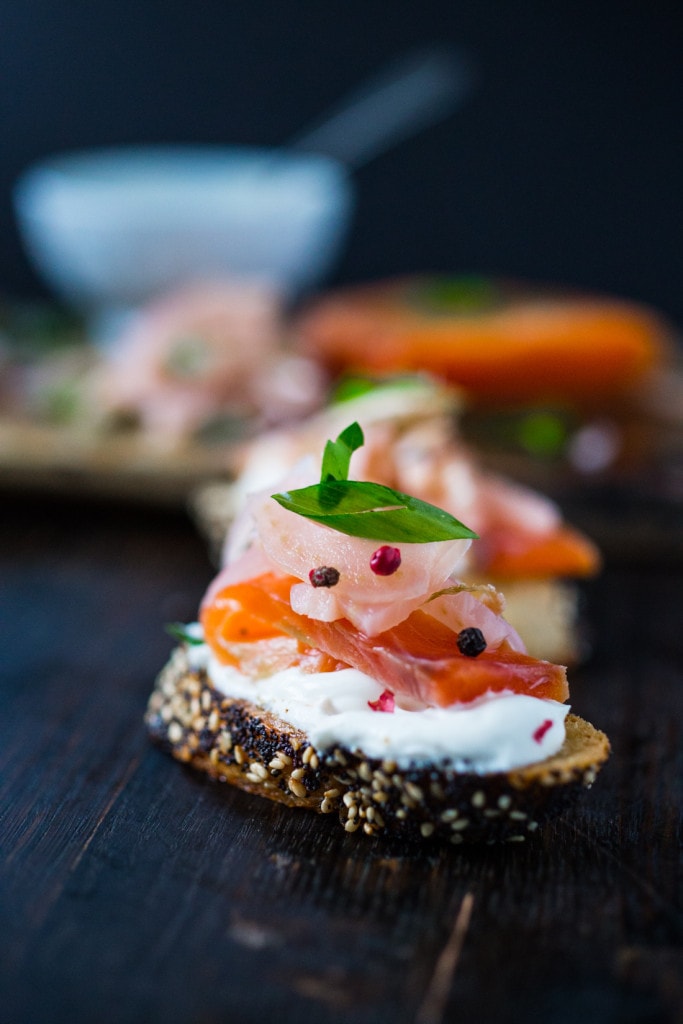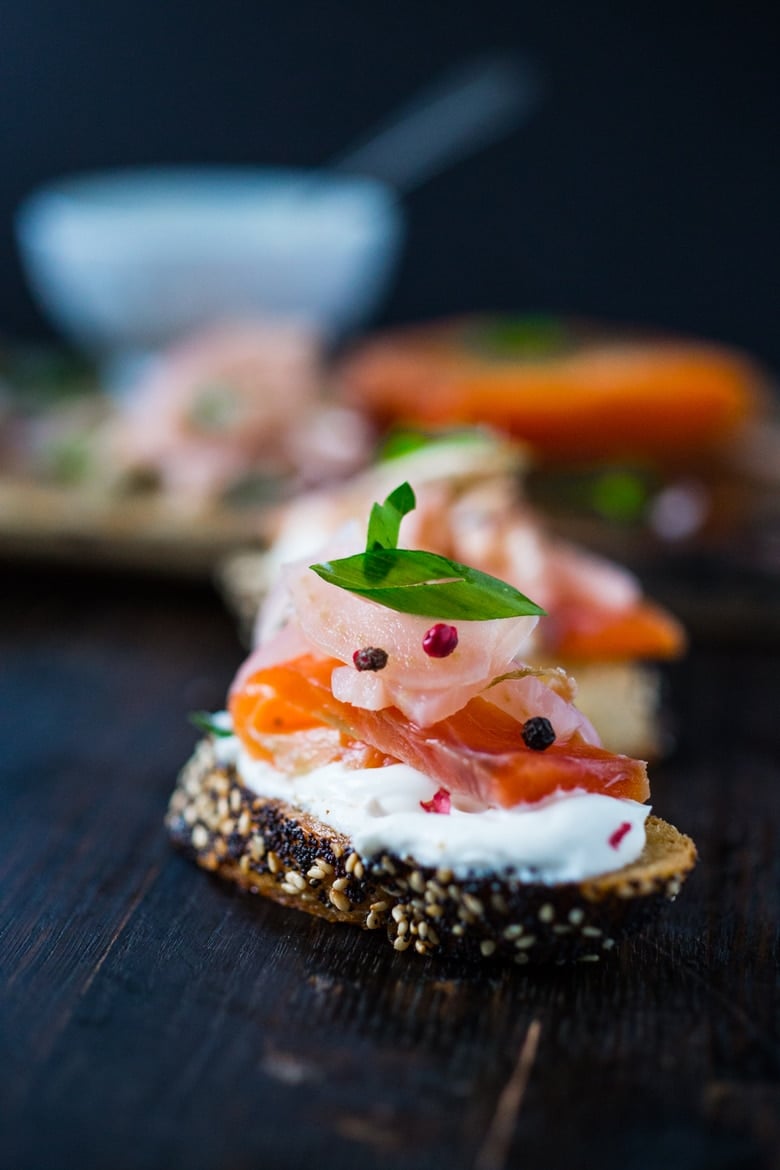 To make Salmon Lox Bruschetta
Pickle fresh fennel bulb, although pickled red onions or pickled shallots would be a fine substitute.
In the pickling liquid, add mustard seeds, pink peppercorns and caraway seeds for a delicious twist.
For the creamy cheese spread, try creme fraiche or whipped cream cheese.
Spread the toasted baguette with the creme fraiche, top with salmon lox, and pickled things. Garnish with scallion, chive or dill.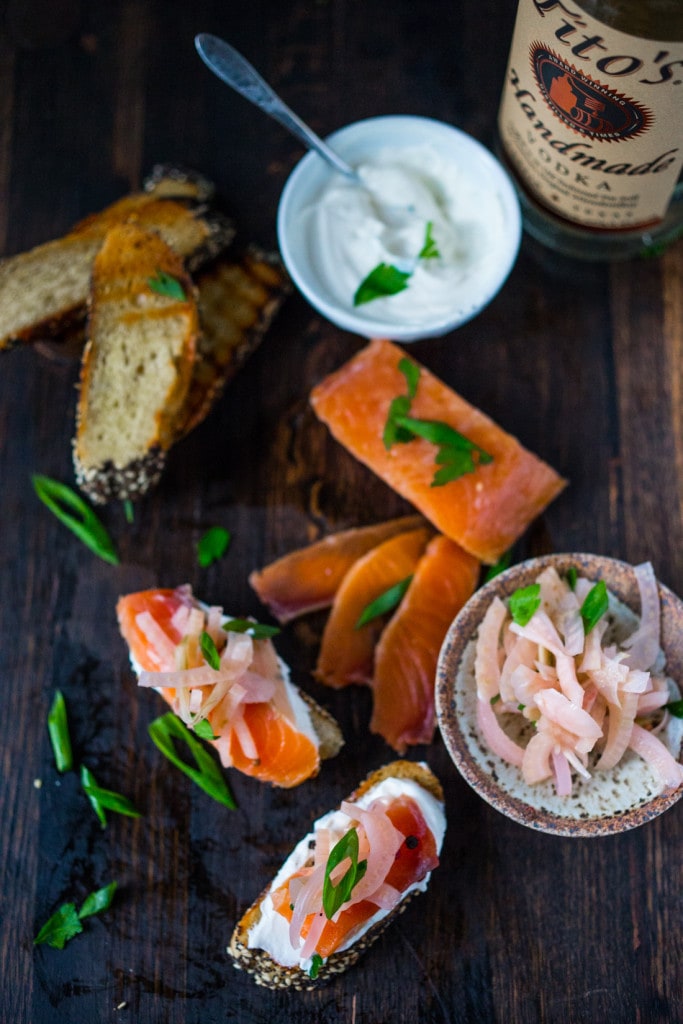 Enjoy making the Lox- it is so much fun!
More recipes you may like:
Print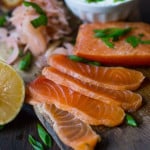 Salmon Lox Recipe
Prep Time:

15 mins

Cook Time:

36 hours

Total Time:

36 hours 15 mins

Yield:

3

2

1

x

Category:

how to recipe

Method:

Cured

Cuisine:

American
---
Description
How to make Salmon Lox using salt and salmon. Feel free to add optional flavor enhancers or leave them out.
---
---
Instructions
Place salmon on a plastic lined sheet pan, and pat dry.
Place the salt in a bowl and mix in any of the optional additions.  If using vodka or gin, add a few tablespoons at a time, just enough to moisten the salt mixture.
Stir and spread evenly over the salmon on both sides, pressing it down.
Wrap up tightly in plastic wrap. Place salmon in a baking dish, and set another slightly smaller baking dish over the top, pressing down firmly. Pile up a few cans to weigh it down and refrigerate for 24 to 36 hours. 36 hours seems to be ideal. 48 hours is too salty (for my taste buds).
Unwrap the salmon and gently rinse the salt cure off well, under cold, running water. Pat very dry and slice diagonally into paper-thin slices to serve. TIP: Freezing the salmon for 30-60 minutes before slicing makes it easier to slice.
---
Notes
 Optional additions: 
optional 1-2 teaspoons fresh ground peppercorns or juniper berries
optional: zest from 1-2 large lemons
optional: 1 cup fresh dill or parsley, chopped
optional: ¼ cup chopped rosemary, thyme,  fresh herbs
optional: add a few drops of liquid smoke
optional: 2-4 tablespoons vodka or gin
The longer you cure it, the saltier it will be. It is perfect at 36 hours and no longer than 48 hours.
The cured salmon keeps up to 5-6 days in the fridge and can be frozen. To freeze, wrap tightly with plastic wrap so no air is in contact (which will discolor it) then place in zip lock bag.
Sometimes I'll freeze in smaller portions. Thaw in the fridge for 24-36 hours.
If you like a smoky flavor- try substituting smoked salt for some or all of the salt. Or add a little liquid smoke, (¼-½  teaspoon).
Nutrition
Serving Size:

1 ounce

Calories:

245

Sugar:

0 g

Sodium:

240.2 mg

Fat:

1.3 g

Saturated Fat:

0.2 g

Carbohydrates:

0 g

Fiber:

0 g

Protein:

6.3 g

Cholesterol:

14.5 mg
Keywords: salmon lox, salmon lox recipe, how to make lox, how to cure salmon,