Grilled Salmon with a fresh huckleberry shallot relish is the perfect summer meal. Light and delicious and full of flavor, huckleberries are just slightly pickled giving the salmon a wonderful brightness. One of most popular salmon recipes in our catering business!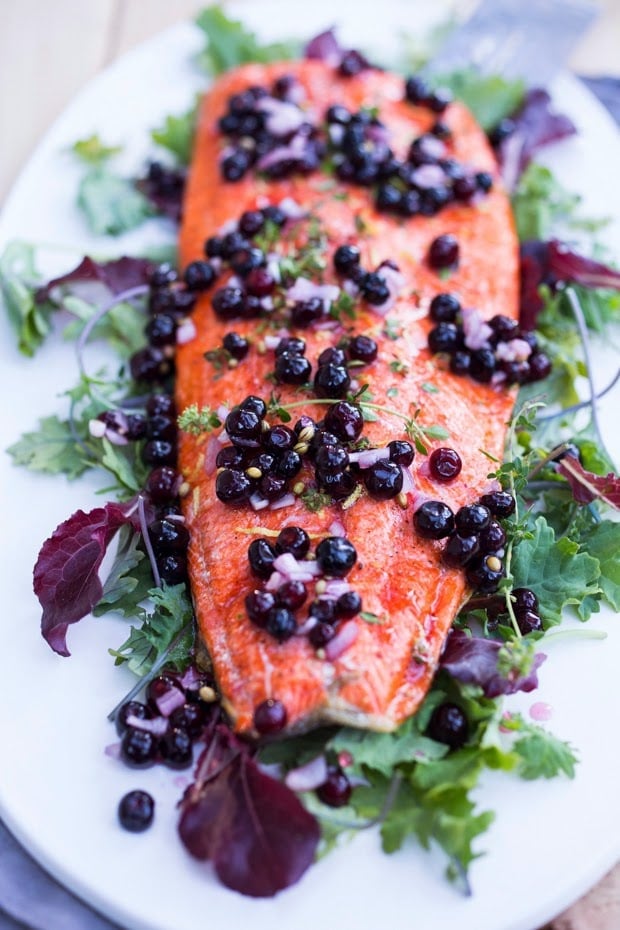 This is hands-down one of my favorite salmon recipes! The first time I made this Grilled Huckleberry Salmon, Brian wittily called it —a bear's dream. He's clever that way. Wild salmon is grilled until the skin becomes crispy. Then its served with a flavorful Pickled Huckleberry -Shallot Relish. A feast fit for a bear. Sometimes when I hear huckleberry "sauce", disturbing images of cloyingly sweet, jelly like substances come to mind. To be clear- this is not that. This is a fresh huckleberry relish, one that is lightly, quickly pickled with shallots and coriander seeds, enhancing the huckleberries, while keeping the berries fresh, plump, and mostly intact.
If you are fortunate to live in the Northwest, fresh huckleberries are in season right now…and can foraged and picked in the wild… or bought at local farmers markets. This salmon recipe is fun way to incorporate fresh huckleberries into a savory dish, and the pickled relish is delicious with chicken or even lamb — if fish is not your thing. If you can't find fresh huckleberries –fresh blueberries will work great too. The important word here is fresh.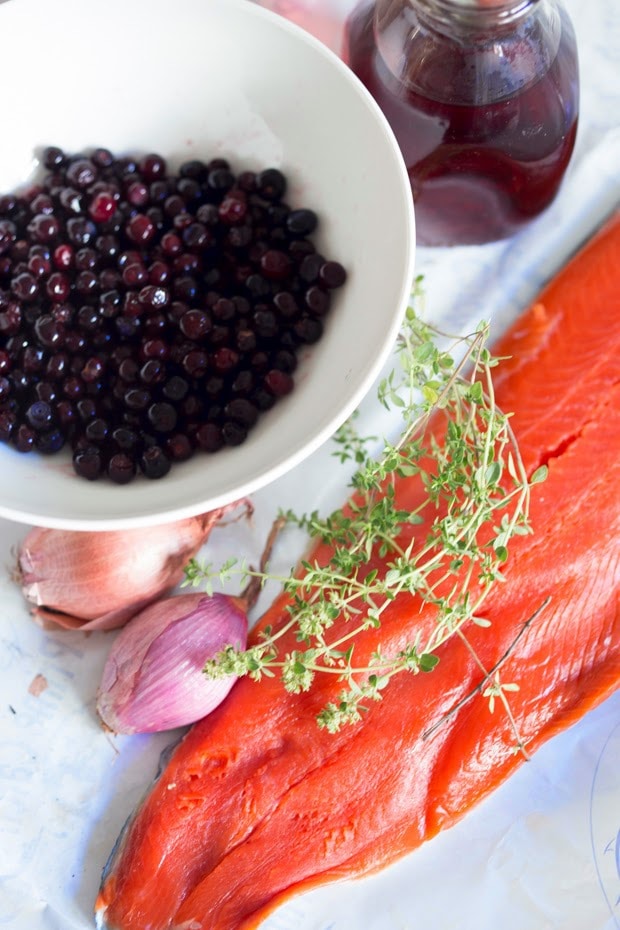 I love this recipe for its simplicity and ease to make, while appearing as if it took a great deal of care and time. This is a good one to put on your list for when having company over, not only because it's fast, but because it showcases real Northwest ingredients…a special treat for out-of-towners.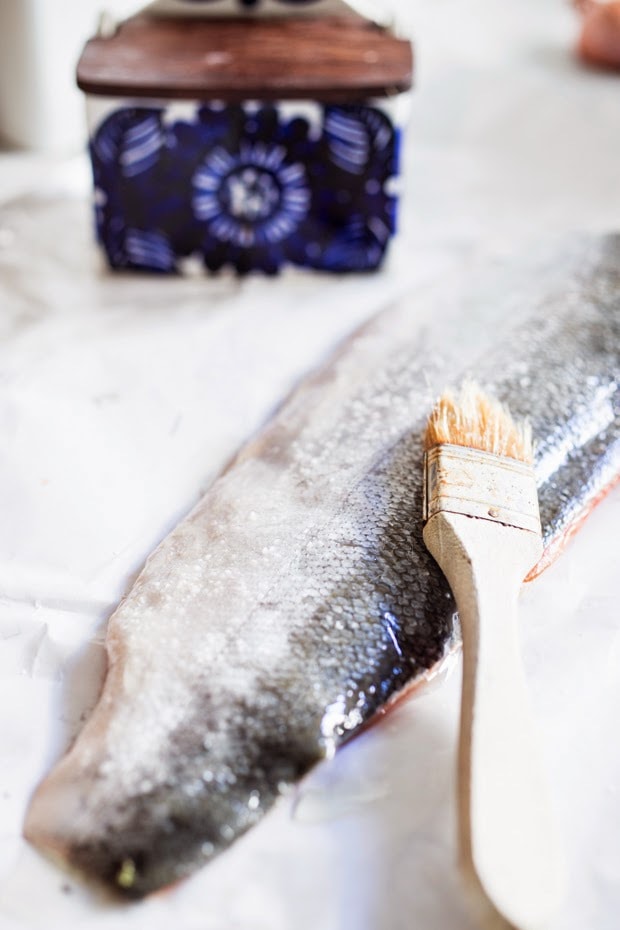 Brush
both
sides of the salmon fillet with
olive oil
and sprinkle with
salt
. If you have never tried salmon skin, you are in for a treat. It's so delicious, when crispy. You can achieve this crispiness with a good searing in a
cast iron skillet
, or on a
grill
.
Because salmon, especially Sockeye's and Copper River's, tend to be smaller, leaner, less oily fish — cooking time is very short to achieve the desirable medium, medium- rare temperatures, that really allow this fish to shine. You will not need to flip the salmon in either case.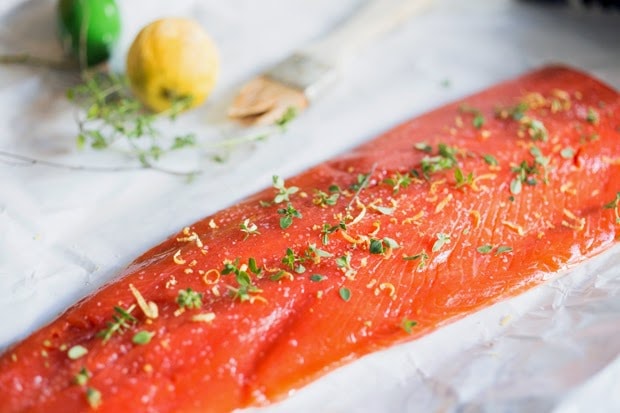 Zest a fresh lemon right over the salmon, allowing not only the zest to fall but also the light misting of lemon oil, from the rind. Scatter thyme leaves.
Make a quick pickling liquid in which to toss the fresh huckleberries.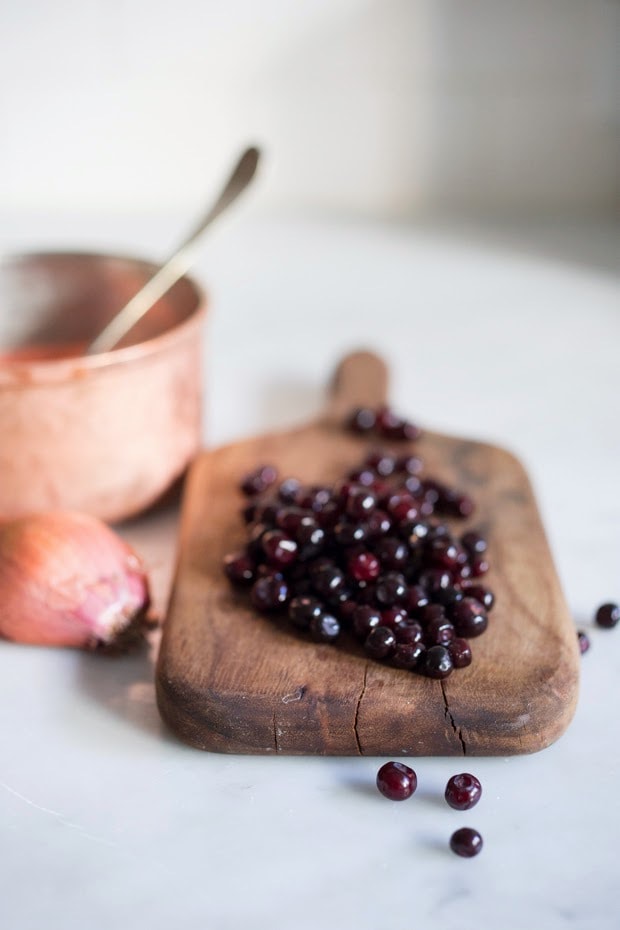 Place the fresh huckleberries in a medium bowl. Heat sugar, vinegar and coriander seeds in a small sauce pan and stir until sugar has dissolved. (It may seem like a lot of sugar, but just keep in mind you won't be consuming very much of the pickling liquid, it is just to help temper the very tart berries.) Add finely minced shallots and simmer 2 minutes. Pour this over huckleberries, stir gently and set aside. You could make this the day before and refrigerate for the best flavor!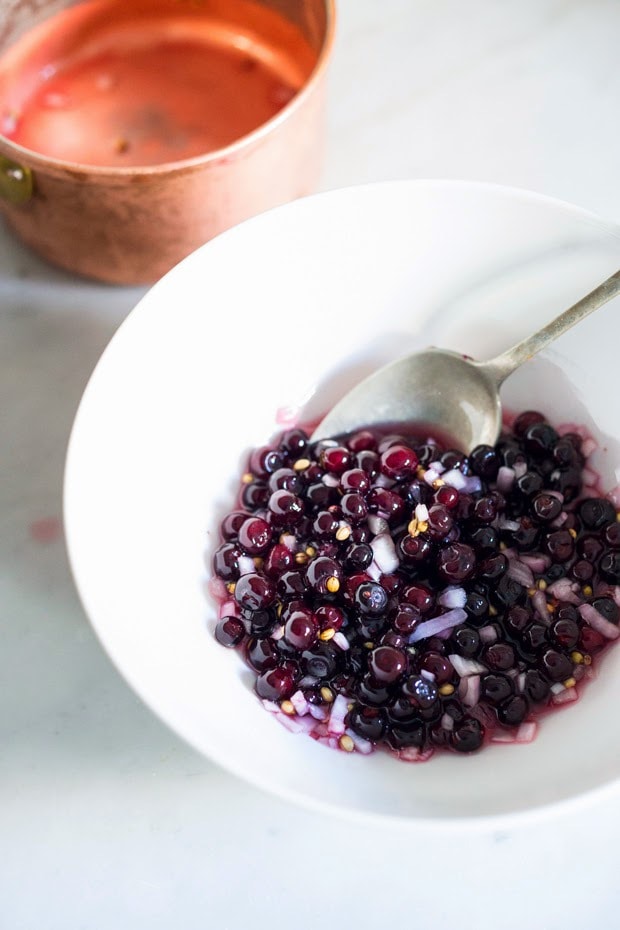 Sometimes we like to add apple
wood chips
to the
grill
, to give the salmon a subtly smokiness. To do this, make a grapefruit sized bowl of foil. Place chips inside, dry. Place on a corner of the
grill
while preheating. Close lid. When apple
wood chips
begin smoking, its time to
grill
. You don't have to use the chips, today we didn't, and it still was delicious.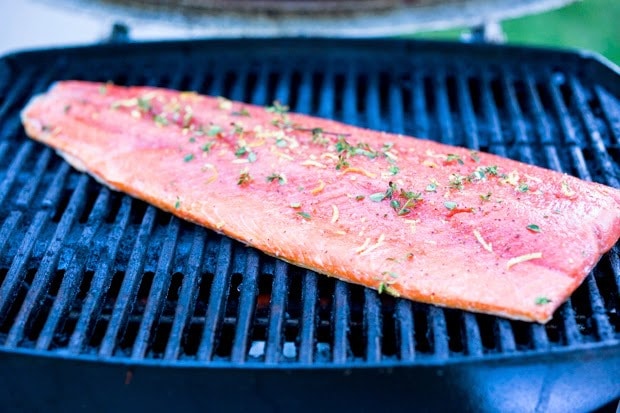 Place the oiled, salted, skin down directly on the
grill
. Close lid. After five minutes, shift the salmon, to create cross hatch marks. Close lid. Check after 5 more minutes. At this point your salmon many be done enough to your liking, or continue to cook until medium. It won't take too much longer. Time varies depending on thickness of the fillet. We have our
grill
on low heat.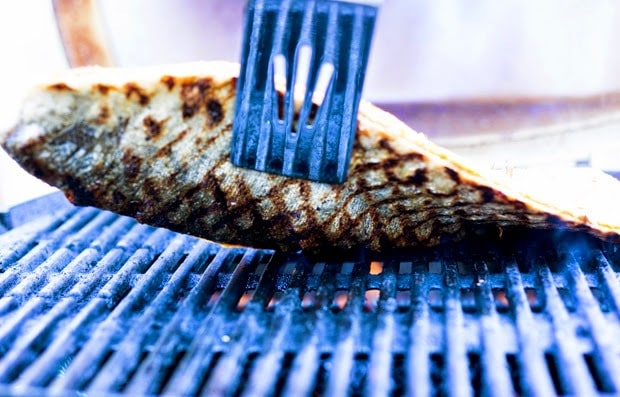 Place atop a bed of greens, or quinoa.
This Everyday Quinoa Recipe pairs really nicely with this.
Give a squeeze of lemon.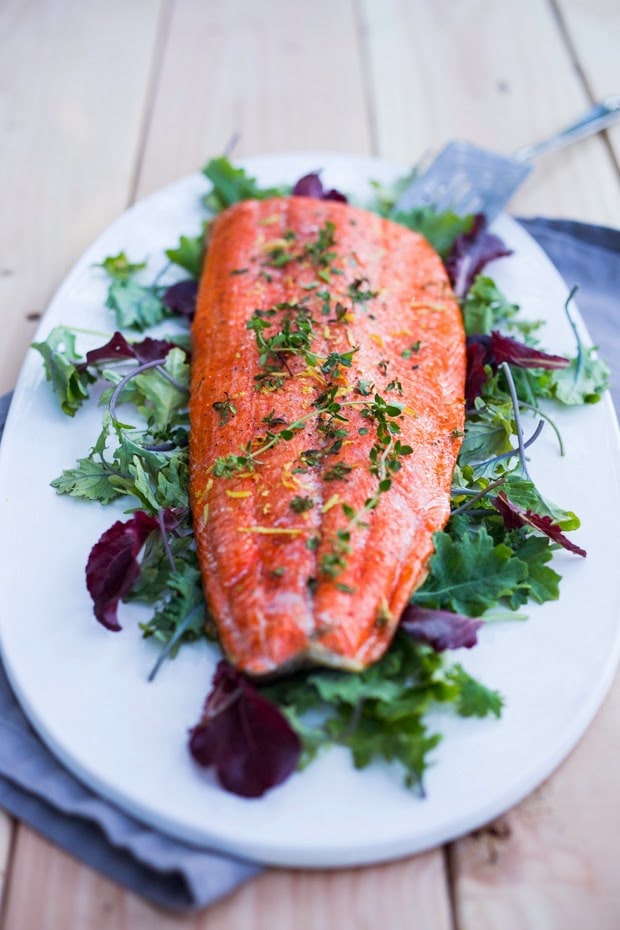 Scatter a generous amount of the pickled huckleberries overtop and some fresh thyme sprigs. Serve
immediately.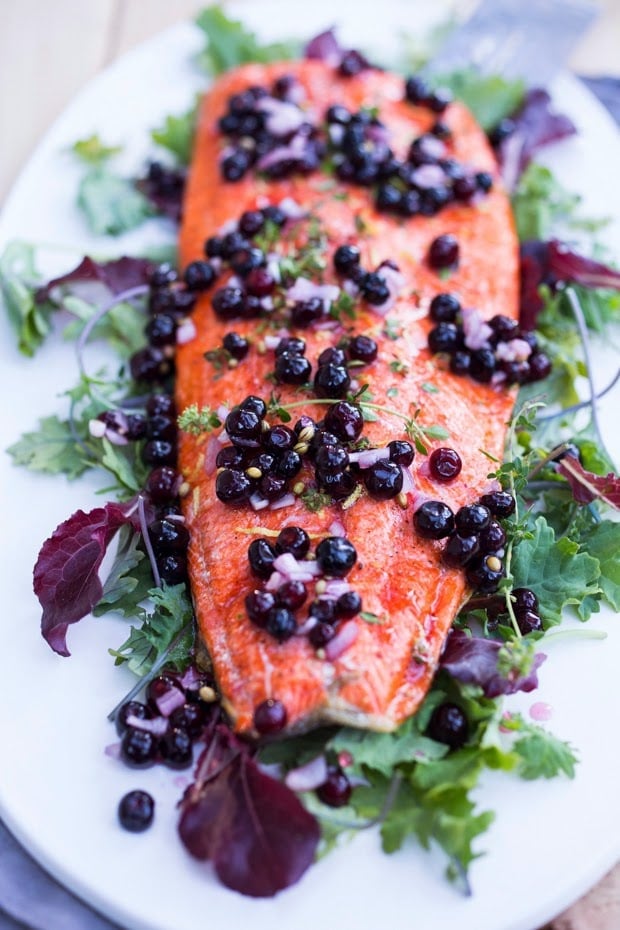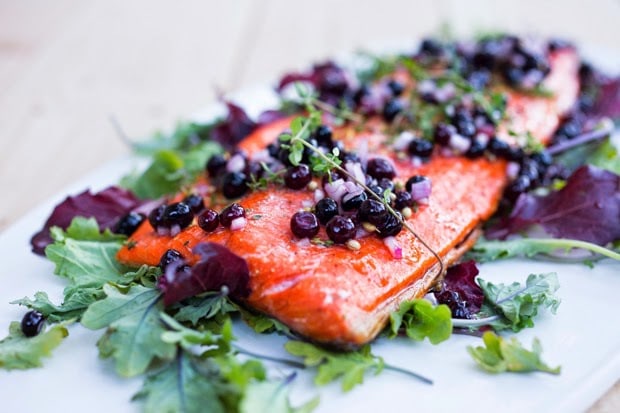 Print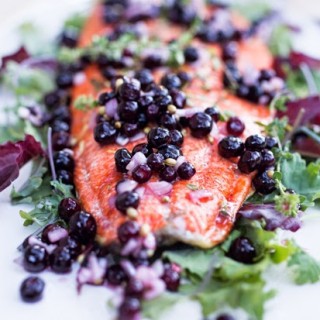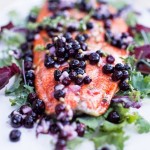 Grilled Salmon with Pickled Huckleberry Relish
Prep Time:

15 mins

Cook Time:

15 mins

Total Time:

30 mins

Yield:

4

Category:

main, fish,

Method:

grilled

Cuisine:

Pacific Northwest
---
Description
Grilled salmon with pickled huckleberry relish. A fresh and summery meal, perfect for entertaining on dinners on the patio.
---
1 ½

–

2

lb Fillet of Wild Salmon ( skin on)

½

C apple wood chips ( optional)
thyme
lemon zest and juice
Huckleberry Relish
Serve over a few handful of greens (arugula, baby kale, watercress) with  Everyday Quinoa .
---
Instructions
Preheat grill to medium high. Make a little bowl out of 2-3 layers of foil the size of half a grapefruit. Place apple wood chips inside the foil bowl, and place it directly on the heating grill, close the grill lid.
Make Relish: Place huckleberries in a medium bowl. Heat sugar ( or honey), vinegar, salt and coriander seeds in a small sauce pan and stir until sugar has dissolved. Add minced shallots and simmer two minutes. Pour over hot liquid over huckleberries, stir and set aside. You can make this ahead and refrigerate over night, or use right away.
Brush both sides of salmon with olive oil and sprinkle with salt and pepper.  Once apple wood chips begin smoking, turn heat down to low, grill salmon, skin side down, directly on the grill, on lowest heat, and sprinkle with zest of one lemon, and one tablespoon thyme leaves. Close lid.
 Check after 5 minutes. Shift salmon to create crosshatch marks on the skin, and close lid again for just a few minutes. Salmon at this point will cook quickly, especially if it's a thinner piece.
Once salmon is cooked to medium rare or medium, turn heat off.
Using two extra large spatulas carefully place salmon on a platter over greens. Squeeze with the juice of half a lemon. Generously spoon  the pickled huckleberry relish and a little pickling liquid over the salmon and greens, and scatter with thyme sprigs. Serve immediately.
---
Keywords: grilled salmon recipe, grilled salmon filet, huckleberry salmon, huckleberry relish, pickled huckleberries, crispy skin salmon, how to grill salmon with skin