Truly one of the best things in the world are Grilled Artichokes! Here they are served up with a Basil Aioli (vegan adaptable) and simple herb oil – a delicious way to serve artichokes!
If you are an artichoke fan, you will fall in love with Grilled Artichokes. Seriously, grilled artichokes are one of my favorite things to eat on the entire planet. They are that good, especially when artichokes are fresh, plump and in season. Grilling the artichoke gives them such a beautiful smoky earthy flavor that complements them so well, truly elevating them to the next level. And once you try them grilled, it will be hard to go back.
Keep in mind that you still need to steam the artichokes to get them tender before placing them on the grill to finish. The nice part is you could steam them ahead, especially for larger groups (like we did when catering), refrigerate, then grill them up before serving. Adding some mild wood chips to the grill, adding a hint of smoke, really elevates as well.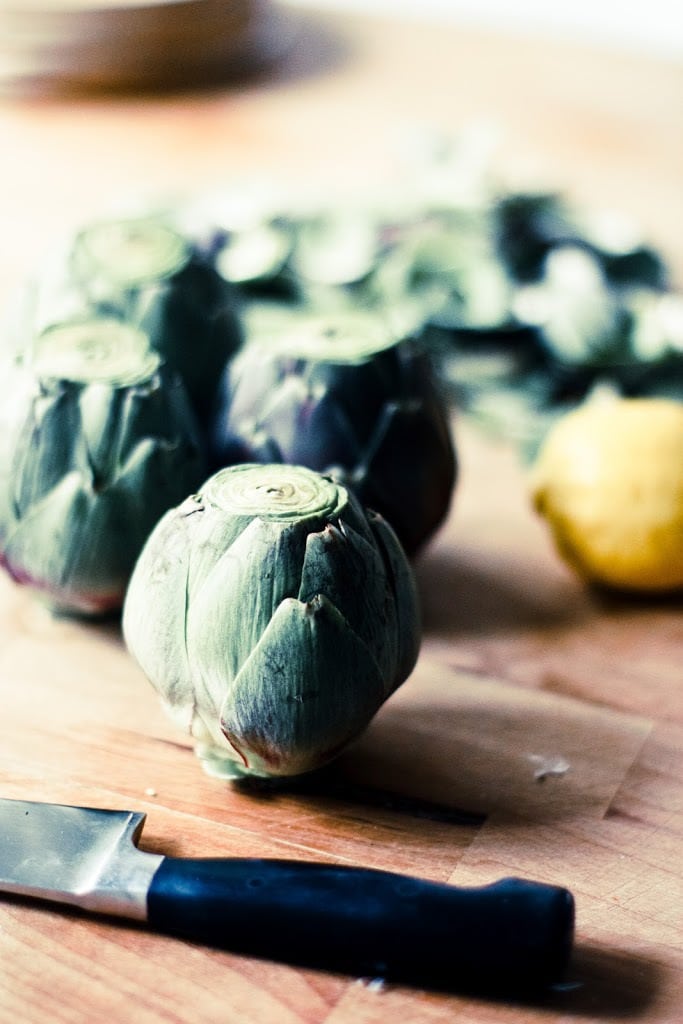 When you hold the artichoke in your hand, the first thing you'll notice is their prickly leaves, brilliantly designed to keep predators out. They can be sharp, injurious even, if not handled with care. Still, you can not help but see how beautiful they are, thorns and all, with their perfect symmetry and silvery hues of greens and purples. Their leaves curl tightly inward, holding something precious inside. What is so vulnerable, I wonder, that must need such safeguarding, such armor? At the center of the choke, lies the heart, its true essence. Tucked away and concealed from the outside world, the heart remains hidden and eludes many.
Are we not so different from the artichoke?  What prickles and thorns we grow, to shelter and shield our most true and tender places.  Our defenses, beautifully crafted in times of need, have preserved us. They have kept us safe. And to this, we must give our thanks. But what, I wonder, do we give up in return for this safety?
---
Trim the artichokes chokes and steam until tender and the outer leaves pull off easily. The length of time will vary depending on size.
If your artichokes seem like they are not getting tender, you most likely have older dried out chokes. Try to pick artichokes with tightly packed leaves and that feel heavy with moisture. If they feel light, they are older.
You can also steam in an Instant Pot.  I like to add garlic, sage and lemon zest to the steaming water. Up to you.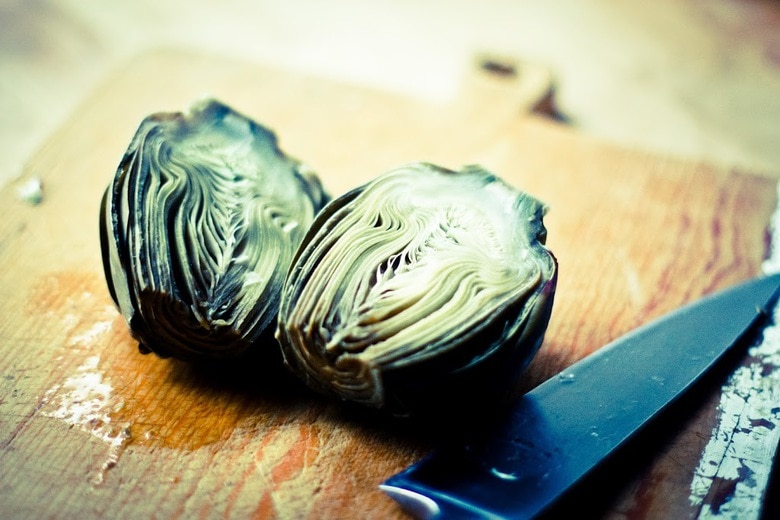 After the artichokes are steamed until tender, let them cool, for easier handling. With a very sharp knife, cut in half and scoop out the small inner fibers with a spoon.
Grilled them halved or cut into quarters if you like, then brush with olive oil – or try this using this herb oil!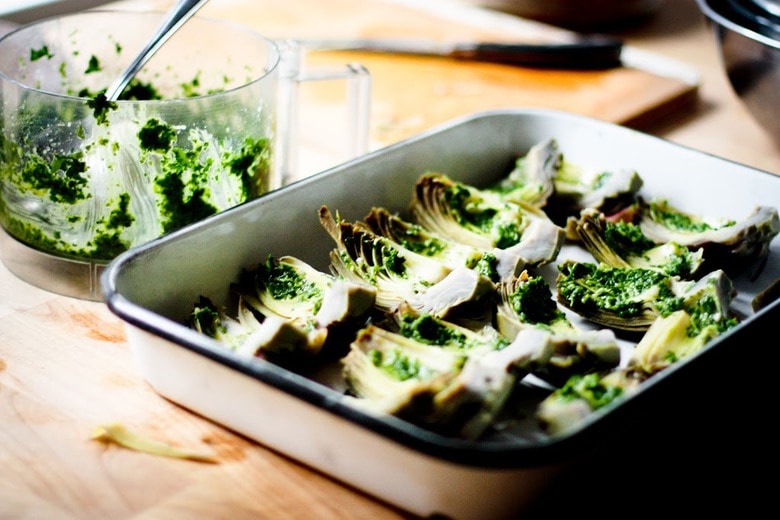 Grill the artichokes, open-side down, on a preheated grill set at medium, for 6-8 minutes or until grill marks appear.
If adding wood chips for extra smoky (which I recommend) cover the grill to let the artichokes infuse.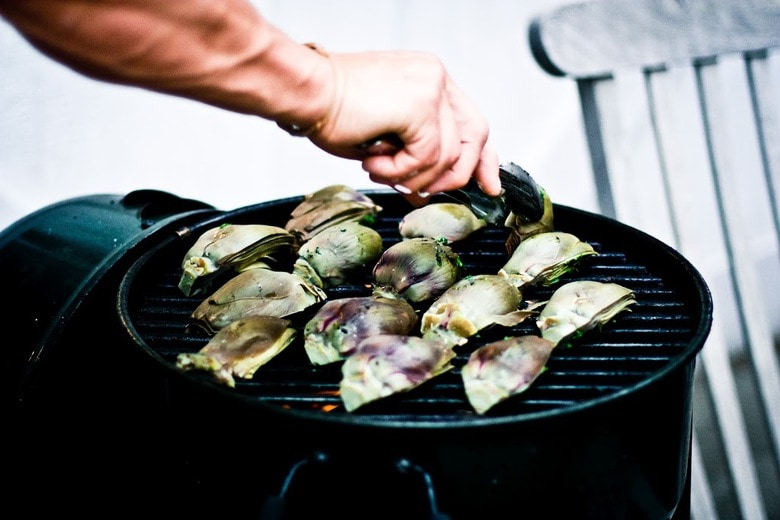 Because you have already steamed the artichokes, they don't actually need to cook, but rather, charred a bit for that incredible flavor.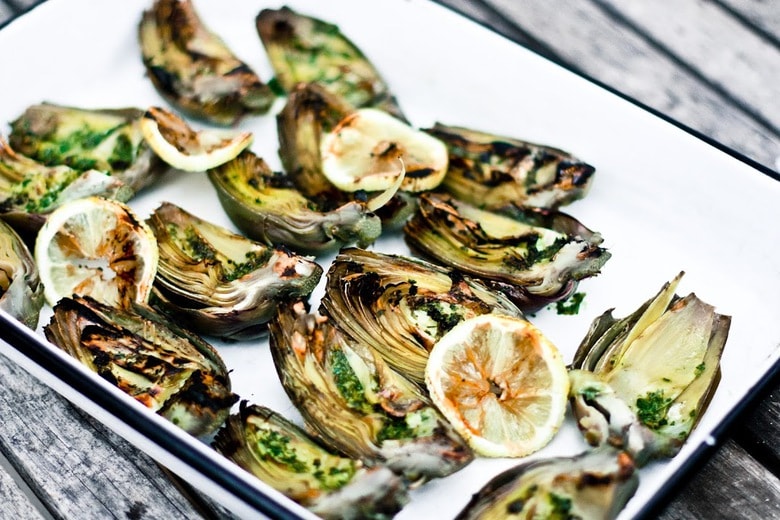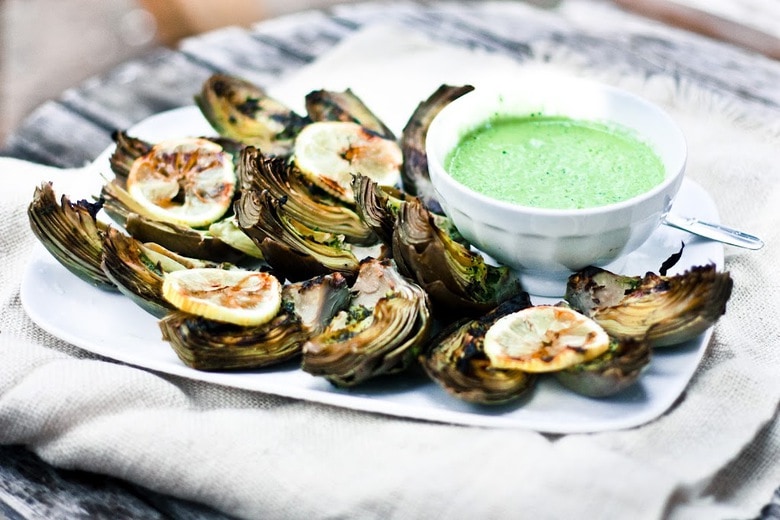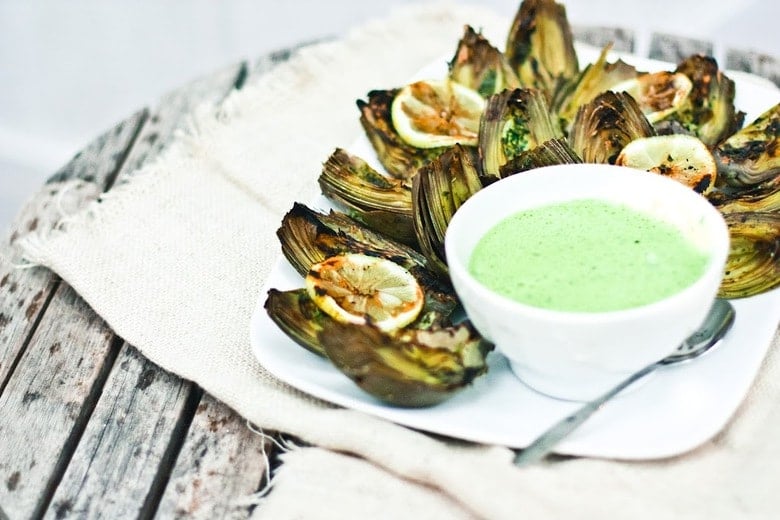 I am reminded by the artichoke that inside all of us lies something tender and vulnerable regardless of our sometimes opposite exterior. Perhaps the more prickly the person there lies the tenderest of hearts, most needing of our compassion.  This is difficult to muster when we feel personally injured by their thorns. But it's not personal. Like the artichoke, these defenses were created for a very valid reason, which most likely has absolutely nothing to do with us.
But what sinks in most of all as I hold this choke in my hand, is, that I must forgive myself daily, for my own prickly and imperfect ways. This simple act frees me from the tyranny of self-judgment, which only helps to keep me closed up tight. Respectfully acknowledging each protective layer I have creatively crafted, for "survival" in a loving, nonjudgemental way, slowly and gently allows me to shed what is no longer needed.
Hope you like the recipe for the Grilled Artichokes, let me know your thoughts in the comments below.
xoxo
Print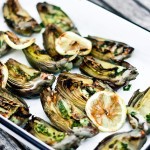 Grilled Artichokes
Author:

Sylvia Fountaine

Prep Time:

30

Cook Time:

1 hour

Total Time:

1 hour 20 minutes

Yield:

4

1

x

Category:

vegetables, grilled,

Method:

grill

Cuisine:

northwest

Diet:

Vegan
---
Description
A vegan-adaptable recipe for Grilled Artichokes with Basil Aioli and Herb Sauce. Flavorful, healthy and so delicious!
---
4

medium sized artichokes- trimmed

2

garlic cloves, smashed

3

–

4

lemon slices
a few sage leaves (or bay leaves)
Herb Oil and Aioli:
---
Instructions
STEAM THE ARTICHOKES:
Place a big pot on the stove with enough water to just come up to a steamer basket placed inside.  To the water add the lemon slices, garlic cloves and sage (or bay leaves). Bring to a simmer.
Prep the artichokes: With a very sharp knife, trim off the stems, and tipsand remove small tough outer leaves. Place them in steamer basket, bring water to a boil, cover and simmer on low heat for 20-45 minutes, depending on size. Steam until just tender.  Let Cool. (At this point you could refrgerate for up to 3 days before grilling.) In the mean time make the Herb Oil and optional Aioli.
 Herb Oil  and Aioli:
Place the herbs and garlic in a food processor and pulse 5 times until nicely chopped. Add the  capers, olive oil,  lemon juice, and a generous pinch of salt and pepper.
Pulse a few times and scrape down sides and pulse a few more times more.
Here is your herb oil. Remove a 1/4 cup of the herb oil and set aside for grilling. You will use this to brush on the artichokes before you grill – and the remaining will be used for the aioli. (Alternatively, you could just use only the Herb Oil and skip the aioli, as the artichokes will be flavorful with just the Herb Oil)
To the remaining Herb Oil- still in the food processor, add 1/3 to 1/2 cup mayo or veganaise (depending on how flavorful you like your aioli)  the more you add, the less bold it will be. Pulse a few times till just blended. Don't over-blend. Add more salt, or even chili flakes or Aleppo if you like. This Herbed Aoili is your flavorful dipping sauce.
GRILL THE ARTICHOKES:
Heat up your grill to Medium. Get wood chips smoking if using. Cut artichokes in half,  or in quarters and scoop out the fibrous insides, using a spoon, right next to the heart.
Brush or spoon a little herb drizzle on the open side of the artichokes.  Place artichokes, open side faced down on the hot grill.  Brush the tops with a littl herb oil. Turn grill to medium and cover, and do not touch them for  5-7 minutes. If you are using small artichokes, it may be 3-4 minutes, This will give them nice grill marks. Flip and cook 2 more minutes.
Once you see a little char, platter them up with the remaining herb oil or the  Aioli.
---
Notes
You can also steam artichokes in an Instant Pot, using high pressure. Small chokes take roughtly 10 minutes, larger chokes can take up to 20.
---
Keywords: grilled artichokes, how to grill artichokes, grilled artichokes recipe
SaveSave
SaveSave
SaveSave
SaveSave
SaveSave
SaveSave
SaveSave
SaveSave