Roasted Artichokes with Lemony Leek Dressing – a healthy, vegan way to serve up our favorite thistle! A simple flavorful side dish!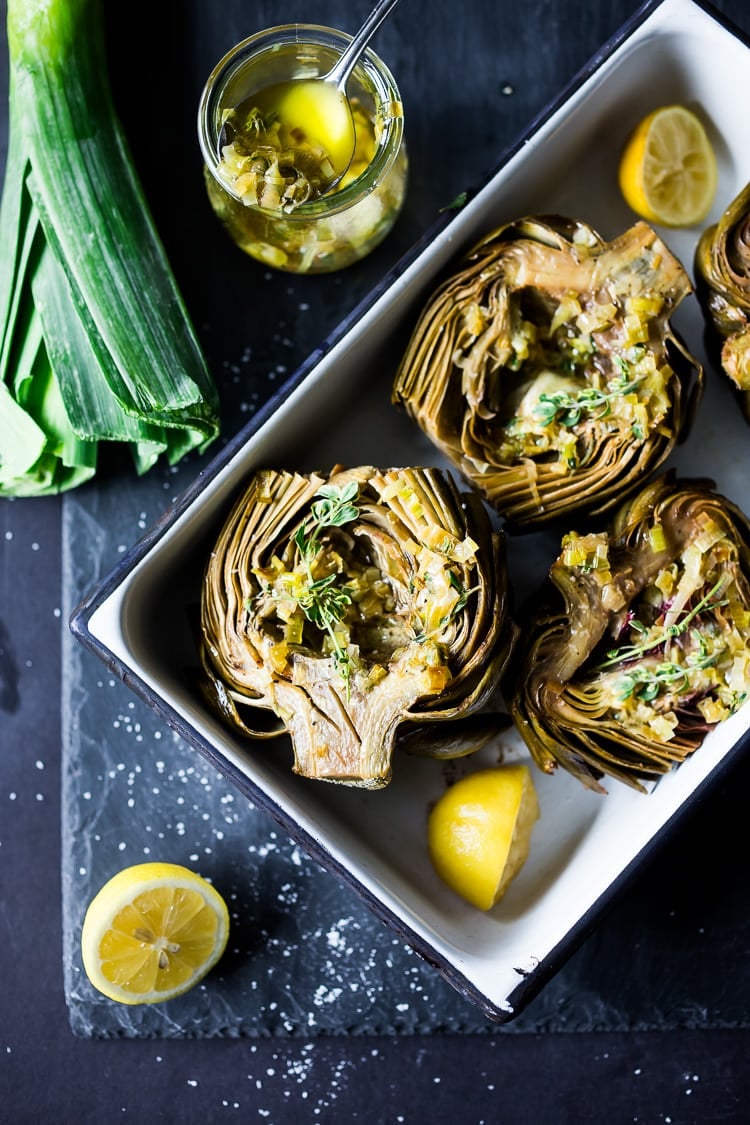 Joy is what happens to us when we allow ourselves to recognize how good things really are. ~ Marianne Williamson 
While in Northern California a few weeks ago I could hardly contain myself when I began to see artichokes popping up at local farmers' markets. It will be a few weeks before they arrive here in the Pacific Northwest but I know many of you have access to them now so I wanted to share a different way of preparing them, other than the usual steaming.
Today we have roasted the artichokes and kept them vegan with this Lemony Leek Dressing which you simply must try- either on these artichokes or over roasted veggies or your favorite salad. So delicious!
Artichokes, depending on the size take roughly 1 hour to bake in a 400F oven. But with only 15 minutes of hands-on time, they are a snap to roast with the oven doing most of the work.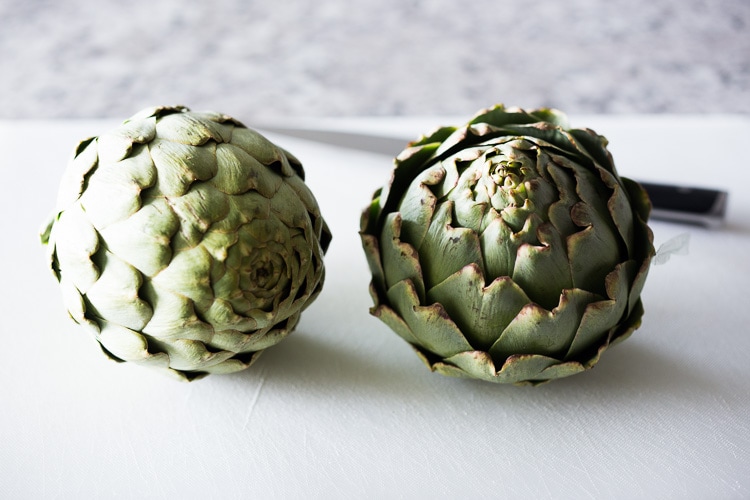 Preheat the oven to 400F.
Slice off the top inch of the artichokes.
Some people like to snip off every single point, and feel free to do this, but I usually don't out of simplicity.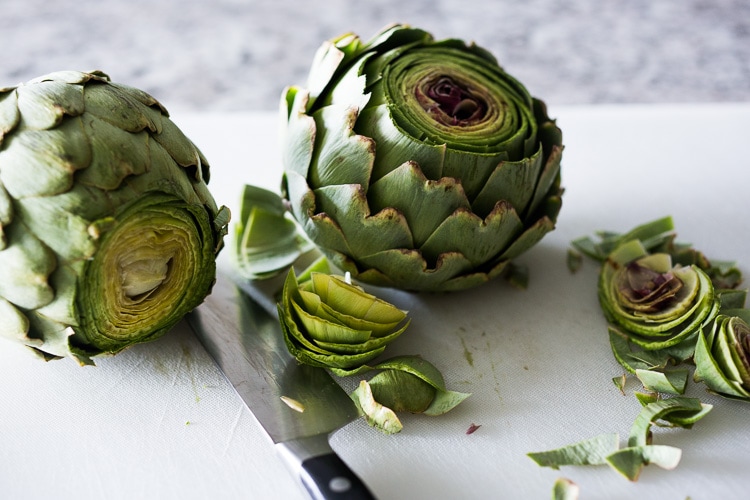 Remove the fibrous choke using a spoon. These are the very fine threads at the base of the artichoke right above the steam.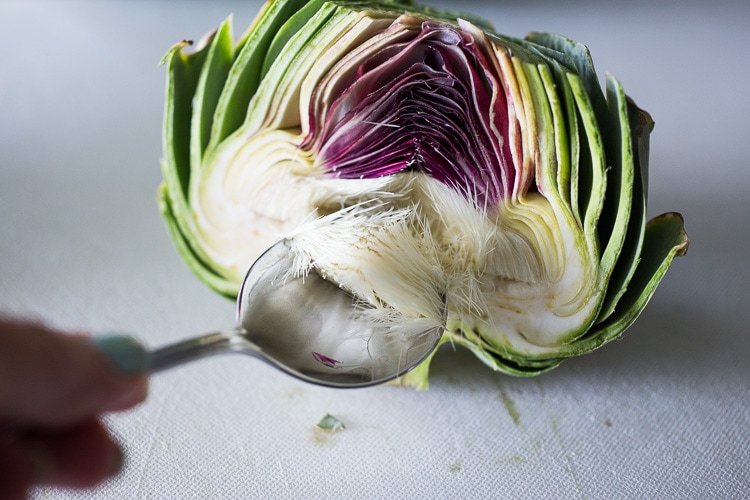 Use a firm hand and using a spoon, slide it up underneath the fine fibers of the choke. You'll see the line where they start, the area right above the stem and below the leaves.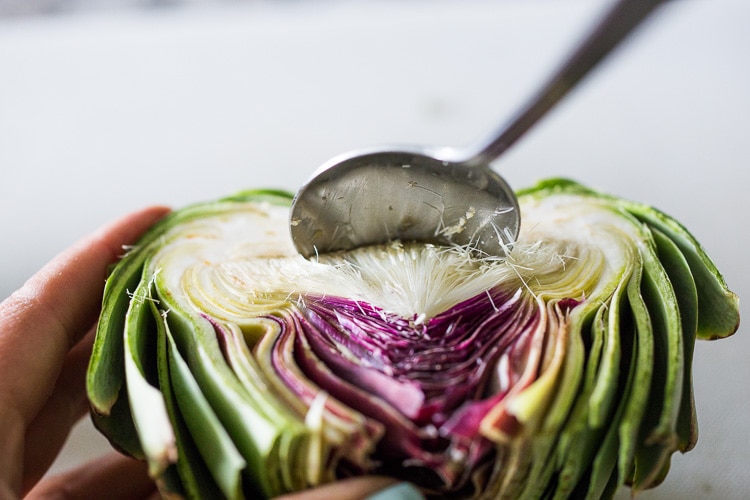 Feel free to remove smaller inner leaves if you like… I usually just leave them.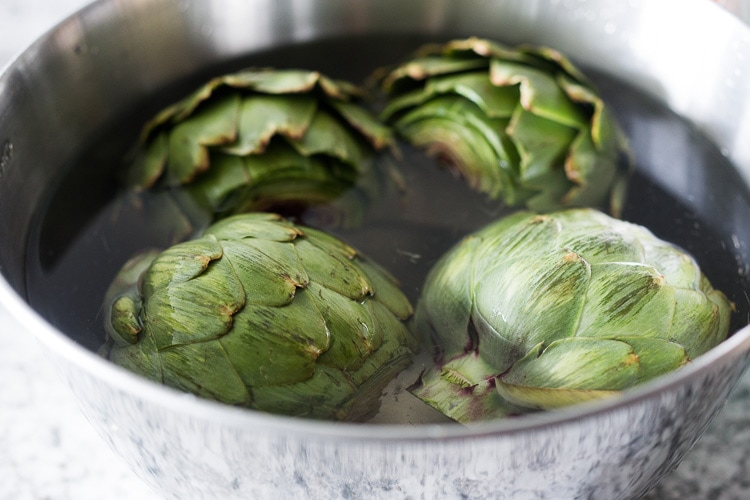 While you are trimming the artichokes and removing the chokes, place them in a bowl of cool water with a splash of lemon juice or vinegar. It is thought that that the acidity helps keep them green, but the soaking will also help "hydrate" them before baking so they don't dry out.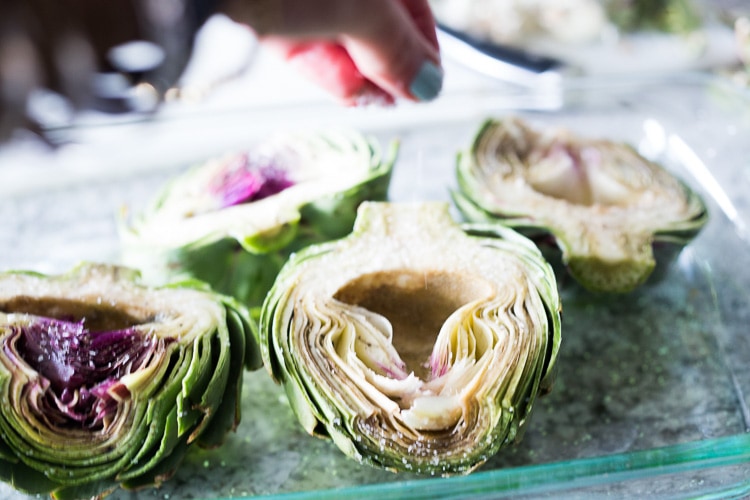 Drizzle a pan generously with olive oil.  Place artichokes in the pan.
Season generously with salt, pepper and a squeeze of lemon.
Turn them over and brush the tops with some of the oil from the pan.
Add ½ cup water.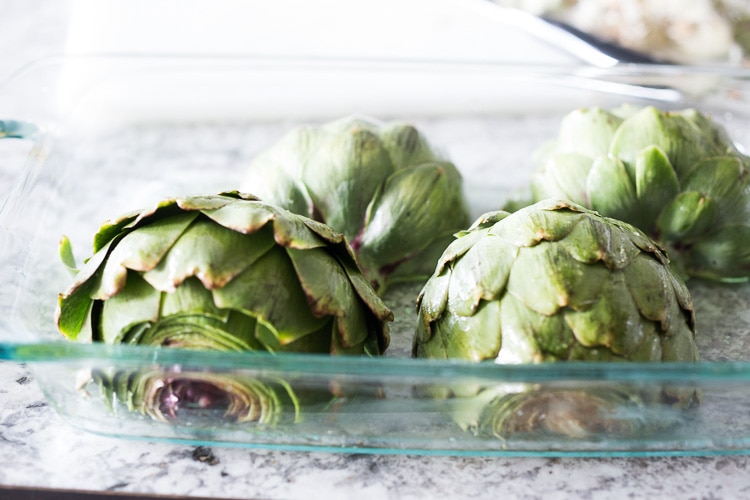 Cover very tightly in foil. If your foil is thin, use two layers.
This is important, you want to create a good seal so they steam and. soften.
Place in a 400F oven for 1 hour.  (If using very small artichokes check at 40 minutes.) These were EXTRA large, about the size of a softball.
An easy way to check and see if the artichokes are cooked and tender is to pierce the heart or stem with a knife or pull off a leaf.
If the leaf releases easily, they are done.
When the roasted artichokes are tender, flip them over and roast 15 more minutes, uncovered until the edges are crispy,
In the meantime, make the lemony leek dressing!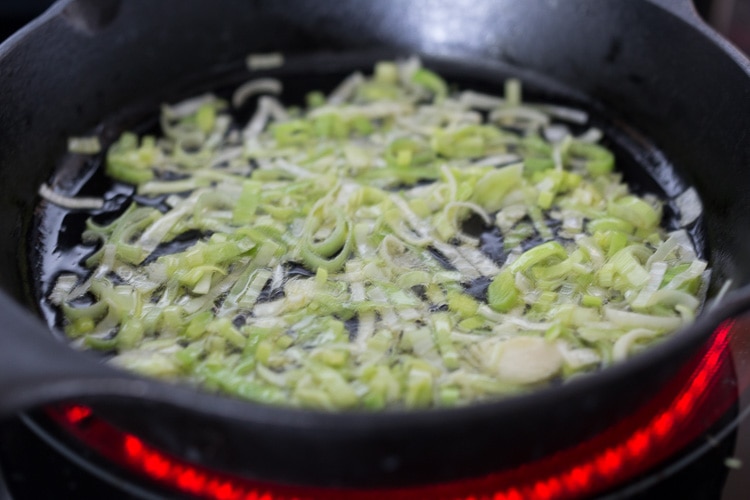 Saute the leeks over medium heat until melting and tender and the edges just begin to crisp.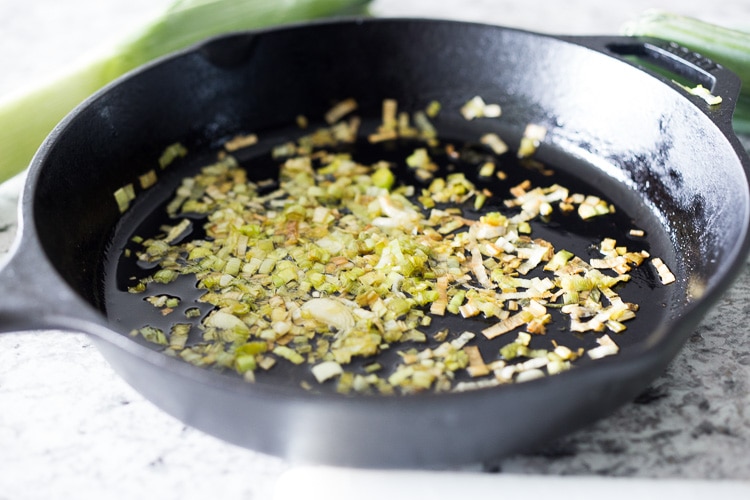 Place the leeks and the leek-infused oil in a jar with lemon juice, thyme, salt and pepper.
So simple but sooooooo much flavor here!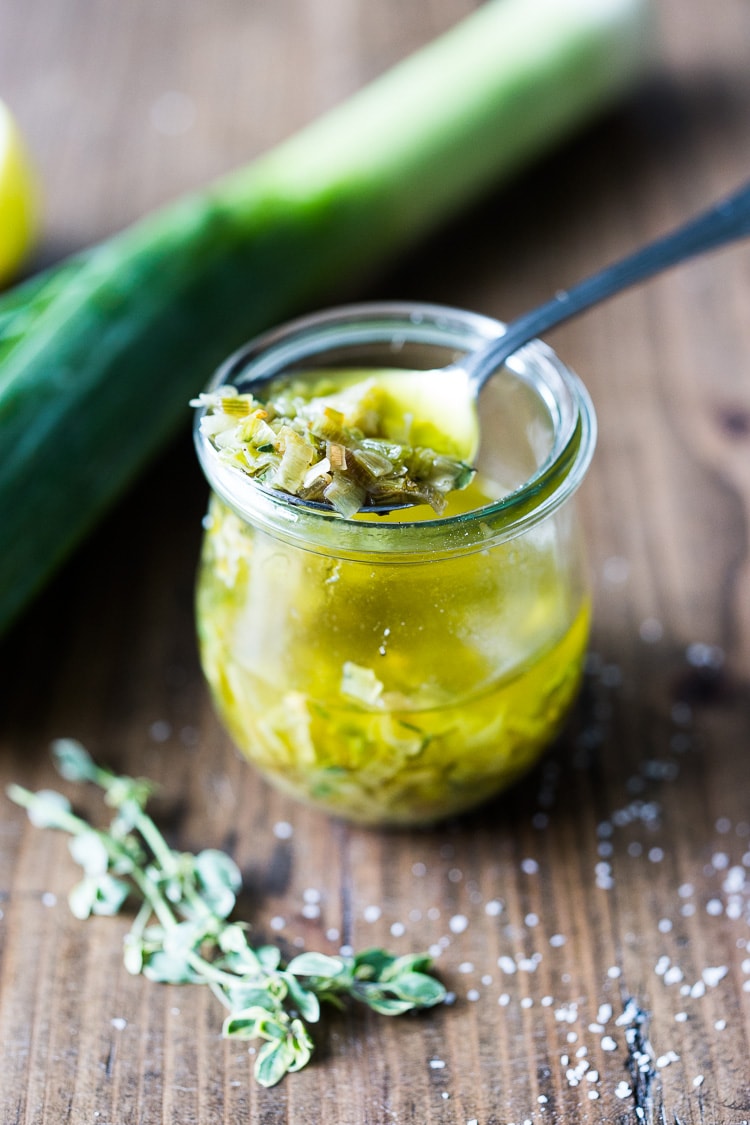 Spoon the flavorful Lemony Leek Dressing over them!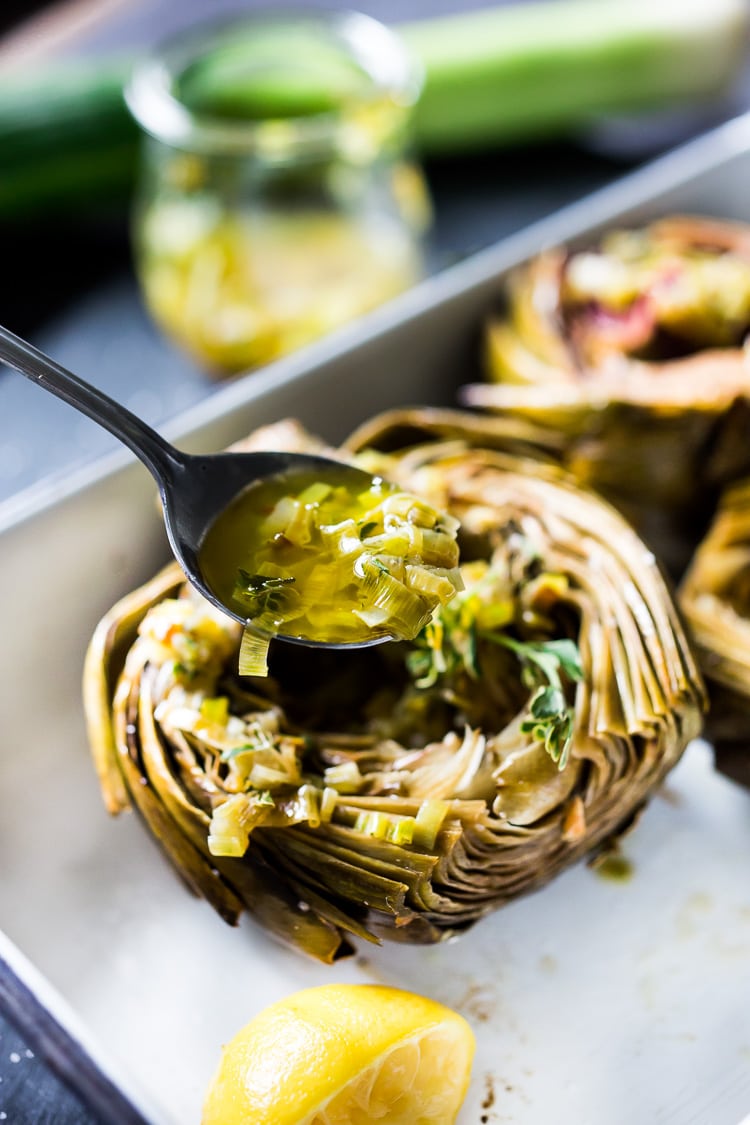 Tip: When choosing artichokes, choose ones that feel heavy in weight (these are hydrated) and have closed leaves. Their leaves should look plump and hydrated.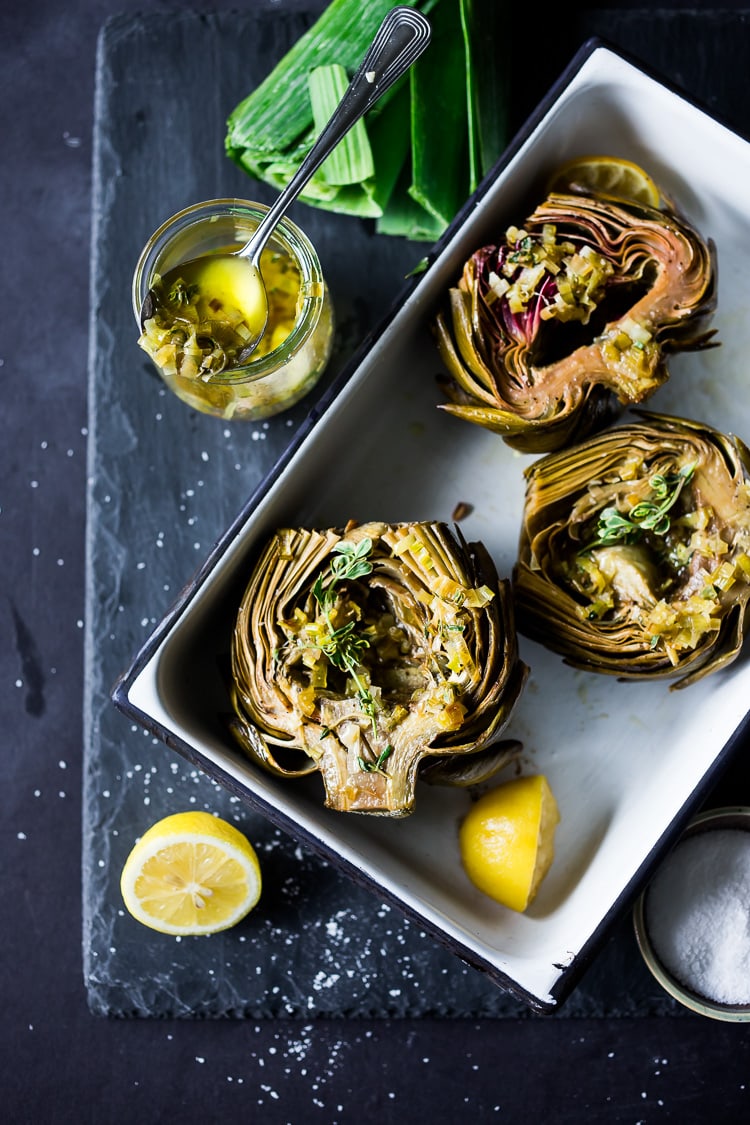 Garnish the Roasted Artichokes with a little thyme and enjoy!
Related: 20 recipes to Celebrate Spring!
Print
Roasted Artichokes with Lemony Leek Dressing
Author:

Sylvia Fountaine

Prep Time:

20

Cook Time:

80

Total Time:

1 hour 40 minutes

Yield:

4

1

x

Category:

sides, vegan, side dish

Method:

baked, roasted

Cuisine:

pacific northwest

Diet:

Vegan
---
Description
How to roast Artichokes! Roasted Artichokes with Lemony Leek dressing – a healthy vegan way to cook and serve our favorite spring vegetable!
---
---
Instructions
Preheat oven to 425F
Fill a large bowl with cool water and a splash of lemon juice or vinegar.
Trim the top inch of the artichokes off with a sharp chefs knife, then cut in half. See photos.
Using a spoon, firmly insert the spoon underneath the fine threads of the choke, right above the stem. Scrape out the choke. See photos! Then place the artichokes in the bowl of water, submerging. This will hydrate them before roasting.
Oil the bottom of a baking dish. Place artichoke halves, open side up. Sprinkle with salt and pepper and squeeze with lemon juice. Turn them over, and brush the outer leaves with a little of the oil from the pan, open sides down. Add ½ cup water- or more if using a bigger pan- enough to lightly cover the whole pan.
Tightly cover with foil. This is important. If your foil is on the thin side, use a double layer. You want to create a good seal!
Bake in the oven and make the Lemony Leek Dressing.
For large artichokes, roast for 1 hour. Smaller, check at 30-40 minutes. Remove then foil, turn them over, (so the open side is up) and roast uncovered for 15 more minutes until fully tender and edges crispy. (Pierce the heart with a knife to check tenderness.)
Spoon the flavorful Leek dressing over top, getting it into the leaves as well.
---
Notes
Small artichokes will, as you can imagine take less time. Check at 30-35 minutes,  uncover, turn over, lower heat to 350, continue baking until leaves pull off easily.
When choosing artichokes, choose ones that feel heavy ( hydrated) have closed leaves. Their leaves should look plump and hydrated.
Nutrition
Serving Size:

½ extra large artichoke with leek dressing

Calories:

189

Sugar:

1.4 g

Sodium:

352.5 mg

Fat:

17.7 g

Saturated Fat:

2.5 g

Carbohydrates:

9.1 g

Fiber:

3.6 g

Protein:

2.3 g

Cholesterol:

0 mg
Keywords: roasted artichoke recipe, how to roast artichokes, roasted artichoke, baked artichokes, vegan artichoke sauce, vegan artichokes, how to cook artichokes, baked artichoke recipes, roasted artichoke recipe,