This recipe for Peach Chicken is a fast and easy weeknight dinner highlighting fresh, juicy summer peaches, made with either chicken breasts or thighs with smoky and subtly spicy Mexican spices. Grill it or pan-sear it- either way, you'll love it! See our 40 Mouthwatering Chicken Breast Recipes!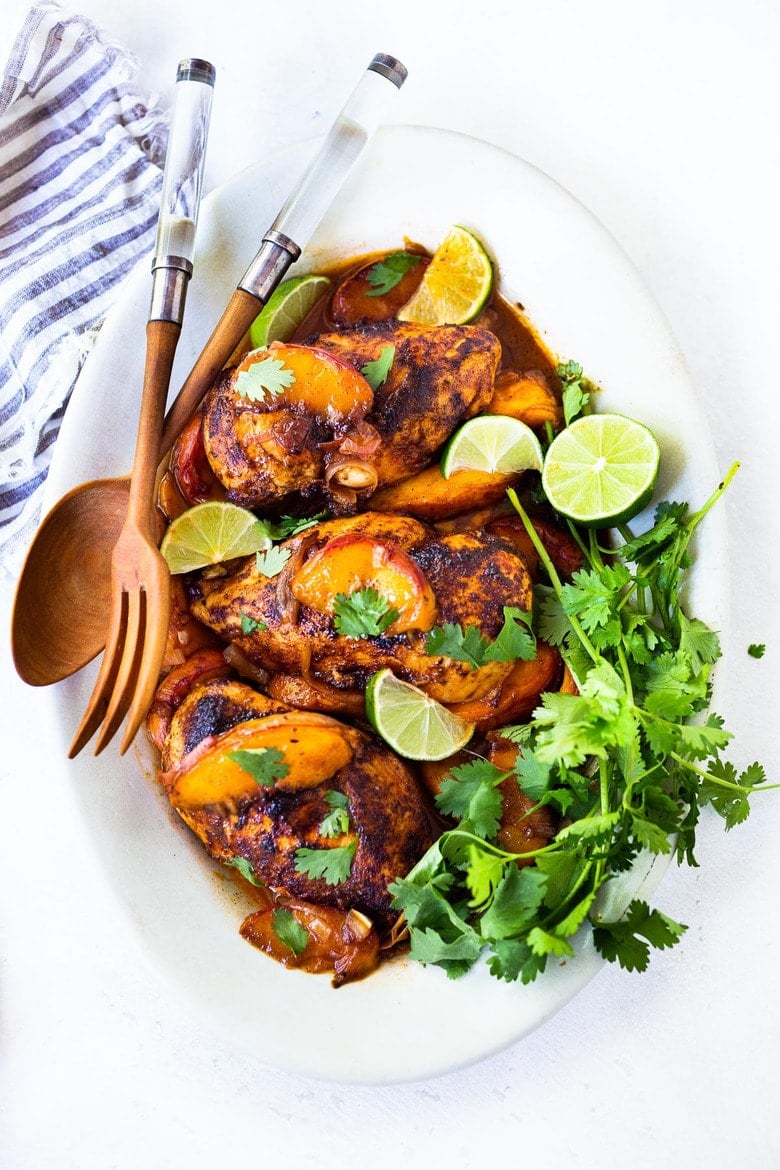 Peach Chicken is quick, easy to make, and involves very little prep time – perfect for busy weeknights. The chicken is a little smoky and subtly spicy, seasoned with Mexican spices, and together with the peaches, it's a match made in heaven. Peaches are still in season here, and I can't get enough of them. I love cooking with seasonal fruit, especially in savory dishes like this, because they add beautiful, sweet, savory flavor, color, and natural healthy sweetness, complementing meat incredibly well.
Use chicken breast or thighs- I used chicken breast for the photos, but upon remaking, we decided we preferred chicken thighs -the overall dish tasted better, but you decide what is best for you.
Peach Chicken Ingredients
Chicken: use boneless skinless chicken breasts or bone-in, skin-on thighs ( I prefer skin-on, bone-in thighs)
Extra virgin olive oil
Shallots and garlic (or sub onion)
Fresh peaches- cut into slices
Lime juice, more for garnish
honey – to create a glaze
Spices: chili powder, cumin, smoked paprika, cayenne or ground chipotle
salt and black pepper
cilantro, optional, for garnish, or sub fresh basil.
Peach Chicken InSTRUCTIONS
Step one: Season the chicken and brown both sides of the chicken in a skillet and set it aside. See notes for grilling.
Step Two: In a large skillet, saute the fresh peaches in the pan juices with shallots and garlic, a drizzle of honey and a squeeze of lime juice. Just give a quick saute- stir over medium heat, keeping the peaches intact. Shallots add depth along with the pan juices.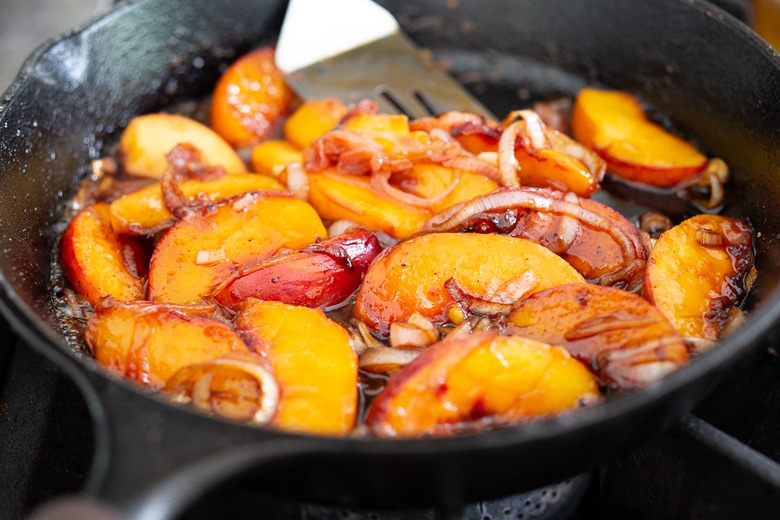 Step Three: Nestle the chicken back into the pan, and cook it through.
Finish cooking the chicken- until cooked all the way through. The peaches will get juicier creating a delicious sauce. If using breasts, continue on the stovetop. If using bone-in thighs, bake in a 400F oven. When finished, taste. Adjust kosher salt to taste. If you want a little more acidity, a few drops of lemon juice may help here.
Garnish with lime wedges and cilantro (or scallions) and serve with your favorite side dish.
Serving Suggestions
Serve Peach Chicken with our steamed broccoli, Mexican Slaw, Cilantro Lime Rice, or with Mexican Pinto Beans.
Leftovers can be stored in the refrigerator for up to 4 days and reheated. Or freeze for up to 6 months.
And in case you are wondering…
Health Benefits of Peaches
Rich in vitamins and minerals: Peaches are a good source of vitamins A, C, and E, which are important for maintaining healthy skin, boosting the immune system, and protecting against free radicals. They also contain minerals like potassium, which is essential for proper nerve and muscle function.
High in fiber: Peaches are a great source of dietary fiber, which aids in digestion and helps prevent constipation. Consuming an adequate amount of fiber can also promote heart health by lowering cholesterol levels.
Low in calories: Peaches are relatively low in calories, making them a suitable addition to a balanced diet, especially if you are watching your calorie intake. They are a satisfying and nutritious snack choice.
Hydrating: Peaches have a high water content, which can help keep your body hydrated. Staying hydrated is essential for maintaining overall health and supporting bodily functions.
Contains antioxidants: Peaches are rich in antioxidants such as vitamin C and flavonoids. These antioxidants help protect your body against damage from harmful free radicals, which can contribute to chronic diseases.
Supports eye health: Peaches contain beta-carotene, an essential nutrient for eye health. Beta-carotene is converted into vitamin A in the body, which is necessary for good vision and may help reduce the risk of age-related macular degeneration.
May have anticancer properties: Some studies suggest that the antioxidants and phytochemicals in peaches may have potential anticancer effects. However, further research is needed to understand the extent of these benefits fully.
Peach Chicken Faqs
Can I use chicken thighs instead of chicken breasts? Yes, you can use either boneless, skinless chicken breasts or bone-in, skin-on chicken thighs for this recipe. In fact, the recipe suggests that using chicken thighs may result in a tastier dish.
Can I grill the chicken instead of pan-searing it? Absolutely! If you prefer grilling, you can follow the same steps for seasoning the chicken and then grill it until cooked through. Just make sure to adjust the cooking time accordingly.
How long can I store the leftovers? You can store the leftover Peach Chicken in the refrigerator for up to 4 days. If you have any remaining leftovers, you can also freeze them for up to 6 months.
What are the health benefits of peaches? Peaches are not only delicious but also offer several health benefits. They are rich in vitamins and minerals, high in fiber, low in calories, hydrating, and contain antioxidants. Additionally, they support eye health and may have potential anticancer properties. Overall, peaches are a nutritious addition to your diet.
What are some serving suggestions for Peach Chicken? You can enjoy Peach Chicken with steamed broccoli, Mexican slaw, cilantro lime rice, or with Mexican pinto beans. These side dishes complement the flavors of the dish nicely.
What other easy chicken recipes should I try? Absolutely! If you're looking for more chicken recipes, you can explore the following options: 40 Mouthwatering Chicken Breast Recipes, Rosemary Chicken with Roasted Grapes and Shallots, Crispy Skinned Duck with Roasted Plums, Grilled Chicken Caprese, One Skillet Creamy Orzo Chicken, and Chicken Cacciatore.
Enjoy this Peach Chicken Recipe and let us know what you think in the comments below!
Cheers!
More Recipes you may enjoy
Print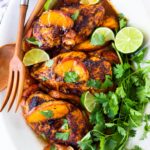 Peach Chicken Recipe
Prep Time:

10

Cook Time:

20

Total Time:

30 minutes

Yield:

4

1

x

Category:

Chicken, main

Method:

stovetop, grilled

Cuisine:

american
---
Description
Chili Lime Peach Chicken -a fast and healthy weeknight dinner highlighting fresh juicy peaches. Can be made with breast or thigh meat.  25-30 minutes.
---
1 teaspoon

chili powder

1 teaspoon

cumin

1 teaspoon

smoked paprika

1/2 teaspoon

cayenne or ground chipotle

1 1/4

teaspoons salt

1

–

1 1/4

lb

skinless chicken breasts or thighs ( I prefer skin-on, bone-in thighs)

2 tablespoons

olive oil

2

shallots, sliced into thin rings ( about

1/2 cup

)

2

large peaches, cut into

1/2

inch thick wedges

2 tablespoons

lime juice, more for garnish

1 tablespoon

honey
Garnish: cilantro and lime wedges
---
Instructions
Preheat oven to 400 F (please see notes)
In a small bowl mix chili powder, cumin, smoked paprika, chipotle and salt.
Season all sides of chicken generously with the spice mix.
Heat oil in a skillet over medium to medium-high heat and sear the chicken, top side down until deeply golden, about 5-7 minutes. (If using skin-on, get that skin crispy!). Turn and sear 4-5 minutes then set aside, and cover with foil.
To the same skillet, over medium heat add the shallots. Saute stirring often until tender about 3-4 minutes. Add the peaches. Gently saute for 2 minutes, turning them over after they just begin to soften and caramelize. Don't over cook them here. Squeeze with a couple of tablespoons of lime juice and drizzle 1 tablespoon honey, stir carefully with the goal of keeping the peaches intact. Once they are heated through turn heat off.
Nestle the chicken back into the skillet with the peaches, and if using chicken breast, just simmer until cooked through. ( 160F) If using thighs, place in the oven until cooked through.(165F)
Squeeze chicken with lime and garnish with cilantro, serving in the skillet, or place all on a platter, spooning the flavorful pan juices over top, garnishing last.
---
Notes
Chicken: If using bone-in skin-on thighs, finish the chicken in the oven.  If using boneless, skinless chicken breast, skip the oven.
Grill: You can also grill the chicken until cooked through, then nestle in the peaches. If grilling chicken breast, add a tiny bit of olive oil to the spice mix to create a paste, then rub this all over the chicken breast. If grilling thighs, use dry spices. Grill over medium-high heat to get a nice sear, then lower heat to cook all the way through.
Salt: If scaling this recipe, a good rule of thumb is 1 teaspoon salt per pound of chicken.
Nutrition
Serving Size:

1 x 6 ounce Breast (skinless)

Calories:

197

Sugar:

12.2 g

Sodium:

1212.7 mg

Fat:

9.1 g

Saturated Fat:

1.4 g

Carbohydrates:

15.8 g

Fiber:

2.2 g

Protein:

15 g

Cholesterol:

44 mg
Keywords: peach chicken, peach chicken recipe, chicken with peaches, peaches with chicken, skillet peach chicken