Grilled Chipotle Fish Tacos with a refreshing Peach Salsa. Summery and light with a little bit of smoky heat. The perfect combination! Dairy Free and Vegan adaptable.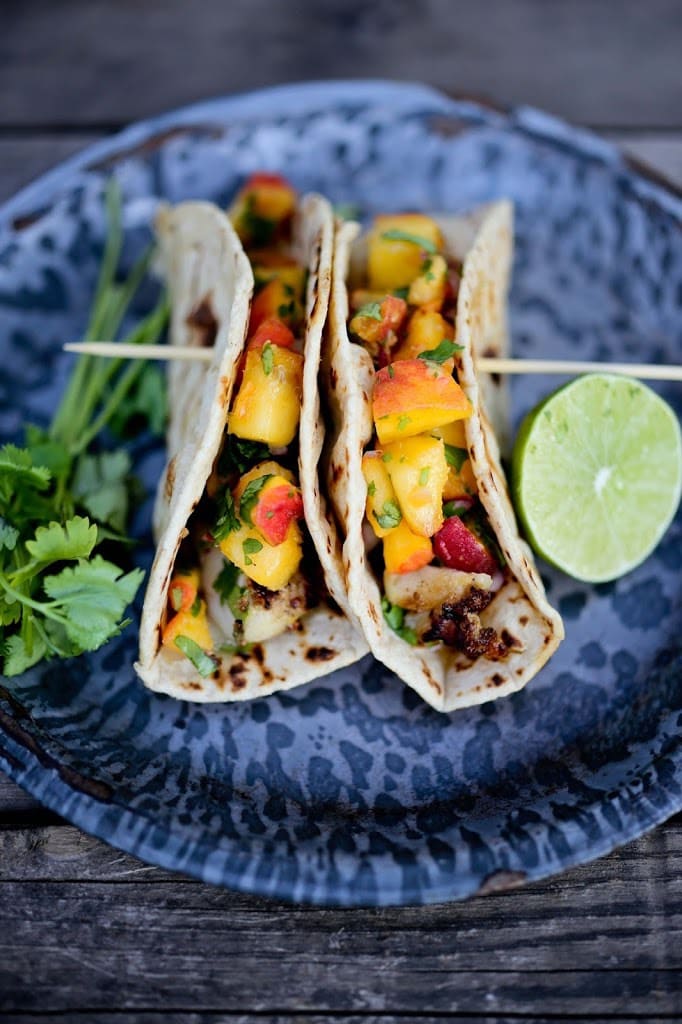 Peaches are perfectly juicy and ripe this time of year, dripping with flavor. It's really hard to beat the pure joy of eating a juicy sweet peach over the kitchen sink, just as they are. Or serving them over a scoop of real vanilla ice cream. Or baking them into a pie or cobbler. But they offer so much in the way of savory dishes too. This recipe for Grilled Chipotle Fish Tacos with Peach Salsa is full of delicious summertime flavor. The sweet and tangy peaches are the perfect vessel for the spicy, smoky fish. Lime brightens it to perfection. The grilled fish is marinated in a flavorful mixture of smokey
chipotles
, garlic,
cumin
and
coriander
giving it satisfying depth and heat, marrying well with the refreshing peach salsa.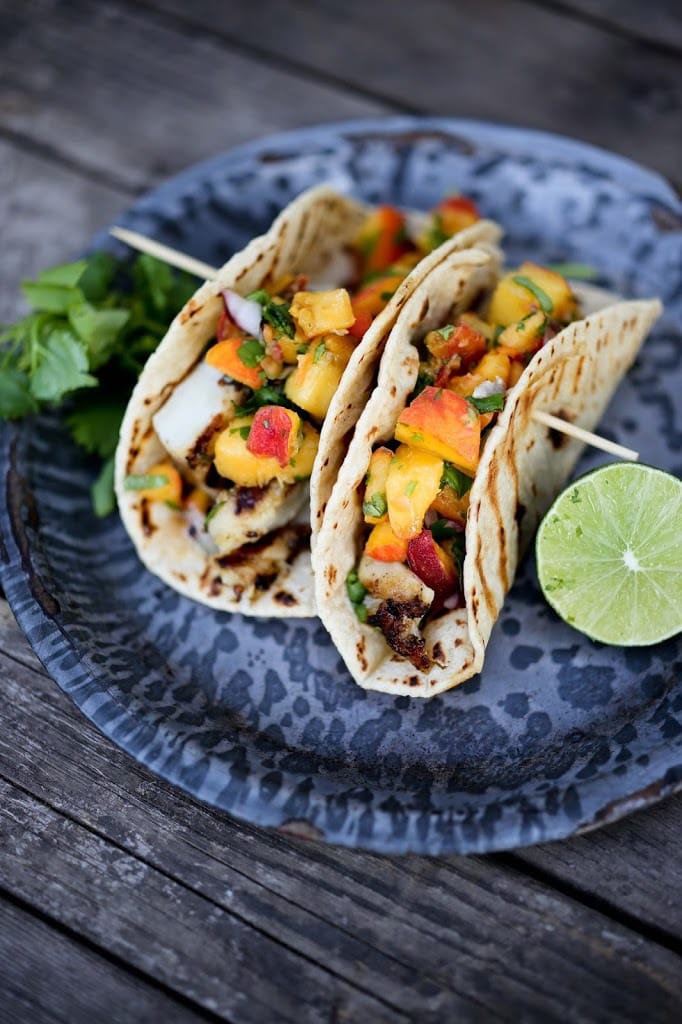 Fresh tree-ripened peaches make this recipe even better, so if possible purchase from a local grower when in season. Peaches purchased at the grocery stores were most likely picked much earlier for transport before they had a chance to ripen, making their flavor pale in comparison to peaches that have a chance to fully develop on the tree. The difference is startling. The closer you are to where the peach was actually grown, the better it will taste. This is true for all produce, and the secret, I believe, to creating delicious food. Plus, you get to support your local economy, which in turn supports you. Truly a win-win for all.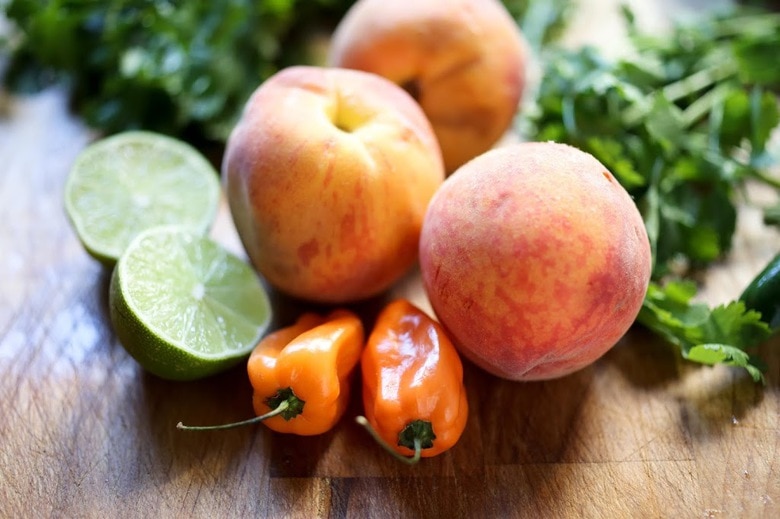 In this recipe I added habanero chilies, but feel free to sub a milder chili like jalpeno. Habanero peppers are HOT. Don't let their cuteness fool you. If heat is not your thing, please do substitute jalapeno. Habaneros, in addition to being hot, are also deliciously fruity and flavorful. But remember a little goes a long way. NO, I did not use all the habanero in this photo, rather a half of one pepper, and very finely minced, and it was still quite hot. So add and gauge carefully according to your preferences.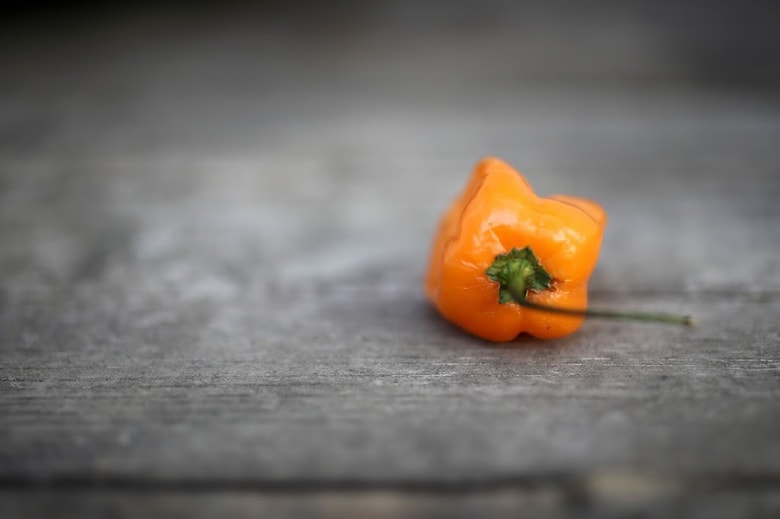 And remember all peppers, even mild ones like jalapeños, will vary slightly in heat, so always taste a tiny piece before using in recipes just to be safe. Remove the seeds and wash your hands after handling them.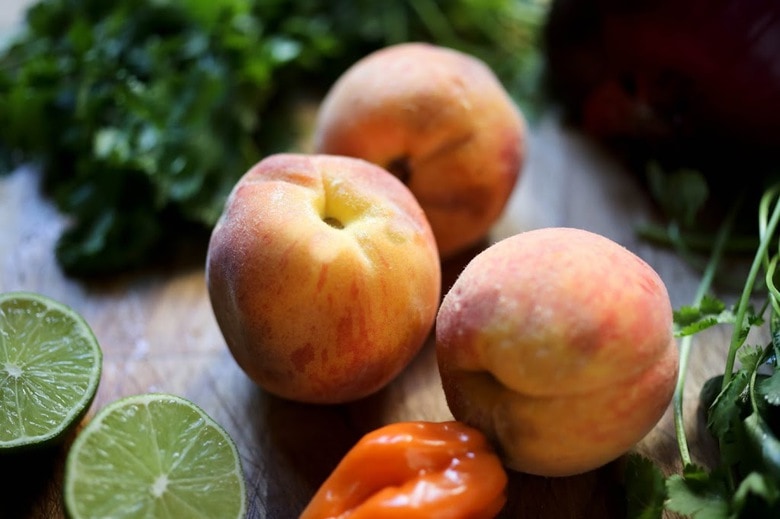 Gently rub the peaches with a kitchen towel or paper towel to remove the peach fuzz. Dice. Add the diced onion, minced habanero, cilantro and lime and refrigerate until ready to serve. This is best prepared the day of use.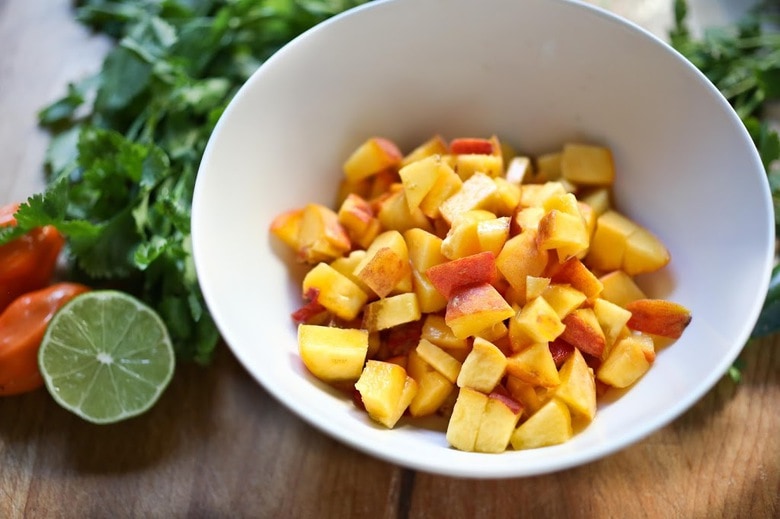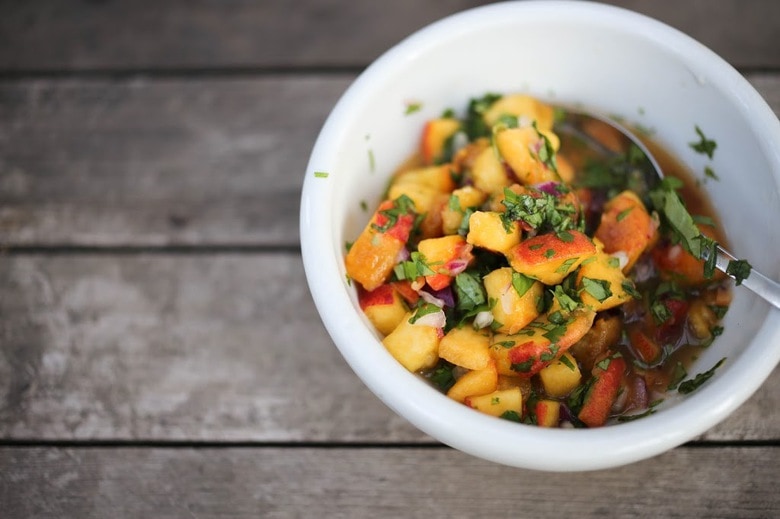 I really like using canned
chipotles
for this recipe rather than ground
chipotle powder
. I think everyone these days knows what a chipotle pepper is, but just in case, it's a smoked jalapeño. They are great blended up and added to recipes for a deep smokey heat.
The flavorful adobo sauce that the chipotles are bathed in, is also utilized in the marinade. Save the rest of the can by dividing the left over chipotles in to small Ziplock backs and freeze for another use.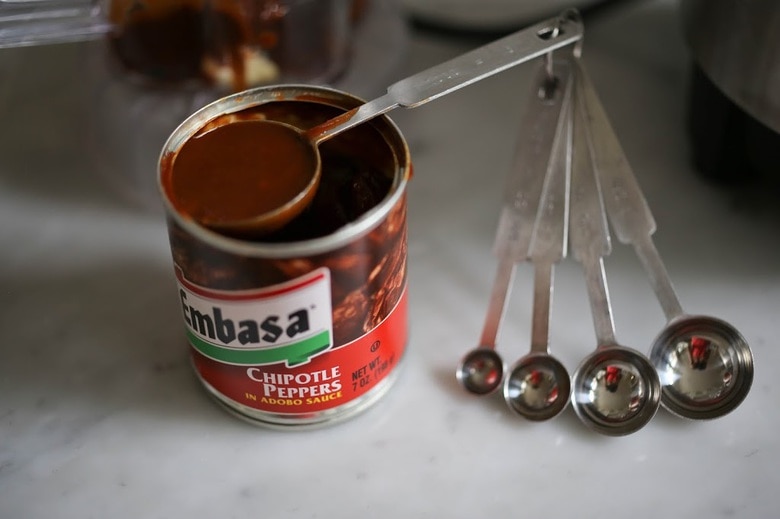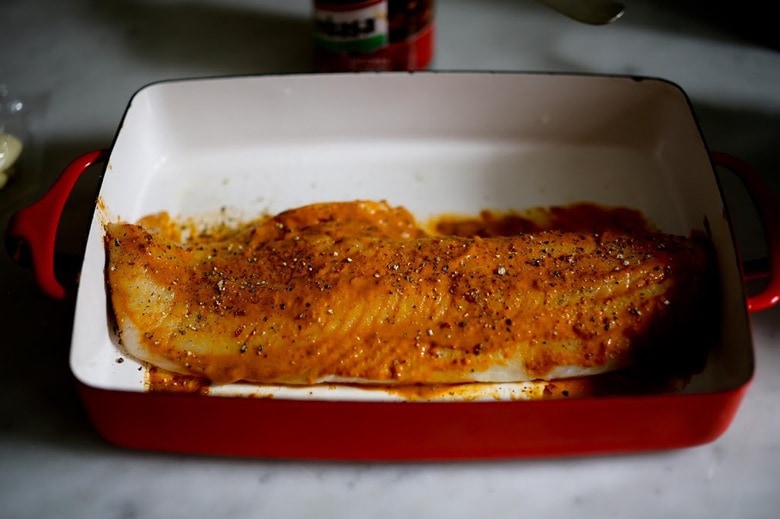 Marinate the fish for at least an hour or overnight.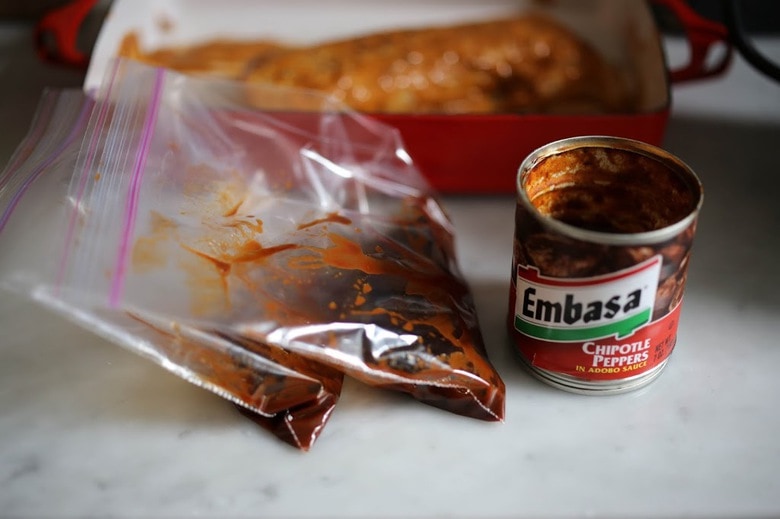 If not using right away, divide the left over chipotles in to small Ziplock bags and freeze for another use.
Grill fish on a hot grill for several minutes to sear each side. Using a metal spatula, move to a cooler spot on the grill or lower heat to medium, cover and cook to desired done-ness. Squeeze with lime.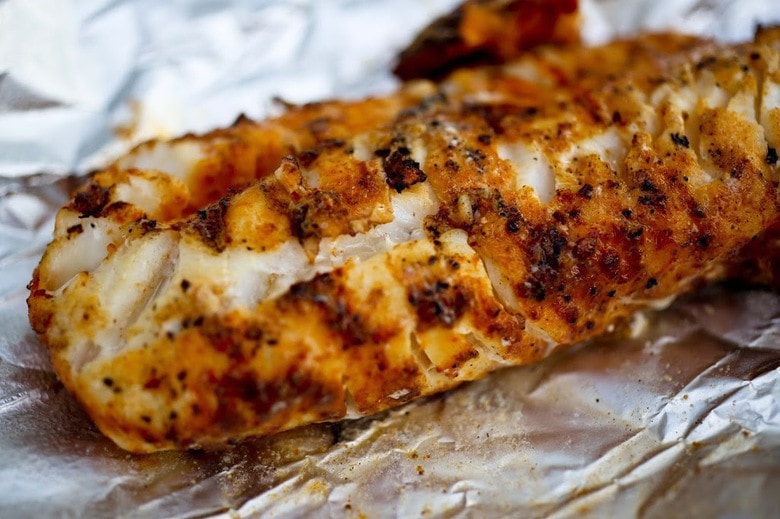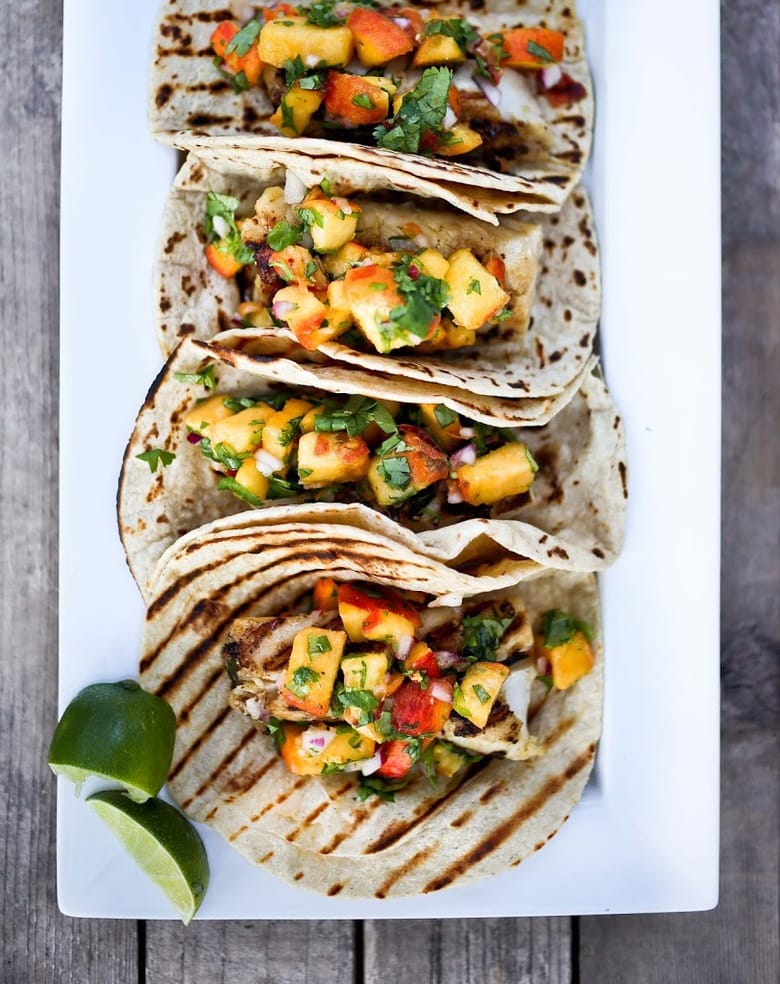 If assembling, use skewers to make it easier to keep them upright.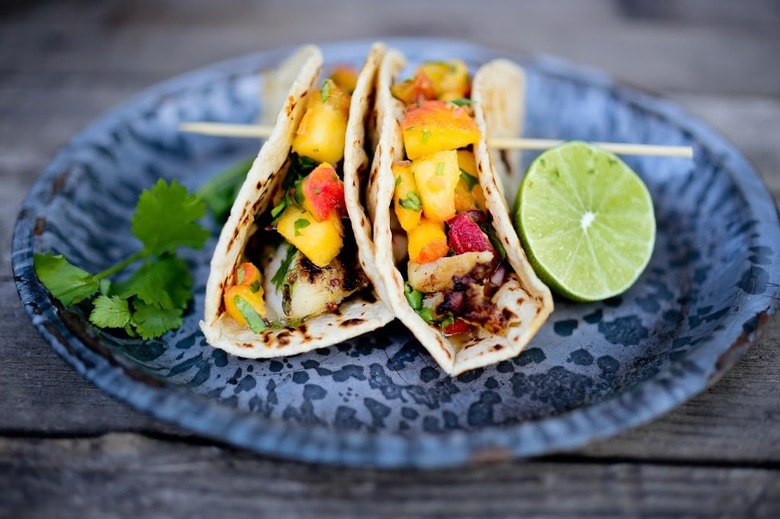 Print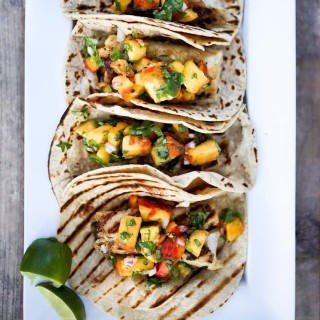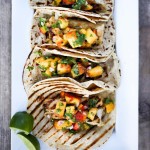 Chipotle Fish Tacos with Peach Salsa
Prep Time:

60 mins

Cook Time:

15 mins

Total Time:

1 hour 15 mins

Yield:

4

Category:

Main, fish, seafood

Method:

grilled

Cuisine:

american
---
Description
Grilled Chipotle Fish Tacos with a refreshing Peach Salsa. Summery and light with a little bit of heat.
---
1

pound grill-able white fish – Mahi Mahi, Tilapia, halibut, Black cod, Snapper- Or substitute Portobello Mushrooms or Extra Firm Tofu.

8

  six inch tortillas ( corn-flour mix) Grilled
lime for garnish
Chipotle Marinade Ingredients:
Peach Salsa Ingredients:
2 1/2

C diced -just ripe peaches ( about

3

–

4

peaches)

1/4

C finely diced red onion

1

–

2

tsp minced habanero ( or use jalapeño for less spicy)

1/2

C chopped cilantro ( tender stems ok)

1/8

C fresh lime juice, or more to taste

1/8 tsp

kosher salt or more to taste

1 tsp

sugar
---
Instructions
In a food processor, blend all the marinade ingredients into a fine paste. Rub fish (or porto's or tofu) generously with marinade and let marinate at least 20 minutes, or overnight in the fridge. ( You could also freeze fish in the marinade in a ziplock bag and save for later or take it camping with you).
While fish is marinating make the Peach Salsa. Very gently, rub the peaches with a towel to remove fuzz, keeping the skin intact. Dice and place in medium bowl. Half and seed the habanero, and mince as small as possible. Sprinkle only 1 teaspoon of habanero, over the peaches ( about 1/3 of the habanero). You can always add more, so start conservatively. Add the rest of the ingredients, and gently fold them together. Obviously you want to spread the habanero evenly through the salsa, but at the same time, try not to over mix.
Grill the fish ( or portos or tofu) over high heat to get a nice sear on both sides. Make sure grate is clean and oiled and use a metal spatula. After a few minute on each side, move to a cooler spot, or turn heat down to medium, cover grill and finish cooking until its cooked to your desired done-ness. You could also finish in the oven. Give a good squeeze of lime, and taste for salt, adding if necessary.
Give the tortillas a quick sear on the grill.
Either assemble the tacos by placing the fish in the tortillas and topping with peach salsa. Skewer to keep closed. Or serve family style on a platter with stacked tortillas wrapped up in a towel, extra lime and cilantro.
---
Notes
Keywords: fish tacos, grilled fish tacos, peach salsa, peach salsa recipe, fish taco recipes, chipotle fish tacos
SaveSave
SaveSave
SaveSave
SaveSave