Spaghetti with Morels and a flavorful Miso Brown Butter Sauce- a simple delicious meal highlighting morel's special flavor. Vegan and GF adaptable!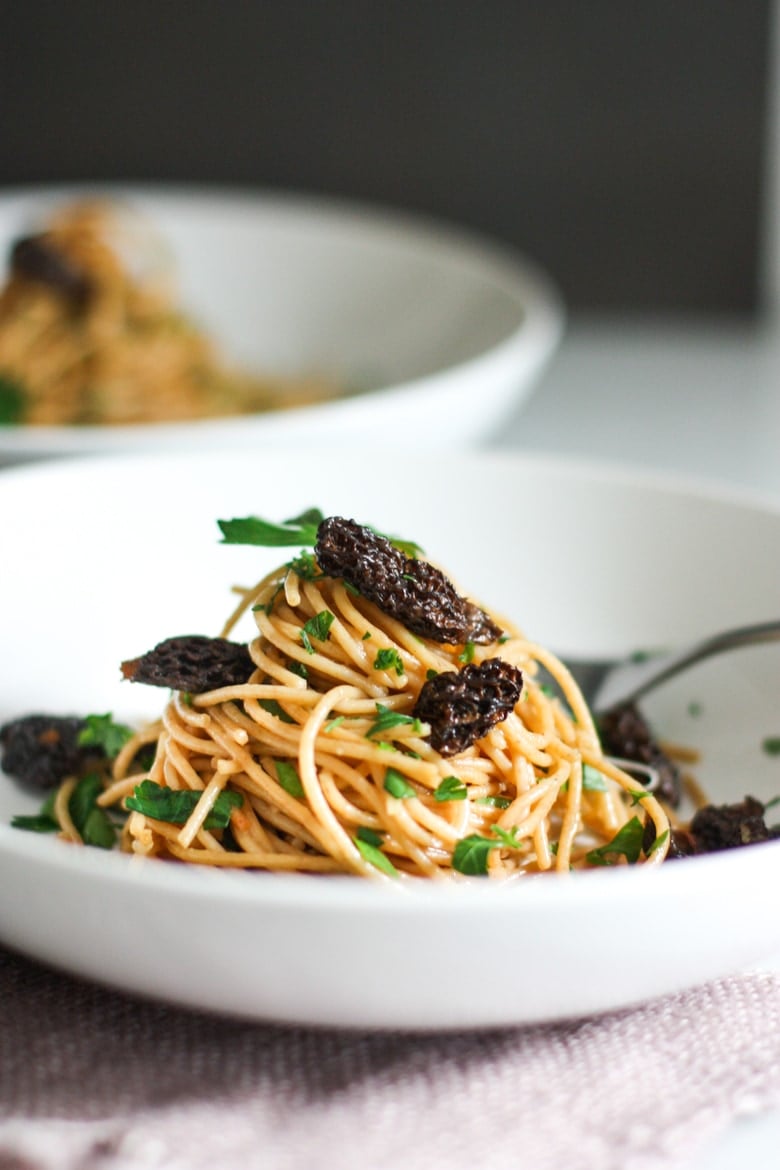 The highest quality that a human being can reach is to be independent of the good opinion of others. Mazlow
They are such fickle creatures. Arbitrary, inconsistent and delightfully elusive. They care little about conforming to our modern ways, or fitting in, or being good, or being liked. They just live their life, their own way, on their own schedule, independent of our good opinion. And we love them all the more for it.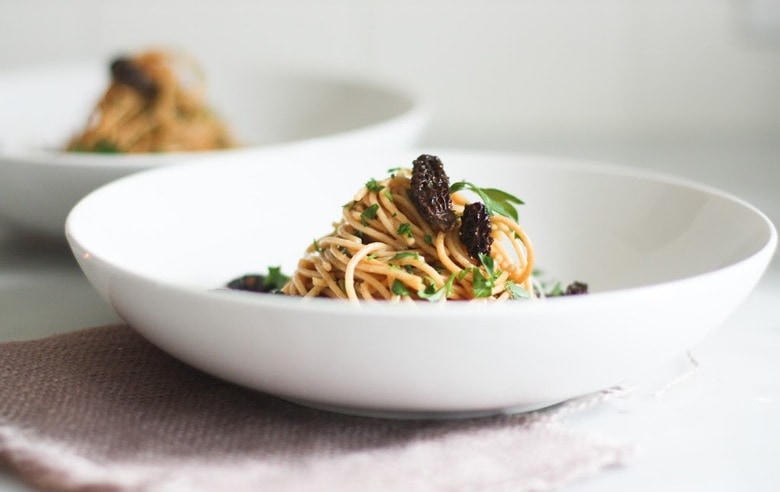 Morels refuse to be tamed. As our relationship with the earth continues, fewer and fewer things have remained truly wild. We have managed to domesticate, manipulate, govern and control the production of most of our food. But morels, admiringly, have evaded all our efforts to cultivate them in any commercial fashion and to this day, must be hand foraged in the wild.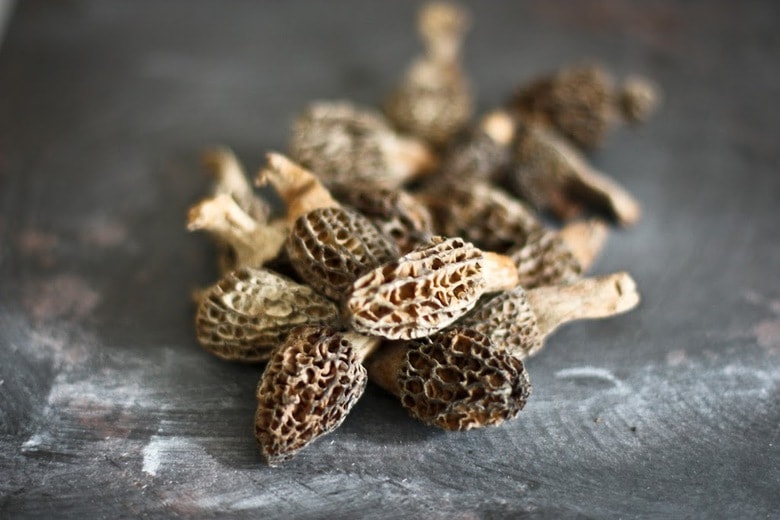 Morels, if you have never tried one, have a delicate earthy, nutty flavor. They are distinct in appearance with their coned-shaped "hats" and honeycomb texture. But it's their aroma that strikes me today. Not exactly pleasant, but not exactly off putting either. Quite intriguing actually. Beguiling.
Part of the challenge of finding morels, is their unpredictability. They do not stay in the same place from year to year, but move around without rhyme or reason with a detached aloofness. People spend hours searching for them, combing woods and forests, often to return home empty handed. And perhaps this is part of the allure. The stumbling upon them, the chance encounter, the seeking but not always finding; this is what makes the hunt so much sweeter.
There are many theories on where to find them. Some believe they grow mainly in forested areas that have been burned or cleared…or in orchards. But they pop up in surprisingly common places as well. A friend of mine once found some growing in her backyard. Lucky, that one. Another found some near a garbage dump. Still, to depend on them to return to the same place the next year, or to hope for any future with them, or consistency, or loyalty, is only asking for heartache.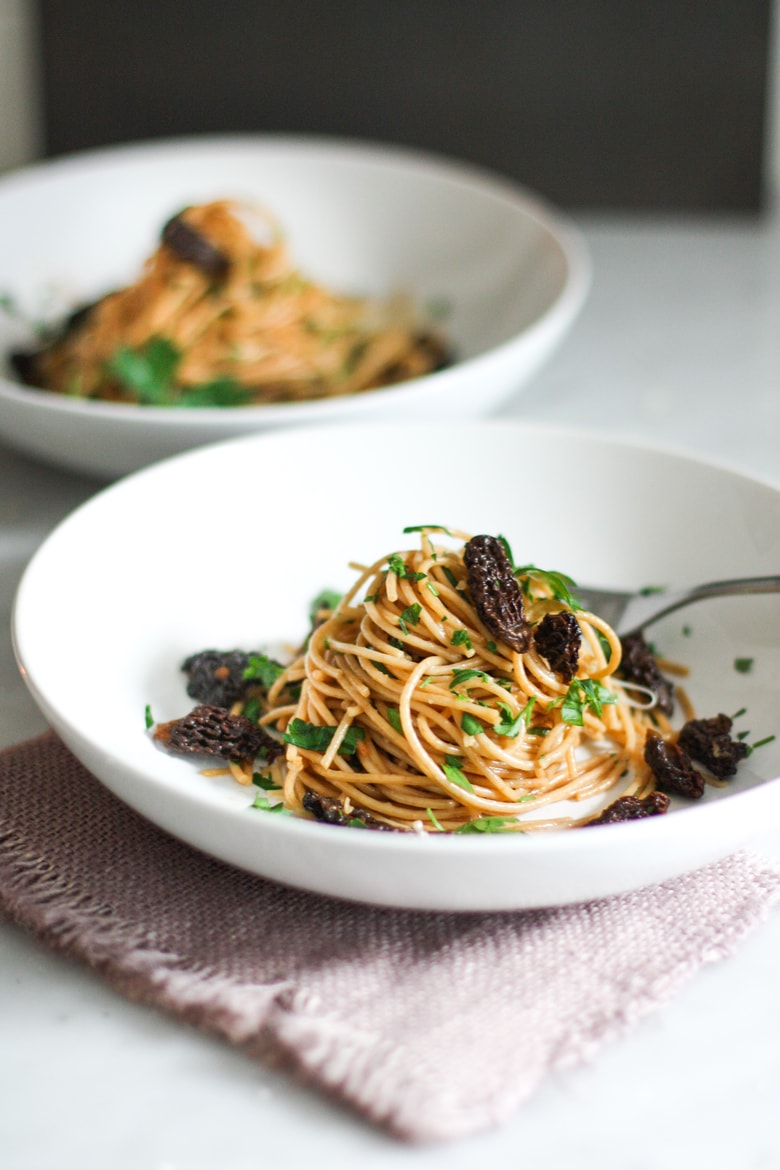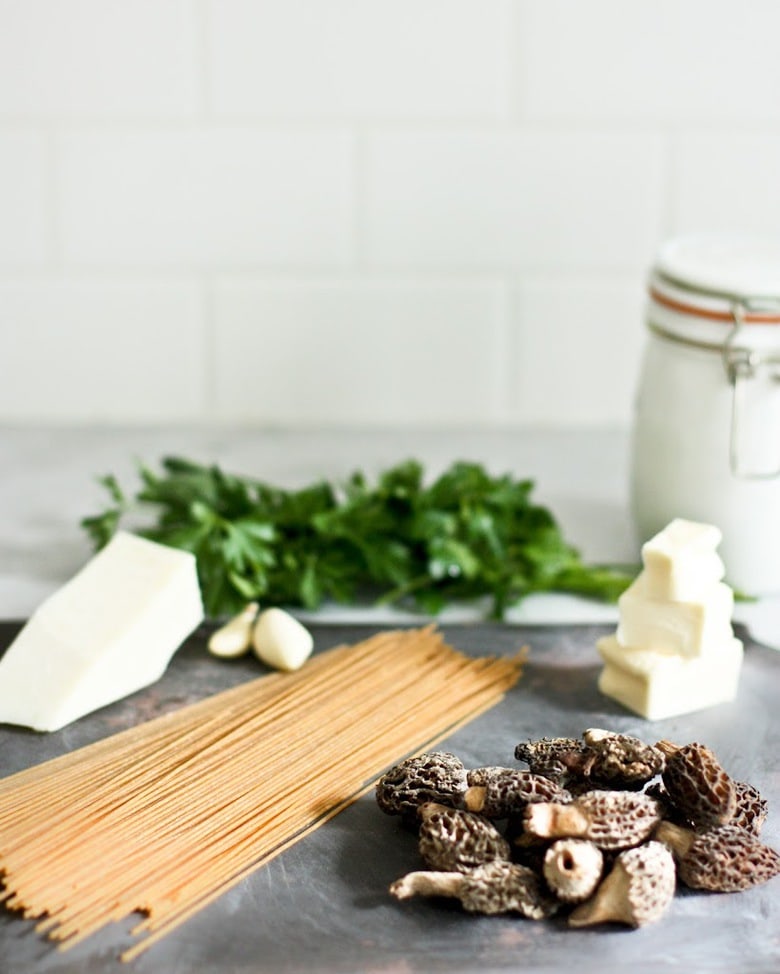 I wish I could say I stumbled upon these, but no, not this time. For a wedding reception we catered last weekend, I purchased some fresh morels from a couple of local foragers, Gourmet Foragables in Spokane. Because they are found in the wild, and not easy to find, prices can run pretty high. But regardless, I bought a few extra to bring home with me.
The challenge was creating something that would enhance them without overpowering them, or loose them among too many other ingredients. The other challenge was not having to run to the store again, and instead try to use what I already had at home. Which was pasta.
For a flavorful and luxurious topping, skip the pasta and just serve Morels with Miso Brown Butter
over fish, chicken, beef or even seared tofu.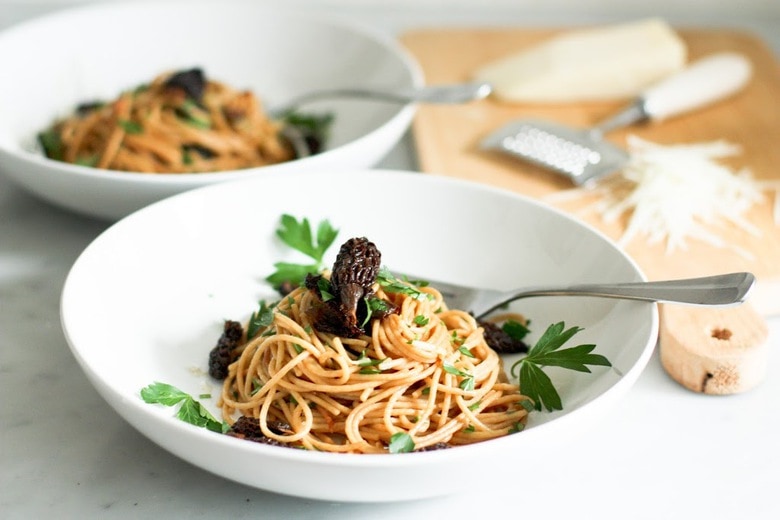 This whole wheat spaghetti was toothsome and hearty. Toasted, it had an even deeper flavor.
The addition of a little bit of white
miso
paste to the brown butter adds a subtle sweetness and unique flavor. A small amount of good quality
pecorino
cheese, will add saltiness and depth. The parsley brightens the dish and gives it an overall freshness. It really would also be good with
sauteed kale
or chard tossed in too.
If using the morel mixture over fish or beef instead of pasta, forgo the cheese all together and add a little more
miso
to taste. You could serve your fish,beef or chicken over a bed of braised seasoned kale. Just some ideas….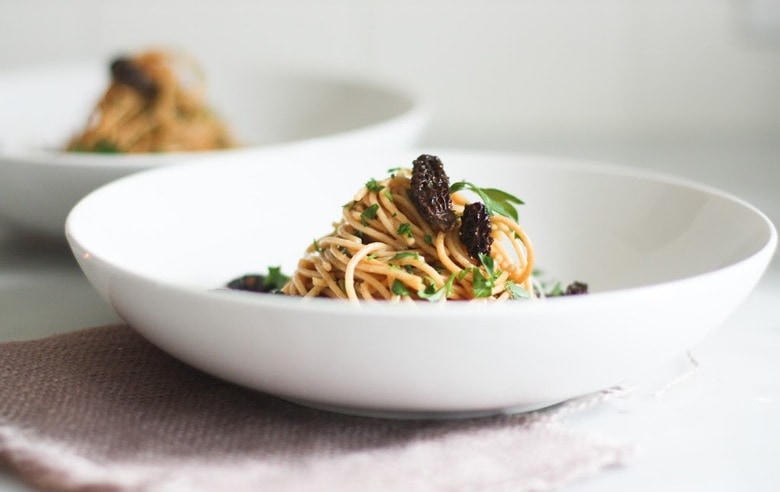 Serve with good crusty Bread. You could use olive oil instead of butter, but butter really does enhance the morels. When cooking I try to use butter sparingly, but there are some situations where butter is just… better! Butter and mushrooms are good together. 😉
Print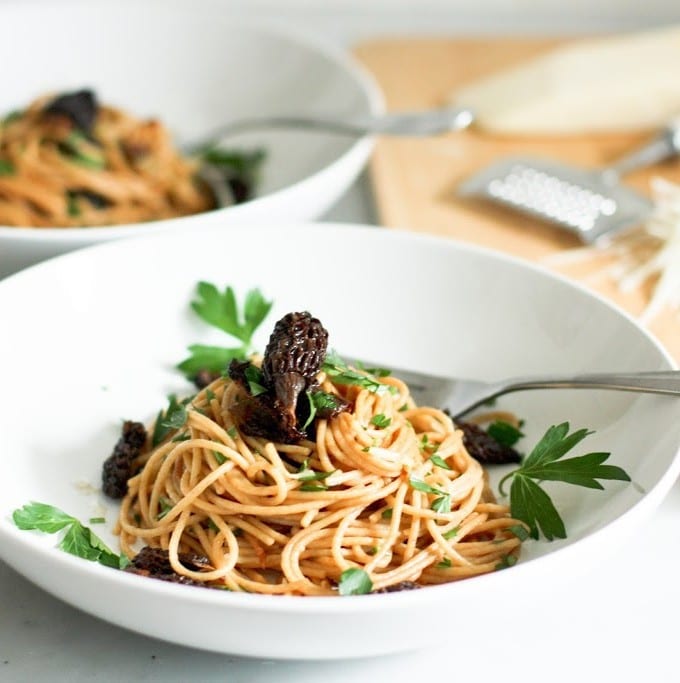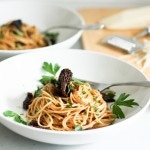 Spaghetti with Morels and Miso Brown Butter Sauce
Author:

Sylvia Fountaine

Prep Time:

15

Cook Time:

20

Total Time:

35 minutes

Yield:

4

Category:

vegetarian main

Method:

stove-top

Cuisine:

northwest
---
Description
---
1/4 cup butter
1 tsp white miso dissolved in 1/4 C hot water ( or 1 more tsp miso— if not using cheese)
1 C morels ( or more!)
2–3 cloves garlic, sliced or big chop
splash of rice wine, mirin, cooking sherry, wine, or even marsala wine  (1/8 C- ish)
Cracked pepper
1/4 C Italian parsley
pecorino
8 oz pasta ( whole wheat spaghetti)
---
Instructions
Pasta
In a medium sized pot, bring salted water to a boil for the pasta and cook spaghetti uncovered until al dente. For extra nuttiness,  toast your pasta first, placing it single layered on a sheet pan in a 375F oven for 15-20 minutes, or nicely browned. Then cook like normal.
Morels with Miso Brown Butter 
In a medium sauté pan, sauté butter on Med Low or LOW heat until golden brown and aromatic and nutty smelling. Add garlic. Saute 1 minute. Add mushrooms. Saute on med low heat until tender, careful not to burn the butter. You may need to turn the heat down to low , and stir often. When the mushrooms are tender, add a splash of rice wine,
Mirin
, marsala wine or sherry. Let alcohol cook off reducing about 1 min. Add
miso
water. Cook for another min until reduced and most water is evaporated. Set aside.
You could stop here and spoon this over fish ( halibut, salmon, scallops) or Beef or Chicken.
Drain pasta. Place back in pasta pot. Stir mushrooms and browned butter into the pasta, coating the pasta. If too dry for your taste, and a splash of
olive oil
. Stir in fresh parsley, plate and serve with a light sprinkling of fresh grated
pecorino
and cracked pepper.
---
---
Keywords: mushroom pasta, morel recipes, morel mushroom recipes, wild mushroom pasta, mushroom pasta recipes, morels, morels recipes
SaveSave
SaveSave