Savory Mushroom Risotto with rosemary, garlic, and leeks- a hearty vegetarian dinner, perfect for special occasions, date nights, or entertaining. Video! Check out Our 40 Best Mushroom Recipes!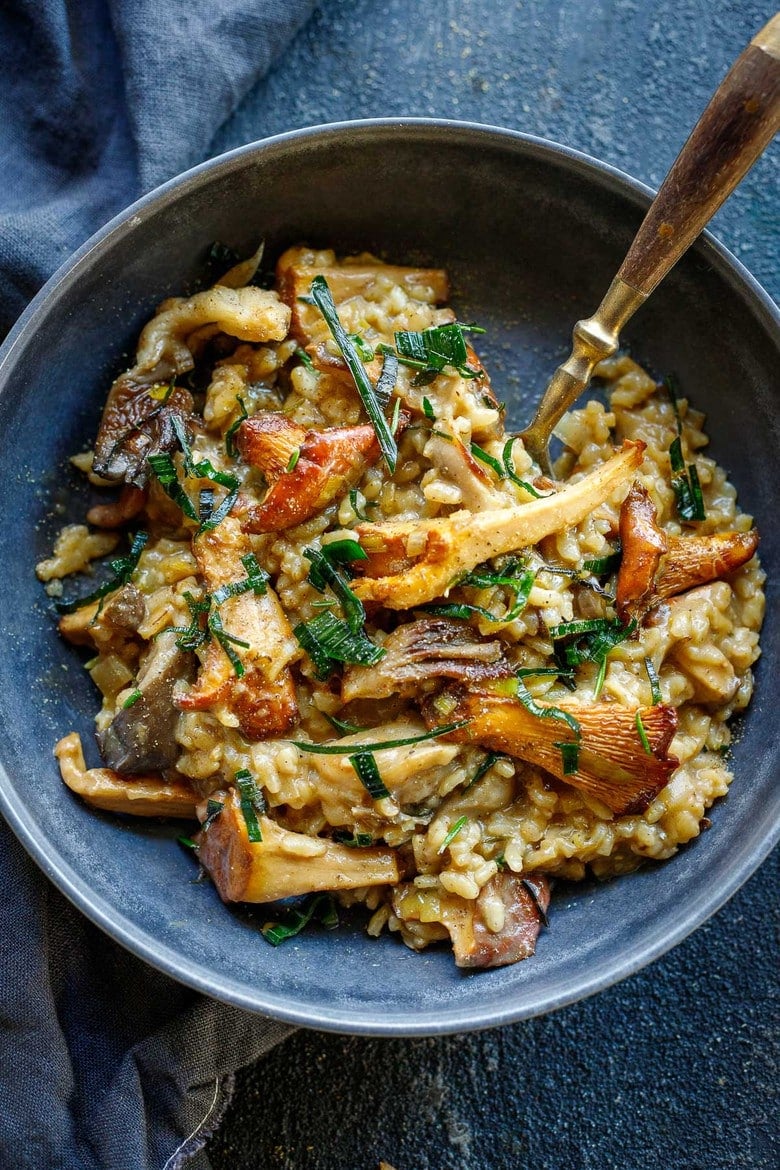 Mushroom Risotto is creamy, earthy, and full of lovely umami flavor. It feels elegant and perhaps a bit indulgent, but truthfully, it is lighter than one might expect. This version is made with wild and tame mushrooms both found at the farmer's market, along with leeks, garlic and savory herbs. Finish with a little parmesan to add a little richness.
Risotto is one of the dishes that perhaps seems fussy, but really couldn't be easier. It's a beautiful way to showcase your favorite mushrooms and let them become the star of the dish. It can be served on its own as a vegetarian main or topped with a piece of fish or chicken. Either way, you'll love the flavors here.
To elevate, a little lemon zest adds a nice brightness. The optional frizzled leek tops are a pretty garnish. And If you are a truffle fan, add a tiny drizzle of truffle oil to finish.
Mushroom Risotto Video
Ingredients in Mushroom Risotto
Stock or broth: veggie, mushroom or chicken
Olive oil or butter- or a combo of both
Leeks – or shallots or onion
Garlic cloves
Mushrooms: Wild mushrooms like chanterelle mushrooms, morel mushrooms, and porcini are especially nice in mushroom risotto, but tame mushrooms work well too- like shiitake mushrooms, cremini mushrooms, maitake, oyster mushrooms, and portobello mushrooms. Using a combination of mushrooms adds complexity. Adding dried mushrooms to the cooking broth is also a great option.
Herbs: Rosemary, thyme or sage
Arborio Rice:  This is an Italian short-grain rice that is starchy and gets creamy with cooking.
Dry white wine – sauv blanc, pinot grigio, chardonnay, or even champagne
Cheese: grated parmesan cheese or pecorino
Salt and pepper
Optional additions: truffle oil, shaved truffle, lemon zest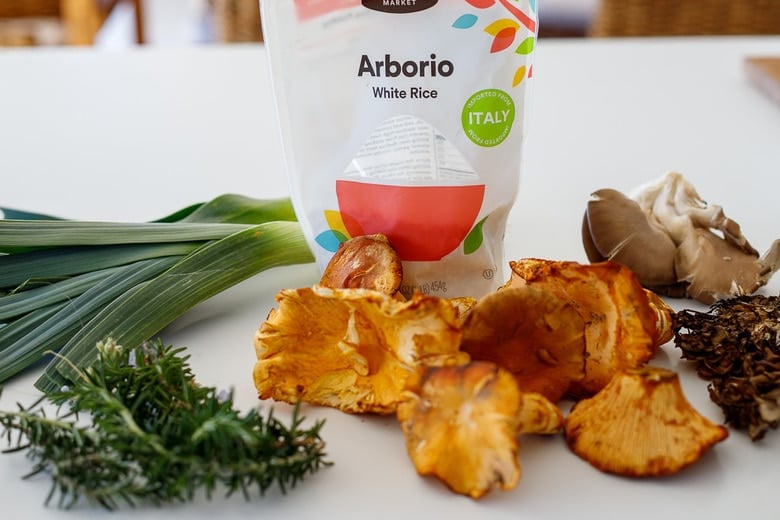 How to Make Mushroom Risotto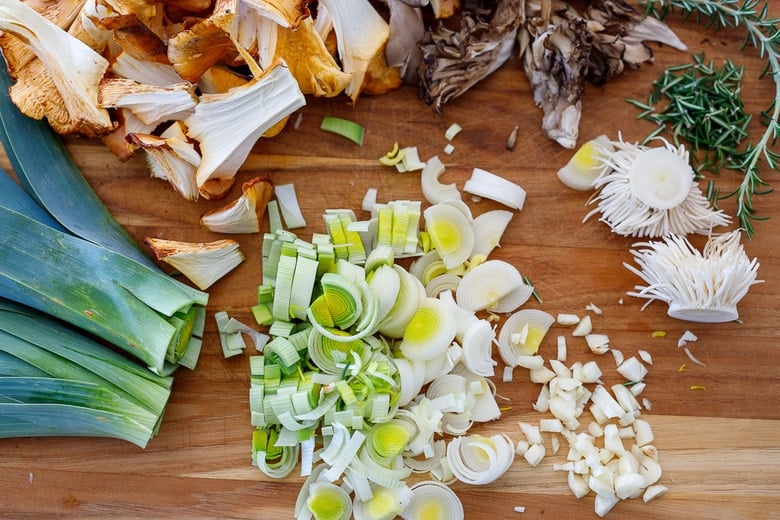 Step one
Cut and prep the leeks, garlic, and mushrooms. Tip: Try not to wash mushrooms; just brush off any dirt or grit- keeping them dry. Some mushrooms like chanterelles or maitake are nice when torn, rather than cut. (If you absolutely must wash mushrooms, do this ahead, spread them out on a towel for a few hours, so they dry out before sautéing.)
Save the dark green leek tops and make the frizzled leeks or this beautiful leek oil.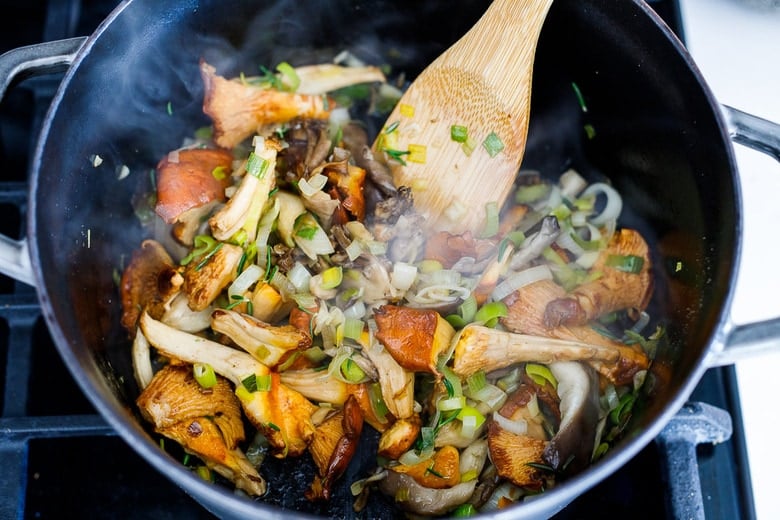 Step two
In a heavy bottom pot, dutch oven or braiser – heat olive oil (or butter, or combo of both) over medium heat. Add the leeks, mushrooms, garlic, and herbs and cook until mushrooms release their liquid. Turn up the heat slightly and cook off the liquid and caramelize the mushrooms a bit.
Set HALF aside.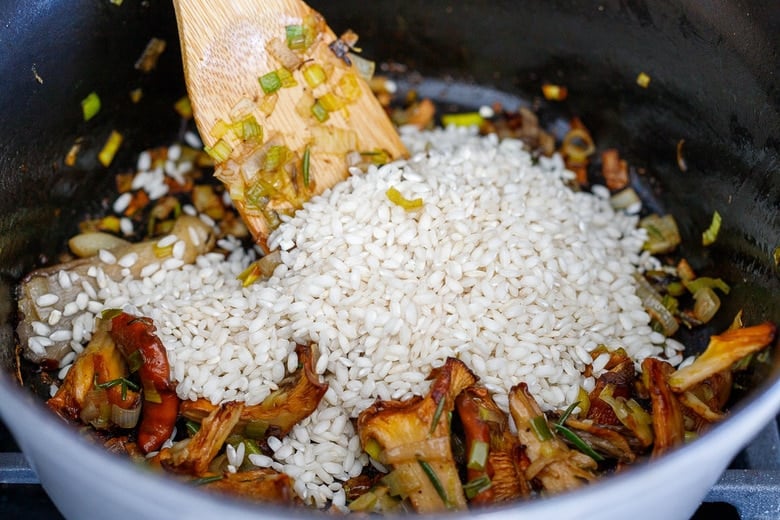 Step three
Add the arborio rice and saute for 3 minutes or so, toasting. Then pour in the white wine and stir up any browned bits, cooking this off completely.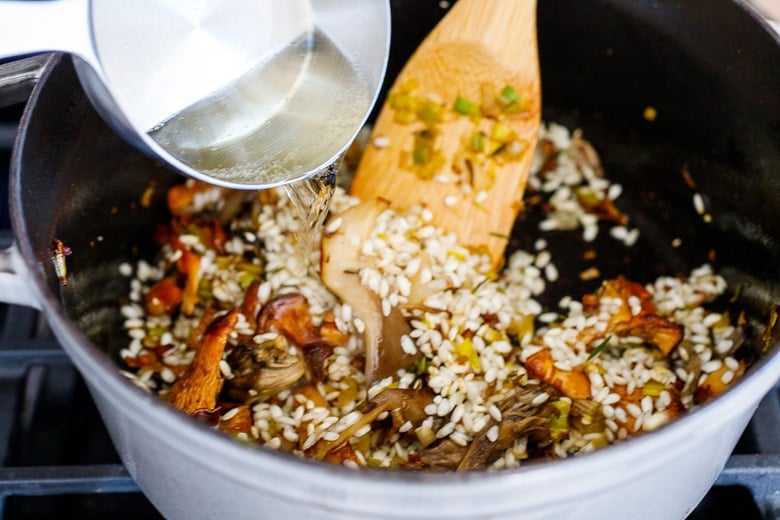 Step four
Begin ladling in warm broth, ¾ cup at a time.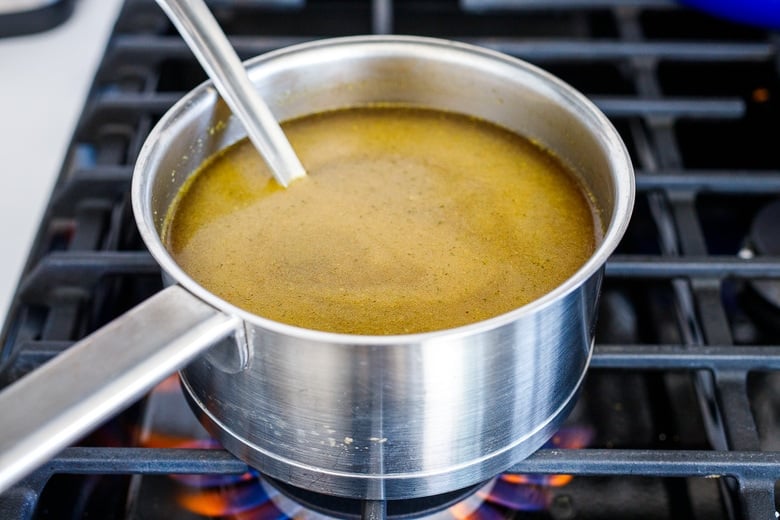 Add the broth ¾ cup at a time, stirring up any browned bits, cooking it over medium or medium-low heat.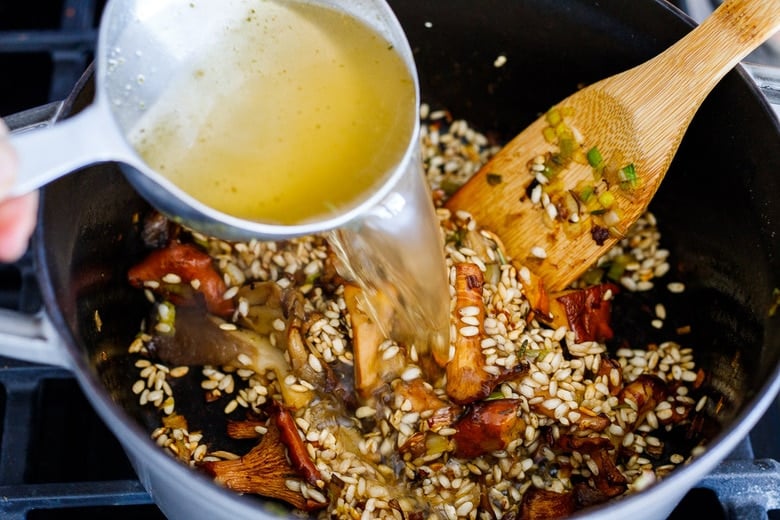 Let the rice absorb most of the broth before adding more.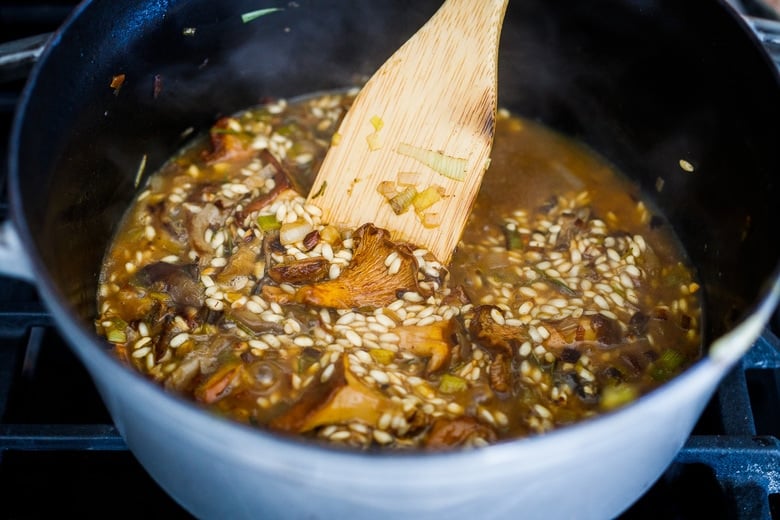 Repeat this process until all the broth is gone, and the rice is softened, and it is creamy- about 20 minutes.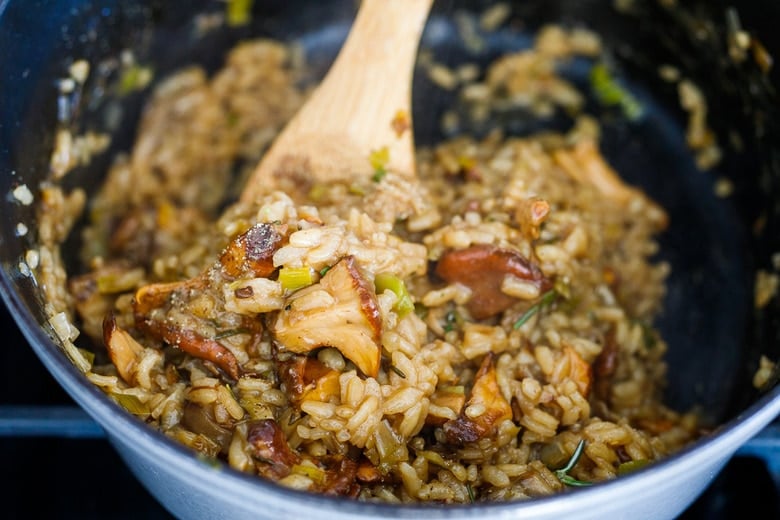 Taste and adjust salt and pepper.
Towards the end, keep testing the risotto for texture- you want the outside of grain to be creamy and tender- yet at the very center, the slightest bit al dente, so it keeps its shape and doesn't get mushy.
Step five
Once you have attained the perfect creamy texture, only then stir in the cheese- not before.  Add more broth or hot water to loosen the risotto. Stir in the mushrooms you set aside, saving a few of the prettiest ones for garnish.
Some people like to add a couple of tablespoons butter, I personally do not, but up to you.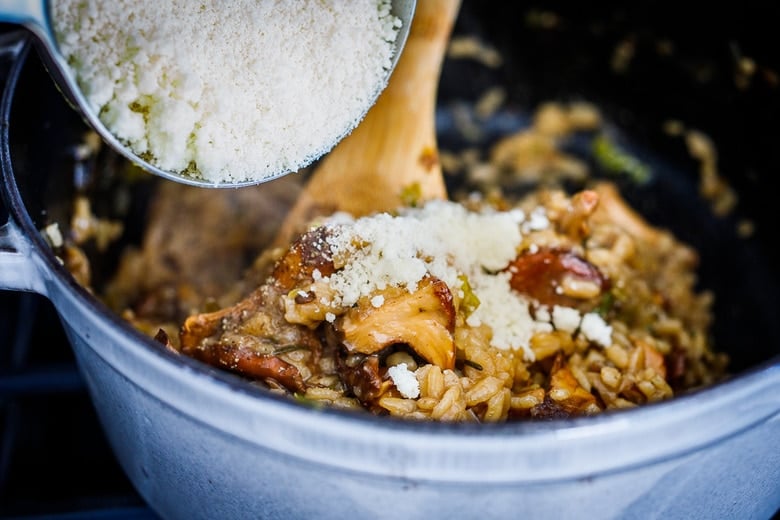 What makes Risotto Creamy?
Contrary to popular belief, risotto is creamy, not from of the addition of cream, butter or cheese, it gets its creaminess from the rice itself.
What is the secret to Creamy Risotto?
Using the correct type of rice- Arborio rice or Bamba rice (fat, short-grain white rice)  has a naturally creamy texture when cooked.
Do not rinse the rice.
Stir but do not over-stir.
Add the "perfect" amount of liquid. Practice makes perfect here- it is not a specific measurement but a "feel" thing.
Cook it long enough, but do not overcook it. People actually tend to undercook risotto. It should be tender, but hold it's shape. Again, practice makes perfect here.
Frizzled Leeks
A nice little garnish to make while the risotto is cooking is to either make this leek oil, or these frizzled leeks- a great way to use the leek tops. You can also add some leek tops to your simmering broth.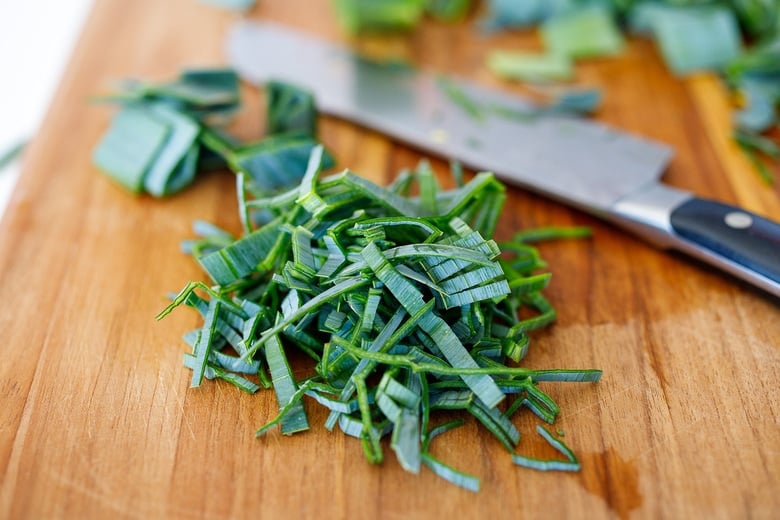 To make the frizzled leeks, thinly slice the darkest ends- you'll only need about ½ cup.
Heat olive oil in a skillet over medium heat- then add the leeks.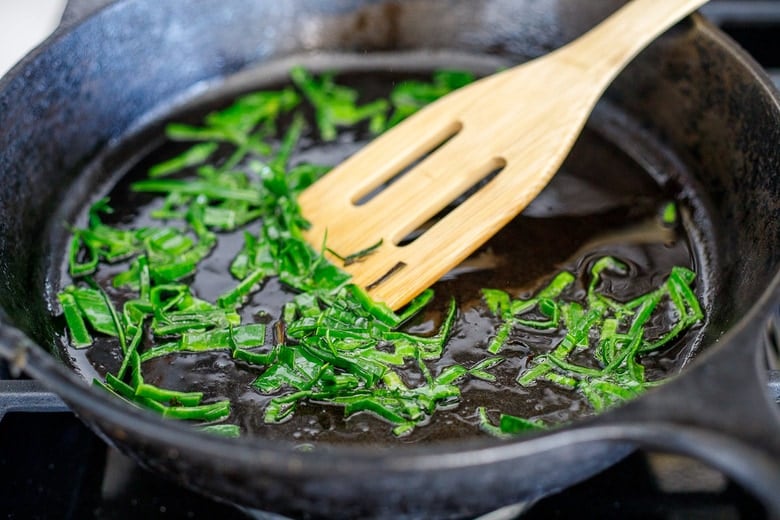 They will darken just slightly and become crisp – around 3 minutes. Remove before they discolor and place on a paper towel- sprinkle with salt and let cool.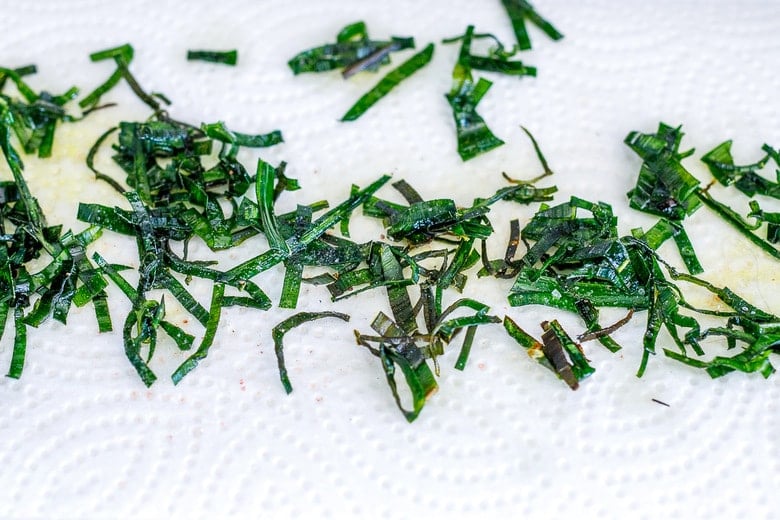 Sprinkle these frizzled leeks over your finished dish and a little lemon zest.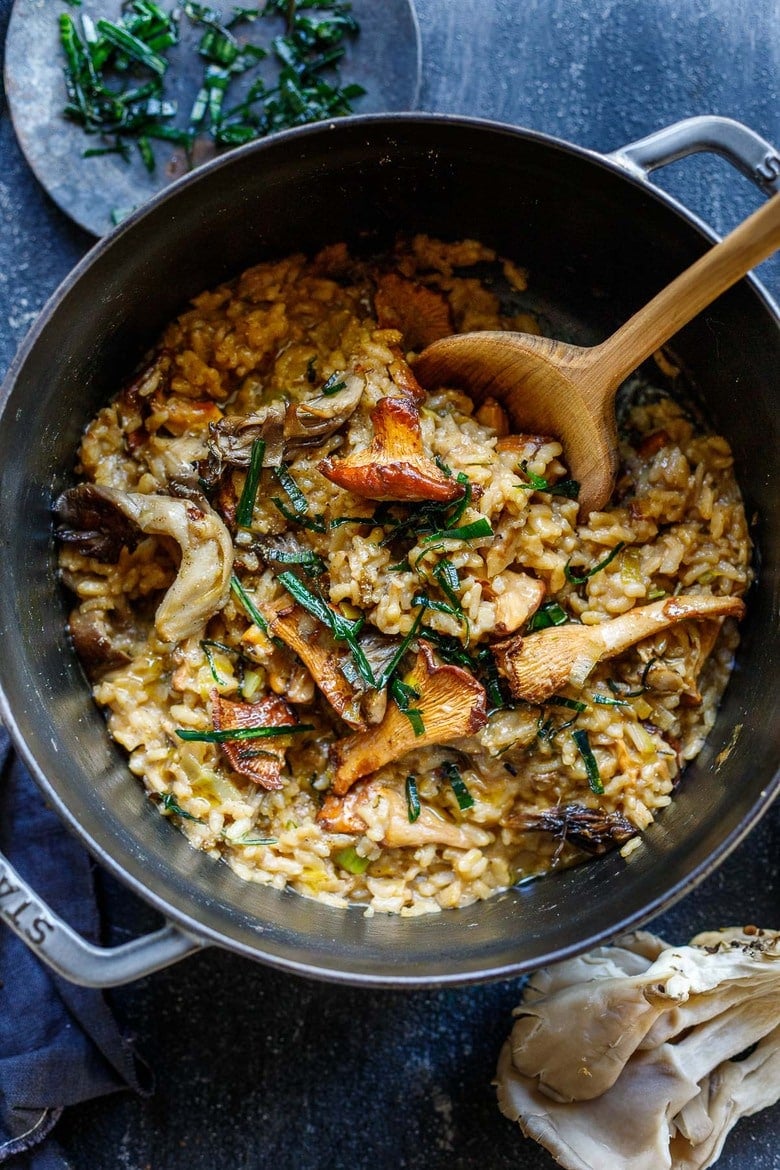 Store leftovers for up to for days in the fridge, or freeze for up to 3 months. Reheat on the stove top, adding a little broth.
Is risotto a main or side dish?
It can be either. Personally, I find it hearty enough for a meal, especially if topped with meaty earthy mushrooms. But feel free to serve a protein with it if you like.
Ways to Elevate Mushroom Risotto:
Drizzle with truffle oil
Sprinkle shaved truffles
Drizzle with Leek oil
Add a handful of greens -kale, chard, baby spinach- and stir until just wilted.
Lemon zest.
Use Pecorino instead of parmesan.
Can Mushroom Risotto be made in an Instant Pot?
Yes, absolutely! It's actually quite delicious. I recommend reviewing this Instant Pot Risotto Recipe, noting the timing and liquid ratios.
You'll need to reduce the broth and wine by half- so keep that in mind, and set the pressure cooking time to 6 minutes.
Caramelize the mushrooms first, then remove them, then saute the leeks and garlic (as the saute function on the instant pot runs a little hot) to prevent scorching the leeks.
Waht to serve with Mushroom Risotto
Risotto can be served with any of the following proteins, sides, or salads:
More risotto recipes you may enjoy
We hope you enjoy this Date Night Mushroom Risotto- let us know what you think in the comments below.
xoxo
Print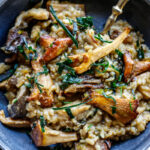 Mushroom Risotto
Prep Time:

10

Cook Time:

45

Total Time:

55 minutes

Yield:

3

-4

1

x

Category:

main, vegetarian

Method:

stovetop

Cuisine:

Italian

Diet:

Vegetarian
---
Description
Simple authentic Mushroom Risotto with rosemary, garlic and frizzled leeks- a satisfying, elegant vegetarian dinner, perfect for special occasions, date night or entertaining.
---
4

cups

veggie broth, mushroom broth, or chicken broth

1/2

cup

water

3 tablespoons

olive oil

2

leeks (or shallots), sliced (save the green tops, see notes)

4

fat garlic cloves, rough chopped

1

lb

mushrooms- wild or tame or a combo, torn or sliced
Salt and pepper

1 1/2 tablespoons

fresh rosemary (or thyme or sage)

1

cup

arborio rice

1/2

cup

white wine (or champagne) or see notes

1/2

cup

parmesan or pecorino
Optional additions: truffle oil, lemon zest, shaved truffle, kale, peas
---
Instructions
Heat broth and water in a medium pot on the stove.
Slice the leeks into thin half-moons, saving the leek tops to make frizzled leeks (see notes).
In a large skillet or dutch oven, heat the oil over medium heat. Add the sliced leeks, garlic, and mushrooms, season generously with salt and pepper, and saute, stirring until mushrooms release their liquid. Add the rosemary. Turn the heat up and caramelize the mushrooms a bit, cooking off their liquid.
Set 2/3rds of the mushrooms aside on a plate. Lower heat to med-low and add the rice to the dutch oven, toasting the rice a bit, 2-3 minutes. Add the wine, and scrape up any brown bits. Cook off all the wine.
Ladle the warm broth into the rice- one cup at a time, stirring, scraping up any sticking rice, and letting the rice absorb the broth before adding more. Increase heat to medium. This process will take about 20 minutes. If rice is sticking to the bottom of the pan, lower heat back down to med-low. While the rice is cooking make the frizzled leeks or leek oil (see notes).
Once 4 cups of broth are absorbed and the rice is done ( tender, creamy yet al dente at the very center – still holding its shape) stir in the mushrooms you set aside, and the cheese and taste, adjusting salt and pepper to your liking. Parmesan is tangier than pecorino so just keep this in mind. If you'd like a little acid -a tiny amount of lemon zest is nice here or a couple of drops of vinegar.
If you want it a bit looser, stir in more broth.
Divide among bowls and garnish with the frizzled leeks or leek oil. Feel free to drizzle with truffle oil, lemon zest, more parmesan, or even shaved truffle.
---
Notes
Leek Tops: Feel free to use these to make this Leek Oil or frizzled leeks. Or drop some into the simmering broth. To make frizzle leek tops, thinly slice the dark green ends (you'll only need 1/2 cup). Heat olive oil in a skillet over low heat. Once warm add the leeks, and stir a bit until they begin to darken slightly 3-4 minutes. Test by placing a couple on a paper towel, they should feel crisp to the touch. Blot on a paper towel and sprinkle with salt. Let cool.
Kale or Peas: (1-2 cups) If you'd like to add either of these to boost nutrition, add with the last cup of broth… adjusting salt and pepper to accommodate.
Nutrition
Serving Size:

1 ¼ cup

Calories:

402

Sugar:

6.6 g

Sodium:

1331 mg

Fat:

14.1 g

Saturated Fat:

3.4 g

Carbohydrates:

55.8 g

Fiber:

4.3 g

Protein:

10.3 g

Cholesterol:

7.2 mg
Keywords: mushroom risotto, easy mushroom risotto,