A summery Tomato Risotto highlighting juicy, sweet, vine-ripened tomatoes, and infused with saffron.  Serve this as a vegetarian main, seasonal side dish, or top it off with smoky,  pan-seared shrimp. Vegetarian-adaptable!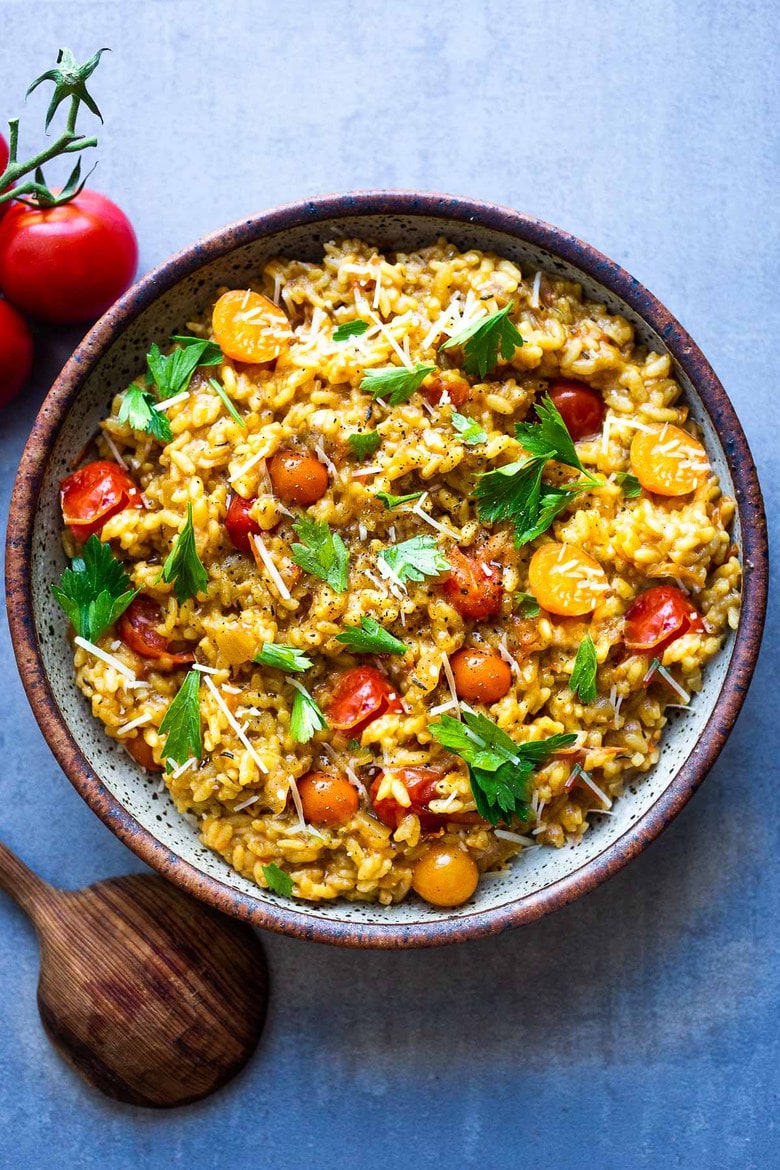 On a cool afternoon or any afternoon, take thee to the woods. There is a spirit there, ancient, waiting to soothe your soul. We call it time. ~D.M. Jenkins
Is there anything better than summer's sweet and juicy tomatoes, picked right off the vine? I look forward to them every year, never tiring of their goodness.
Here they are blistered in a pan before going into a flavorful saffron-infused risotto recipe. It's hearty enough for a vegetarian main, or can be served a flavorful side dish to grilled fish and meats.
You can also top this off with Smoky pan-seared shrimp (or fish).  An easy adaptable meal that can be kept vegetarian, or bumped up with a protein for meat-eaters.
How to Make Tomato Risotto | 30-second video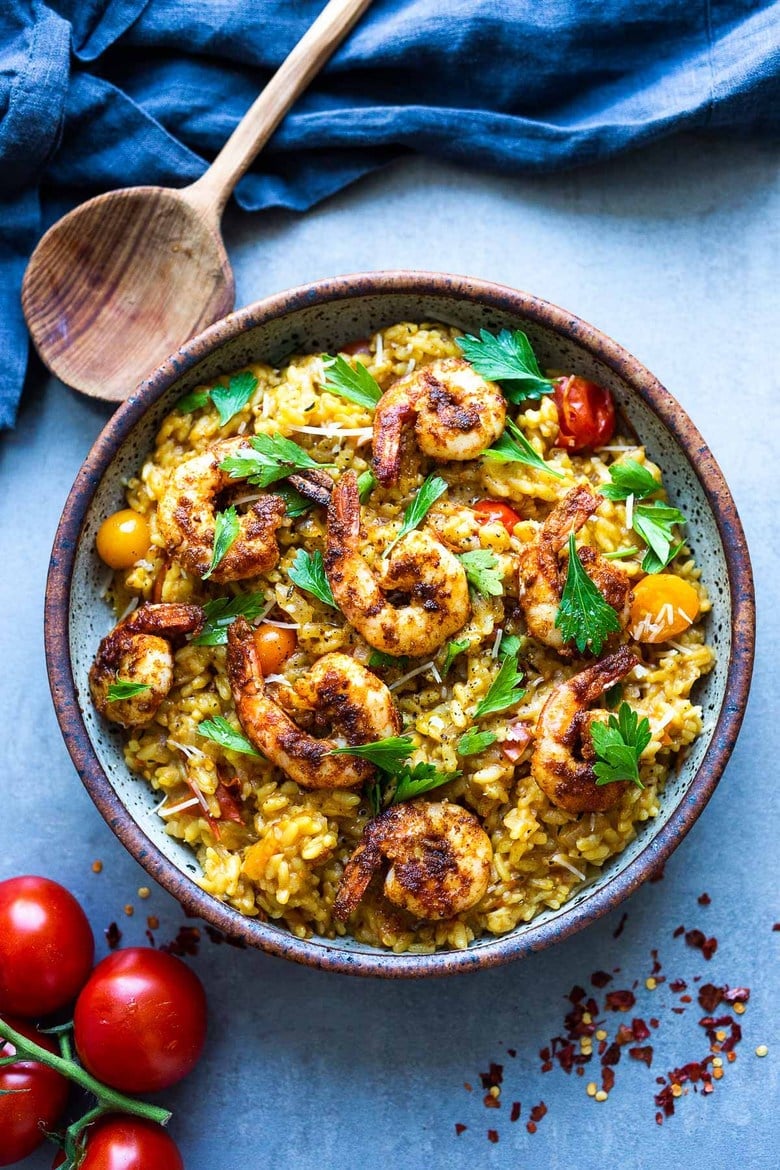 Ingredients in Tomato Risotto:
ripe tomatoes- cherry tomatoes, grape tomatoes, or small roma
onion or shallot
garlic
veggie broth or chicken stock
short-grain rice- arborio rice, bamba rice
white wine
salt & pepper
a little pat of butter
parmesan cheese, or use vegan parmesan
fresh herbs
How to make the Best Tomato Risotto!
The recipe starts with fresh, juicy summer tomatoes.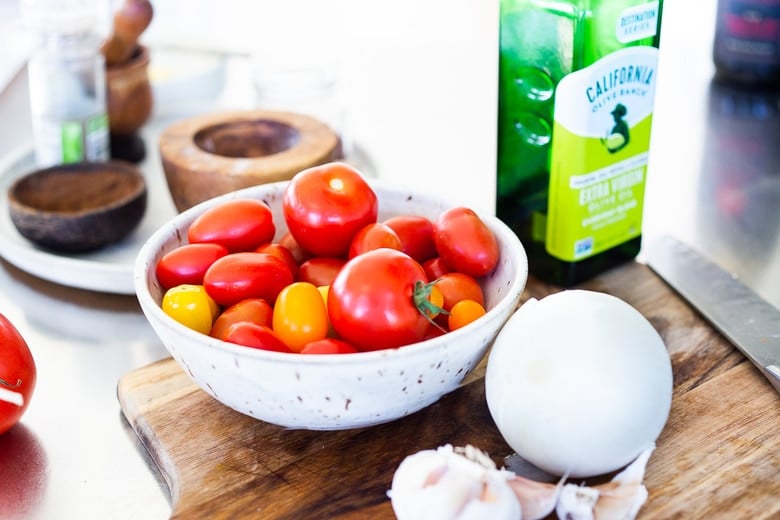 Use cherry tomatoes or grape tomatoes, if possible. They are easiest to blister.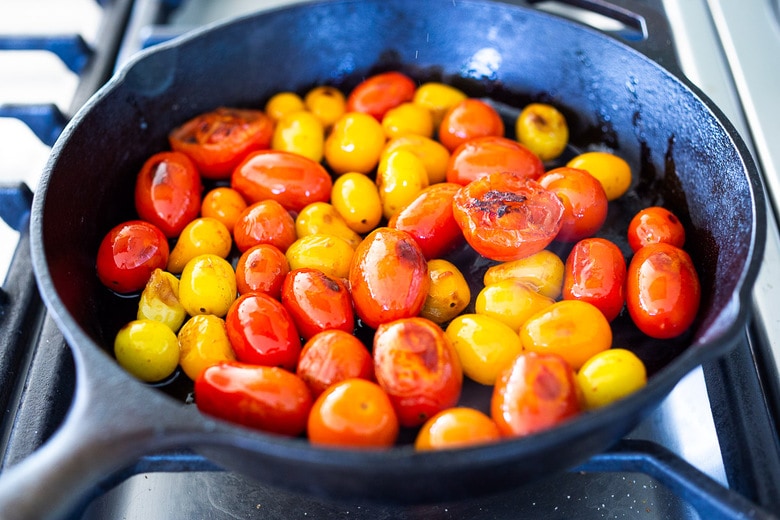 While they soften and blister in a skillet, start the risotto recipe by sauteing the onion or shallot until golden and tender. Add the garlic.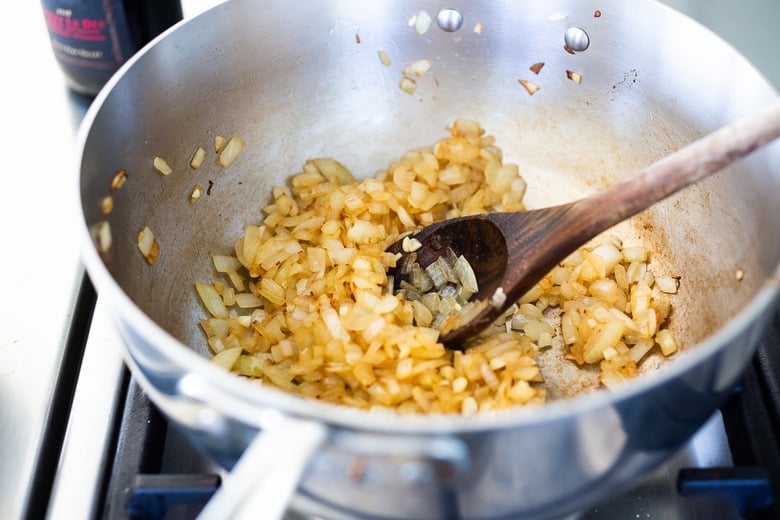 Add the arborio rice or short-grain rice.
Here I'm actually using a type of short-grain Spanish rice, typically used for Paella.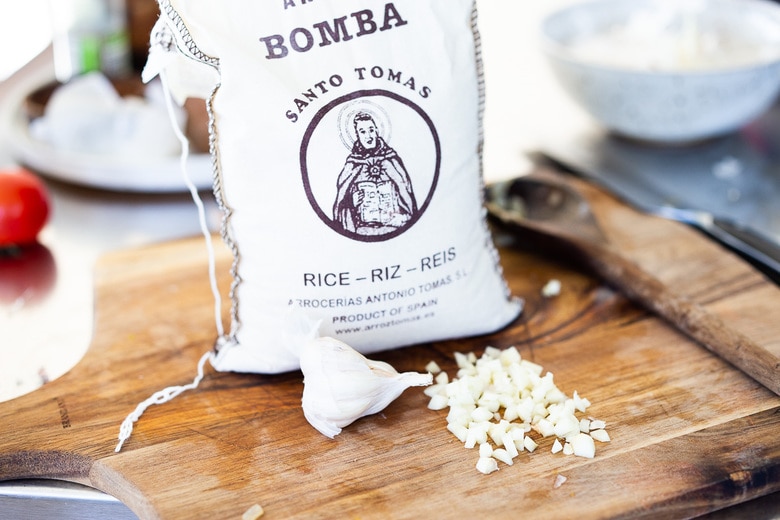 Saute the rice until it becomes translucent, 1-2 minutes. Deglaze with white wine if you like.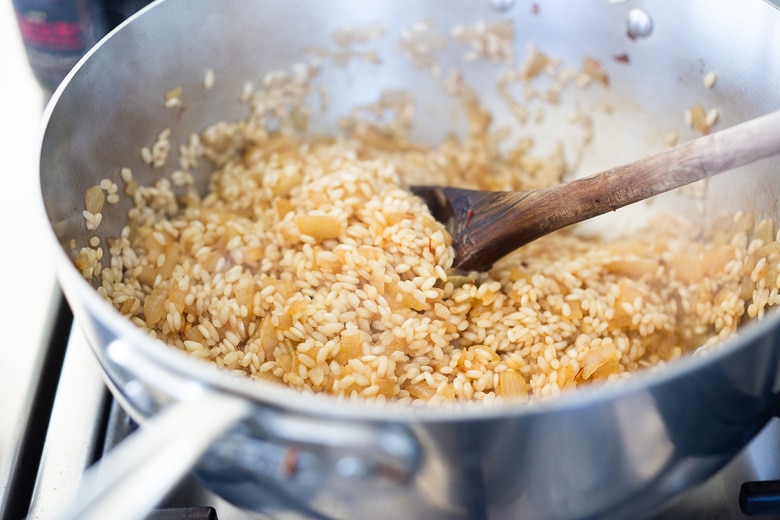 Add enough warm broth or stock to cover the rice, about 2 cups, along with a pinch of saffron.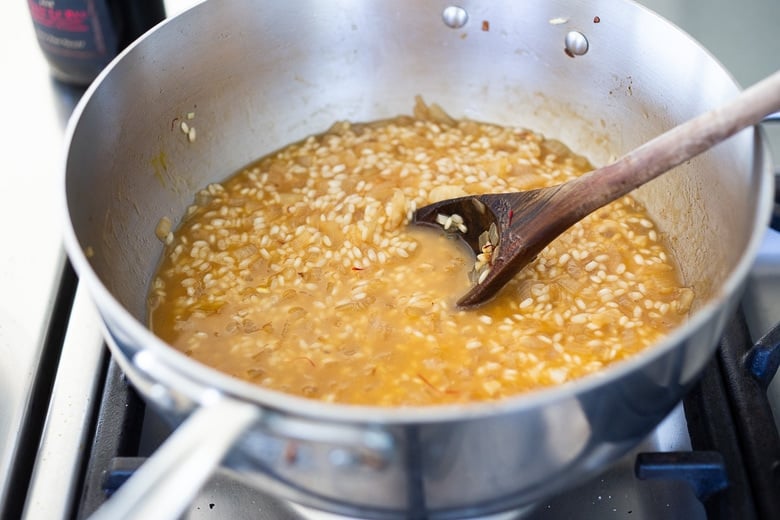 If your saffron is deep and red, it will only take a pinch. If it is lighter in color- like orange or yellow, it may take a couple of pinches. Crush it in your fingers before adding.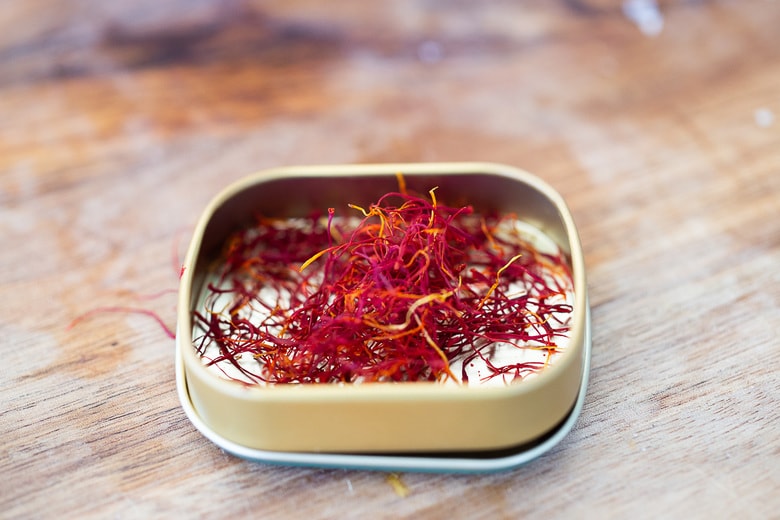 Then add the warm stock a cup at a time, stirring frequently, letting the rice absorb it, before adding any more.
Be patient here, this will take 20-25 minutes.
At the same time, chop up your cooled, blistered tomatoes and add these along with all their flavorful juices into to the risotto pot.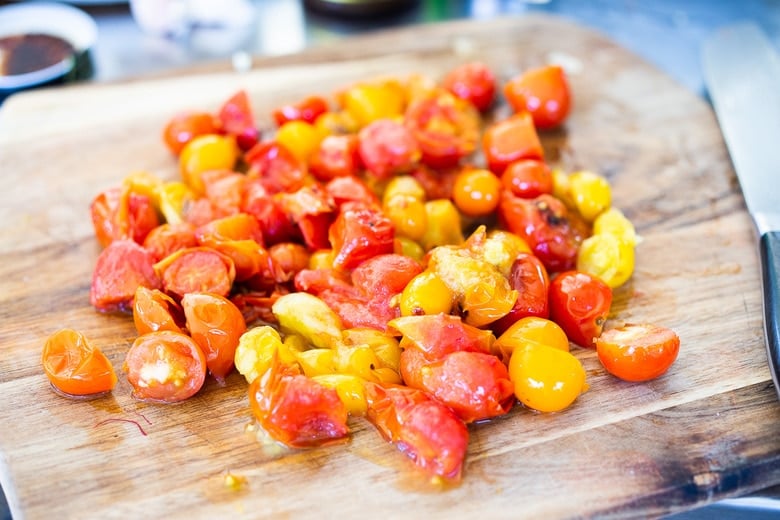 Keep adding stock a cup at a time, letting the rice absorb it, each time.  I used about 6 3/4 cups of veggie stock here, but depending on heat level and the type of rice, it may take more or less.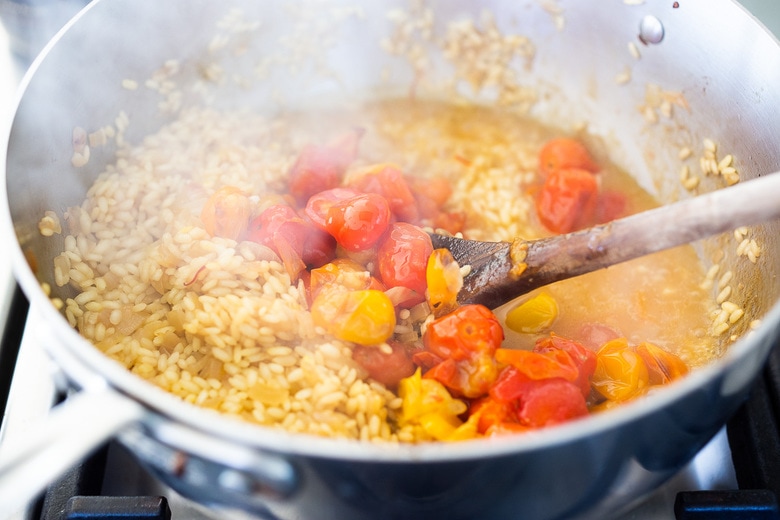 Once the rice becomes tender and has a creamy texture, season with salt, black pepper, smoked paprika, a little butter and parmesan cheese.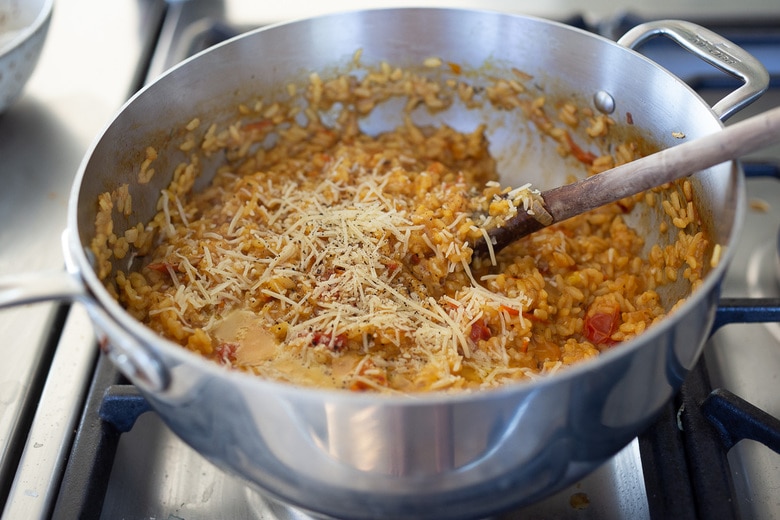 Some may prefer a "looser" risotto, one that lays flat in a bowl, so feel free to add more broth, right before serving to get the consistency exactly how you like it.
What is the secret to good risotto?
The secret to making the BEST risotto is achieving a creamy texture without overcooking and having the perfect flavor balance.
If risotto is bland, add more salt, black pepper and a pinch of chili flakes. Finish with some lemon zest for a touch of brightness.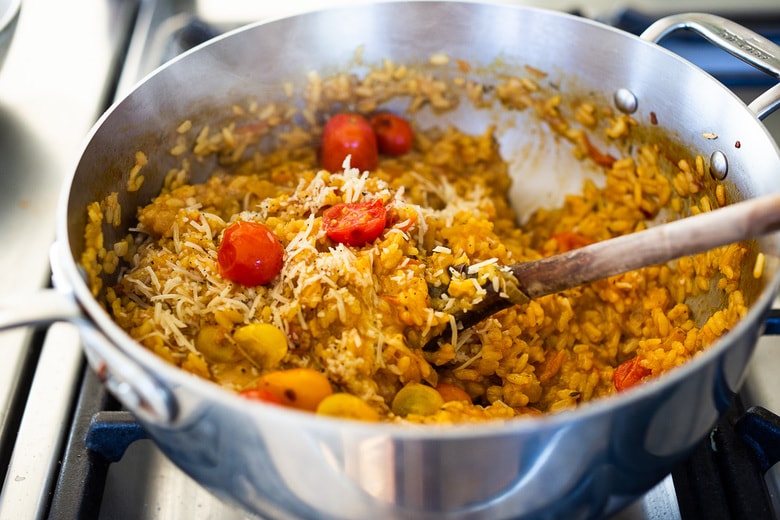 Serve this as a vegetarian main, or side dish.
Or feel free to add shrimp or salmon.
If adding shrimp, season with the spice rub in the recipe card.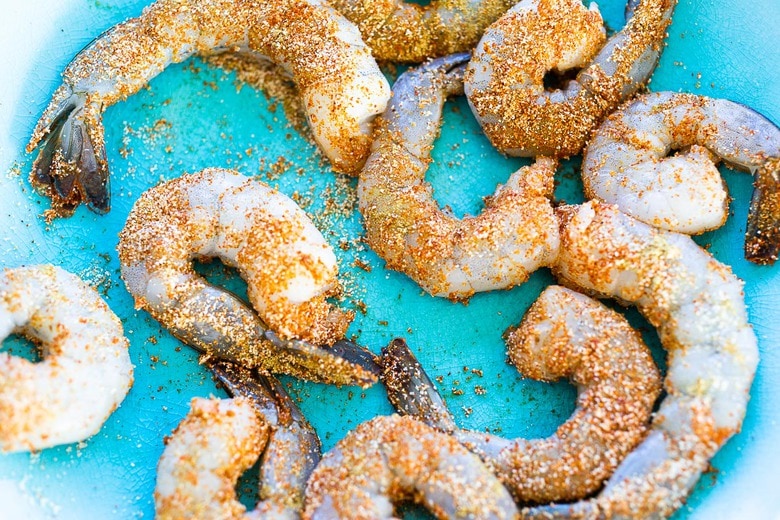 Pan-sear for a couple of minutes until golden and flavorful.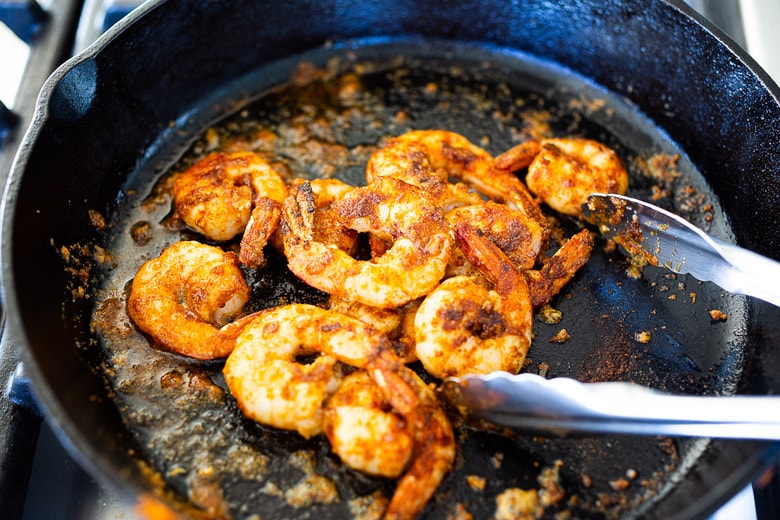 Top the tomato risotto with the flavorful shrimp.
Sprinkle some fresh herbs, parsely or fresh basil is nice.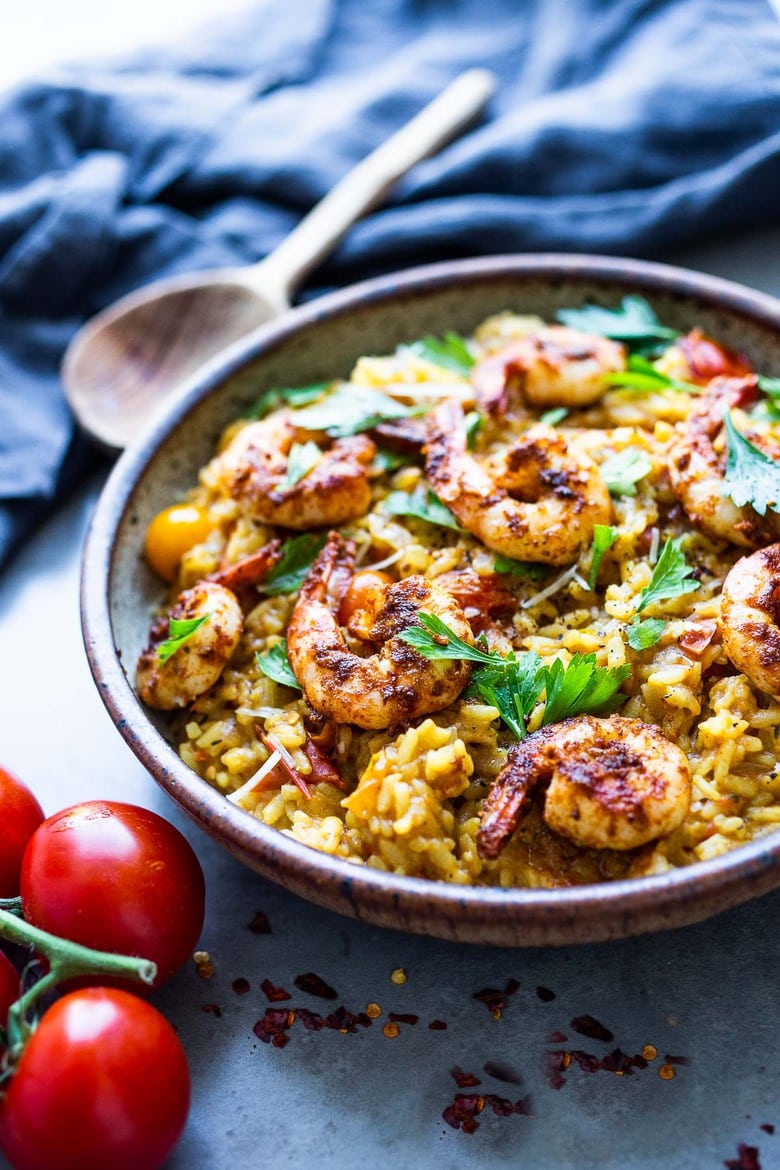 How to Make Risotto Ahead?
In our catering business, we would have to cook large batches of risotto on site. One way we handled this was to par-cook the risotto- meaning, partially cook it, cool it ,transport it, then close to serving time, heat it up adding more broth and finally the cheese. You can easily do this at home when entertaining.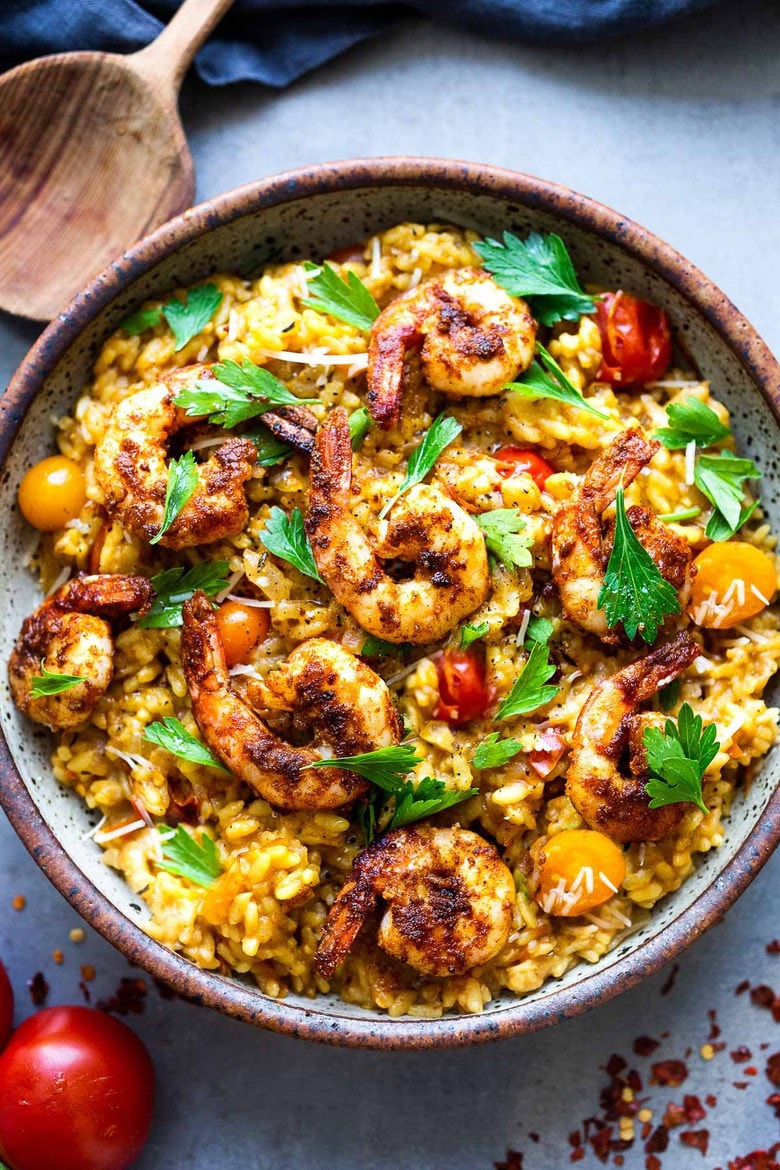 What to serve with Tomato Risotto
Little Gem Salad with Dilly Ranch Dressing
Fennel Salad with Cucumber and Dill
Can this be made vegan?
Yes, feel free to substitute vegan parmesan cheese and leave off the meat. Obviously, if you have both meat-eaters and vegetarians in the same house, you can add shrimp to some and leave shrimp off others. Super easy. 😉
How to store & Reheat leftover risotto
Leftover risotto gets even more flavorful after a couple of days (if it lasts that long!) as the flavors have a chance to meld. it will keep up to 4 days in the fridge, or freeze for up to 3 months. Just warm it back up in a pan on the stove with a little more broth or water, adjusting salt.
On the homefront: My husband started a nightly ritual of hot and cold dipping. Where we are staying in Santa Barbara there is a hot tub and a very cold pool.  Yes, we're spoiled. 😉 We wait until it's dark outside, and the stars and moon are gloriously bright, and we start our practice, first in the hot, then in the cold and repeat over and over.
In the beginning, I couldn't help how effortlessly Brian would slip into that freezing cold water, without a gasp, moonlight on his skin. I, on the other hand, would grit my teeth, gasp loudly and resist with all my might.  When I asked him how he did that so painlessly, he simply said, "Embrace the cold".
So several nights after that, I just started paying attention to what was happening as I stepped in that cold water. How my mind created fear around what was coming, how my body totally tensed in response to those thoughts.
My mind had made the cold out to be the enemy. It created a whole story around it. Eventually, I was able to see it for what it was. Just cold water. Something that would not kill me. 😉  I would be lying if I told you it's easy now. But, surprisingly, it's not quite as hard. It has been a good practice for me.
Of course, I can't help but look at other areas of my life and how this applies. When I resist and listen to stories in my head, instead of just feeling the real experience, I stop the beautiful flow that so wants be, and in its place comes anxiety, restriction, suffering.  When I let go of "stories", embracing whatever is, life becomes easier and more effortless. I know this, but I forget.
I love how the physical world mirrors and reminds us of our inner work. To me, these everyday lessons are so digestible.  So perfectly crafted for us. Kind of magic!
Other Related Recipes you might like: 
Ok friends, I'm curious if you'll like this one as much as we do.
Tell us what you think in the comments below with any adaptations you make.
Thanks and hope your week is well!
xoxo
Print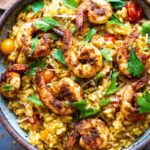 Tomato Risotto with Saffron
Prep Time:

15

Cook Time:

45

Total Time:

1 hour

Yield:

4

1

x

Category:

vegetarian, seafood

Method:

stovetop

Cuisine:

Spanish

Diet:

Vegetarian
---
Description
Tomato Risotto with juicy vine-ripened tomatoes, and infused with saffron, can be served as a vegetarian main or side dish, or topped off with smoky shrimp.
---
1

lb

cherry or grape tomatoes

1 tablespoon

olive oil
Risotto:
1

white or yellow onion, diced

2 tablespoons

olive oil

4

–

6

cloves garlic, rough chopped

1 teaspoon

dried thyme (or

1 tablespoon

fresh)

1 1/2

cups

arborio rice or Spanish short-grain rice
pinch saffron

1/2 teaspoon

salt

1/2 teaspoon

pepper

1/4 teaspoon

smoked paprika

6

–

8

cups

veggie stock or chicken stock, warmed

1 tablespoon

butter

1/4

cup

grated parmesan
Garnishes: Italian parsley (or basil), lemon zest, and chili flakes
Seared Prawns (optional, see notes) 
---
Instructions
BLISTER TOMATOES In a large skillet, heat oil over medium-high heat. Add tomatoes (whole) and sear, stirring occasionally, until they burst and soften, about 7 minutes. Turn heat off. Chop if extra-large.
MAKE RISOTTO: At the same time, in a large heavy-bottomed pot or dutch oven, heat the olive oil over medium heat and add the onions. Saute until golden about 10-12 minutes. Add garlic and thyme, saute 2 more minutes until fragrant.
Add the rice, saute 1 minute, stirring.  Add 2 cups warm stock (enough to cover the rice), saffron and smoked paprika, stir and bring to a simmer. Simmer until most of the liquid is absorbed. Add 1 cup broth and the tomatoes and all their juices. Stir until all the liquid is absorbed. Continue adding broth 1 cup at a time, letting the rice absorb it slowly, stirring often over med-low heat, until the rice is plumped, slightly al dente, yet creamy, about 20-25 minutes. You may not need all 8 cups. ( I used 6 3/4).
Stir in the butter and parmesan. Season generously with salt, pepper, and optional chili flakes.  Taste, adjust salt. If bland, it probably needs more salt.
Serve as a flavorful side or vegetarian main, garnishing with fresh parsley and lemon zest.
Optional Seared Prawns:
If adding the prawns, mix spices and salt in a bowl. Coat shrimp with the spices. Heat 2-3 tablespoons oil in a skillet (you may need to do this in batches) over medium-high heat, sear each side 2-3 minutes or until cooked through.  Top the risotto with the seared prawns.
---
Notes
Feel free to sub white fish (halibut, cod, sea bass, black cod, etc.) or scallops for the shrimp. Sometimes I'll add whole cumin seeds to the rub for extra texture.
Serves 4  as a main, or 8 as a side dish.
Nutrition
Serving Size:

1 ½ cup serving without shrimp

Calories:

435

Sugar:

6.9 g

Sodium:

943.1 mg

Fat:

12.1 g

Saturated Fat:

3.8 g

Carbohydrates:

73.1 g

Fiber:

2.8 g

Protein:

9 g

Cholesterol:

11.2 mg
Keywords: tomato risotto, vegetarian risotto, shrimp risotto,