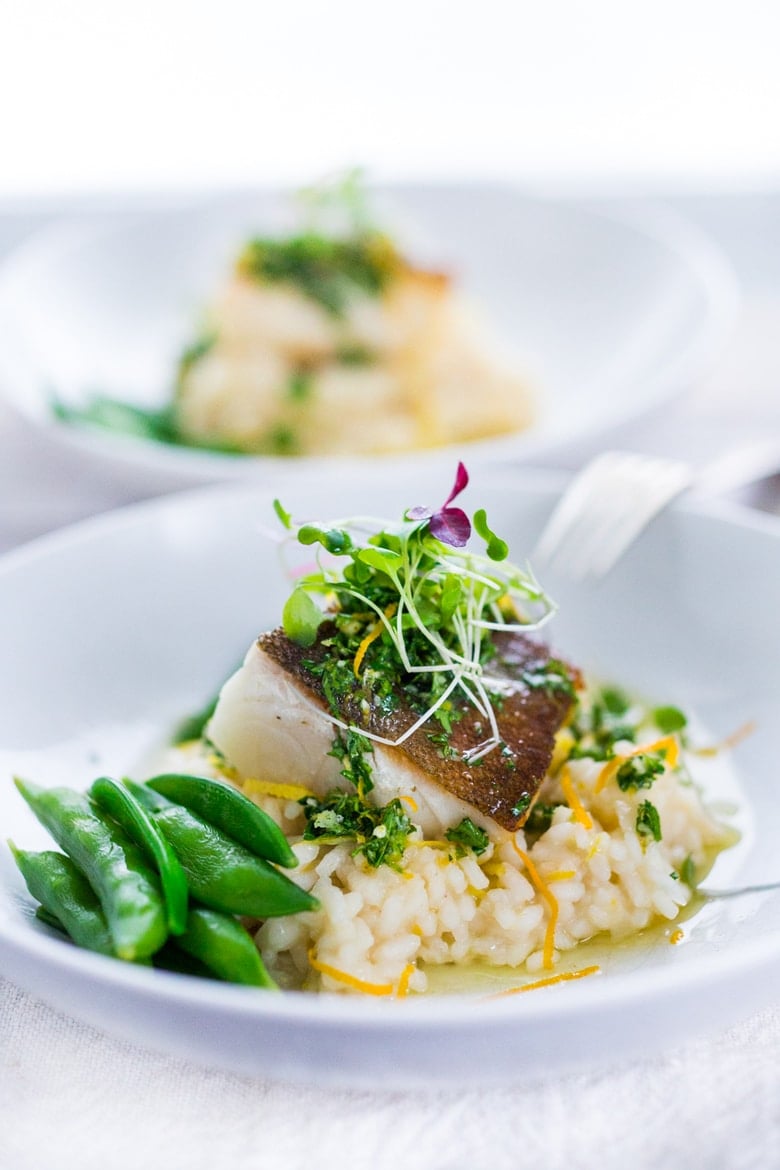 This recipe for Seared Black Cod with Meyer Lemon Risotto and Gremolata is in this month's edition of Edible Seattle, a beautiful bi-monthly magazine which features the best of Washington growers and producers. I'm so excited because Edible Seattle's reach is finally expanding over to our neck of the woods- and this issue highlights one of our own local producers, Flora Yogurt Co., with more features on the horizon.
This healthier, lightened up version of Meyer Lemon Risotto is topped with Seared Black Cod (or feel free to substitute seabass, halibut or even scallops) and drizzled with Gremolata– a quick flavorful sauce of parsley, lemon zest, garlic and olive oil – to me, it's a match made in heaven. The Gremolata is delicious on so many things, and has so many uses, it is a good thing to add to your kitchen repertoire. Serve this with blanched spring peas, or simple roasted asparagus and garnish with micro-greens for a fresh, healthy looking plate.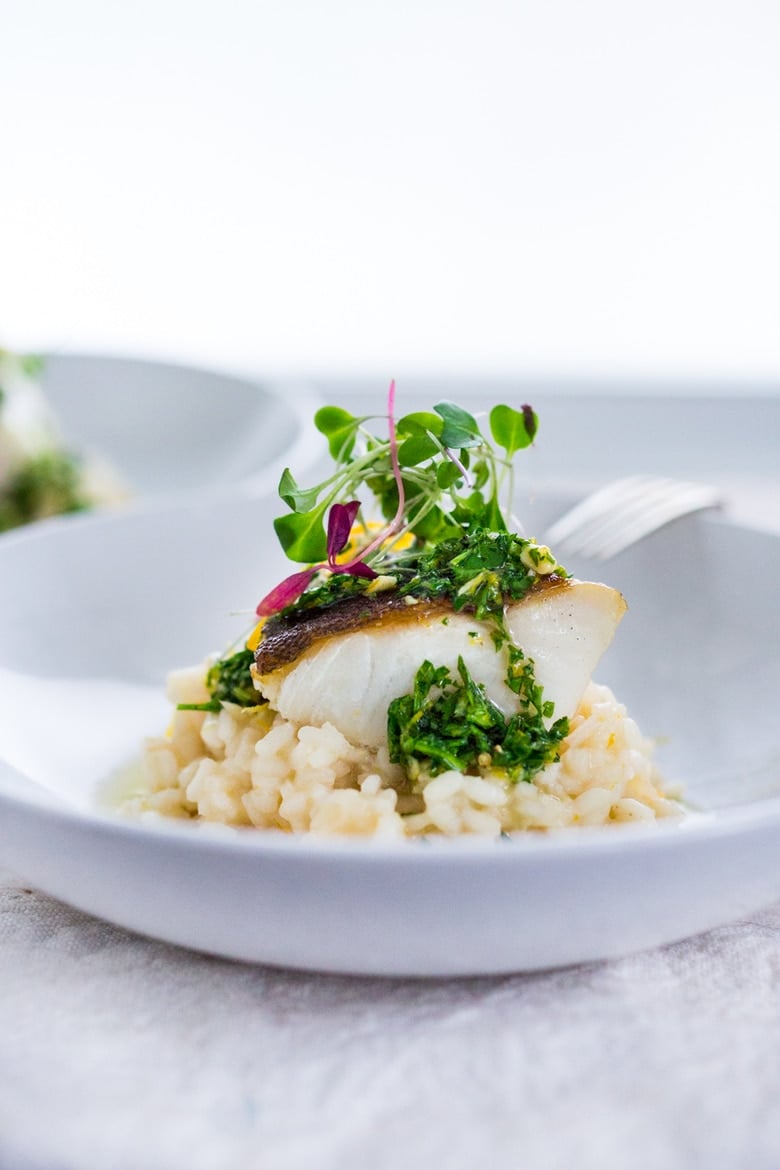 The fish is seared with the skin on- giving it a nice crispness, but if skin is not your thing, simply buy it without. If going for crispy skin, make sure to serve it skin side up, so it doesn't get soggy in the risotto.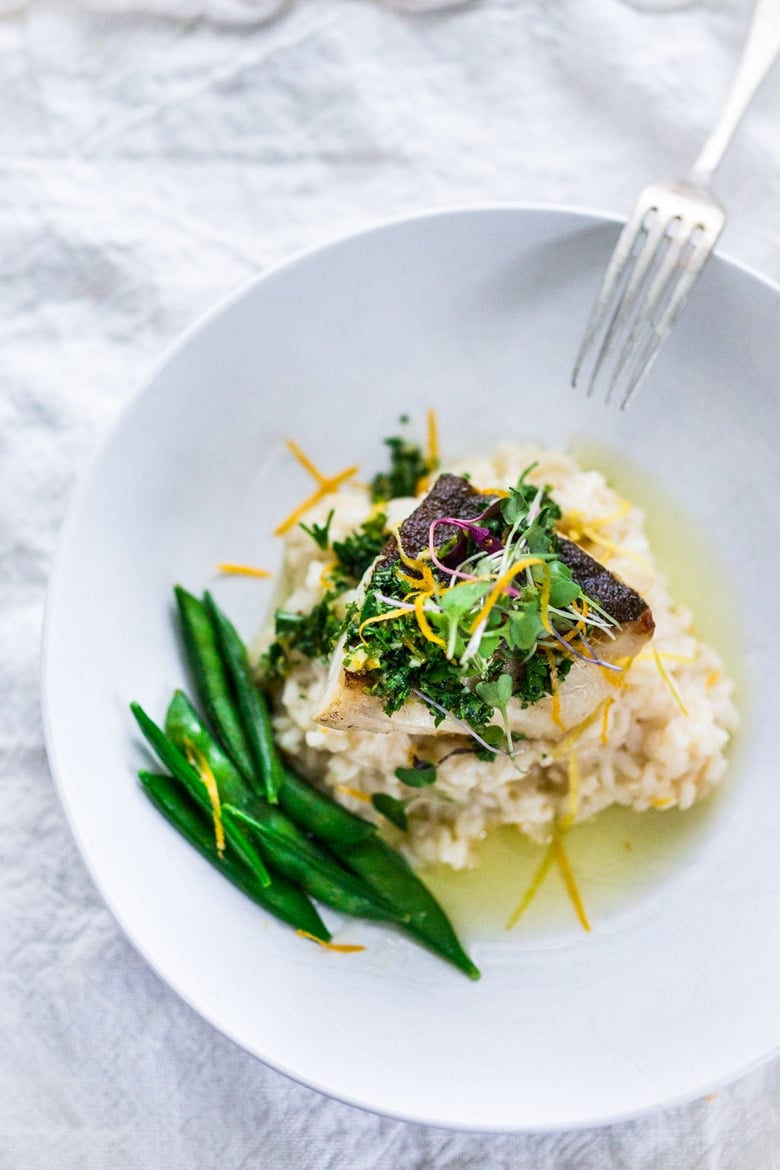 On the home front:
We are back home from our Northern California Seaside escape, feeling recharged from all the sunshine and hiking. Marin County is one of my favorite places on earth, it's pretty magical. I'm feeling very grateful for our time spend there.
In a few days, I'm going to the Amalfi Coast with a couple of girlfriends, then attending a food photography class in Rome. Hopefully you'll notice improvements in my photography afterwards…. anyways, so very excited!
Happy weekend!
Print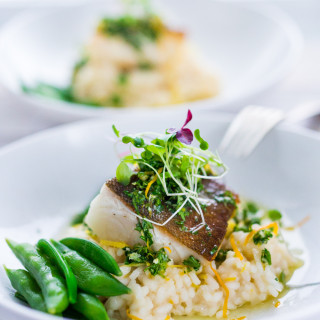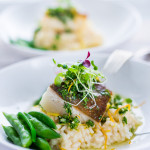 Seared Black Cod with Meyer Lemon Risotto and Gremolata
Prep Time:

20 mins

Cook Time:

40 mins

Total Time:

1 hour

Yield:

4

Category:

Main- Fish and Seafood

Cuisine:

Mediterranean
---
Description
A delicious recipe for Meyer lemon risotto topped with seared white fish and drizzled with a flavorful lemon herb sauce, called gremolata.
---
2 tablespoons

butter or oil

1 cup

white onion, finely diced

2 cups

aborio rice

1 cup

white wine

4

–

5

cups hot water or stock

1 1/2 teaspoon

salt ( less if using stock)

1/4 teaspoon

white pepper

2

meyer lemons, juice and zest
——

1/2 cup

chopped Italian parsley

1

meyer lemon- zest and 1 1/2 Tablespoon lemon juice

1/3 cup

olive oil, plus 1 Tablespoon

1

garlic clove- finely minced
generous pinch salt
—-

1

pound filet of Black Cod (or halibut, scallops, or seabass) skin on ( optional) cut into 4 pieces
pepper
Garnish with micro greens, meyer lemon zest
---
Instructions
In a medium heavy bottom pot, melt butter over medium heat.
Add onions and saute until tender about 5-7 minutes.
Add rice and saute 5 minutes, stirring often, using a wood spoon.
Add wine, reduce heat to medium low and stir until fully absorbed about 5 minutes.
Add 1/2 cup hot water and stir until absorbed, and continue adding the remaining water, a 1/2 cup at a time ( about 4 cups total) stirring continuously, until the liquid is absorbed and the rice is al dente, about 15 to 20 minutes over medium low heat.
Add the salt, white pepper, the zest of two meyer lemons and the juice of 1 1/2 meyer lemons.
Taste and adjust salt and lemon if necessary.
Cover and set aside until ready to serve.
Make the Gremolata by placing all ingredients in a small bowl and stir to combine.
In a heavy bottom skillet heat a couple tablespoons of olive oil over medium high heat.
Blot fish dry, and salt and pepper both sides.
Place skin side down in the skillet and sear. After a couple minutes give the skillet a shake to loosen the fish.
Turn heat to medium, and continue searing the skin side for about 5 minutes, until skin is nice and crisp.
Turn the fish over, turn heat down to med-low and cook for just a couple minutes.
When ready to serve, "loosen" the risotto by adding another 1/2 cup of hot water and stir.
Divide among plates, top with seared fish, skin side up ( to prevent soggy skin)
Spoon the gremolata on and around the fish and top with micro greens and meyer lemon zest.
Serve with roasted asparagus or blanched sugar peas.
---