This post may contain affiliate links. For more information, please see our privacy policy.
 Vegan Ramen with Miso Shiitake Broth- a delicious healthy ramen recipe with mushrooms, tofu, bok choy, sesame seeds and scallions in the most flavorful broth! One of our favoite vegan recipes on the blog! Plus a simple tip to making this "creamy"!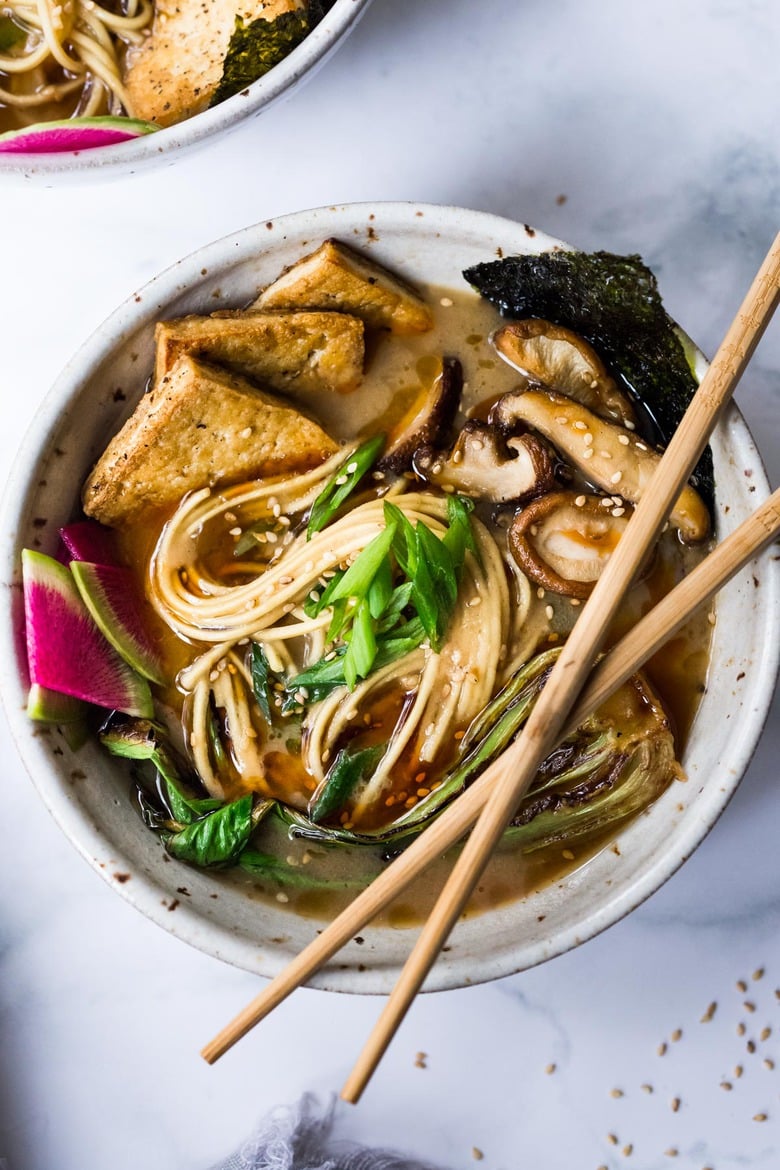 Sumptuous and oozing with flavor, a good bowl of Ramen is pure comfort food. Here's a recipe for Vegan Ramen that is made with a flavorful, rich Miso Shiitake Broth. This is actually one of the oldest recipes on the blog that desperately needed a little updating. I simplified the recipe and updated the photos… I hope you like it!
What I love about this recipe, is you can meal-prep the flavorful broth on a Sunday, then store it in the fridge in a jar, for the busy workweek, heating it up as you need it, pouring it over noodles and veggies. Deeply satisfying and nurturing.
---
How to Make VEGAN RAMEN! | 45-second Video
---
While in Japan, we tried many different types of Ramen. I can honestly say, that every single bowl I had there was a mind-blowing experience. Every bowl was the best bowl of ramen, I'd ever had. It's crazy how nuanced and different each one was, each with a personality of its own.  Anyways, I'll never forget it.
Three components to ramen:
The broth
The noodles
The toppings
Four most popular types of ramen broth:
Shio ramen with its clear, light-bodied salty chicken broth
Shoyu Ramen, a soy sauce flavored chicken broth
Tonkotsu ramen, a rich pork-based broth, which is fatty and milky white in color.
Miso ramen, which is miso-based.
How to make Vegan Ramen:
This recipe starts with the flavorful broth! It's hard to believe the broth is totally plant-based, it has so much flavor!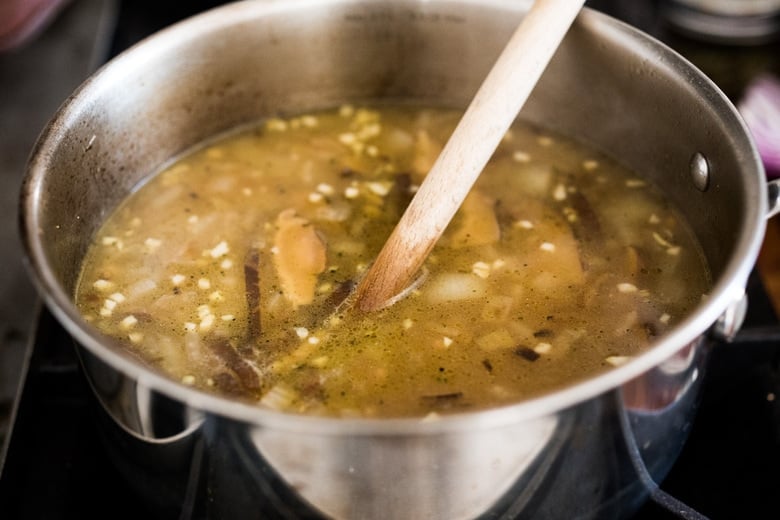 How to make the BEST VEGAN RAMEN BROTH: 
Deeply caramelize the onions (you could even char them over a wood fire!)
Add veggie stock, water and dried shiitake or fresh mushrooms.
Add a sheet of  Kombu, dried kelp found in Asian markets adds complexity and depth.
Add a splash of MIRIN
Miso paste! Use this instead of soy sauce, for better flavor.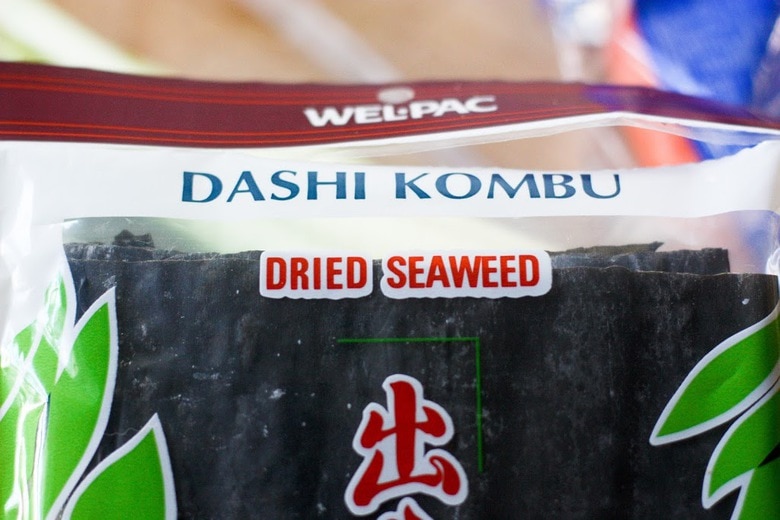 WHAT IS KOMBU?
It's basically a type of sea kelp, that adds complexity, depth and that
delicious umami flavor we all crave.
 It's different than
nori
(
nori
is seaweed,
kombu
is kelp). It is typically used in Japanese cooking to make Dashi Broth. Here we are borrowing that idea for this vegan ramen broth. Now you can leave the
kombu
out, if in a pinch, but to elevate this, add the
Kombu
!
Make sure to rinse the
Kombu
first before placing it in the stockpot with other ingredients.
Bring to a boil and turn heat down to medium, and simmer  30 minutes (uncovered), remove
kombu
 and season, this will impart depth and complexity to the ramen broth.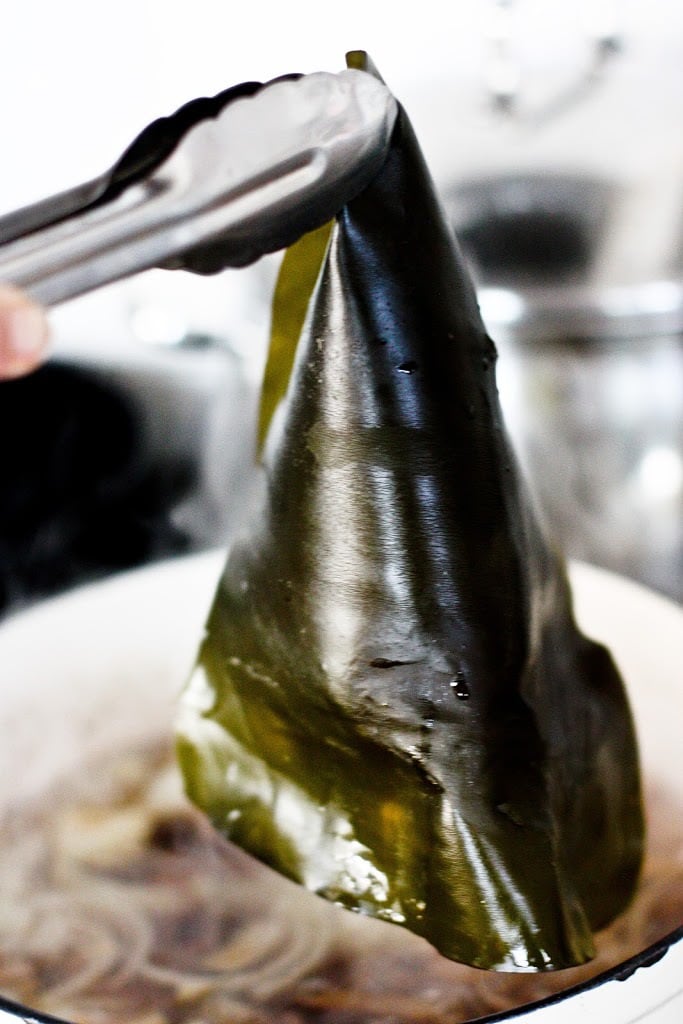 TIP: For a "creamy" style ramen broth, blend up the broth after it's cooked – those tender shiitakes will give it a delicious creaminess! Or leave it unblended and brothy- up to you!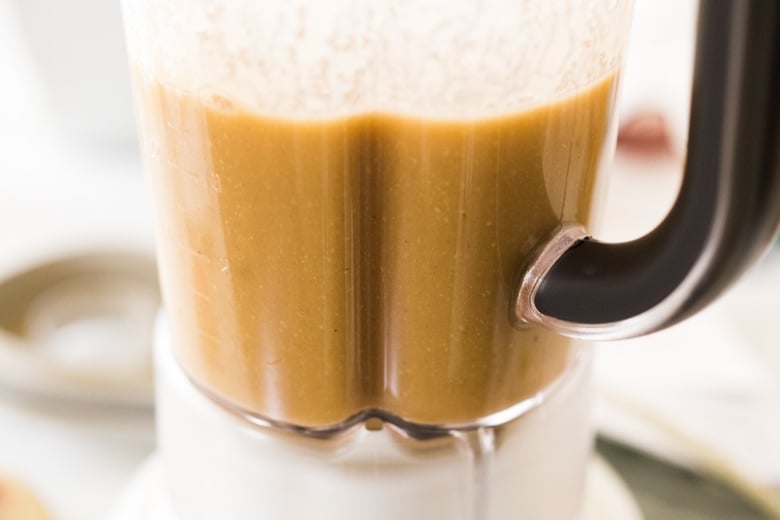 While the flavorful broth is simmering, prep any other veggies. In winter, I'll add
roasted veggies
, in summer, fresh crunchy veggies.
Today I've added baby bok choy, fresh shiitake mushrooms and
crispy tofu
.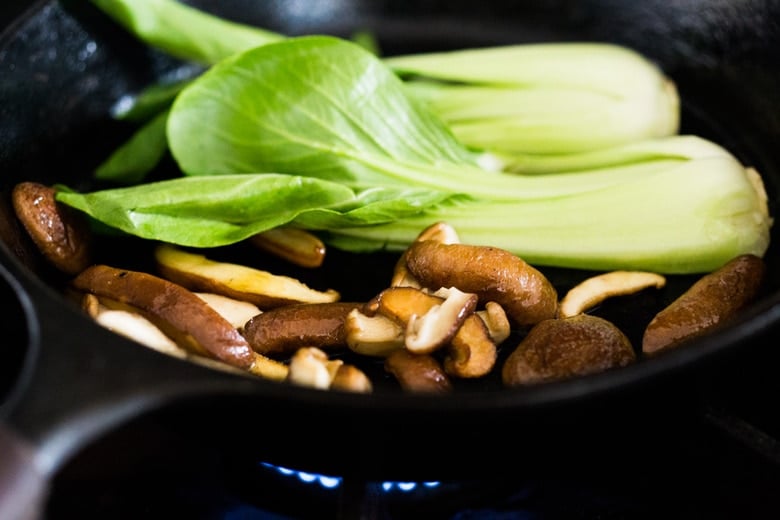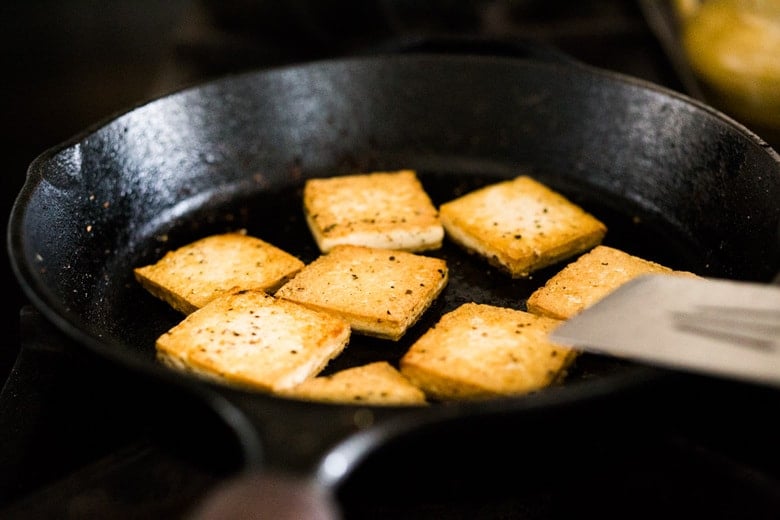 OPTIONAL VEGAN RAMEN TOPPINGS:
bamboo shoots,
seaweed (nori),
corn,
carrots
daikon radish
finely shredded cabbage
steamed bok choy
mushrooms (smoked are nice- see below!)
baby spinach,
scallions,
pickled vegetables
roasted veggies (especially nice in winter)
braised winter greens
You can always add a soft jammy boiled egg- obviously not vegan. 😉
And I love these little enoki mushrooms for garnish – just use fresh and raw! They are so tiny they will cook enough in the ramen broth.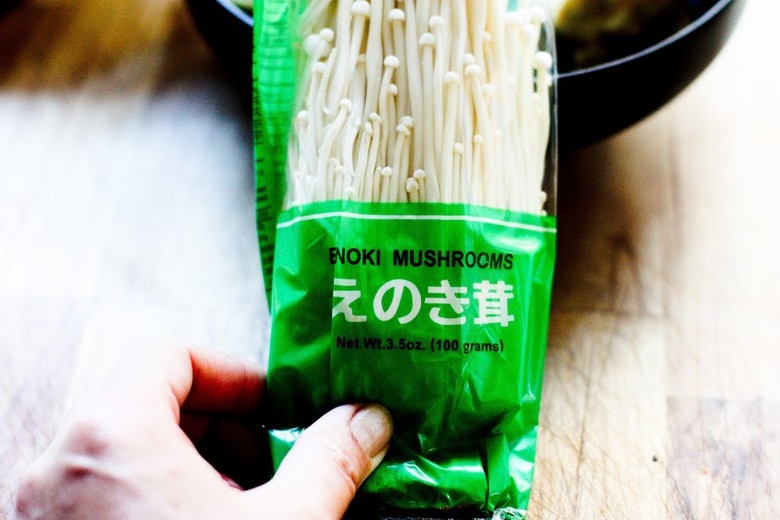 Enoki mushrooms (also referred to as the velvet shank) are delicate yet flavorful mushrooms that grow on tree trunks, roots and branches mostly found in Japan.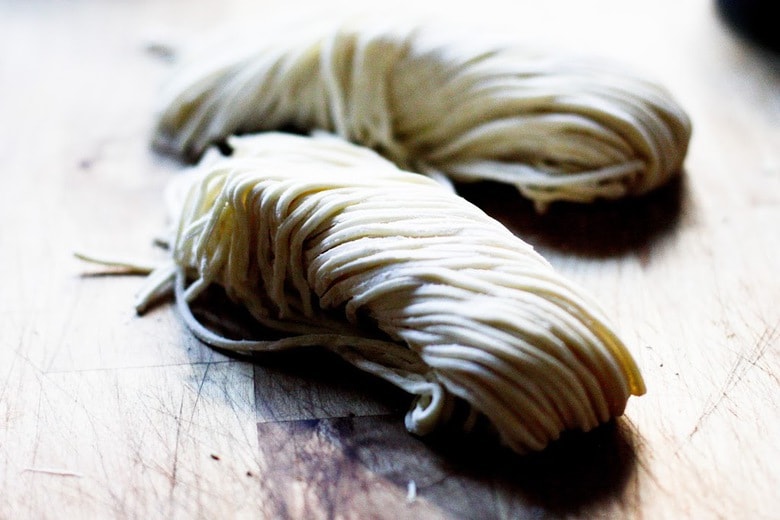 What are RAMEN NOODLES:
There are two main types of ramen noodles used for ramen, yellow egg noodles, and white flour noodles. In the past, yellow egg noodles were the most common – these are the type found in most dried ramen packages.
Recently, flour noodles have been gaining in popularity. The two types differ in size and texture. Egg noodles are fairly thin, firm to the palate, and slightly curly. Flour noodles are soft and wide.
Many Japanese say that the ramen noodles found in the United States lack the depth of flavor because of the absence of kansui, a highly alkaline mineral water found in Asia. Some chefs use baking soda in their noodles to approximate the flavor.
These ramen noodles shown above are freshly made, vegan, all-flour noodles, available in the refrigerated section at the Asian market. To cook, follow the directions on the package. You could also use gluten-free rice noodles.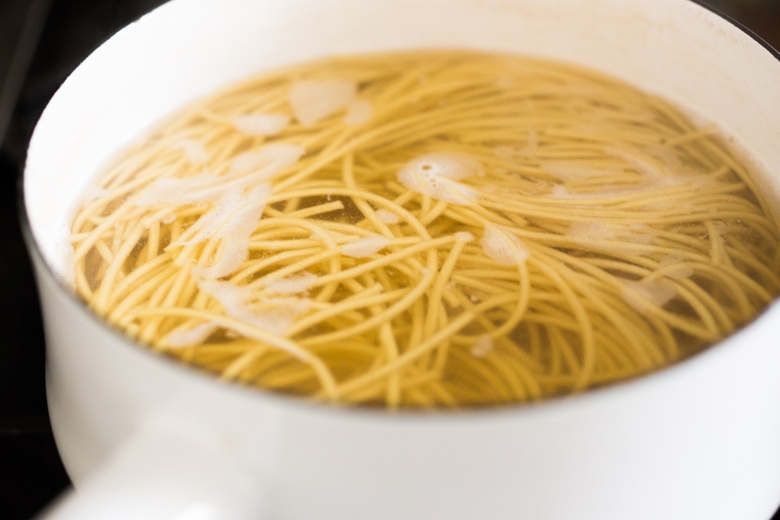 Assemenble the Ramen Bowls:
Begin filling your veggie ramen bowls with noodles first,  then the toppings.
I love adding a piece of toasted nori to the bowl- it gives it a delicious flavor.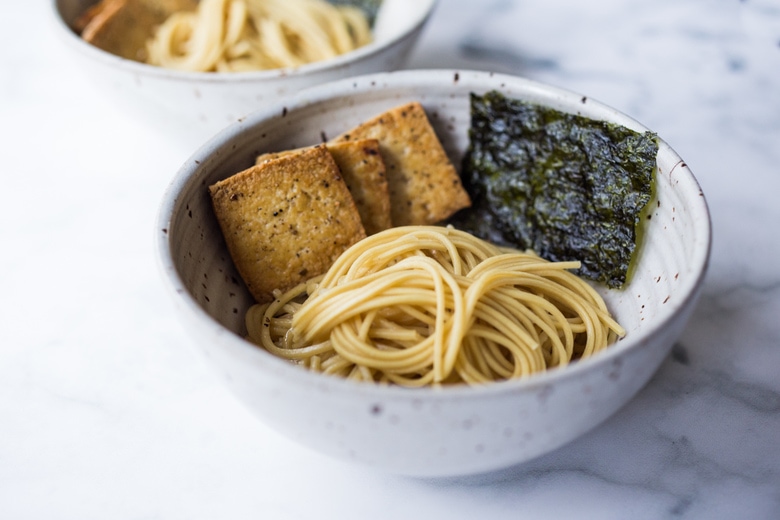 Then top with your veggies (bok choy and mushrooms) and garnishes. You could also try your hand at Smoked Mushrooms! Super easy and flavorful!!!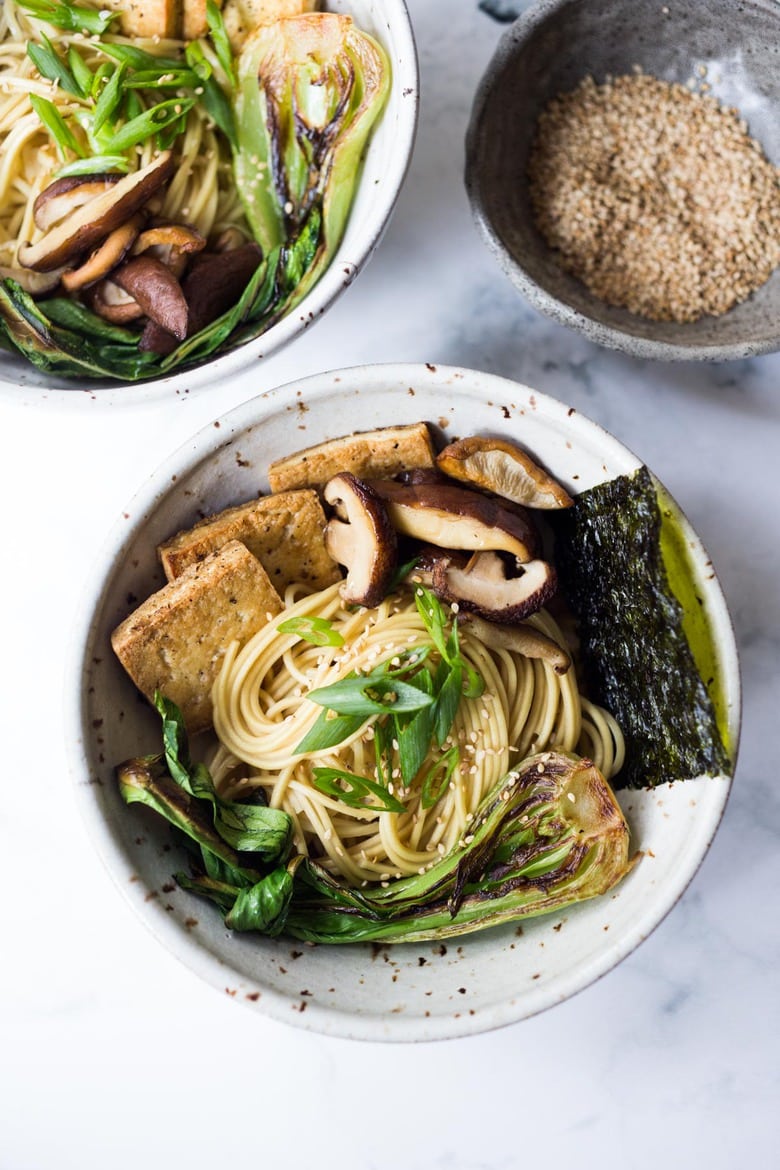 Then pour the steaming hot ramen broth over top.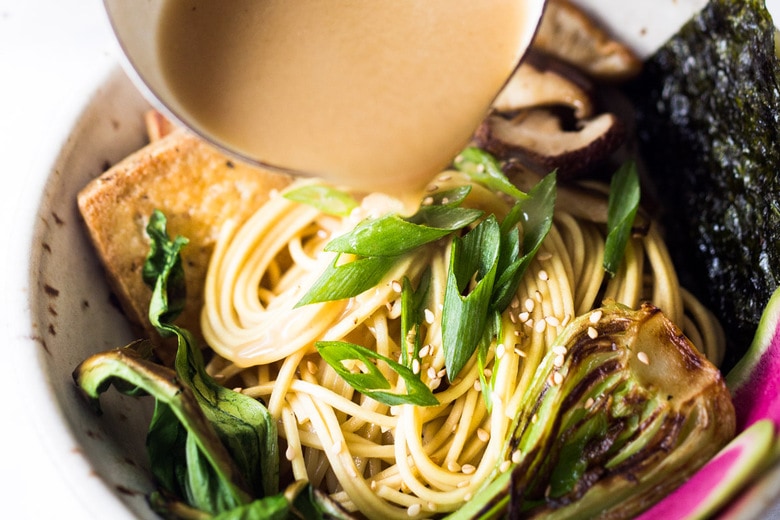 Season with sesame oil, and sriracha sauce if you like.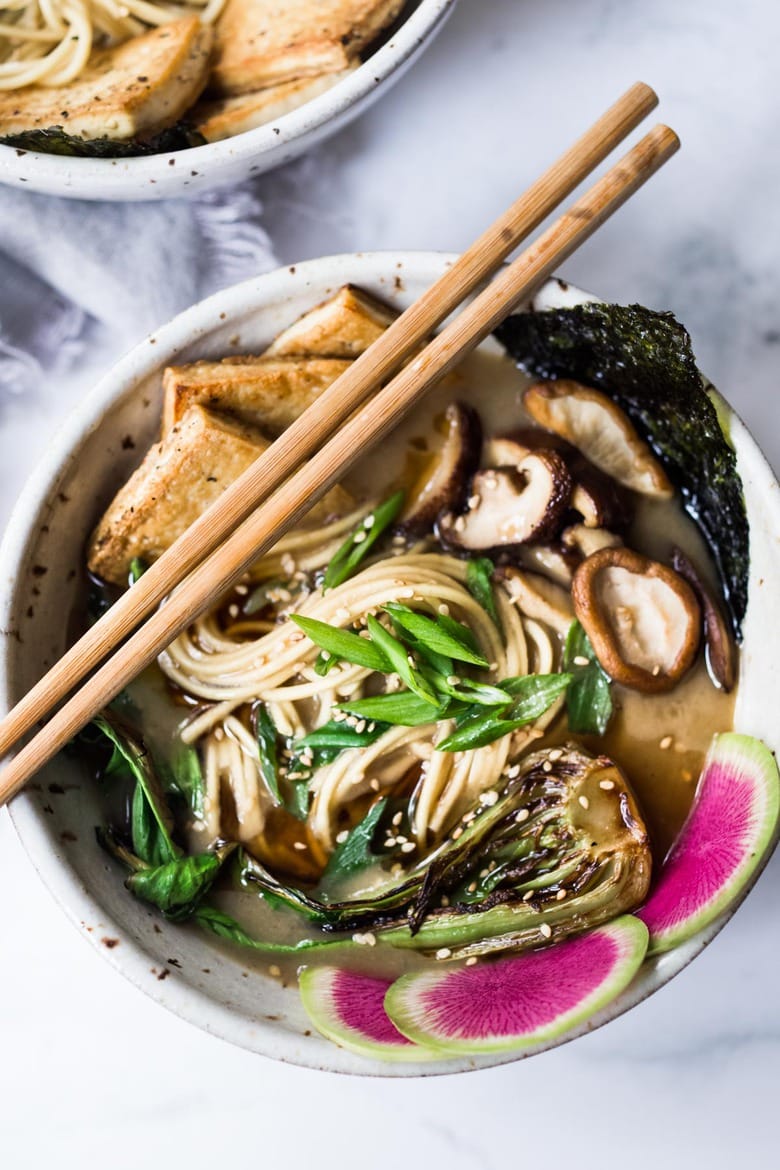 I love adding something crunchy and fresh for texture- these watermelon radishes are nice or try daikon radish or Japanese pickles.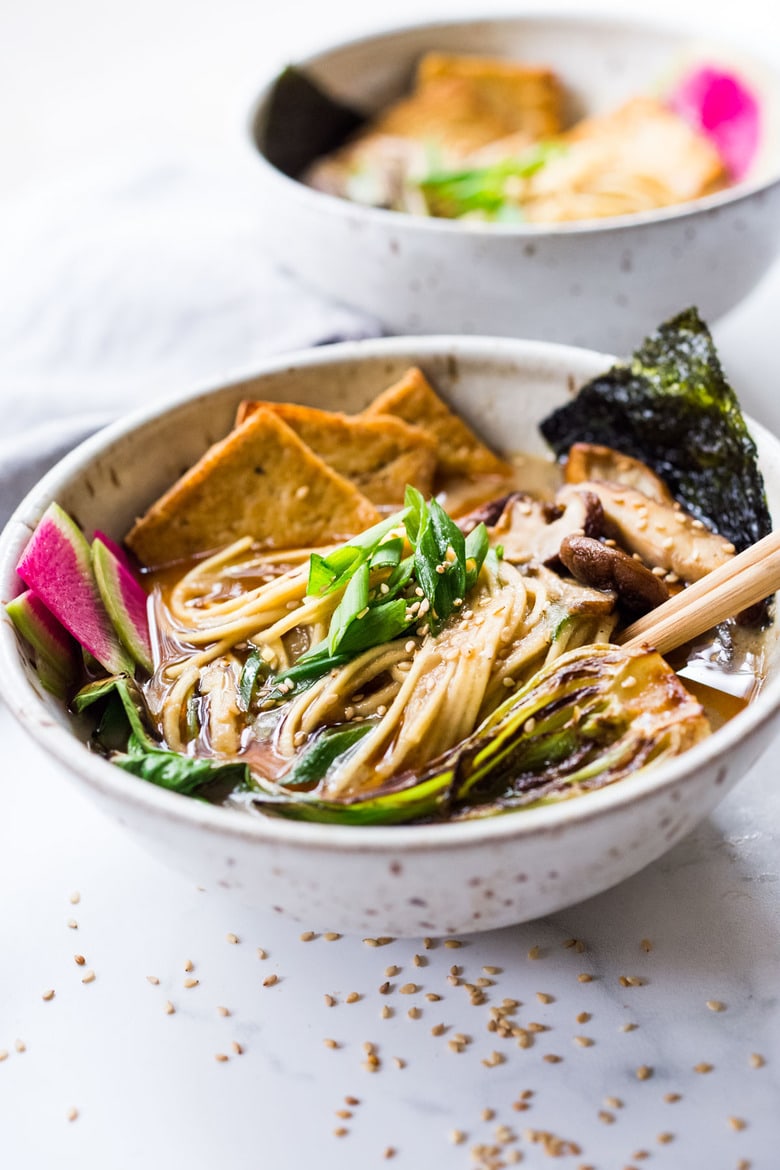 Sprinkle with sesame seeds or Furikake, and a little drizzle of sesame oil… and Slurp Away!
Let me know how you like this recipe for Vegan Ramen in the comments below!
xoxo
More vegan recipes you may like:
Print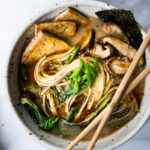 Vegan Ramen with Shiitake Broth
Prep Time:

20 mins

Cook Time:

40 minutes

Total Time:

1 hour

Yield:

4

1

x

Category:

Vegan, soup

Method:

Stovetop

Cuisine:

Japanese
---
Description
Vegan Raman with Miso Shiitake Broth – a simple delicious recipe for making the most flavorful bowl of vegan ramen soup!
---
Flavorful Vegan Ramen Broth:
1

large onion-diced

2

smashed garlic cloves

1

–

2

tablespoon olive oil

4

cups

veggie stock

4

cups

water

1/2

cup

dried Shiitake Mushrooms, broken into small pieces (see notes )

1

sheet Kombu seaweed (available at Asian markets) –optional, but good!

1/8

cup

mirin ( Japanese cooking wine)

1

–

2

tablespoons white miso paste
pepper to taste
for spicy, add sriracha to taste, or hot chili oil
RAMEN:
---
Instructions
Assemble Ramen Bowls: 
Fill bowls with cooked noodles, crispy tofu and any other veggies you want. Pour the flavorful Shiitake broth over top. Garnish with a little drizzle of sesame oil and sriracha. Top with scallions and sesame seeds.
Serve immediately.
---
Notes
Make sure to break or chop the dried shitakes into small pieces.
OPTIONAL: To make a Creamy broth: Blend the finished broth in a blender.  The shiitake mushrooms will give the broth a rich creaminess. Or you could blend half the broth for semi-creamy. 🙂
Nutrition
Serving Size:
Calories:

335

Sugar:

10.1 g

Sodium:

1295.8 mg

Fat:

13.8 g

Saturated Fat:

1.8 g

Carbohydrates:

59.5 g

Fiber:

4.3 g

Protein:

13.9 g

Cholesterol:

0 mg
Keywords: Ramen, vegan ramen, vegan ramen broth, creamy ramen broth, best vegan ramen, veggie ramen recipe, vegan ramen broth, shiitake mushroom ramen broth, vegan ramen broth,