This  Zen Noodle Bowl- is loaded up with fresh seasonal veggies and a delicious Ponzu Dressing, and  can be made with your choice of sesame crusted tuna or ginger tofu! Vegan and grain-free adaptable! (Try it with zucchini noodles!)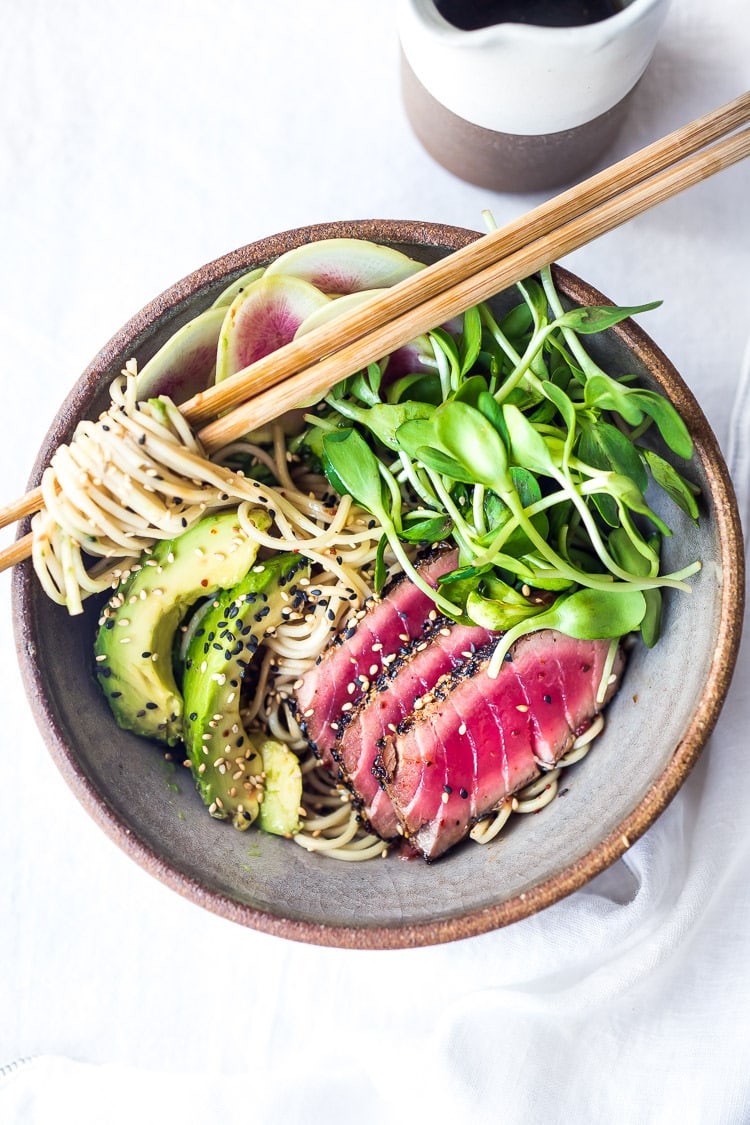 "The next message you need is always right where you are."  ~Ram Dass ~
Here's a tasty little Japanese-inspired noodle bowl that can be made with sesame crusted ahi or sesame ginger tofu, your choice. In mixed households, feel free to provide both options along with an assortment of seasonal veggies for people to create their own personal Zen Noodle Bowl. Then spoon the flavorful Ponzu dressing overtop. If going grain free, or low carb, serve this with sautéed zucchini noodles or   cauliflower rice. A super tasty healthy meal that can be made in 30 minutes!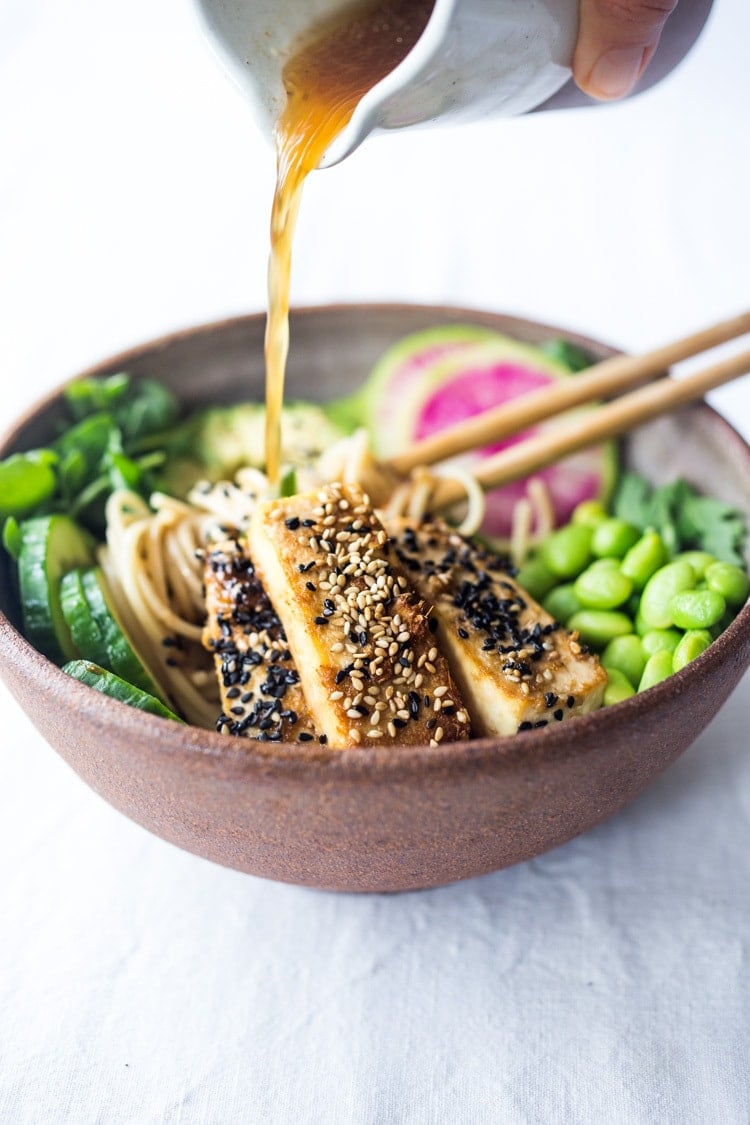 On the home front: We turned around and are heading back up the west coast and have landed on a little perch overlooking the beautiful green valley that surrounds Mt Tamalpais, just around the corner from Muir beach. This, to me, is the most beautiful place on earth. I return here time and time again, and leave even more in love.
If I could live here, I would. Tall dramatic cliffs line the ocean, and my favorite of all trees, eucalyptus, abound. The place has remained wild and it's teeming with life- coyote, bobcats, great horned owls, and birds a plenty- so many, Brian has been glued to his binoculars. It has been a gift for the soul.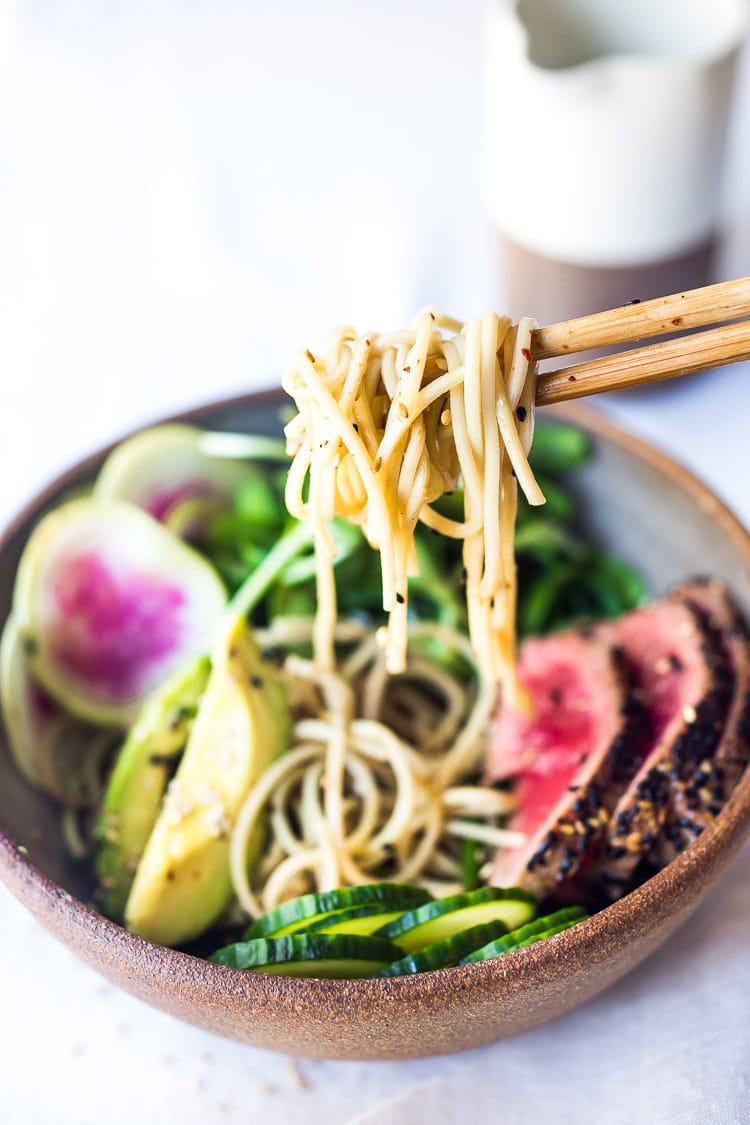 The last time I was here, in March, a couple of friends and I went to the Zen center, at Green Gulch Farms, and attended their open meditation. I'd been dabbling with meditation for a couple of years…but mind you just short periods, only 10-15 mins at a time. So this was the real deal (45 minutes) and I was a little nervous.
Would  I go crazy? The center was large and spacious with meditation cushions on the floor and rows and rows of chairs. I sat in a chair instead of sitting cross-legged on a cushion, purely out of comfort. People filed in, and the large hall completely filled up.
One had to sit very still, because every sound was amplified. The meditation began with a series of gongs, and I closed my eyes ready to quiet my mind.
But as luck would have it, I began to hear this noise that sounded like nails on a chalkboard.  A squeak. Right behind me. Every few seconds. What is that? I thought. It was just loud enough to be annoying. As I sat there wondering where the sound was coming from was, it dawned on me – it was the chair behind me. Every time the person sitting behind me exhaled, their chair made a this horrible squeak. Seriously?
Please, tell me this isn't happening! I thought. There is no way I can endure this for 45 minutes! Why is this happening to me? I'm not sure how long I spent in that state of resistance and disbelief, but it was a while. Then, eventually, when there was no denying the squeak, I spent the next while, wondering how to get away from it.
I opened my eyes and looked around. There was no way to move without causing a scene. I was trapped. I felt trapped. I wanted to scream! Believe me when I say it was only my ego and pride that kept me sitting there.
My mind continued resisting and fighting against that squeak. I tried tuning it out (which normally I'm exceptionally good at), distracting myself with thoughts about everything and anything, to no avail. I wondered if the person breathing, causing the squeak was bothered by it. Apparently not and this bothered me even more.
Eventually, I knew I must give in or I would totally lose it, right in the middle of the Zen Center.  I tried breathing with the squeak. At first this was forced, a desperate act, play-acting.  Pretending to give in, but not really. And then a question arose, what would happen if I actually accepted this imperfect annoying squeaky present? And then I felt incredibly anxious. Give up control? Whoa.
But then I just agreed. And in time, the anxiety eventually dissipated.
A feeling of peace rose up, and with it, this understanding that the squeak was perfect, and that all of life was perfect. That everything was perfect. And that it was all beautiful.
And as if on cue, the bell gonged and the meditation ended. Just like that. The timing was hilarious! Tears filled my eyes and I giggled at how funny the whole process was. The story of my life, in a 45-minute nutshell! The universe is magic friends. Always teaching us…
Here's a post on How to sear ahi tuna so it's rare on the inside and crispy on the outside! ( There's a video!)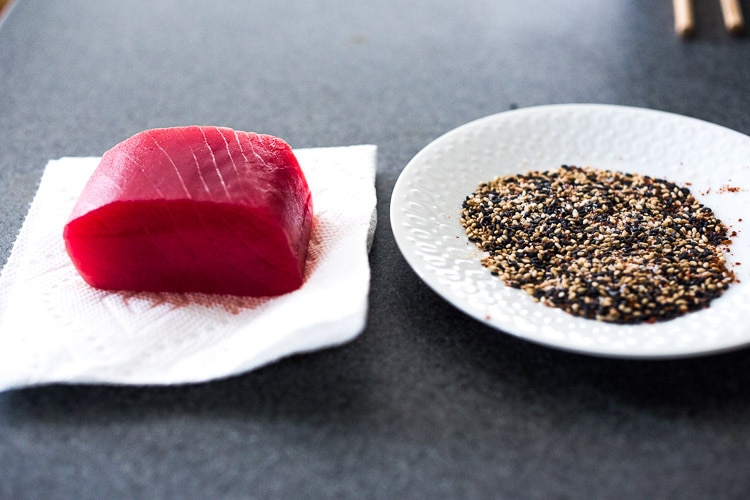 Make a sesame crust!  
Coat the ahi with the sesame, salt and spice mix. Adding a pinch of sugar to the mix aids in creating a good crust. This is optional of course.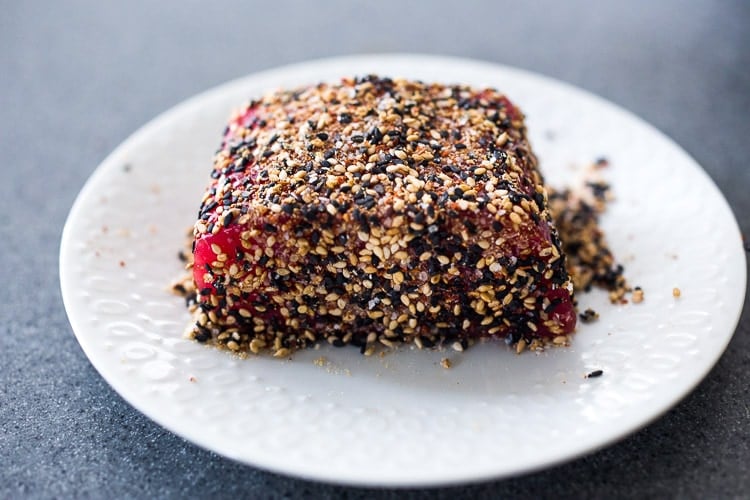 The secret to searing and creating a golden crust without overcooking the ahi is getting the pan smoking hot over very high heat. This way you can sear each side quickly and deeply without cooking it through.
Make sure to use a high temp cooking oil- like coconut oil or peanut oil. (Peanut oil gives a lovely flavor.)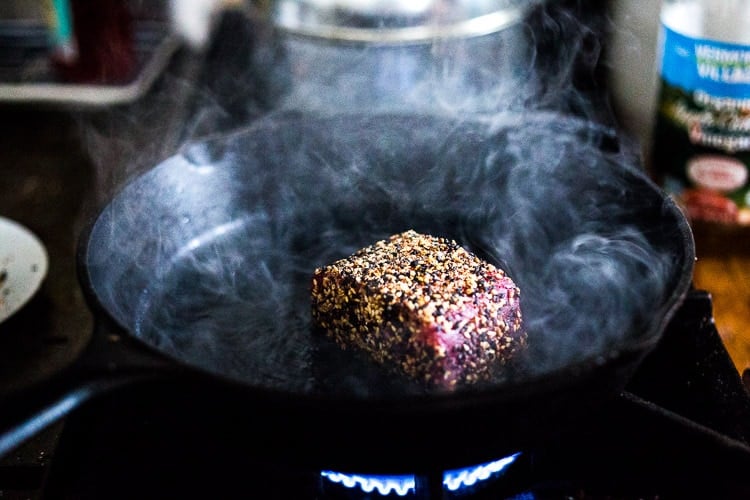 See the smoke? This is key! Hot hot hot!
Sear each side for 45 seconds to 1 minute depending on the thickness, then place on a paper towel to blot.
Like pancakes, the second one and third one seem to turn out better….because the pan is hotter! 🙂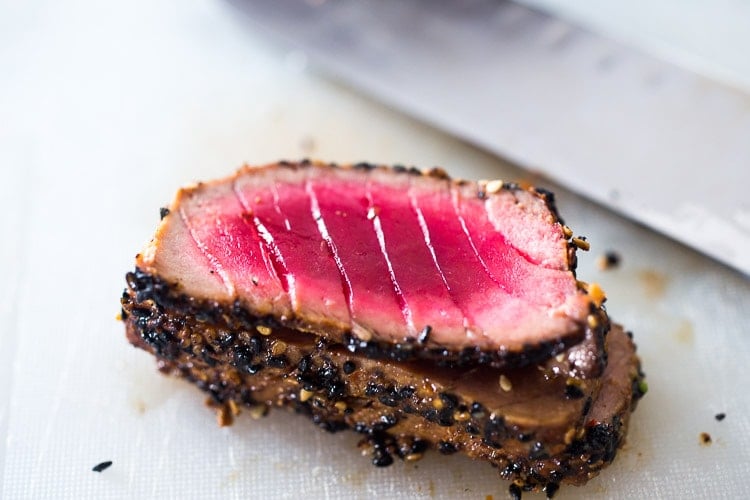 Let rest for 5 minutes, then slice. Insides should be nice and rare, while the outer crust is crispy.
Voila!
If making the Zen Noodle Bowls with tofu, this simple Baked Ginger Sesame Tofu works well here.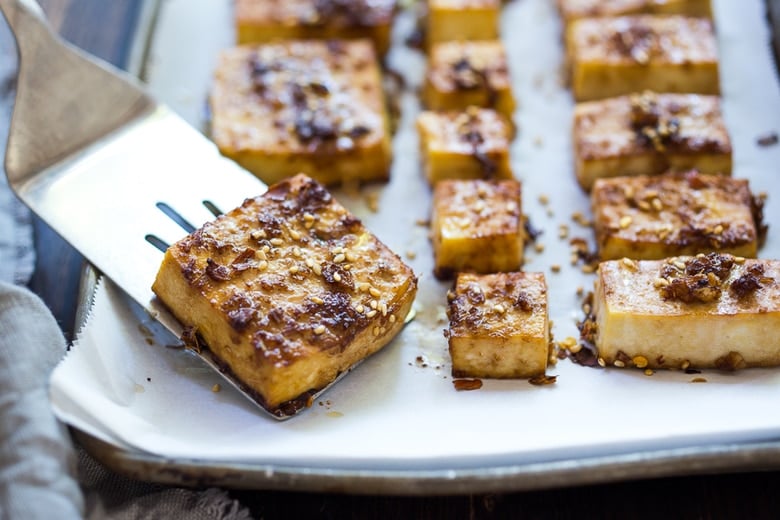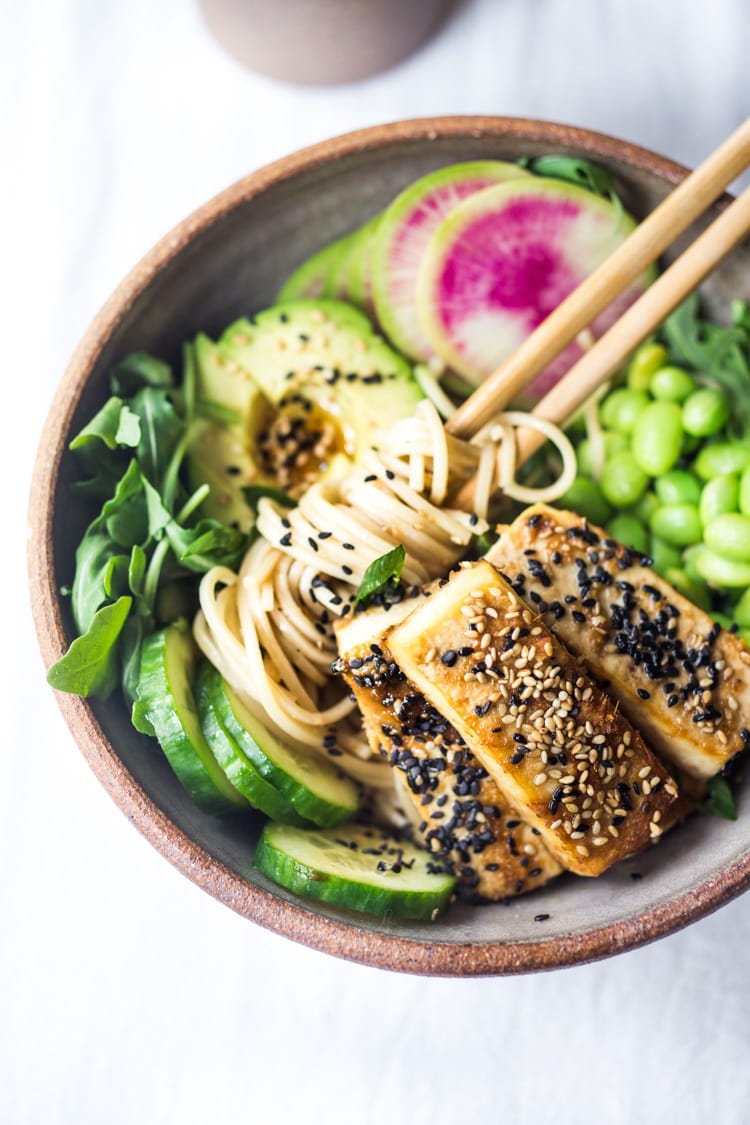 Feel free to add other veggies or edamame, using what you already have.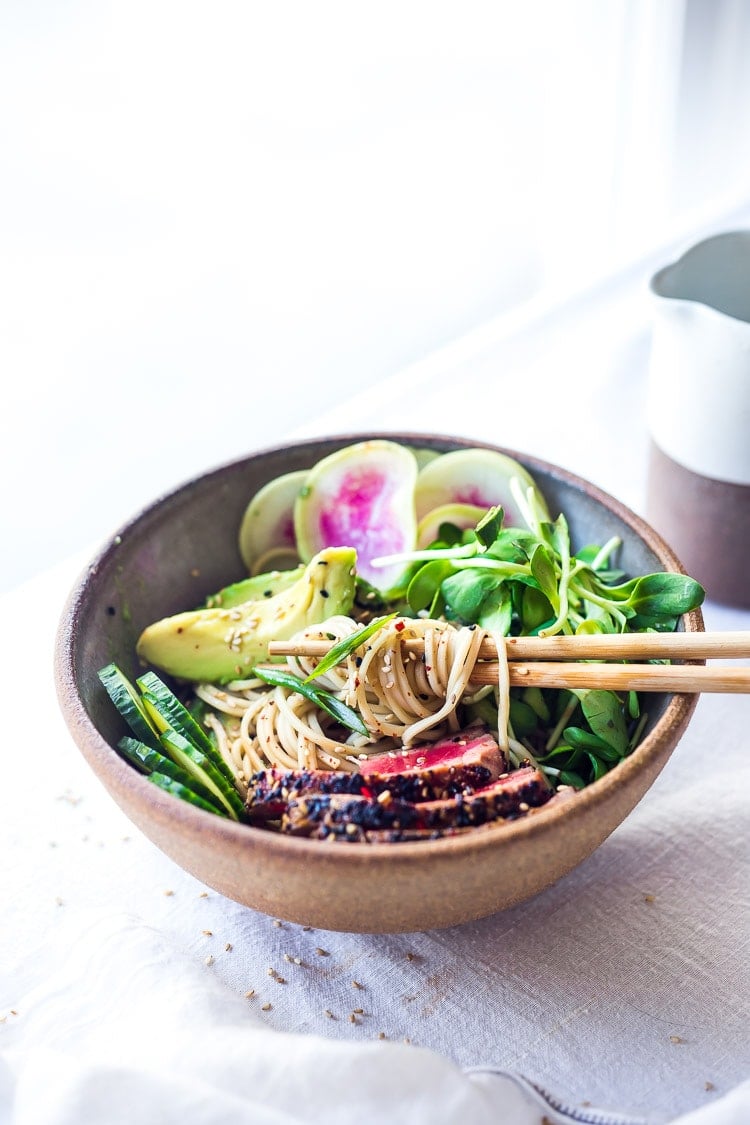 The rest of the bowl is simple to make – cook the noodles ( or sauté zucchini noodles! )  slice veggies, whisk the flavorful Ponzu dressing.
Here is the  Sesame Ginger Tofu Recipe, even non-tofu fans will like it. 😉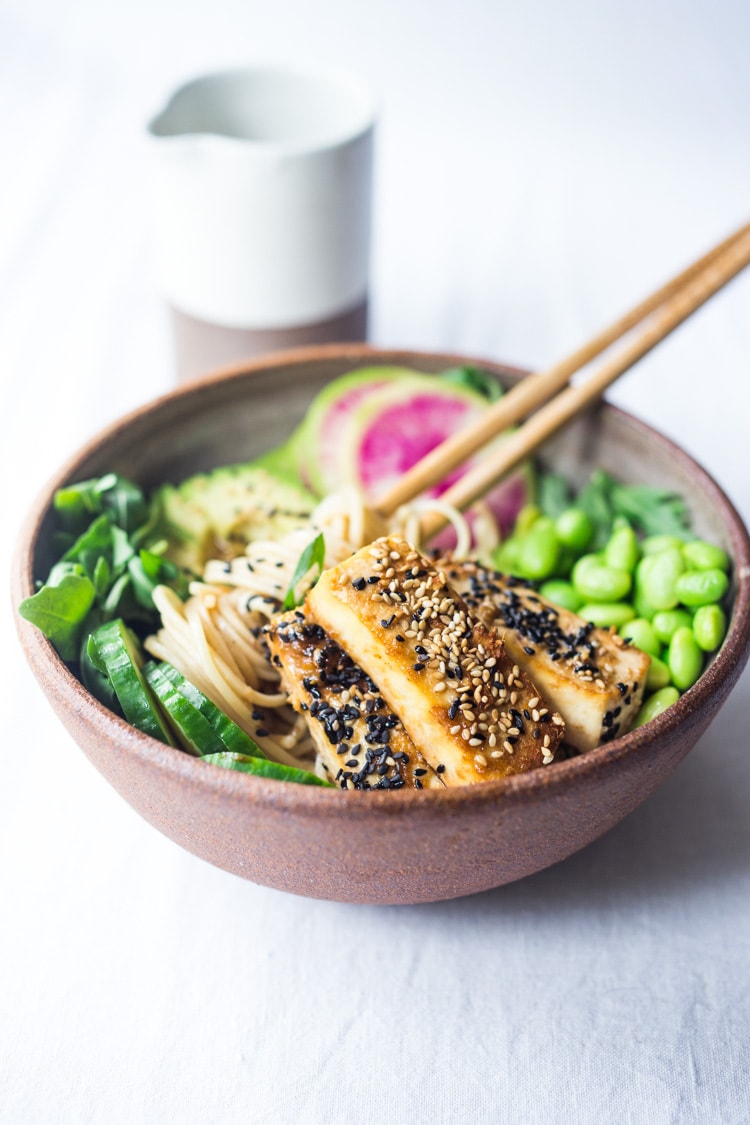 Healthy bowls are a great way to gently introduce new veggies to kids too. 😉
Have a delicious week!
xo
Print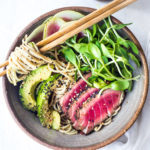 Zen Noodle Bowl
Author:

Sylvia Fountaine

Prep Time:

15

Cook Time:

15

Total Time:

30 minutes

Yield:

2

1

x

Category:

Main, Bowl,

Method:

Stove Top

Cuisine:

Japanese
---
Description
Zen Noodle Bowl- loaded up with fresh seasonal veggies and a delicious Ponzu Dressing, this healthy bowl can be made with seared ahi tuna or sesame ginger tofu. Vegan and Grain-free adaptable! ( Try it with zucchini noodles!) 
---
4

ounces

dry soba noodles ( or rice, rice noodles, GF noodles, or cooked zucchini noodles)

6

ounces

ahi tuna or tofu ( see notes)

1

–

2

tablespoons coconut or high temp cooking oil

2

radishes ( watermelon radishes are pretty)

1

Turkish cucumber, sliced ( or carrot, shredded)

1/2

avocado, sliced
garnish- scallions, chives, chive blossoms
handful sprouts- sunflower or daikon are nice
other options: grated veggies like carrots, cabbage, kohlrabi, beets, snow or snap peas, edamame, fresh peas, daikon, baby spinach or greens.
Sesame crust
2 teaspoons

sesame seeds

1/2 teaspoon

kosher salt

1/2 teaspoon

granulated onion or garlic

1/4

teaspoon sugar ( optional, helps caramelize)

1/4 teaspoon

chili flakes
Ponzu Dressing:
---
Instructions
Cook noodles according to directions, drain and set aside.
While noodles are cooking, pat dry tuna. Mix the Sesame Crust ingredients together on a small plate and coat all sides of tuna, pressing it firmly into the flesh. See notes for tofu.
Make the dressing, set aside.
Heat the oil in a cast iron skillet until smoking hot. You want the pan to be very hot- in order to create the golden crust, without cooking the ahi all the way through.  Sear all sides of the tuna for 45-60 seconds on each side, or until the crust is golden. Remove from heat and place on paper towel. Let stand 5 minutes. With a sharp chefs knife, slice across grain into 6-8 thin pieces. The goal is to have the inside nice and rare and but the outside seared and crispy. The secret is the very hot pan. 🙂
Divide the noodles among two bowls. Divide the ahi, cucumber, radishes, avocado and sprouts among the two bowls. Sprinkle veggies and noodles with a little salt. Top with scallions or chives or chive blossoms.
Spoon a generous amount of  Ponzu dressing over top and serve ( you most likely won't need all the dressing)
---
Nutrition
Serving Size:
Calories:

493

Sugar:

12.3 g

Sodium:

1261.6 mg

Fat:

21.6 g

Saturated Fat:

8.1 g

Carbohydrates:

51.1 g

Fiber:

4 g

Protein:

25.7 g

Cholesterol:

26.6 mg
Keywords: noodle bowl, asian noodles, sesame ahi, zen bowl, zen noodle bowl