A delicious recipe for Vegan Shepherds Pie with mushrooms and root vegetables topped with pillowy mashed potatoes. A vegan main dish that is perfect for Thanksgiving, Christmas or the holiday table! updated 11/2021 Video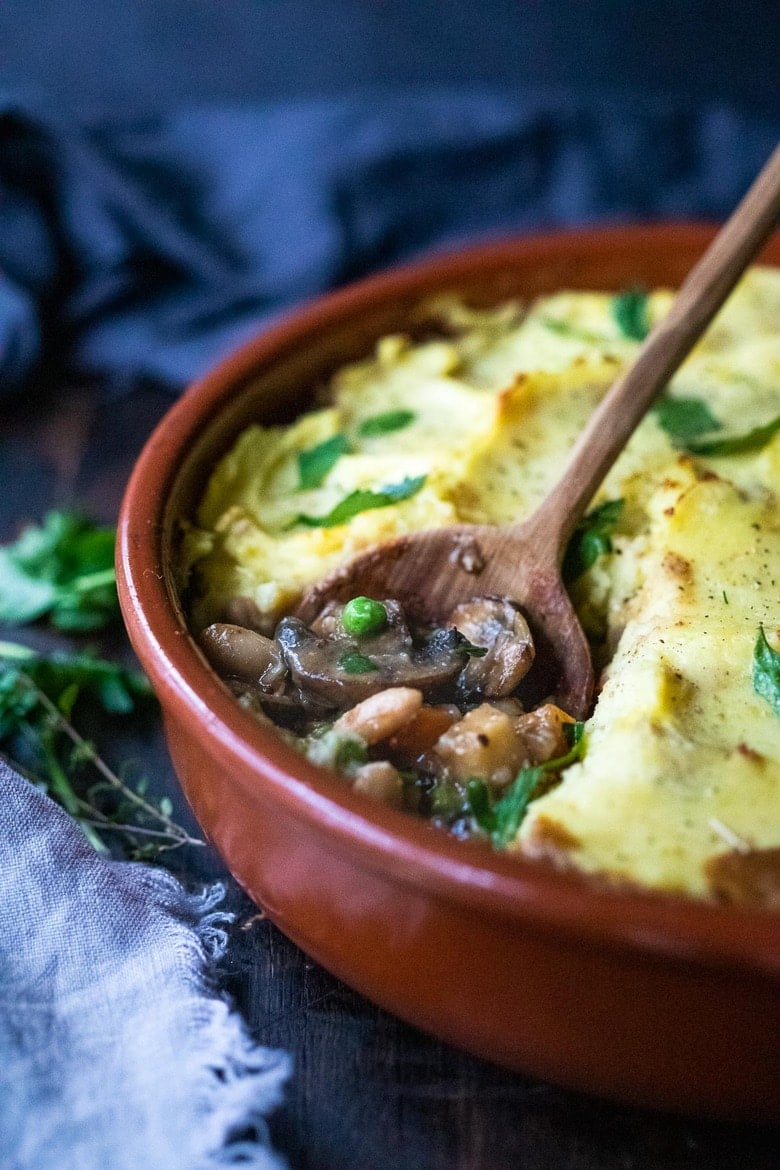 This healthy delicious recipe for Vegan Shepherds Pie involves no shepherd or sheep!  The rich and flavorful vegan stew is made with savory mushrooms and root vegetables.
It's rich and deep enough for a full-bodied glass of red wine, and, depending on how you make it, can be rustic, or refined. It can also be adapted to include lamb if you have meat-eaters in the house or want to make some vegan and some with lamb for a holiday gathering. Very adaptable!
Or, for a more formal dinner like Thanksgiving, or Christmas, try elevating the vegan shepherd's pie, by serving individual baking dishes, adding a little truffle oil to the mashed potatoes as we do in our catering business.  THE BEST!
Vegan Shepherds Pie | Video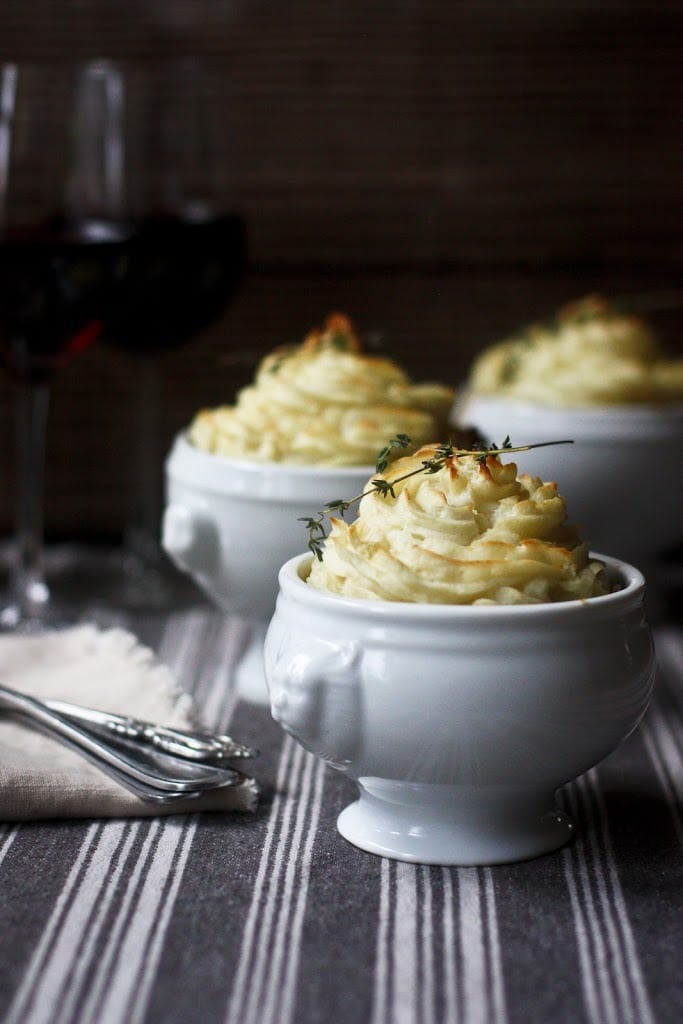 What I love about this recipe!
The nice thing is, if you are having guests over, you can fully customize these, making some vegan, and if you prefer, some with chicken, lamb or beef because you can bake them in individual baking ramekins or dishes.
It is perfect for the holidays.
It's also perfect after the holidays, using up leftover mashed potatoes, yams, stray vegetables, turkey or roast or whatever you have in your fridge.
The beauty of Shepherds Pie, is its ability to transform leftover ingredients into something new. Think of it as "re-purposing"!  You get the idea.
That said, here is my vegan version…but feel free to play around and add your own touches.
How to make Vegan Shepherds Pie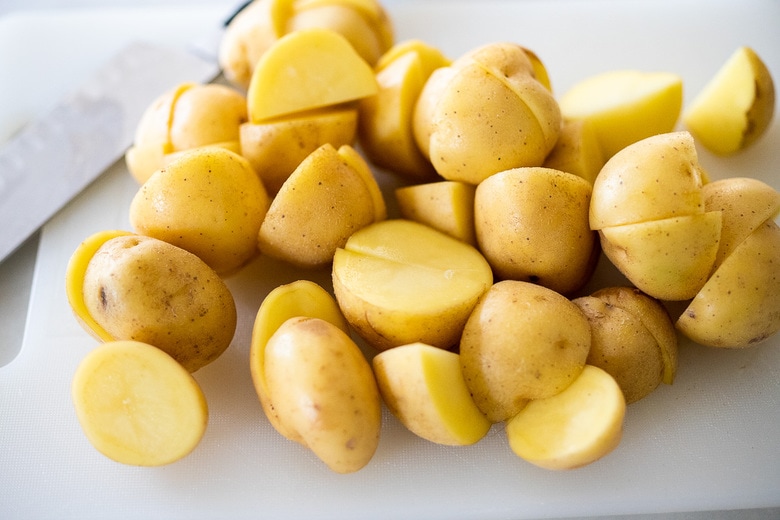 Make the Mashed Potato Topping:
Quarter the potatoes and cover with salted water, bring to a simmer, and cook until tender, about 20 minutes.
Drain, saving 1 cup of the potato water.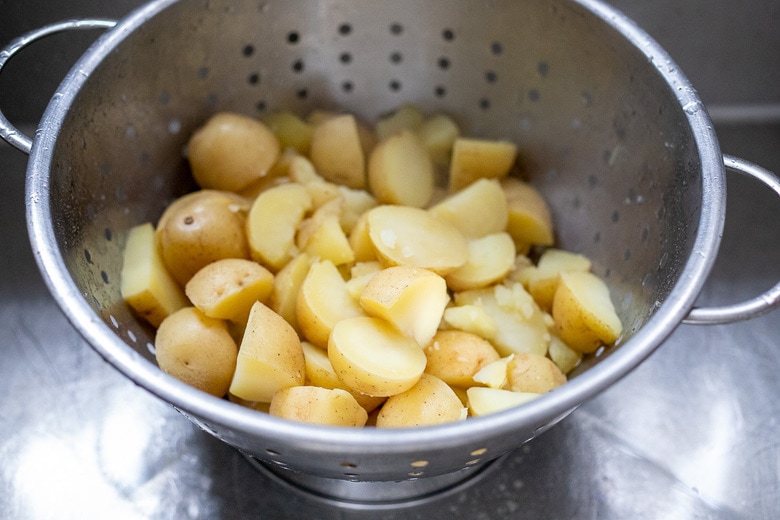 Mash the potatoes.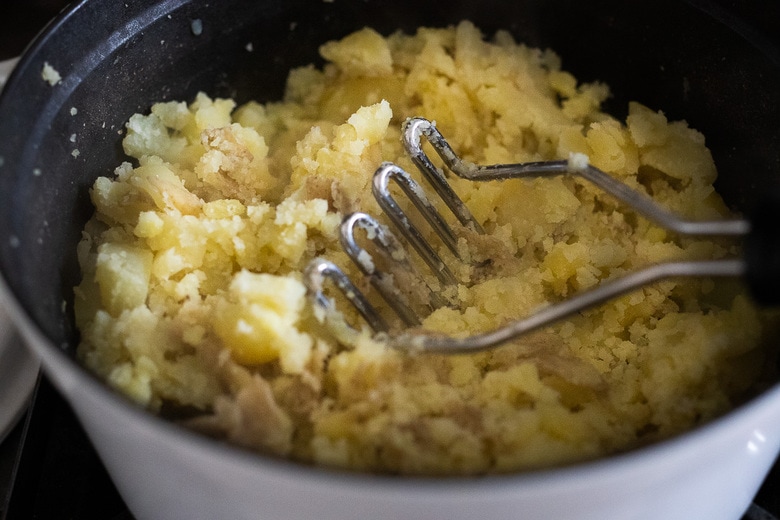 Add salt, pepper, vegan butter ( or olive oil) and vegan sour cream.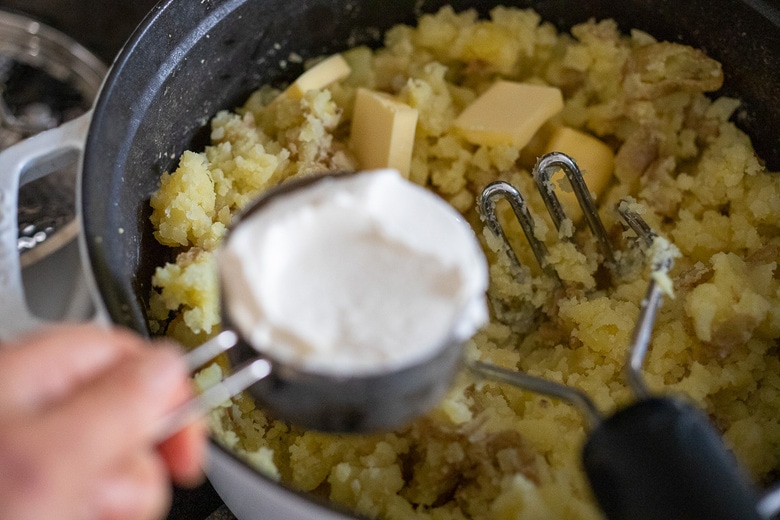 Whip until creamy!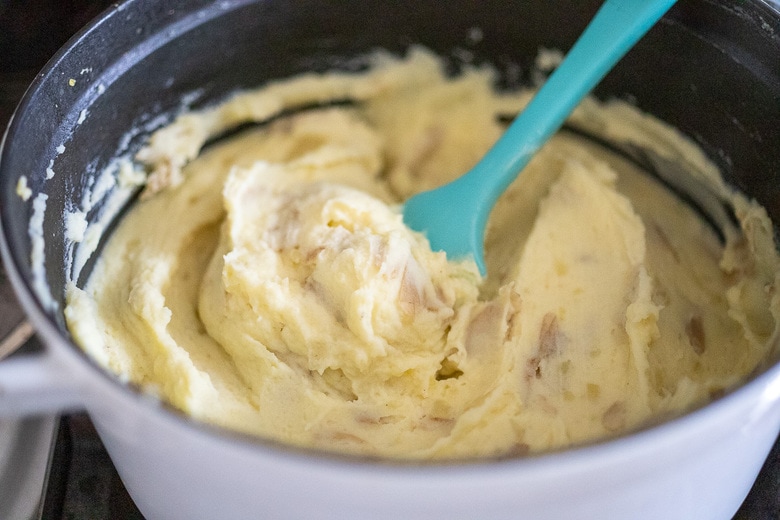 While the potatoes are simmering…
Make the Shepherds Pie Filling:
Prep all the veggies: Dice the onions, garlic, celery, carrots, onions, parsnips, optional sunchokes and mushrooms.
Roughly chop the garlic.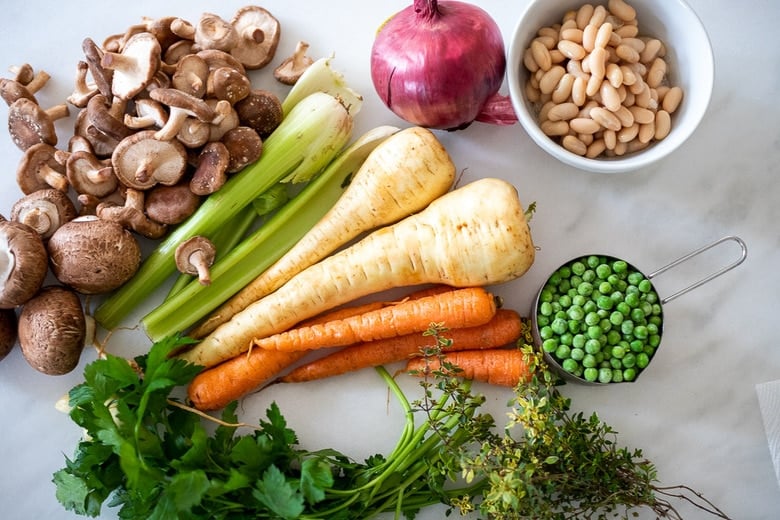 Saute the mushrooms and onions.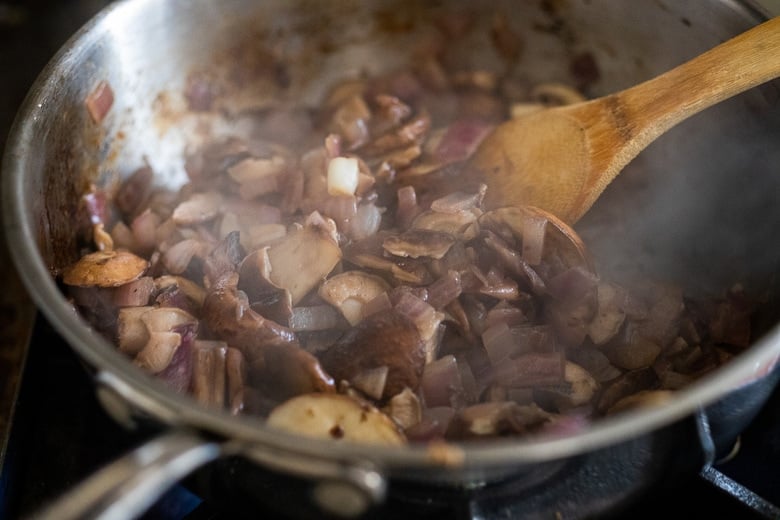 Add the chopped veggies and continue stirring until just tender- al dente.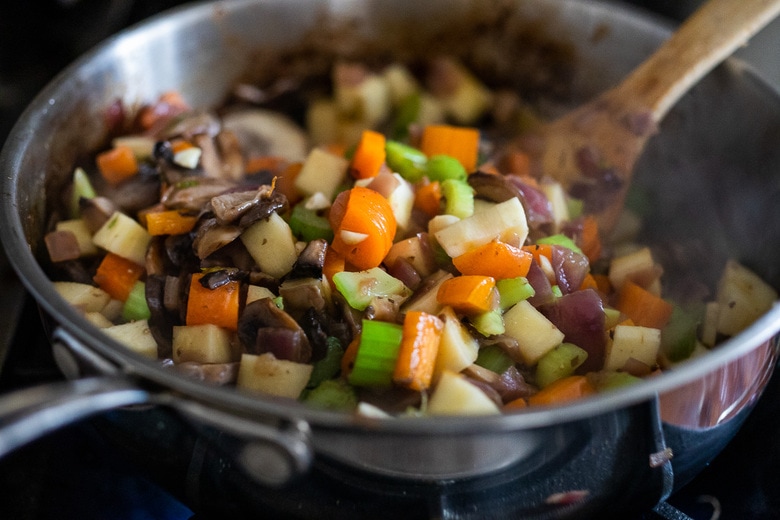 Add beans ( or see notes for other options) and peas.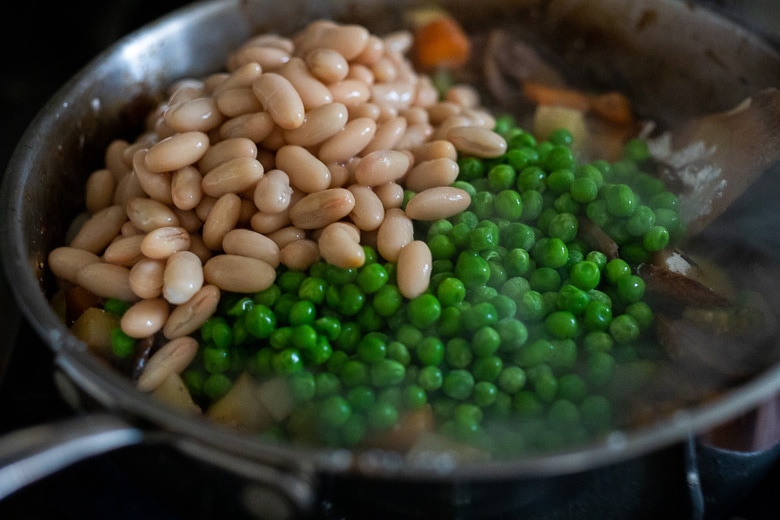 Sprinkle with flour ( GF flour is fine too!)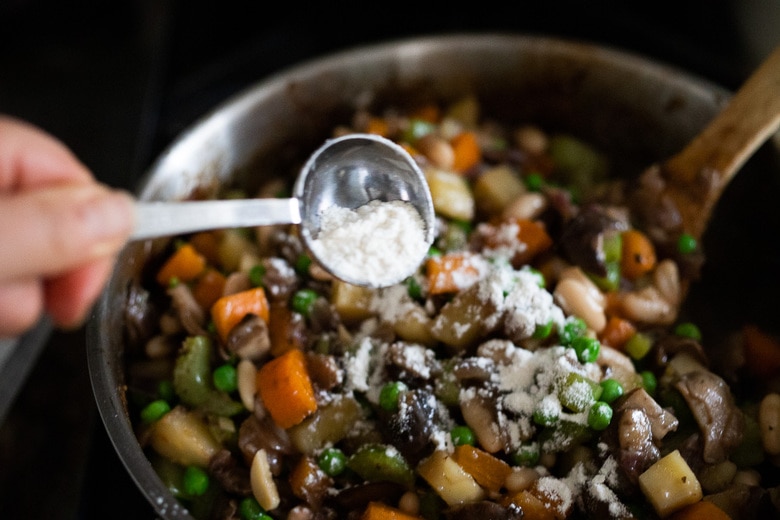 Heat up your
veggie broth
and add a little miso which will give added depth here.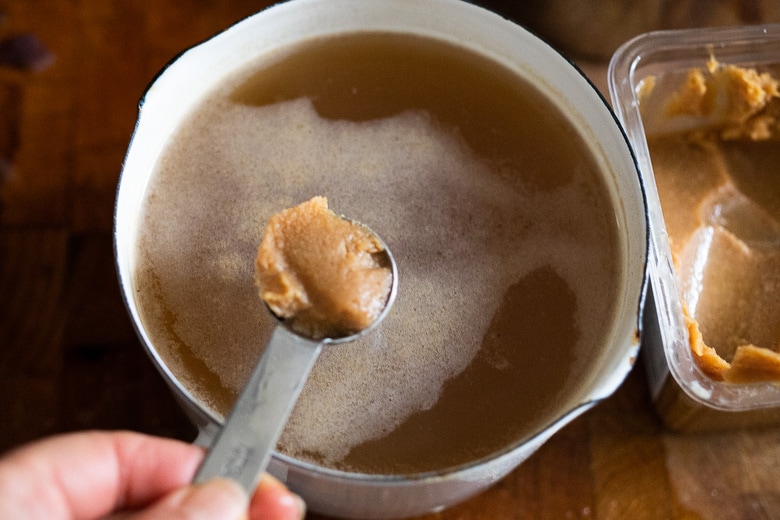 Then gradually add the
veggie broth
, creating a stew-like consistency.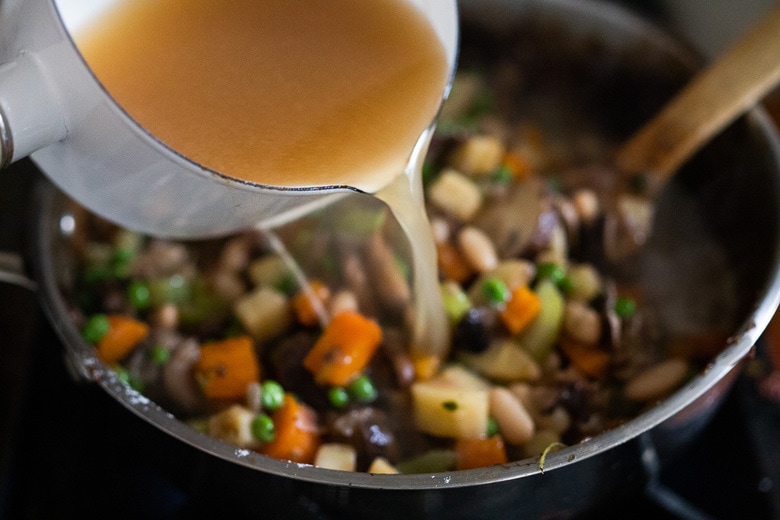 Add a teaspoon of mustard and fresh parsley.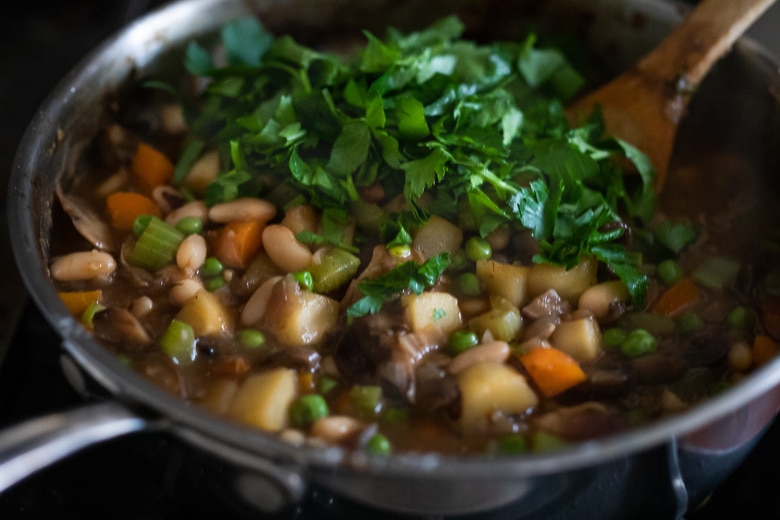 Assemble the Shepherds Pie
Fill a greased 9 x13 inch baking dish, a large dutch oven, or use individual ramekins or large cast iron skillet, or whatever oven-proof dish you want to serve this in, with the filling.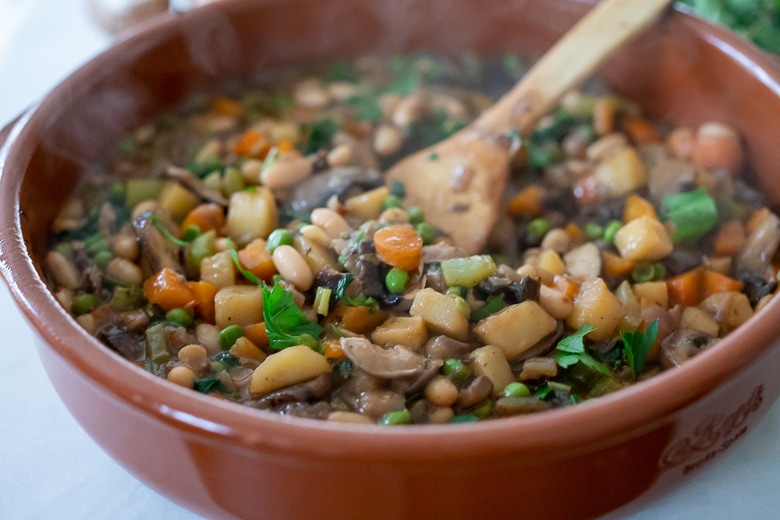 You can also divide it into individual portions. At this point, you can add cooked chicken, lamb or beef to some or part if you like, while keeping others vegan.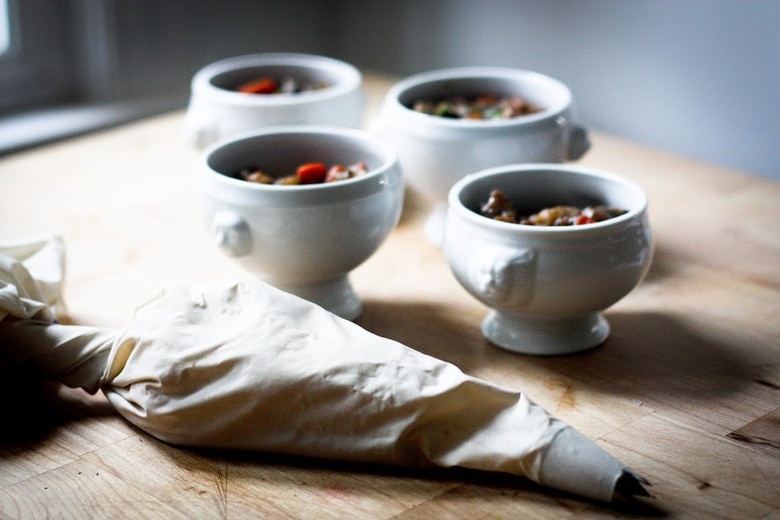 Place dollops of mashed potatoes over the filling.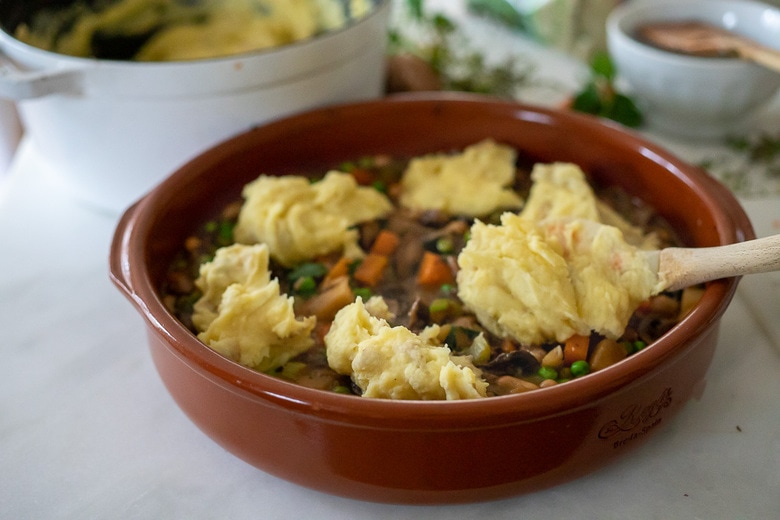 Then spread the mashed potatoes out to the edges.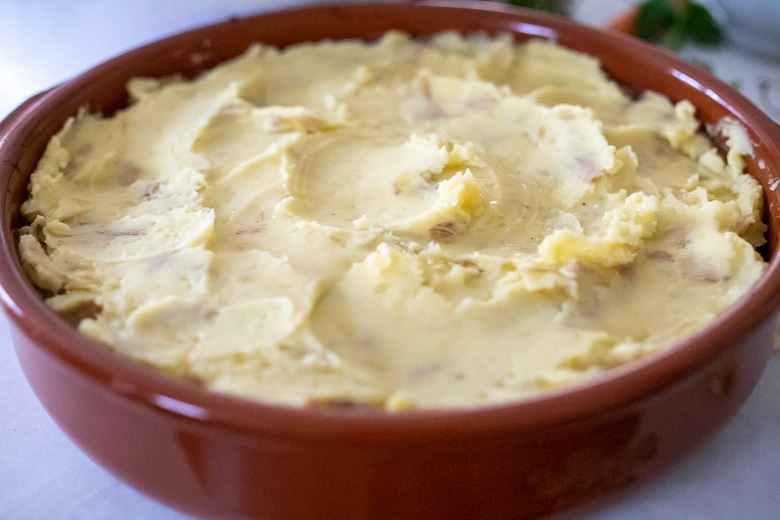 You can also use a piping bag and pipe the potatoes for a fun look!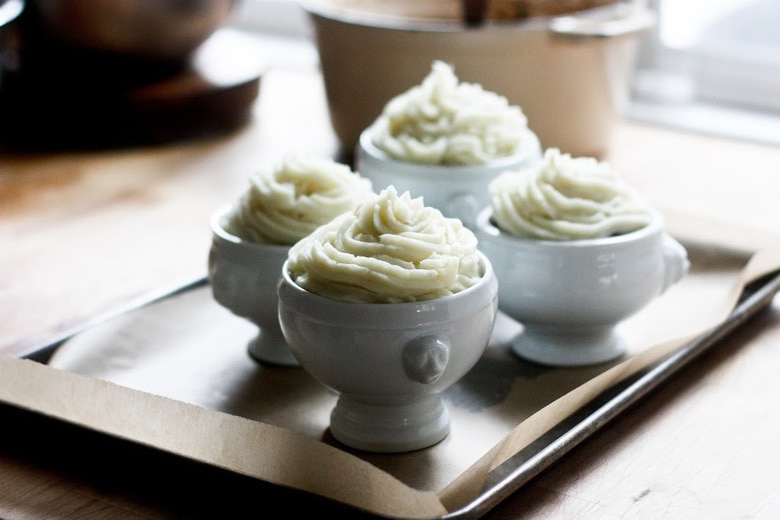 Bake the vegan Shepherds Pie
Place the Shepherds Pie on a sheet pan (to catch any overflow) and place in a 375 F oven until golden and bubbling, 20-35 minutes.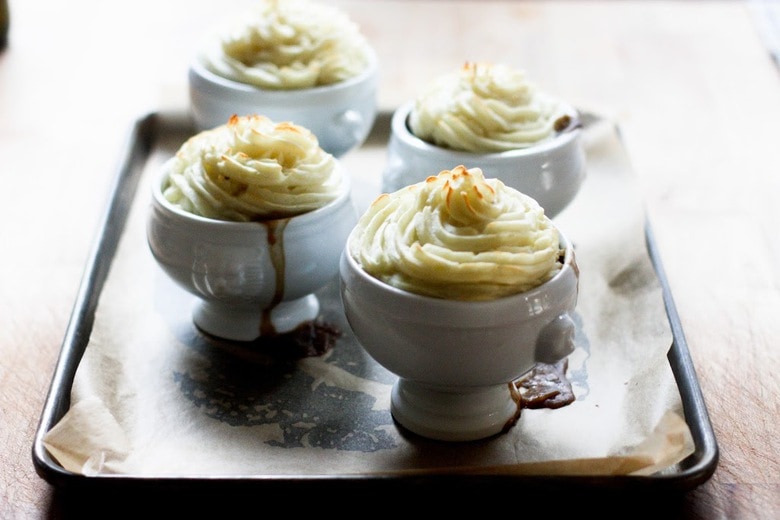 Serve them warm right out of the oven.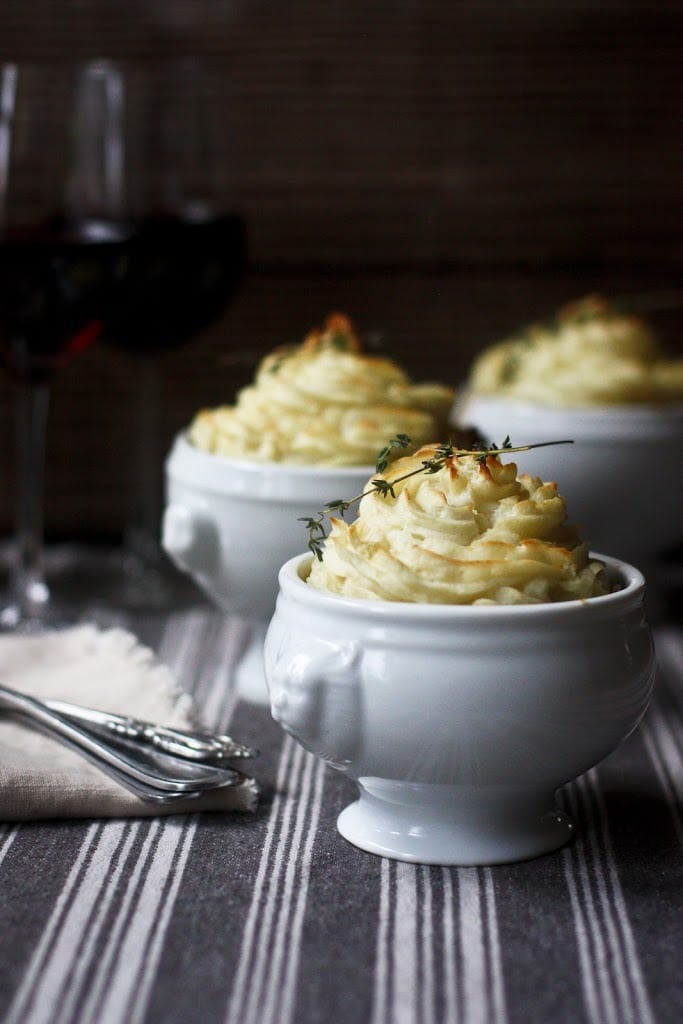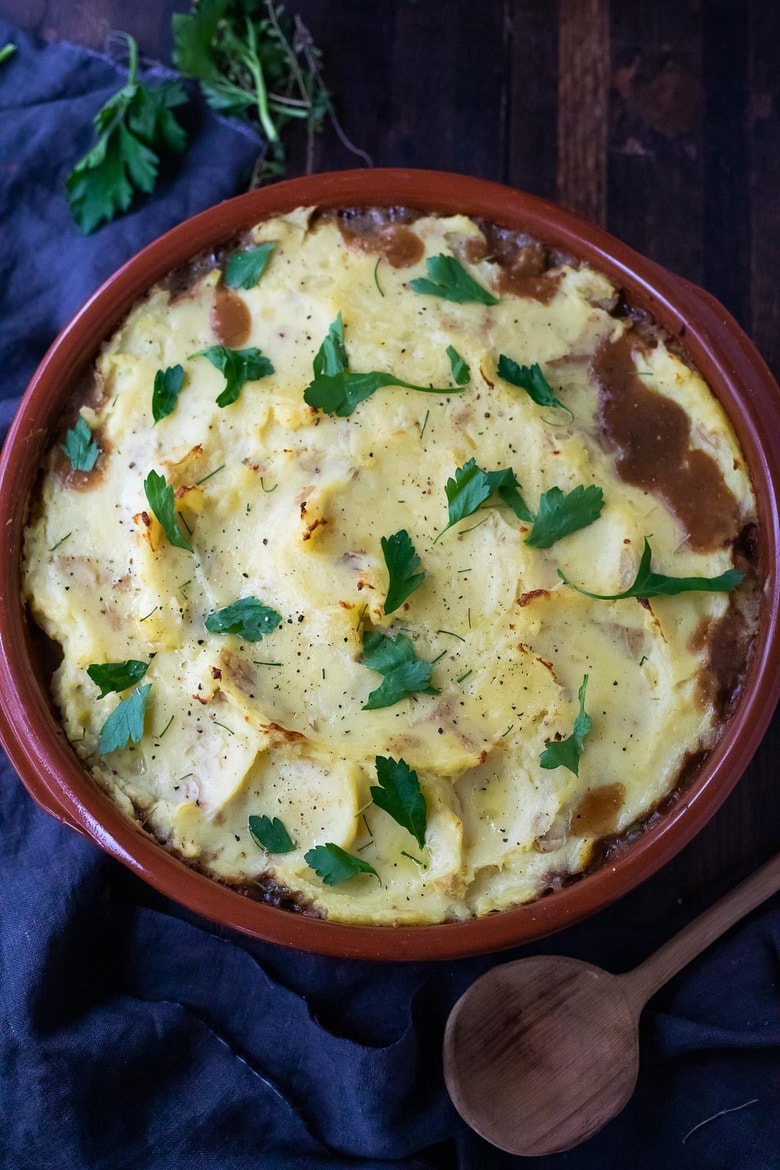 If serving this as a side dish, instead of the main course, you could try something like this.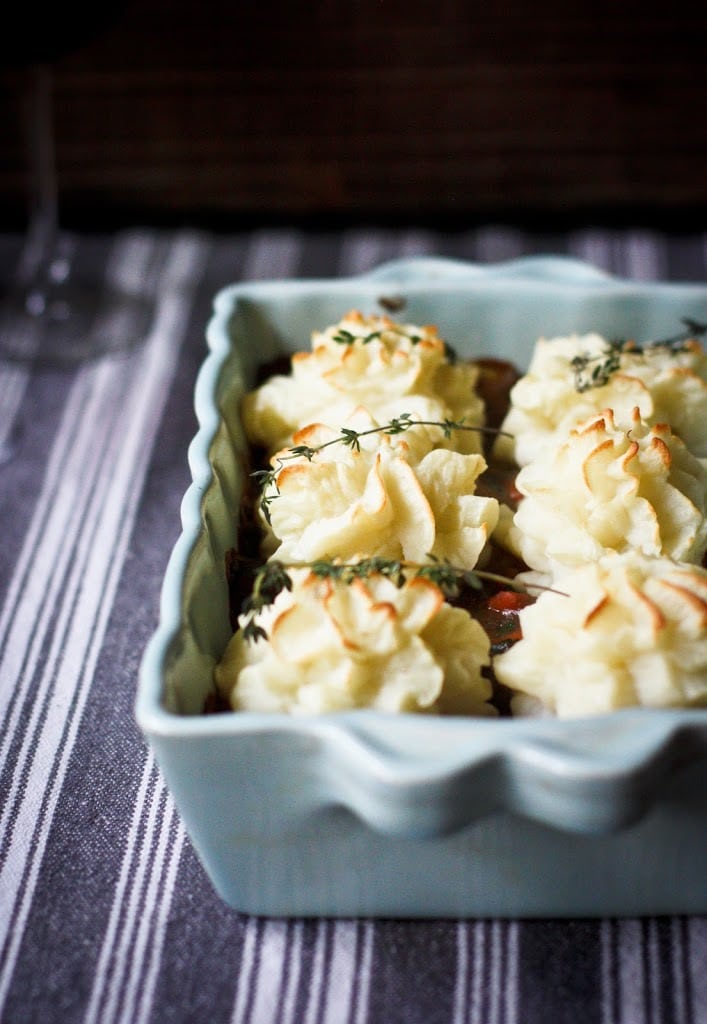 No matter how you serve the Shepherds Pie, in the end, you will have a rich deep flavorful stew.
Can Shepherds pie be made ahead?
Yes, you can make these ahead. Bring to room temp before baking.
Or make the Shepherds Pie in stages, making the stew ahead ( store it in the fridge) and potatoes on the day of, heating filling up before filling the baking dishes.

Hope you enjoy this tasty recipe for Vegan Shepherds Pie with mushrooms and root vegetables- topped with pillowy truffled mashed potatoes. A cozy vegan main dish perfect for the holidays!
Please let us know what you think in the comments below!
xoxo
More recipes you may like:
Print
Vegan Shepherds Pie
Prep Time:

45 mins

Cook Time:

60 mins

Total Time:

1 hour 50 mins

Yield:

8

1

x

Category:

Main, vegan, entree

Method:

Baked

Cuisine:

English

Diet:

Vegan
---
Description
The BEST Vegan Shepherds Pie with mushrooms and root vegetables- topped with vegan mashed potatoes. A delicious vegan main dish -perfect for the holidays! Updated 11/2021
---
Mashed Potato Topping:
3

pounds

yukon gold potatoes, unpeeled (or russets, peeled), quartered or diced.

4 tablespoons

olive oil, or vegan butter

1/2

cup

vegan sour cream ( like Kite Hill Sour cream)

1 tablespoon

truffle oil (optional but amazing)

2 teaspoons

granulated garlic powder

1 teaspoon

salt

1/2 teaspoon

pepper

1/2

–

1

teaspoon nutritional yeast– optional!
Filling
3 tablespoons

olive oil or vegan butter

1

large onion, diced (or sub

2 cups

leeks)

1

lb

sliced mushrooms (cremini, button, shiitake, portobello, chanterelles or a mix)

1 1/2

cups

celery, diced (or sub part or all fennel bulb)

1 1/2

cups

carrots, peeled, diced in small 1/2 inch cubes

1 1/2

cups

parsnips, peeled, diced in small 1/2 inch cubes

1 1/2

cup

frozen peas

1 1/2

cups

cooked white beans (or sub cubes of roasted sunchokes, cannellini beans, lentils, browned vegan "ground meat", or seitan, etc.

6

cloves garlic- rough chopped

1 tsp

salt, more to taste

1/2 tsp

cracked pepper

1 tablespoon

fresh thyme leaves ( or

1 teaspoon

dried)

1/2

cup

dry white wine (or sub water plus 1/2 teaspoon Apple Cider vinegar)

4 tablespoons

flour ( or use GF flour)

3

cups

rich veggie stock, (see notes) warmed, mixed with 2 teaspoon miso paste

1 teaspoon

dijon mustard

1/2

cup

fresh Italian Parsley, chopped
---
Instructions
Preheat oven to 375
Start with the mashed potatoes. Cut yukon gold potatoes, into halves or quarters. Make sure the pieces are similar in size. Place in a large pot, cover with an inch of water with 1 tablespoon kosher salt and simmer until knife tender about 20-25 minutes. Drain, saving 1 cup of potato water. 
Make the stew: In a very large heavy bottom pot, heat oil over med heat.  Saute onions and mushrooms for 7-8 minutes (see notes), until fragrant, then add parsnips, carrots, celery, garlic, thyme, salt and pepper stirring for 1o mins until carrots are al dente and mushrooms give off their liquid. Cook off the liquid.
Deglaze with 1/2 cup wine, scraping up any brown bits.  Let simmer on med-low until carrots/parsnips are perfectly tender and wine has cooked off. Add the peas and white beans.
Sprinkle the veggies with 4 tablespoons flour ( or use GF flour) and stir it for about 2 minutes letting the flour cook a bit.
 Add 1 cup warm veggie broth to the pot, stirring until the stew thickens, then stir in the remaining broth a cup at a time, simmering, and letting it thicken.
Add the mustard.  Turn off heat.
 Taste for salt, and add more to taste, and more cracked pepper if you like too. Add a few drops of apple cider vinegar to brighten, tasting as you add. Stir in the fresh parsley.
Finish the Potatoes: Place the drained potatoes back into the potato pot. Mash with a potato masher and add olive oil, vegan sour cream,  granulated roasted garlic, salt, pepper and optional truffle oil and nutritional yeast.  Add a 1/4 cup- 1/2 cup of the hot potato water to loosen them ( easier to spread).Whip them up until creamy with the masher! Taste and adjust salt and pepper.
Assemble:  Scoop the filling into a greased, large 9×13 inch baking dish, or a large oven-proof cast iron skillet or dutch oven, or smaller individual-sized baking dishes, or ramekins. ***At this point you could divide your stew mixture – adding cooked chicken, lamb or beef to part of it for meat-eaters. (For example, I like my shepherd's pie, without meat. My husband likes his with meat, so I divide it, adding cooked lamb to his portion. When having guests over, you could do half and half if you like.)
Spoon the creamy mashed potatoes over the stew, or use a piping bag and pipe out the potatoes over the stew. If potatoes seem too dry to pipe, whip in a little more hot potato water to them and they will loosen up nicely. Drizzle the top with a little truffle oil.
Bake: Place baking dish or individual pies on a sheet-pan to catch the drippings, in a preheated 375F oven and bake until bubbly and golden, about 20-30 minutes.
Garnish with Fresh parsley or a sprig of thyme.
---
Notes
The filling can be made ahead and refrigerated (let it come to room temp before baking) and then assemble the shepherd pie before baking. I find making the potatoes the same day makes for lighter fluffier potatoes, but if in a pinch, assemble the whole thing ahead and refrigerate. Let come to room temp before baking.
Veggie Stock: I use 3 cups water plus 3 teaspoons of veggie bouillon paste, heat this up, and stir in the miso paste. This gives the stew a flavorful base.
Mushrooms: To elevate this dish, pan-sear the mushrooms in olive oil FIRST, season lightly with salt and pepper, cooking until they release all their liquid and let them caramelize a bit. Set them aside while you saute the onions and veggies, then add them back in with the wine.
The original recipe call for sunchokes– which add great flavor here, but can be hard to find. ( So I subbed white beans) If using sunchokes, wash well, no need to peel, cut into a medium dice and roast with a little olive oil salt and pepper in a 400F oven until a little crispy, first for the BEST flavor. Then add to the stew with the peas.
Nutrition
Serving Size:

-with White beans and Truffle oil

Calories:

288

Sugar:

7.9 g

Sodium:

745.1 mg

Fat:

13.1 g

Saturated Fat:

3.9 g

Carbohydrates:

36.1 g

Fiber:

8.1 g

Protein:

8.4 g

Cholesterol:

0 mg
Keywords: vegan holiday main, vegan shepherds pie, vegan shepherds pie recipe, shepherds pie vegan, vegan main, vegan thanksgiving main dish, vegan christians main, vegan main for the holidays, vegan main dish