This roasted Cauliflower Pasta recipe is easy to make and completely delicious! It's made with a whole head of cauliflower, toasted walnuts, garlic, fresh herbs and lemon zest. Video.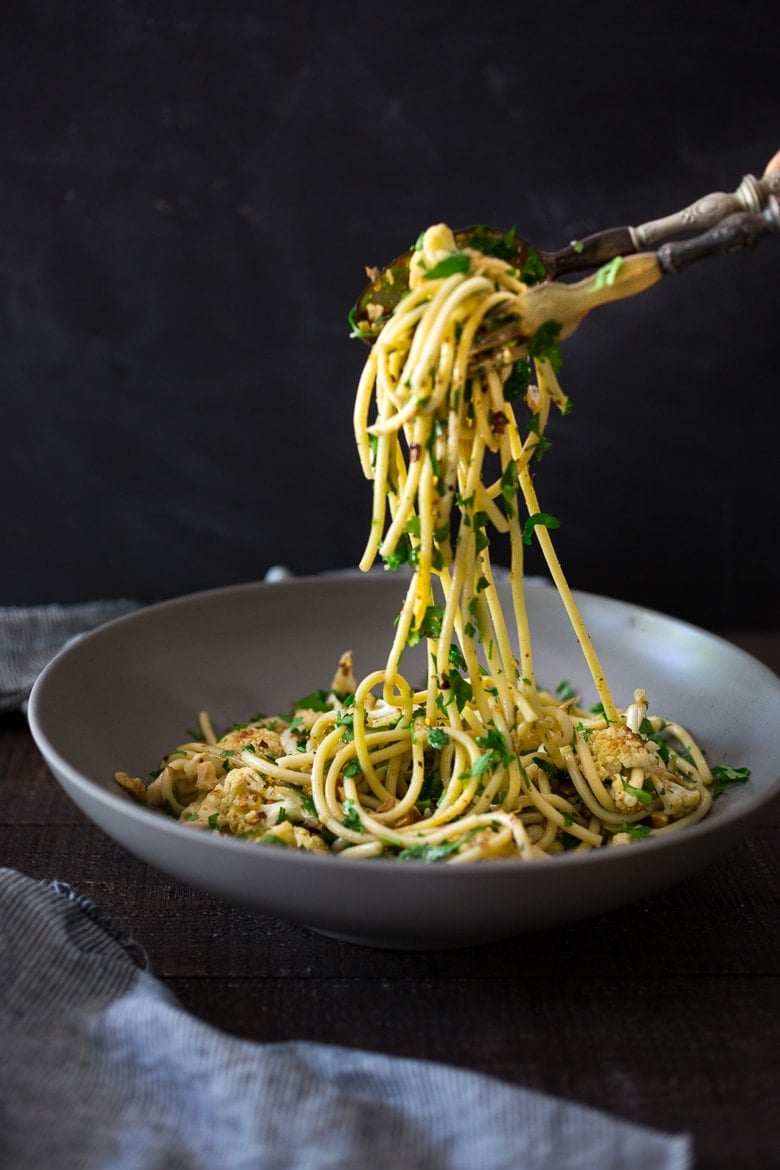 "Following the invisible into the unknown." Marci
It's surprising how vibrant and flavorful this Cauliflower Pasta is! Not only this, it is totally doable in 30 minutes- I kid you not! Made with a whole head of roasted cauliflower, pasta is tossed with garlic, olive oil, fresh parsley, lemon zest, and toasted walnuts.
The lemon and garlic give it a nice zesty flavor, the parsley a delicious freshness and the toasted walnuts give great texture and earthiness. If you like heat, chili flakes are the way to go! It can be left vegan or dusted with pecorino. If going grain-free, try chickpea flour noodles for extra protein!
Why You'll Love This!
Healthy, vegan recipe! This light and refreshing pasta recipe is dairy-free and made with an entire head of cauliflower, which is high in vitamin C and K, and an excellent source of folate and calcium. Make this pasta for a nourishing serving of healthy cruciferous!
Made in less than 30 minutes. For an easy weeknight dinner that feels and tastes upscale, this pasta is perfect. With just a little prep time and 20 minutes of cook time, this recipe comes together easily.
Simple Ingredients. Just basic pantry ingredeints here!
Gluten-free adaptable. Simply swap the pasta for chickpea flour noodles to make this recipe grain-free! Chickpea pasta also adds some extra protein.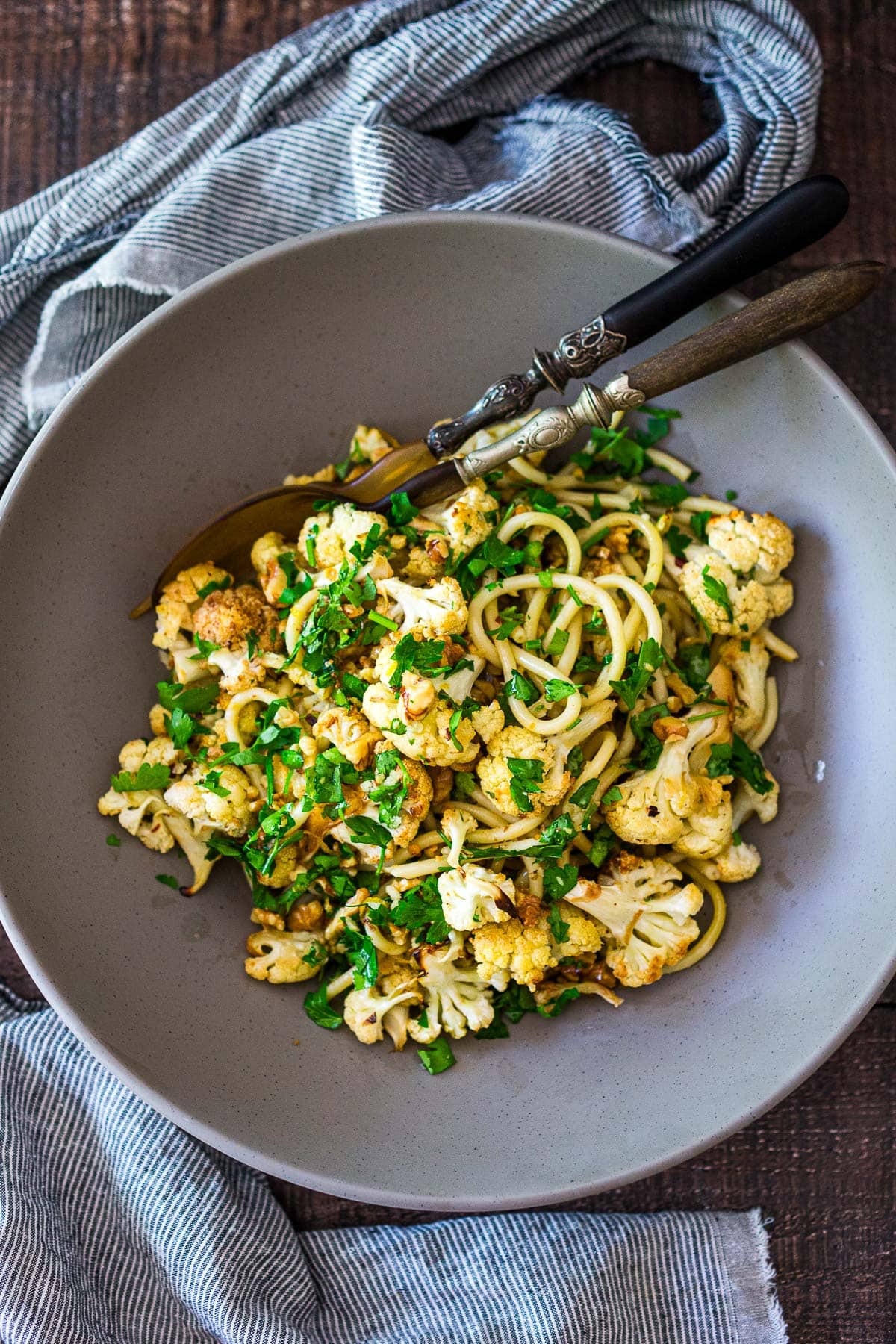 Cauliflower pasta Ingredients
Cauliflower head: Provides a hearty and earthy flavor to the pasta. It also adds a pleasant texture when roasted.
Olive oil: Coats the cauliflower and helps in roasting it to perfection. It adds richness and depth of flavor to the dish.
Garlic cloves: A key flavor enhancer in this recipe. The minced garlic cloves are used both for roasting the cauliflower and for adding a savory taste to the pasta.
Chili flakes: Add a subtle spicy kick to the pasta, complementing the other flavors and adding a depth of complexity.
Lemon zest: Provides a bright and refreshing citrus flavor that cuts through the richness of the dish. It adds a zesty and tangy element.
Pasta: Serves as the base of the dish and provides a comforting and satisfying texture. Choose your favorite type of pasta (spaghetti, linguine, bucatini) or opt for a gluten-free option to suit your dietary needs.
Fresh chopped Italian parsley: Adds a burst of freshness to the pasta. It provides a vibrant color and a subtle herbal flavor that balances the other ingredients.
Walnuts: The toasted walnuts contribute a satisfying crunch and a nutty flavor to the pasta. They add richness and depth to the dish.
Finely grated pecorino – optional but good: If desired, the finely grated pecorino can be sprinkled on top of the pasta for a cheesy and salty flavor. It adds a delightful umami element.
Optional capers: Adds a tangy and briny flavor to the dish. They provide a burst of brightness and depth to the overall flavor profile.
How to make Cauliflower Pasta:
Step 1: Roast the Cauliflower. Preheat the oven to 425F. Cut the cauliflower into bite-size pieces, and season with olive oil, salt, pepper, zest, garlic, and chili flakes. Toss well and spread onto a parchment-lined sheet pan. Roast until tender and crispy, about 20-25 minutes.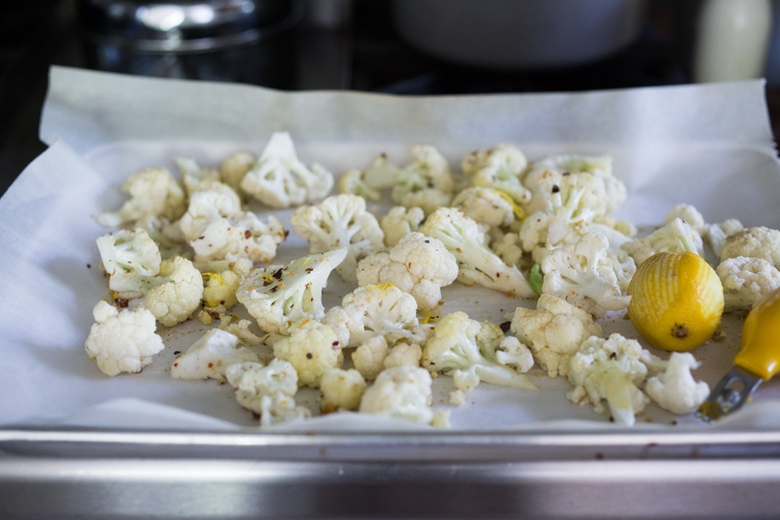 Step 2: Boil the pasta in a large pot of salted water until al dente, drain and reserve 1 cup of hot pasta water. Place the pasta in a bowl.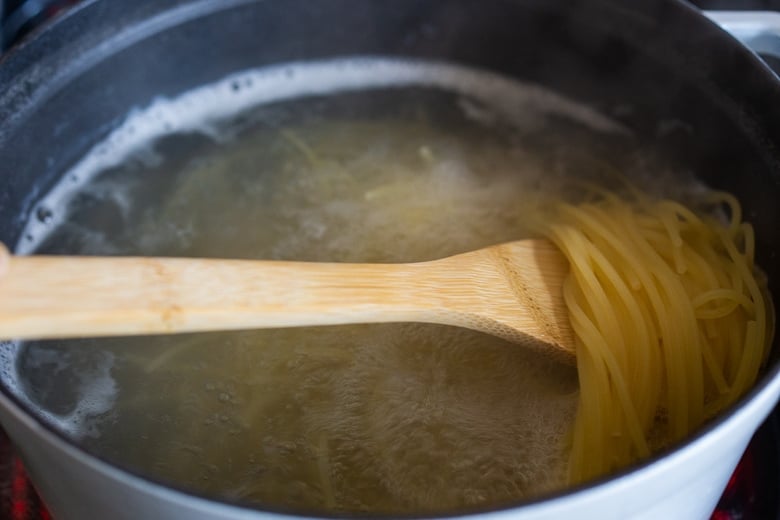 Step 3: Toast the walnuts in the oven for 10 minutes at 350F – do this after the cauliflower is done. Or toast in a dry skillet. Toasted Walnuts and fresh parsley add flavor and texture.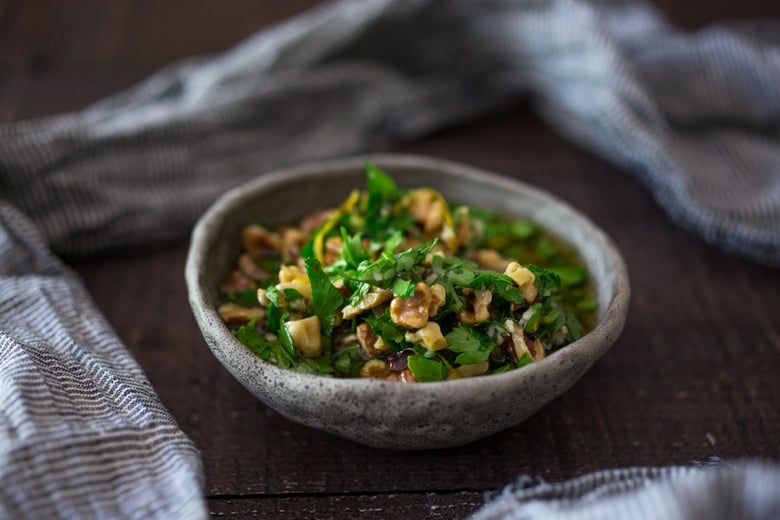 Step 4: Assemble! Drizzle pasta generously with extra-virgin olive oil to coat the noodles, then add the remaining finely minced garlic (raw), the chopped parsley, remaining lemon zest, crushed toasted walnuts, capers and cauliflower. If it feels dry, add a little hot pasta water to loosen- this makes the sauce. Sprinkle with pecorino (if desired) and red pepper flakes.
Taste and adjust. Add more salt and pepper if necessary. If it tastes bland, it probably needs a little more salt. 😉 Divide and serve among 2-3 bowls.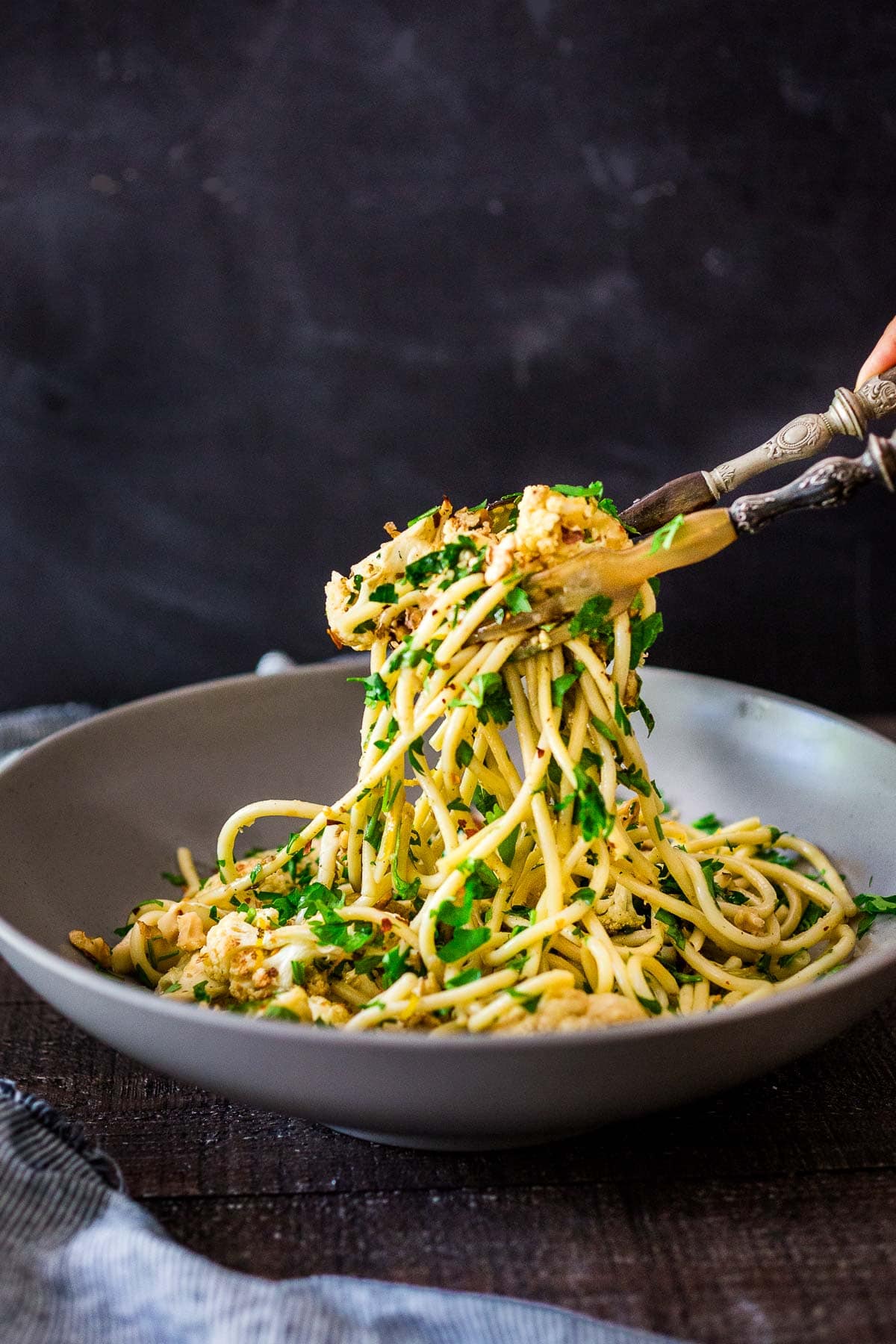 Cauliflower Pasta Variations & toppings
Optional add-ins: Peas, kale, spinach, mushrooms, asparagus, shrimp, bacon, parmesan cheese or pecorino cheese
Lemon juice: Since you already have a lemon out, a squeeze of fresh lemon juice tastes lovely right before serving.
Toasted pine nuts or bread crumbs: Toasted pine nuts or bread crumbs would make a delicious and crunchy topping too! Or make our Vegan Cheesy Sprinkle
More fresh herbs! In addition to the parsley, you could top this pasta with some fresh basil.
FAQs
Is cauliflower pasta good for you?
This cauliflower pasta recipe is SO healthy! It's a great way to enjoy healthy cruciferous vegetables. This anti-inflammatory pasta is full of vitamins and rich in fiber.
What does cauliflower pair well with?
Cauliflower has a nutty and slightly sweet taste, which makes it pair especially well with pungent, aromatic garlic. Lemon brings out the flavor in cauliflower and helps balance its nuttiness with lemon's bright citrus taste.
How much of a cauliflower can you eat?
Go ahead and chop up the stems and add them to your pan to roast with the cauliflower florets! The stem is full of nutrients and tastes just as good. When cutting the cauliflower, you can discard the green leafy parts.
Cauliflower Pasta Serving Suggestions
Cauliflower pasta will keep up to 4 days in the fridge- easy to reheat in a saute pan or in the microwave. Serve with a big leafy green salad and garlic bread!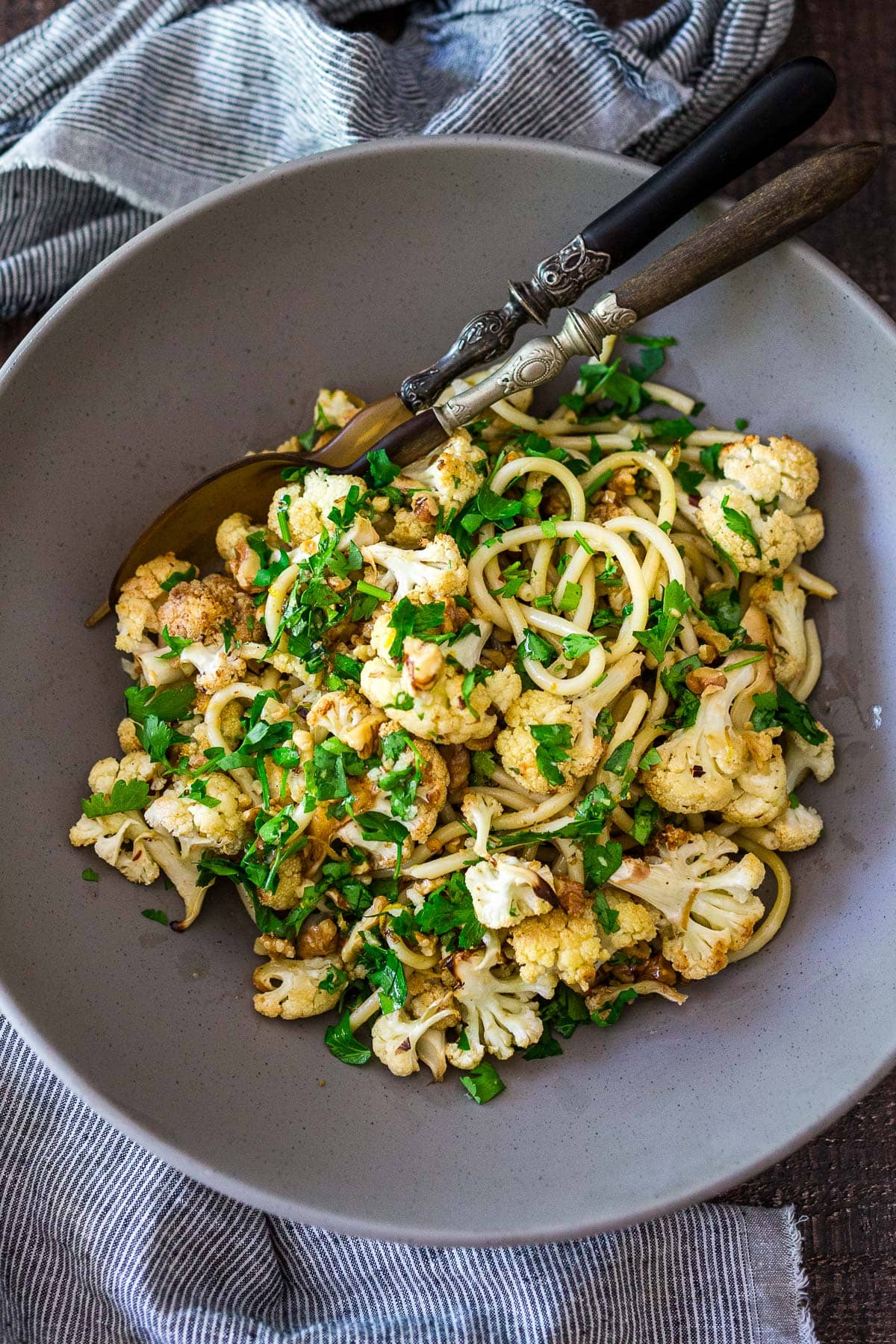 More Favorite Cauliflower Recipes
On the homefront: Suddenly, life has become simple. We finished our last catering event over the weekend, and just like that ten years of catering comes to an end. Big sigh…
I would be lying if I didn't tell you how ecstatic I am. Not because I disliked catering – I actually really loved the food creation part of it, our clients, the cooking and prepping and the coming together of people to celebrate life events – all of this was very fulfilling and I feel truly honored to have been a part of so many celebrations.
But the stress of the events themselves (because I like things perfect), and the millions of tiny details that needed tending to began taking a toll on us physically and energetically. And so we (Brian) figured out a way to pare down our lives, so we wouldn't have to keep doing this until we die.
And all of a sudden here we are, and I find myself with a luxurious amount of time. And a horizon in front of us that feels so open and wide and beautifully unknown. And it's the unknown part that actually feels exhilarating. For the first time ever, I have not planned out my life. And it feels amaaaaaaaazing!
If you were wondering about the quote, it's from a person I don't know, Marci, who has this as her tagline on Insight Timer. Insight timer is a meditation app, full of great resources to help one meditate if so inclined. It also connects you with other people near you and around the world who are meditating at the same time as you. Kinda neat.
Marci, I don't know anything about you, only that you live near me in Spokane and that sometimes we meditate at the same time. Your tagline pops up and it has been such a gift to me. So thank you Marci, for sharing your beautiful light into this world and I hope somehow this finds you.
Anyways, I hope you enjoy this bright and earthy Cauliflower Pasta! Happy week, friends!
Watch how to make Cauliflower Pasta | Video
Print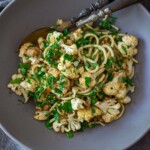 Cauliflower Pasta Recipe
Author:

Sylvia Fountaine

Prep Time:

10

Cook Time:

20

Total Time:

30

Yield:

2

-3

1

x

Category:

vegan main

Method:

roasted

Cuisine:

mediterranean

Diet:

Vegetarian
---
Description
This roasted
Cauliflower Pasta
recipe is easy to make and completely delicious! It's made with toasted
walnuts
, garlic, fresh herbs and lemon zest. Video.
---
1

large head of cauliflower
2 tablespoons olive oil

3 garlic cloves, minced (divided)

salt and pepper to taste

1/4 teaspoons

chili flakes
lemon zest from one lemon (divided)

4

–

6

ounces

pasta (spaghetti, linguini, spaghetti, bucatini, or any other gluten-free noodle)

1

cup

fresh chopped Italian parsley

1/2

cup

toasted walnuts, chopped

1

fresh garlic clove- very finely minced
A generous drizzle of olive oil to coat
salt, pepper and chili flakes -to taste
---
Instructions
Preheat oven to 425 F
Trim and cut cauliflower into small bite-sized florets and place in a bowl. Drizzle with olive oil to coat, sprinkle with salt and pepper, 1/2 of the lemon zest, 2/3 rds of the minced garlic and some chili flakes.  Toss well and spread out in a single layer on a parchment-lined sheet pan, and place into the middle of the hot oven. Roast until tender and golden and caramelized in places,  about 20-25 minutes.
 While the cauliflower is roasting, cook the pasta in 2 quarts of water with 1 tablespoon salt. When done, drain, and reserve 1 cup pasta water, and place pasta in a bowl.
Drizzle pasta generously with olive oil to coat the noodles, then add the remaining finely minced garlic (raw), the chopped parsley, remaining lemon zest, crushed toasted walnuts, capers and when cauliflower is done, add it to the bowl and toss. If it feels dry, add a little hot pasta water. Sprinkle with pecorino and chili flakes.
Taste, adjust salt and pepper and add more if necessary. 

If it tastes bland, it probably needs a little more salt. 😉

Divide among 2-3 bowls.
---
Notes
Leftovers are great for lunch! Walnuts can be toasted in a 350 oven for 10-15 minutes on a sheet pan, or toasted in a dry skillet over medium-low heat, stirring constantly.
Nutrition
Serving Size:
Calories:

386

Sugar:

2.6 g

Sodium:

249.3 mg

Fat:

22.9 g

Saturated Fat:

2.7 g

Carbohydrates:

38.5 g

Fiber:

5.7 g

Protein:

10.6 g

Cholesterol:

0 mg
Keywords: Cauliflower pasta, vegan pasta recipes, pasta with roasted cauliflower, roasted cauliflower pasta, vegan cauliflower pasta
SaveSave
SaveSave
SaveSave
SaveSave
SaveSave
SaveSave
SaveSave
SaveSave
SaveSave
SaveSave
SaveSave
SaveSave
SaveSave
SaveSave
SaveSave
SaveSave
SaveSave
SaveSave
SaveSave
SaveSave
SaveSave
SaveSave