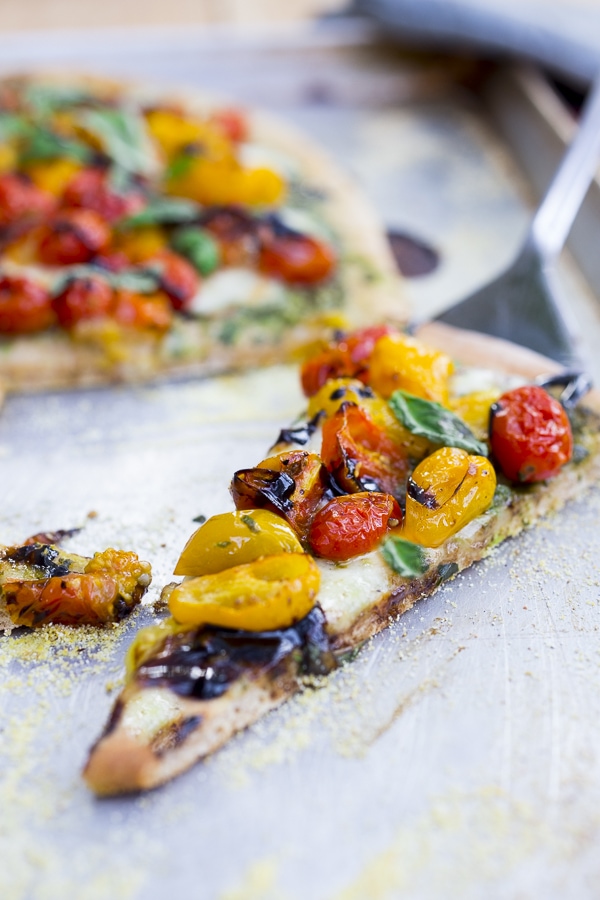 The last of summer tomatoes are roasted in the oven until caramelized and tender, becoming evermore flavorful and rich, a delicious topping for this lightened up version of Caprese Pizza with it's thin crust, fresh mozzarella and basil leaves. For an extra burst of flavor, the crust is brushed with a garlic, basil and
olive oil
paste -almost like pesto. Once the fragrant pizza comes out of the oven, it's drizzled with a balsamic syrup and topped with fresh basil leaves. Served with a fresh green salad, it's satisfying and delicious. The thin-crust dough, can be made ahead and refrigerated, or for a quick weeknight meal use store bought pizza dough, rolled very thin.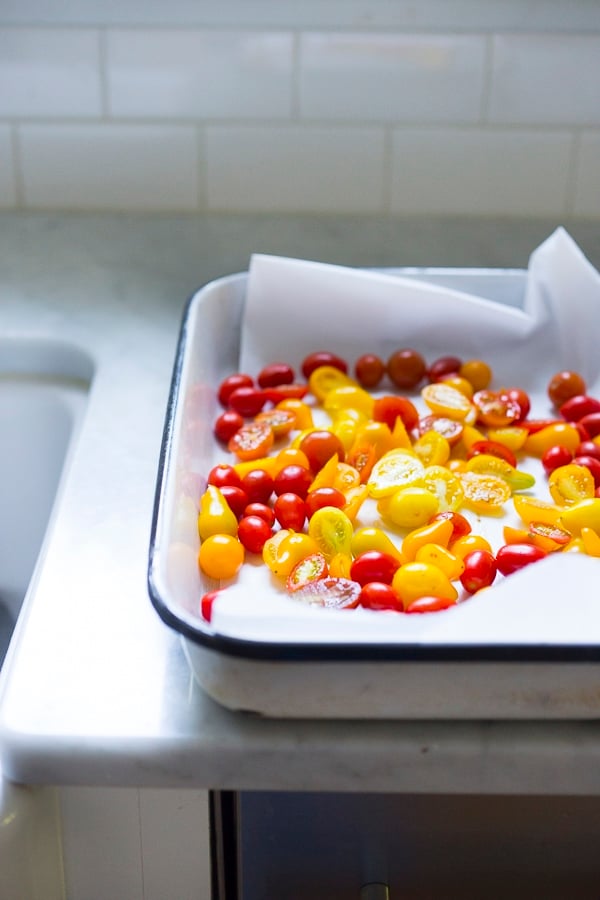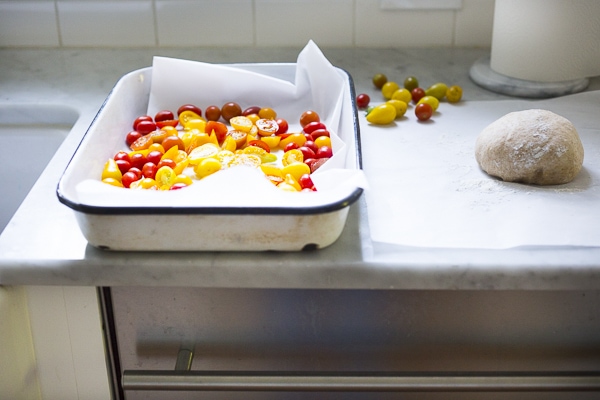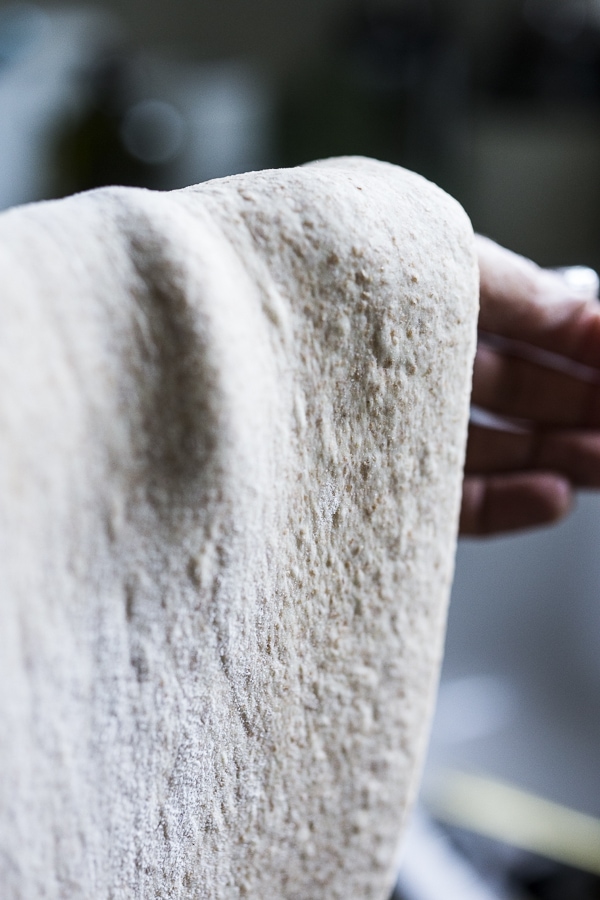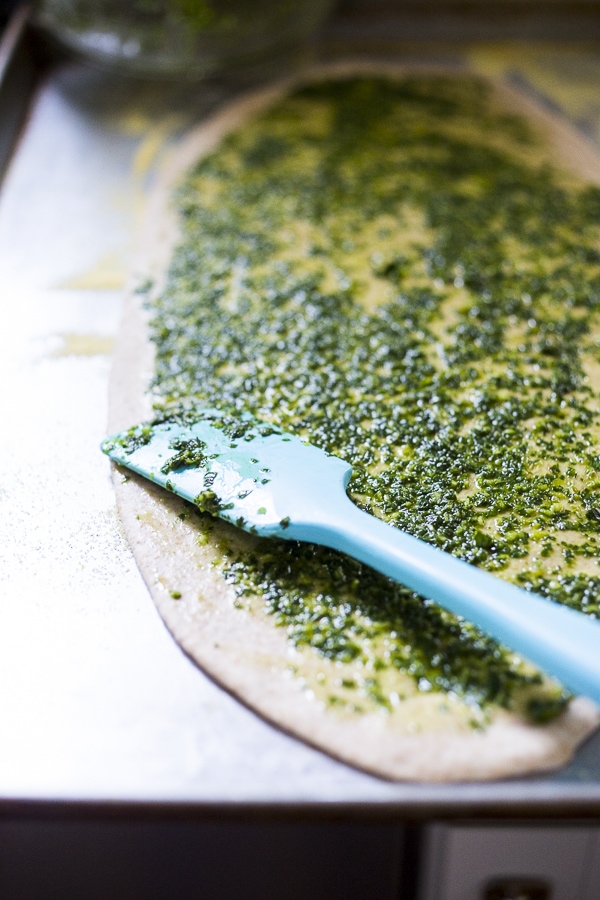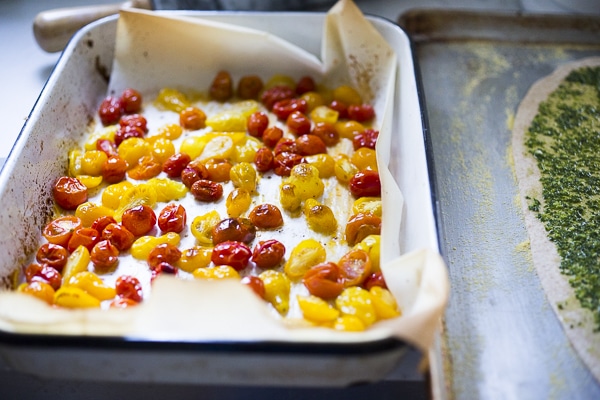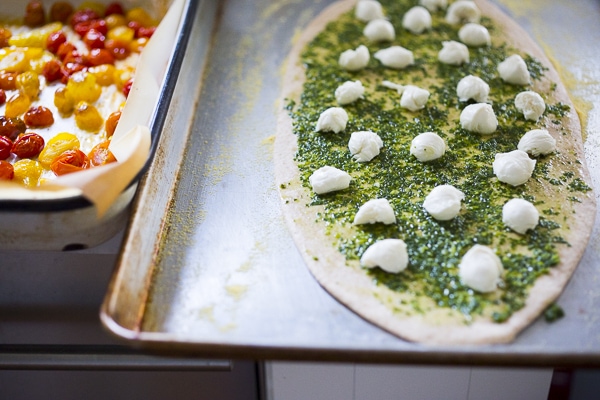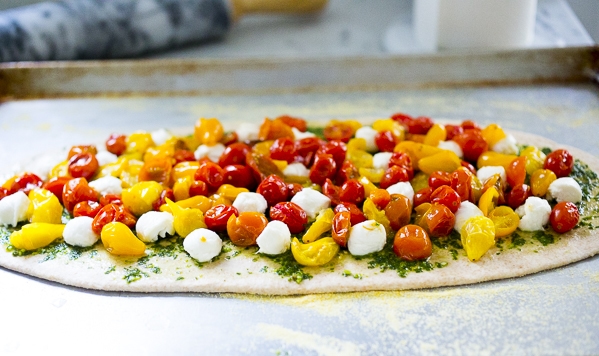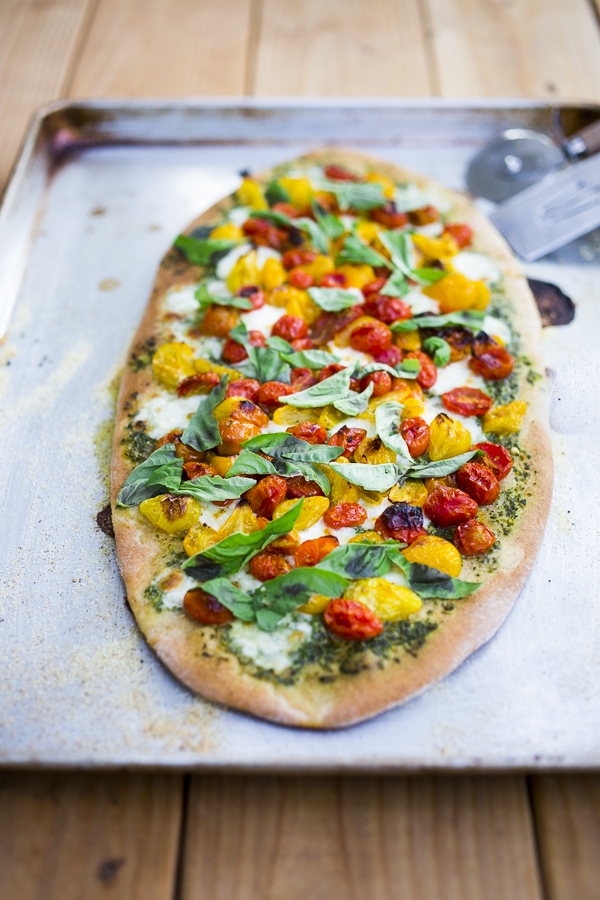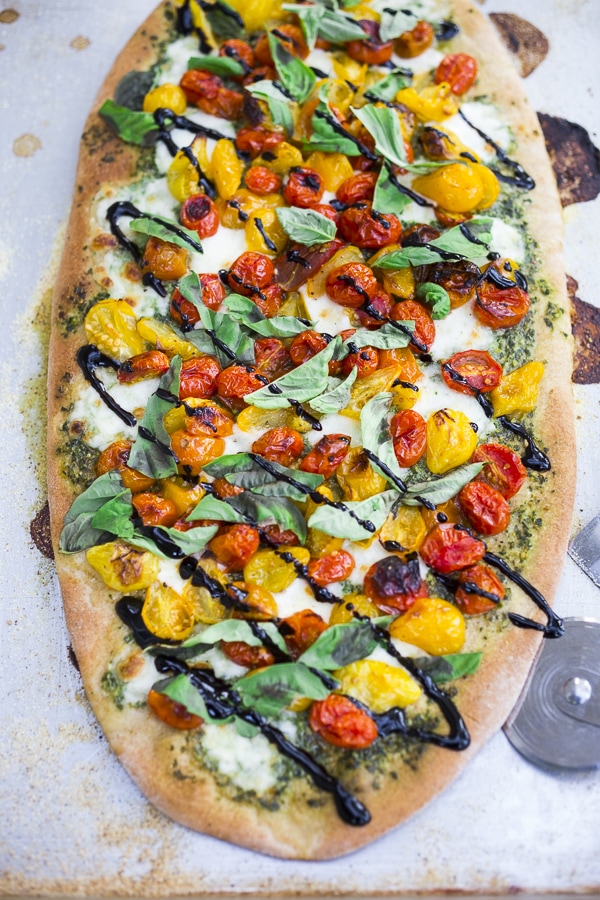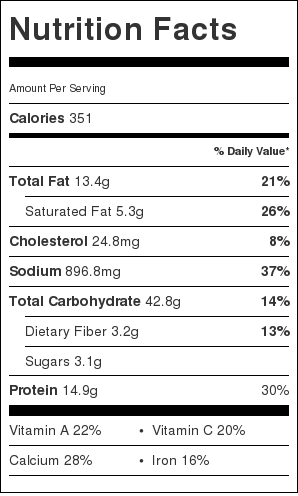 print recipe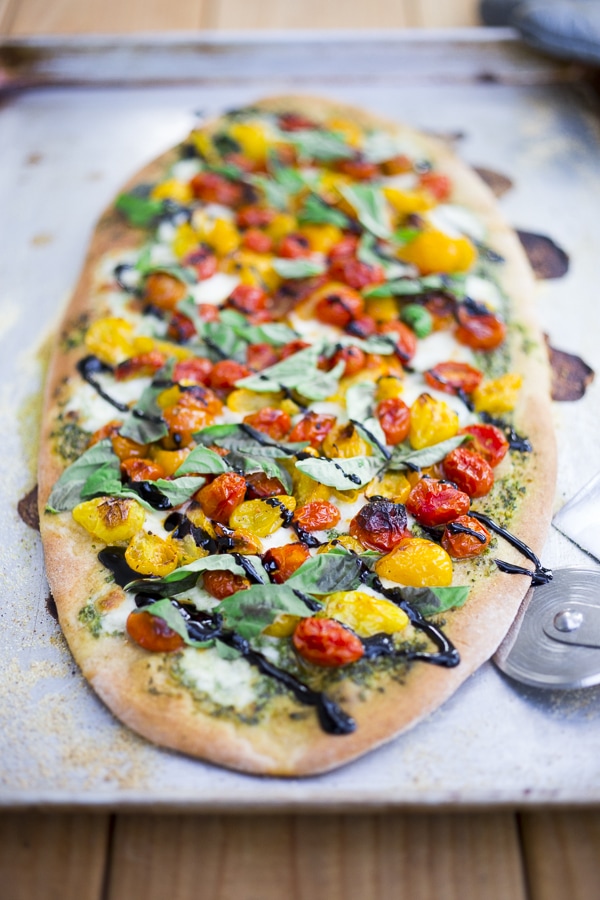 Caprese Pizza with Roasted Tomatoes (Adapted from Cooking Light)
I love this best when tomatoes are in abundance in the end of summer.
Ingredients
1 lb mixed cherry, grape and yellow pear tomatoes
1 T olive oil
pinch salt and pepper
16 oz pizza dough, brought to room temp
¾ C (packed) basil leaves- divided
4 cloves garlic
4 T olive oil
½ teaspoon salt
¼ teaspoon pepper
4-6 oz mini fresh mozzarella balls ( about 12 -14 balls)
2 oz grated pecorino Romano cheese ( optional but delicious)
1 T reduced balsamic vinegar (optional but delicious)
Instructions
Preheat oven to 450F.
Set pizza dough on a floured surface and bring to room temp.
Slice some of the tomatoes in half, leaving some whole. Toss tomatoes with 1 T olive oil, a pinch of salt and pepper and place on a parchment lined baking sheet. Roast in the oven for 10-12 minutes until tender and lightly roasted.
While tomatoes are roasting make basil garlic paste. In a food processor, pulse ½ C packed basil, 3 cloves garlic and salt -until chopped finely. Add 4 T olive oil, and pulse, scraping down the sides if necessary.
On a floured surface, roll out pizza dough into a very thin 16-18 inch round ( or 20 inch oblong). Place on a cornmeal dusted sheet pan, or pizza stone. Spread basil-garlic paste over the crust up to ½ inch of the outer edge.
Cut mini mozzarella balls in half and place them on the pizza dough. Sprinkle pecorino romano cheese. Place roasted tomatoes on top, scattering evenly. Place pizza in the 450 F oven and bake 10-12 minutes, until cheese has melted and crust is crisp. Broil for 1-2 minutes more to give the tomatoes a little extra char if desired.
Remove form oven, sprinkle with torn basil leaves and drizzle with a little balsamic syrup. Serve immediately.
To make a reduced balsamic syrup: bring any amount of balsamic vinegar to simmer in a small pot until reduced by half. When it coats the back of a spoon it is done….it will thicken as it cools.
Details
Prep time: 20 min Cook time: 40min Total time: 1 hour Yield: serves 6
print recipe
Thin Crust Pizza Dough
by September-20-2014
A simple thin-crust pizza dough – great for grilling or baking.
Ingredients:
1 1/2 tsp. active dry yeast
1 tsp. sugar
3/4 cup warm water (about 105°F)
1 cup cake flour
1 cup plus 3 Tbs. all-purpose flour (or use whole wheat)
1 1/4 tsp. kosher salt
2 Tbs. extra-virgin olive oil
Directions:
In a small bowl, whisk together the yeast, sugar and warm water and let stand until foamy, about 5 minutes.
In the bowl of a food processor fitted with the dough blade, combine the cake flour, all-purpose flour and salt and pulse 3 or 4 times.
Whisk 1 Tbs. of the olive oil into the yeast mixture. With the motor running, slowly add the yeast mixture to the flour mixture, allowing each addition to be absorbed before adding more. Pulse the machine 10 to 15 times to knead the dough. The dough should clean the insides of the bowl but will be slightly sticky.
Coat the inside of a large bowl with the remaining 1 Tbs. oil. Dust your hands with flour and remove the dough from the food processor. Form the dough into a ball and place in the bowl. Cover the bowl tightly with plastic wrap and let the dough rise in a warm place until doubled in size, 1 to 1 1/2 hours. Can be wrapped in plastic wrap and refrigerated or frozen.
Details
Prep time: 1 ½ hours Yield: 2 x 10 inch round Pizzas, or 1 x 20 inch pizza or 1 x oblong pizza