This recipe for Farmers Market Fried Rice makes use of all the beautiful veggies you may have in your fridge, CSA box or at your local farmer's market or local Asian Market.  This simple Veggie Fried Rice is packed full of nutrients and vegan-adaptable. Video!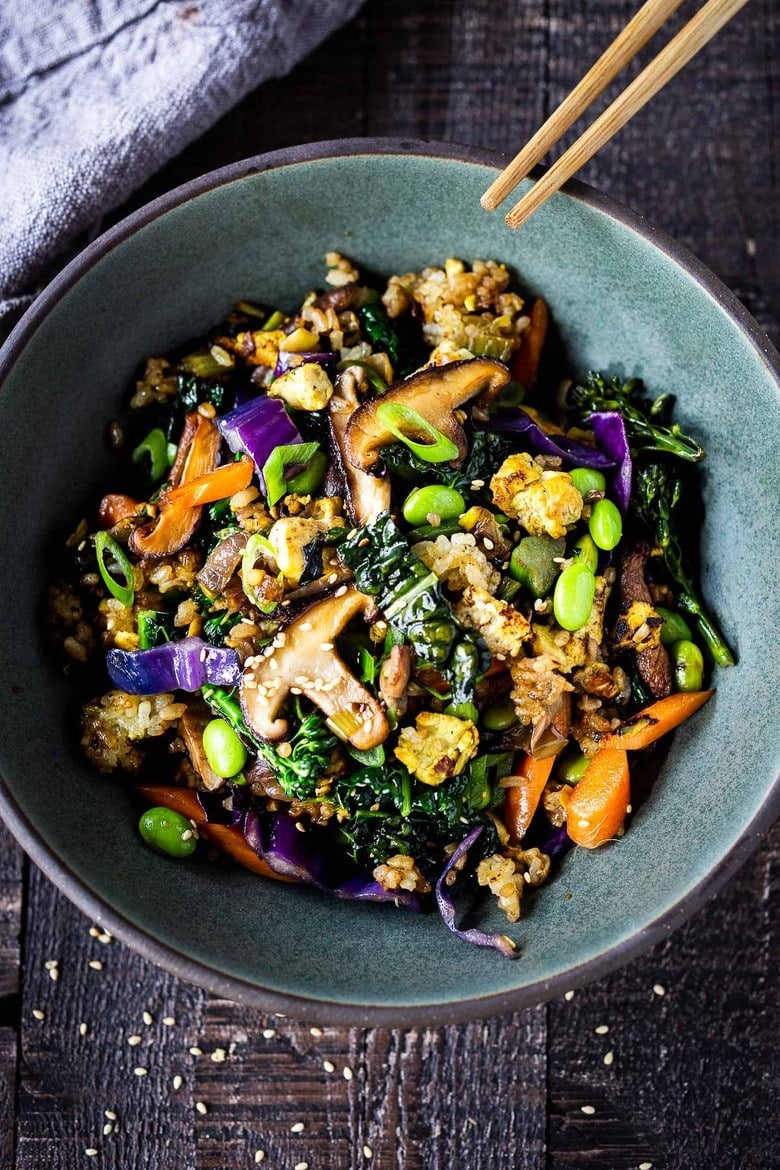 Here's a recipe that may come in handy on a busy weeknight, that the whole family will love- Farmers Market Fried Rice. What I like about this recipe is how adaptable it is. The variations are endless here, and depending on the season, you can take this Vegetable Fried Rice many different directions based on what is in season and your family's preferences. It is also a great recipe for cleaning out the fridge, using up stray veggies that may be accumulating.
If you have meat-eaters and vegetarians/vegans both living under the same roof, it's easy to add chicken or shrimp to some while keeping some vegan or vegetarian.
How to make Veggie Fried Rice | 60-second video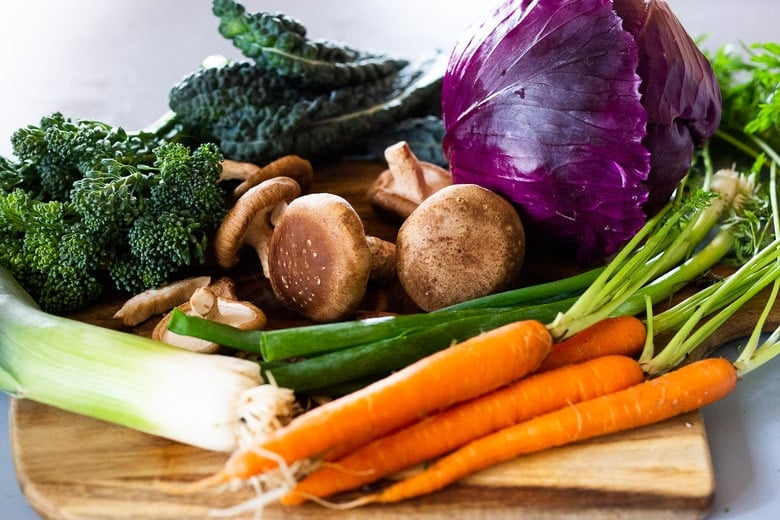 Vegetables to use in Veggie Fried Rice: 
Winter Veggies- cabbage, leeks and mushrooms make a tasty combo!
Spring Veggies- asparagus, spring onions, snow peas, spring peas, baby bok choy.
Summer Veggies- bell pepper, zucchini, green beans,  you name it!
Fall Veggies-roasted winter squash or cauliflower, kale.
Here, I've got a little hodgepodge – farmers market carrots, kale, leeks, and mushrooms, plus a smattering of veggies I had hiding in the fridge.
Traditionally fried rice includes eggs that have been whisked and scrambled and chopped into bits. You can also add cooked chicken or shrimp to fried rice.
Today we're highlighting the veggies so I'll show you how to keep the fried rice vegan using scrambled tofu.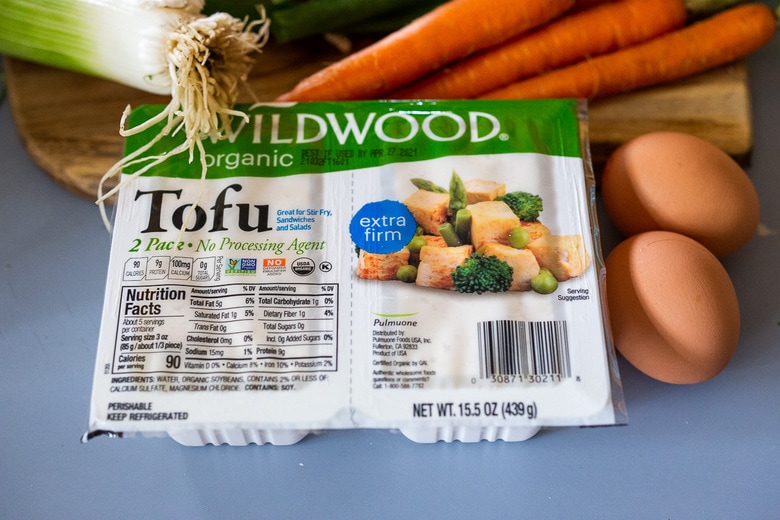 How to make Vegan Fried Rice:
To make this vegan, you can substitute "scrambled" tofu for the eggs – which you'll see below.
(If adding chicken or shrimp, sear them first,  lightly seasoning with salt and pepper and set aside. Keep in mind, you can keep some vegan and add meat to some- great for mixed households. )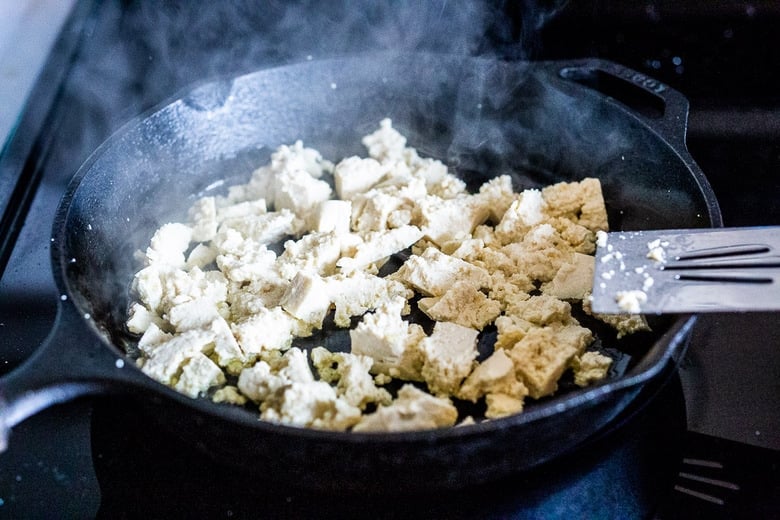 Blot the tofu and break it into bits and sear in an oiled skillet. Season with salt, pepper and a pinch of turmeric for color if you like. Let it get a little crispy, then set it aside.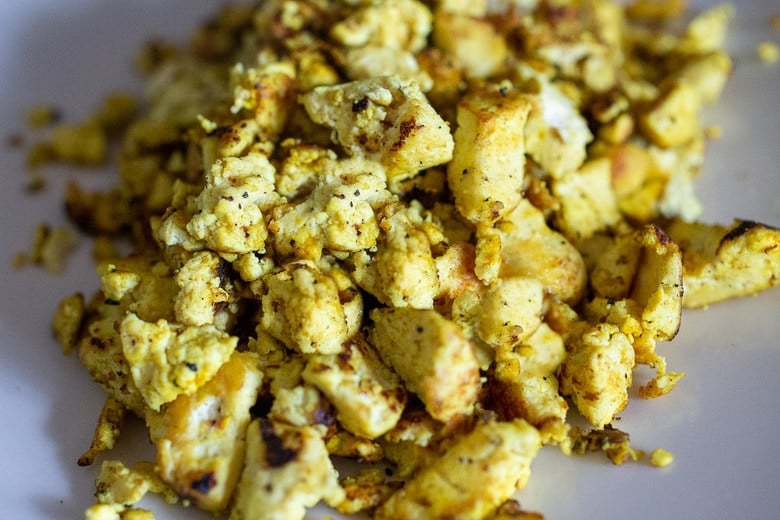 Prep your veggies. Cut longer cooking veggies – like carrots, parsnips, etc- smaller,  for faster cooking.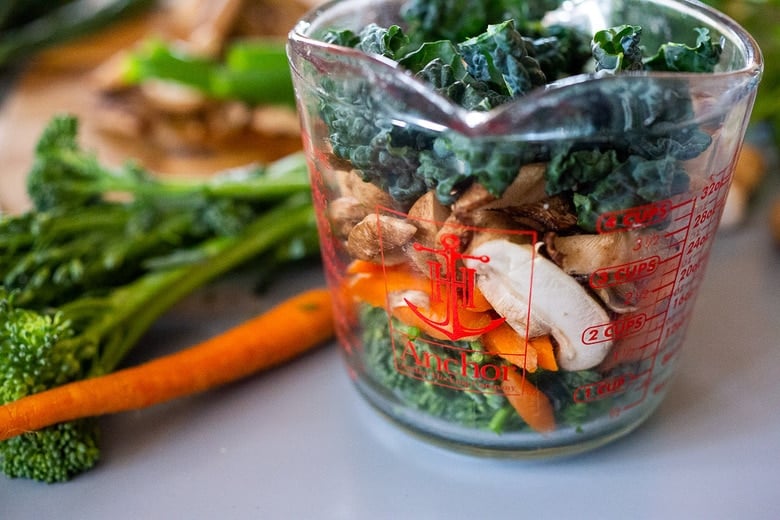 In total, you'll need 4 cups of veggies, plus one onion or a couple of leeks.
As you see here, I used one leek and half an onion -just using up what I had on hand.  Cook until tender, then add the garlic.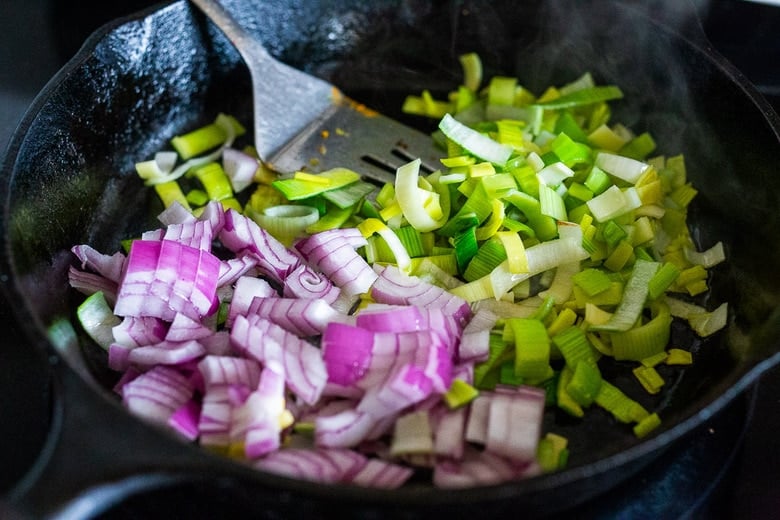 Add longer cooking veggies first, sauteeing until tender.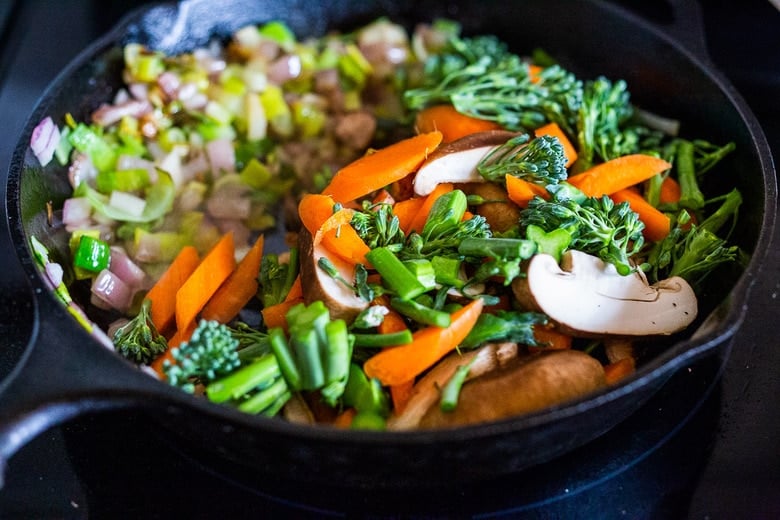 Add quick-cooking veggies last- greens, cabbage, kale etc.
Then add the peas or edamame.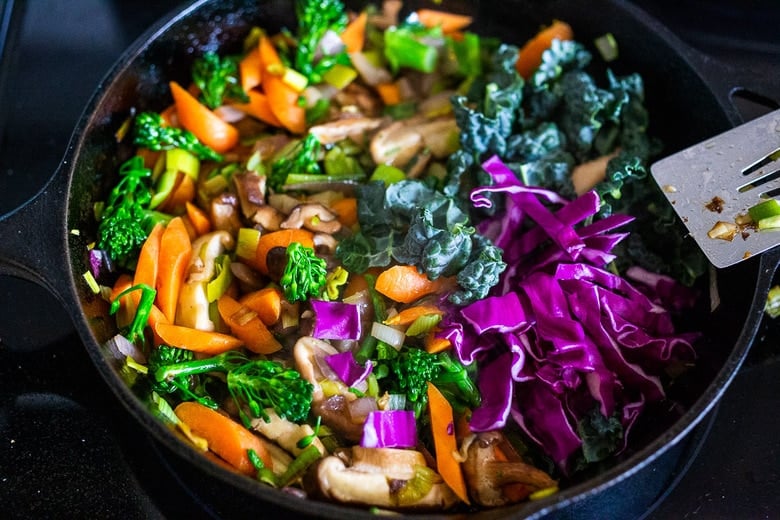 Then set the veggies aside next to the scrambled eggs or tofu.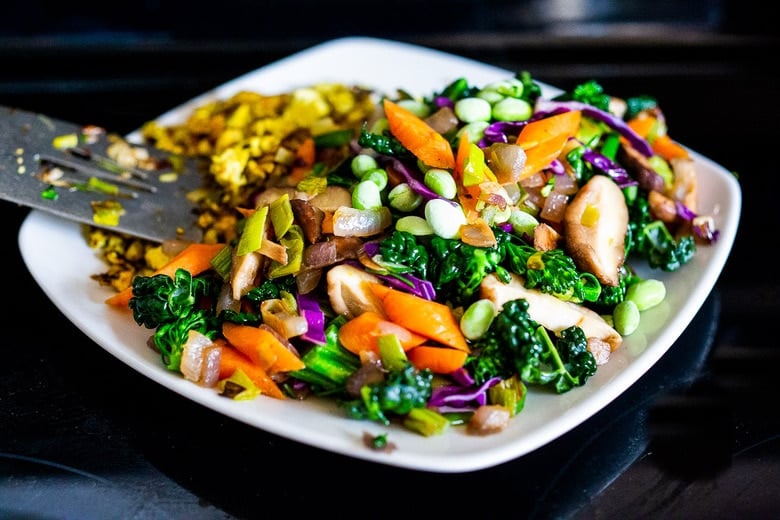 Then you'll stirfry the rice- you'll need three cups.
The best rice to use in Vegetable Fried Rice:
Use cold, dry, leftover rice, or rice that has been made ahead and chilled.  Not only is it much easier to stir-fry, it makes the dinner come together so much faster. Store rice uncovered and spread out in a baking dish in the fridge so it dries out (covering it will keep the moisture in).  Feel free to use any rice you like – short or long grain, white or brown. Here I'm using leftover sushi rice which is fairly traditional.  As long as the rice is dried out and chilled, it should work fine.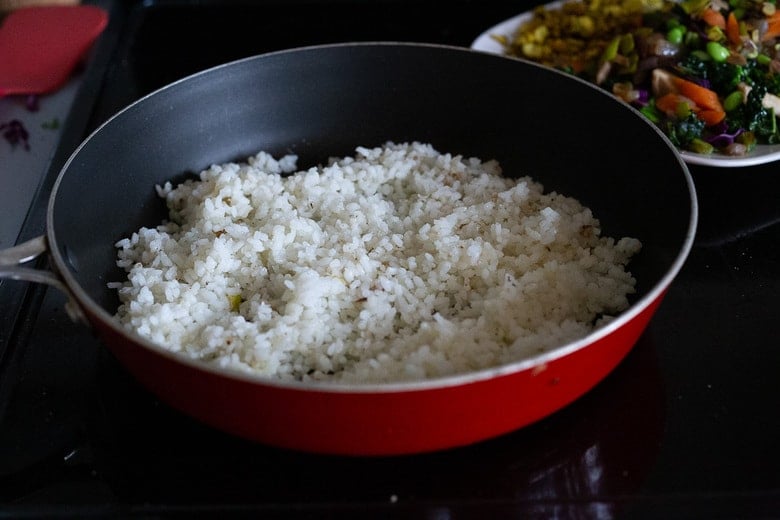 The best pan to use for vegetable fried rice:
Make sure to use a large nonstick pan or a large well-seasoned wok.
Using an extra-large non-stick skillet to fry the rice allows more of the surface to get crispy. Spread it out and resist the urge to stir, letting it form a crispy crust. Then flip big portions of it, crisping up the other side.
Unless your cast iron skillet is very well seasoned and oiled, it may stick.
Once the rice crisped to your liking, add in the veggies and the scrambled tofu (or eggs or cooked meat).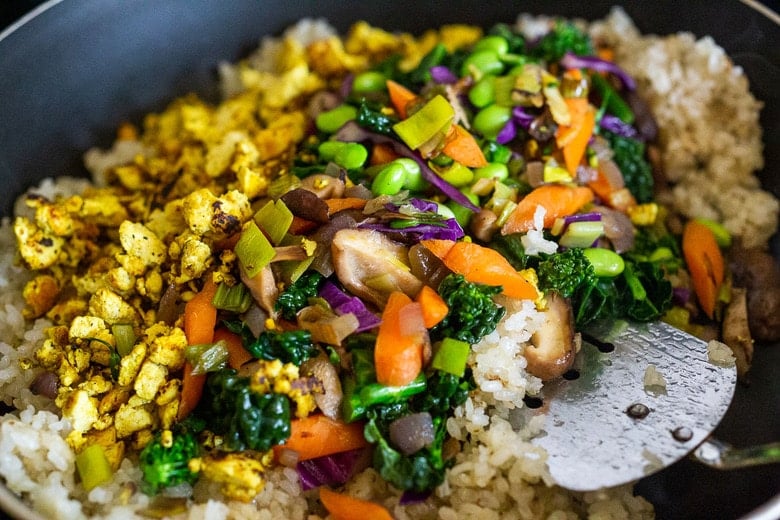 Season with soy sauce or sub-gluten-free liquid aminos.  Don't use Tamari, or it will end up too salty.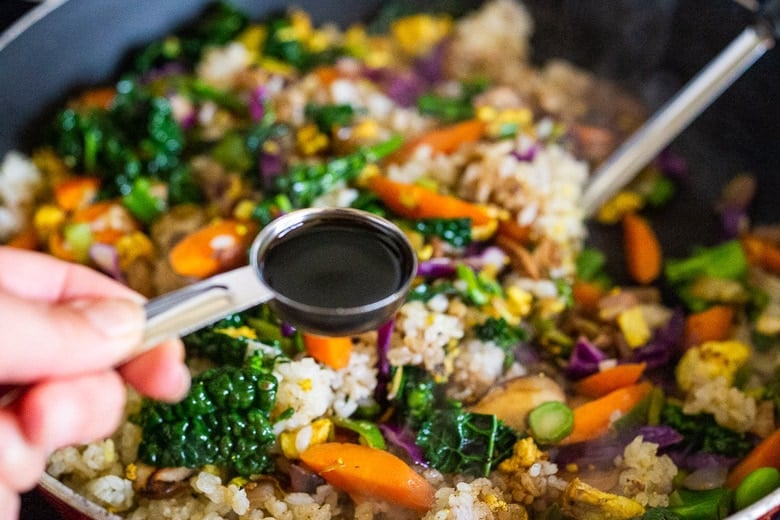 Stir in the toasted sesame oil.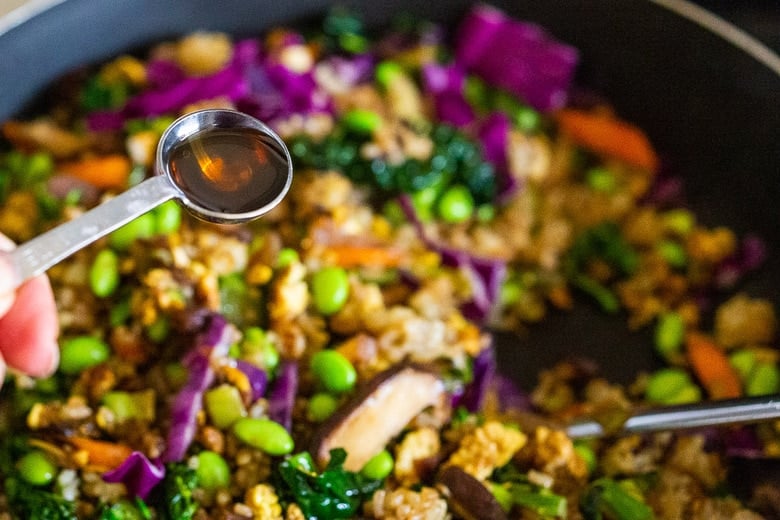 Mix to combine and heat through.
Veggie Fried rice "flavor boosters":
Find these at your local Asian Market!
Furikake Make it or buy it- it will elevate!
Smoked Shoyu– a flavorful, "high-end" smoked soy sauce that makes everything better.
 Oyster Sauce – not vegan- so I left this out today to keep this version vegan, but feel free to add 1-2 teaspoons.
 Hondashi –Again, not vegan and does contains MSG, but adds delicious flavor. Start with 1/4 teaspoon, add more to taste.
Miso Paste- Mix 1 tablespoon miso paste with 2 tablespoons water, and use instead of soy sauce. Increase the salt to taste.
Garlic Chili Paste– to add heat.
Chili flakes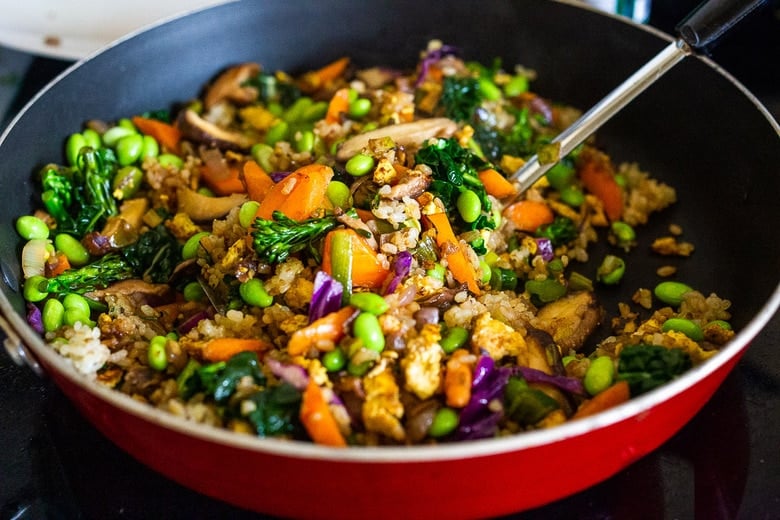 To garnish, sprinkle with Furikake or toasted sesame seeds.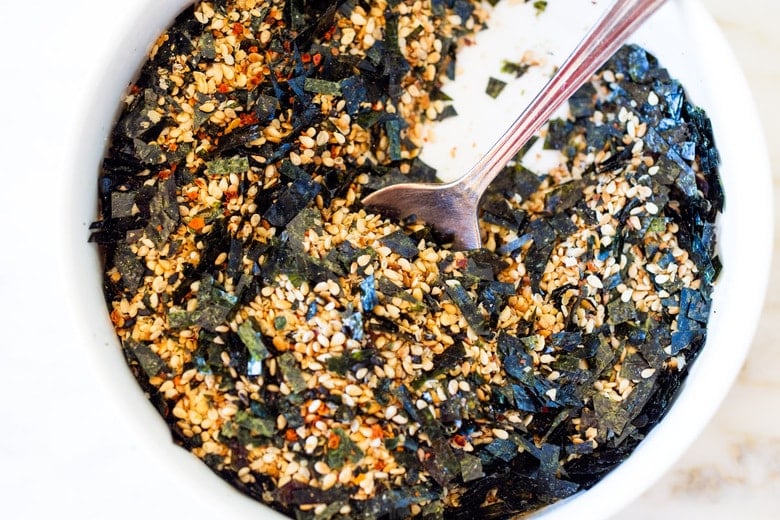 The Furikake is especially tasty here and I highly recommend it! If you don't feel like making it, Trader Joe's carries it as well as many upscale grocery stores and Asian markets and Japanese grocery stores.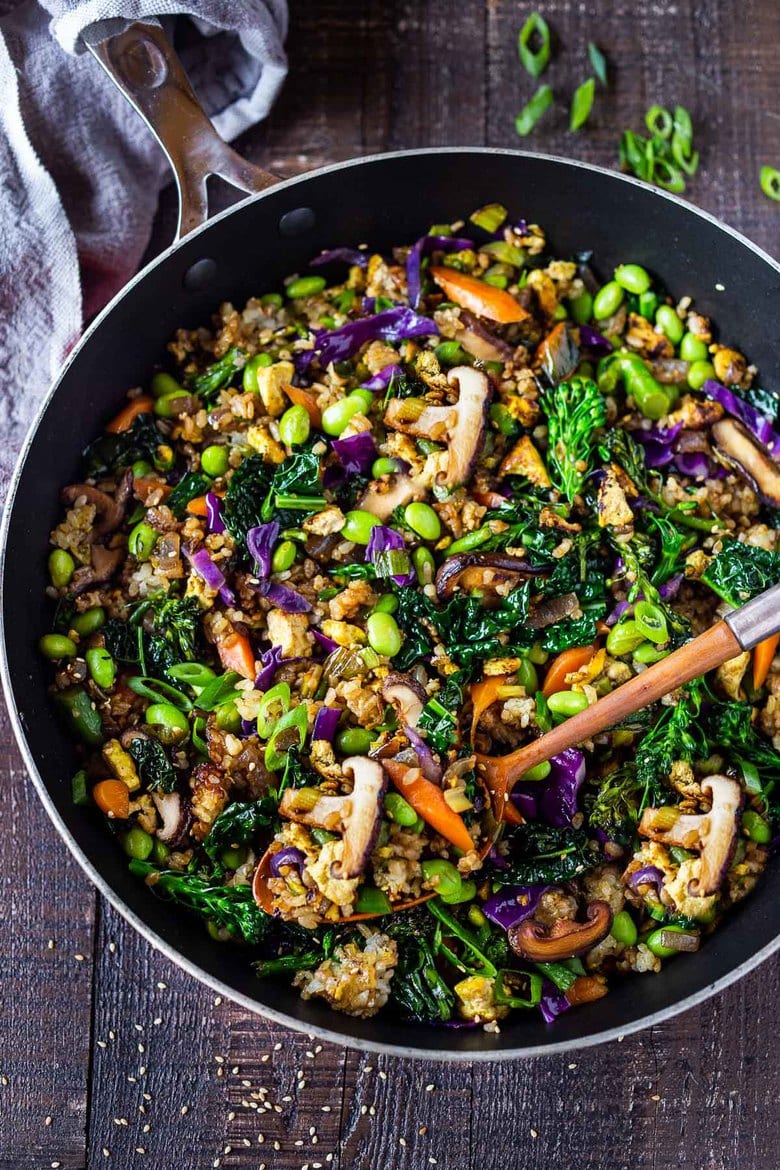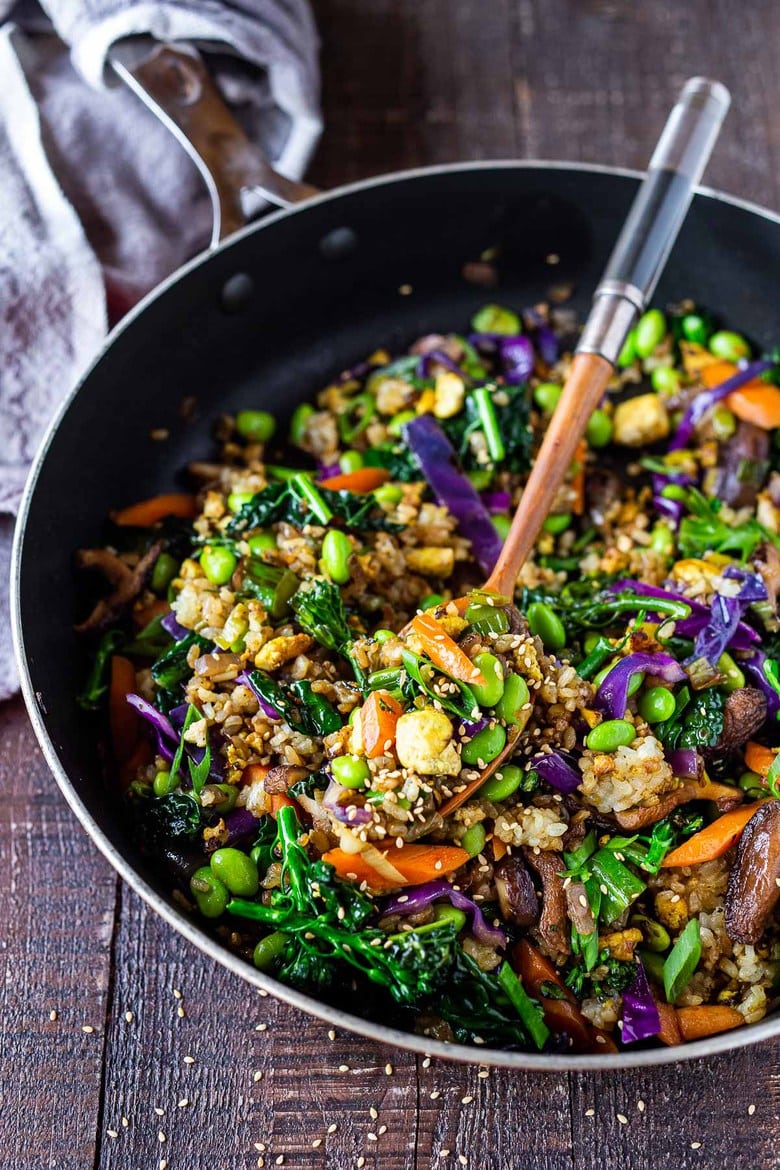 On the homefront: It is my hope that through cooking, we not only learn new ingredients and techniques but also learn more about the culture and people from which the food we make originates. Cooking can be a way of celebrating all our unique and beautiful differences. I'd like to believe expanding our repertoire in the kitchen can also expand our hearts if we let it.
Rising violence and hate crimes towards Asians hurts all of us. We are not separate, though our minds often tell us so. Our hearts know…
If you feel compelled to support or help,  I found this article Where to donate to Asian Communities useful and informative.
And if so inclined, visit your local Asian Market, a simple, easy way to support and connect with folks in your own community. Here is a helpful list of things I like to stock up on.
Enjoy the Vegetable Fried Rice and let us know what you think in the comments below.
Have a beautiful week. Happy cooking!
xoxo
More recipes you may like: 
Print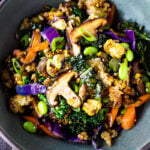 Farmers Market Fried Rice
Prep Time:

20

Cook Time:

20

Total Time:

40 minutes

Yield:

4

1

x

Category:

weeknight dinner, vegan, vegetarian

Method:

stirfry

Cuisine:

Asian

Diet:

Vegetarian
---
Description
A simple recipe for Vegetable Fried Rice that can be made with almost any veggie you have on hand or need to use up. This recipe has more veggies than rice! Vegan-adaptable and GF.
---
8

ounces

tofu (or two eggs, whisked) Or for meat, see notes.

4

–

5

tablespoons coconut oil (or peanut oil, olive oil, or use butter or ghee) divided

2

leeks (chopped and rinsed) or

1

onion, diced

3

garlic cloves, rough chopped ( or try garlic scapes!)

4

cups

chopped veggies: carrots, mushrooms, cabbage, bok choy, asparagus, kale, bell pepper, broccoli, broccolini, zucchini, snow peas, green beans, baby spinach, kale.

1

cup

shelled edamame or peas (frozen)

3

cups

cooked, cold, dry rice (or brown rice) see notes

3 tablespoons

soy sauce or GF Liquid aminos

1 teaspoon

toasted sesame oil
salt and pepper to taste- or 1/4 teaspoon each

1/4

cup

scallions

1

–

2

teaspoons Furikake or toasted sesame seeds
---
Instructions
In an extra-large non-stick skillet, heat 2 tablespoons oil over medium heat and scramble the eggs or tofu. If using tofu, blot it dry first, and break it apart into little bits with the spatula in the pan. Season with a little salt and pepper ( and if you want your tofu yellowish, add a pinch of turmeric). Set aside on a large plate. See notes.
In the same pan, heat oil over medium, and saute the leeks or onion. Once tender add the garlic, saute 1-2 minutes. Lower heat to medium and add longer cooking veggies first like carrots and mushrooms, then add the other veggies, leaving the greens, kale or cabbage to add at the end. Toss in the frozen edamme and give a stir, and set the veggies aside next to the tofu (or scrambled eggs).
Add enough oil to lightly coat the pan. Add the rice, spreading it out. Turn up heat to med-high, and let it get a little crispy, resisting the urge, to constantly stir. Flip the rice big sections,  using a spatula and crisp up the other side. Once the rice is crispy enough to your liking, add back in the tofu (or eggs) and the veggies. Give a good stir to combine. Add the soy sauce, sesame oil and salt and pepper to taste.  If adding the Hondashi, stir in a little at a time. Adjust soy sauce and sesame oil, adding more if you like.
Divide among bowls and top with fresh scallions and Furikake or toasted sesame seeds.
Fried Rice will keep up to 4 days in the fridge and can be reheated on the stovetop or in a microwave.
---
Notes
If adding chicken or shrimp, pan sear first in an oiled skillet, seasoning with salt and pepper and set aside.
If using eggs– whisk in a bowl first and season with a generous pinch of salt and pepper. Scramble in an oiled pan and chop up into smaller bits with your spatula– set aside.
To cut back on the oil here, you can steam or roast the veggies first instead of sauteing in oil.
RICE: Using leftover rice that is stored in the fridge uncovered, works best here. You want the rice cold and dry, so I always use leftover rice, or I make the rice ahead and refrigerate it in a baking dish, spread out, uncovered. Brown or white rice, short or long grain- all work as long as the rice is dry.
Flavor Boosters:  Oyster Sauce and Bonito granules boost flavor here but are not vegan. Use a little if you like. 😉 Furikake elevates, Garlic Chili paste or chili flakes for heat. Or try 1 T Miso paste mixed with 2 T water instead of soy sauce– then season with salt.  Or try Smoked Shoyu (go light).
Nutrition
Serving Size:

1.5 cups

Calories:

453

Sugar:

5.3 g

Sodium:

372.9 mg

Fat:

21.9 g

Saturated Fat:

3.1 g

Carbohydrates:

52.5 g

Fiber:

8.1 g

Protein:

16.9 g

Cholesterol:

0 mg
Keywords: vegetarian fried rice, vegetable fried rice, vegan fried rice, veggie fried rice, easy fried rice, healthy fried rice, fried rice with eggs, fried rice with shrimp, fried rice with chicken