This Vegetable Paella is simple and easy and full of authentic Spanish flavor, created from the Sofrito base. Today we are keeping it vegetarian with mushrooms, peas, and artichoke hearts. Vegan and Gluten-Free! Includes a video.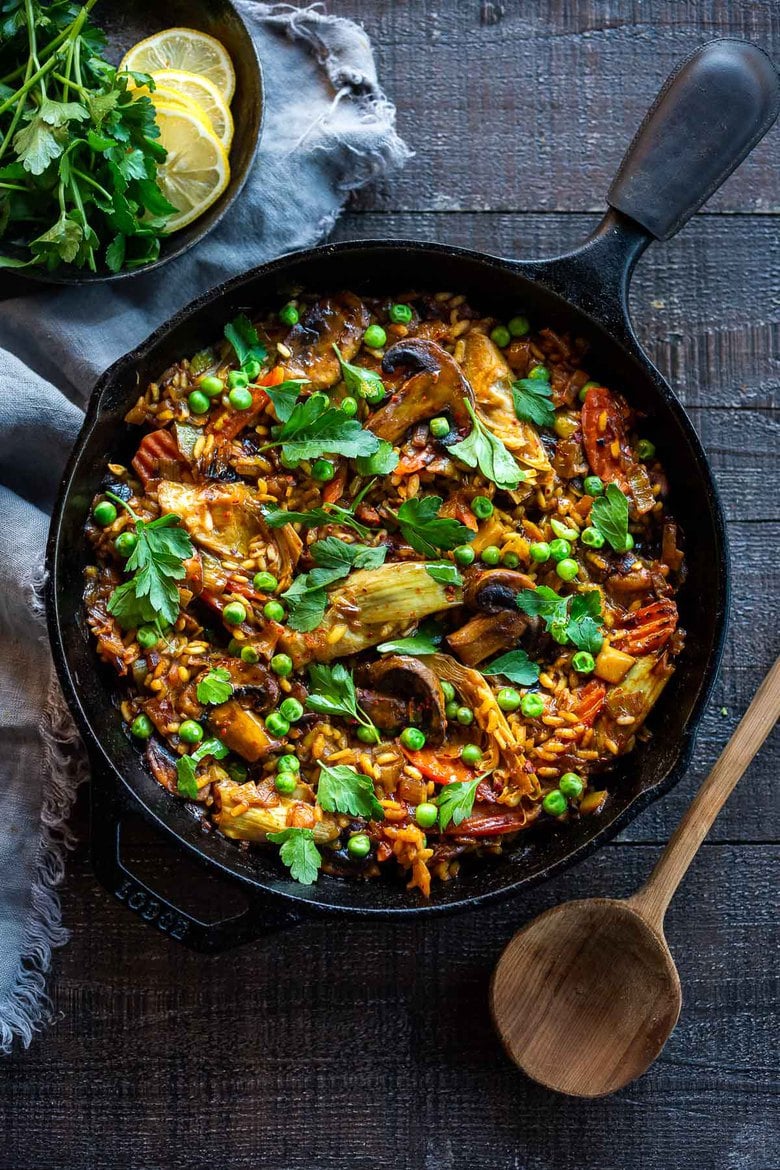 A fellow blogger and friend, Silvia Sampere (yes, we share the same name) was born and raised in Barcelona and kindly offered to share her Vegetable Paella Recipe with us today and show us the way they make it in her homeland. All the text is written by her and I found it really interesting, I hope you do too! Her blog is Silvia Cooks.
 Vegetable Paella | 60-second video
What is paella? (origination and history) 
Paella is a well-known Spanish dish, originally from the region, we now call Valencia, and now popular all over the country. The word paella actually means 'pan' in Valencian (Catalan), and it refers to the wide, large, flat pan in which this rice dish is cooked.
Although paella is generally understood as rice cooked with different ingredients, there is a traditional Valencian recipe that calls for specific ingredients:  olive oil, chicken, rabbit, green beans, garrofó beans, tomato, water (not broth), salt, saffron (as natural coloring) and rice. 
Some of Spain's history is reflected in this dish: the use of rice in the Mediterranean area only began after rice itself arrived in the region from Asia. However, rice wasn't grown in large quantities in Spain until the Arabs arrived to the Peninsula at the beginning of the 8th century, as rice was a big part of their diets. The Arabs also brought with them the use of many other ingredients and spices, such as saffron – another essential ingredient in paella.
Paella was originally called "Valencian Rice" and the people from that region were praised (and still are) for their mastery of cooking rice in delicious ways. 
How many kinds of paella exist?
As many as people walking on this planet, I would say. Like with many other traditional dishes, each region interprets paella in its own way. Some Mediterranean coastal regions love using fresh prawns, muscles, clams, squid and sometimes lobster.
In other areas, it is common to use different types of meat (lamb ribs, rabbit, pork) combined with beans, artichokes or other veggies. In some places they actually combine both meat and fish – this is known as mar y montaña (sea and mountain). 
The recipe here is not a traditional Valencian one, but an interpretation of paella based on seasonal ingredients and available resources.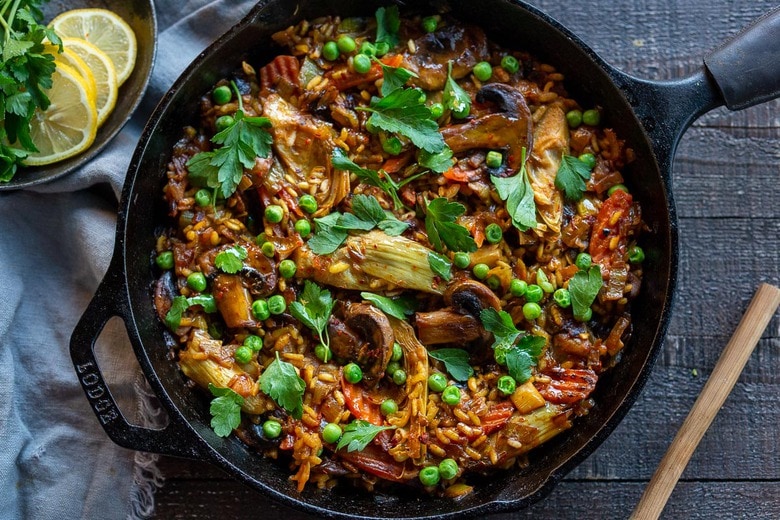 How do people traditionally cook paella?
The original way of cooking paella is outdoors, over a fire, by burning wood from orange trees as these are common in Valencia. Nowadays most families and friends will still cook it outdoors, but instead of fire, they will use an outdoor gas stove.
The professionals will argue that this doesn't compare to a real woodfire, but it is a nice option as well if a real fire is not available. The truth is that many people might not even have access to cooking outdoors, so families nowadays cook paella in their kitchen, over gas or regular stove. The main reason for making it outdoors is not just for the coziness of the process, but because paellas (the cooking pan) are usually very wide and quite large, so most kitchens are not equipped with a big enough stove that will spread the heat equally.
Paella is a family-style dish and, although it can be eaten any day of the week, it's usually cooked when there is a gathering of family or friends, a special occasion, or during the weekend when there is more time to spend cooking while you have a glass of wine or beer as you gather around and watch the vegetables and rice cook.
For convenience, this recipe is a reduced version (3-4 people) of regular paella, which serves 8, 10 or even dozens of people. Our version today can be cooked on a pan (cast iron works really well) on a regular stove.
What makes this Paella unique? 
This paella is about seasonality and local ingredients. The vegetables used in this recipe are just an example of what you could add during the Winter, but you don't have to limit yourself to them. You can be creative and pick your favorite vegetables, or those that are available to you right now where you live.
In the Spring you could use asparagus and fresh green peas, and in the Summer you could add green pepper to the initial sofrito and some sliced red pepper and green beans to your paella. 
Ultimately, making it yours and sharing it with the people you love is what paella is really about.
What makes a "good" Paella?
One of the key things about a flavourful paella is starting with a good sofrito. Sofrito means "fried" in Spanish and it is the base for many dishes, giving them a rich and deep flavor. It usually consists of finely chopped onions, garlic and grated tomato (or tomato sauce), cooked in some olive oil, until soft and lightly golden.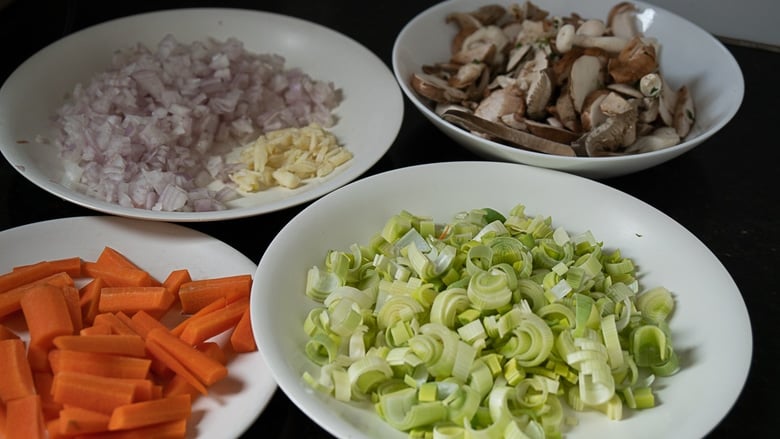 How to MAke Veggie Paella:
Prep all ingredients,  chop and have them ready to use before you start cooking.  For this paella, we will be making a sofrito with onion, leek and garlic as our base (we will add the tomato later on).
Set a cast-iron pan to medium heat, add a generous amount of olive oil and once hot, add the finely chopped onion and leek.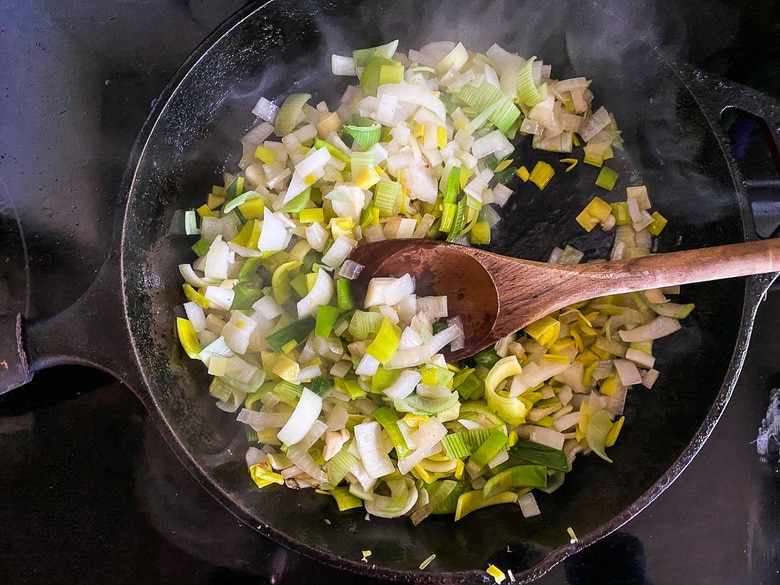 Once the onion and leek have softened, add the chopped garlic and mix well. Cook for a few minutes then push the fried ingredients to the sides, and add the chopped carrots into the center of the pan.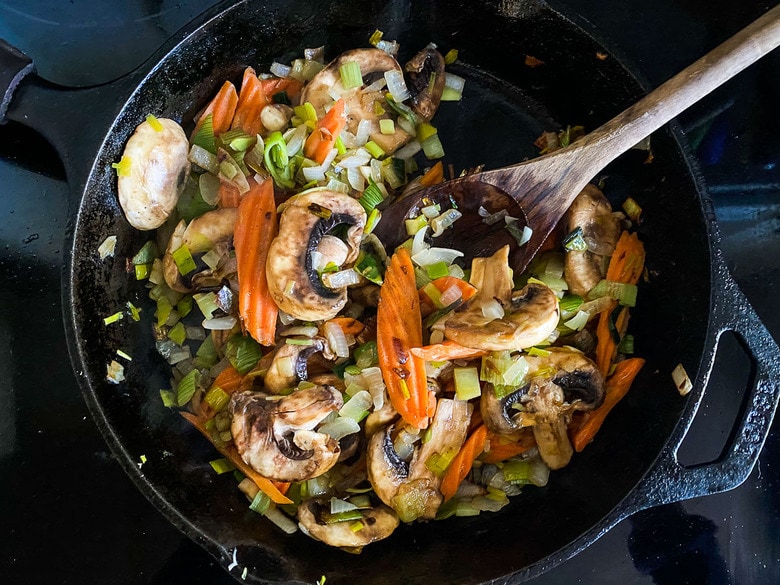 Once the carrots are a little golden on the sides, add the chopped mushrooms.
Once the mushrooms have been on the pan for about 2 minutes, bring up the heat to medium-high, allowing the ingredients to cook in the mushroom water.
In the meantime, start heating up the water or broth mix in a saucepan at low heat. Cover to allow it to heat up in less time.  TIP: If using broth, choose a high-quality one. If you can only find stock cubes, you can simply use water alone.
Then we'll add nori and tomato sauce.
Nori will give it a little seafood flavor without adding any fish, so here we will chop up and mix it with water.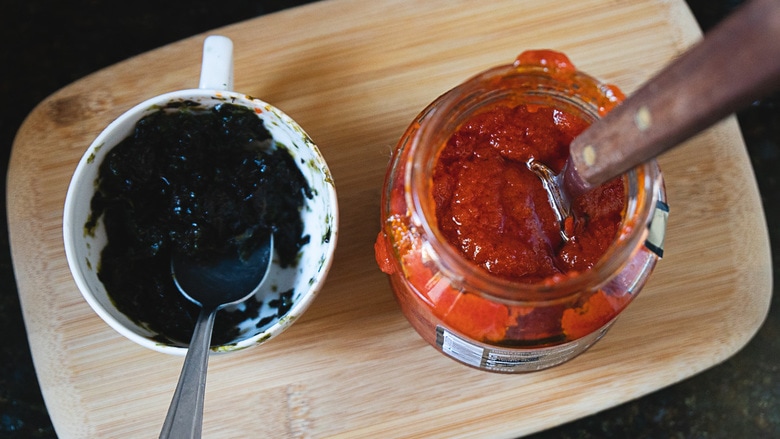 If you don't have tomato sauce, use a tablespoon of tomato paste.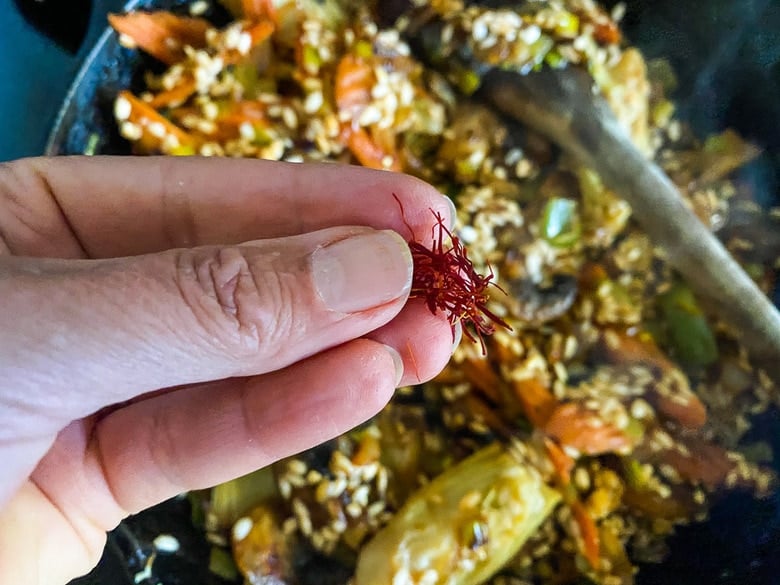 Add a pinch of saffron crushing the threads with your fingers.
Stir until all ingredients are coated, then add the rice.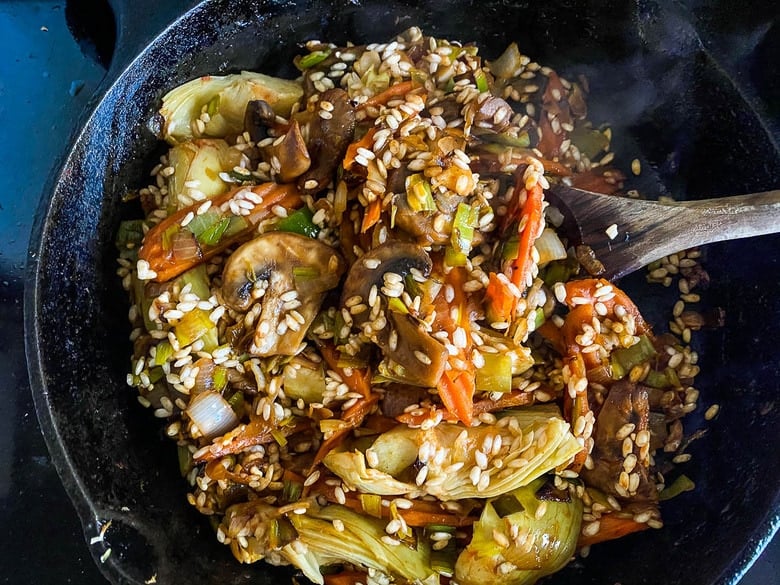 TIP: The rice variety is important when preparing paella. I recommend using Spanish bomba rice or Valencian variety. Senia, Bahia or Calasparra work well. If you can't find any of these at the store, choose round, short-grain rice.
Arborio (risotto) rice will also work well but will require a little more liquid.
What you are looking for is a rice variety that soaks up all the flavors but that also allows for longer periods of cooking without becoming mushy too quickly.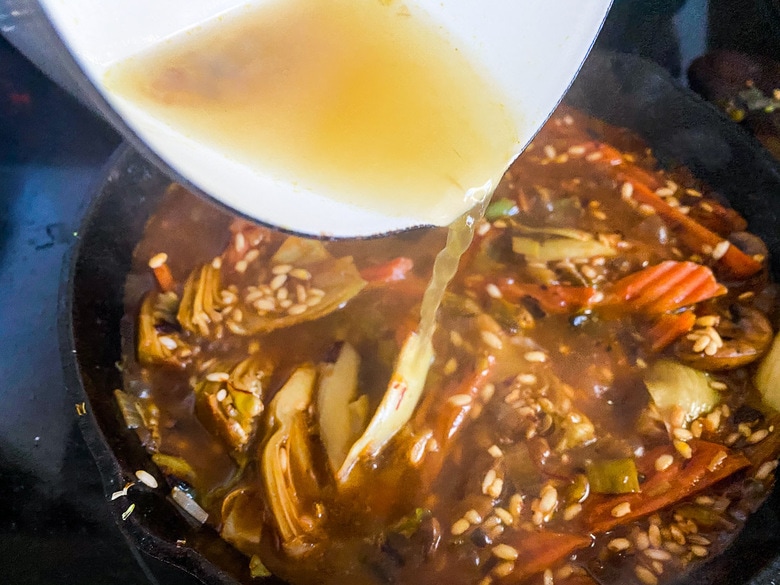 Pour the water or broth mix, shake the pan a bit to ensure the rice and vegetables are spread evenly. You can also mix with a spoon. The tradition says to not stir it anymore, so this is a good time to taste the broth and adjust with salt or a little lemon juice.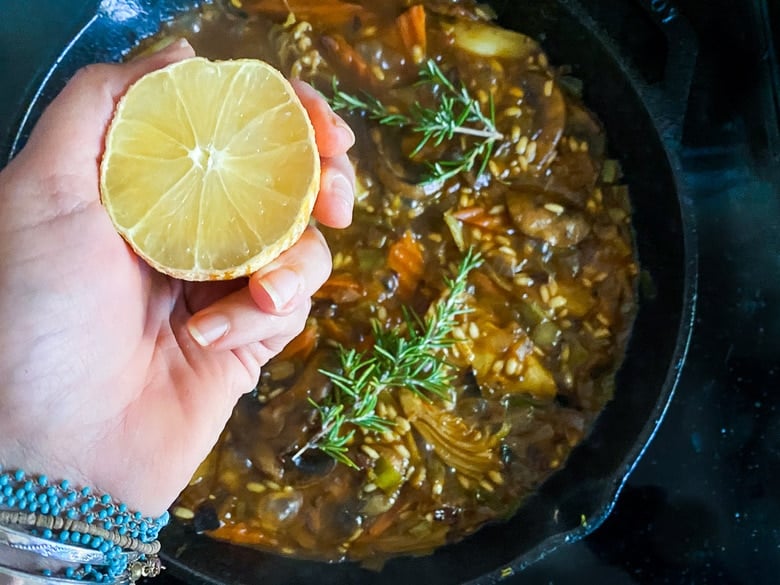 Bring to a boil at high heat, then reduce to medium-high and cook for 5 mins. Lower heat to medium-low and cook until the rice is al dente. This is what the Valencians call time for xup xup, which is the sound of a dish cooking slowly at low heat. You can add one or two rosemary sprigs to give it a little extra flavor. The xup xup part usually takes 13 mins.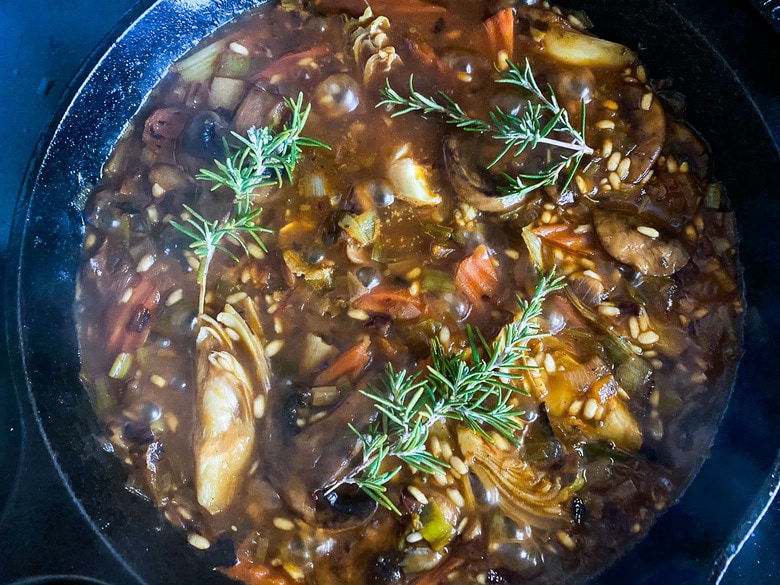 When the rice is almost done add the peas. Taste the rice before turning off the heat, if it still needs a little more time, add some extra water or broth (always hot) and let it cook for a 2-3 more minutes or until tender.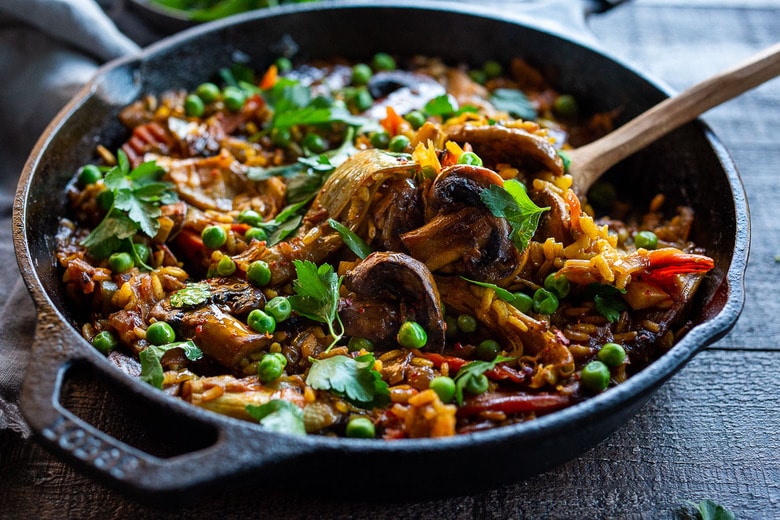 Turn off the heat, cover for 5-10 minutes. Serve immediately, placing the pan in the center of the table.  You can sprinkle some chopped fresh parsley on top, and serve with a slice of lemon.
TIP One of the most anticipated and craved parts of this dish is the sucarrat. This is the bottom part of the rice which has caramelized and is slightly toasted and crunchy, if cooked correctly. This is considered, by some, the tastiest part and it is a friendly gesture to offer it to someone at your table.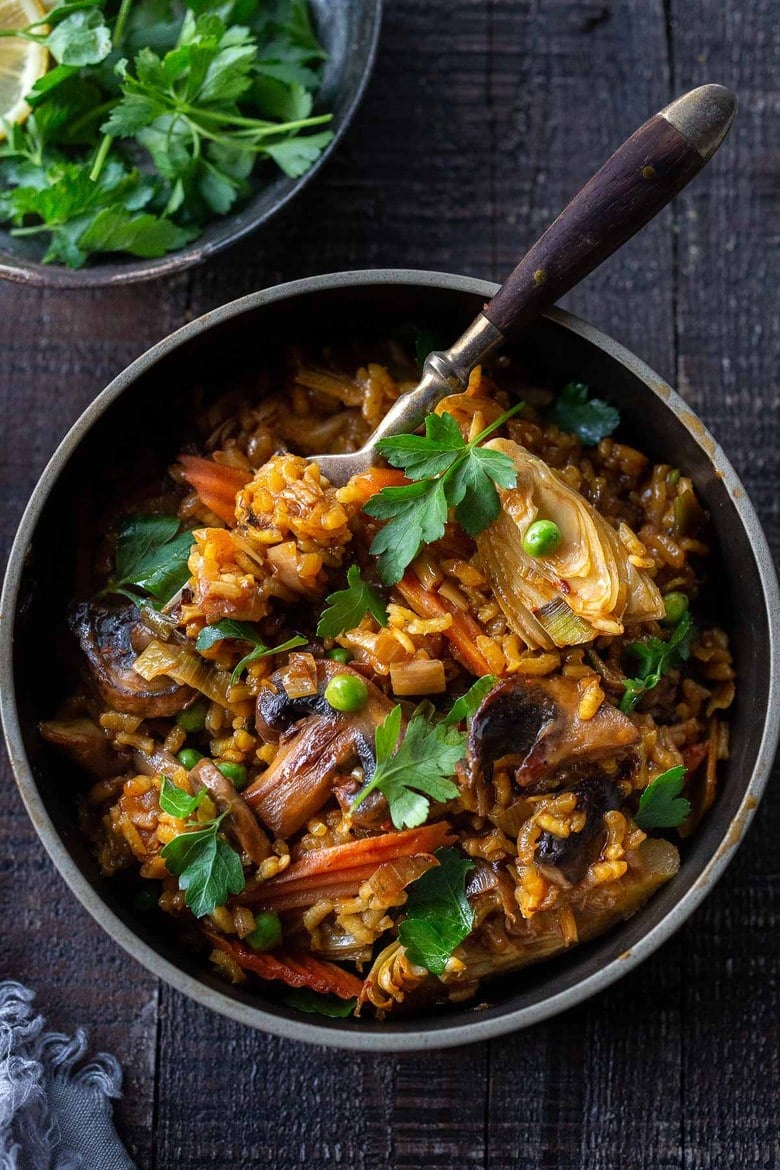 Serve the Vegetable Paella with lemon and fresh parsley!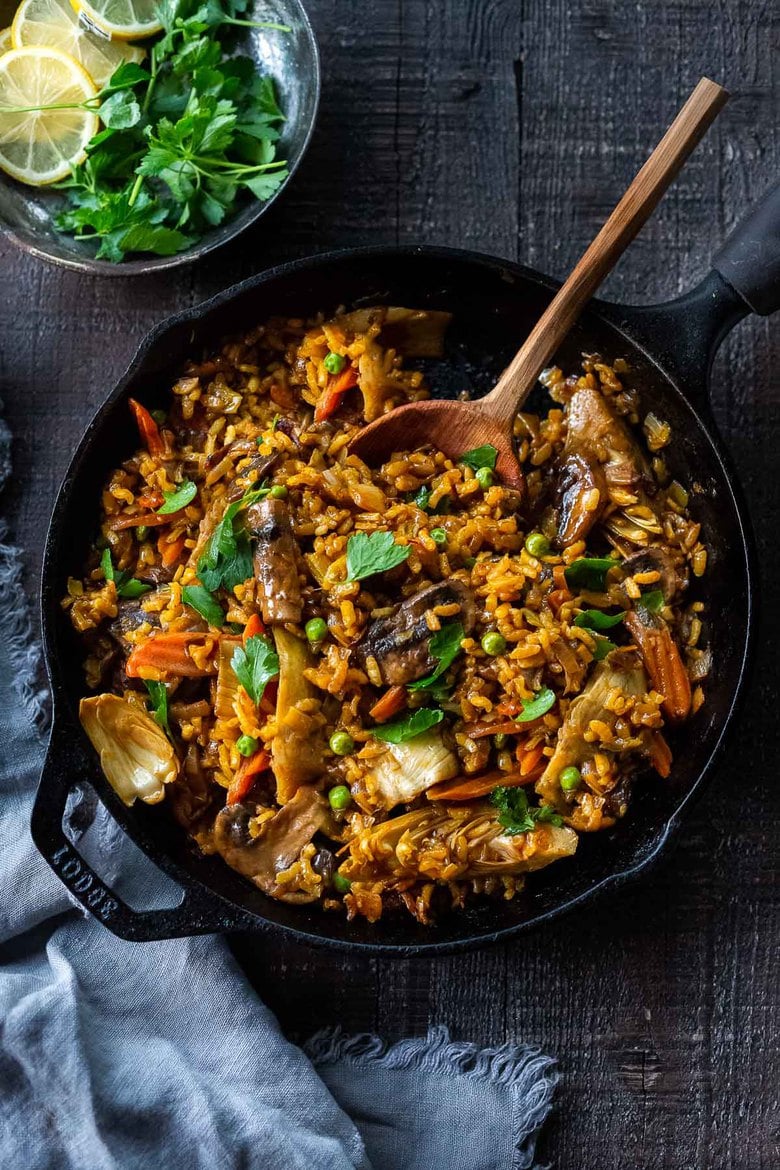 I'm so excited to try my friend's recipe for Vegetable Paella! Let us know what you think in the comments below!
Sylvia & Silvia 🙂
More recipes you may like: 
Print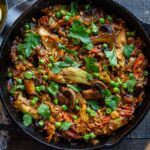 Vegetable Paella
Prep Time:

15

Cook Time:

45

Total Time:

1 hour

Yield:

3

-4

1

x

Category:

main, vegetarian, vegan

Method:

stovetop

Cuisine:

Spanish, Mediterranean

Diet:

Vegan
---
Description
How to make Vegetable Paella like they do in Spain! A simple, easy, vegetarian dinner recipe that comes together in under an hour! Vegan and GF. By Silvia Cooks
---
Sofrito
1/4

cup

extra virgin olive oil

1

onion, diced (

1 1/2 cups

or

100g

)

1

leek, diced and rinsed (

1 cup

or

80g

)

2

garlic cloves, rough chopped
Paella
2

small carrots (

1 cup

diced or cut small batons or

105g

)

2

cups

mushrooms, sliced or chopped (or 150g)

1/4 teaspoon

salt

1/4

cup

tomato sauce (or 1 tablespoon tomato paste)

1/2

sheet of nori seaweed, chopped and mixed with 1 tsp water – or see notes

1/4 tsp

saffron, crushed ( one pinch-

8

–

12

strands)

1

cup

(220g) round short-grain rice (bomba rice, arborio rice, Valencia Rice, Senia, Bahia or Calasparra varieties)

2 3/4

–

3 1/2

cups

hot vegetable broth (see notes)

1

cup

artichoke hearts

(canned is fine)

1

cup

frozen green peas (100 g)
salt to taste
lemon juice to taste

1

–

2

fresh rosemary sprigs
Garnish: Fresh parsley and lemon slices
---
Instructions
Make the Sofrito: Set a large cast-iron pan to medium heat, pour a generous amount of olive oil and once hot, add the finely chopped onion and leek.  Once these have softened, add the chopped garlic and mix well. Cook for 2-3 minutes.
Add the carrots to the center of the pan.  Once the carrots are a little golden on the sides, add the chopped mushrooms, saute for 3-4 minutes.
Add tomato sauce (or tomato paste), softened nori seaweed and crushed saffron(use your fingers).  Mix well until all ingredients are coated. Cook for a few minutes then add the rice, saute 1 minute.
Pour in 2 3/4 cups of the warm broth and the artichoke hearts and give a stir. Shake the pan a bit to ensure the rice and vegetables are evenly spread. You can also gently mix with a spoon. The tradition says to not stir it anymore after adding the liquid, so this is a good time to taste the broth and adjust with salt and a little lemon juice. You can add one or two rosemary sprigs to give it a little extra flavor.
Increase heat, bring to a simmer then lower heat and simmer gently on low uncovered for another 15 mins or until the rice is al dente. Taste the rice. If it's still a little hard, add some water (always hot) or broth until cooked through.  Add the peas to the top of the paella and cook until the rice has absorbed all the liquid. Keep in mind some rice ( like arborio) requires more liquid to cook all the way through.
Turn off the heat, cover with a lid, foil or newspaper and let it rest for 5-10 mins. Serve immediately. Sprinkle with chopped fresh parsley, and serve with a slice of lemon on the side.
---
Notes
I made this using Arborio rice– it took 3 cups of warm broth and 1 extra cup of water.
Nutrition
Serving Size:

¼ of the pan

Calories:

376

Sugar:

6.9 g

Sodium:

368.8 mg

Fat:

14.7 g

Saturated Fat:

2.1 g

Carbohydrates:

56.7 g

Fiber:

5.9 g

Protein:

8.1 g

Cholesterol:

0 mg
Keywords: vegetable paella, vegan paella, vegetarian paella, winter paella,