A tasty recipe (and video!) for Nasi Goreng (Indonesian Fried Rice) loaded up with fresh healthy veggies! Keep it vegan with Turmeric Tofu or add an egg (or chicken or shrimp!) – up to you! A fast and healthy dinner recipe the whole family will love.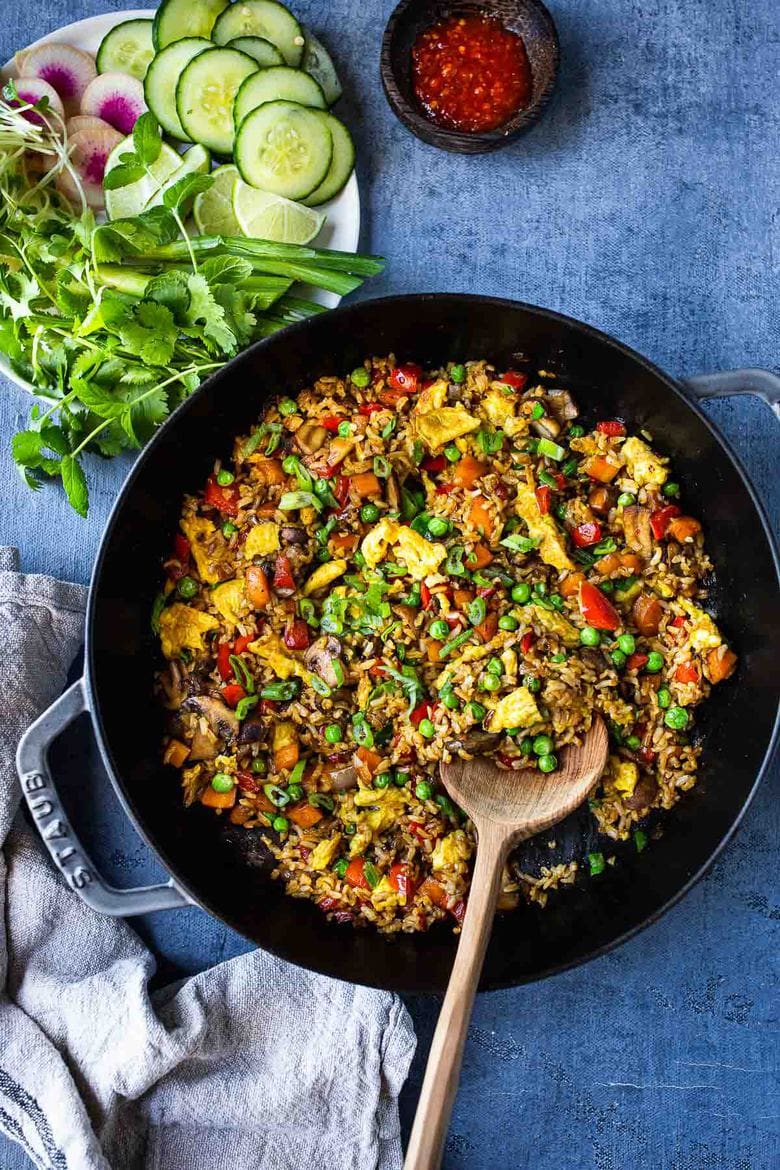 Nasi Goreng, in a nutshell, is Indonesian Fried Rice. It's simple food, typically made with leftover ingredients, and varies quite a bit depending on where you are. While we were there in the hot south, it almost always was served with something crunchy, cool and fresh on the side.
This version is loaded up with healthy veggies. You can add a protein of your choice- typically chicken or shrimp or fried eggs, or keep it vegan with crispy tofu.
How to make Nasi Goreng | 45-sec video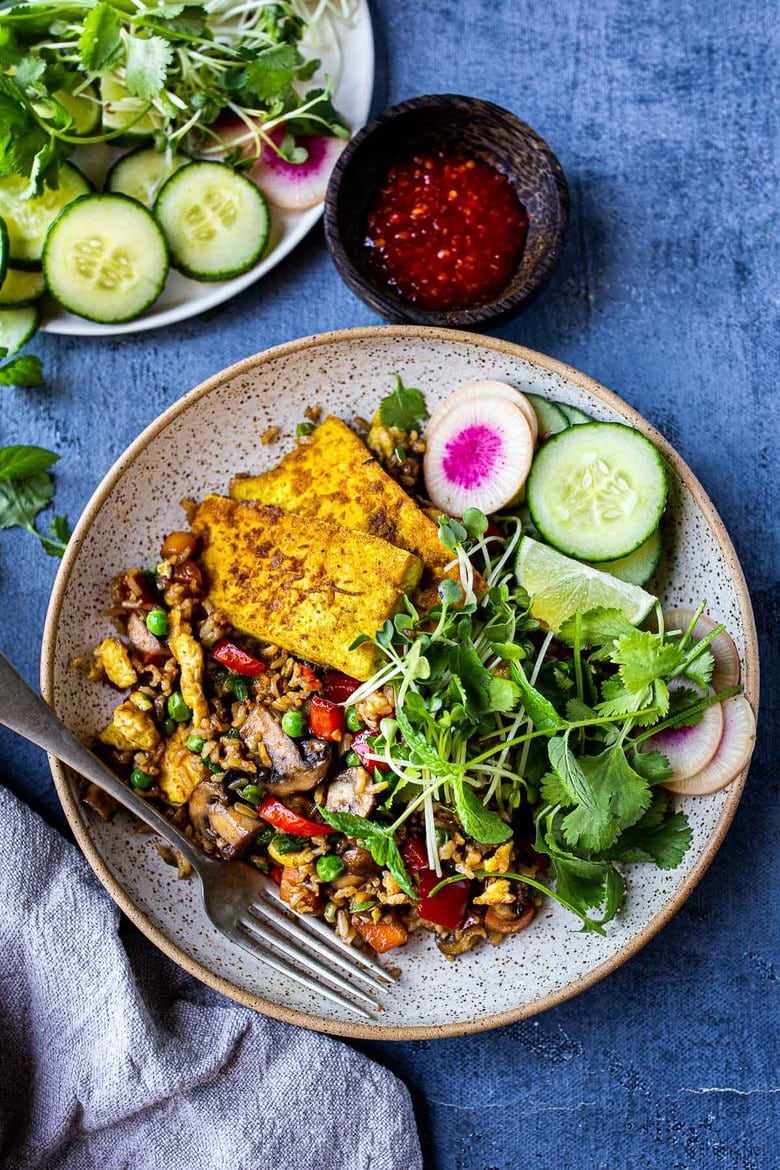 Authentic Nasi Goreng is seasoned with a little Terasi shrimp powder and Kecap Manis – a dark sweet & syrupy soy sauce infused with a hint of star anise. Here I've kept it simple, vegan-adaptable and made with more accessible ingredients. If you want to go the more traditional route, please read the recipe notes.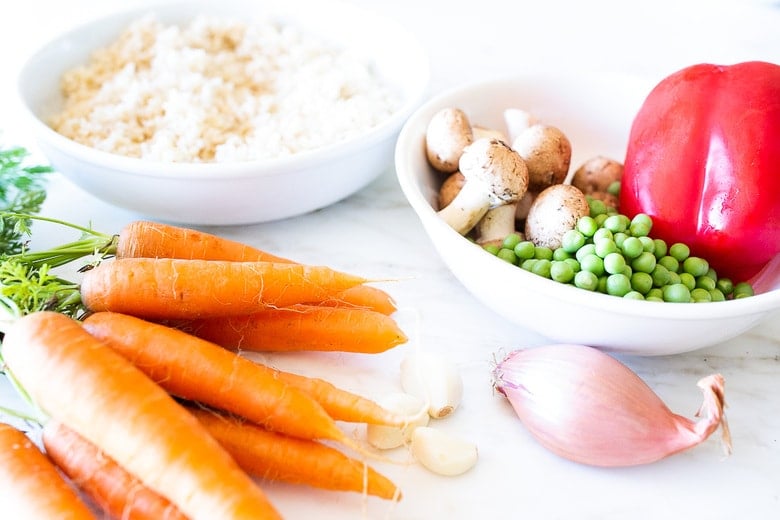 This recipe calls for 5 cups of chopped veggies and 3 cups of leftover rice. Here I've used carrots, bell pepper, fresh shucked peas ( from Trader Joes) and mushrooms. Feel free to change this up.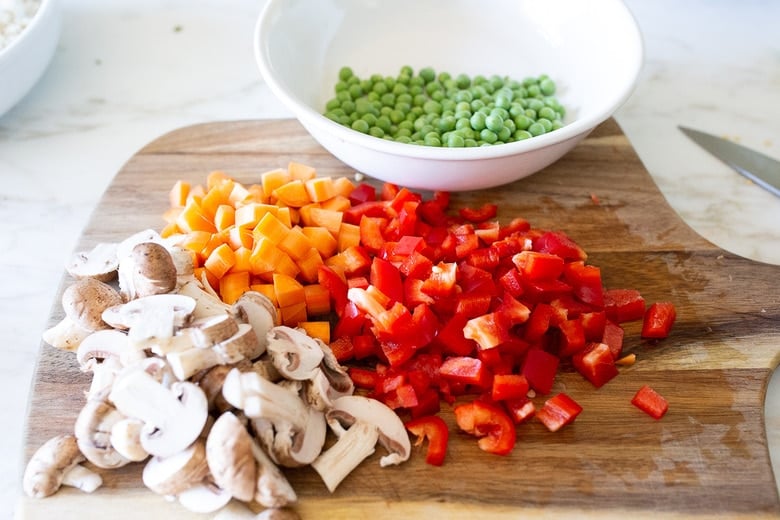 For faster cooking, make sure to chop tougher veggies like carrots, extra small!!!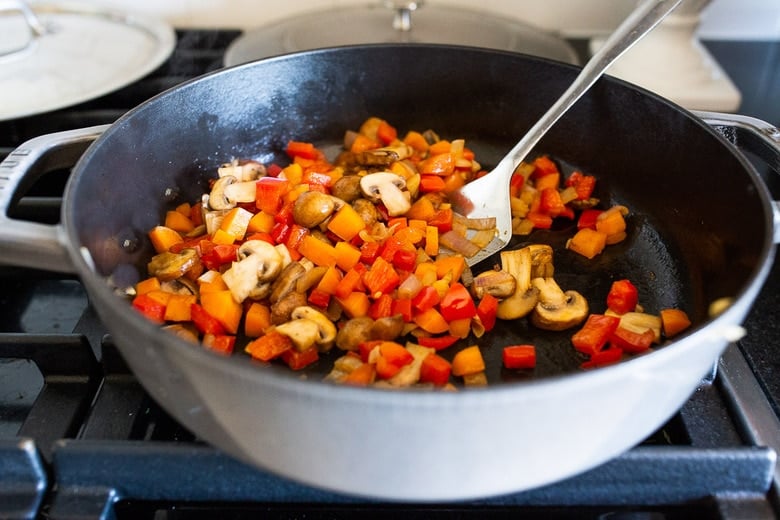 Instead of shrimp or chicken today, I'm pan-searing some Crispy tofu, coated in turmeric. The recipe is flexible – add your favorite cooked protein.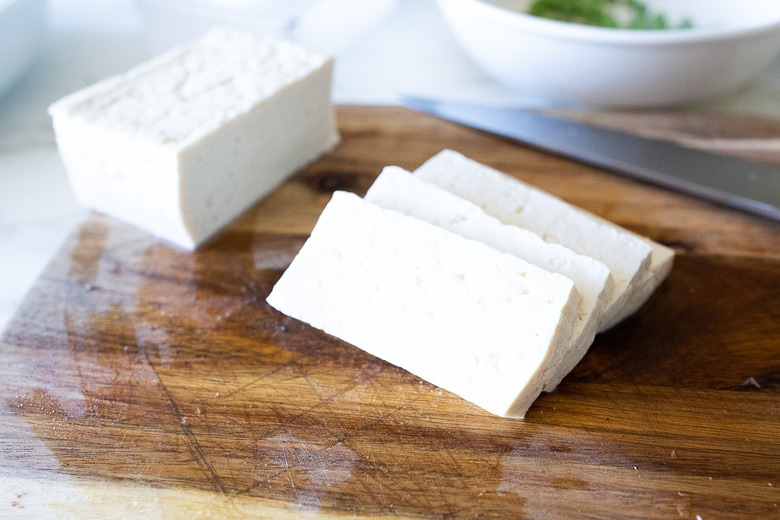 Here is a post on how to make crispy tofu.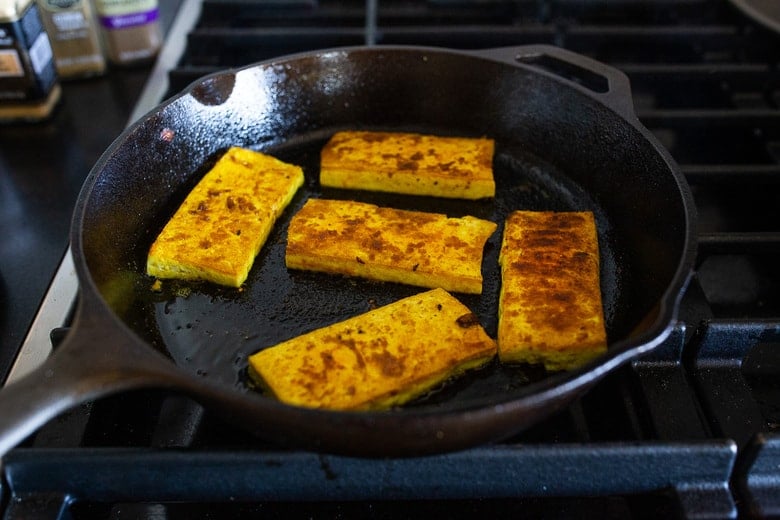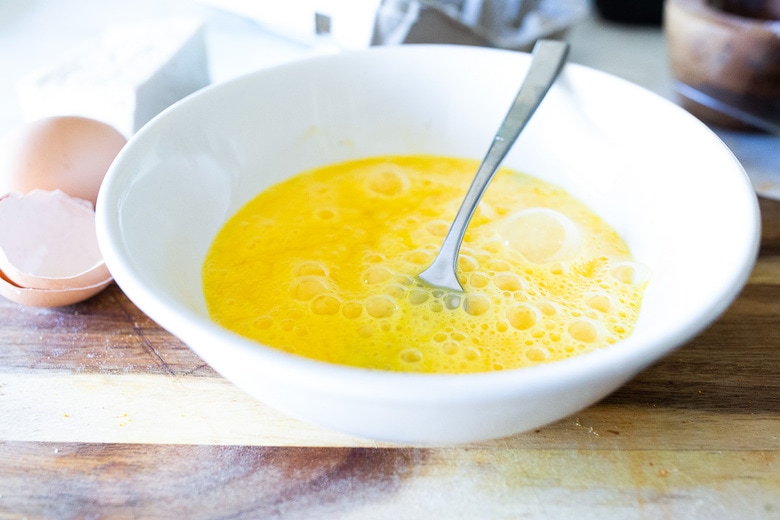 I'm also adding a couple eggs.  You can leave these out for a vegan version – or serve them sunny side up over top of the Nasi Goreng.  Brian prefers scrambled so I cooked them up first and chopped into pieces.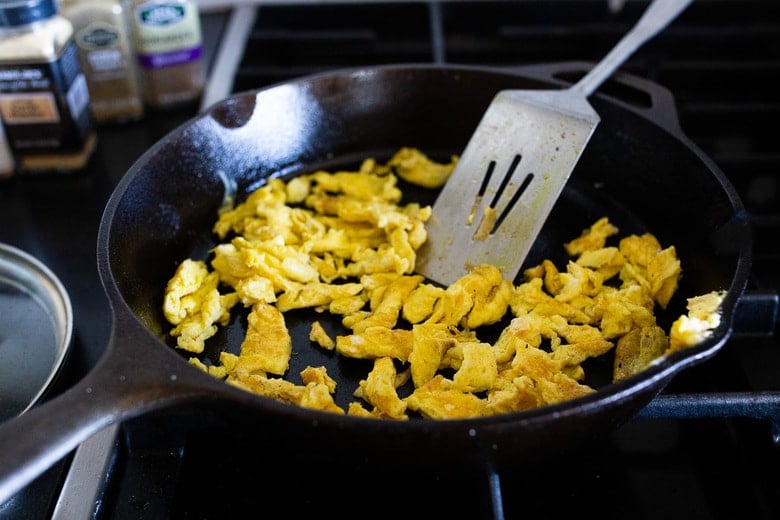 Once the veggies are tender, oil the pan and make room for the rice.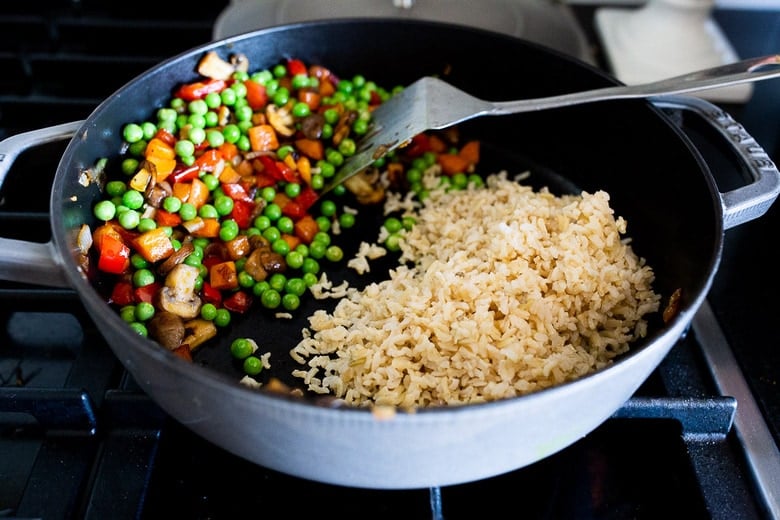 I'm using leftover brown basmati rice. You want to make sure the rice is extra dry. Wet or moist rice will not work well here. So basically, I left the rice uncovered in the fridge overnight, to dry it out.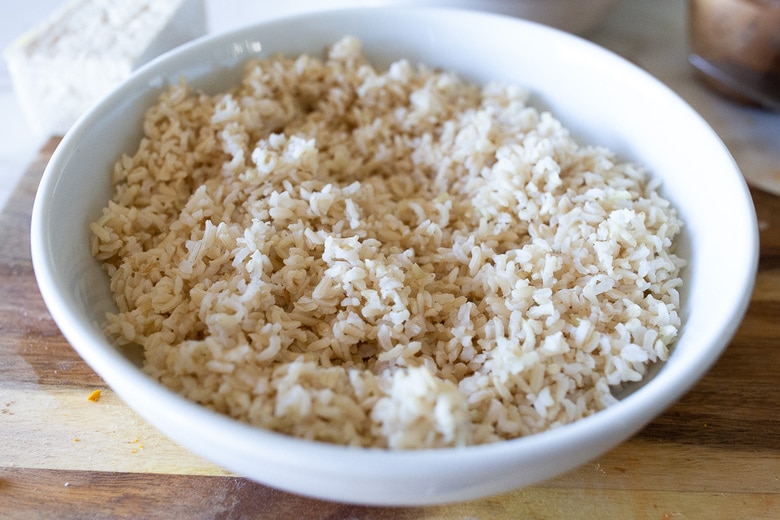 After you fry the rice, combine, adding the soy sauce and maple syrup. Add chili flakes if you like.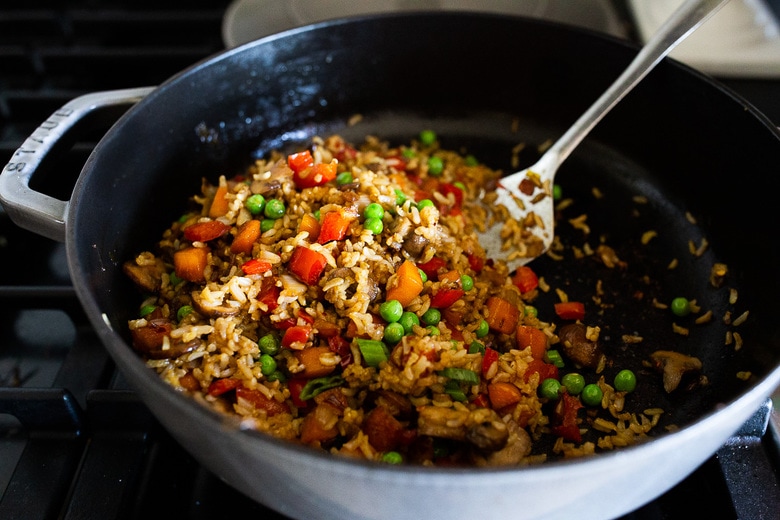 Toss in the optional eggs, chicken, shrimp or tofu. Or leave the tofu on the side like you see in the photos below.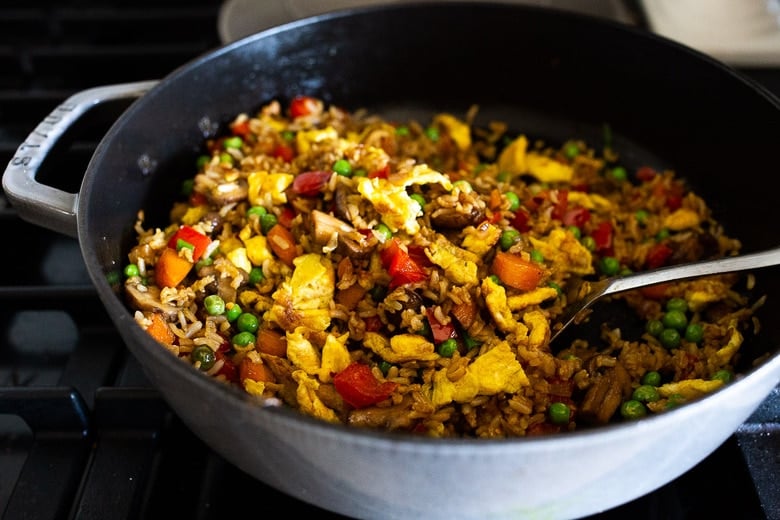 Then plate the Nasi Goreng up, along with fresh crunchy veggies like cucumber, radish, tomatoes when in season, fresh herbs, sprouts, fresh chili peppers, and a lime wedge.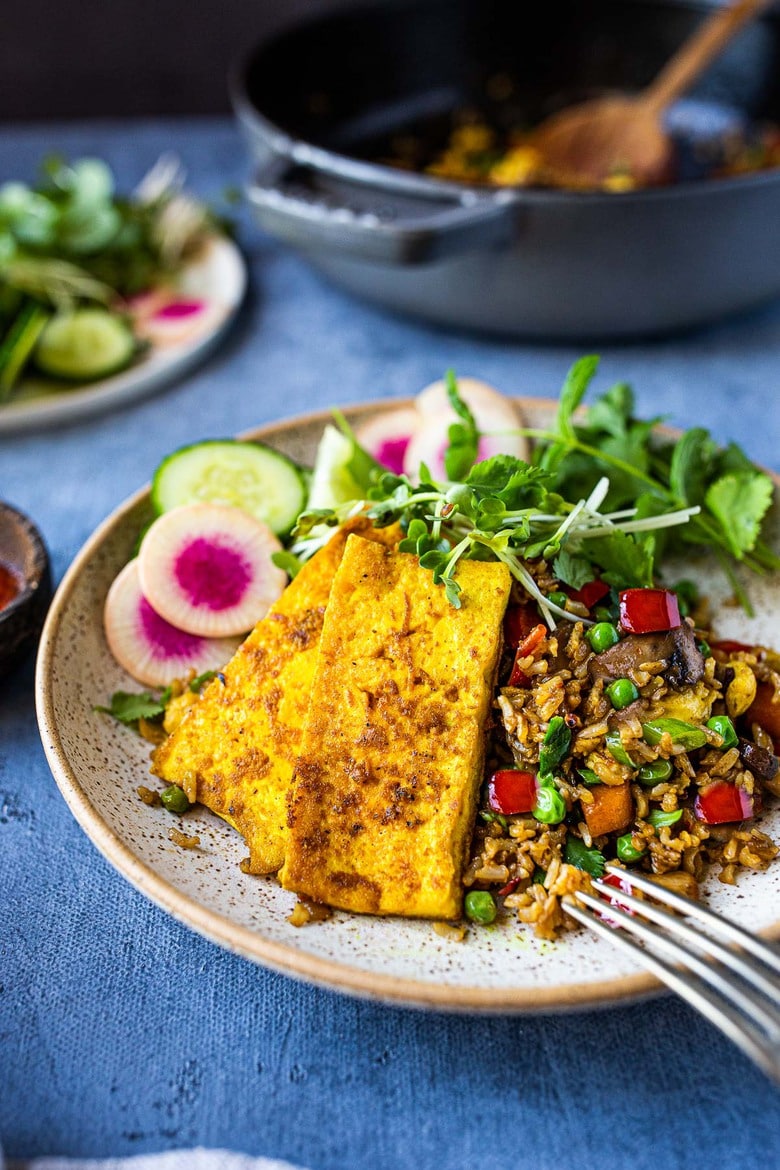 Shredded cabbage would also be nice here!
This recipe makes enough for 2-3 portions. Leftovers taste great, just reheat.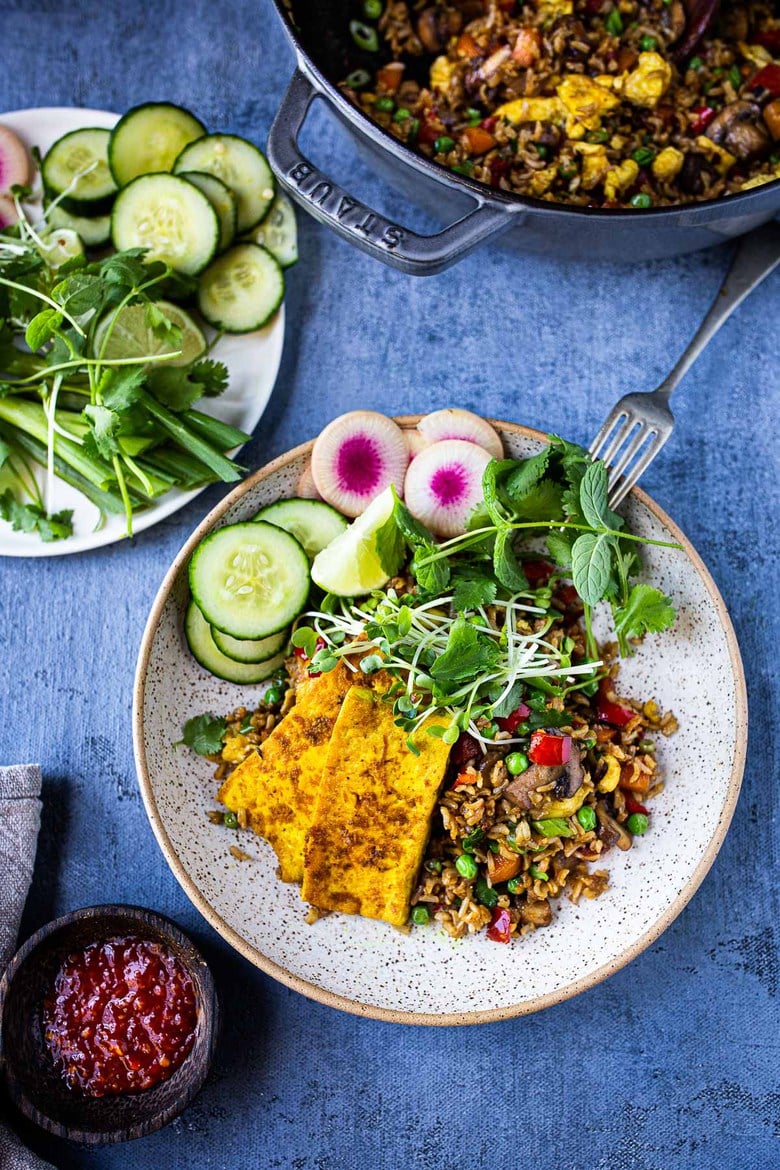 Serve with limes and Sambal Olek.  You get the idea!
On the homefront: I have a fondness for Bali. It was there, in that time of sunshine and slow-living that my husband Brian, hatched a plan to free us out of our "build a catering empire" conundrum. You see up until then, I was of the mindset that you had to be the best, work more & work harder to get to go to places like Bali to relax. I was of the mindset that more was more. More catering gigs would equal more stuff (to ensure the safety and security of our future) and more vacations.
He literally drew me a diagram, in order for my head to get around his idea of "simplifying". It was a foreign concept. But while being in that beautiful simple countryside, where people were joyful, content with very little, the idea sunk in, and a little seedling sprouted in my soul. At first, it was simply imagining the life I wanted.  I wanted life to be easier, with less stress, more freedom… and to be near the ocean.
Those of you who have been here a while may remember how we sold our house a couple of months after that trip, got rid of 2/3rds of our stuff, paid off our debt, moved into a little house and then was able to cater fewer events because we had a much smaller wheel to turn.  And as we were catering less, I got more time to spend time doing the stuff that brought me joy. Like this blog.  😉
Eventually, we were able to stop catering all together, which was a godsend.  Ten years of catering, and ten years of having a restaurant before that, though rewarding on many levels, was a type of stress I didn't want to carry anymore. So Bali, lead me down a path of being open and trusting my husband's ideas (which were very different than mine at the time) and then to trust the path itself… even though we really had no certainty about where it would lead. To me, it felt like jumping into a rushing river -freeing, unsettling, exhilarating, crazy.  AND Wonderful.
So what does this have to do with Nasi Goreng? Nothing much, except, Bali is where it all began….
More Fried Rice Recipes you May like:
Go here for more fast and easy Stir-Fry Recipes!
xoxo
Print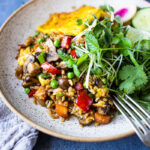 Nasi Goreng (Indonesian Fried Rice)
Prep Time:

15mins

Cook Time:

15mins

Total Time:

30 minutes

Yield:

3

1

x

Category:

vegan, vegetarian, gluten free

Method:

stir-fried

Cuisine:

Indonesian

Diet:

Vegetarian
---
Description
Nasi Goreng (Indonesian Fried Rice) loaded up with fresh veggies! Add chicken, shrimp or eggs, or keep it vegan with Tofu! Easy tasty recipe! Vegan-adaptable and gluten-free.
---
8

–

12

ounces

crispy tofu, pan-seared chicken or shrimp- all optional

3 tablespoons

oil, divided

2

shallots (or

1/2

an onion), chopped

4

garlic cloves, rough chopped

1

cup

diced carrot (small dice!)

1

cup

red bell pepper, chopped

2

cups

sliced mushrooms

1

cup

fresh shucked peas, snow peas, snap peas or green beans

2

eggs, whisked with a generous pinch salt (optional)

3

cups

cooked basmati rice, (leftover, dried out, is best -see notes)

3 tablespoons

soy sauce, more to taste (see notes) Or GF Liquid Aminos

1 1/2 tablespoons

maple syrup, honey or palm sugar
drizzle of sesame oil

1/4

–

1/2

cup

chopped scallions
optional seasonings: Terasi shrimp power and Kecap Manis (see notes).
Optional Garnishes: sliced cucumber, radishes, shredded cabbage, tomatoes, sprouts, cilantro, crushed peanuts, Peanut Chili Crunch, lime wedges, and chili paste (sambal olek).
---
Instructions
In an extra-large skillet or wok, pan-sear your choice of protein in oil with a little salt, pepper and chili flakes until golden and cooked through, set aside.
In the same skillet, add 1-2 tablespoons oil and saute shallots, garlic, mushrooms, bell pepper and carrots over medium heat until the carrots are tender about 7-8 minutes. Season with salt. Toss in the fresh peas at the end.
At the same time, while veggies are cooking, whisk,  salt and scramble the eggs in a separate oiled pan, breaking the cooked apart into little pieces, set aside. (Or feel free to top with sunny side eggs after serving.)
Once the veggies are tender, scoot them over to one side of the pan. Add a little more oil to the bare pan and add the rice. Turn the heat up and fry for 3-4 minutes, getting it a little crispy. Combine rice with the veggies.
Drizzle with the soy sauce and maple syrup and mix well. Mix in the scrambled eggs and meat/shrimp/tofu if using.  Taste and season with a drizzle of sesame oil, chili flakes, salt and pepper if needed. Stir in the scallions right before serving.
Divide among bowls and serve with some of the optional garnishes,  lime & chile paste.
---
Notes
Rice: Feel free to use white or brown long-grain basmati rice. Left over rice, left uncovered in the fridge to dry out a bit works best here- allowing it to get more crispy in the pan. If making rice from scratch for this- you could cook it, then spread it out on a sheet pan and let it dry out first.
Feel free to sub other veggies- you'll need about 5 cups raw.  Quick-cooking veggies work best here- chopped green beans, snow peas, asparagus, shredded cabbage, summer squash, fresh corn… etc.
TERASI SHRIMP PASTE: If you would like to use Terasi Shrimp Paste– you could mix it in with the soy sauce first before adding to the dish. 1/2 -1 teaspoon should be plenty. The Indonesian variety is usually in powder form.  I also sometimes use Hondashi Granules (not traditional, but tasty!)
KECAP MANIS: If you'd like to use this instead of the the soy sauce, start with 2 tablespoons and leave out the maple syrup. Taste, adjust salt– you may still want to add a splash of soy sauce.
STAR ANISE: A great way to infuse a little star anise into the dish is to add it whole to the cooking rice.
Nutrition
Serving Size:
Calories:

500

Sugar:

14.1 g

Sodium:

526.1 mg

Fat:

22.6 g

Saturated Fat:

3.9 g

Carbohydrates:

60 g

Fiber:

5.3 g

Protein:

18.2 g

Cholesterol:

124 mg
Keywords: Nasi Goreng, Indonesian fried rice, vegan Nasi Goreng, vegan fried rice,