A simple, authentic recipe for Cacio e Pepe – a classic Roman pasta recipe with only 4 ingredients, that can be made in 20 minutes flat. Video. Looking for more easy dinners? Check out our 50+ Easy Dinner Ideas!
Originating in Rome, Cacio e Pepe literally translates to "cheese and pepper".  Although this Italian pasta dish seems very simple on the surface, it is incredibly flavorful and satisfying with just four ingredients!
Pronounced kaa·chee·ow –ee-peh·peh, I often think of Cacio e Pepe as Italy's version of mac and cheese- but so much lighter, simpler and faster than ours!  Use it as a base for seasonal veggies or your choice of protein. 
But don't get me wrong, it really doesn't need anything added to it- it is very satisfying just on its own.
Cacio e Pepe | 60-second Video

Ingredients in Cacio e Pepe
What does not belong in Authentic Cacio e Pepe
Butter or parmesan. 😉
How to make Authentic Cacio e Pepe
STEP ONE: Cook the pasta in salted water to al dente -reserving the hot pasta water!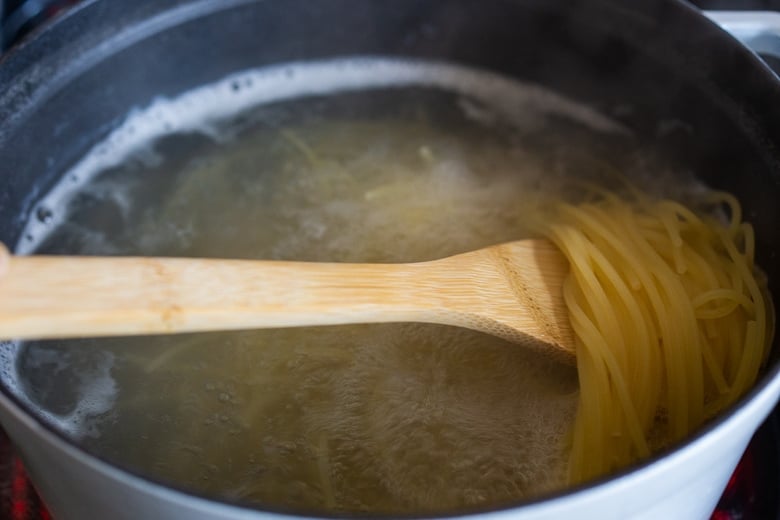 STEP TWO:  Toast fresh cracked pepper in a skillet for one minute.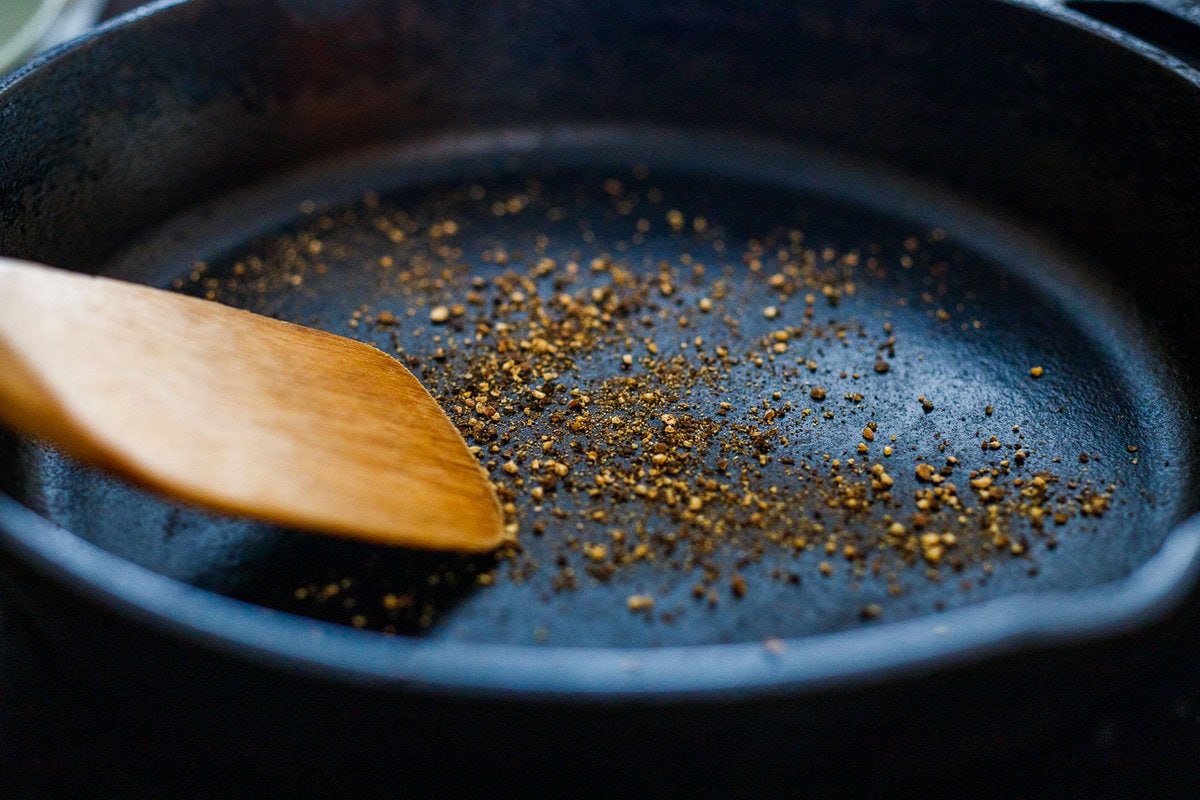 Then add 1/2 cup pasta water, and bring to a gentle simmer, to create the "pepper water".  Simmer on low.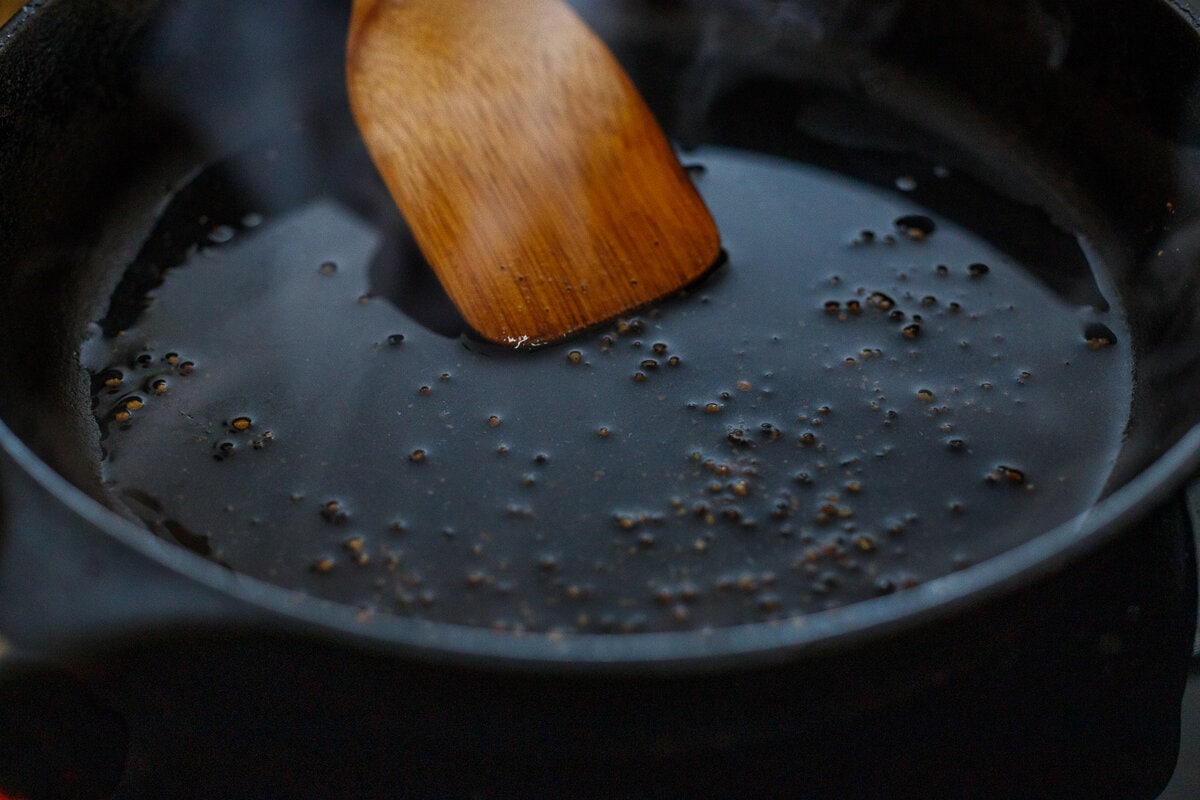 STEP THREE: Add 1/2 cup pasta water to a bowl with your  pecorino cheese, to create a paste.
TIP- pulse pecorino cheese in your food processor to get it finely ground, like you see here.  When purchasing pecorino cheese, if it is pre-grated, check the label for "caking agents" which can prevent the cheese from getting really creamy in the final dish.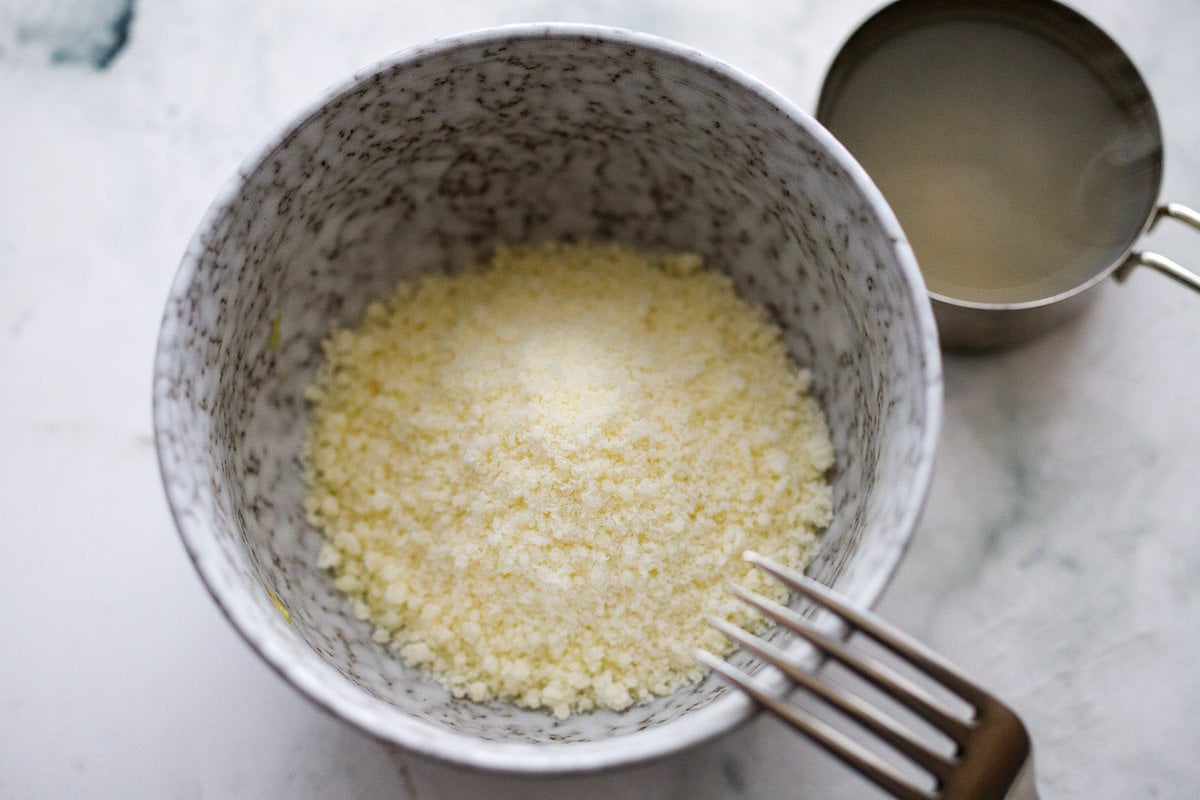 Pour the hot pasta water into the cheese to create a paste or slurry.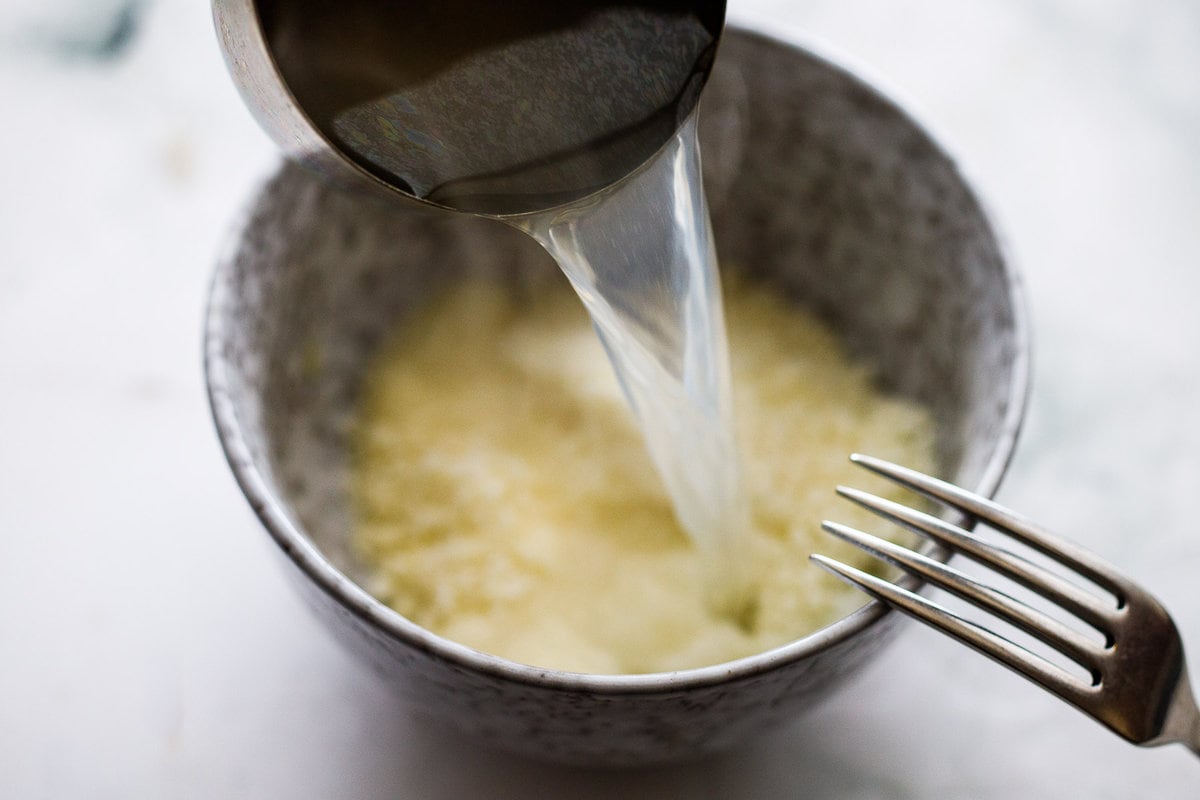 Set this aside until ready to use.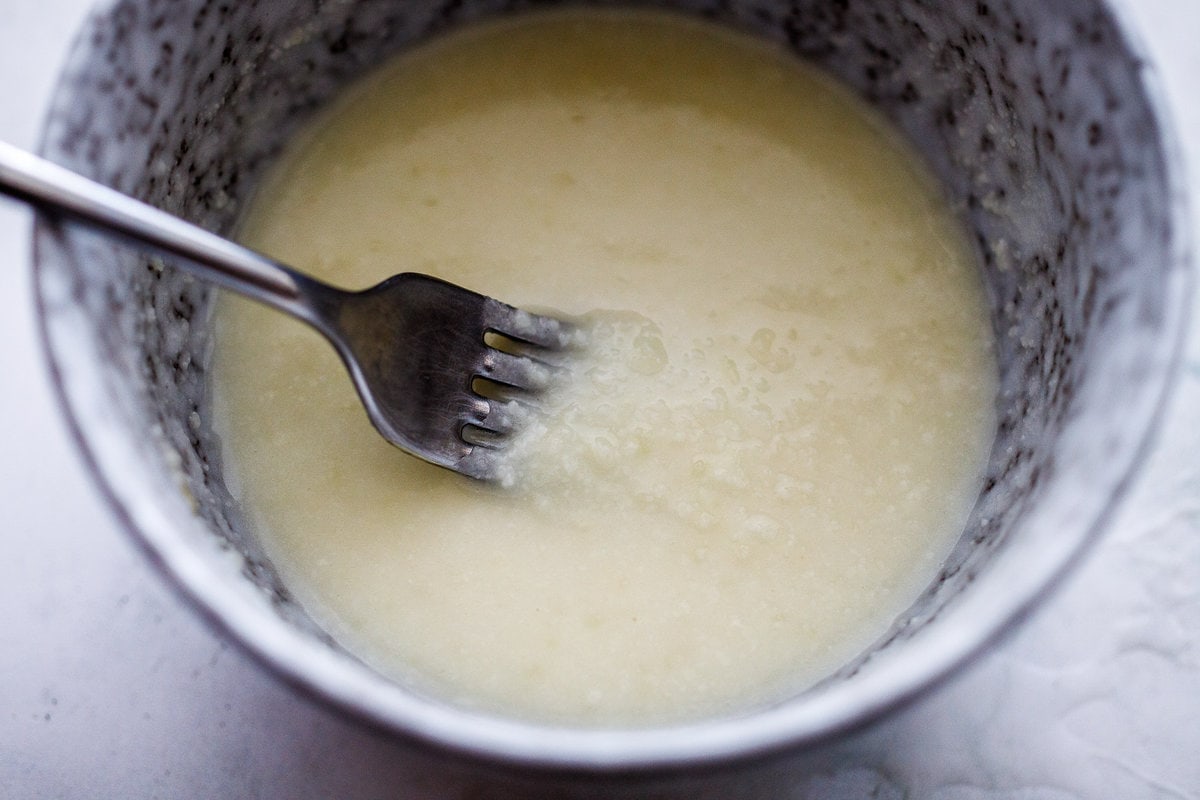 STEP FOUR:  Add the al dente pasta to skillet and stir with the "pepper water" and cook until the pasta is cooked to perfection.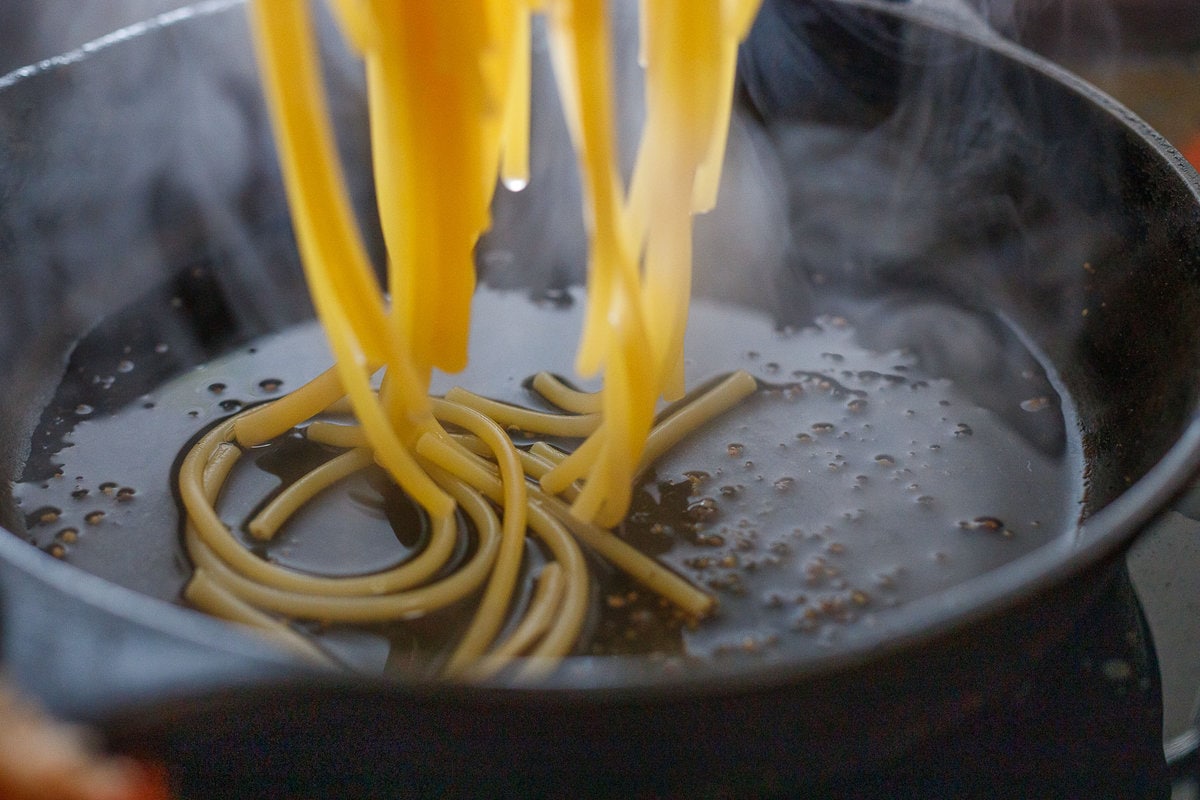 The pasta will continue to release starch into the water, creating a creamy "sauce" even without the cheese.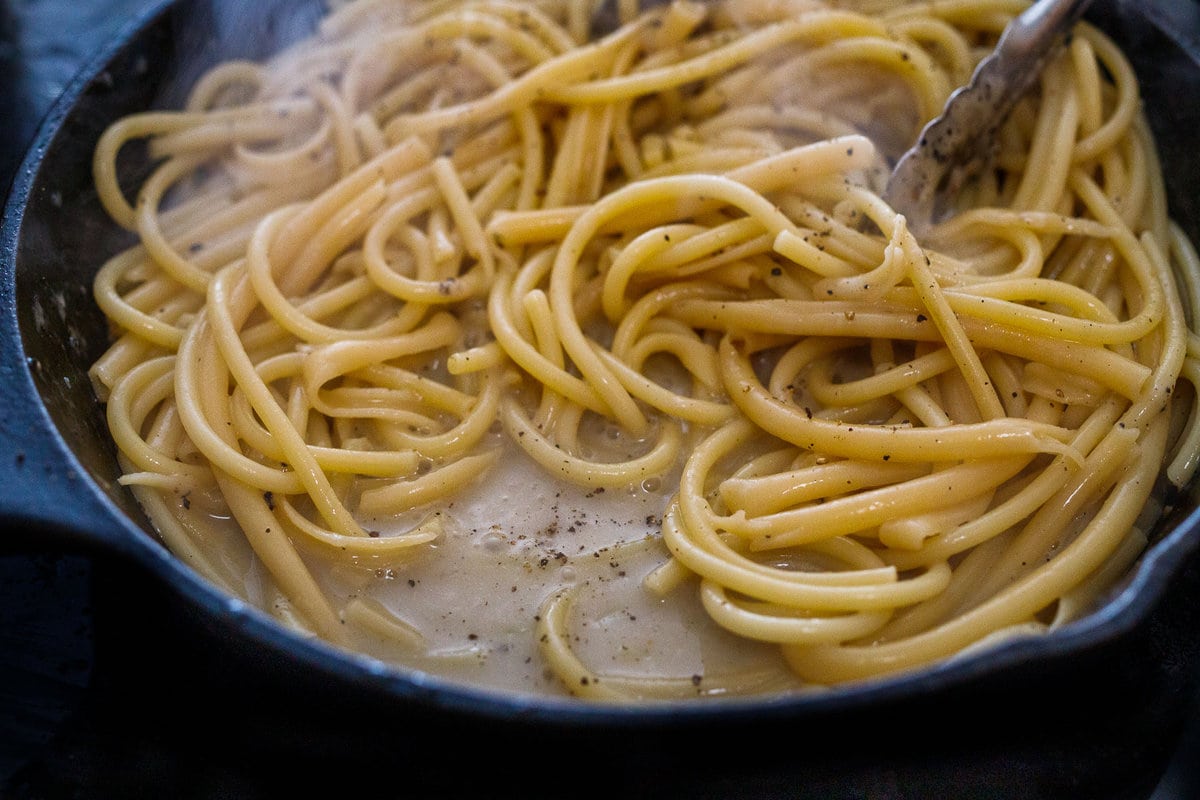 STEP FIVE: 
Stir in the pecorino "paste" and combine, adding more pasta water as needed.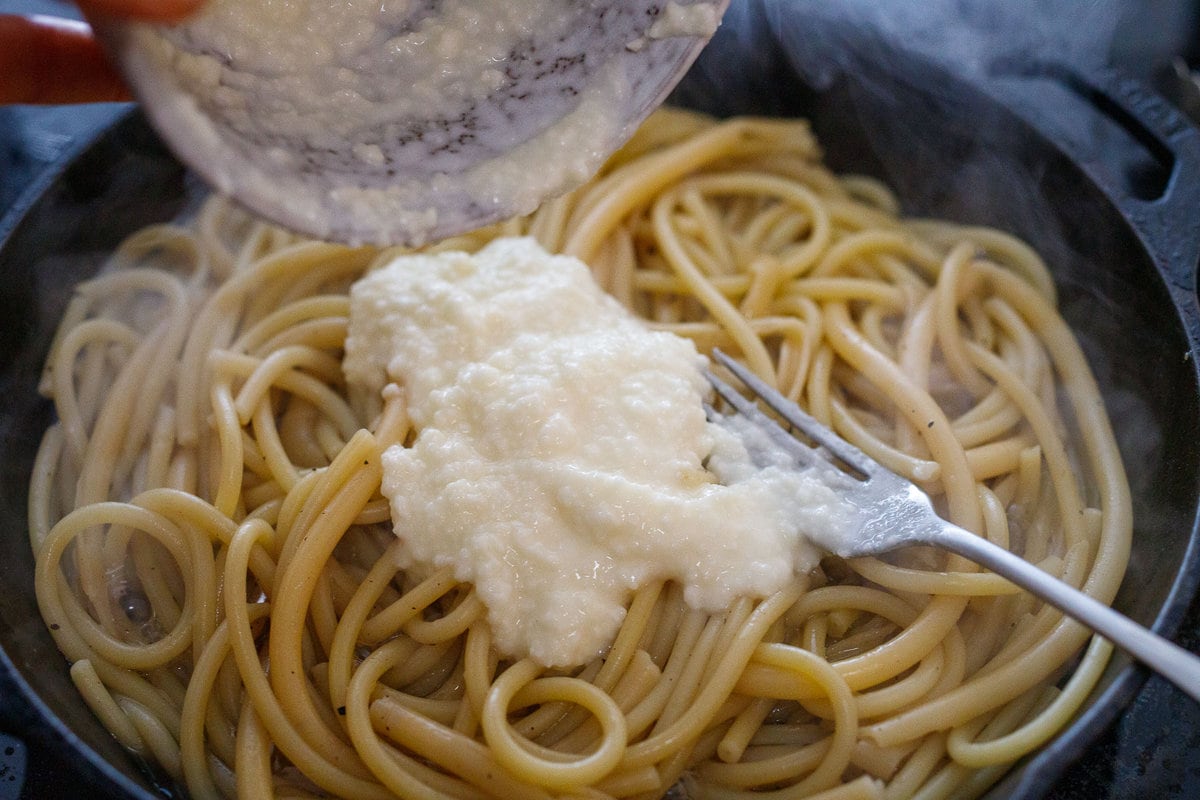 The cheese will melt into a creamy sauce. Add more pasta water to loosen if you like.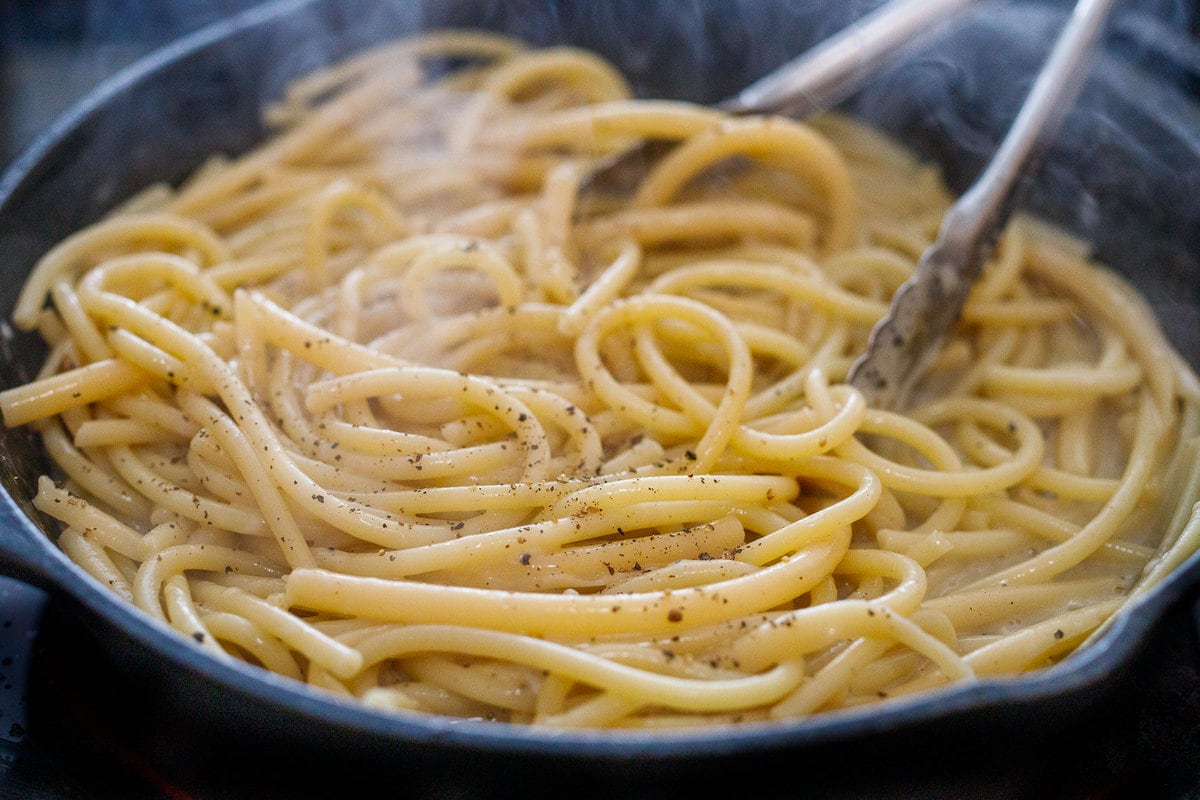 Divide among bowls and drizzle with olive oil, sprinkle with parsley and chili flakes if you like.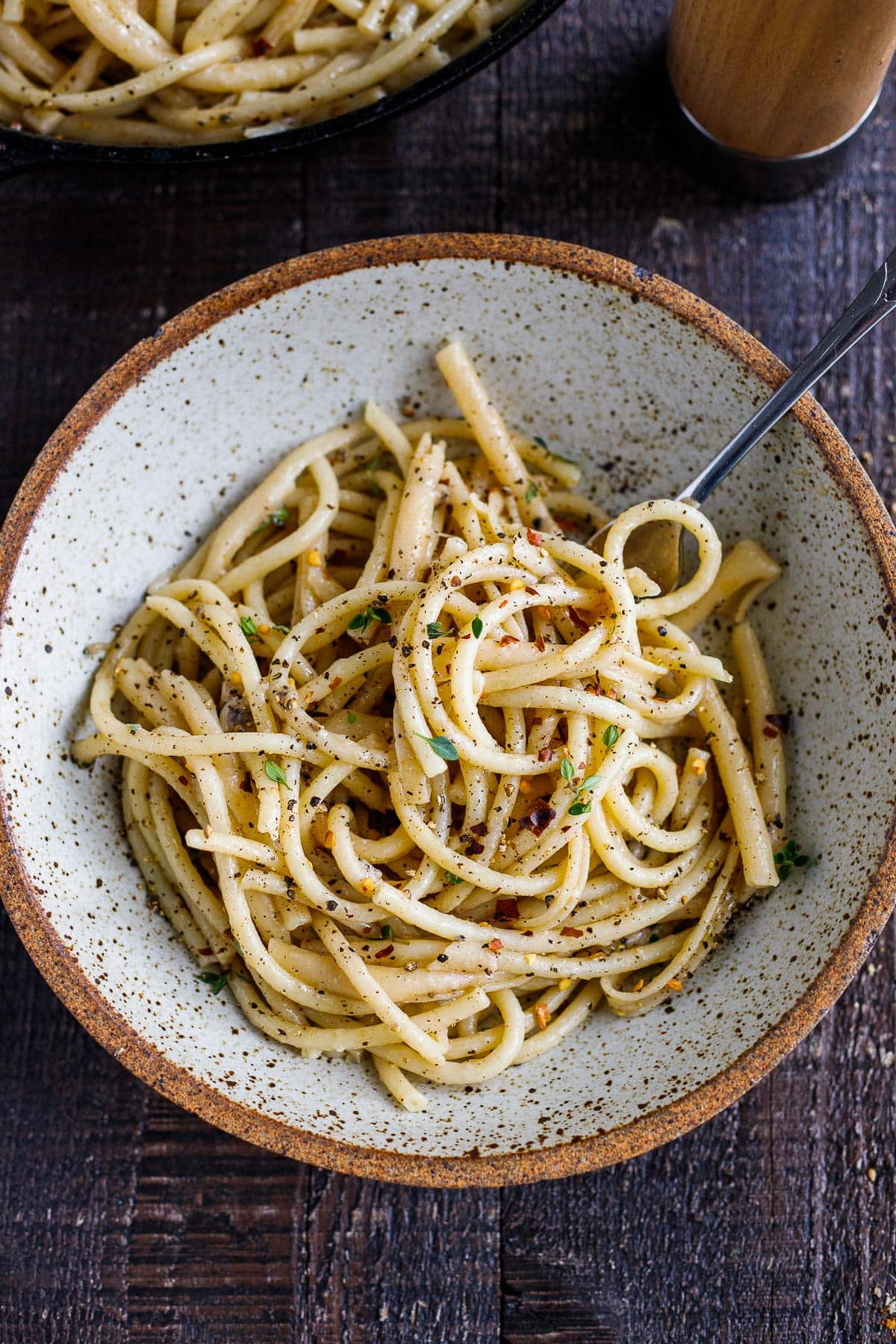 Ways to enhance Cacio e Pepe
Top Cacio e Pepe with your favorite seasonal veggie or your choice of protein. I love it topped with our Sauteed Mushrooms or our 15-Minute Broccoli. So Good!
Feel free to add a protein: chickpeas, chicken, fish, shrimp.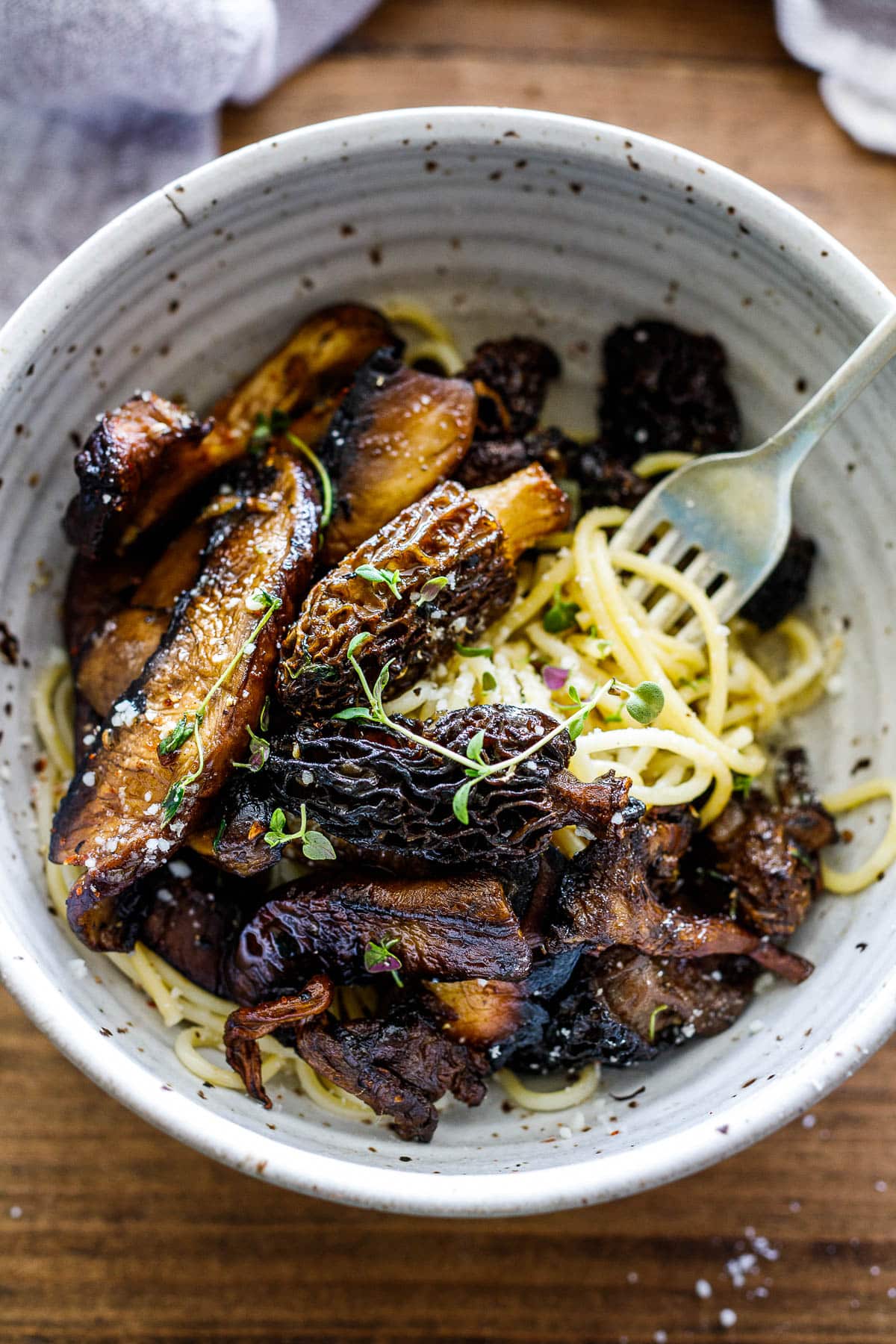 Expert Tip:
Blanch quick-cooking veggies right in the salted pasta water at the end of cooking (broccoli, asparagus, snow peas, English peas, edamame, fava beans!)
Here we added blanched fava beans. Or, toss in a few handfuls of fresh greens- spinach, arugula, or kale.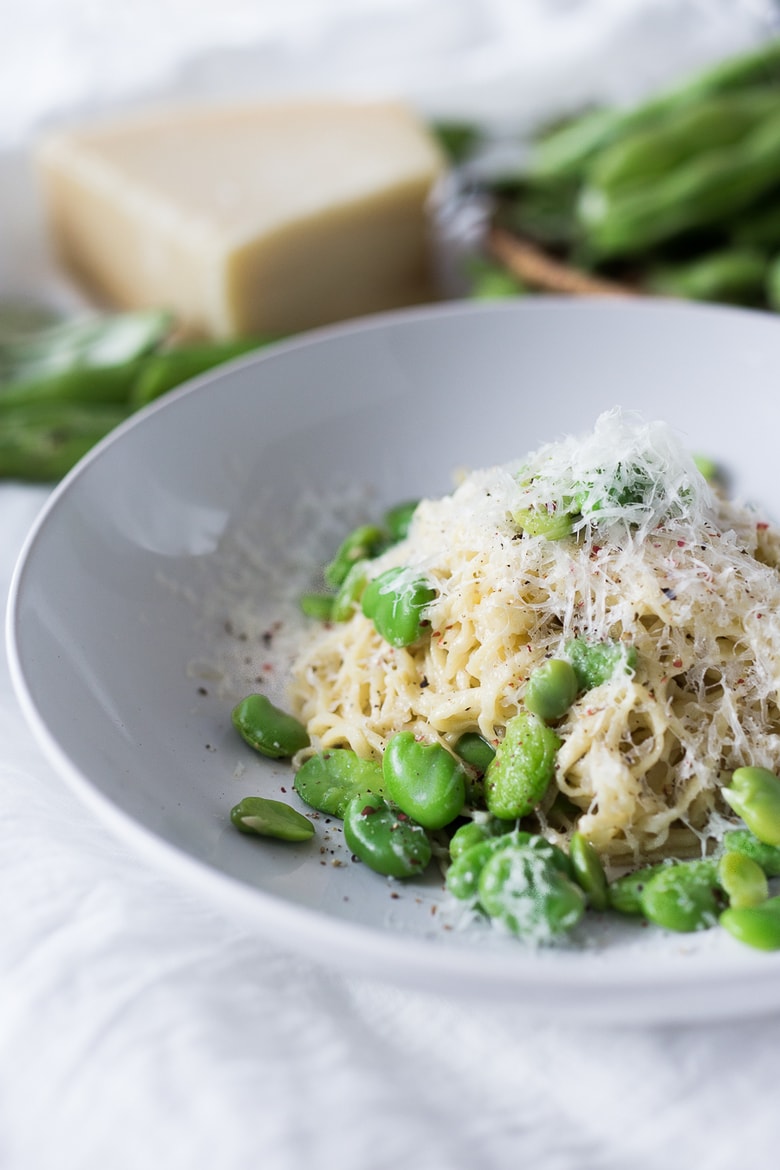 Garnish with more cheese and pepper if you like!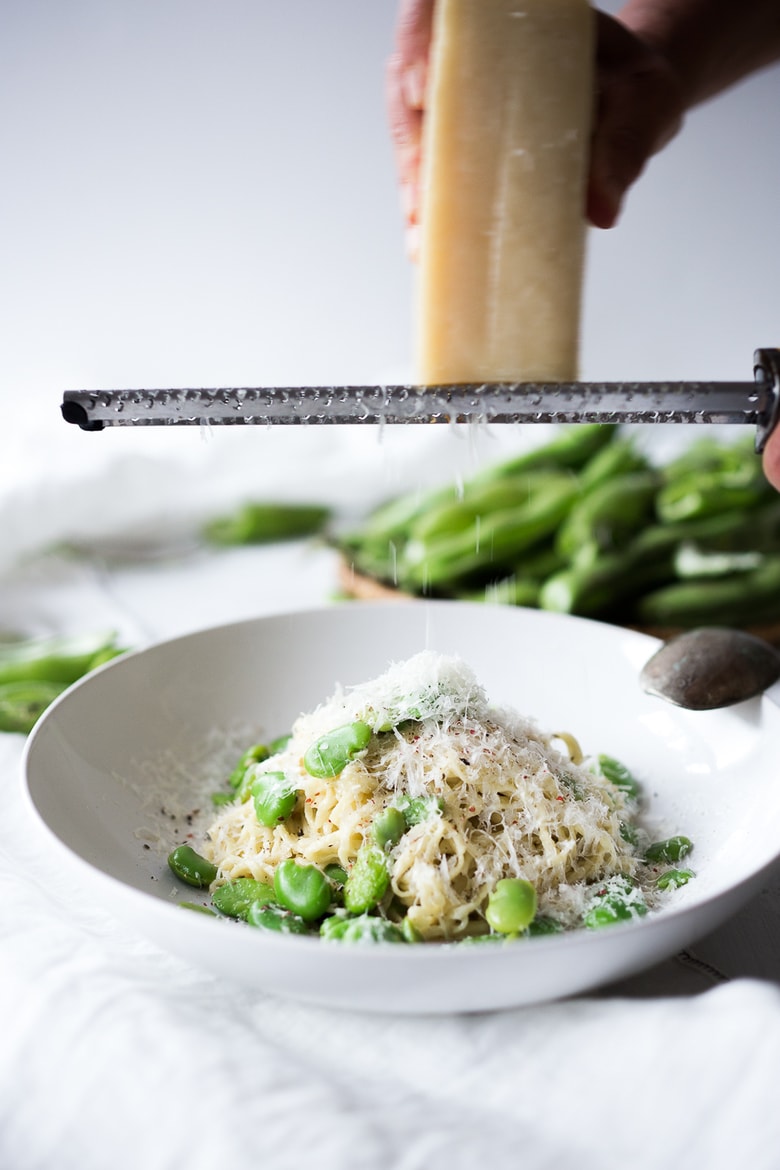 Cacio e Pepe is such a delicious base for most any veggie!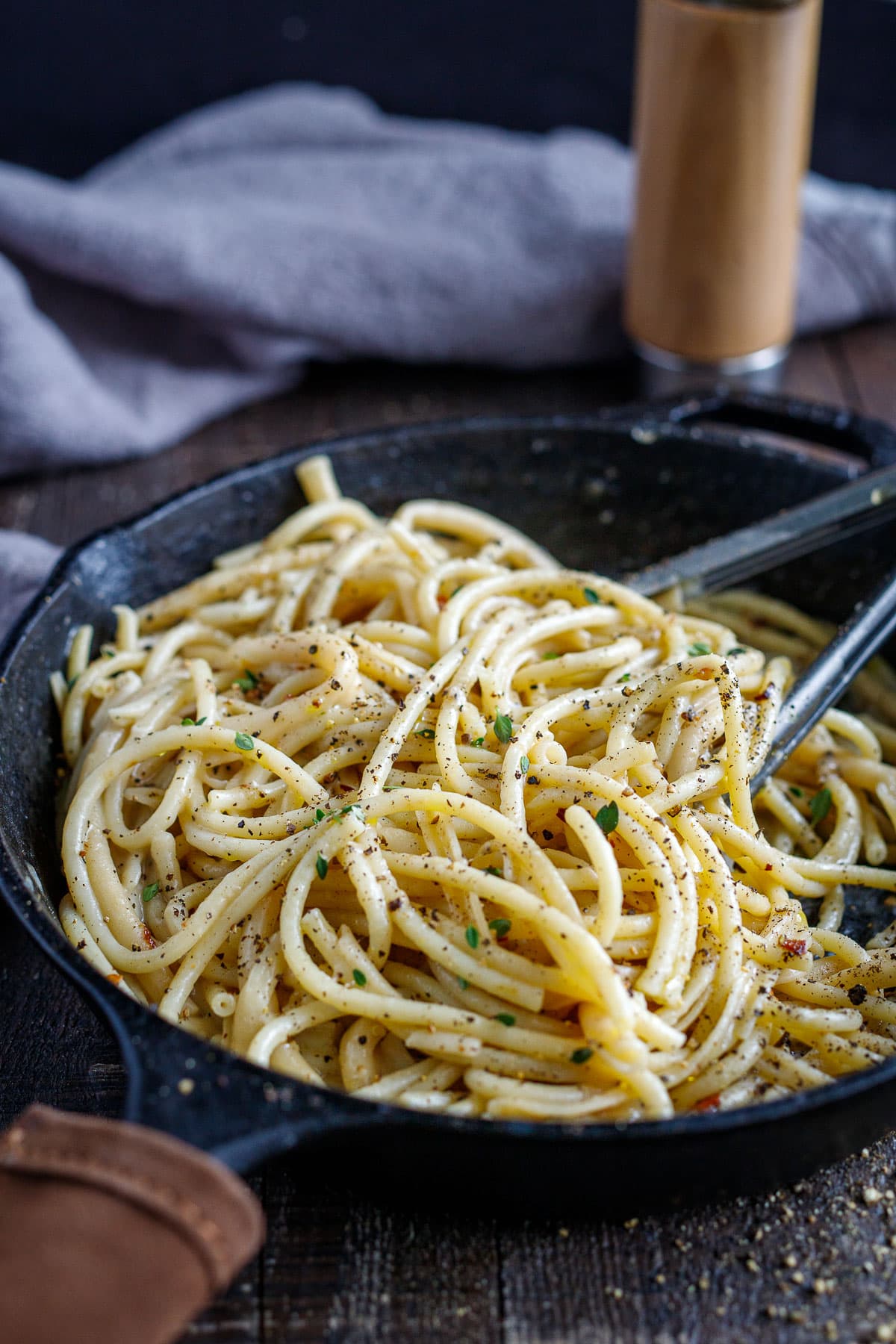 More pasta recipes you may like
Print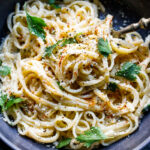 Cacio e Pepe Recipe
Prep Time:

5

Cook Time:

20

Total Time:

25 minutes

Yield:

2

-3

1

x

Category:

Vegetarian Main

Method:

stovetop

Cuisine:

Italian

Diet:

Vegetarian
---
Description
A simple, delicious recipe for Cacio e Pepe is so tasty you will want to make it over and over. Serve it with your favorite veggie for an added burst of nutrition.
---
Optional additions: Veggies (add to pasta water at the end and blanch for a few minutes: broccoli, asparagus, snow peas, English peas, fava beans, edamame, etc.) Or sauteed mushrooms,  or  roasted veggies (like asparagus, butternut or cauliflower)  or grilled veggies.  Or toss in spinach, arugula or kale at the end of cooking. Sometimes,  a little lemon zest is nice too. 😉
---
Instructions
Cook Pasta in 8 cups of water with 1 teaspoon of salt– according to package directions. Drain, reserving 2 cups of the hot pasta water.
Heat a large skillet over medium heat. Toast fresh crushed peppercorn, in the dry skillet for 1 minute, or until fragrant. Add 1/2 cup pasta water, simmer on low for a couple minutes.
In a small bowl, mix pecorino cheese with 1/2 cup hot pasta water to create a slurry or paste. Set aside.
Add the cooked pasta to the "pepper water" in the skillet, over medium-low heat, stirring.  Add more pasta water so it gets it a little saucy if needed. Stir in the pecorino paste, adding more hot pasta water as needed to get a creamy consistency.
Taste for salt and pepper, adjust to taste. Add more pasta water, cheese or pepper if you like. Feel free to fold in cooked veggies, or shrimp, etc (or serve these on top).
To serve, divide, sprinkle each portion with more pecorino, chili flakes, parsley and hearty drizzle of olive oil.
---
Notes
Pecorino: If using straight pecorino– keep in mind it is quite salty, so go lighter on the salt in the pasta water- 1 teaspoon salt per 8 cups of water. Pecorino is saltier than Parmesan, which adds nice depth here. Parmesan is tangier, less salty, so you may need to add.
TIP: Preshredded pecorino may contain caking agents which can prevent the sauce from getting super creamy- check the label!  I like to shred my own in a food processor– up to you. 🙂
Mushrooms: to elevate, add sauteed mushrooms with a hint of truffle oil. Divine!
Broccoli: on busy nights I throw broccoli florets right into the pasta water at the end and cook for just a few minutes, adding both to the skillet.
Nutrition
Serving Size:
Calories:

349

Sugar:

3.9 g

Sodium:

895.1 mg

Fat:

11.8 g

Saturated Fat:

2.4 g

Carbohydrates:

49.9 g

Fiber:

4.3 g

Protein:

11.5 g

Cholesterol:

4.9 mg
Keywords: Cacio e Pepe, Cacio e Pepe Recipe, easy cacio e pepe recipe, best Cacio e Pepe