15-Minute Garlic Chili Tofu with Sesame Broccolini– a fast and easy weeknight dinner that is vegan and gluten-free. Not a fan of tofu? Try this, then tell us what you think. I bet you'll have a change of heart- I know, I've done studies!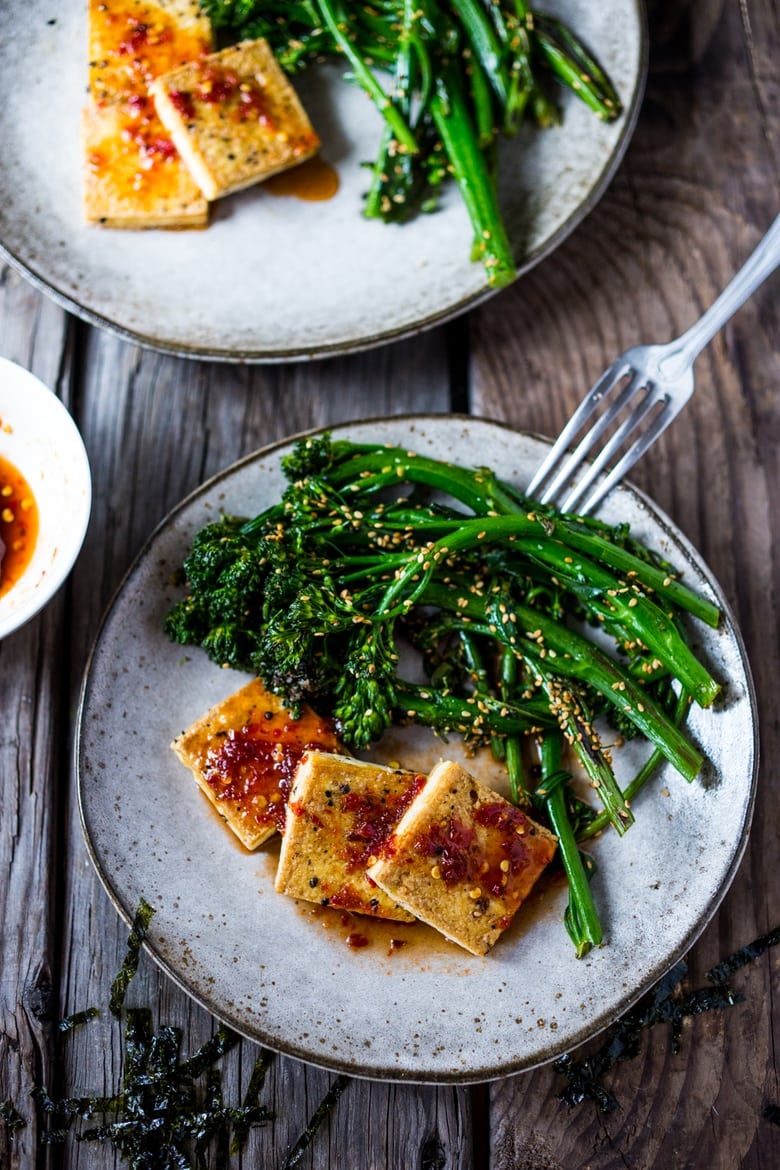 Don't surrender your loneliness so quickly. Let it cut more deep. Let it ferment and season you as few human or even divine ingredients can. ~Hafiz~
Here is one of my favorite ways to prepare tofu for dinner. Garlic Chili Tofu with Sesame Broccolini – it's really fast, like 15 minutes fast, healthy and super flavorful. If you've never been a fan of tofu, I want you to do me a favor, make this. Just as an experiment. Or if you've got someone in your house that doesn't like tofu, experiment on them. Hee hee. 😉
Don't tell them what you are making though – just cook it up, letting the delicious aromas waft through the house, then set it down in front of them and see what happens. If you or they still don't like tofu after trying this, then I suppose I'll let you off the hook. And, if there is absolutely no convincing you, you can make this same dish, substituting salmon or even chicken, adjusting the cooking times. The flavor will delight.
The tofu is seared in oil infused with whole garlic cloves. It's topped with a flavorful sweet & spicy sauce made with chili sauce, honey  (or maple)  and soy sauce (or Bragg's Liquid Aminos). While the tofu is searing, the broccolini is steaming. The whole meal literally takes 15 minutes to make, and once it's done you have a vegan, gluten-free dinner that is also very economical. For added flavor, add strands of toasted seaweed as a finishing touch.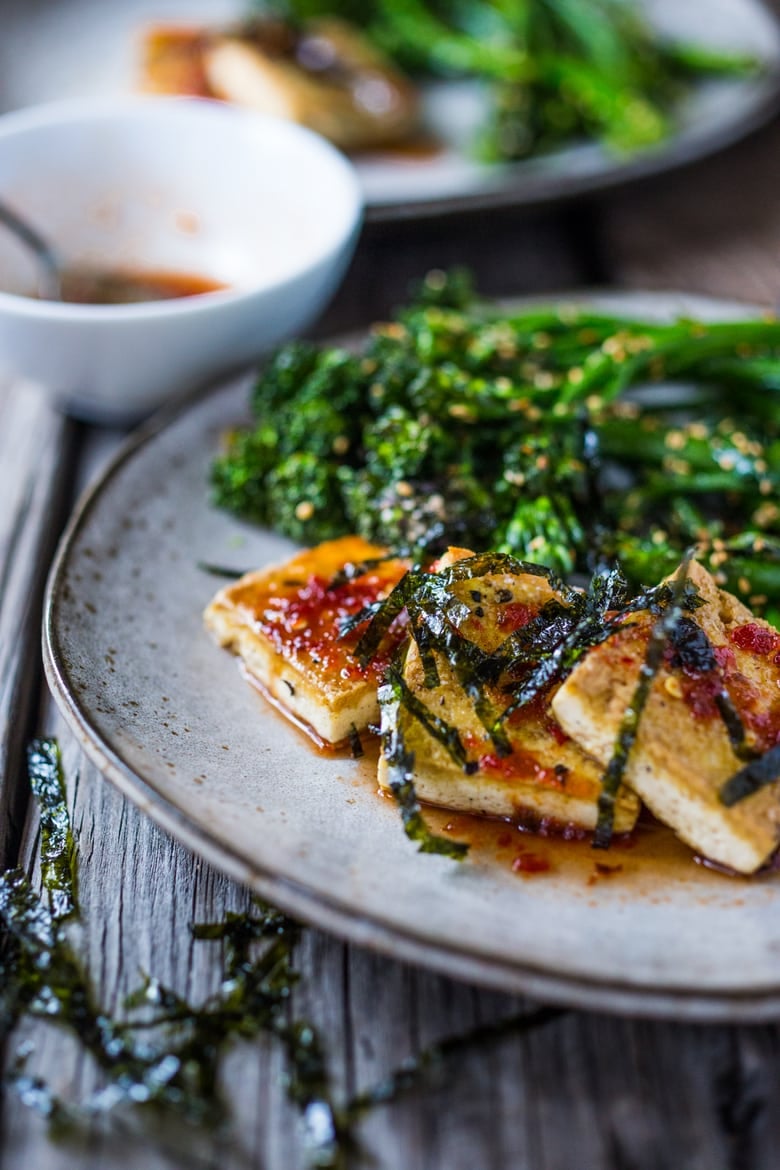 What type of tofu to use:
When choosing tofu, always try to go with organic, non-GMO. Soybean crops are often treated heavily with glyphosates (toxic herbicides like Round-Up) and these will end up in the final product, which causes inflammation in the body.
There are many types of tofu. Regular raw tofu, like you see here, Silken Tofu in a vacuum-sealed carton (that is not refrigerated), and prepared tofu-like baked tofu, smoked tofu or seasoned tofu.
Use regular raw organic tofu, extra-firm, or regular raw tofu that has been made from sprouted soybeans (above).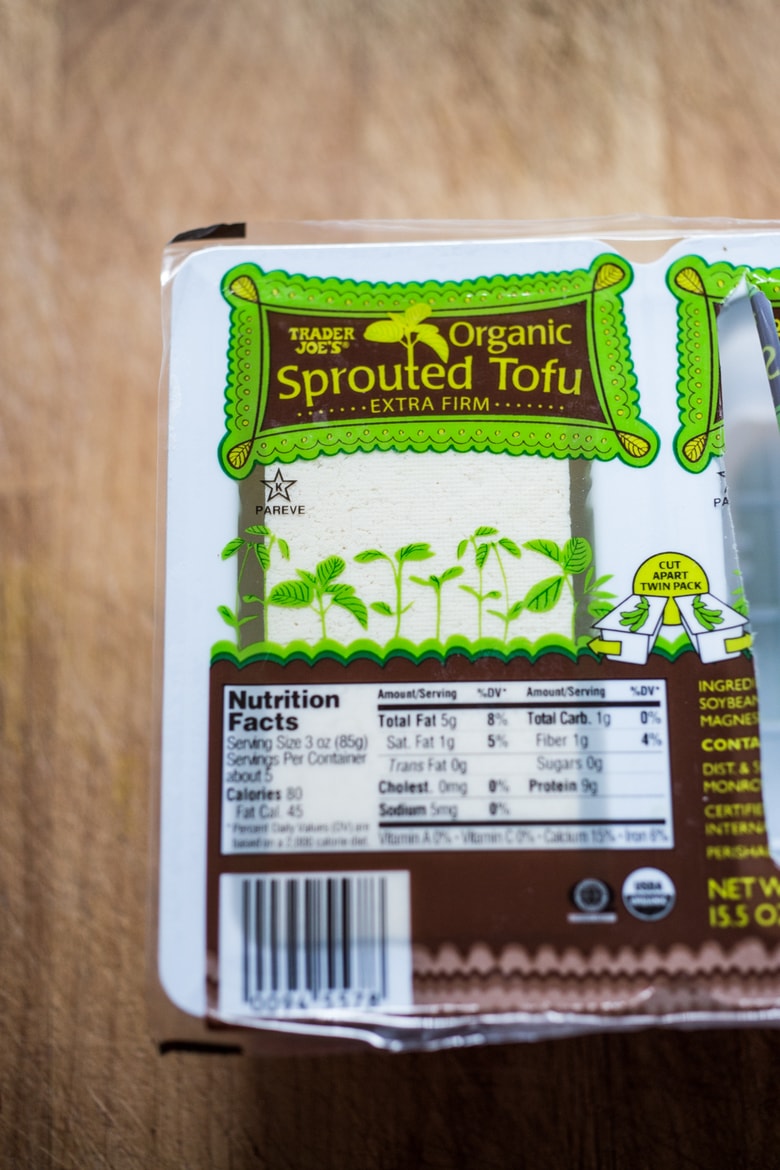 How to make Garlic Chili Tofu
Blot tofu dry with paper towels, pressing down gently to release water. No need to overly press; just a gently press is perfect.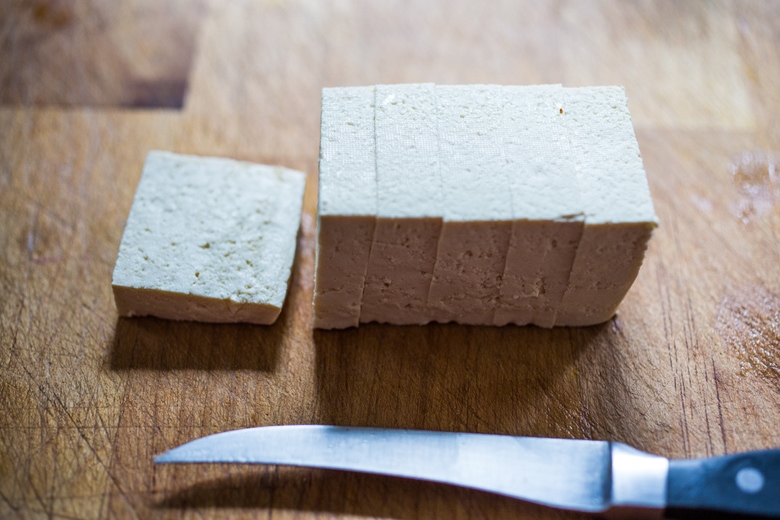 Cut it into  ¾ inch thick slices.
Blot again.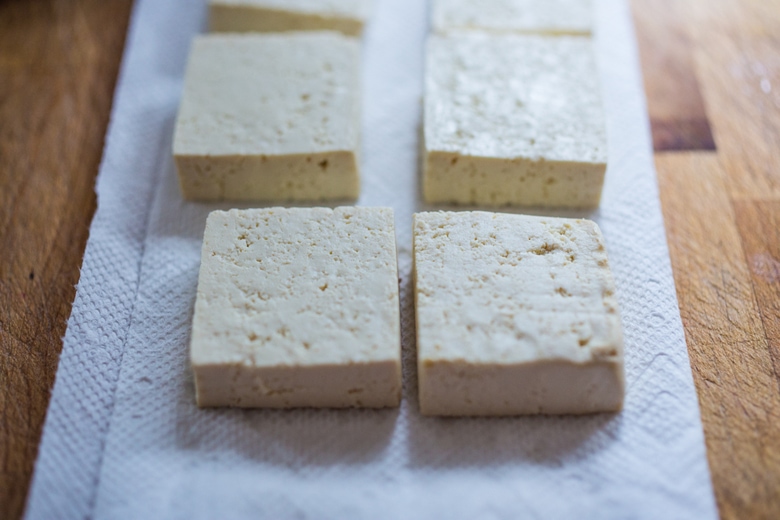 Heat a skillet over medium heat and add peanut oil, which really gives this the BEST flavor. If you don't have peanut oil, use coconut oil, but the peanut oil is truly delicious.
Directly into the hot oil, add the salt, pepper and smashed garlic. Swirl until fragrant.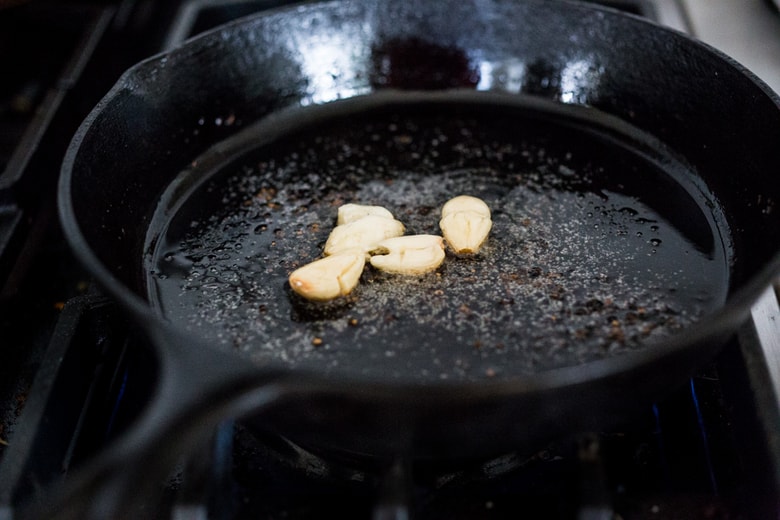 Then add the tofu, searing until golden brown, about 5 minutes on each side.
Don't fiddle with it. When the tofu creates a crispy crust, it will naturally release itself from the pan.
Using a thin metal spatula really helps here.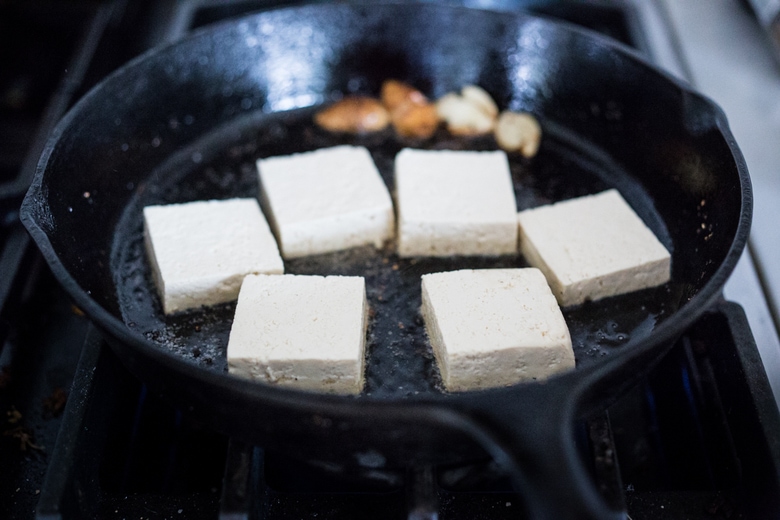 At the same time, place a pot with a steamer basket and water on the stove. Add the broccolini (or halved Brussels sprouts, broccoli florets, or green beans) and cover.  Steam until tender but still green, about 5  minutes.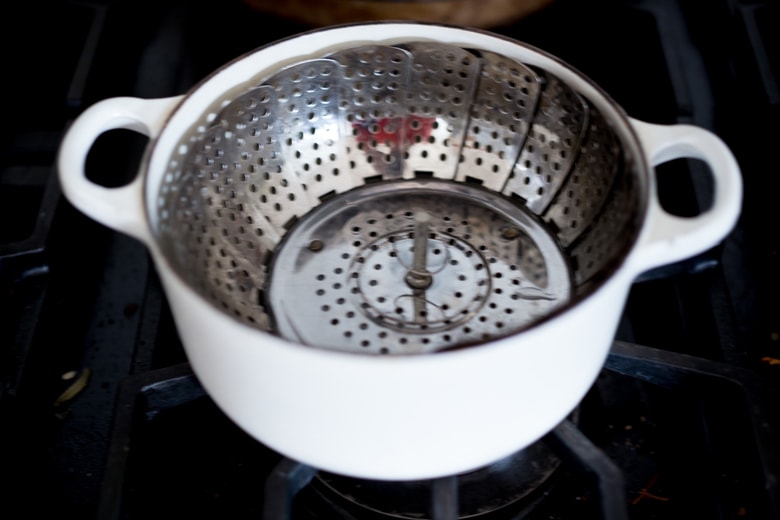 Turn the heat off when veggies are bright vibrant green and slightly tender.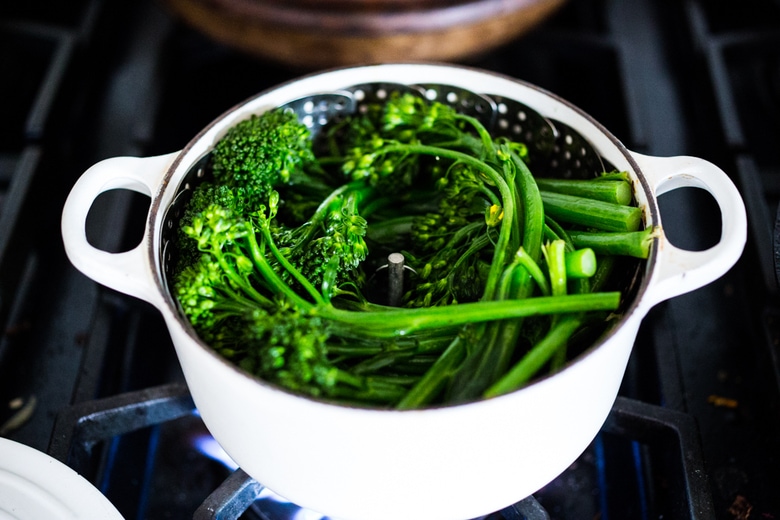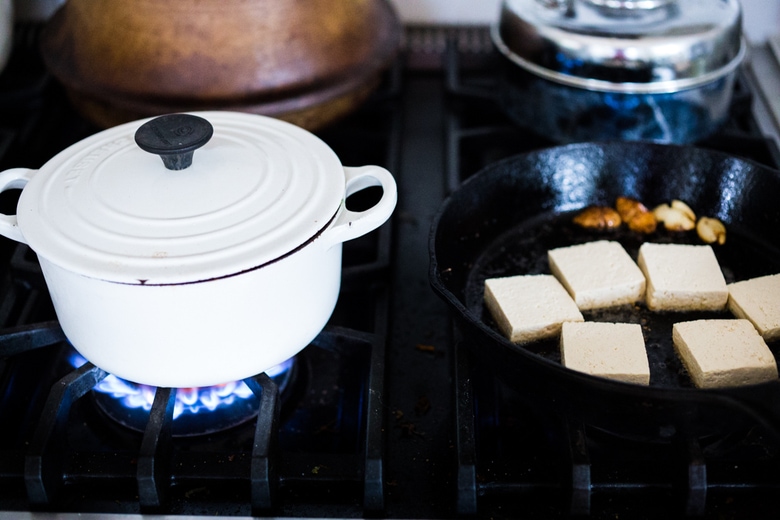 Make the Chili Garlic sauce:
While these are both on the stove, mix together the quick sauce.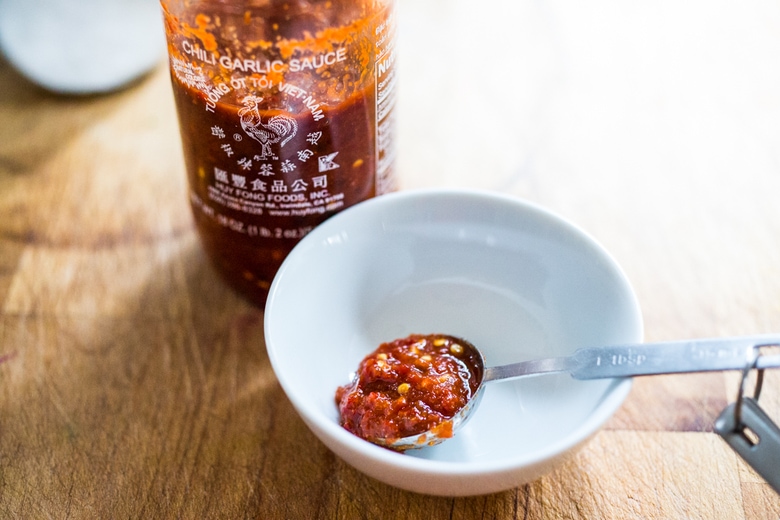 Simply mix with a spoon. Salty- spicy-sweet perfection.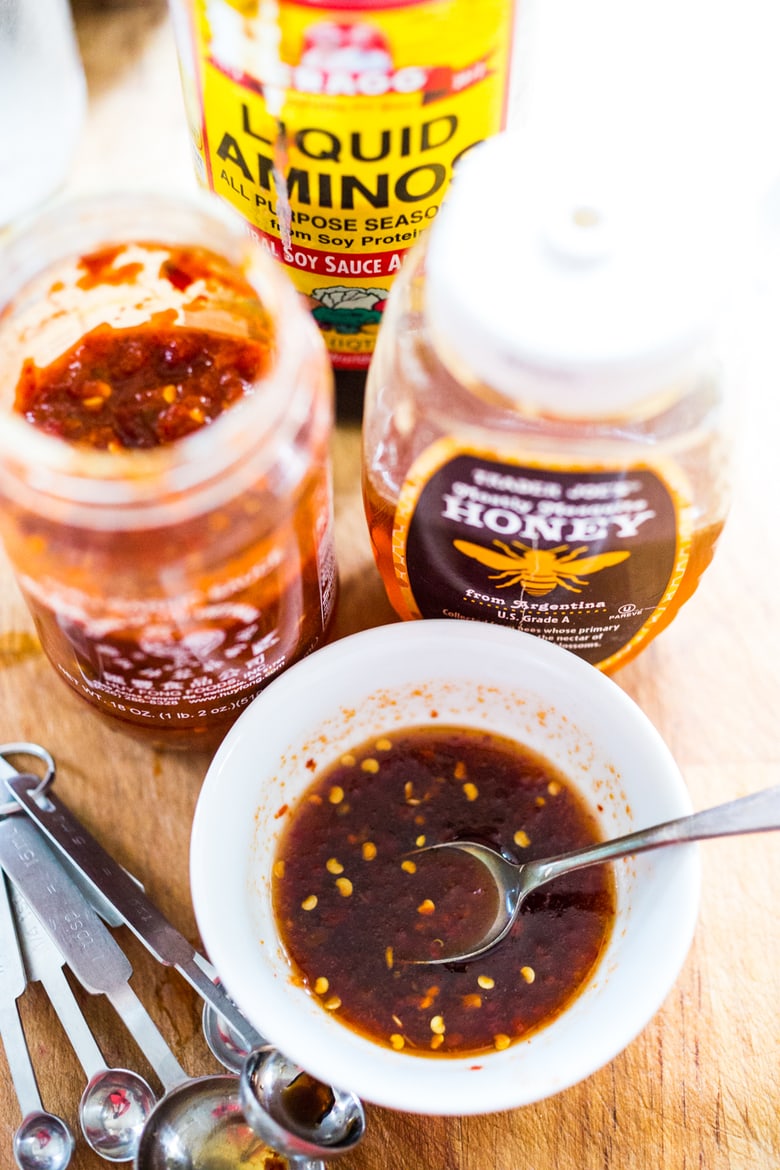 If you have toasted nori (seaweed), cut it into thin strips for a garnish.
You can also sub cilantro.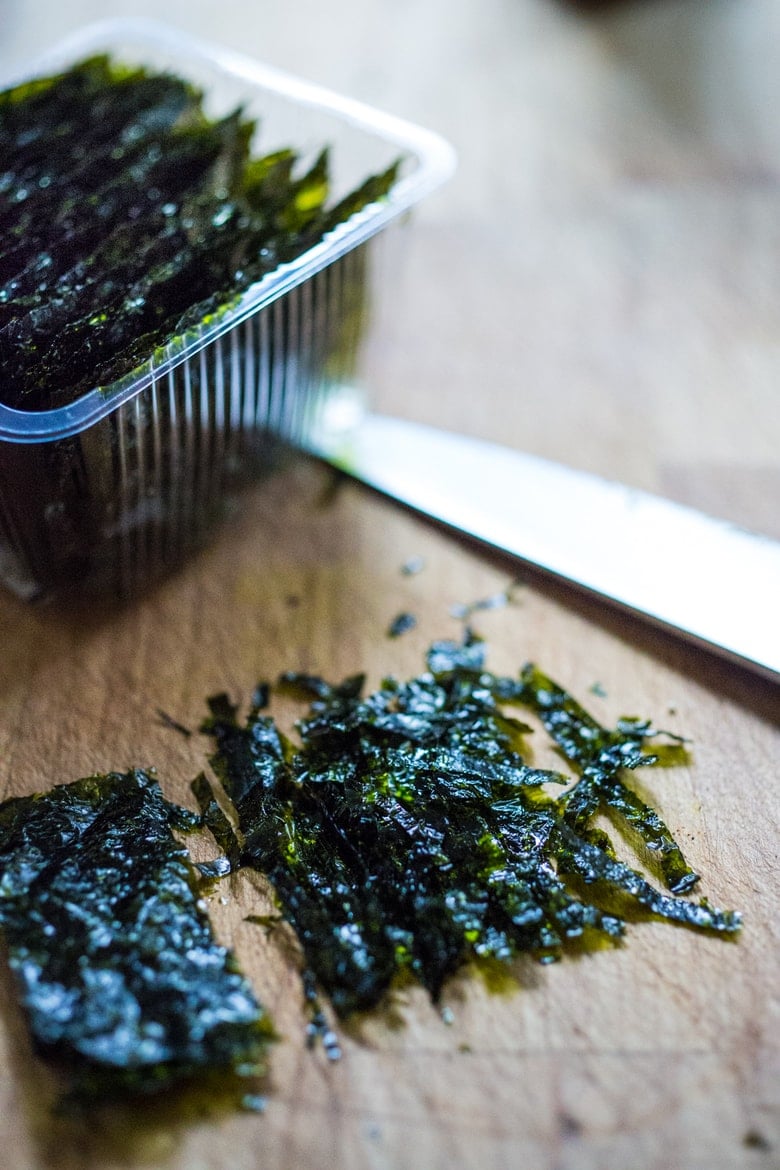 When the tofu is done, divide the tofu between two plates.
Discard the garlic and add the broccolini to the same skillet, tossing to coat. Add sesame seeds.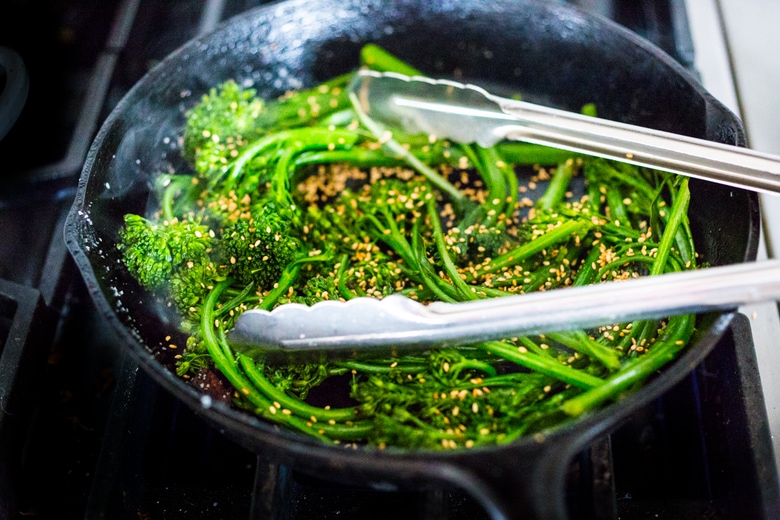 Divide the broccolini between the two plates.
Top the tofu with the flavorful Garlic Chili Sauce.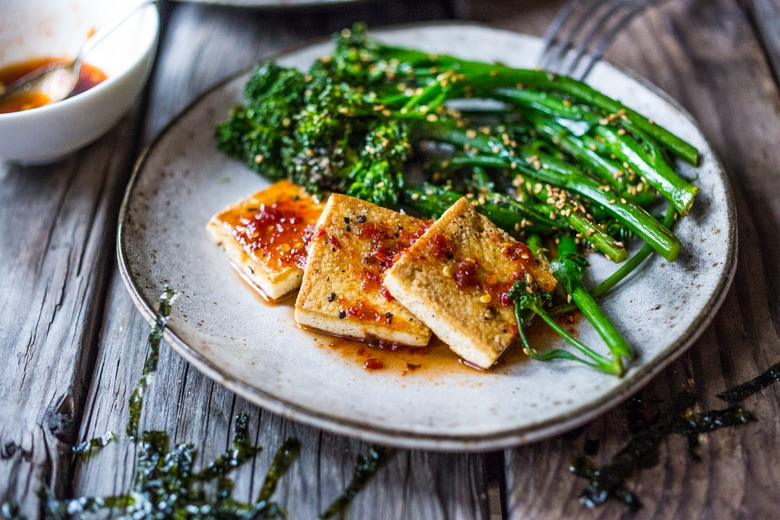 Sprinkle with seaweed.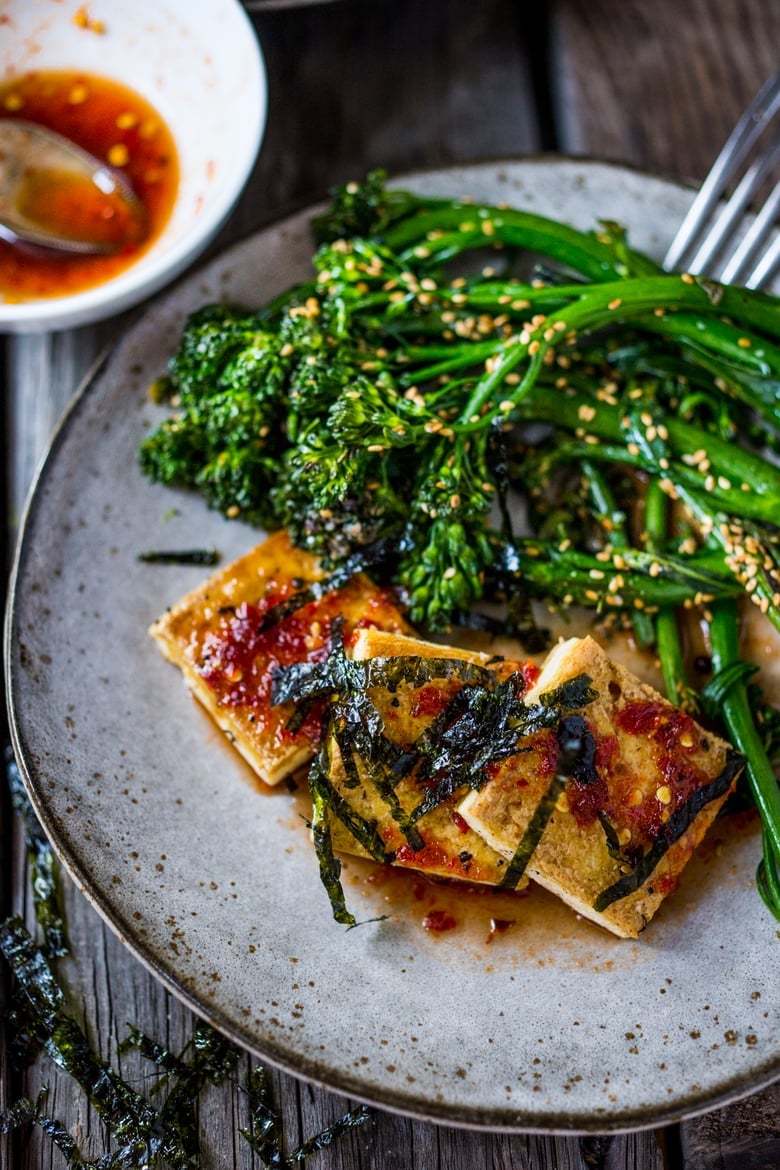 And see if you like it. 🙂
Let us know what you think in the comments below!
More Recipes we think you'll enjoy!
Print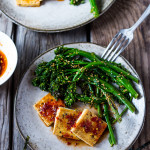 Chili Garlic Tofu with Broccolini
Prep Time:

5 mins

Cook Time:

10 mins

Total Time:

15 mins

Yield:

2

1

x

Category:

Main, vegan

Method:

pan-fried

Cuisine:

Asian

Diet:

Vegan
---
Description
15-Minute Garlic Chili Tofu with Sesame Broccolini- a fast and easy weeknight dinner that is vegan and gluten-free. Not a fan of tofu? Try this, then tell me what you think. I bet you'll have a change of heart- I know, I've done studies!
---
8

–

12

ounces

extra-firm tofu (see notes)

2 Tablespoons

peanut oil (this really adds great flavor, but feel free to substitute coconut oil)

1/2 teaspoon

salt

1/2 teaspoon

freshly cracked peppercorns

4

smashed garlic cloves

8

ounces

broccolini – or substitute halved or shredded Brussel sprouts, broccoli florets, or green beans

1 Tablespoon

Chili Garlic paste or Sambal Olek

1 1/2 teaspoons

Bragg Liquid Aminos or Soy Sauce
Garnish – 2 small sheets roasted seaweed, sliced into thin strips (optional)

1 Tablespoon

toasted sesame seeds
---
Instructions
Drain and blot tofu with paper towels and cut into half-inch thick pieces. Blot again.
Heat oil in a large skillet over medium heat.
Add salt, pepper and smashed garlic, directly in the skillet. Swirl and cook for 1-2 minutes until the garlic is fragrant.
Sear tofu until golden brown, over medium heat, about 5 minutes each side- do not fiddle with it, let it develop a crust, that way it will release itself from the pan and not stick.
At the same time, fill a medium pot with ¾ inch of water, and set on the stove. Place a steamer basket inside and layer up the broccolini. Cover with a lid and bring to a boil. Steam for 5 minutes or desired doneness – less for green beans, use your own judgment 😉
Cut the seaweed strips.
When the tofu is done, divide among two plates.
With tongs, move the garlic from the skillet, transfer the broccolini to the skillet and give it a good stir to coat.
Add the toasted sesame seeds, and stir for one minute over medium heat. Divide among the plates.
Drizzle the tofu with the chili sauce and top with the seaweed strands.
Eat immediately.
---
Notes
 I love Trader Joe's Organic Sprouted Tofu, or feel free to substitute salmon or chicken, searing in the pan and finishing in the oven, adding the sauce after.
If you like your tofu extra crispy, dredge in cornstarch before searing for extra crunch. 😉
Nutrition
Serving Size:
Calories:

358

Sugar:

21.6 g

Sodium:

1034.5 mg

Fat:

22.8 g

Saturated Fat:

3.6 g

Carbohydrates:

31.1 g

Fiber:

4.4 g

Protein:

14.5 g

Cholesterol:

0 mg
Keywords: chili garlic tofu, garlic chili tofu, best tofu recipes,