A truly delicious recipe for Creamy Vegan Broccoli Salad (using no mayo) made with raw broccoli, farmers market veggies and a Creamy Herby Hemp Dressing you will want to drink! (No hemp seeds? Try Cashews! )A delicious, healthy make-ahead salad, perfect for weekday lunches. Easy, packable and full of flavor! Vegan and Keto!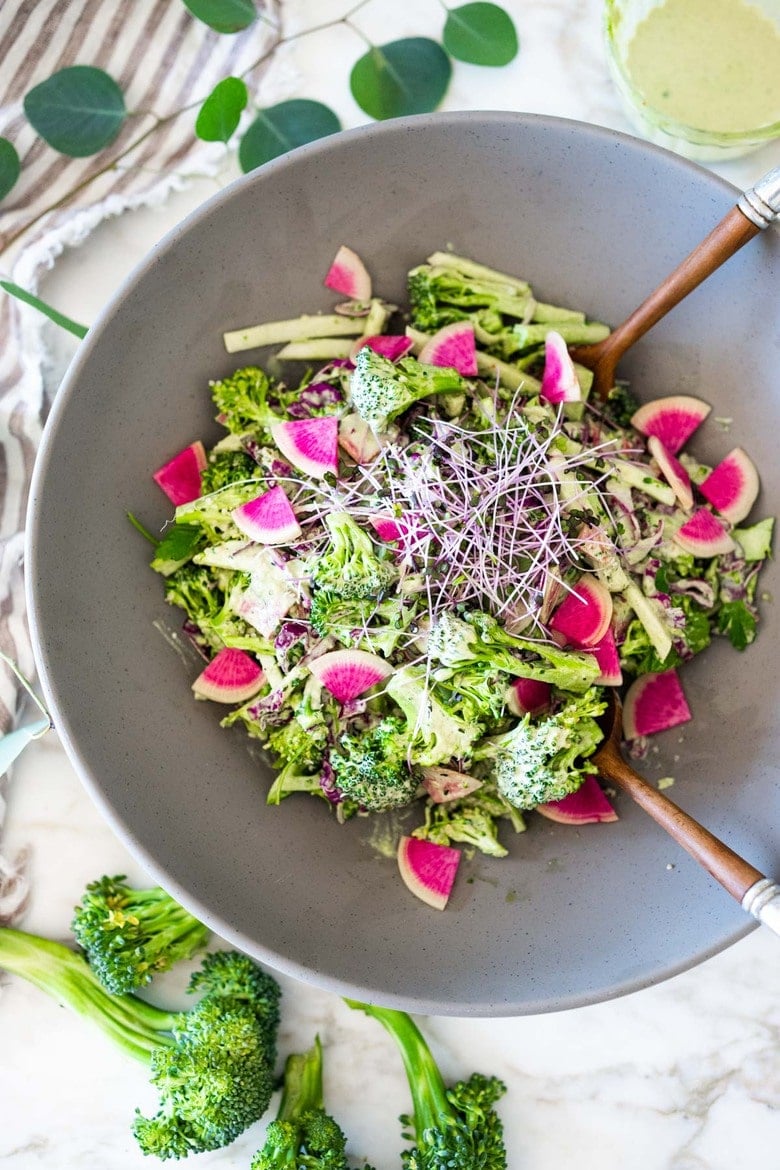 This Creamy Vegan Broccoli Salad is so good, it's actually hard to tell it is vegan! It's tossed in the most flavorful Herby Hemp Dressing- that you will seriously want to put on everything. The salad is a great way to use those farmer's market salad turnips or radishes or other stray veggies in your fridge. Anything crunchy, raw and fresh- snow peas, matchstick carrots, jicama, etc…
By the way, my husband couldn't tell it was vegan- not a clue-and ended up eating up all the leftovers the next day. I was actually a little sad about it.
You know it's good when you are sad the leftovers are gone. 😉
What I love about this salad is how tasty it is, even a few days after making it. It seems to get even better.
Oh and FYI, if you are looking for more healthy vegan salads to pack up for work lunches make sure to look at these Make-ahead Vegan Salads!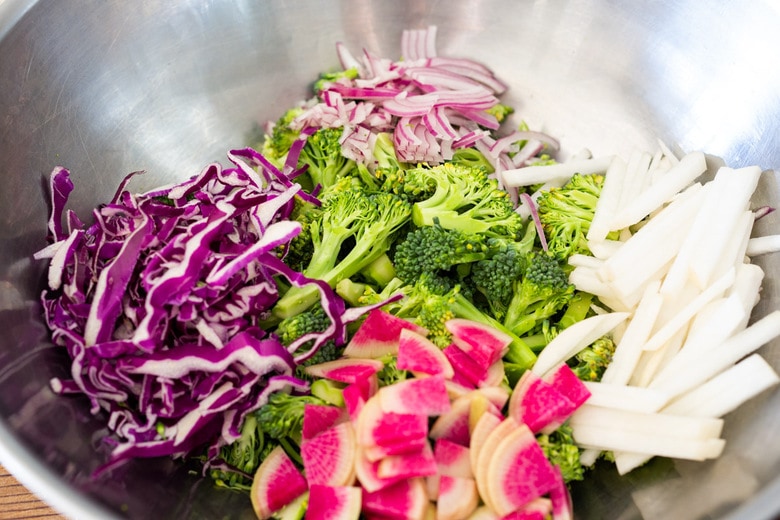 The Broccoli Salad starts with the veggies. Add 4 cups of fresh raw chopped fresh broccoli to a bowl. Chop it small!
Salad Turnips are nice here because they are crisp and watery and crunchy- but if you can't find these, a couple of Turkish cucumbers would suffice.
Radishes add a nice bite- and watermelon radishes are especially pretty.
I love the addition of shredded purple cabbage here-not only a pretty contrast, but also adds good texture.
Thinly sliced red onion adds a nice bite.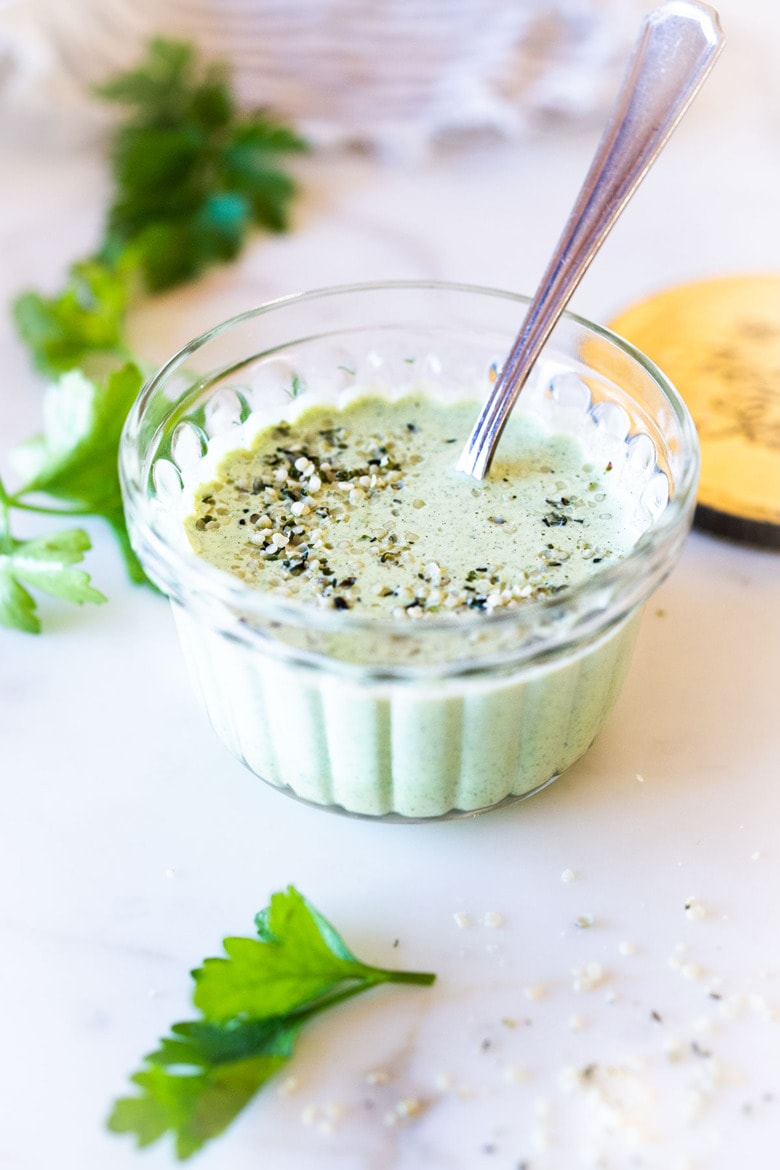 But, for me, it is this delicious Herby Hemp Dressing that makes the salad. Now, if you can't get hemp hearts, not to worry, raw cashews work too!
The Herby Hemp Dressing is both Vegan and Keto!
And it can be used as a dip- see this post!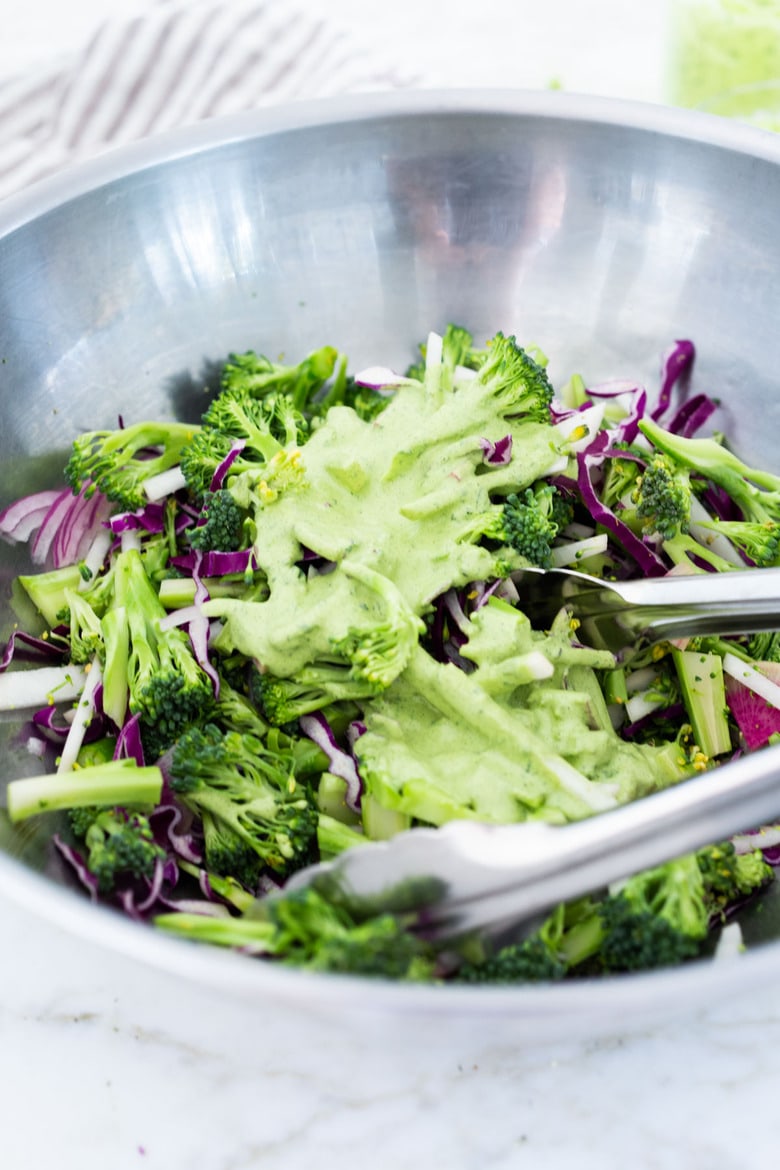 Then just toss!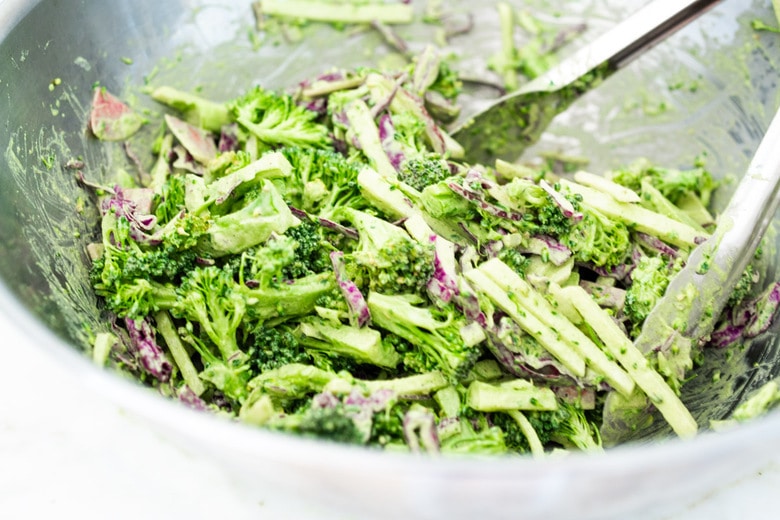 Don't be skimpy with the Hemp Dressing! Coat those veggies well.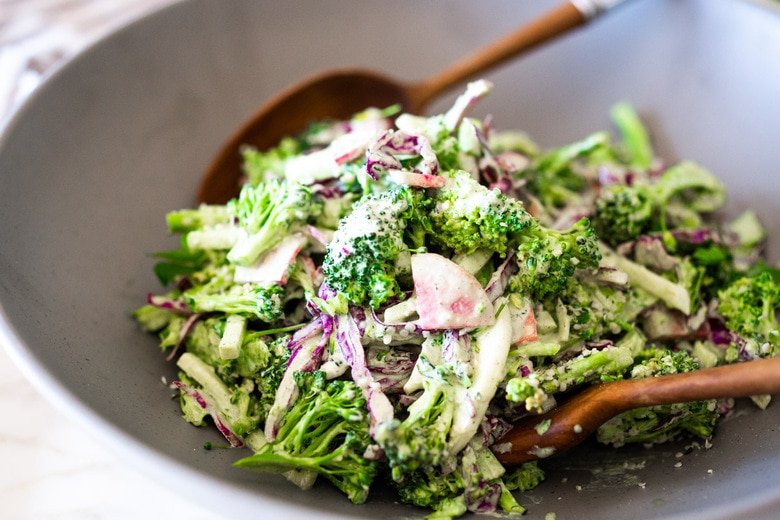 Let those veggies marinate in all that goodness for a few mintues.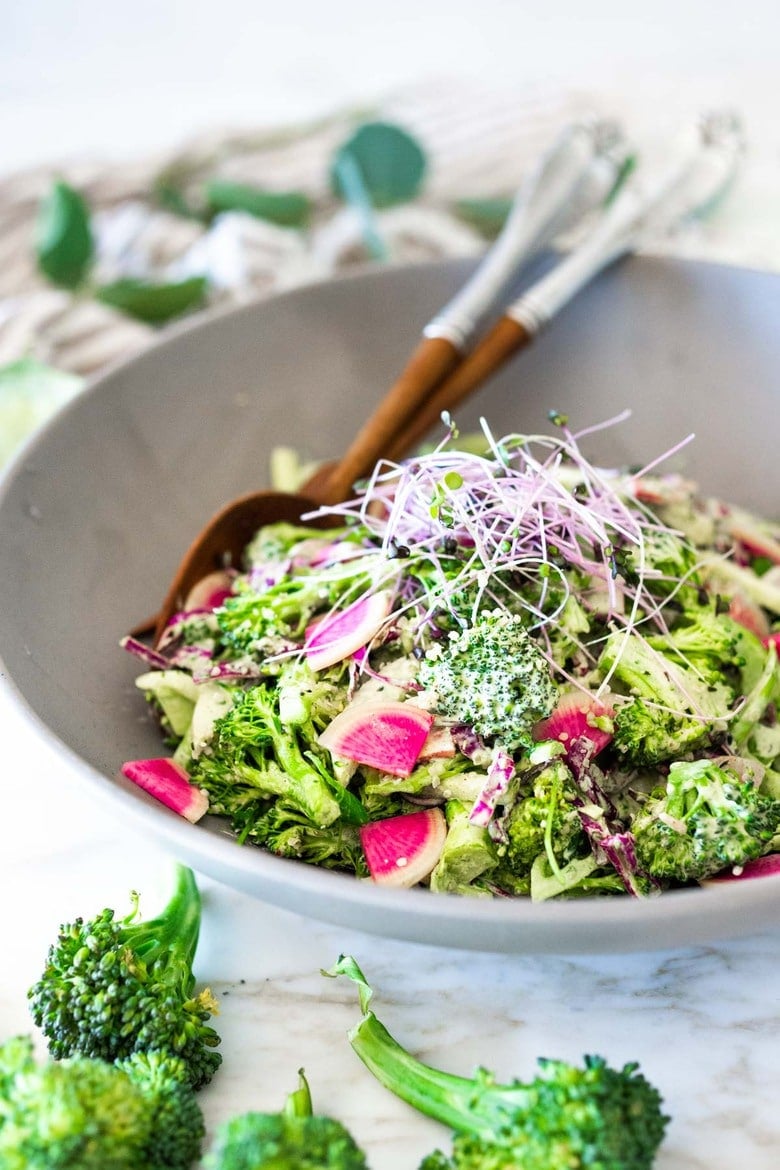 Then sprinkle with more hemp hearts– or sunflower seeds and add some sprouts, herbs or avocado on the side for extra heartiness.
Trust me when I tell you how good you'll feel after eating this. It is energizing and filling.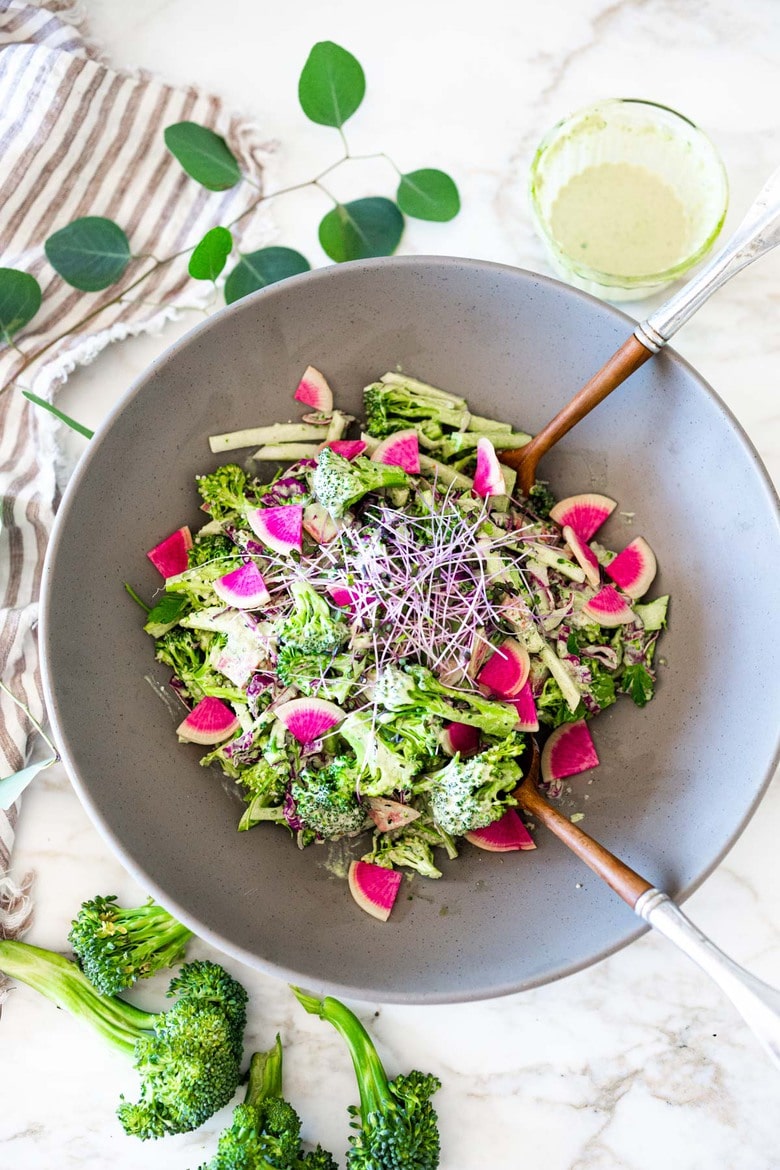 On the home front: It's my birthday week, we're here in Santa Barbara for the winter, and as a birthday gift, Brian got me a wetsuit. I've been looking at it for a couple of days nows now, trying to muster up the courage to squeeze into it. Honestly, I'm terrified. Haha!
But, at the same time looking forward to getting this old bod' into the Pacific Ocean again. I had such grand plans of learning how to surf while down here. I think perhaps I liked the idea of it more than the reality of it. So I'm taking it slowly. Not ruling it out, per se, but starting off with just swimming. 😉 I've heard there are sharks around here, so if this is the last you hear from me, you'll have a clue of my fabulous, dramatic ending.
It's been amazing friends. All of it. Hope your year is off to a good start.
Let me know how you adapt this or what you think of this salad in the comments below.
For more healthy vegan salads to pack up for work lunches make sure to look at these Make-ahead Vegan Salads!
xoxo
Print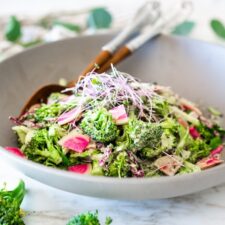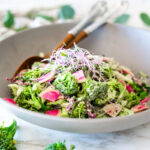 Vegan Broccoli Salad with Creamy Hemp Dressing
Author:

Sylvia Fountaine

Prep Time:

20

Total Time:

20

Yield:

6 cups

Category:

vegan, salad, keto

Method:

tossed

Cuisine:

American
---
Description
Creamy Vegan Broccoli Salad is so good, you won't even realize it is vegan! Tossed in a creamy Hemp Dressing- it is easy, healthy and full of flavor! Vegan and Keto!
---
Herby Creamy Hemp Dressing:
1 cup

hemp seeds (or sub

1/2 cup

cashews)

1/2 cup

water

2

 tablespoons olive oil

4 tablespoons

lemon juice (

2

lemons)

2 tablespoon

 Apple Cider vinegar (or other pale vinegar)

4

garlic cloves

1 teaspoon

salt

2 tablespoons

 nutritional yeast (optional but tasty!)

1/2 cup

fresh flat-leaf parsley ( or dill or basil, or a combo- and chives are nice too)
Broccoli Salad:
8 ounces

chopped broccoli

1 cup

shredded purple cabbage

1/4 cup

finely sliced or diced red onion

1/2 cup

sliced and quartered radishes (watermelon radishes are pretty)

1 cup

sliced (or matchstick) salad turnips ( or sub sliced Turkish cucumber)
Garnishes: sunflower seeds or hemp seeds, avocado, sprouts, fresh Italian parsley leaves
---
Instructions
Make the dressing: Place dressing ingredients (except parsly) in a blender and blend until very smooth. If you need a tablespoon more of water to get the blender going- so be it. Add the Parsley. Blend until chopped. Place in the fridge -this is best chilled. You can make this ahead, will last 3-4 days refrigerated. See notes below for cashews.
Make the salad: Finely chop the broccoli and place in a large bowl -you should have about 4 cups. (Broccoli stems are ok, as long as they are finely chopped.) Add the cabbage, radishes, onion, turnips.
Add most of the dressing (you will not need all- BUT at the same time, you want this really creamy and coated very generously!)  Season the salad with more salt and pepper to taste.
Before serving sprinkle with hemp or sunflower seeds, add sprouts, parsley leaves and avocado if you like.
---
Notes
Salad will keep 2-3 days in the fridge ( without the avocado).
THE DRESSING WILL MAKE MORE THAN YOU NEED for the salad, but I doubled it here so it blends more easily in a blender.
CASHEW SUB: If subbing cashews, blend cashews and water first until creamy. Then add remaining ingredeints. This works best with a high-speed blender. If you don't have a high-speed blender, I recommend soaking the cashews in water ( for 4 hours) so they soften.
Keywords: healthy broccoli salad, vegan broccoli salad, Keto broccoli salad, farmers market salad, creamy broccoli salad, best broccoli salad recipe