Garlicky Cruciferous Pasta- a simple vegan pasta dish loaded with heathy cruciferous vegetables (shredded broccoli, cabbage and brussel sprouts) tossed with garlic, lemon zest and chili flakes. Simple and DELISH!!!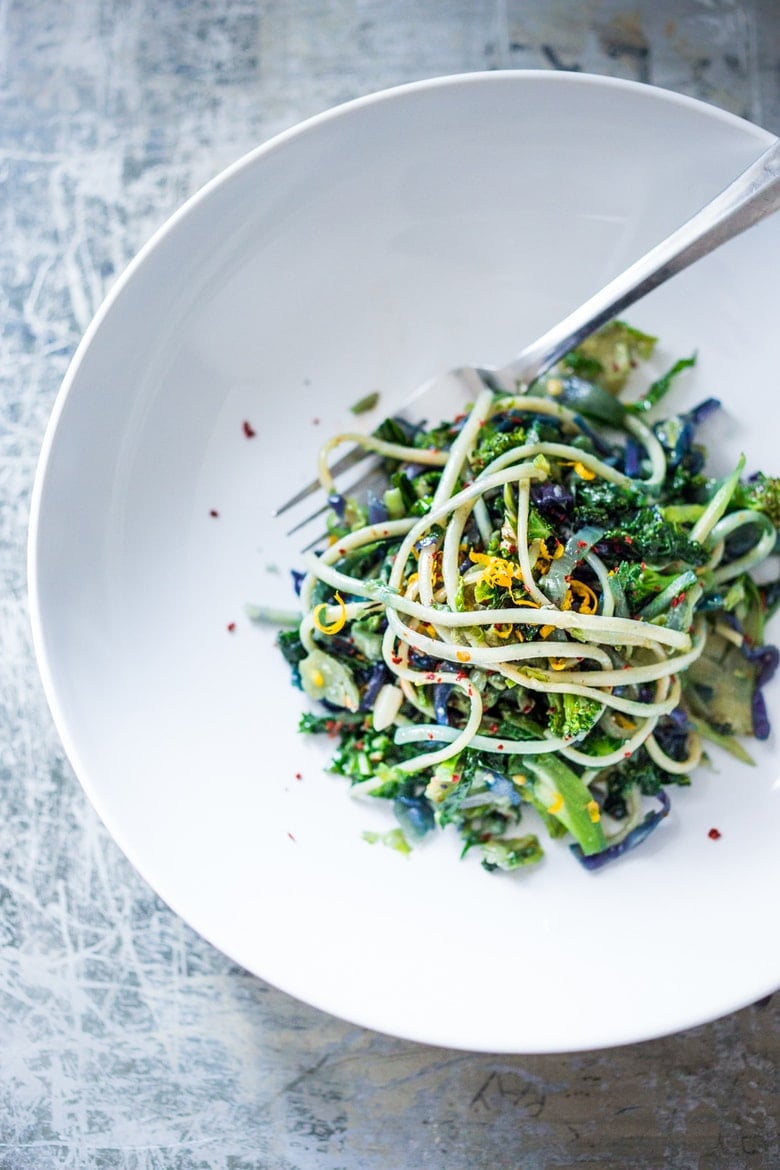 Garlicky Cruciferous Pasta. I wish I had a fancier name for this, but it's all I've got today. It's one part pasta and three parts cruciferous veggies — one entire pound to be exact. And I'm sure you already know this, but cruciferous vegetables are loaded with vitamins, nutrients and cleansing anti-oxidants.
Here, broccoli, cauliflower, Brussels sprouts, kale and cabbage are all thinly sliced, then cooked down with a little olive oil that has been infused with smashed garlic. The garlicky flavorful veggies are simply tossed with a small amount of pasta and finished with chili flakes, lemon zest and fresh basil. And that is it. Quick, healthy and surprisingly tasty.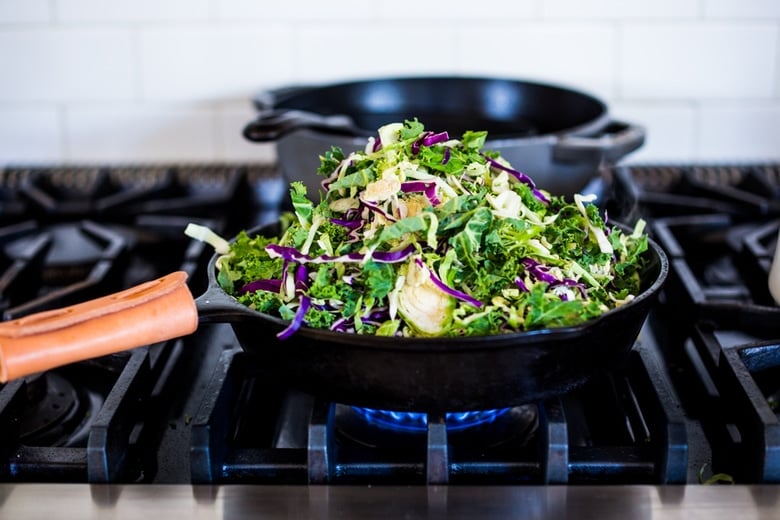 This recipe calls for a huge mound of veggies. Feel free to use packaged, prepped veggies like you see here, adding more if necessary to make a full pound, or pick out some Brussels sprouts, cabbage, cauliflower, broccoli and kale, and slice them all very thin.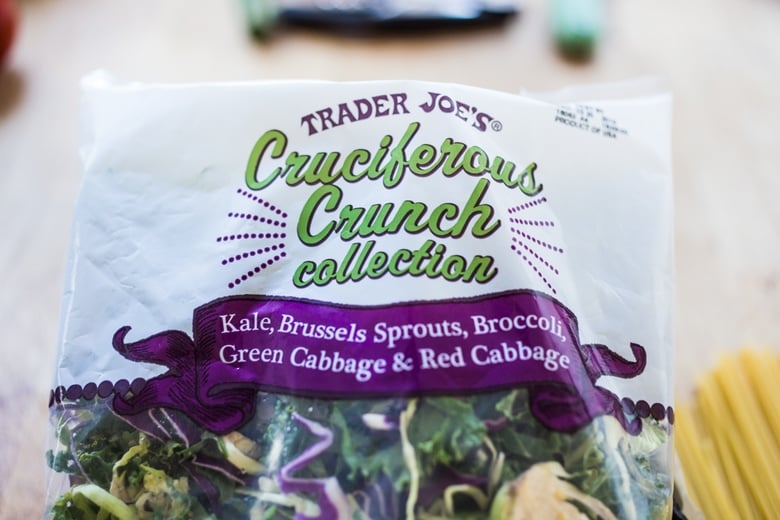 Slicing them VERY THIN will ensure quick and speedy cooking. So this means slicing the broccoli and cauliflower thin too.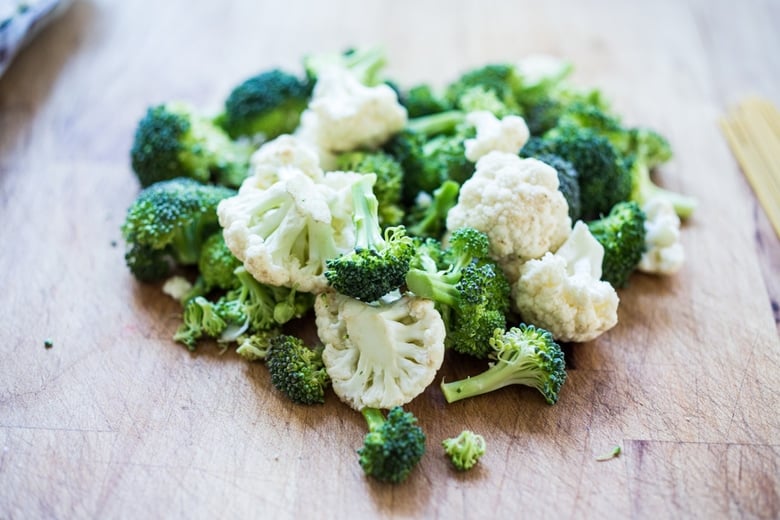 Slice florets into ¼ inch slices.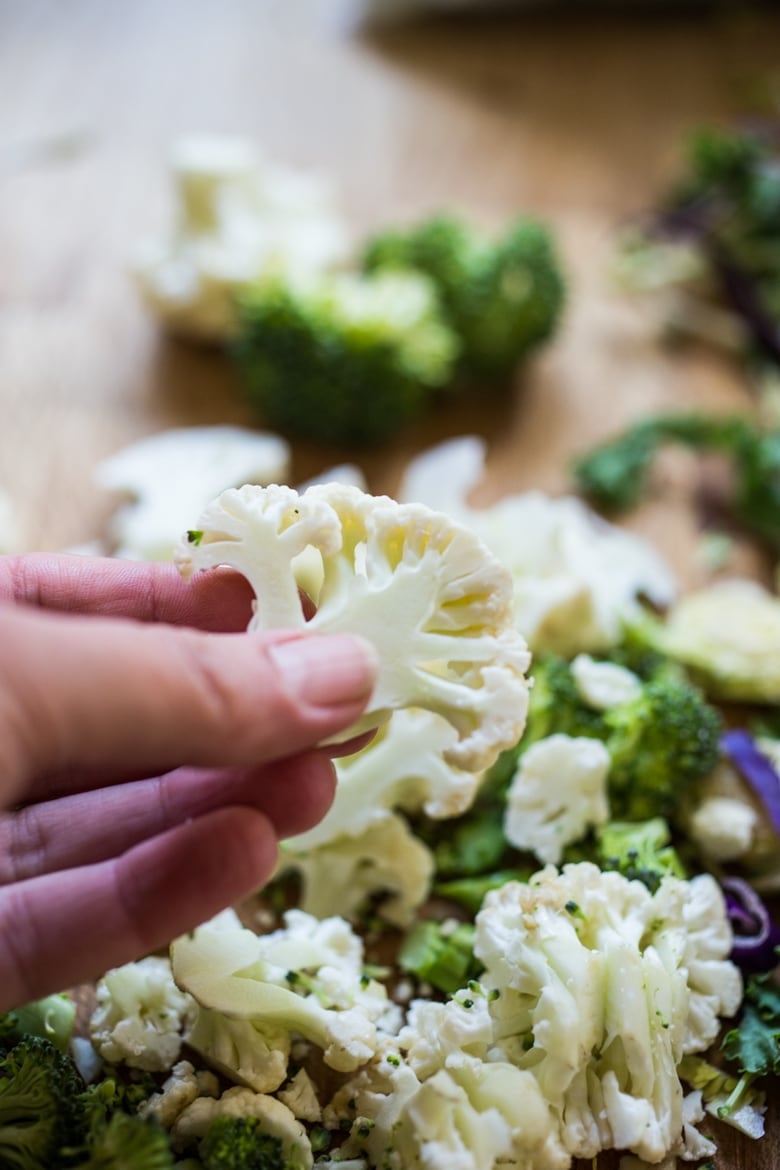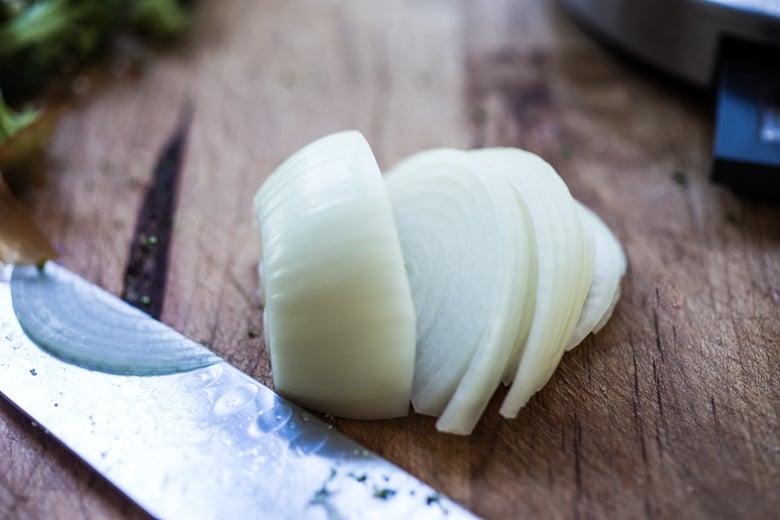 Thinly slice the onion and smash the garlic.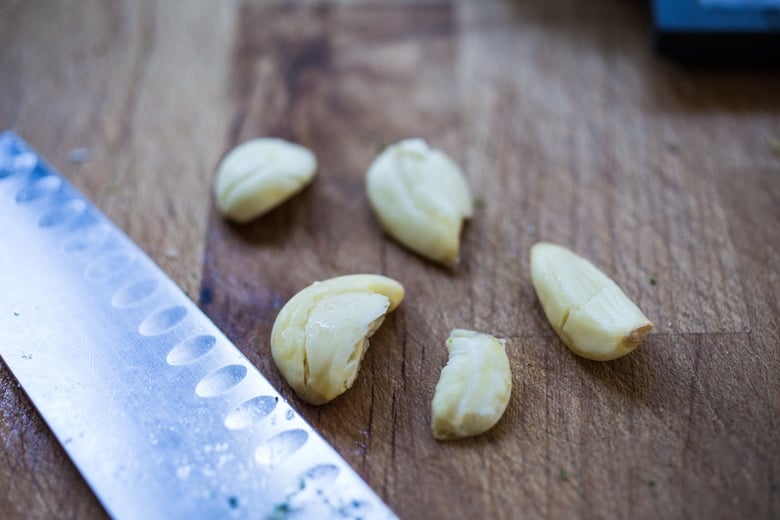 Cook the onions and garlic for a couple of minutes to infuse the olive oil, then add the mound of cruciferous veggies.
Cook the pasta at the same time.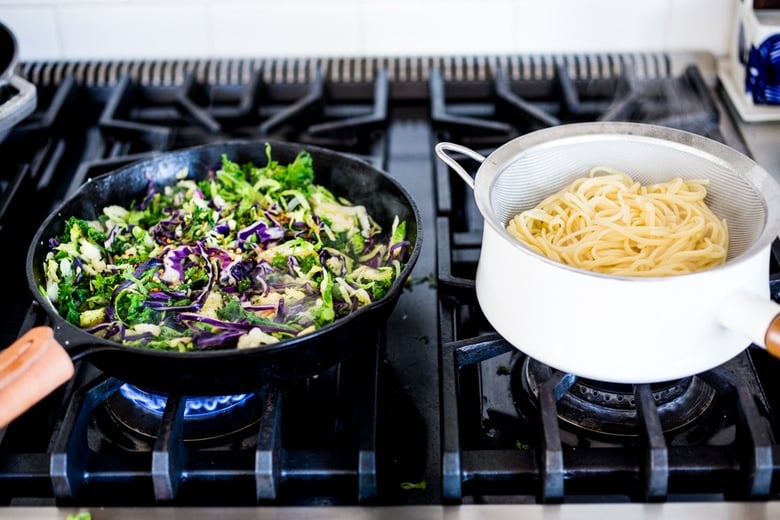 The veggies, surprisingly will cook down quite a lot. Once they are tender and bright, add the pasta to the veggies, seasoning well.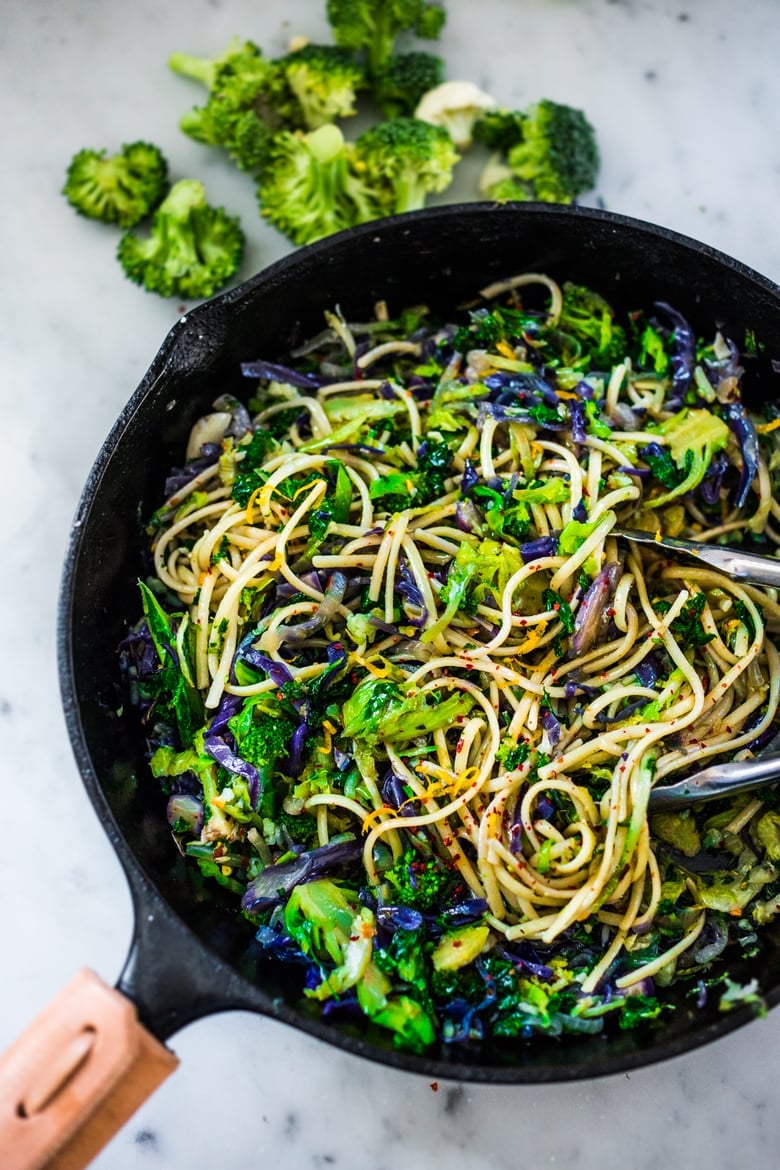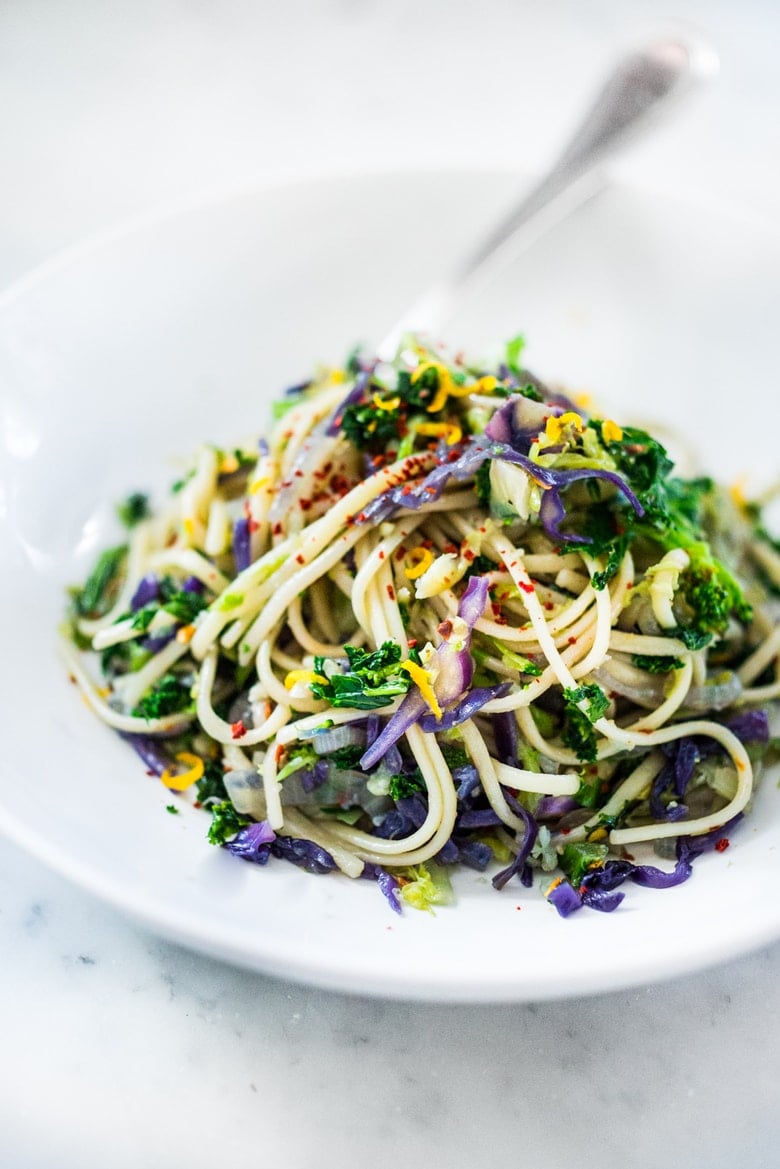 Serve in bowls with lemon zest and basil and chili flakes.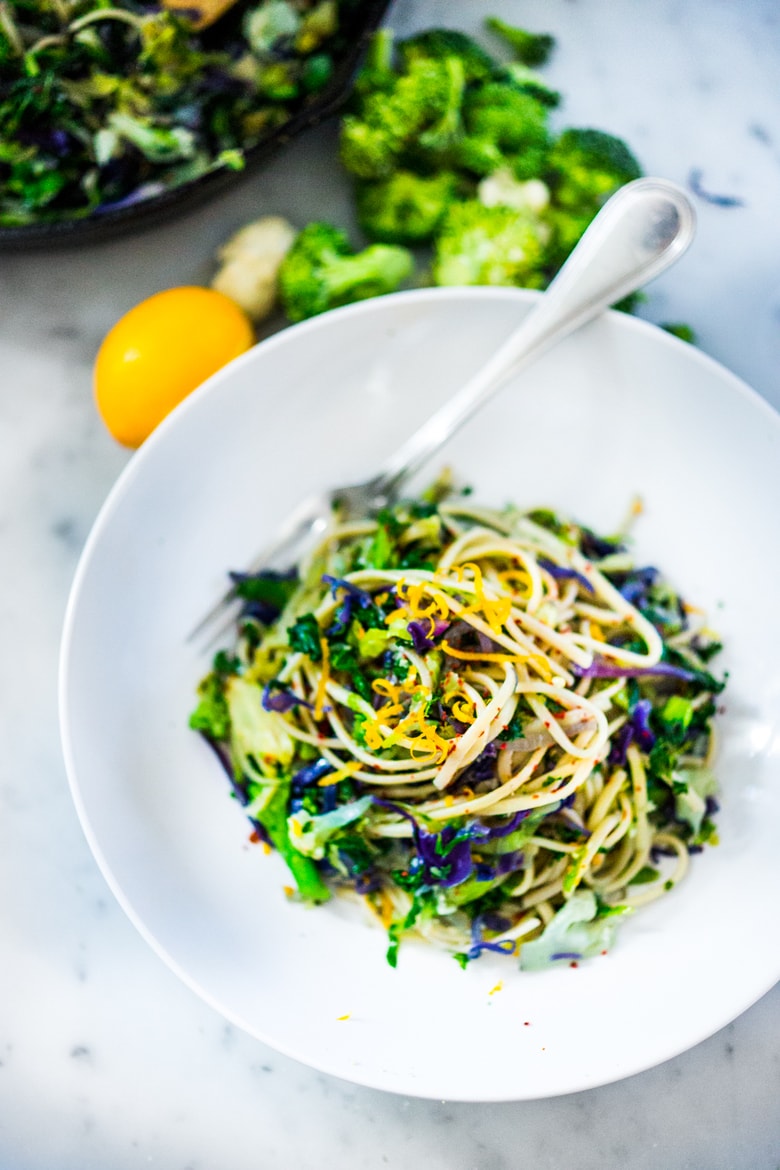 You can always add cheese and pine nuts, but I usually don't. I find it has enough flavor on its own.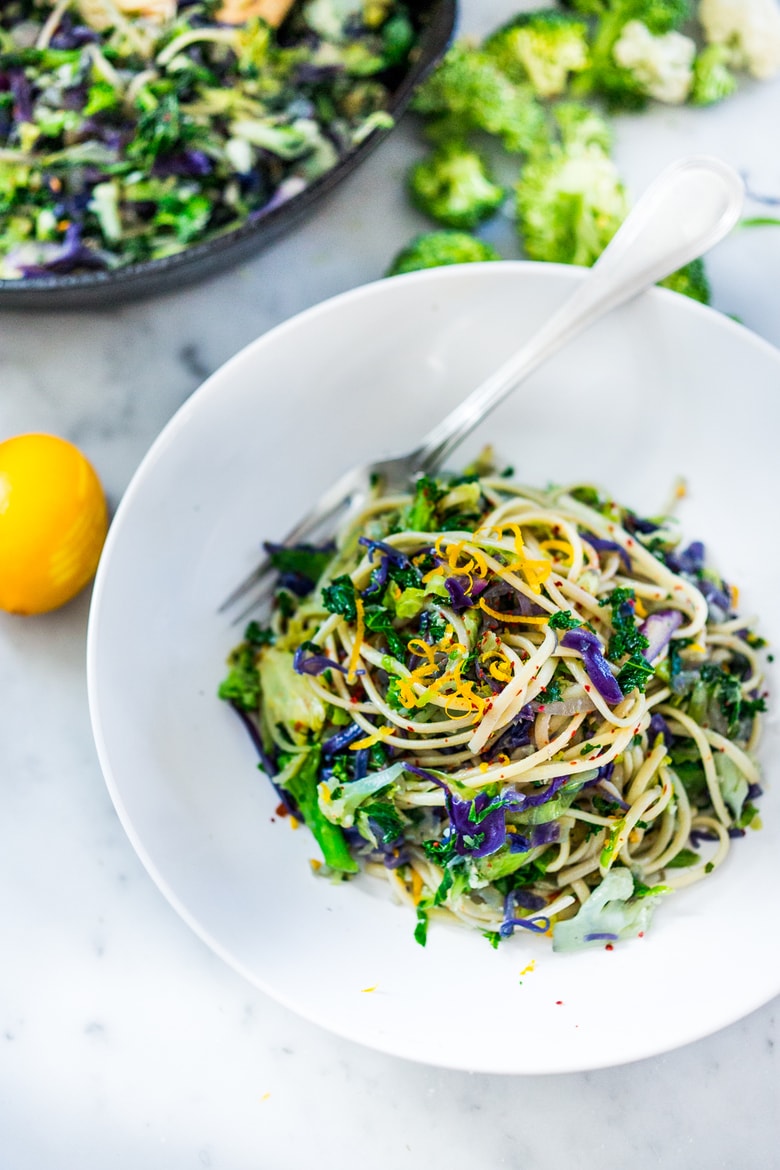 On the homefront: This morning, the house is eerily quiet. We had to put our sweet old dog Maxx down on Friday, and Brian has been completely heartbroken. Maxx was his buddy through thick and thin, always by his side since he was a pup. Afterward, in desperate need of distraction, we drove to Seattle and drowned our sorrows in food.
We stayed a few days longer than intended but finally came to the realization that eventually we had to come home and face that now empty corner of the living room where Maxx once laid.
Today is also my father's birthday, the first one since he passed away last month. So as I sit here this morning, I feel a huge void. It is impossible not to experience loss in this life.
I am thankful that I don't have to face it alone, and perhaps this is the silver lining in all of it. This, and perhaps how it calls us out, reminding us what we've always known — that life is finite, precious, and that our time here is short.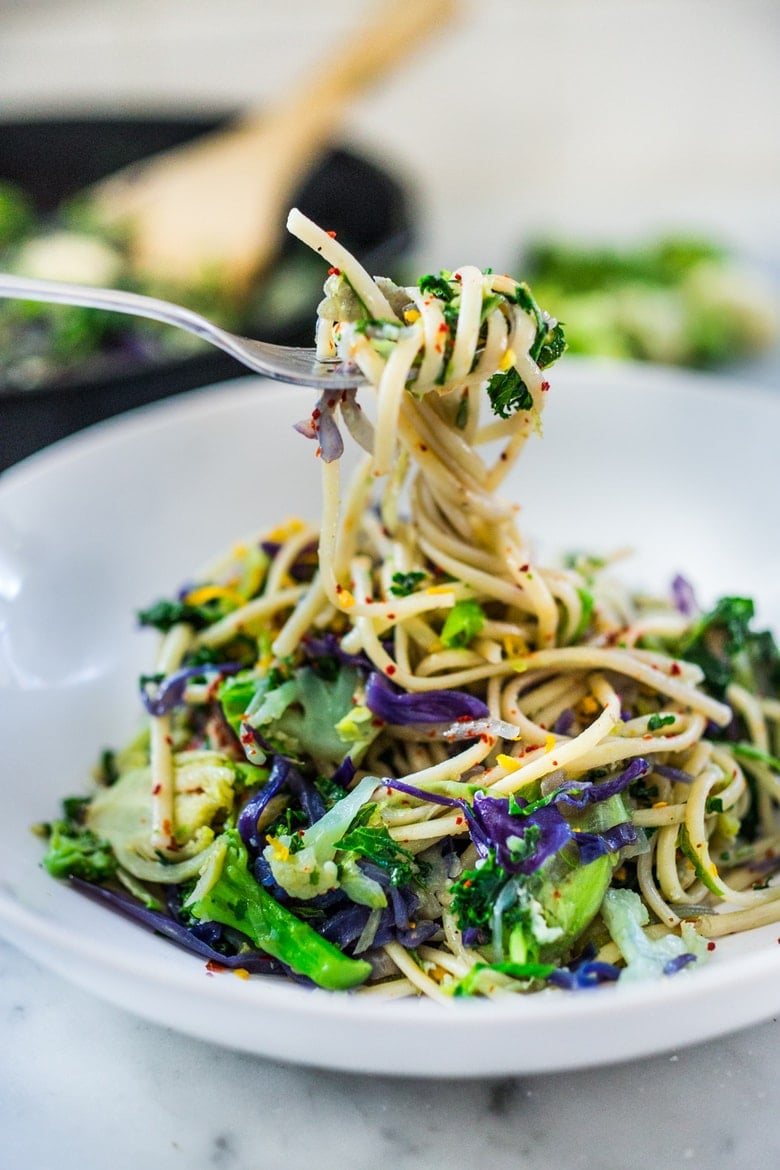 A fast healthy vegan meal, full of healing detoxing vegetables.
Print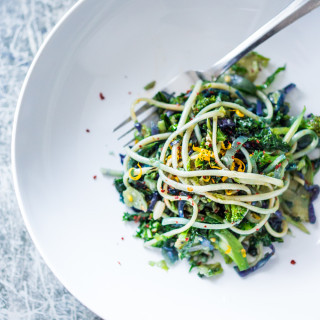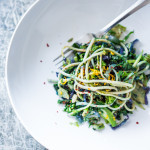 Garlicky Cruciferous Pasta
Prep Time:

10 mins

Cook Time:

20 mins

Total Time:

30 mins

Yield:

2-4

Category:

Main

Method:

stovetop

Cuisine:

vegan/ vegetarian

Diet:

Vegetarian
---
Description
A simple superfood packed pasta dish, heavy on the cruciferous veggies, light on the pasta. Keep this vegan or add cheese (although its really good without)
---
4 ounces

dry pasta (linguini, penne, spaghetti, angel hair)

2 tablespoons

olive oil

½

a medium onion, very thinly sliced

4

–

6

large cloves garlic, smashed

1

pound cruciferous veggies (cauliflower, broccoli, cabbage, brussel sprouts, kale) all very thinly sliced.

1 teaspoon

salt

½ teaspoon

cracked pepper

¼

or more chili flakes
zest of

one

lemon
extra olive oil for drizzling
Garnish: fresh basil ribbons, allepo chili flakes, toasted pine nuts, Vegan cheesy Sprinkle, or grated Pecorino cheese
Feel free to add protein: seared shrimp, chicken, salmon or chickpeas!
---
Instructions
Place a pot of water to boil for pasta on the stove, and cook the pasta. (do not salt)
While the pasta is cooking, heat oil over medium heat in a large skillet
Add onion and smashed garlic and saute for 2 minutes, breaking up the whole garlic with a metal spatula, just a bit, letting the oil infuse with garlic flavor.
Add the whole mound of thinly sliced veggies. Let this cook without stirring for a few minutes, and it will begin to settle and lower in the pan, then just gently nudge it around, letting it continue to cook down about 5 more minutes. Add 3 tablespoons hot pasta water and 1 teaspoon salt.
Continue cooking over medium heat, stirring occasionally.
When pasta is done, drain and set aside until veggies are bright green and tender.
Stir in the pasta.
Season with pepper and chili flakes.
---
Keywords: healthy pasta, Brussels sprouts pasta, broccoli pasta, cruciferous recipes, cruciferous pasta