Here are our favorite Mother's Day Brunch Ideas to help celebrate Mom this weekend.  Whether she likes sweet things or savory things, breakfasts or light lunches- you'll find a wide selection of ideas and recipes to lavish her with!
Chia Pudding | 60-sec video
On the homefront: What we plant will outlive us.
When I was just a little girl, my mother planted a little lemon tree after moving into our new house in Southern California. It was 1973. Over the years, the small tree grew and grew and produced thousands of lemons. Forty years later, when my parents got too old to live in the house, before selling it, my mom asked me to pick as many lemons as I could from her tree before the new owners moved in. So I returned and picked several grocery bags full of lemons, which she promptly juiced and froze. She would thaw the lemon juice as needed, and drink lemon water every morning.
And time went on… fast forward to last spring, Brian and I happened to be visiting Los Angeles, near where I grew up, and coincidentally, it was Mother's Day. My mom had passed away several years before. Probably because it was Mother's Day, I started to think about our old house and that giant old lemon tree and how badly I wanted to pick some of her lemons. I was missing her.
So Brian drove me up the big hill to my old house. He cautiously stayed in the car while I walked up the long driveway I had walked up a thousand times before as a kid. I nervously knocked on the door. It was such a strange feeling knocking on my old door. No answer. I knocked again, and still no answer. I knew someone was home, I could hear them, but they would not answer.
I considered just going into the backyard, grabbing the lemons, and running! And honestly was about to, but I knocked again and said boldly, I know you're in there; I can hear you! Then, finally, an older woman's voice, "Who are you?" said gruffly through the door. I explained that I used to live there. "What do you want?" Still gruff. I explained again, through the door who I was, as sweetly as I could, and after a few more questions and answers through the door, I finally just said, exasperated, "Look, I'm not going to hurt you, could you please just open the door?"
It was good that my husband stayed in the car because he would have been mortified at my persistence. Hesitantly she cracked open and eyed me. A tiny, 80-year-old woman stood there with a look on her face that could have killed. I told her one more time "I grew up in this house. I'm visiting from Washington, and today is Mother's Day, and I'm sorry to bother you, I just want a lemon from my mother's lemon tree. Would that be OK?"
Finally, it began to dawn on her. "You lived here? Your mom planted that tree?" She pointed. "Yes, yes! " I said. Her eyes changed as she began to comprehend. "Come, come!" she said as she ushered me around the house to the tree.
The tree was enormous. For a moment, there we stood, two strangers just looking up at that tree, now 40 feet tall, full of hundreds of lemons. I got teary. I couldn't speak.
When I finally got the courage to look at her, I was surprised to see, she had tears in her eyes too. She told me then how she missed her mother too. And how she had to leave her mother in Korea many decades before.
And in those unfolding moments, we understood each other, feeling the loss that all humans feel at some point. Yet in the midst of that sadness, we kept looking up at that amazing tree, how blatantly alive it was, full of juicy ripe lemons!
It felt like such a miracle. Like something of my mom was still alive in that tree. I felt so much joy, and so much sadness, wrapped up all together in my heart. There really needs to be a word for that.
I took a bag full of lemons home that day, and the lady I met, Kris, told me to come back and visit her and my mom's lemon tree any time.
xoxo
Print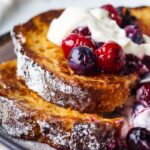 Mother's Day Brunch Ideas!
Prep Time:

30

Cook Time:

30

Total Time:

1 hour

Yield:

4

Category:

brunch

Cuisine:

American
---
Description
Here are our favorite Mother's Day Brunch Ideas to celebrate mom- whether you are looking for savory, sweet, brunch or lunch, you'll find inspiration here!
---
baked goods
savories
salads and sides
egg dishes
desserts
---
Instructions
pick a few to try this mother's day!
---
Keywords: mother's day brunch ideas, mother's day brunch recipes, mother's day brunch recipes