Here are a few Mother's Day Brunch recipes to help get your creative juices flowing this weekend. I find that keeping things simple is always best. Remember it's not just about the food, it is about the time you spend together.
When I first moved to Spokane from Southern California back in my young 20's, my mother made a tradition of coming up to visit every Mother's Day. I can still remember the excitement and joy she felt as we would walk through the lilac gardens smelling each and every variety. Those were some of our happiest times together. She loved seeing all the colorful tulips, but her favorite was the tiny little white fragrant bells of Lilly of the Valley.
Remember to have fun, and make it joyful! Happy Mother's Day to all you incredible women out there. xoxo
---
If I know what love is, it is because of you. ~ Hermann Hesse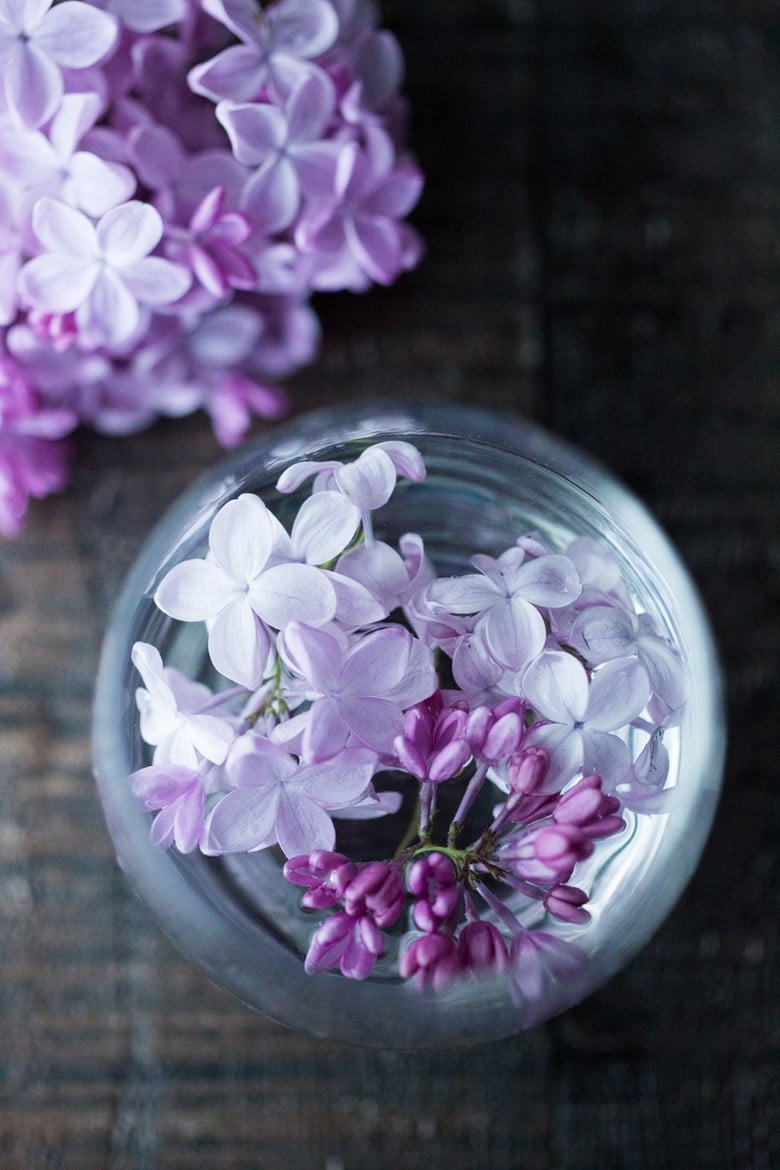 Lilac Water! Water infused with lilac blossoms calms and restores the spirit. Perfect for special spring gatherings like Mothers Day Brunch, such a simple lovely way to celebrate the season!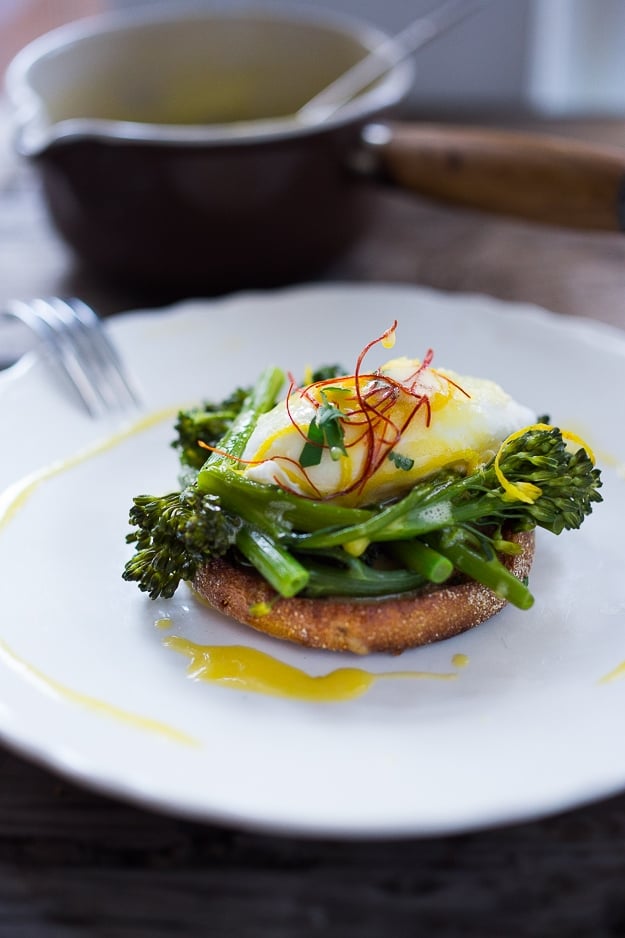 Vegetarian Eggs Benedict with Broccolini and Meyer Lemon Hollandaise – a simple yet elegant brunch idea perfect for special gatherings.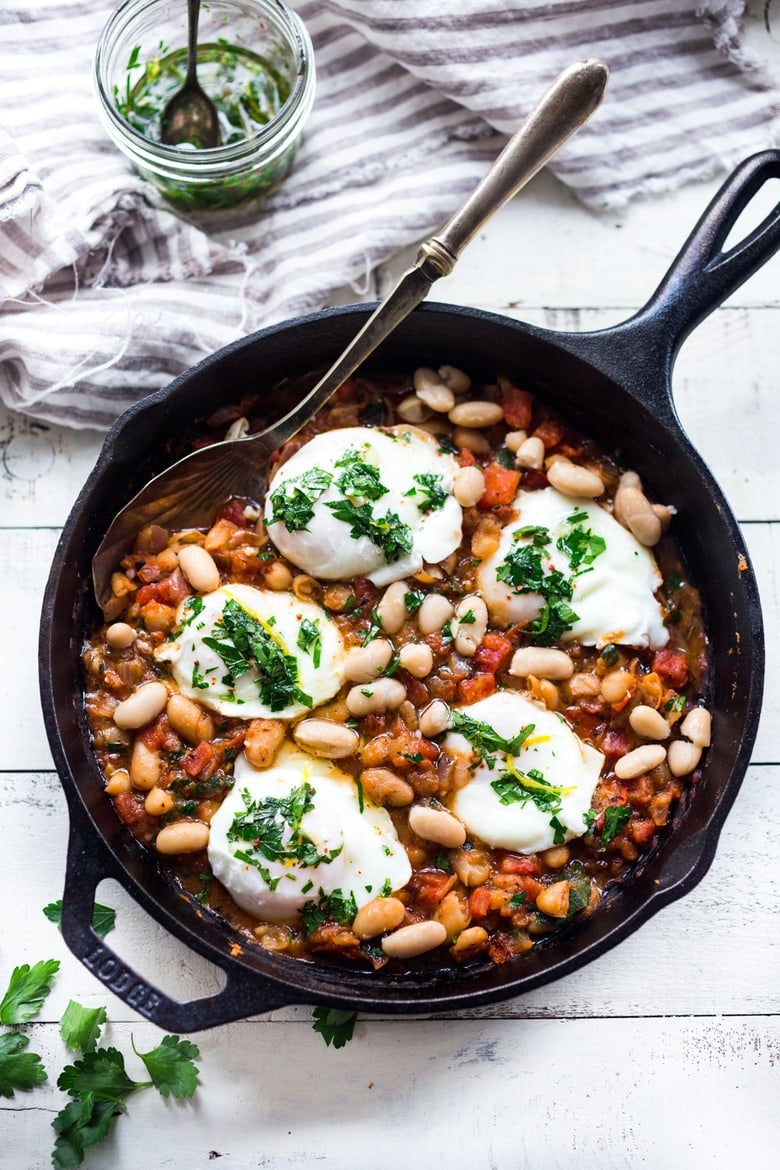 Tuscan Farmers Breakfast! Gently simmered eggs over a flavorful cannellini bean stew topped with an herby gremolata sauce. Add Italian sausage or keep it vegetarian. Healthy and tasty!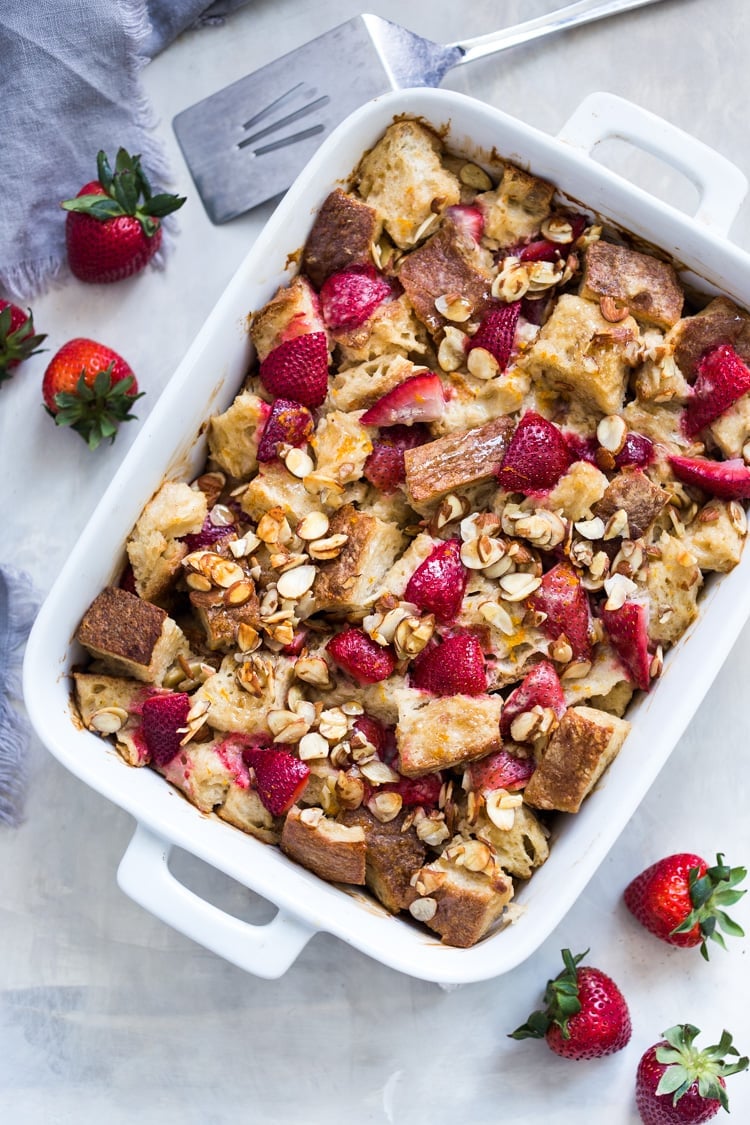 Healthy Baked French Toast (Vegan!) with fresh berries orange zest and almonds. A healthy version of our favorite Mother's Day Brunch recipe! Can be made ahead!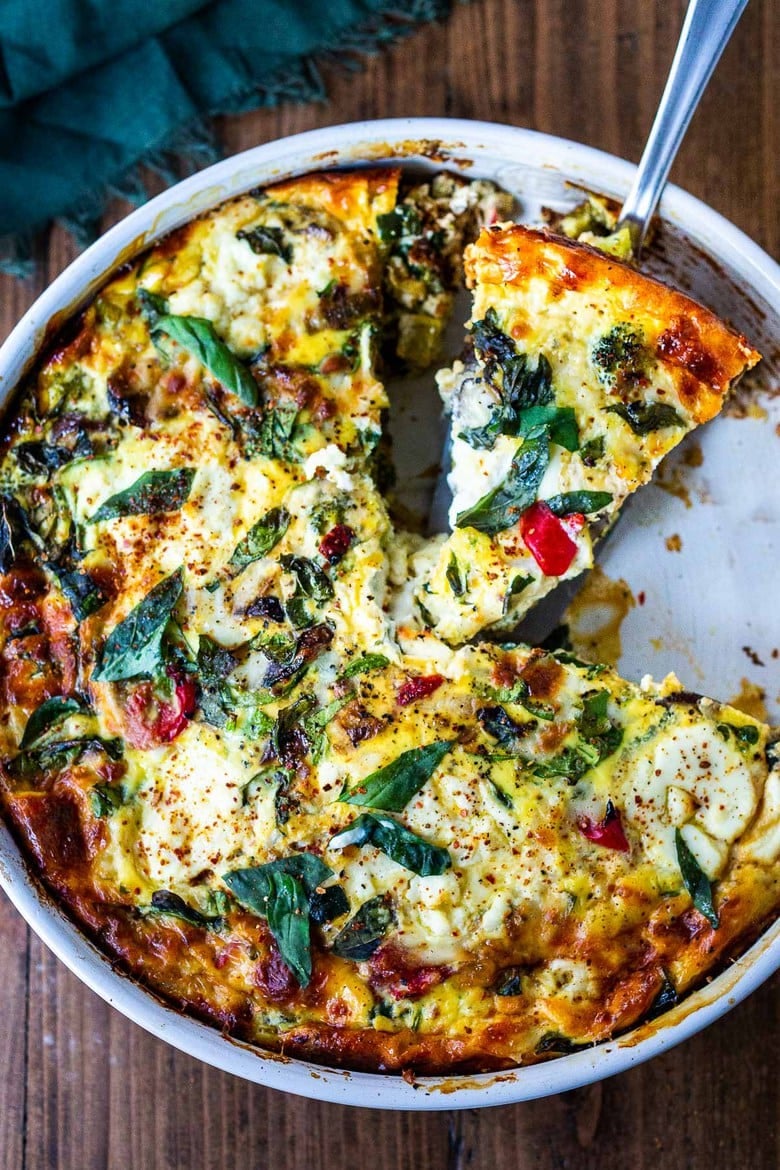 This delicious Baked Frittata is full of healthy vegetables, baked in the oven, versatile and easy to make. Make it ahead for a special breakfast or brunch, or serve it up as a crustless quiche for lunch or dinner -a tasty clean-out-the fridge kind of meal. Vegetarian, Keto, Gluten-free and low-carb.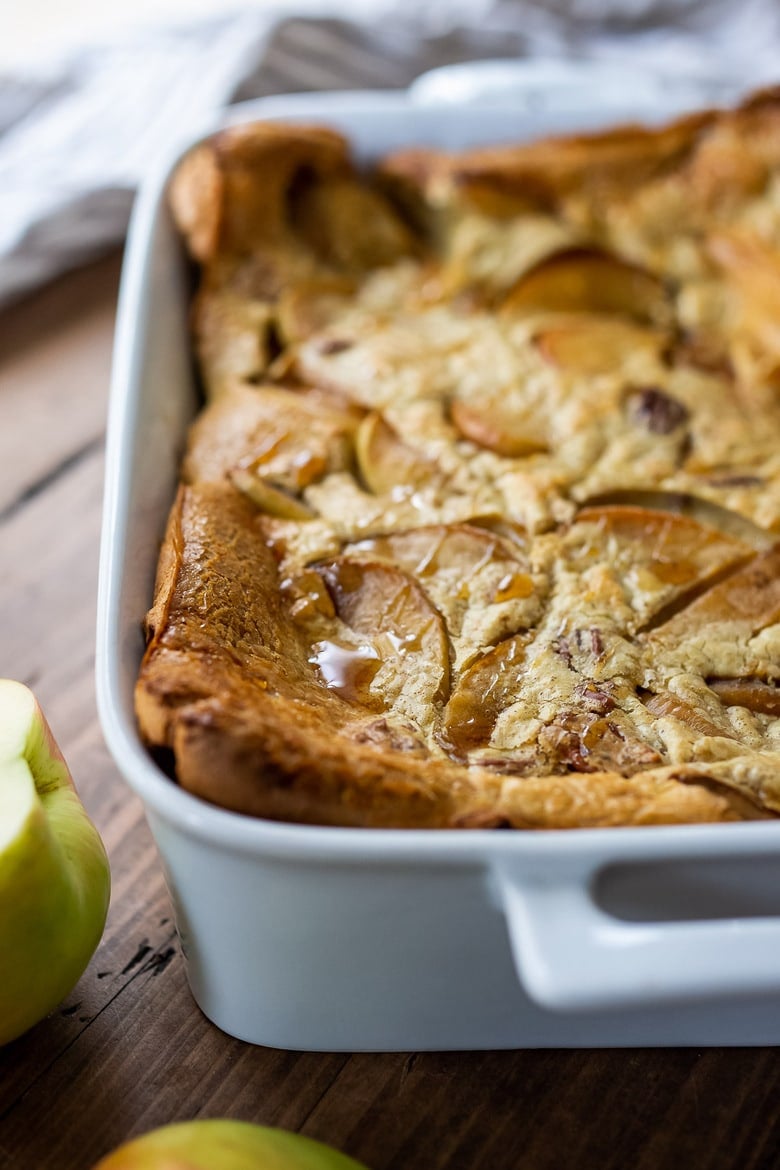 A simple recipe for Baked Apple Pancake inspired by Pannekoeken from the Netherlands, this version is infused with cardamom and nutmeg and puffs up dramatically in the oven. A delicious weekend breakfast or brunch.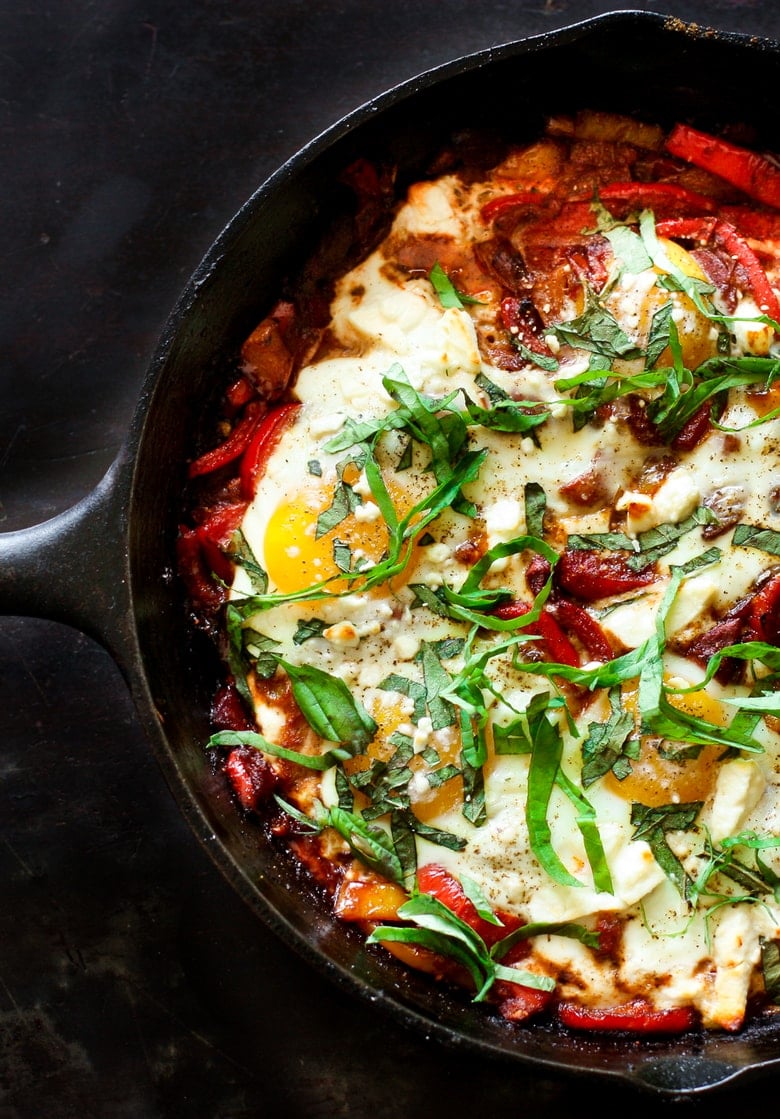 A simple delicious recipe for Shakshuka! Bursting with North African Flavors, this tasty Baked Egg dish makes for a healthy and incredible brunch! One of my favorite recipes for shakshuka, I know mom will love this!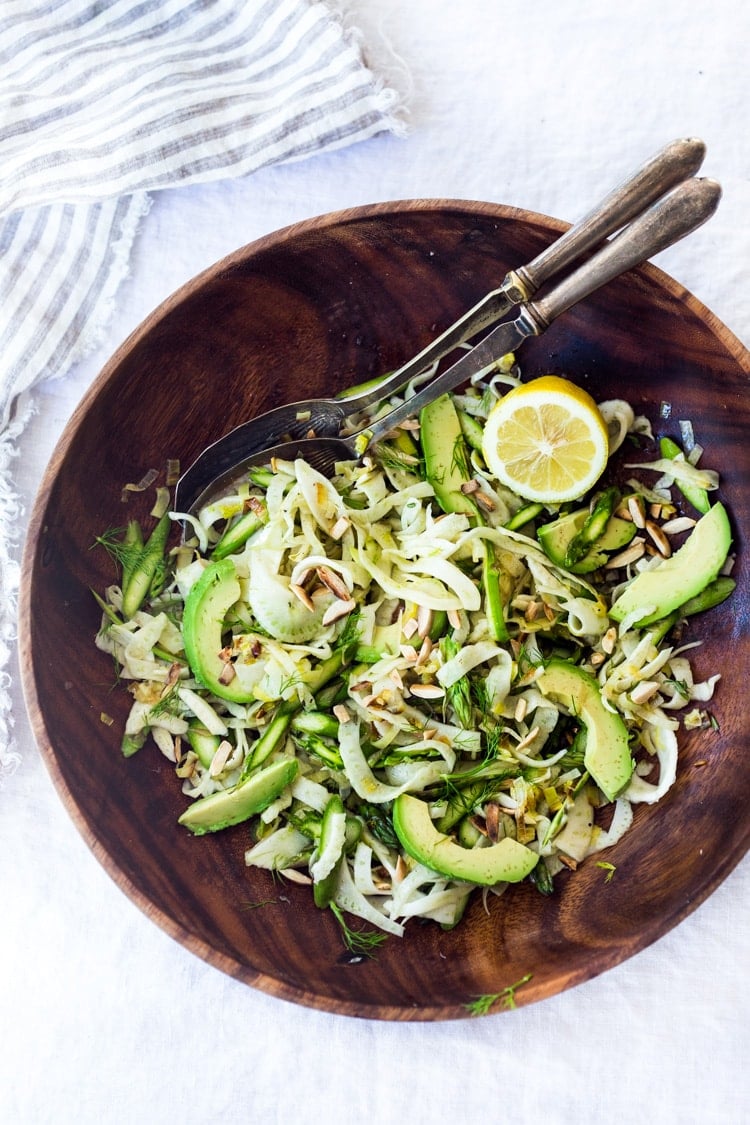 Asparagus Salad with Fennel, Almonds and Lemony Leek Dressing. This vegan salad can be made ahead, a perfect side to fish, chicken or tofu, or serve at a special brunch.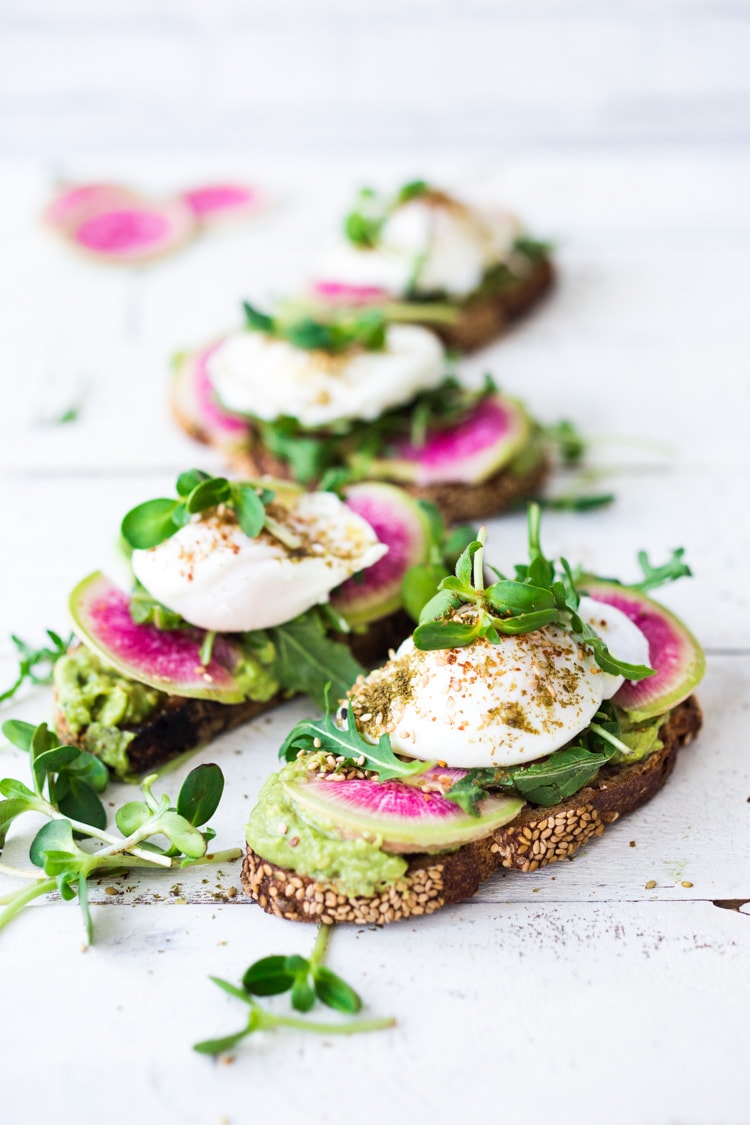 Avocado Toast with Poached Eggs, Arugula and Zaatar –a simple flavorful breakfast or brunch recipe that is full of amazing flavor! Perfect for Mother's Day!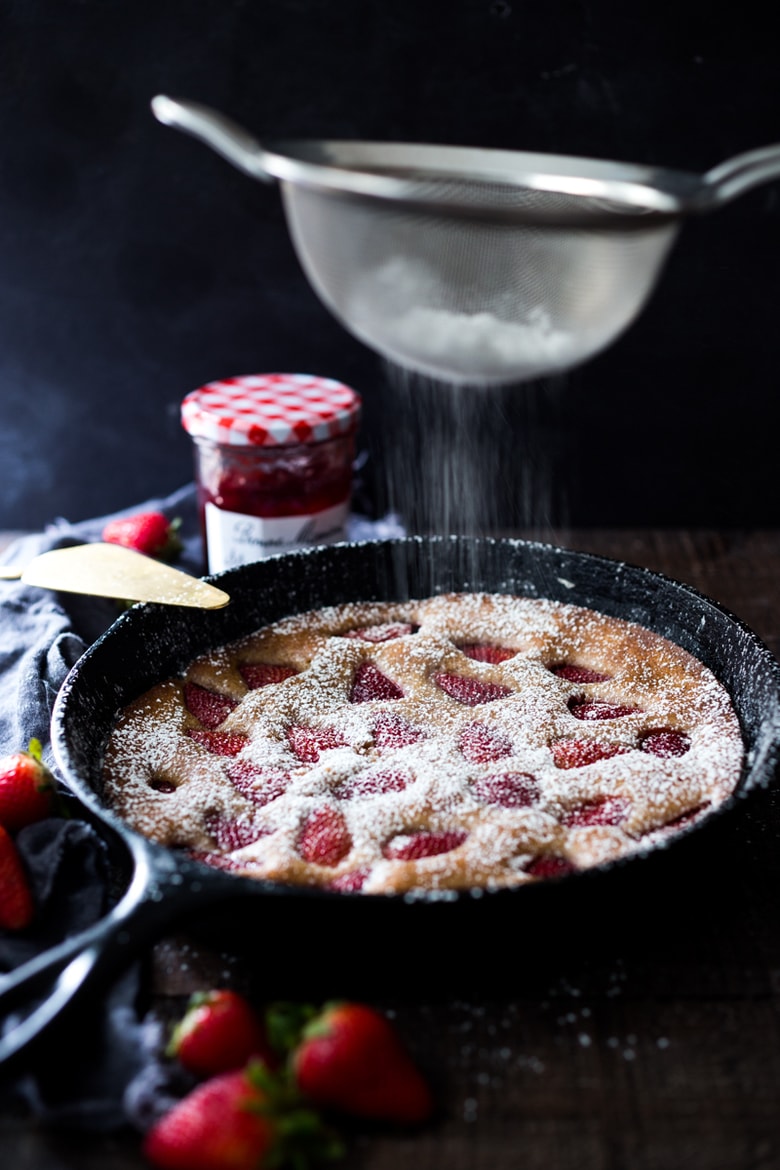 Strawberry Breakfast Cake– a spring treat that can be served for breakfast or dessert, perfect for your mother's day celebration!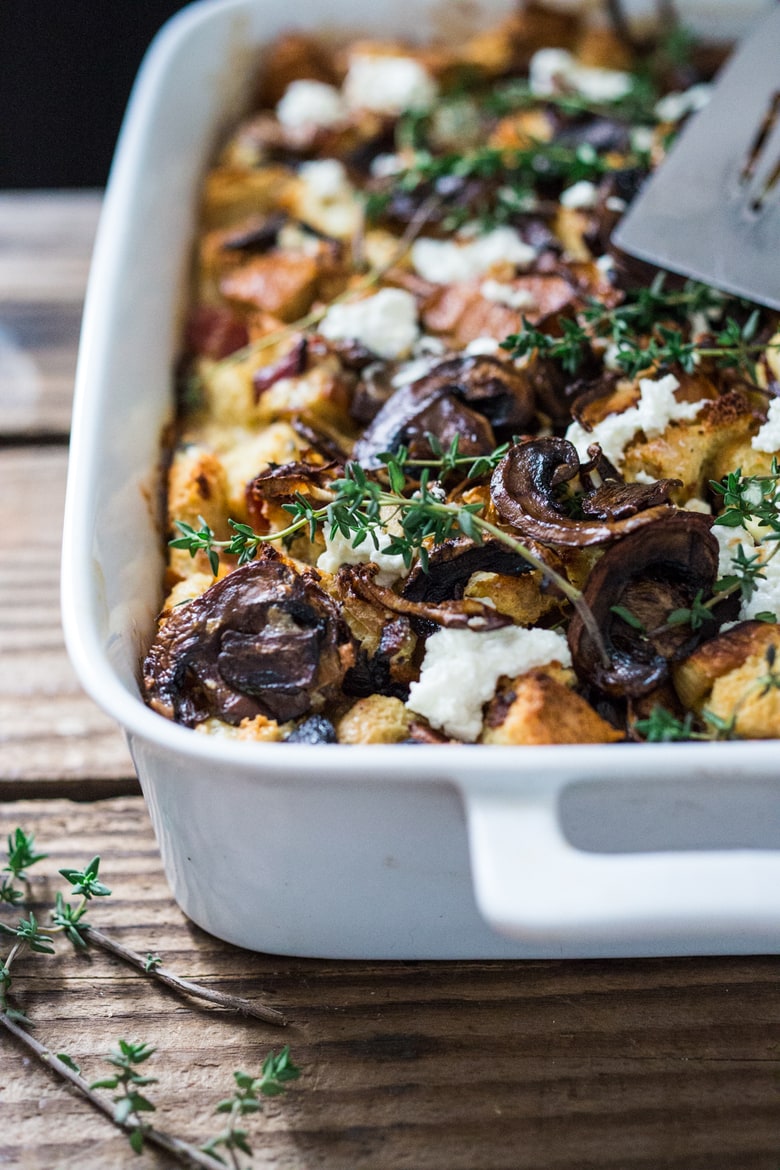 Baked Breakfast Strata with eggs, bread, mushrooms, caramelized onion, goat cheese, and thyme – a savory egg casserole, perfect for Mother's Day Brunch!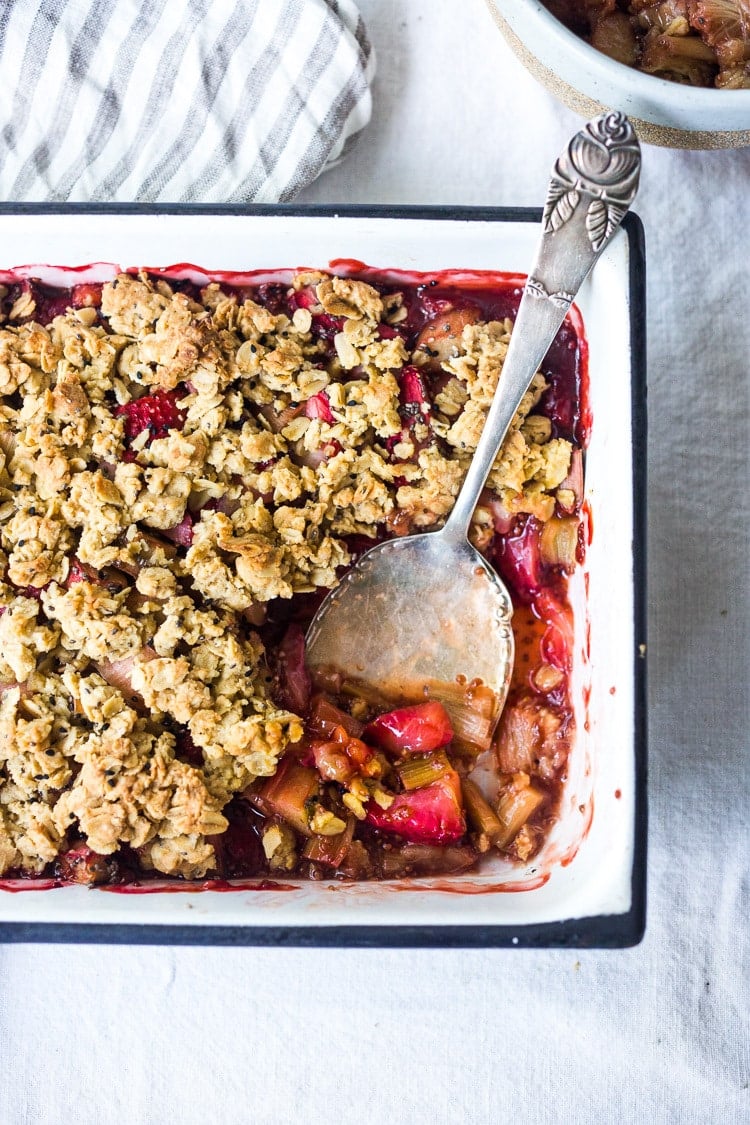 Maple-Sweetened Strawberry Rhubarb Crisp with Chia Seeds and a crumbly oat topping – a vegan, gluten-free dessert that highlights spring rhubarb.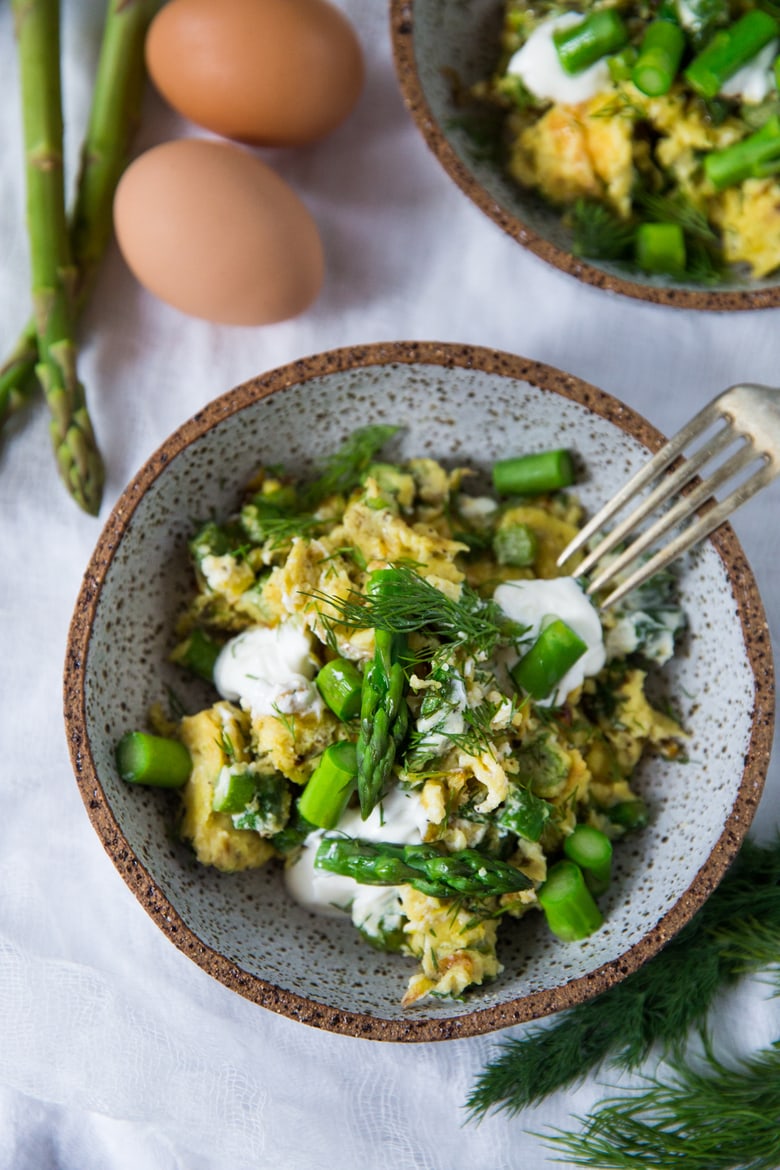 Spring Scrambled Eggs with tender asparagus, melted leeks, chèvre and fresh dill – a simple easy breakfast inspired by the flavors of spring!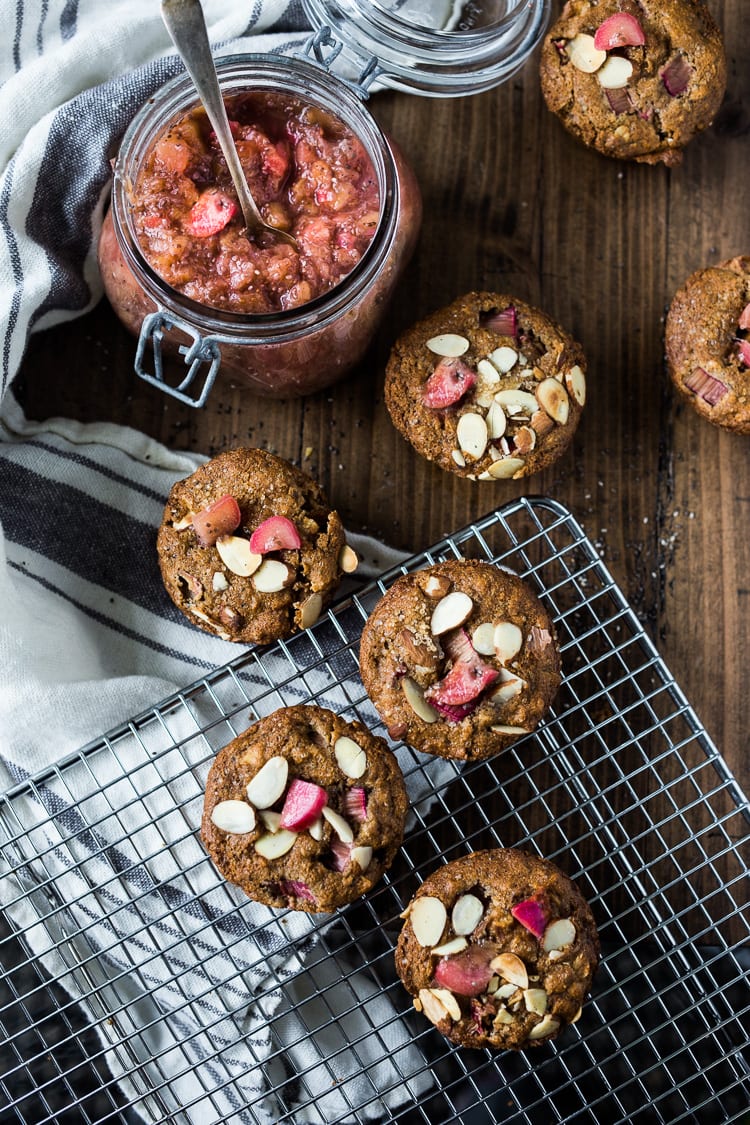 Moist and flavorful Rhubarb Almond Muffins- a simple healthy one-bowl recipe made with oats and sweetened with maple syrup.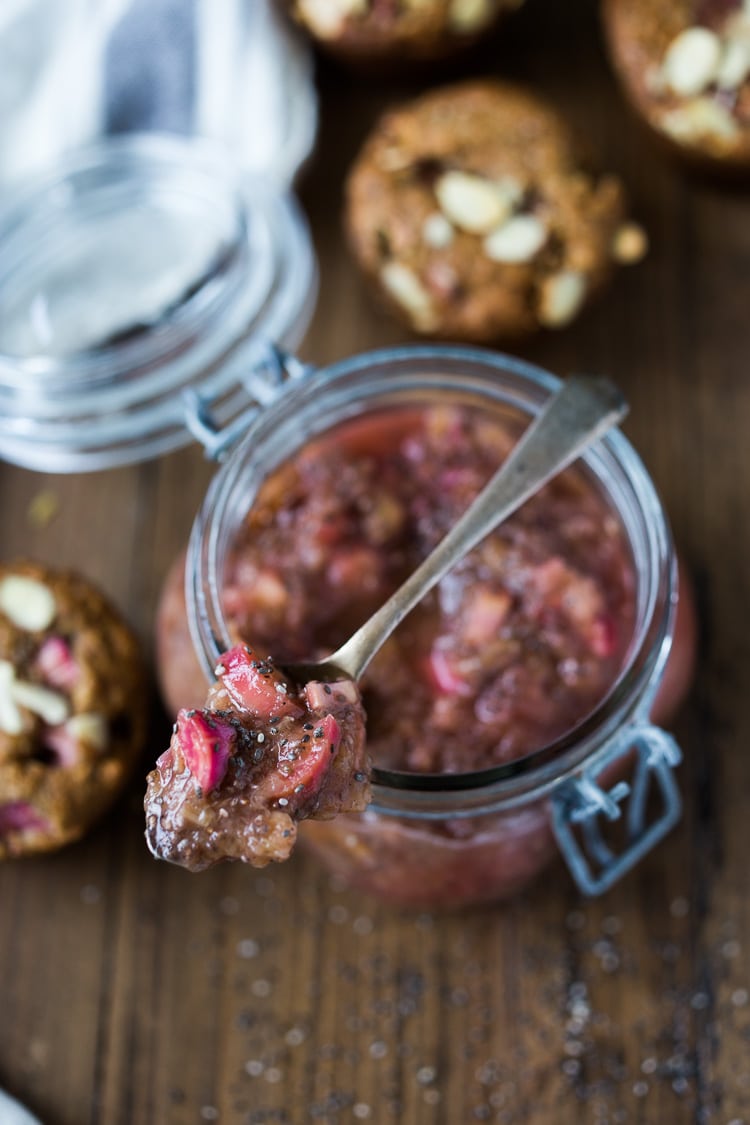 Rhubarb Jam with Chia Seeds and Maple Syrup – a delicious, nutritious jam that is naturally sweetened and full of nutrients.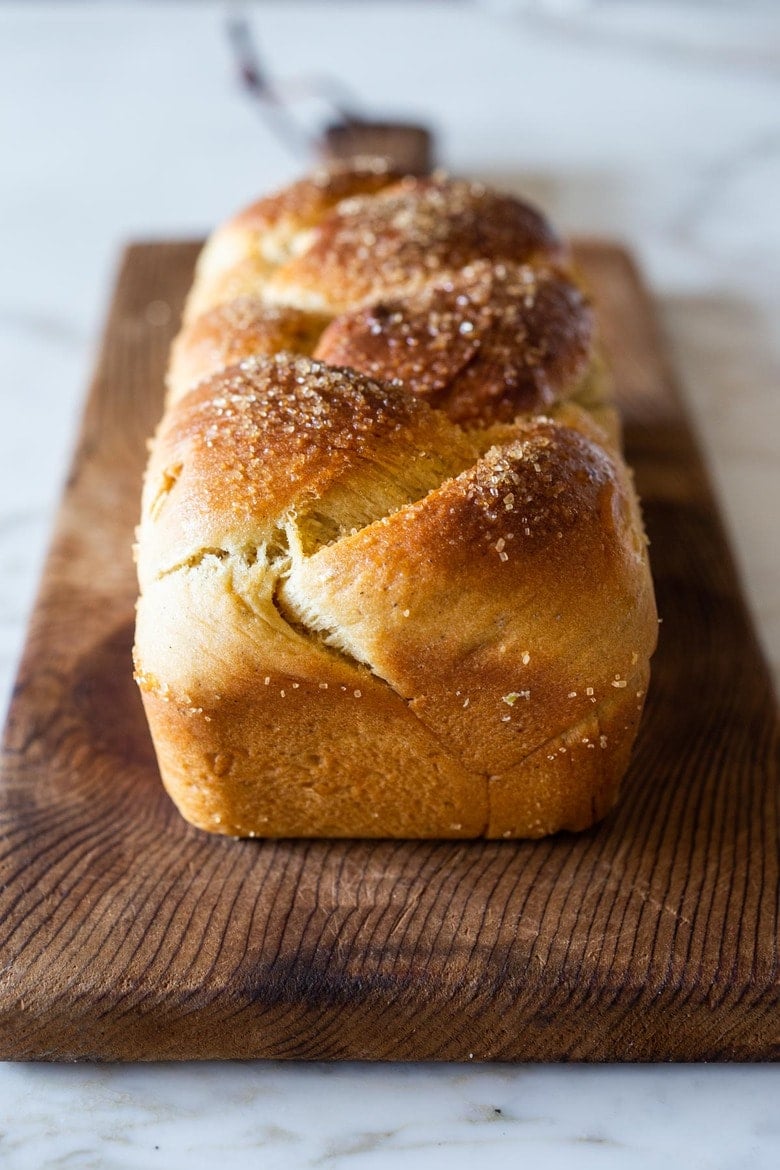 Pulla! A Finnish sweet bread infused with Cardamon. Perfect for special mornings, gatherings, brunches or afternoon tea. This was my own mother's recipe that she would make.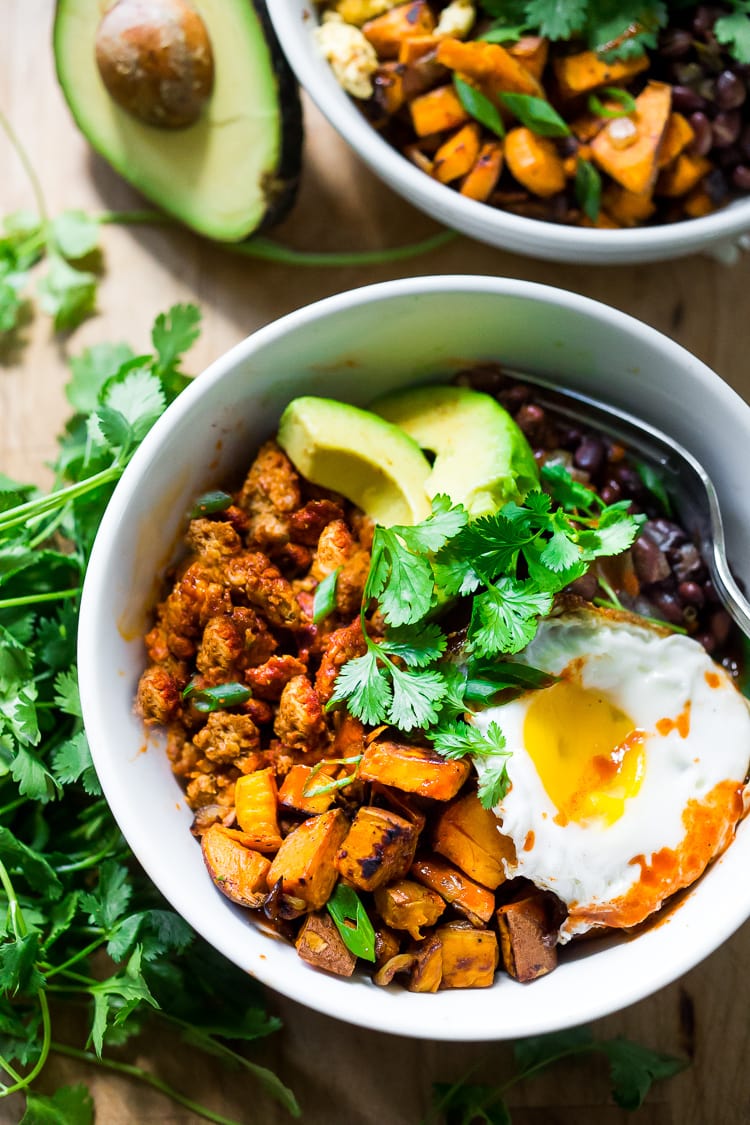 Healthy Yummy Mexican Breakfast Bowls with sweet potatoes, black beans, turkey chorizo (optional) avocado, cilantro and an egg.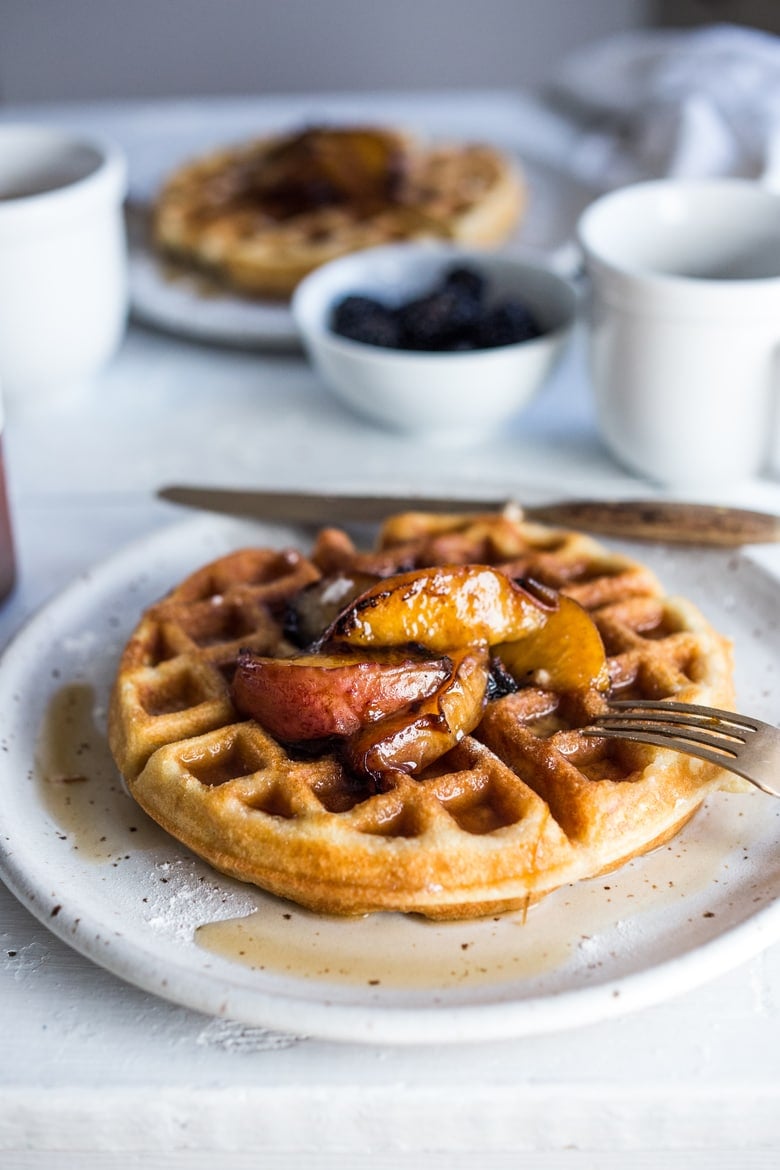 Light and fluffy Sourdough Waffles using your leftover sourdough starter! Serve with seasonal fruit from the farmers maket!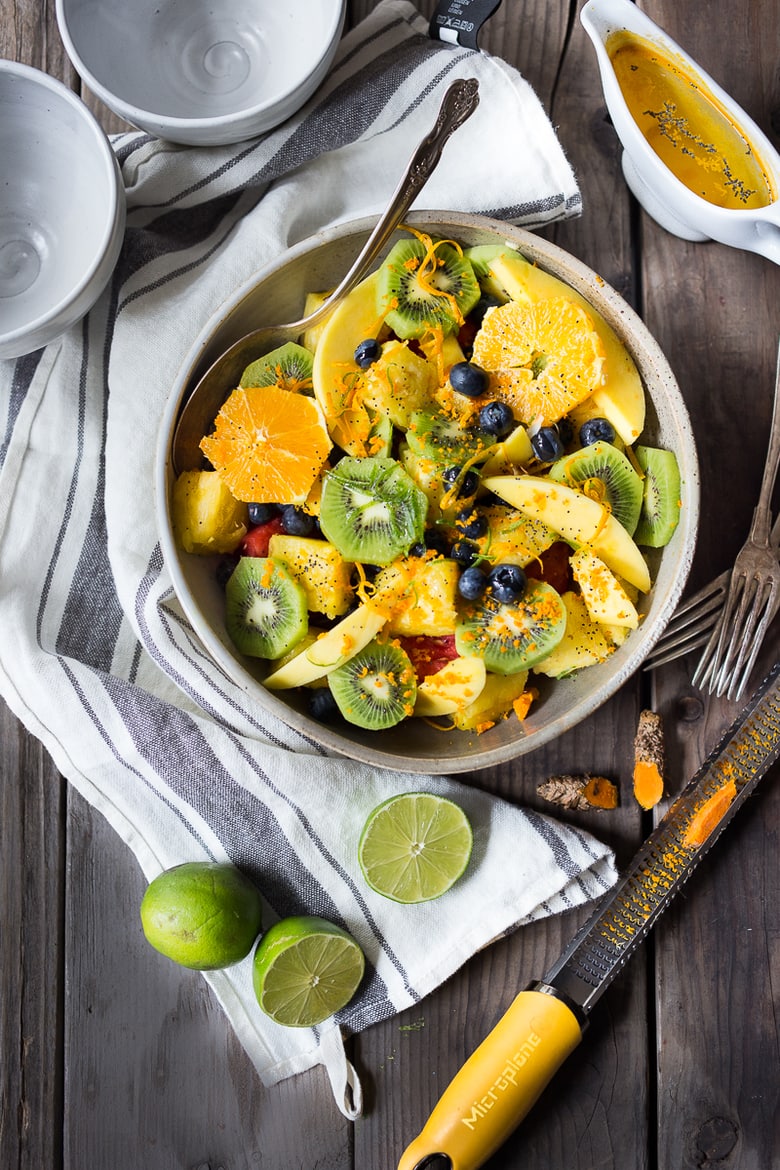 Turmeric Fruit Salad with fresh grated turmeric root, orange and lime zest and any of your favorite fruits, topped w/ toasted coconut flakes. Sugar free and delicious!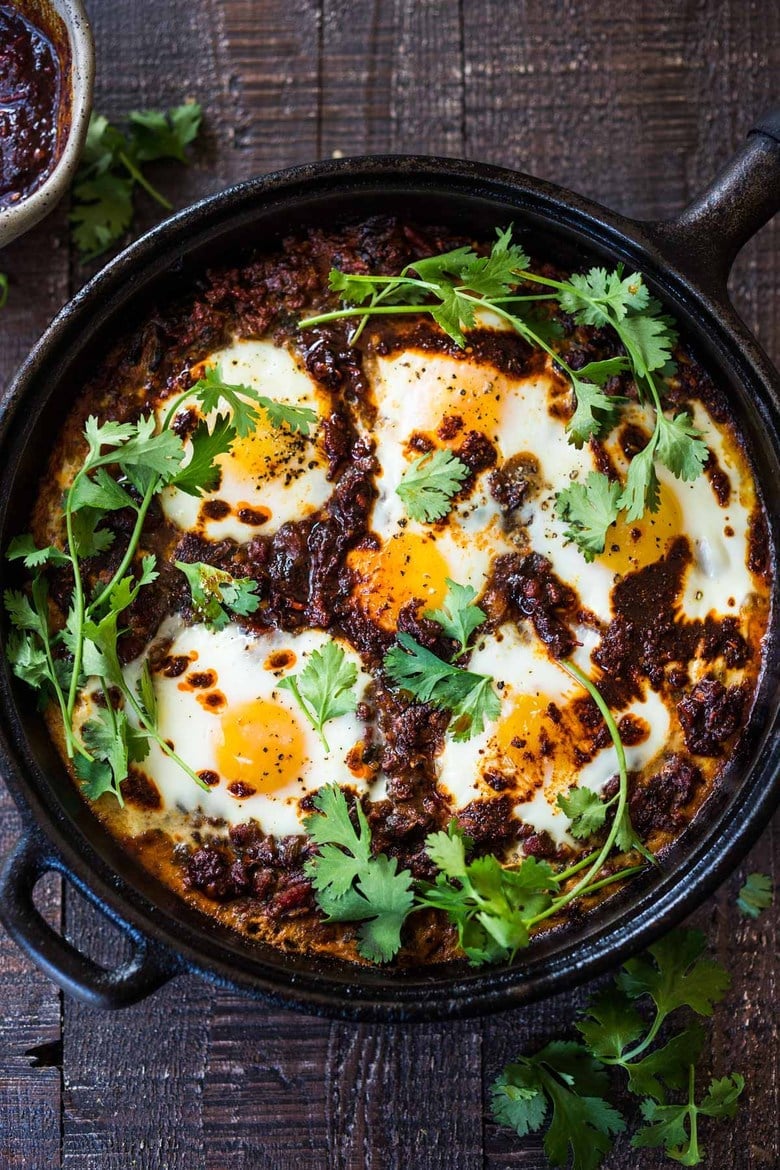 Moroccan Eggs! Eggs are baked in a flavorful lamb stew infused with Moroccan Spices, topped with Harissa Yogurt. A delicious breakfast or brunch recipe.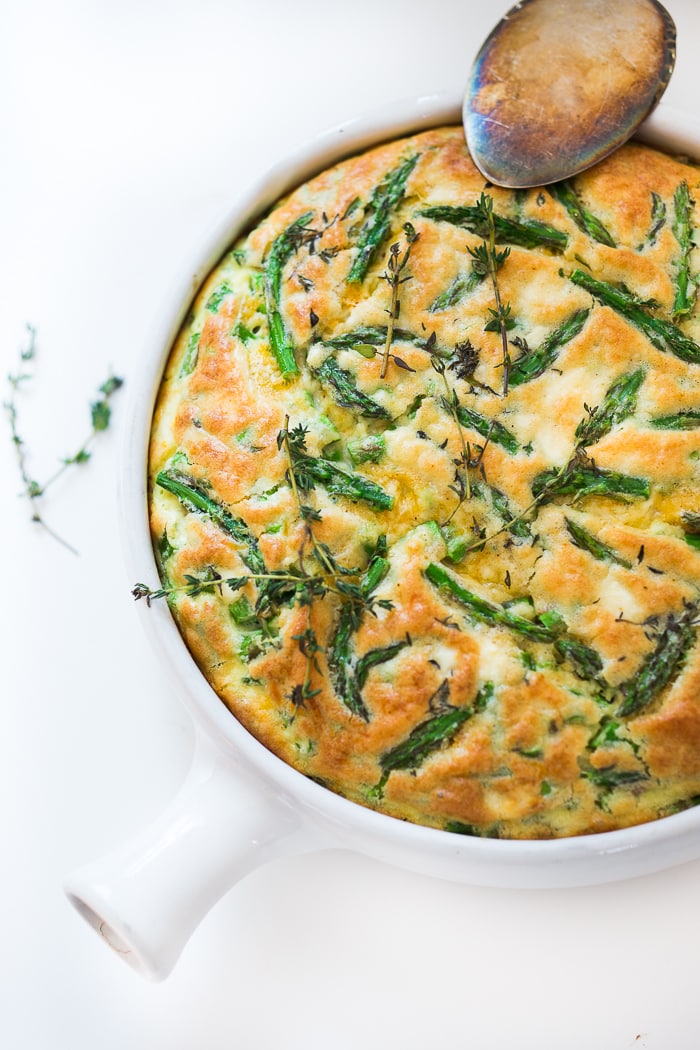 A rich and fluffy Baked Egg Frittata ( crustless quiche) with asparagus and goat cheese that only takes a few minutes of prep before baking in the oven. Serve with a large green salad for brunch or lunch.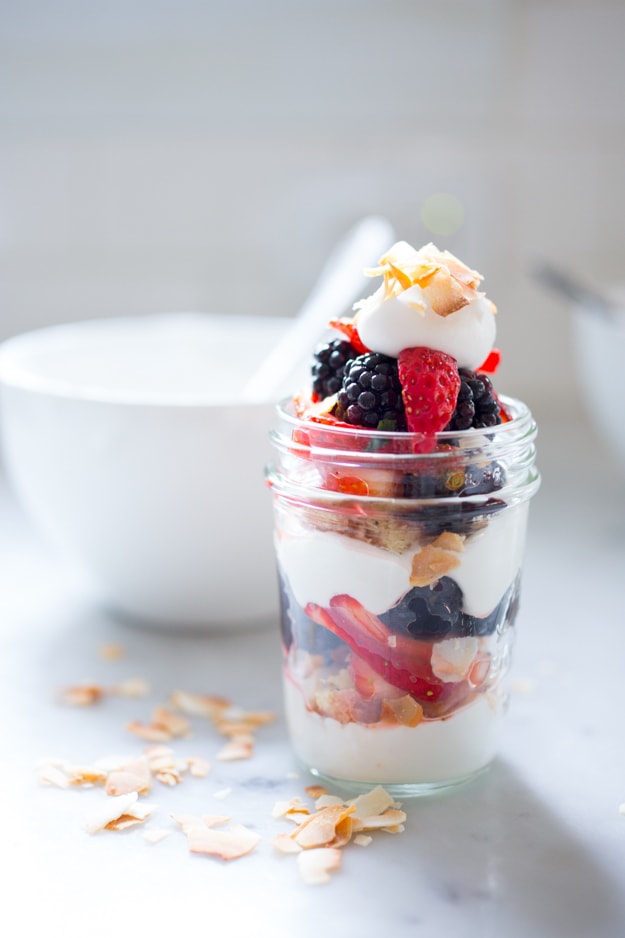 Coconut Berry Trifle – A layered trifle with whipped coconut cream, fresh berries, toasted coconut and lemon cake layered in mason jars for a simple make-ahead dessert!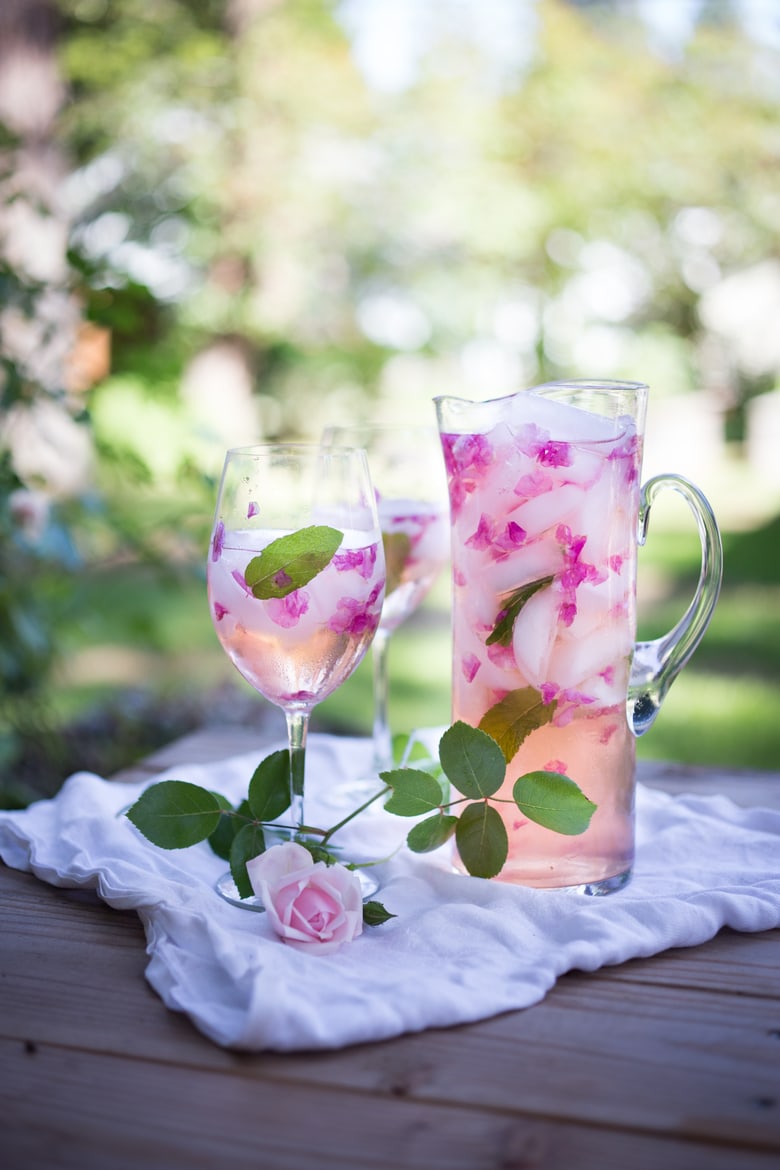 Rose Petal Sangria- made with wild rose petals and rosé wine – a refreshing summer drink that is lightly floral and delicious! Simple and Easy!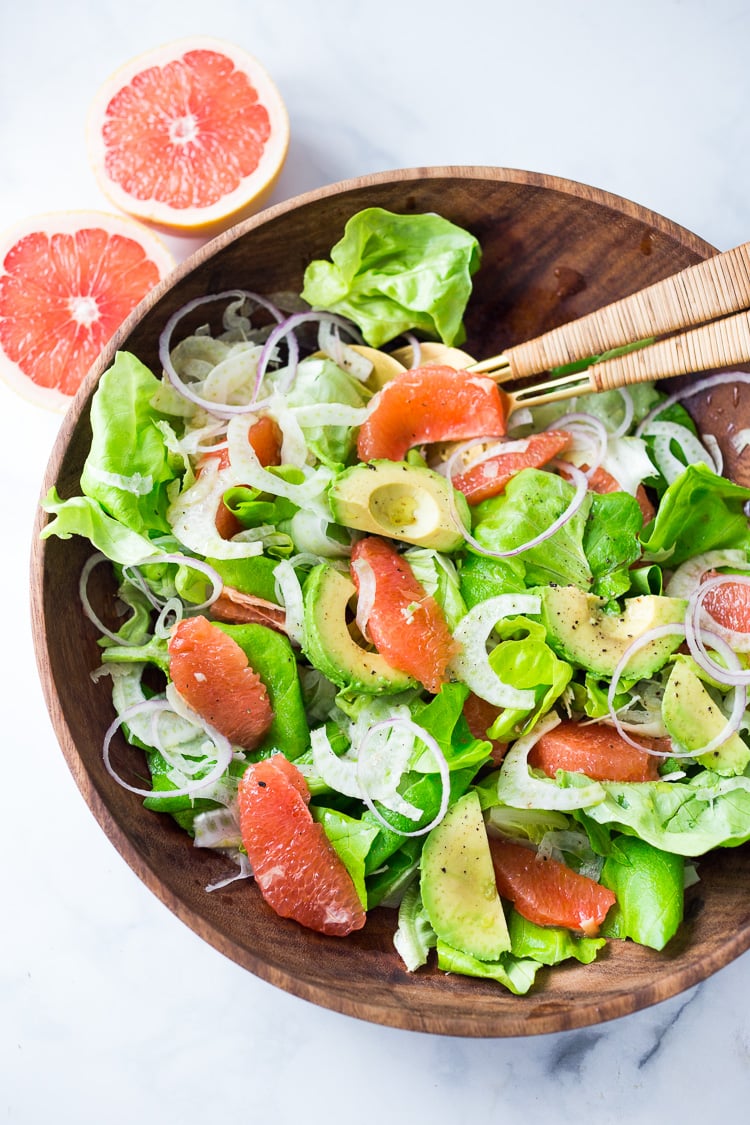 Grapefruit, Fennel and Avocado Salad with Pistachios and a Citrus Shallot Dressing. A simple easy salad that is healthy, vegan and delicious!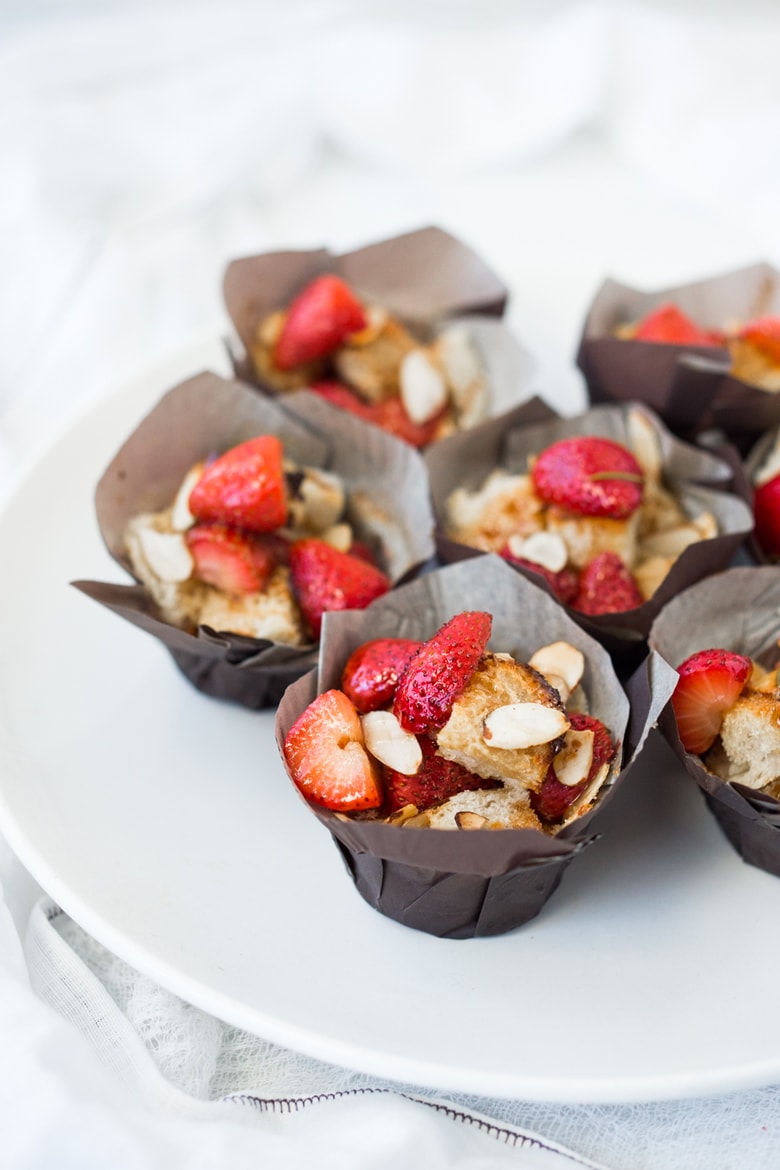 French Toast Muffins with Strawberries and Almonds- a perfect beginning to Mother's Day Brunch. Simple and easy to make!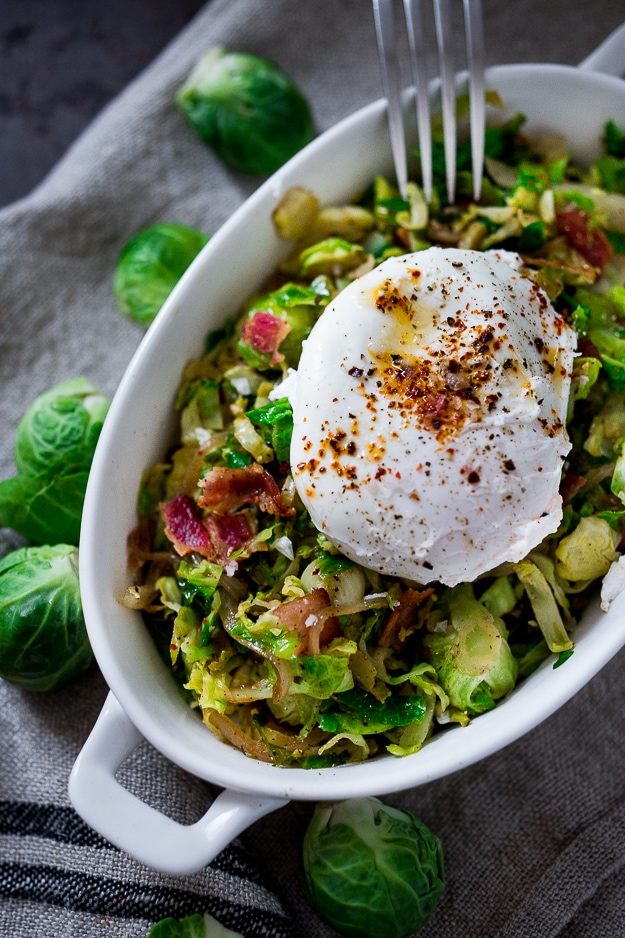 Soft Poached Eggs with Brussel Sprout Hash, Aleppo chili flakes and optional bacon crumbles – a simple easy brunch recipe perfect for Mother's day.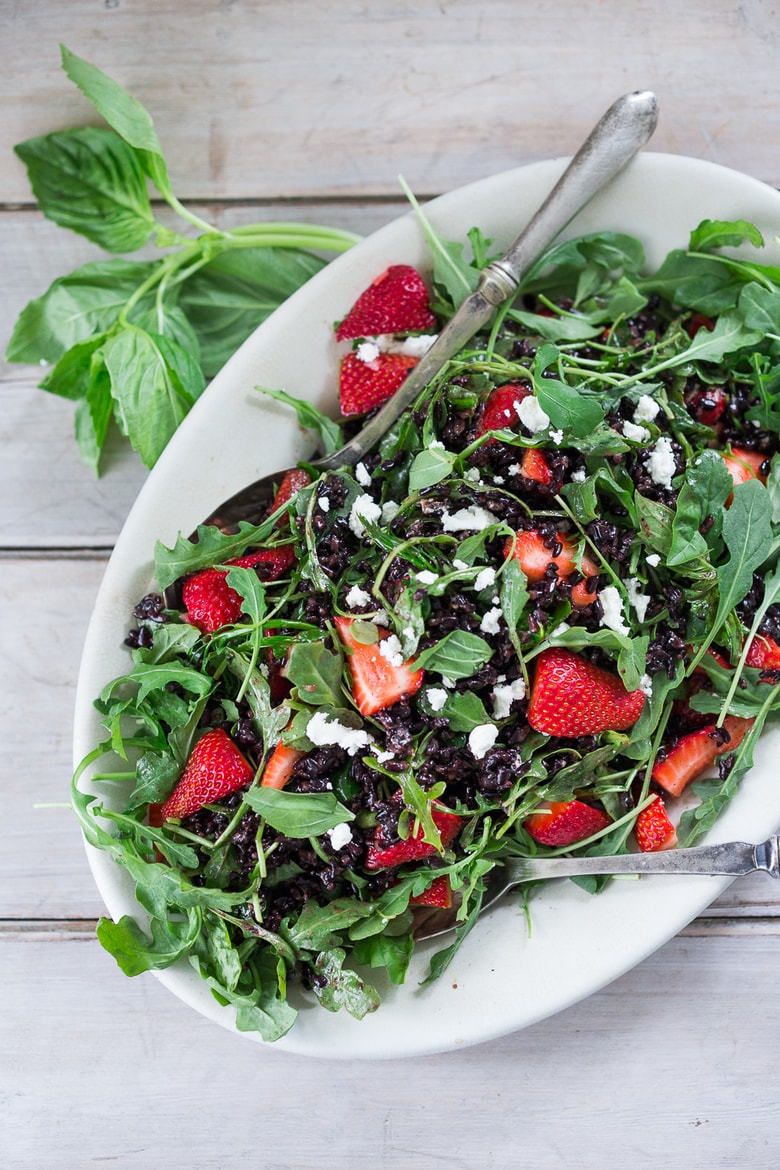 Strawberry Arugula and Black Rice Salad with Basil
Asparagus Toast with Poached Eggs and Warm Bacon Vinaigrette. And oldie on the blog but so tasty and full of flavor!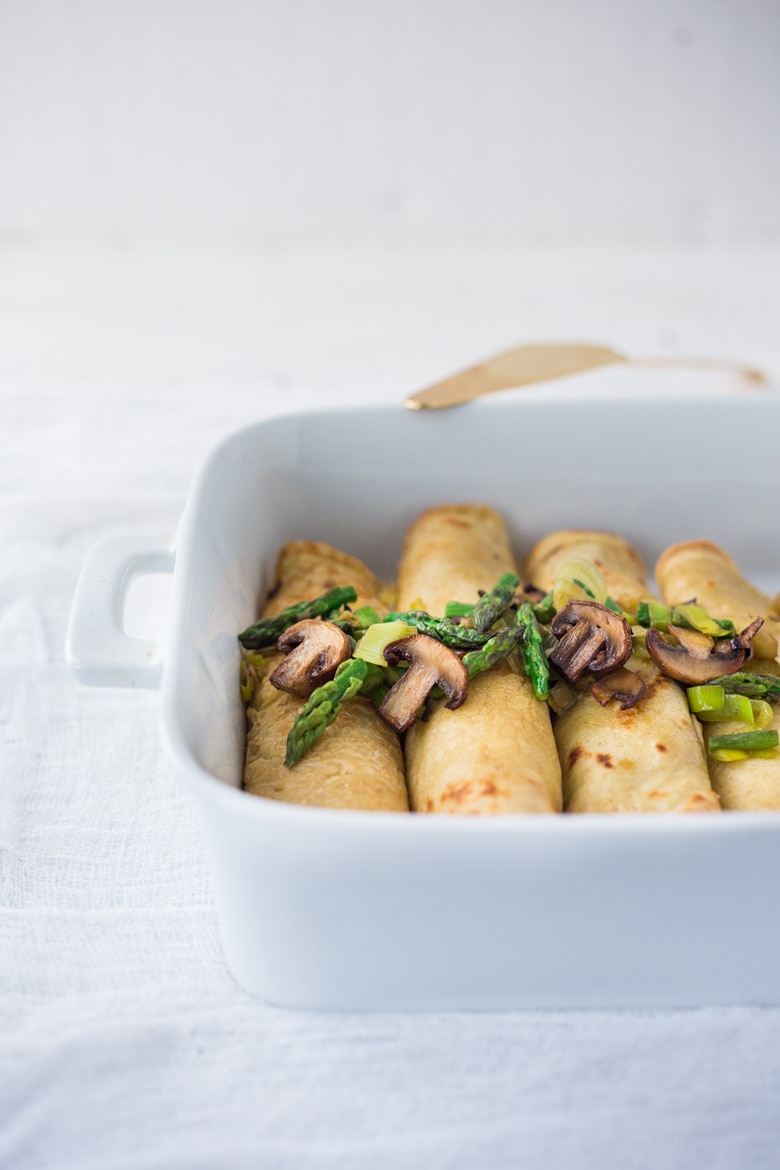 Stuffed Baked Crepes with Asparagus Leeks and Mushrooms – a tasty spring-inspired recipe perfect for brunch.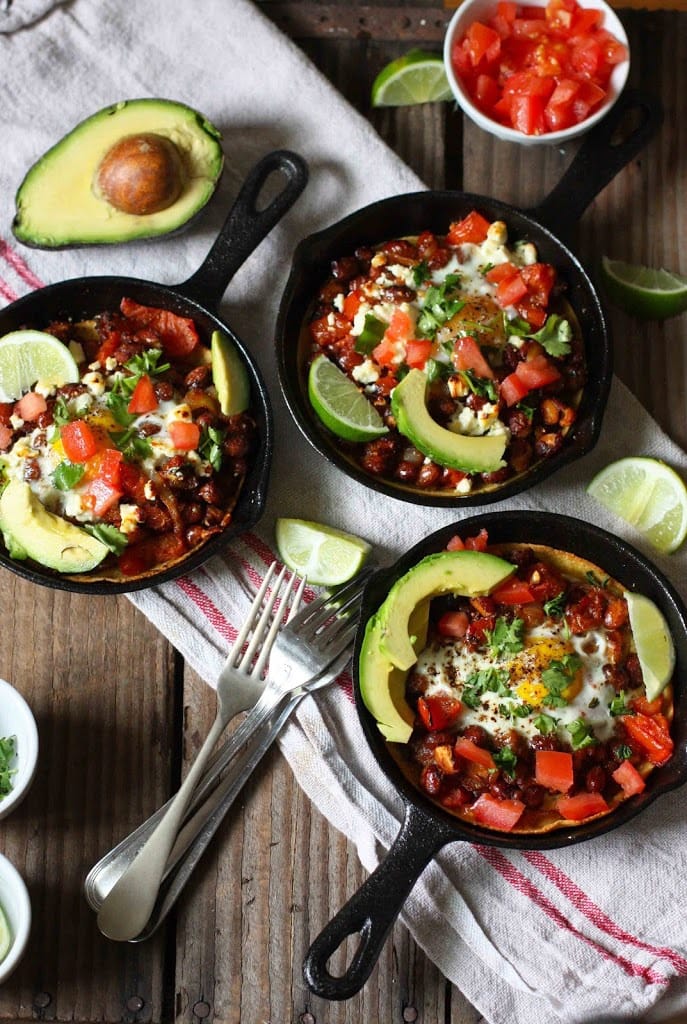 Skillet Huevos Rancheros a healthy vegetarian version of one of our favorite Mexican-style breakfasts! Eggs are baked over flavorful beans & crispy tortillas, then topped with avocado, fresh tomato and cilantro…a simple healthy vegetarian brunch recipe!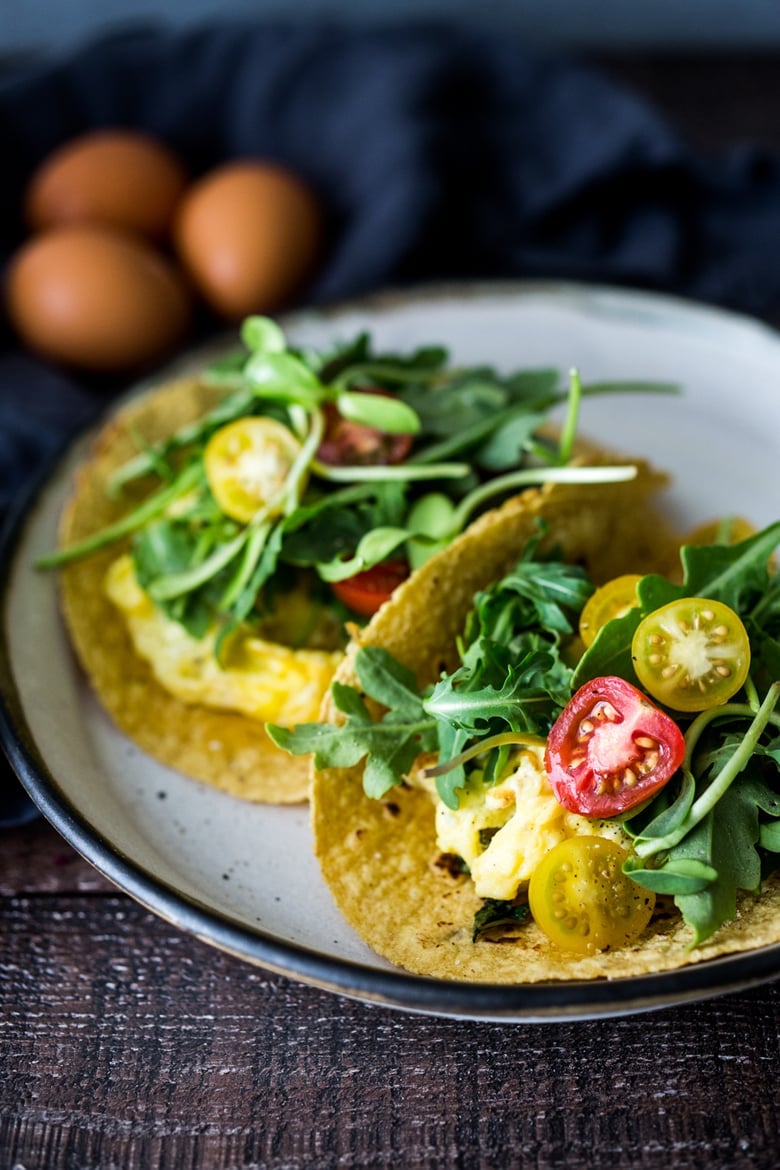 Breakfast Tacos! These delicious and affordable Scrambled Egg Tacos make for a quick and healthy breakfast or brunch- healthy and vegetarian – these can be made in 15 minutes!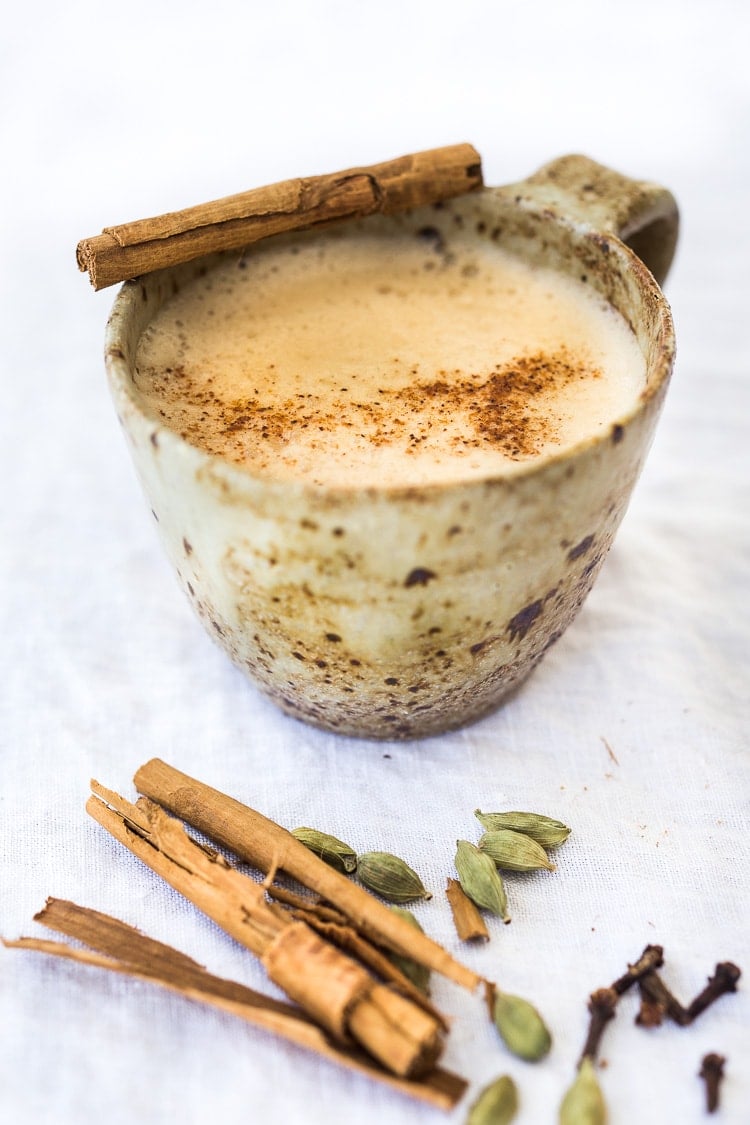 Authentic Masala Chai, like they make in India, using using whole spices. Vegan and Sugar Free adaptable.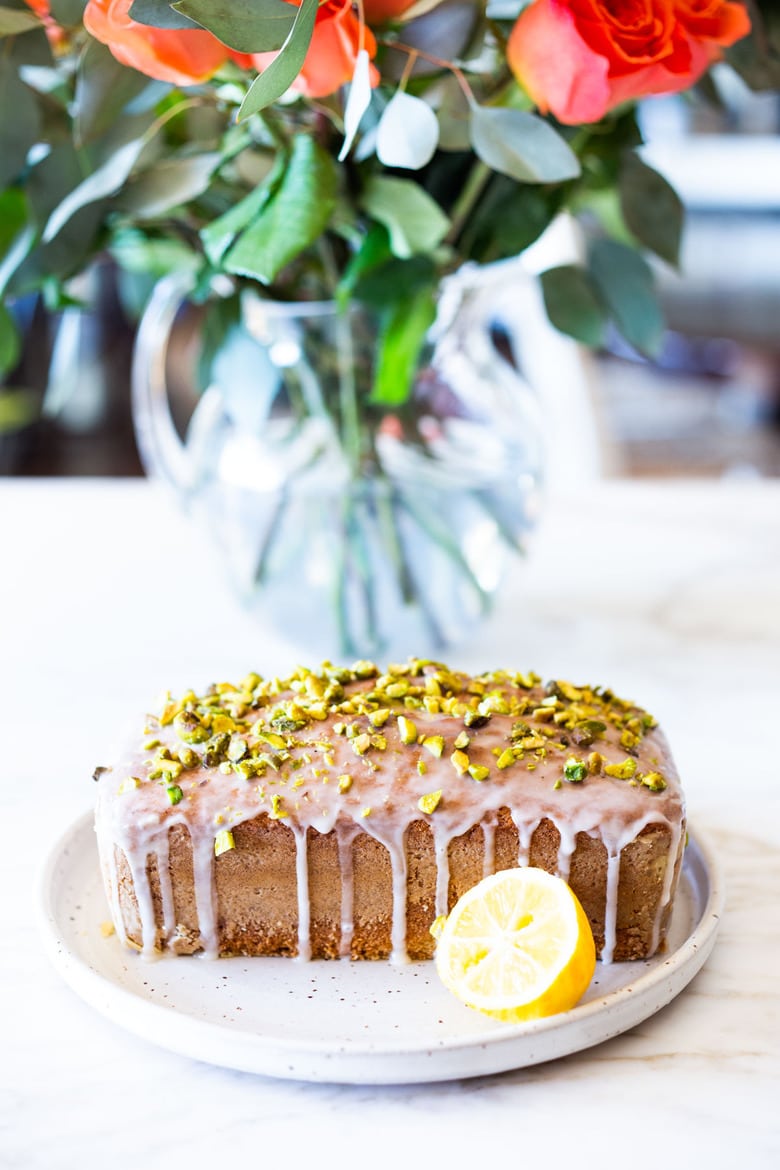 Meyer Lemon Loaf Cake with Toasted Pistachios and Lemony Glaze. The perfect balance between tart and sweet.
Hope you enjoy these Mother's Day Brunch recipes and ideas! Let me know what you think in the comments below! Have a beautiful day!
Related: 20 Recipes that celebrate Spring!