An easy recipe for tender French Toast enhanced with spices, orange zest, and lightly sweetened with maple syrup. Top with Fresh Berry Compote for a perfect weekend breakfast treat.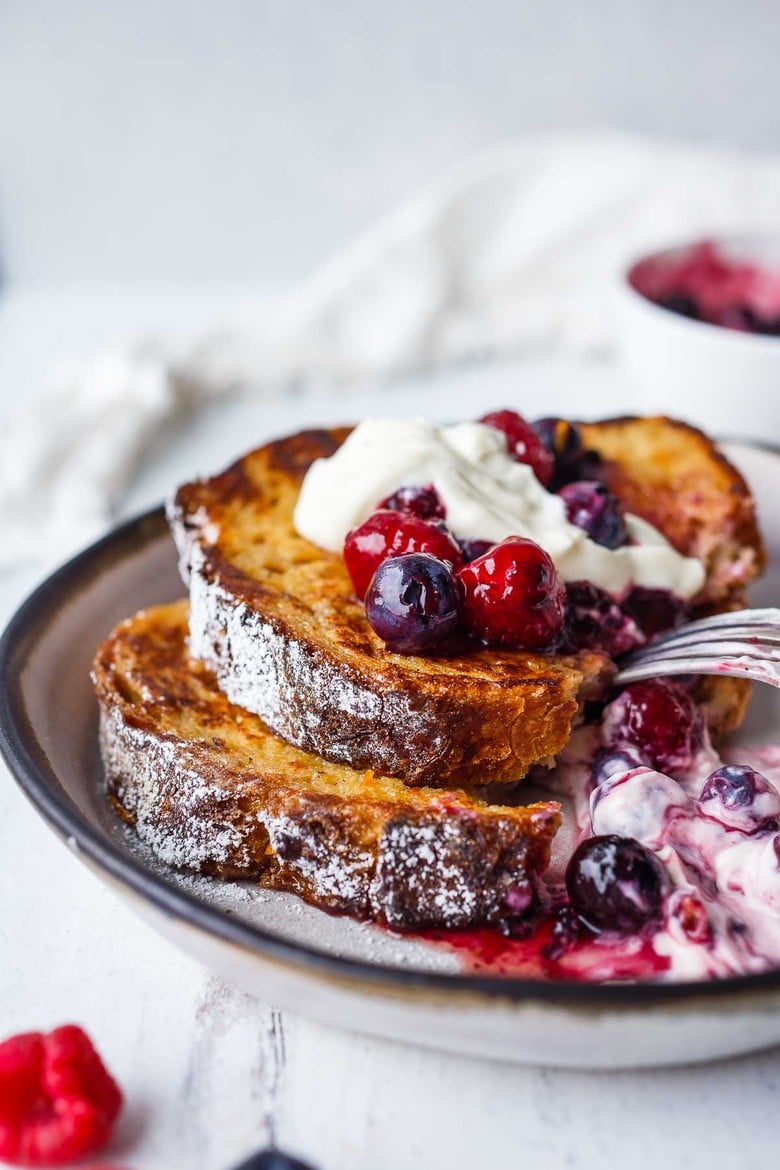 We are never more fully alive, more completely ourselves, or more deeply engrossed in anything than when we are playing. ~Charles Schaefer
This recipe is based on classic French Toast but with a twist. Eggs, half and half are whisked up smooth and silky. We add in a touch of maple syrup along with orange zest together these compliment the spices giving the French toast a special irresistible aroma and flavor. We use a light sourdough country loaf because we love the tang it gives.
The Berry Compote is just the right pairing, bright, tangy and just a touch of sweet. This whips up together in no time!
What you'll need for French Toast with Fresh Berry Compote
country sourdough bread or use challah, or brioche (softer airy bread will get the fluffiest)
eggs
half and half
orange zest
butter
berries: blueberries, strawberries, blackberries, whatever your pleasure!

Can this be made Vegan?
We have not tried it. But try this yummy recipe for Vegan French Toast!
How to make French Toast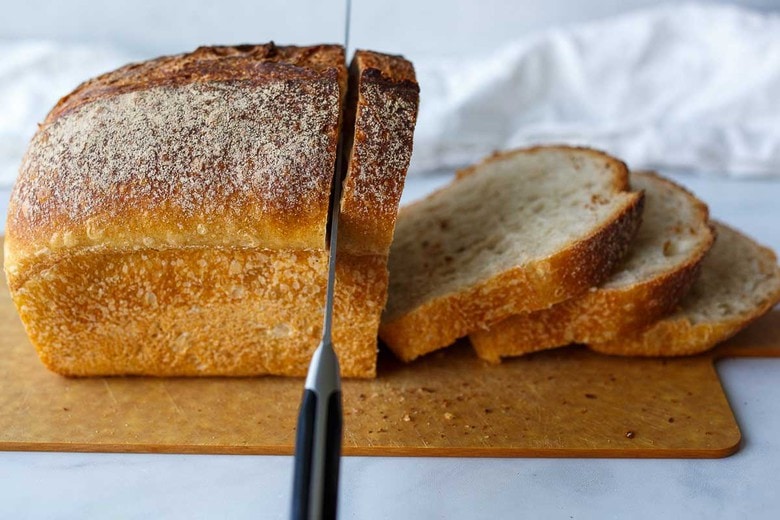 Step one
Slicing bread about 3/4 inch thick allows it to soak up more of the custard and creates a more tender fluffy crumb.
Step two
Whisk together the eggs, half and half, maple syrup, orange zest, cinnamon, cardamom, allspice, nutmeg and salt until completely smooth.
Use an immersion blender if needed.
Pour into a shallow container. (A rectangular pyrex works great to do several pieces at the same time.)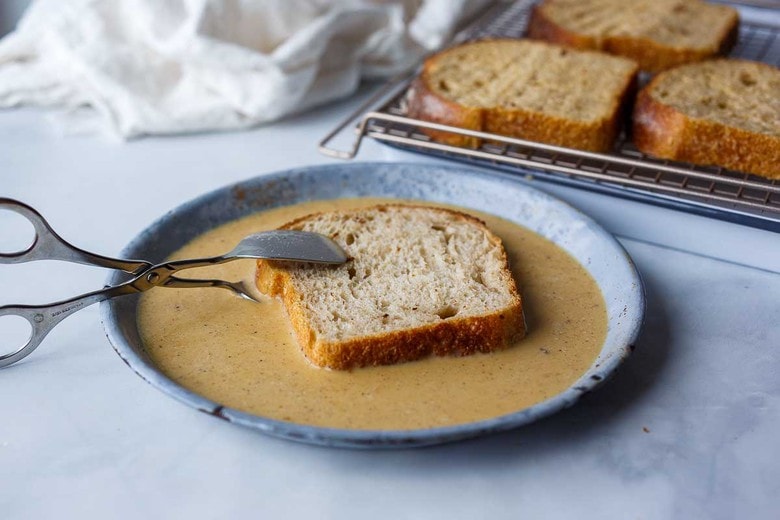 Step three
Dip the slices of bread into the custard, letting it soak for 2-5 minutes on each side. ( This will depend on the type of bread you use and how quickly it soaks up the custard.) Transfer to a rack placed over a pan and let excess drip off.
Tip: the spices tend to sink in the custard so give a whisk as you flip the bread.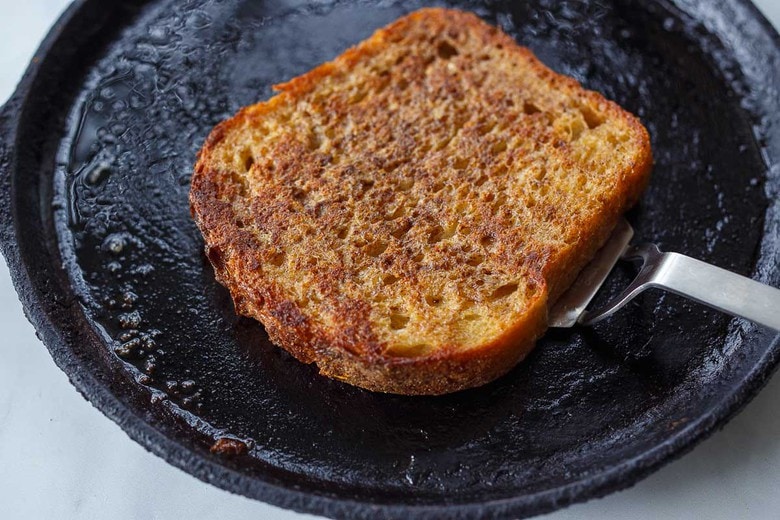 Step four
Heat a skillet to medium low. When the pan is fully heated, add 1/2 tablespoon of butter, as it melts place a soaked slice into the pan. Cooking for about 3 minutes per side, letting it get golden and slightly puffy in the center. Add more butter as needed.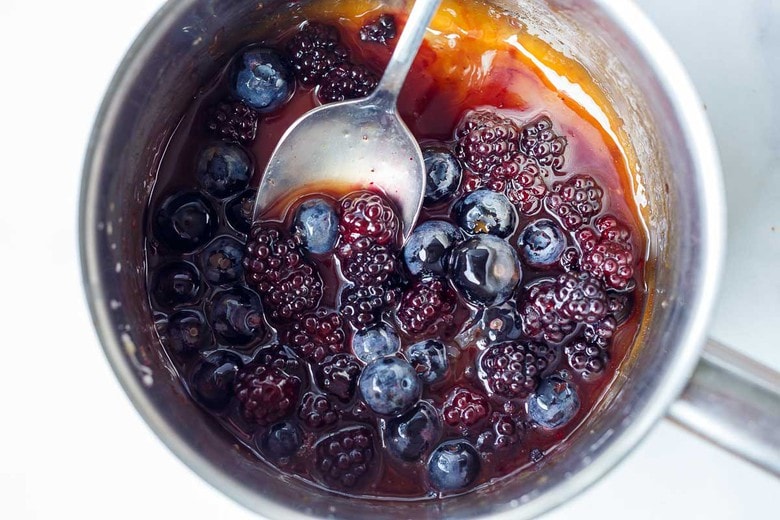 Step five
Make the Berry Compote: Bring maple syrup and 1 cup of the berries to a low bowl in a saucepan. Let simmer for 2 minutes, mashing the berries a little with the back of a spoon to break them down a bit.
Mix orange juice with cornstarch and a pinch of salt until perfectly smooth. Whisk into the maple berry mixture stirring all the while. Continue stirring until thick and bubbly, 2-3 minutes. Remove from heat.
Stir in the remaining 2 cups of berries.
Serve: Top the French Toast with berry compote and yogurt cream (see notes).
More butter and maple syrup is optional of course!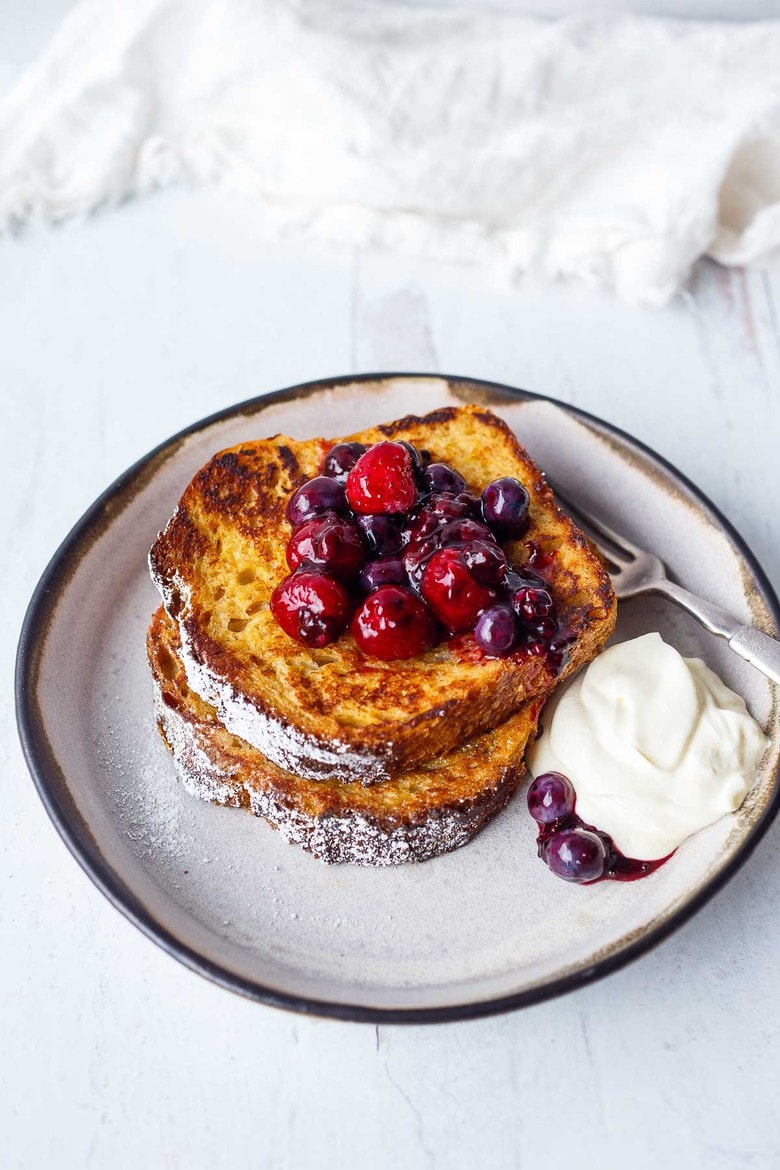 More breakfast recipes you may enjoy
Print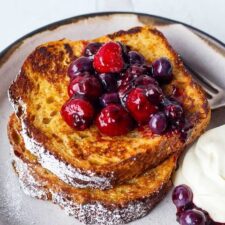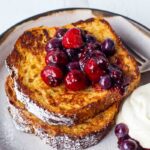 French Toast
Author:

Tonia | Feasting at Home

Prep Time:

15 minutes

Cook Time:

20 minutes

Total Time:

35 minutes

Yield:

8 slices

Category:

Breakfast

Diet:

Vegetarian