How to make the most delicious Blackberry Scones using sourdough starter! Topped with a Lemony Glaze- plus a little baking tip to help keep blackberries in tact!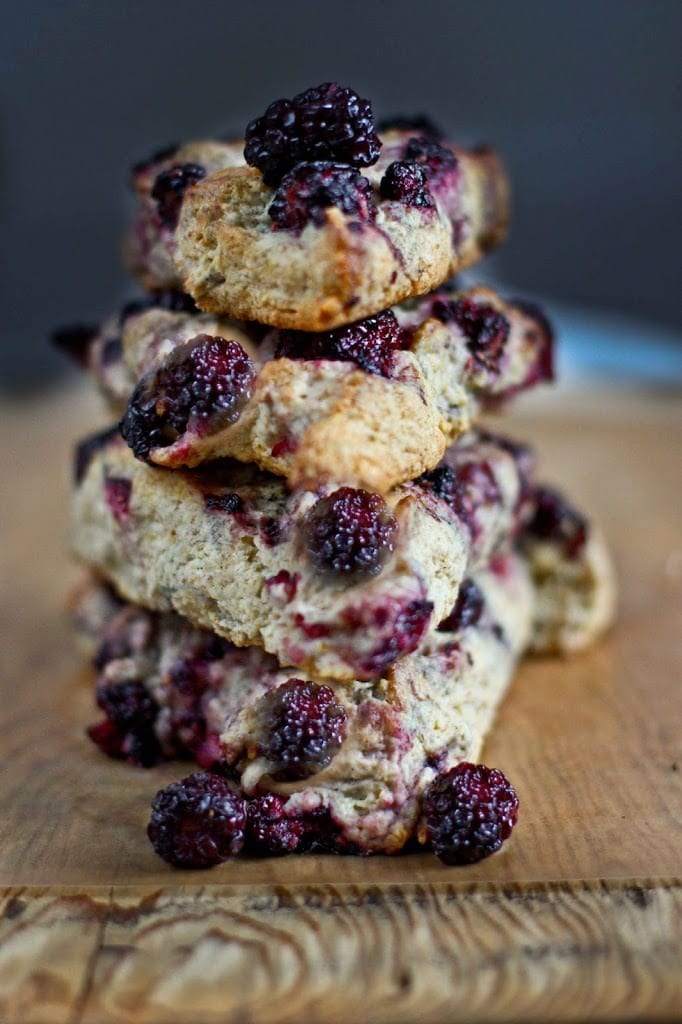 Summer marks the beginning of berry season here in the Northwest. Strawberries, blackberries, raspberries, blueberries, black caps and of course huckleberries begin their glorious arrival.
This recipe for Blackberry Sourdough Scones with Lemony Glaze came about after I ended up with extra blackberries after a catering event, and wanted to use up the extra sourdough starter I had in my fridge. Let me just say right away, you don't need sourdough starter for this recipe — yogurt or sour cream can easily replace it — but if you have sourdough starter on hand, and want to use it for something other than bread, it gives the scones an earthy robust flavor which pairs beautifully with sweet and tangy berries.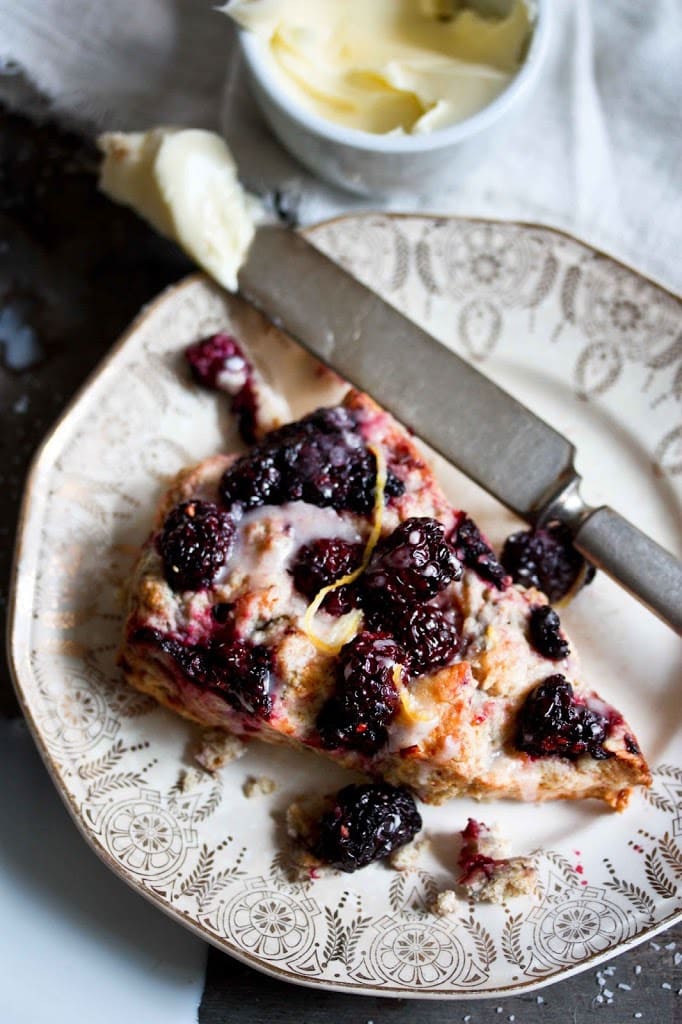 A few days ago, on a camping trip in Idaho, we stumbled upon a patch of wild strawberries. In size, they were the smaller than a pea, yet surprisingly, bursting with so much strawberry flavor, it was hard to believe the flavor was real and not manufactured. It was as if all the strawberry flavor of a regular sized strawberry was packed into their tiny little bodies, they were so intense and delicious!
For the tastiest berries, head to your local farmers market.  There, produce is picked right before it is  sold, given time to ripen on the vine.  Much of the produce that finds it way to our grocery stores have  been picked early for travel, ripening off the vine, producing a fruit or vegetable that often lacks in flavor and vibrancy.
Here the Inland Northwest, berries can also be found in the wild. Most of us are familiar with huckleberries, but another berry that gets overlooked are wild black caps. They look deceiving like blackberries, but are actually a wild black raspberry. In flavor, they differ from both raspberries and blackberries.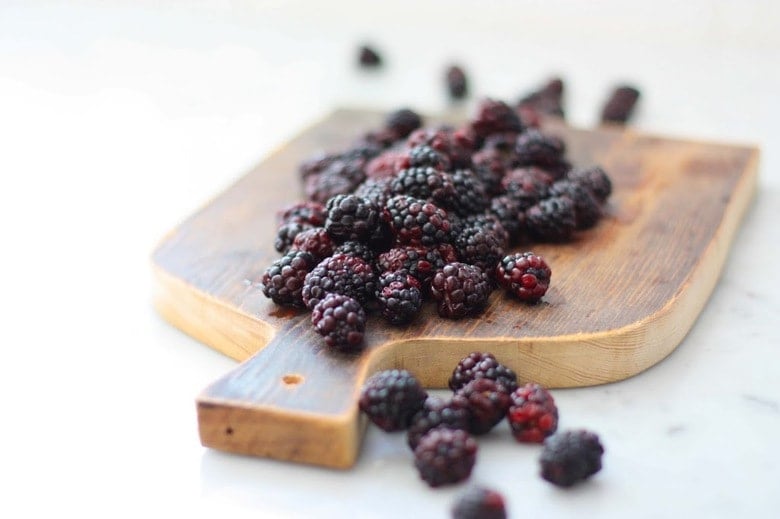 A little tip.
When making berry scones, an easy way to make them so you can actually see the berries after they are baked is to line a cake pan with plastic wrap. Place a layer of fresh berries on the bottom of the pan. (There are also berries in the scone dough as well).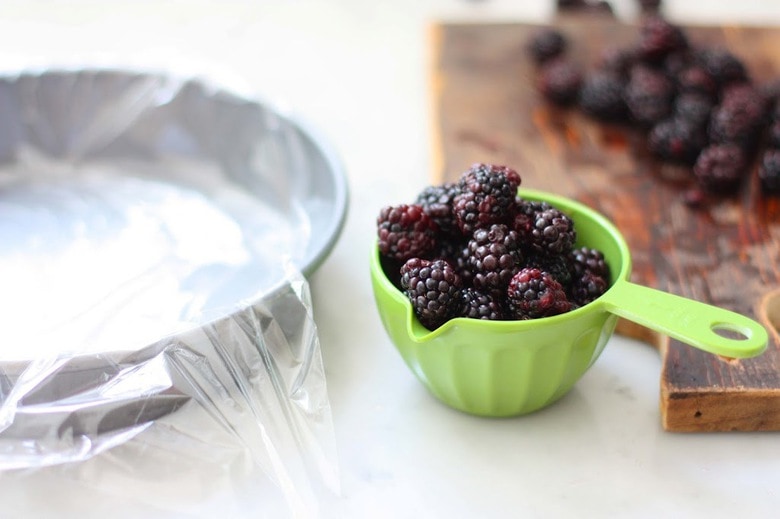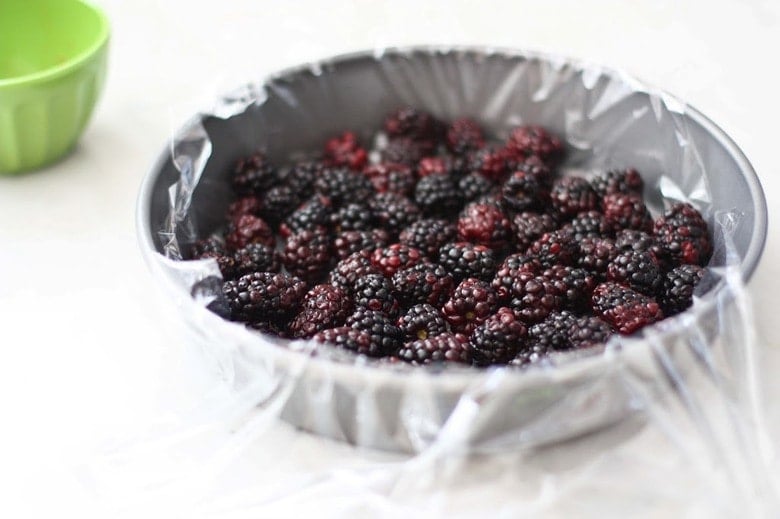 Then gently press in your scone dough over the berries. Freeze for a few hours. Invert, then cut into wedges.  This way, the berries are on the top of the scone. Cutting them into wedges when frozen makes it easy to get uniform pieces. If the dough is too hard to get the knife through, just let thaw for 15-20 minutes on the counter.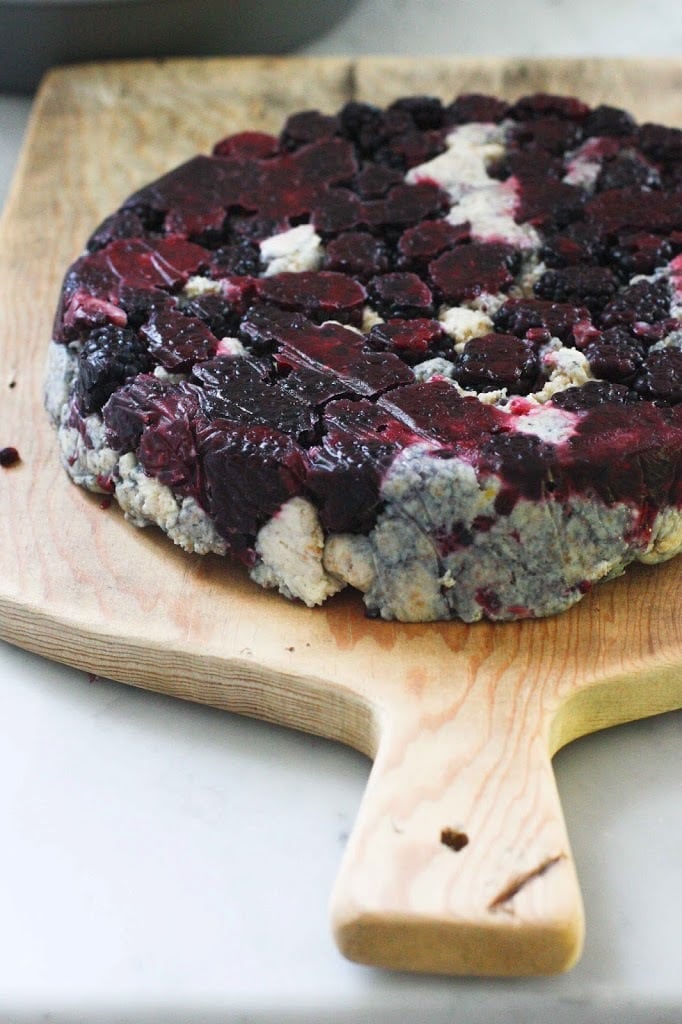 A baking tip.
Whenever you follow a recipe calling for flour, make sure to mix the container of flour before measuring, fluffing it up. If flour sits for too long in the bag or canister, it will settle and get heavy and dense. Giving a quick mix with a wooden spoon will add air to it and will ensure that you don't end up with too much flour in the recipe.
The basic recipe is easy, just read it over once over before starting.
Make sure to use cold butter, and don't leave out the lemon zest.
Don't overwork the dough, which will release the gluten in the flour and cause the scones to be chewy.
If serving as a breakfast pastry, you could replace a little flour with oats.
If you are vegan, replace butter with soy butter, yogurt with soy yogurt, etc.
For a heartier scone, I have also replaced some of the flour with rye flour.
Feel free to add seeds, nuts, or even cooked
quinoa
for some added protein.
Place wedges on a parchment lined baking sheet and bake for 16-20 minutes.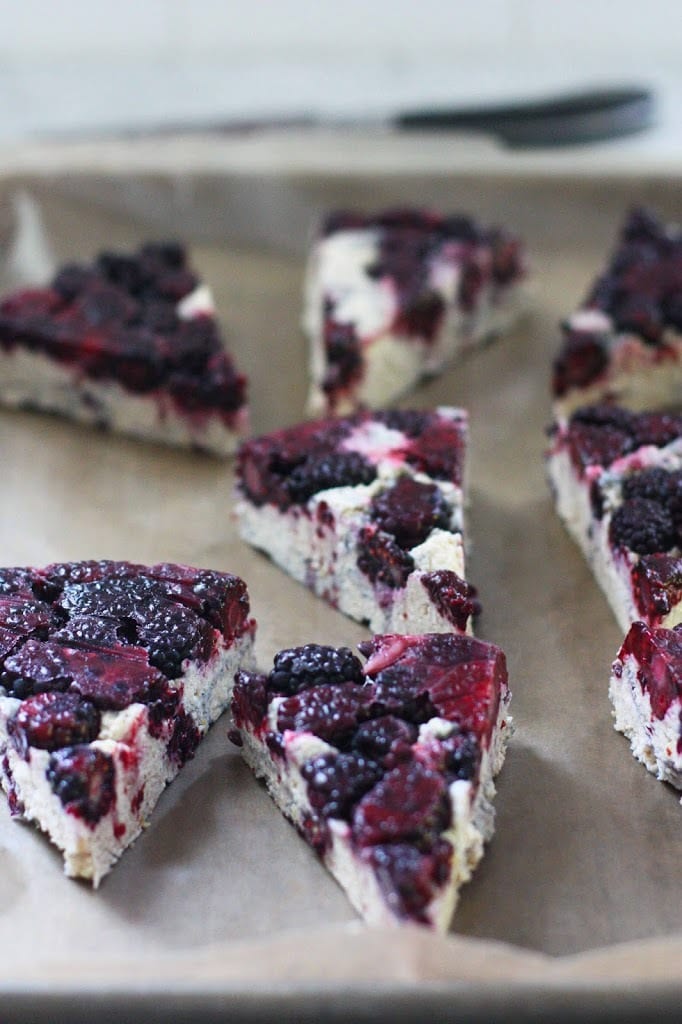 While they are baking, make a lemony glaze to drizzle over the top. Stir and dissolve powdered sugar into fresh lemon juice on the the stove. Whisk in a pat of butter for a little extra richness.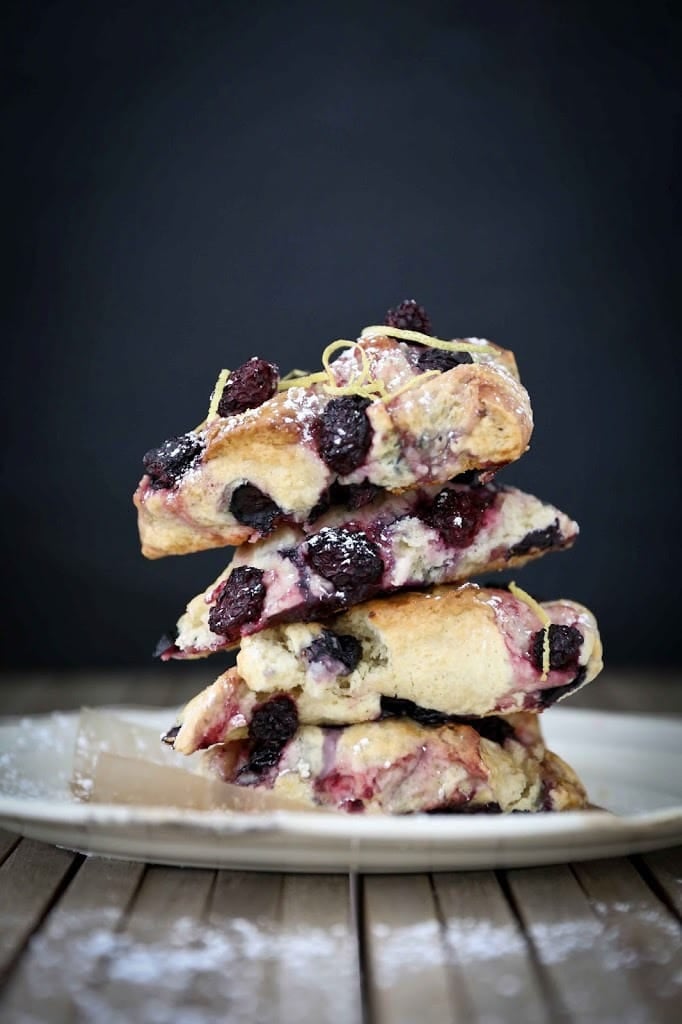 Print
Blackberry Sourdough Scones with Lemony Glaze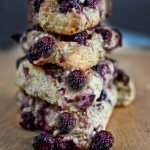 An easy recipe for Blackberry Scones with Lemon Glaze using Sourdough Starter! Plus an easy tip to help keep your blackberries in tact!
Author: Sylvia Fountaine
Prep Time:

15

Cook Time:

20

Total Time:

35 minutes

Yield:

8

1

x
Category:

breads, scones,

Method:

baked

Cuisine:

pacific northwest
Scale
Ingredients
Scones:
2 1/2 cups flour


2

C Fresh or frozen Blackberries


1/2 teaspoon

salt


1 1/2 tsp

baking powder


1/2 teaspoon

baking soda


1/2 cup

sugar


1/2 cup

cold butter- sliced into

8

pieces


1 cup

sourdough starter or sour cream or plain greek yogurt ( or soy yogurt)


1/3

C milk or cream (plus more if necessary)
lemon zest of one lemon


1

beaten egg, for brushing, optional
Glaze:
1/4 C Fresh Lemon Juice


1 Cup

powdered Sugar


1

T butter (optional)
Instructions
Line a 8 inch cake pan with plastic wrap and fill with 2 Cups blackberries. If your berries are very tender, freeze before hand, this way they will hold their shape a little better.
In a food processor, pulse flour, salt, baking powder, baking soda and sugar and lemon zest. Pulse in cold butter until mix resembles course sand. In a small bowl mix milk and sourdough starter ( or sour cream or yogurt) together. Add starter mixture to the food processor and pulse until it just forms a ball ( just a few times) adding a little more milk only if necessary. Dough should be heavy and thick. Don't over work.
Spread the dough over the blackberries and press down gently, into all the corners. Cover with plastic wrap and place in the freezer over night, or for 4 hours.
Preheat oven to 400F. Remove from freezer, remove saran, invert on cutting board. Let sit 15-20 minutes or longer until thawed enough to cut. Cut into 8 equal size pie shape wedges. Brush with beaten egg (optional). Place on parchment lined baking sheet, and bake for 18-20 minutes, until golden brown.
While baking, make glaze. Stir sugar into lemon juice in a small pot on the stove until dissolved. Whisk in butter (optional). Set aside. Drizzle over warm scones.
Notes
Details
Prep time: 15 minutes plus 4 hours freeze time
Cook time: 20 mins
Keywords: sourdough scones, blackberry scones, how to makes scones with starter, best blackberry scone recipe