The Benefits of Herbal Tea plus three Herbal Tea Recipes you can make at home for enhanced sleep, brain function and liver support. Easy and adaptable, these herbal tea blends are nutritive and soothing.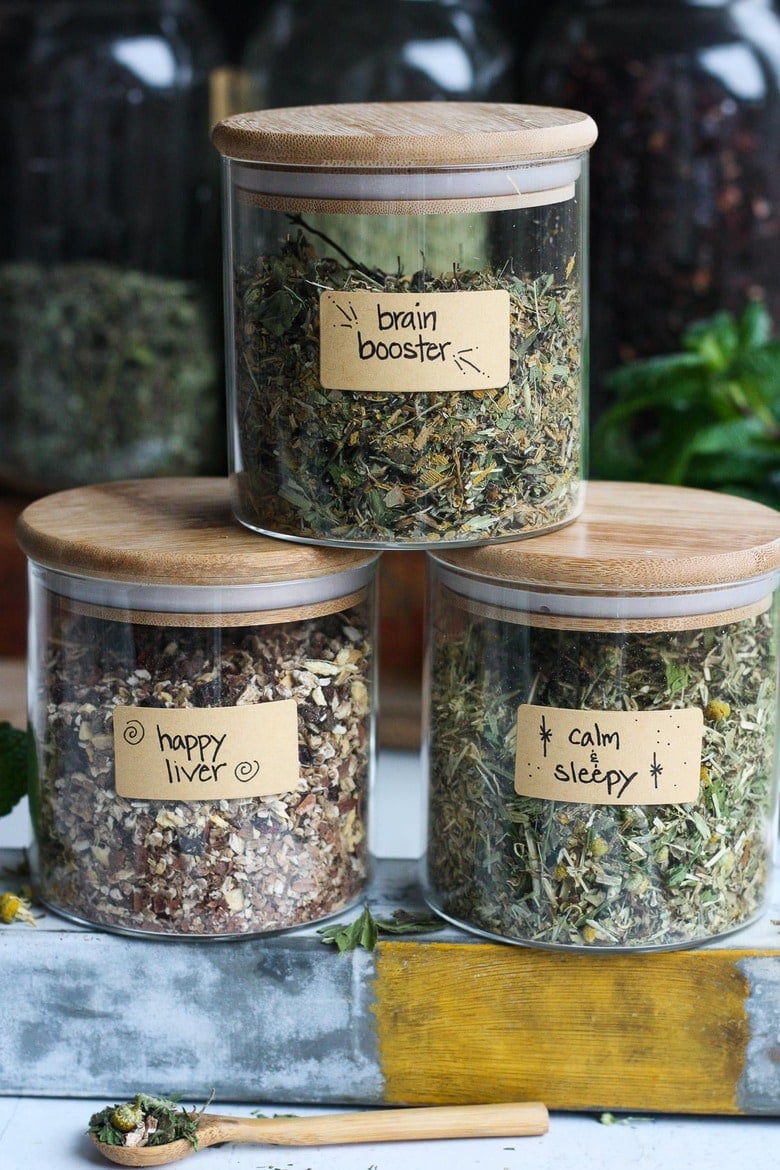 Drink your tea slowly and reverently, as if it is the axis on which the world earth revolves- slowly, evenly, without rushing toward the future.~ Nhat Hanh
Let's have a cup of tea! Did you know that even the process of making tea can calm your nervous system and relax you? The ritual of preparing a cup of herbal tea starts the process of relaxation, over time your body and mind begin to release tension even before you take a sip. It is these small practices that can help keep us grounded. Self-care is always the best place to start in making a difference in the world.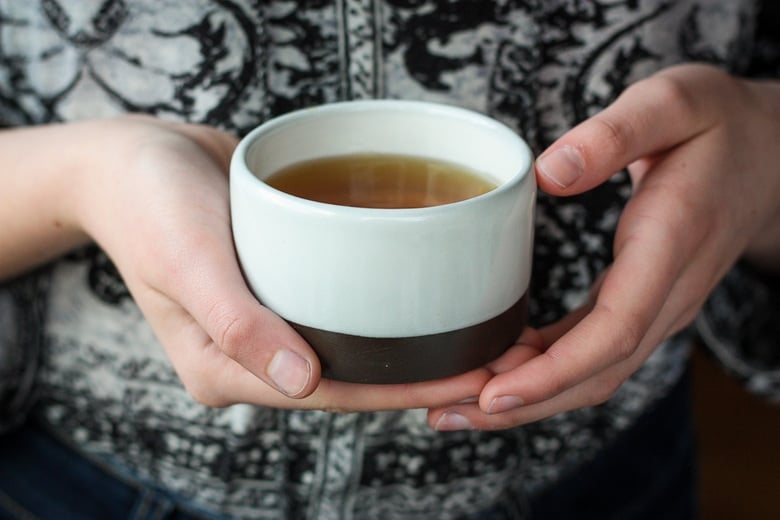 Herbal Tea Benefits
Nutritive herbs can be gentle and yet powerful. They work best woven into your daily regime, working slowly over time to fortify your body with vitamins and essential nutrients that can really make a difference in how you feel mentally, emotionally, and physically. We make no claims for a quick fix or fix of any kind! Though we do invite you into the possibility of enhancing your well-being.
There is a saying among herbalists that when you take an herb for one thing you are bound to get other positive side effects. Herbal tea can give you a boost in ways you did not know you needed.
Herbal tea is medicine for the body, mind, and spirit. The more intention you bring to the whole process the more benefit you will reap. As is true in most areas of our lives!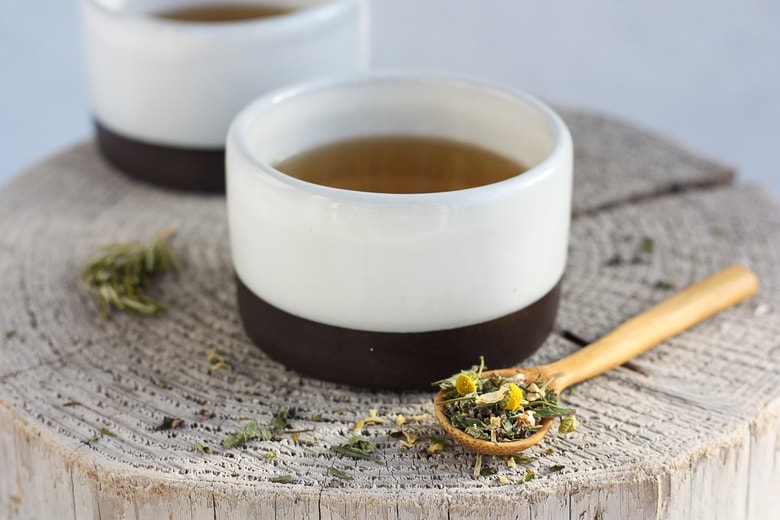 Why make your own herbal tea blends?
Buying tea in bulk, loose leaf tea, assures a superior product. Teabags often contain the dust from the broken leaves that have lost flavor and aroma. Many tea packets contain flavor additives that are chemically derived. Making your own herbal tea ensures better quality, fresher taste and higher nutritional value. You can create your own blend, perfectly suited to your taste and needs.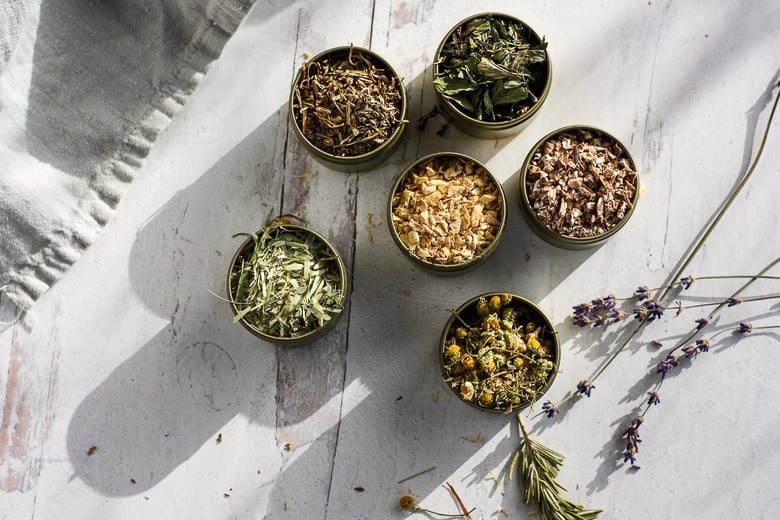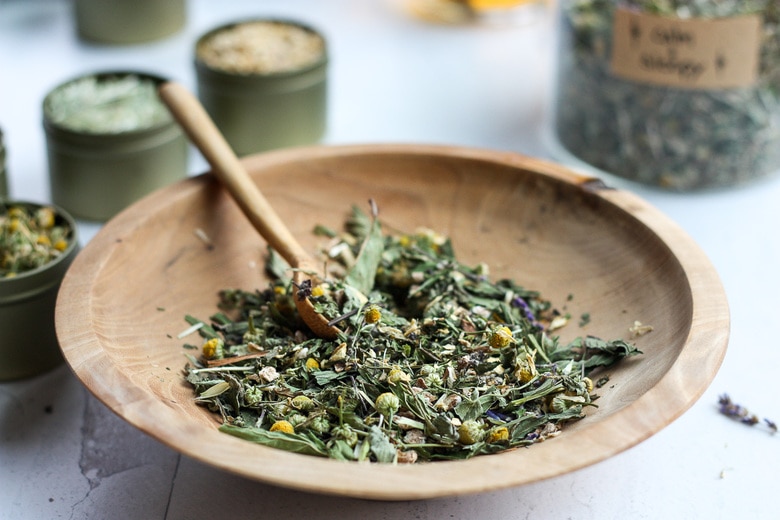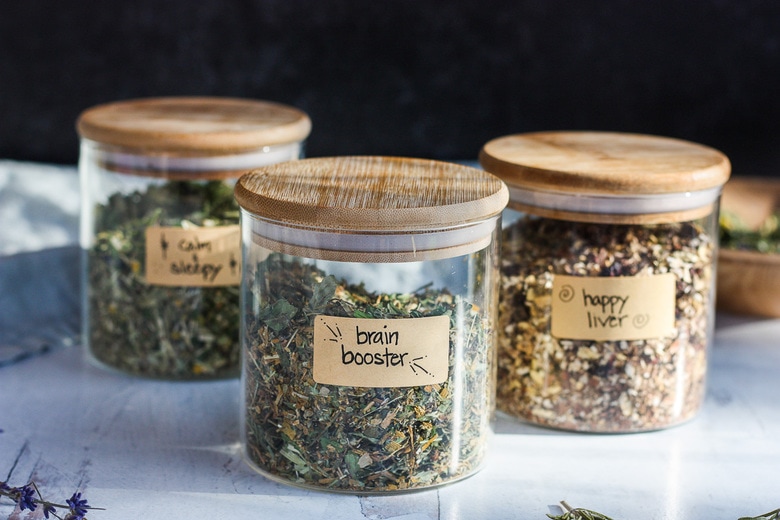 We've created 3 herbal tea blends to share with you!
brain booster tea
This is a great afternoon tea when you start to feel sluggish or anytime you want a brain boost! Taken with regularity, over time, many herbs in this blend have shown to increase short-term memory as well as overall sharper cognitive function. This harmonious tea blend is lively, fresh and herby.
calm and sleepy tea
A blend of herbs to help take the edge off, relaxing body and mind. This herbal tea aids in sleep but can be taken anytime your nervous system needs soothing. I make a pot of some version of this tea most evenings for my family to wind down from the days activities and get us ready for a peaceful night of rest. It has become a sweet tradition in our household. This herbal tea blend has mellow minty undertones, hints of citrus and just enough floral.
happy liver tea
As the largest organ in our bodies, the liver is the filter for toxins and is also responsible for metabolizing carbs, fat, and proteins. Supporting our liver is becoming more and more important. We do the best we can but with so many environmental influences out of our control, we can use some herbal support. This herbal blend has a comforting toasty deep flavor with a touch of berry brightness. So good with a bit of honey and oat creamer.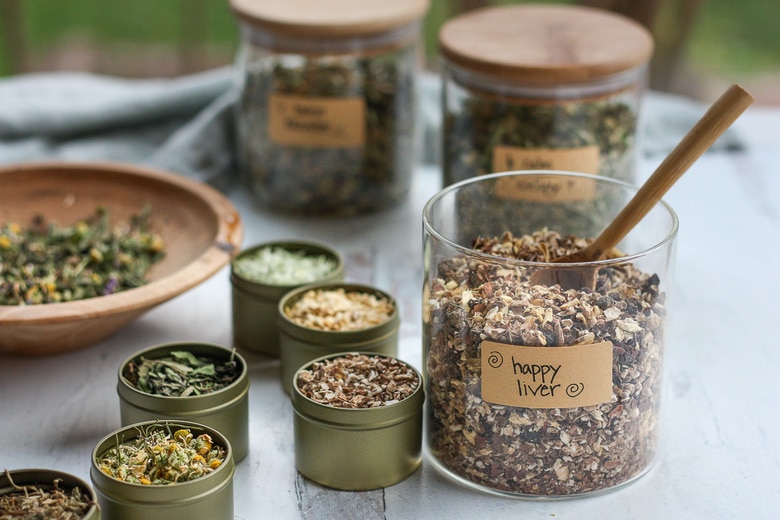 Tea Herbs and Their Benefits
(We recognize that every body is unique and we all have different needs. We are making no claims here, just gently suggesting exploration with herbal tea. 😊)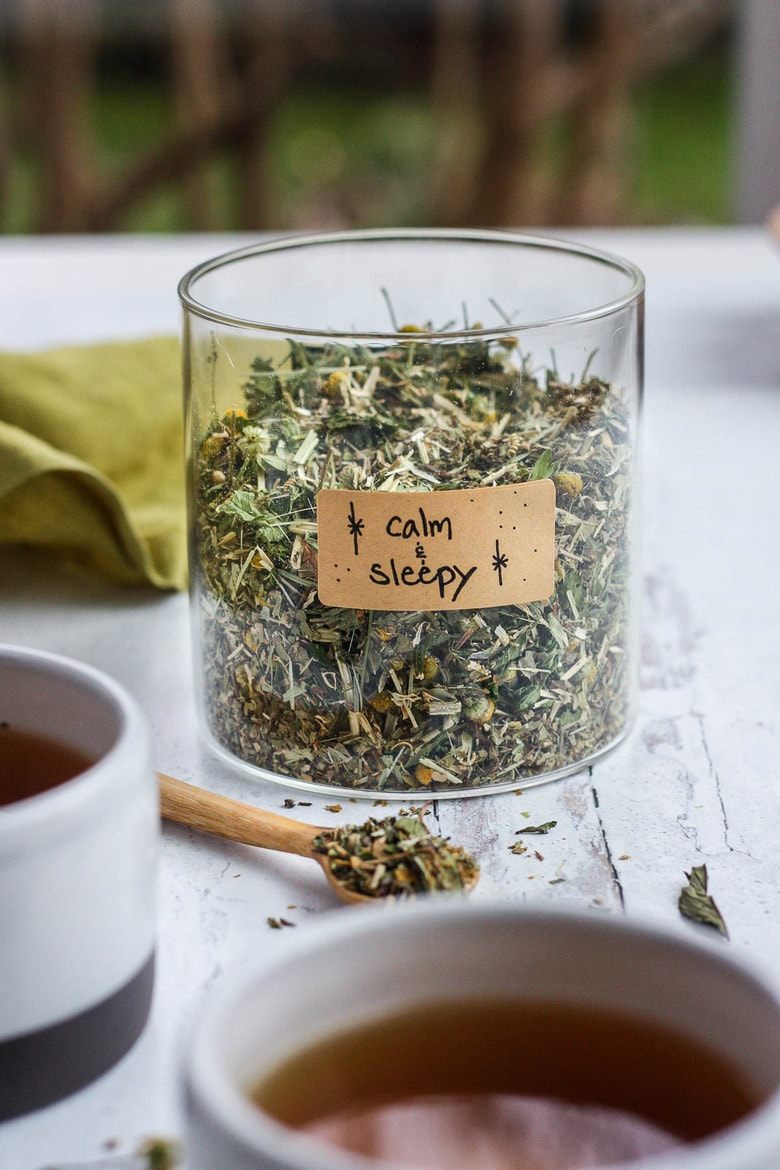 Where to source dried organic herbs:
Optional Packaging: 
More DIY remedies and tonics you may enjoy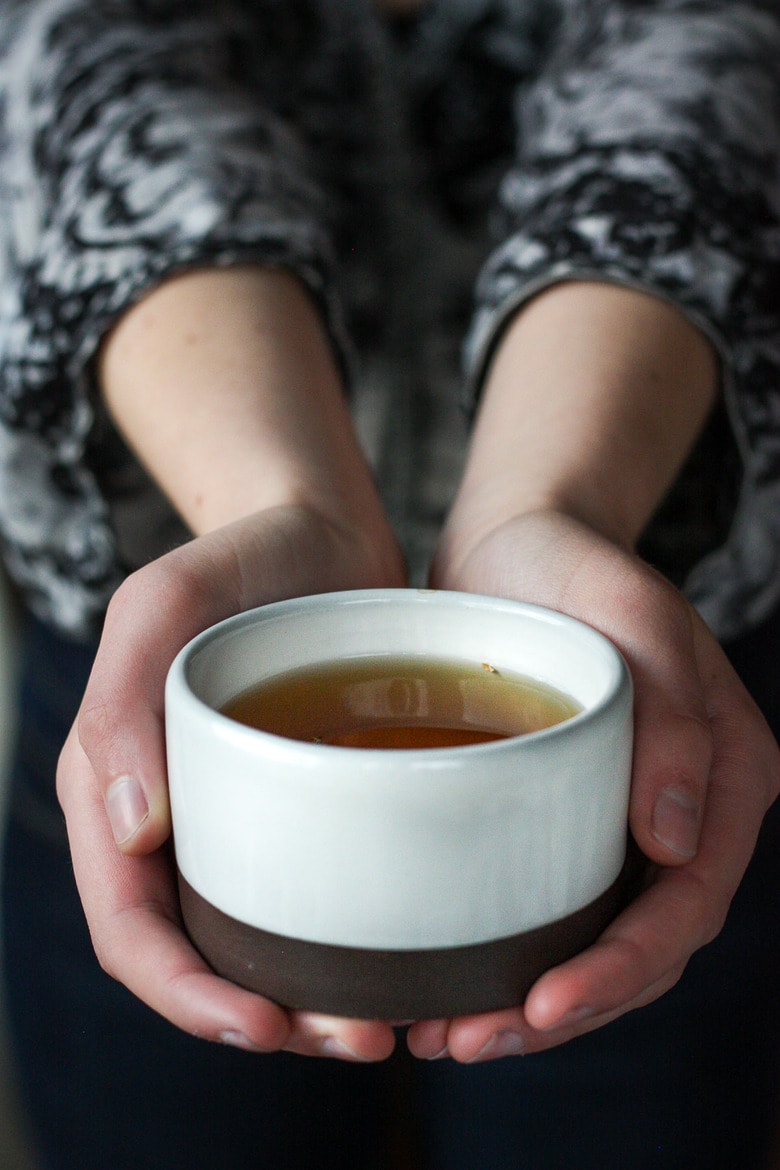 I hope these herbal tea recipes bring you inspiration and vitality!
Print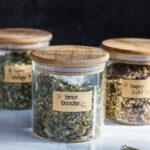 Make your own Herbal Tea Blends
Prep Time:

10 minutes

Total Time:

10 minutes

Yield:

2

–

3

cups per blend

1

x

Category:

Herbal Tea, drinks

Method:

mixed

Cuisine:

american
---
Description
Three Herbal Tea Recipes you can make at home for sleep, brain function and liver support. Easy and adaptable, these herbal tea blends are nutritive and soothing and make great gifts.
---
Brain Boost
1

cup

peppermint

1/2

cup

tulsi

1/2

cup

gota kola

1/2

cup

Ginko Biloba

1/4

cup

dried rosemary
Optional addition:  1/2 cup Brahmi, 1 teaspoon stevia (for sweetness)
Calm and Sleepy
1

cup

lemon balm

1/2

cup

passionflower

1/2

cup

skullcap

1/2

cup

chamomile

1/4

cup

spearmint
optional additions:  1/4 cup valerian root, 1 tablespoon lavender, 1 tablespoon rose petals or buds, 1/2 cup oat straw, 1 teaspoon stevia (for sweetness)
Happy Liver
optional additions:  1/4 cup milk thistle, 1/4 cup cocoa nibs
---
Instructions
Mix dried herbs (not powdered) together in a bowl.
 Store in sealed containers.
Use 1 teaspoon to 1 tablespoon per cup of hot water.
Steep covered at least 5 minutes and up to 20.
*The Happy Liver blend simmer 10-15 minutes for maximum nutrient extraction.
---
Notes
Teas will keep up to 6 months in a sealed container.
Nutrition
Serving Size:

1 cup

Calories:

13

Sugar:

0 g

Sodium:

3.5 mg

Fat:

0.5 g

Saturated Fat:

0.1 g

Carbohydrates:

2.2 g

Fiber:

0.5 g

Protein:

0.3 g

Cholesterol:

0 mg
Keywords: herbal tea, herbal tea recipes, herbal tea blends, homemade tea, homemade herbal tea