A vibrant Spring tonic, fresh Nettle Juice is full of minerals, vitamins and phytonutrients.  With just a few ingredients thrown in the blender your super-nutritious green juice is ready in minutes!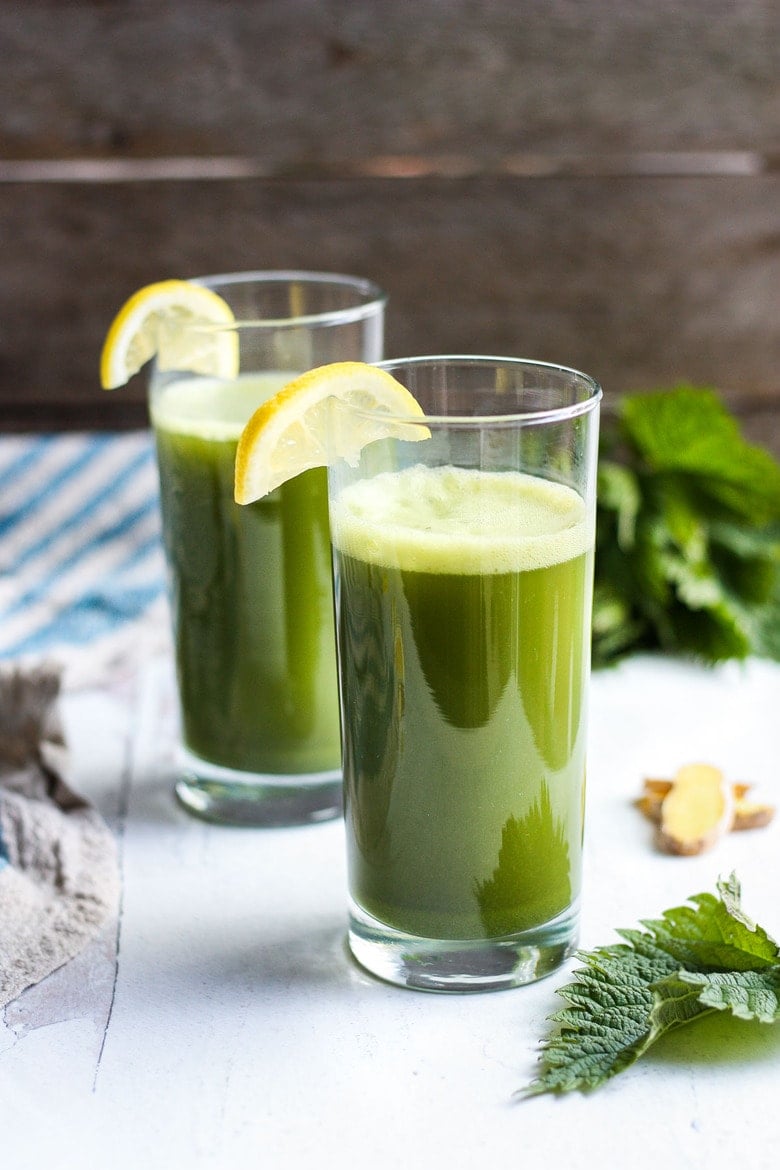 How are you tending to the emerging story of your life?- Carol Hegedus
Nettle, how I love thee!  This amazing plant is powerfully nutritious.  Full of minerals, vitamins and phytonutrients, it fortifies the body in a myriad of ways.  Nettle begins to emerge in the early spring.  The first shoots are what are best to harvest.  Many farmer's markets and natural markets now offer fresh-picked nettle. Or find a nettle patch and forage from the wild.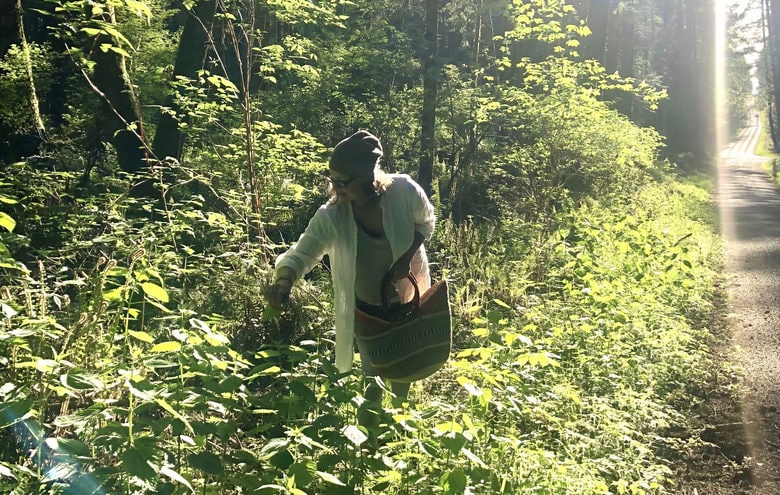 What does nettle juice taste like?
This tonic is simple and delicious.  The apple, lemon and ginger accent this green drink.  Nettle has a mild flavor similar to spinach.  Fresh apple adds sweetness, fresh lemon brightens it up, and fresh ginger gives a balancing zing.  And the green color is quite glorious, like drinking springtime herself!  It makes me so happy!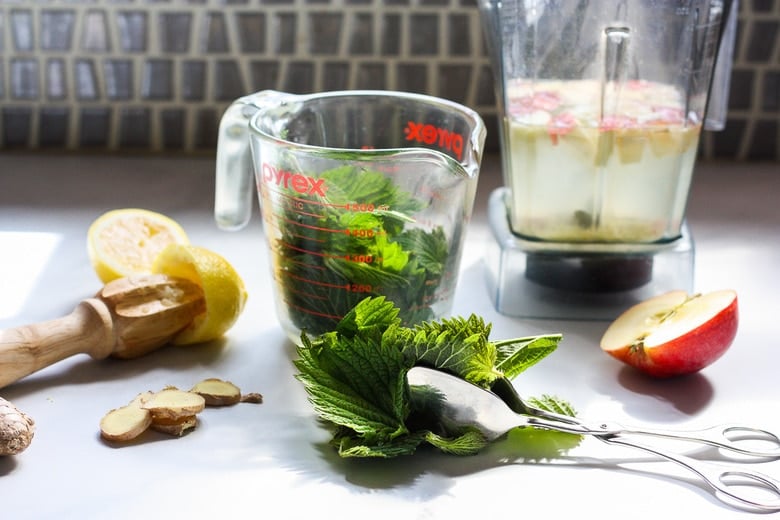 Nettle is one of my mainstay vitamin tonics.  Mostly I take it in tea form using the dried leaves.
But in the springtime, I fortify with fresh nettle and I seriously get a supercharged full-body alive feeling!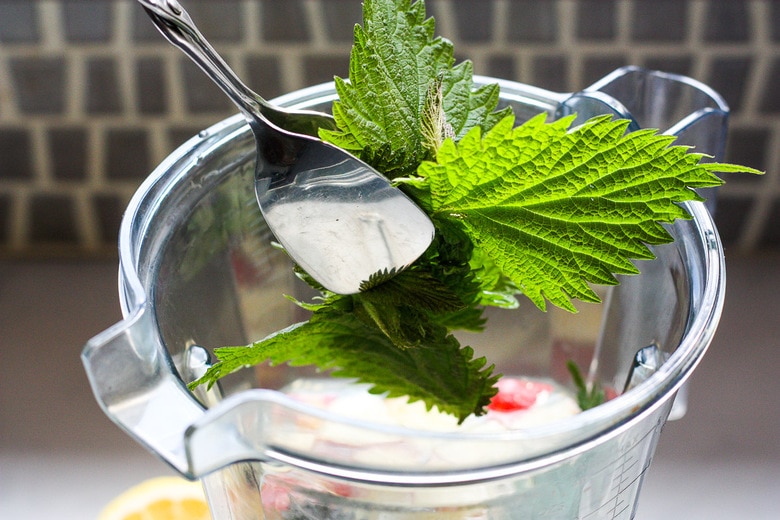 Why does Nettle Sting?
The thing about a nettle stinger: It is a very delicate tube containing a liquid acid that reacts with your skin when it brushes against you. If the nettle is frozen, fermented, dried, crushed or cooked or even quickly dipped in hot water (this last is how many NW coastal First Nations ate them), all those tubes become non-effective.
The nettle sting is actually used as therapy for arthritis and nerve damage by intentionally brushing the plant over the skin!  Personally, I have come to question the sensation on my skin… is it pain or just sensation?  To me it feels like electricity buzzing and tingling my skin.  That said please take precautions when picking.  Some people react more strongly to the sting than others and some nettle is much more potent.   Take precautions!  Use gloves and tongs.  Check this out for tips on how to pick without getting stung.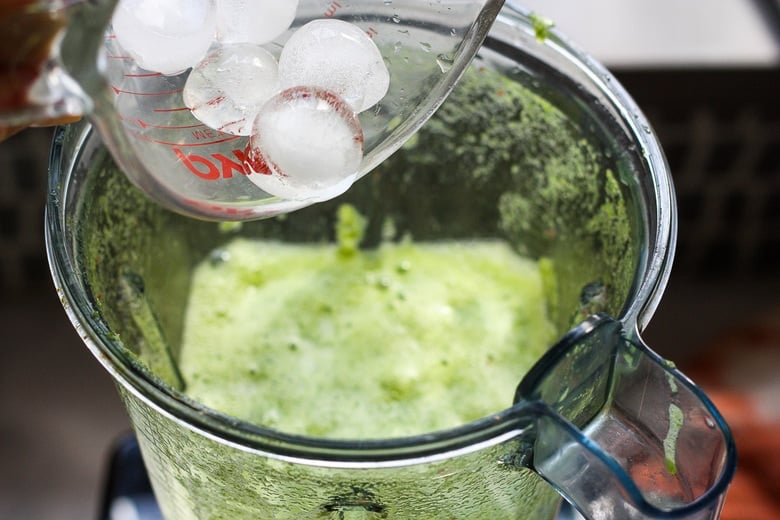 How to make nettle Juice!
Rather than using a juicer,  use a blender!
Simply blend and strain!
Water, ginger, apple, lemon and nettle leaves blend for a full minute on high.  Then blend in ice cubes.
Strain with a fine-mesh strainer.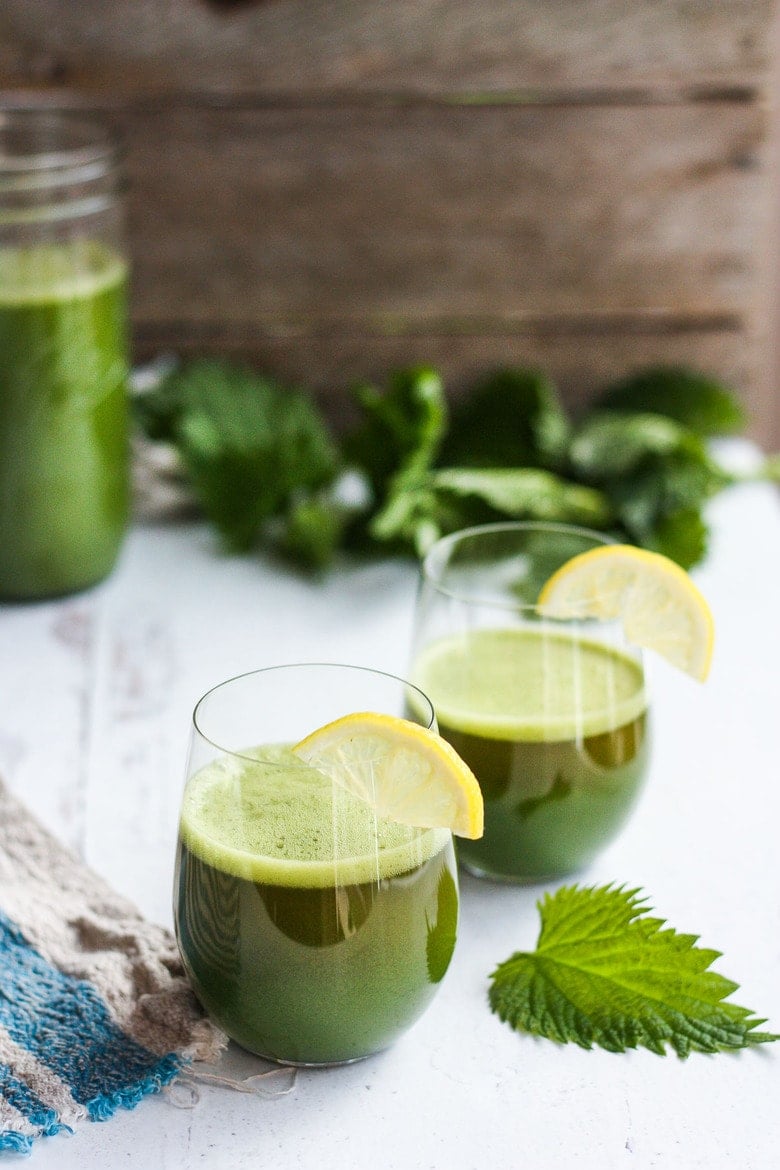 Benefits of nettle juice:
full of minerals, nutrients and anti-oxidents
restores health over time with regular use
strengthens bones, hair, teeth, fingernails
restores depleted energy
supports liver and kidney in detoxifying
restores mineral depletion helping with cramping
Just to name a few!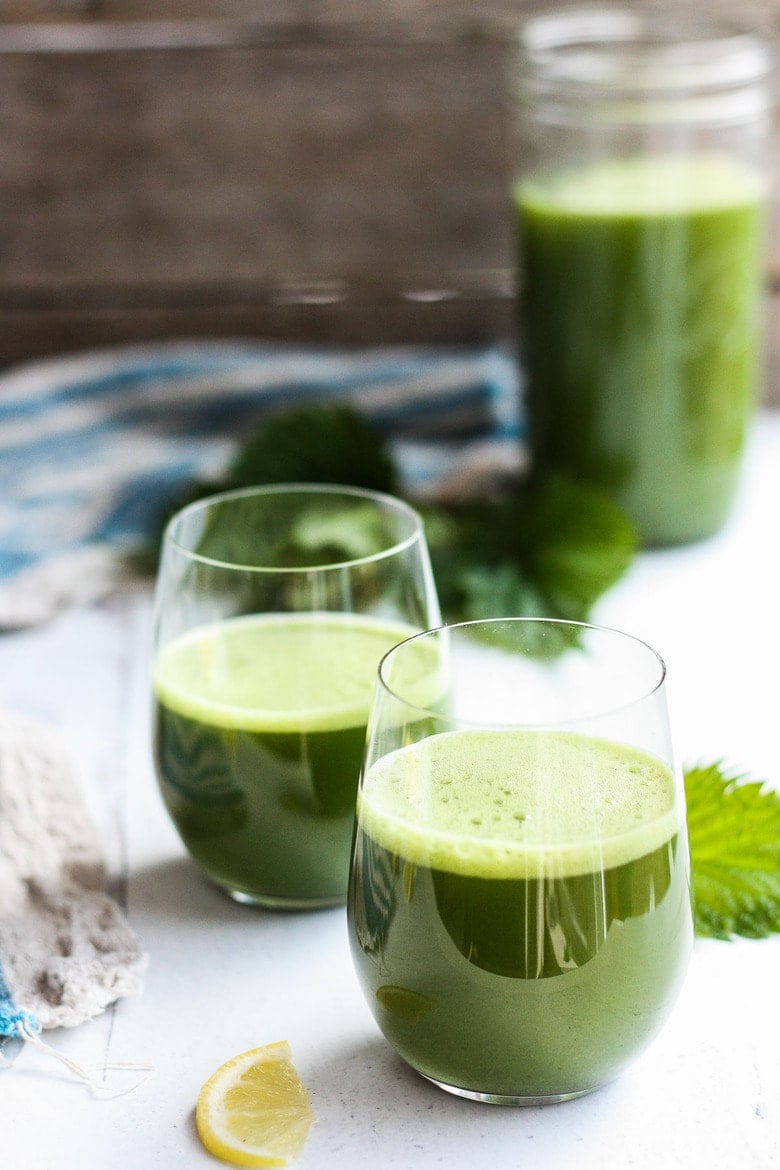 Pour into two glasses and serve immediatly.
More nettle recipes you may like:
More tonics and diy remedies:
Print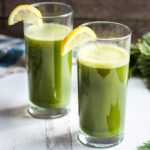 Refreshing Nettle Super Tonic
Prep Time:

10

Total Time:

10 minutes

Yield:

3 cups

(

2

servings)

1

x

Category:

juice, tonic,

Method:

blended

Cuisine:

American

Diet:

Vegan
---
Description
A vibrant Spring tonic, fresh nettle juice is full of minerals, vitamins and phytonutrients. With a few simple ingredients thrown in the blender your super-nutritious green juice is ready in minutes!
---
---
Instructions
Fill blender with the water.  Add chopped apple, lemon juice, slices of ginger, and salt.
With tongs or gloves carefully add nettle to the blender.  Blend on high for 1 minute, or until nettle is completely liquified.
Blend in ice cubes, if desired.
Pour through a fine sieve strainer.
Best consumed right away.
---
Nutrition
Serving Size:

2

Calories:

50

Sugar:

3.9 g

Sodium:

17.8 mg

Fat:

0.2 g

Saturated Fat:

0 g

Carbohydrates:

11 g

Fiber:

5.5 g

Protein:

2 g

Cholesterol:

0 mg
Keywords: nettle juice, benefits of nettle, nettle tonic, how to juice nettles