This recipe for Spanakopita Pie is fun and easy to make and the perfect weekend brunch or lunch idea! It has double the spinach filling of traditional spanakopita, so it's a bit healthier too! Pair this with a leafy green salad or a Greek Salad for a simple Greek-inspired meal.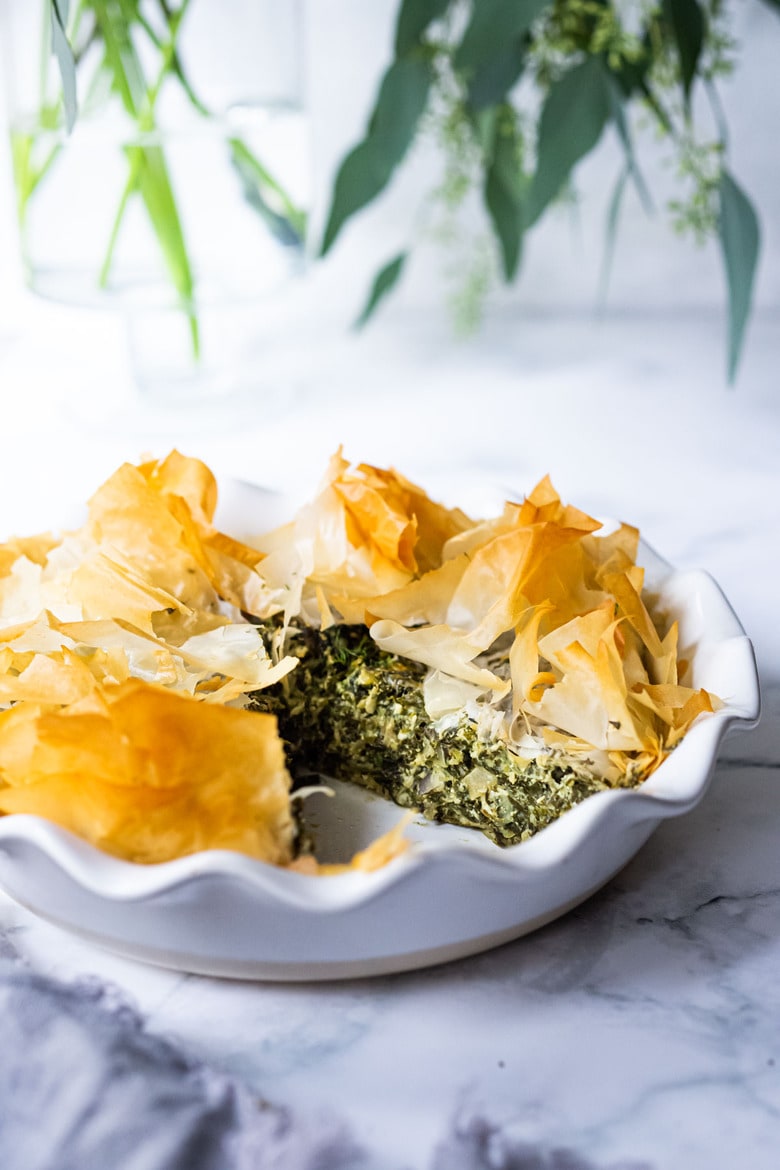 I got a hankering for spanakopita the other day, and decided to turn my normal sheet pan version, into a pie!
It was so much fun to make, so much easier than making this the traditional way and I just wanted to share it!   Spanakopita Pie perfect for weekend mornings when time is not hurried and you have a little time to play. It really only takes 30 minutes of hands-on time before baking, so totally doable!
Serve it up as brunch or lunch along with a leafy green salad or a Greek Salad, and viola, a fun and delicious weekend meal! Plus the leftovers make a very tasty lunch during the workweek.
TIP: Remember to THAW Phyllo Dough overnight in the fridge. (Or thaw it on the counter for 3 hours.) Phyllo Dough can be found in the freezer section of your grocery store, and keep in mind, it is not the same as puff pastry. 😉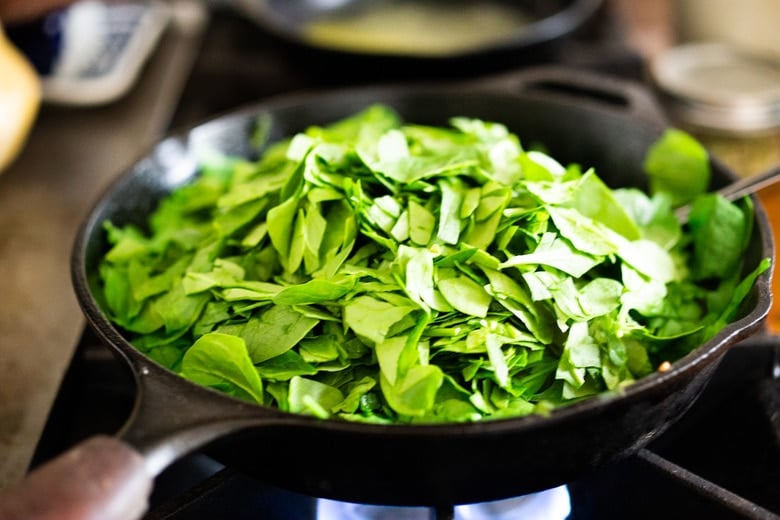 I love this recipe because it uses double the spinach, which translates to double the nutrients!
How to Make Spanakopita Pie:
Make the flavorful Spinach-Dill filling.
Add cheese and egg.
Layer the phyllo dough in a pie pan- 12 sheets, brushing each layer with olive oil
Spread out the filling over top.
Gently fold up the edges for the phyllo dough and brush the outer tips with olive oil.
Bake in a 350F oven until golden, about 45-55 minutes.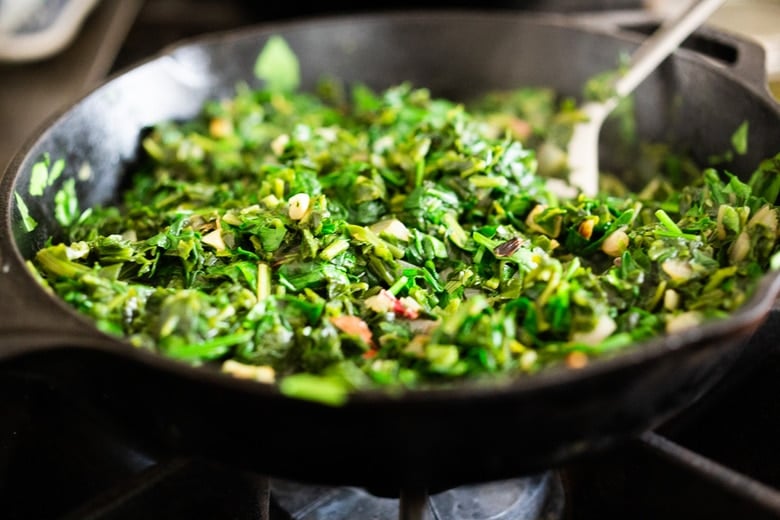 The Spanakopita filling recipe starts with sauteing onion and garlic for added depth and flavor. I love adding fresh spinach to this but feel free to use frozen.
But please, don't leave out the fresh dill!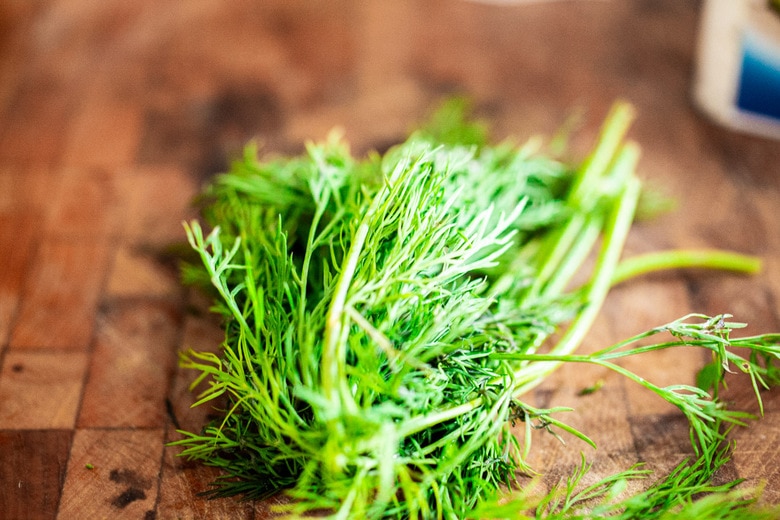 Make sure to drain the filling, so it is relatively dry.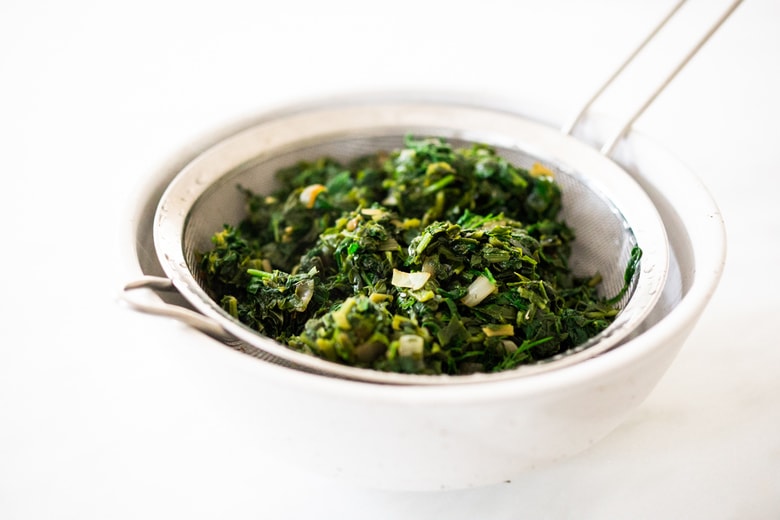 Then mix in the eggs and the cheese.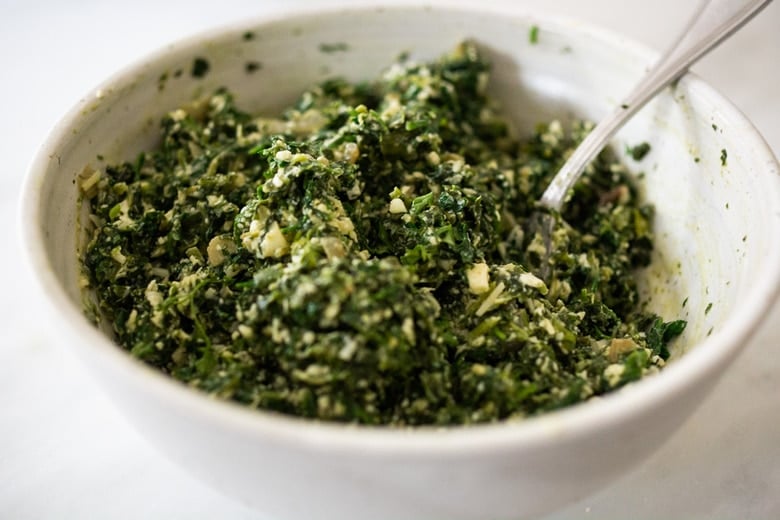 Typically feta cheese is used in Spanakopita, but in this recipe, I've cut it way down and added a mild, melty cheese.
This is because the filling is much thicker here (double the thickness) than in regular spanakopita-  the normal amount of feta is way too overpowering.  But a little is nice. I added a mellower melty cheese that turned out perfectly.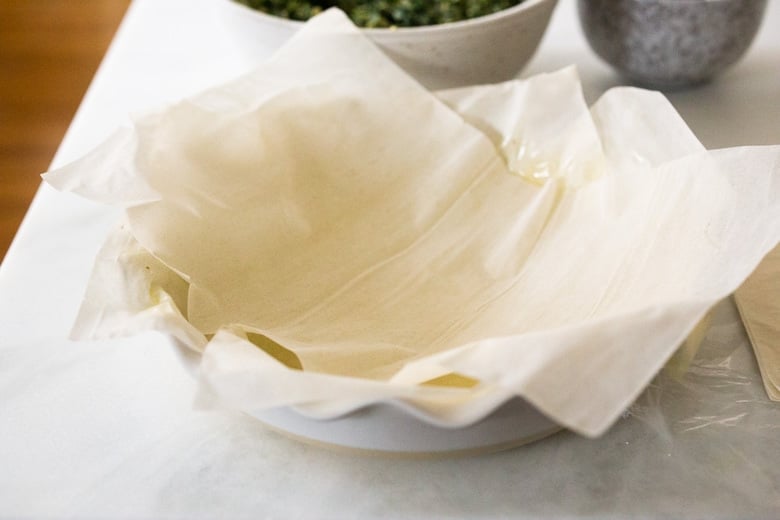 Now the fun part! Layering the phyllo dough!  Unwrap the thawed phyllo and cover it with a kitchen towel, so it doesn't dry out. Make sure to brush each layer with a light coating of olive oil.
TIP: Using spray olive oil here- is the easiest and fastest, plus you'll end up using less oil overall. 
Start by placing a sheet of phyllo down on an oiled pie pan, brush or spray with oil, then layer another piece of phyllo, crisscrossing the phyllo dough. Brust with oil, then layer another phyllo sheet, at a diagonal to make a star. And just keep layering diagonally, and brushing lightly with oil, layering and brushing until you have 12 layers down. this takes about 5-10 minutes.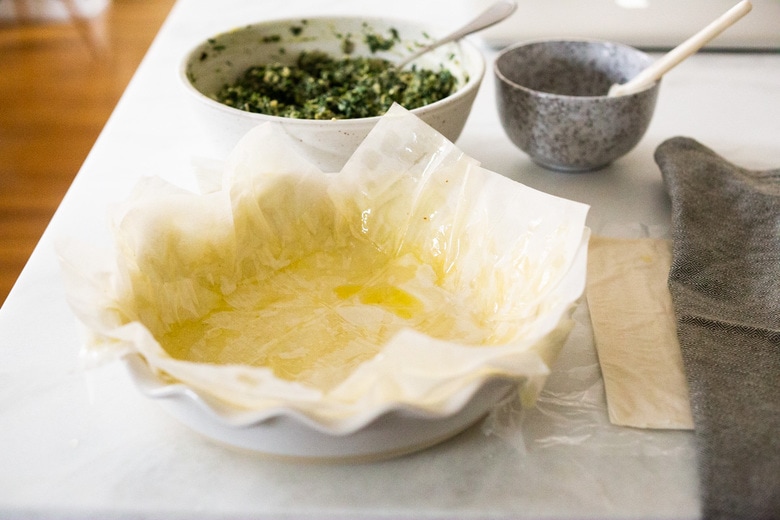 Once all 12 layers are complete, add the spanakopita filling.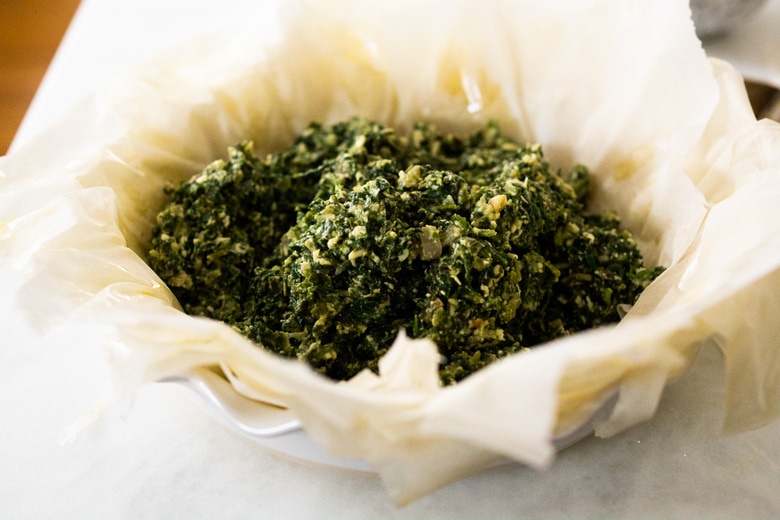 Spread it out, then carefully start to gather all the phyllo edges and bring them towards the middle. Brush any dry looking outer corners and edges.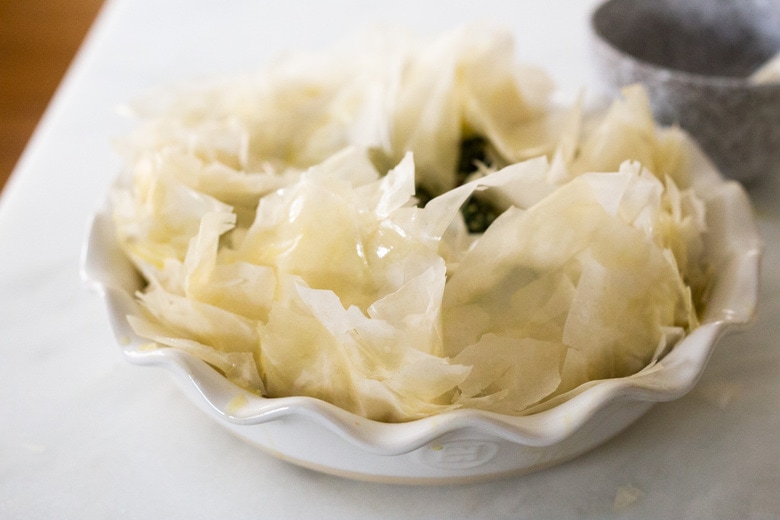 Place in a 350F oven for about an hour until baked through and beautifully golden.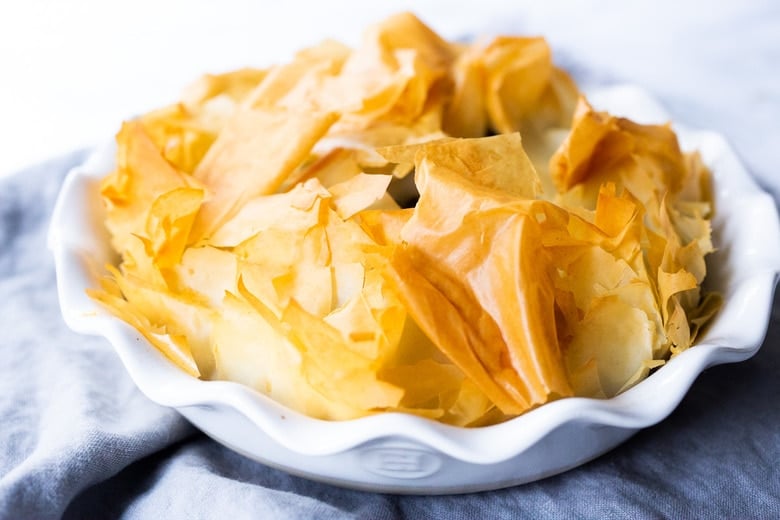 Let this sit at least 15 minutes before cutting.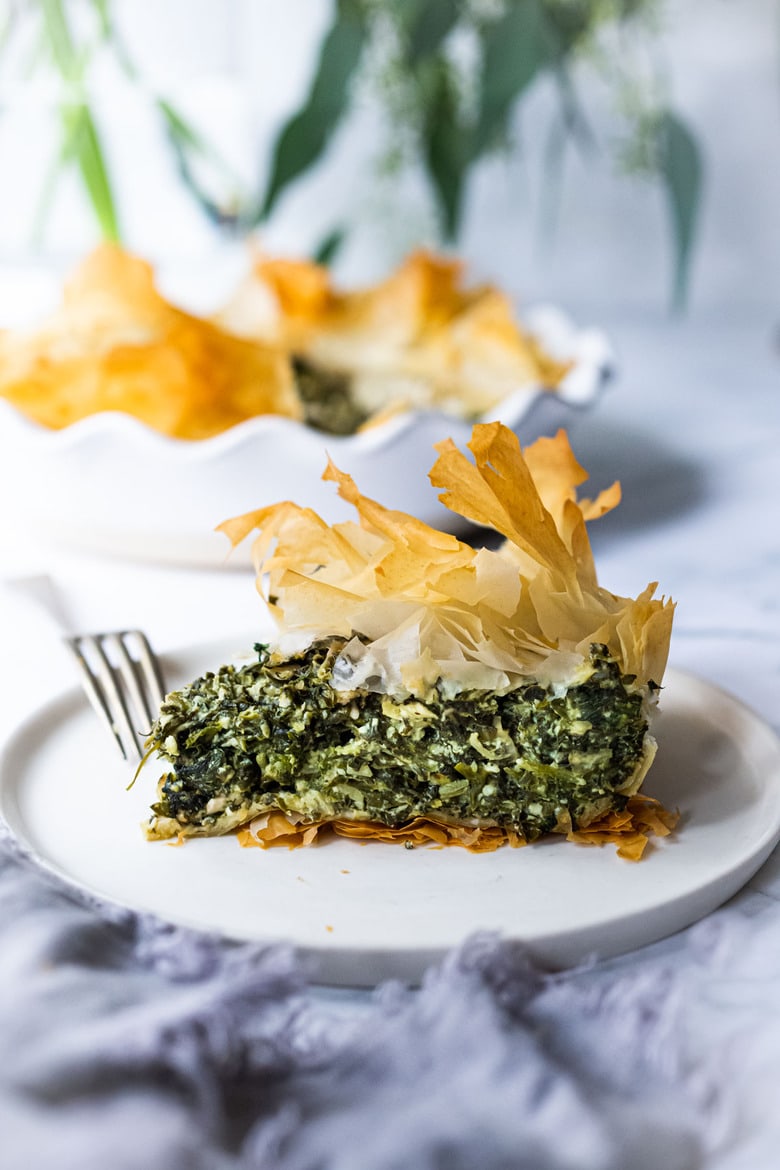 Carefully slice and serve.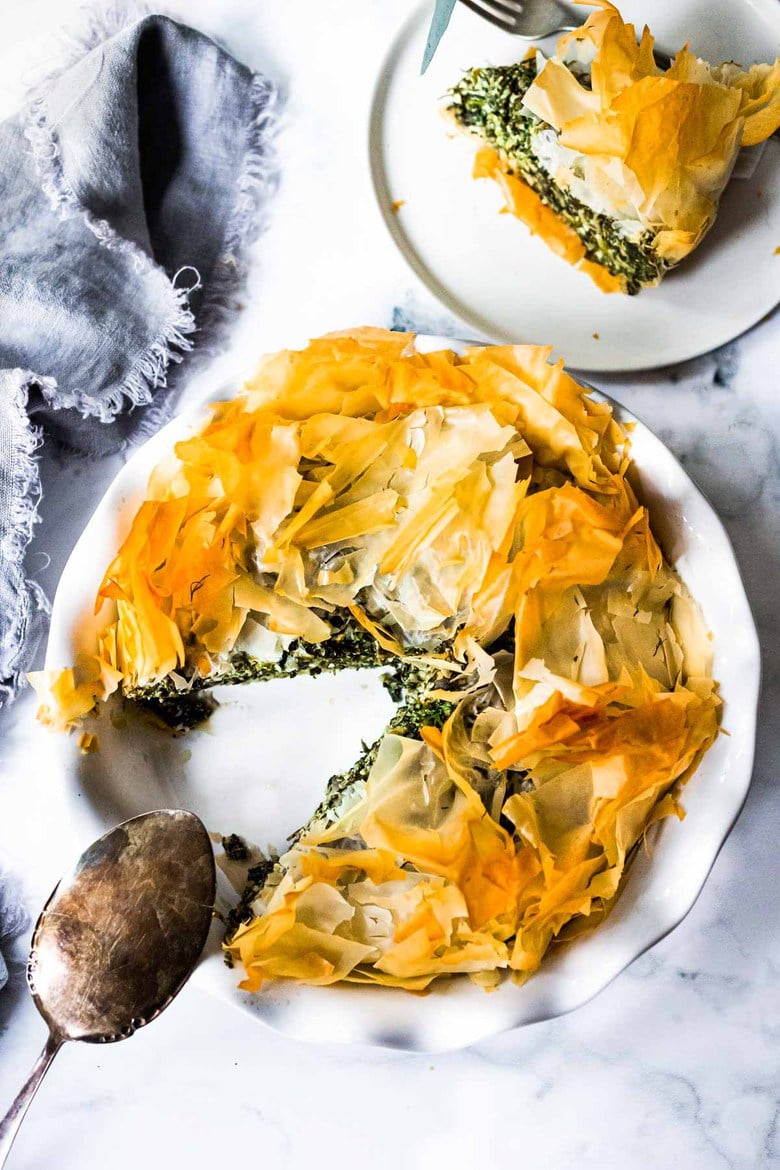 I love this served with a leafy green salad or a simple Greek Salad!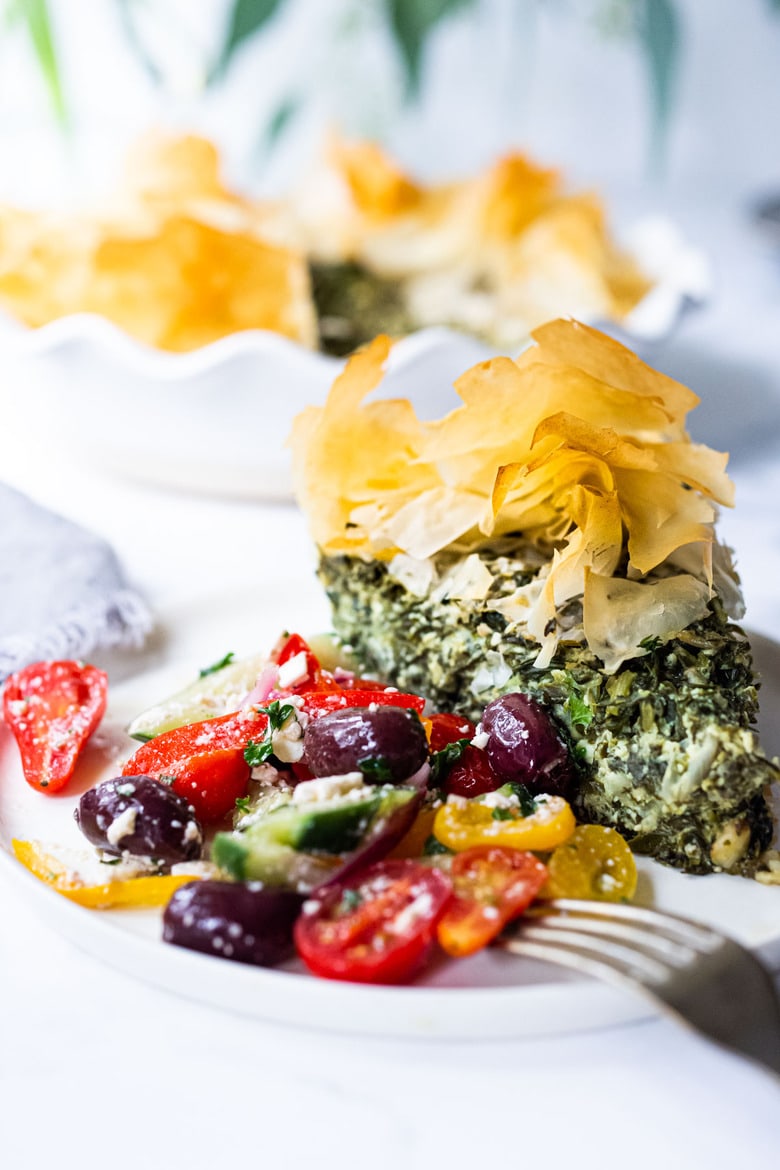 Give this Spanakopita Pie a try this weekend and let me know what you think in the comments below!
Happy Thursday!
PS: On the homefront: We are spending the winter in Santa Barbara. We drove down from Washington last weekend with our two old kitties and are renting a lovely home here. A dream come true… I'm still pinching myself!!! I'm so excited to take a winter "off" this year and be by the ocean.  Anyways, just thought I'd let you know. 🙂
Print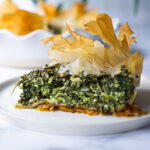 Spanakopita Pie
Author:

Sylvia Fountaine

Prep Time:

30

Cook Time:

60

Total Time:

1 hour 30 minutes

Yield:

8

1

x

Category:

vegetarian

Method:

baked

Cuisine:

greek

Diet:

Vegetarian
---
Description
Spanakopita Pie – an easy, healthy recipe for spanakopita, with double the spinach filling, made in a pie pan! A delicious Greek style lunch or brunch idea! This requires phyllo THAWING time (3 hours or overnight)! Adapted from Bon Appetit
---
2

–

3

tablespoons olive oil

1

large onion, diced

4

garlic cloves, rough chopped

2

lbs

chopped baby spinach, fresh ( or use frozen)

1/3

cup

chopped fresh dill

1/3

cup

chopped Italian parsley (or basil)

1/2 teaspoon

salt

1/4 teaspoon

pepper

1/4 teaspoon

nutmeg
—

2

eggs

3/4

cup

crumbled feta or goat cheese
1

1/4

cups

shredded gruyere or mozzarella (or other mild melty cheese)
—-

12

sheets phyllo dough – thawed overnight in the fridge or on the counter for

3

hours.

4

–

6

Tablespoons olive oil for brushing filo, or use spray olive oil ( the easiest, fastest!) or melted butter.
---
Instructions
Make sure  your phyllo dough is thawed (overnight in the fridge, or on the counter  for 3 hours)
Preheat oven to 350 F
Make the filling: In an extra-large skillet, heat oil over medium-high heat, saute the onion 3-4 minutes, stirring until fragrant and golden, lower heat to medium and add garlic saute 2-3 minutes. If using fresh spinach (chopped), add in batches, wilting, adding more until all fits in the pan and is wilted. Or add frozen spinach and saute until warmed through. Toss in the herbs. Strain for a few minutes using a strainer over a bowl, pressing lightly to encourage more drainage. Drain the water from the bowl. Place spinach mixture in the bowl.
Using a fork, stir in the nutmeg, pepper, eggs, feta, gruyere or mozzarella. Stir the filling to combine.
Layer the phyllo: Unwrap and unroll the thawed phyllo dough so it's lying flat on the counter and cover with a dishtowel to prevent it from drying out.
Brush or spray 9 or 10-inch pie pan with oil, coating bottom and sides. Lay a piece of phyllo over the bottom, letting edges hang over. Brush or spray very lightly with olive oil, also getting the edges. Lay another piece of phyllo, crisscrossing, and lightly brush with oil. Layer another piece crossing at a diagonal, to make a star, brush lightly with oil. Then another piece at the other diagonal, continuing to layer and brush with oil so phyllo is sticking out from all edges. Layer 12 sheets.
Fill the pie: Place the cooled spinach filling in the middle and spread it out. Gently gather the edges upwards, brushing (or spraying) any dry spots (on the outer edges) with a little oil,  and bring them up over the filling, folding, gathering towards the middle. It will not look perfect. 🙂
Bake 50-60 minutes- in the

middle

 of your oven, checking at 25 minutes -and if necessary, rotate and lay a piece of foil gently over top (do try to attach it).  Bake another 30 minutes letting those eggs cook through!
Let cool 15-20 minutes before cutting with a sharp knife.
Serve with a leafy green salad or Greek Salad.
Leftovers are delicious reheated.
---
Notes
You may be tempted to use all feta instead of mozzarella (like I did the first time). I found the filling way too sharp and tangy. This is because the filling is very thick here (double the thickness than normal spanakopita).
So I halved the feta and added gruyere which got beautifully melty and mellowed that sharp flavor. You could also sub some ricotta.
Nutrition
Serving Size:

⅛ of a pie ( using olive oil)

Calories:

376

Sugar:

3 g

Sodium:

643.4 mg

Fat:

25.8 g

Saturated Fat:

8.2 g

Carbohydrates:

24.6 g

Fiber:

4 g

Protein:

14.5 g

Cholesterol:

77.2 mg
Keywords: spanakopita, spanakopita pie, spanakopita pie recipe, best spanakopita recipes
or brunch idea