An authentic, delicious recipe for Eggplant Moussaka- perfect for entertaining or serving at a  special gathering. Can be made ahead. Vegetarian adaptable!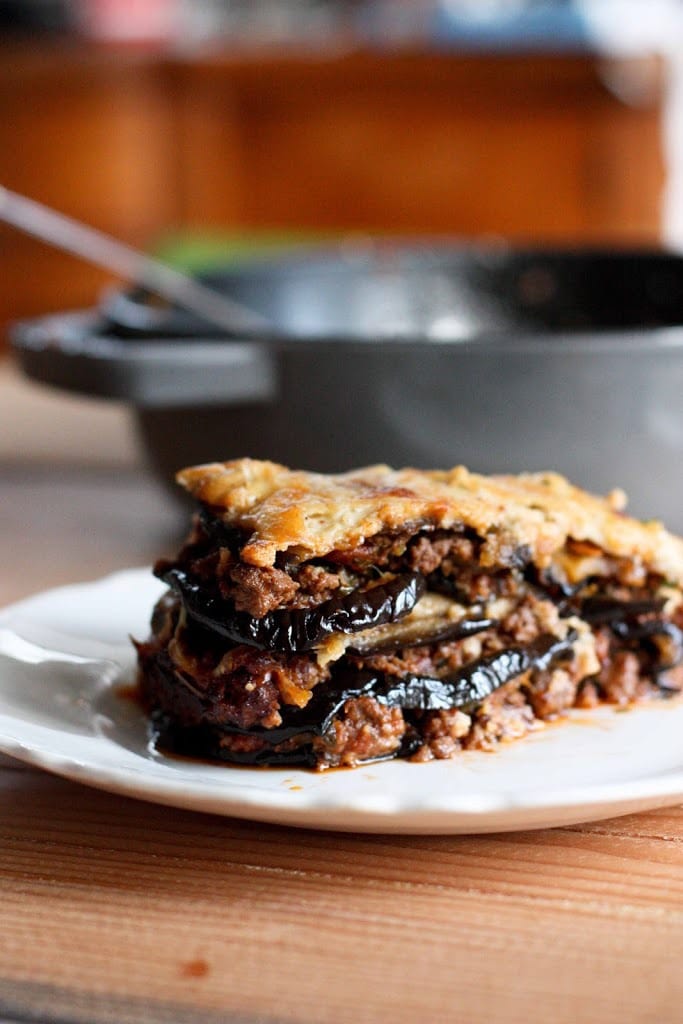 This Rustic Eggplant Moussaka takes a little bit of time and effort to make- but even despite this, I wholeheartedly encourage you to give it a go, at least one time this fall because when it is all said and done, it is worth every drop of energy you put into it. It is that good.  It is very special to my heart, one of my all-time favorite recipes on the blog!
Comforting, hearty and flavorful this authentic Eggplant Moussaka Recipe ticks all the boxes for me and honestly, I just can't wait for you to try it because I know you will love it. Make this on a day where you have ample time and are not rushed.
Watch how to make Rustic Eggplant Moussaka!
Eggplant Moussaka originates from the Mediterranean region of the globe, but most commonly hails from Greece. Succulent, roasted ( or grilled) eggplant is layered with a rich tomato sauce made with ground lamb and a hint of cinnamon.
It is topped with a wobbly 
béchamel sauce infused with fresh nutmeg, then placed in a hot oven to bake and meld. It smells divine.
The creamy white béchamel, turns a lovely golden brown and infuses your home with goodness. Every time I make this I find myself wishing I would have made a double batch, freezing one for another time.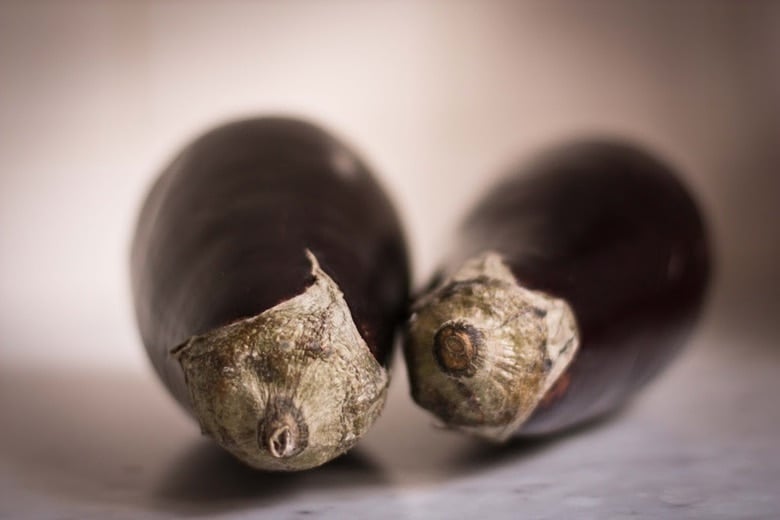 This recipe can easily be made vegetarian and gluten-free. If you are vegetarian, use a ground meat substitute, like Gimme Lean or St Ives Meatless Ground, instead of lamb.
There are many recipes out there on how to do a quicker version. Numerous ways to cut corners. And while I am all for efficiency, I have never been happy with these results when it comes to Moussaka. Whatever you do, please do not layer the eggplant without roasting ( or grilling) it first!
When catering for various events, we have modernized this dish, by making beautiful eggplant rolls, or even making tall moussaka stacks, called napoleons, skewered with a spring of rosemary. While I like the showy look of it, I still prefer this rustic old-school version better, and this is how I prepare it at home. 
This recipe is typical of what you find in the villages of Greece. 
Reserve this recipe for day in which you have a liberal amount of time. It is perfect for Sunday dinner. Or make it in stages, preparing the eggplant a day before, or making the meat sauce ahead. You can make the whole dish ahead if you want to and refrigerate it for 2-3 days before baking.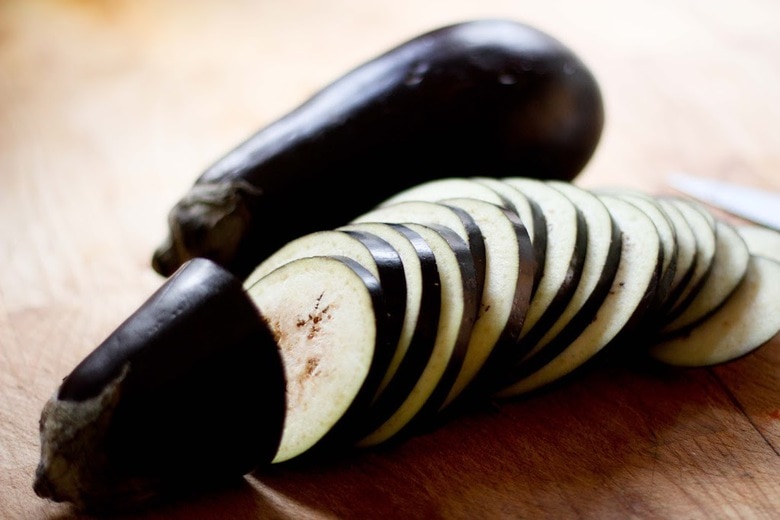 One important step in the recipe calls for salting the eggplant.
1. It helps remove some of the bitterness, especially found in larger eggplants that have a lot of seeds ( where most of the bitterness is) by drawing out the bitter moisture.
2. It helps reduce the amount of oil the eggplant will absorb, resulting in a lighter, healthier, less oily dish.
3. It improves the eggplant's overall texture, keeping it from getting too mushy.
4. Even though most of the salt is rinsed off, it seasons the eggplant nicely.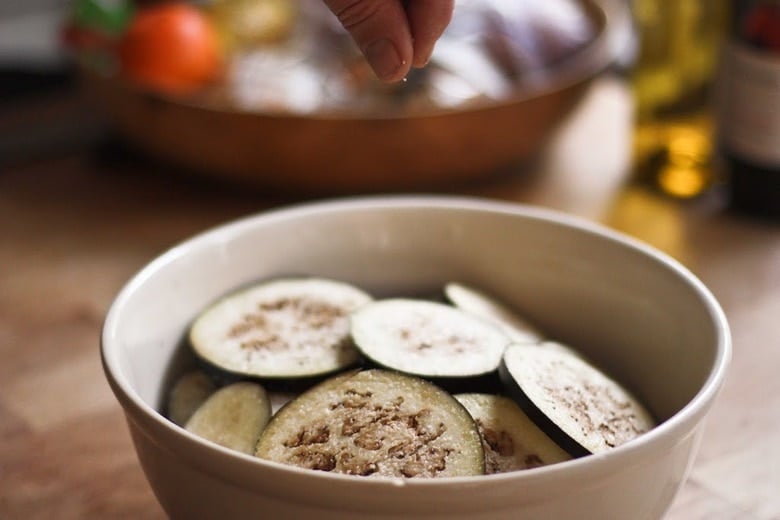 Cut eggplant into  ⅓ -1/4 inch disks (no thinner).
Sprinkle
salt
on the eggplant and place in a bowl or colander to sit for one hour.
As you will see, the eggplant will release moisture.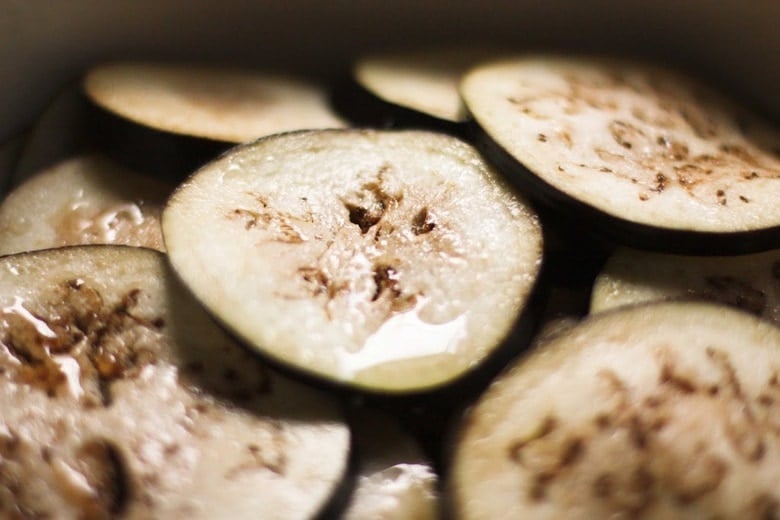 Make sure to rinse this off well (this is a bitter liquid). Place on a clean kitchen towel ( or paper towels) and place another towel over top, pressing down to dry the eggplant as much as possible.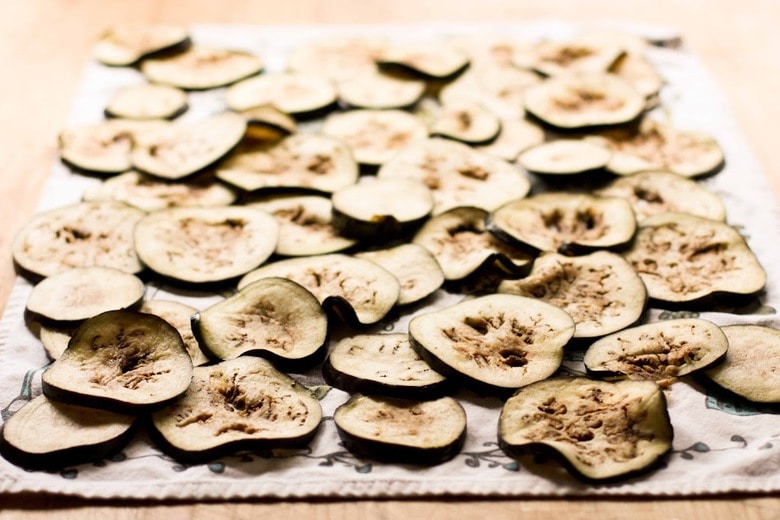 A very important step that some forget to do is roast the eggplant. This is a must! You can also grill it, if easier, but please, whatever you do, don't put raw eggplant into the mousaka, it won't have the texture or depth it needs!!
Place the eggplant slices on a greased baking sheet and either brush lightly with olive oil, or spray with cooking spray.
Roast in a 400F oven until golden, 20-30 minutes, rotating pan halfway through, careful not to blacken. If need be, remove any slices that are thinner which will have cooked faster. The eggplant will continue to cook once assembled, so at this point, don't worry if they don't seem completely done. Just make sure they are golden in color. You can also broil them, to bring up the color.
In summer, I really prefer grilling the eggplant. It saves on having to clean up an extra pan and I like the flavor and depth the grill adds. If grilling, brush with oil,  give a good deep sear on each side and wrap up in foil so it cooks through a bit.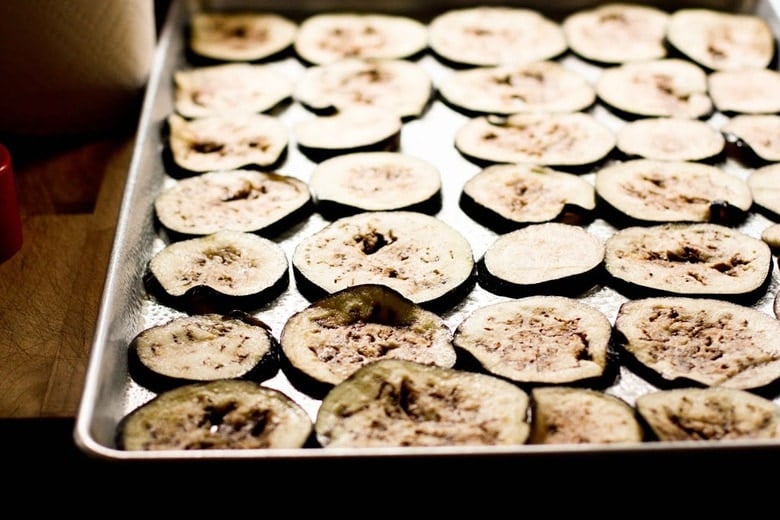 While the eggplant is being prepared, make the two sauces.
A word on lamb. If you are tempted to substitute ground beef, because you are not sure you like lamb, this is the perfect recipe to give the lamb a try. The sweet, robust flavors of lamb are at home with the cinnamon and nutmeg and give this dish that extra "something".  The flavors really compliment each other, without tasting too lamb-y.
If you live in the Spokane area, a great resource for local lamb is Rocky Ridge Ranch. They are pastured raised, and never injected with hormones or antibiotics. They sell whole and half lambs, and also by the pound.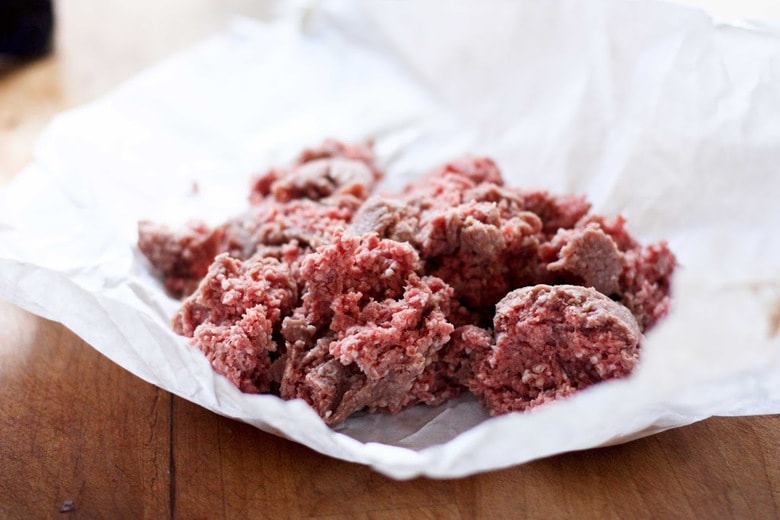 Start with the meat sauce, as it takes longer to cook.
Then make the béchamel.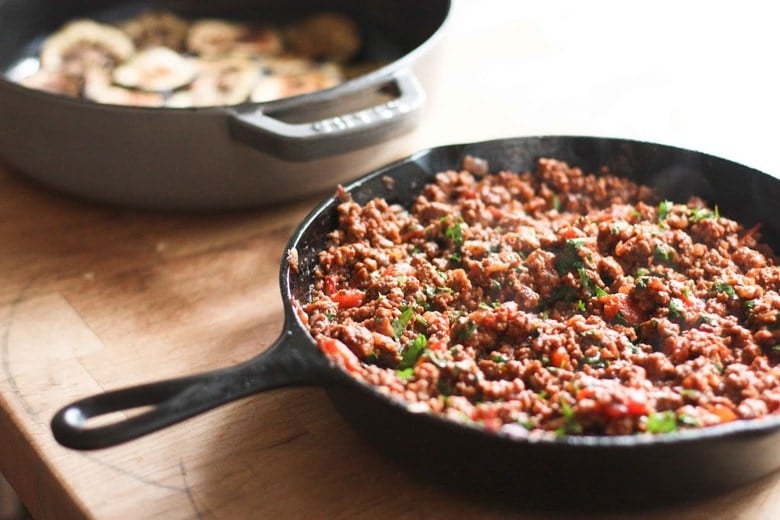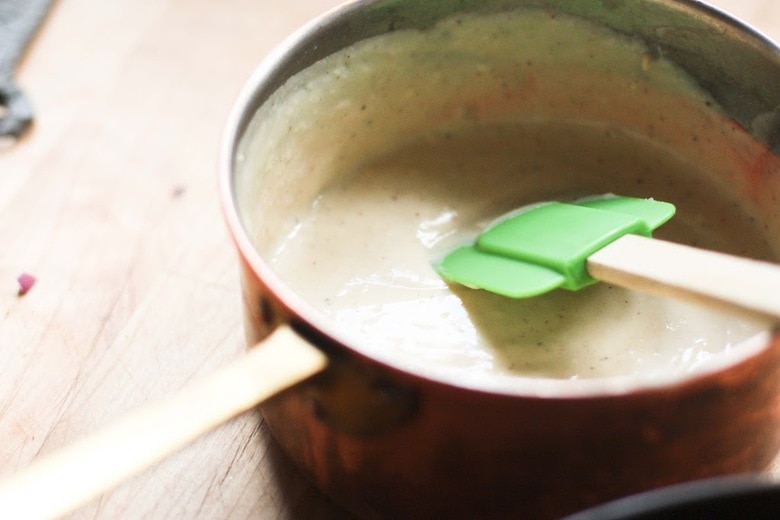 The last step in making the bechamel is adding a lightly beaten egg.
In a greased, ovenproof baking dish, layer the first layer of eggplant, on the bottom.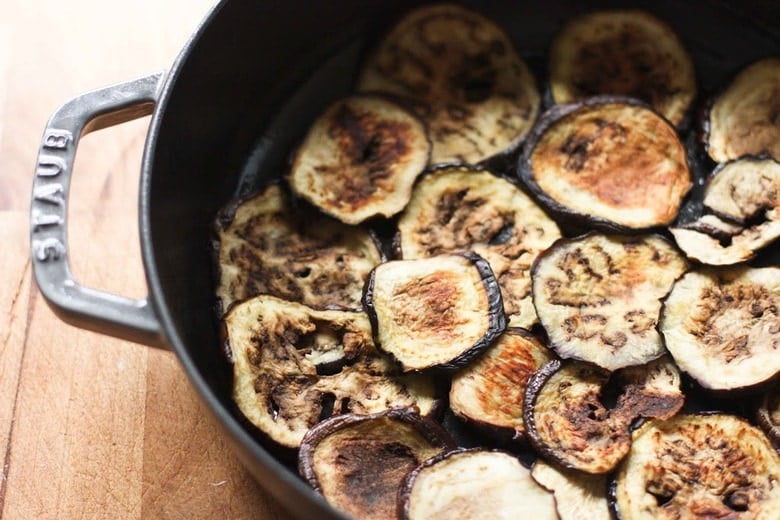 Add half of the meat sauce and add another layer of eggplant.
Add the rest of the meat sauce, and add the third and final layer of eggplant.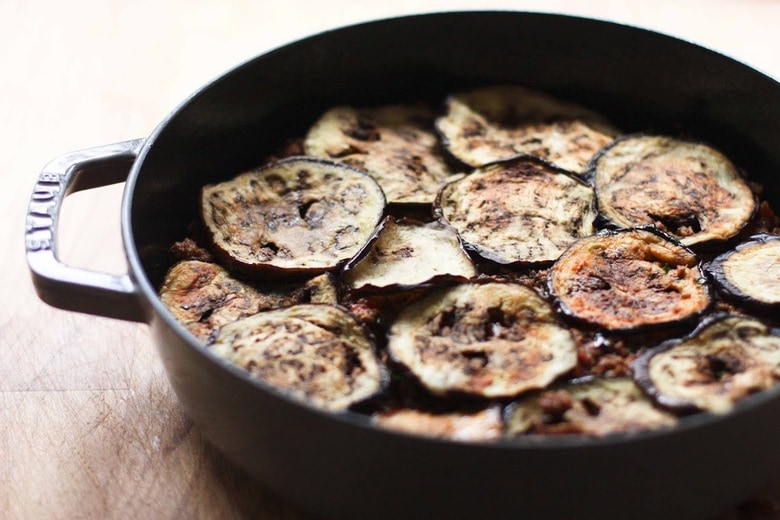 Finish by spooning the bechamel sauce over the entire top and sprinkle with the remaining cheese.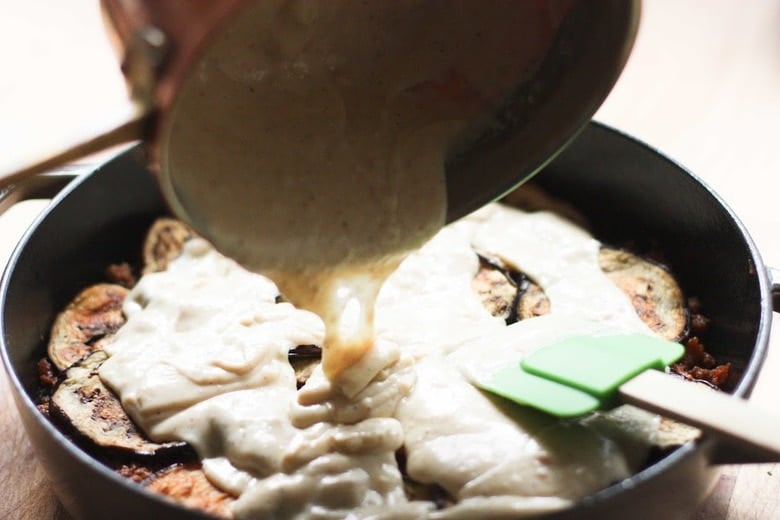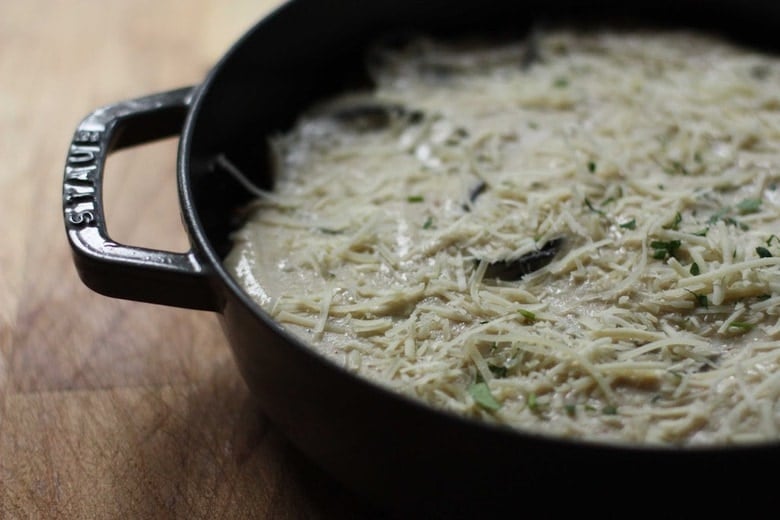 Place in a hot oven, uncovered.
By this time, you will have dirtied many dishes, but the smell wafting from the oven will reward you as you begin cleaning up.
When the Rustic Eggplant Moussaka is done, it will be a lovely golden brown.
Let it rest a few minutes before diving into it.
Any leftovers you have will be doubly good the next day.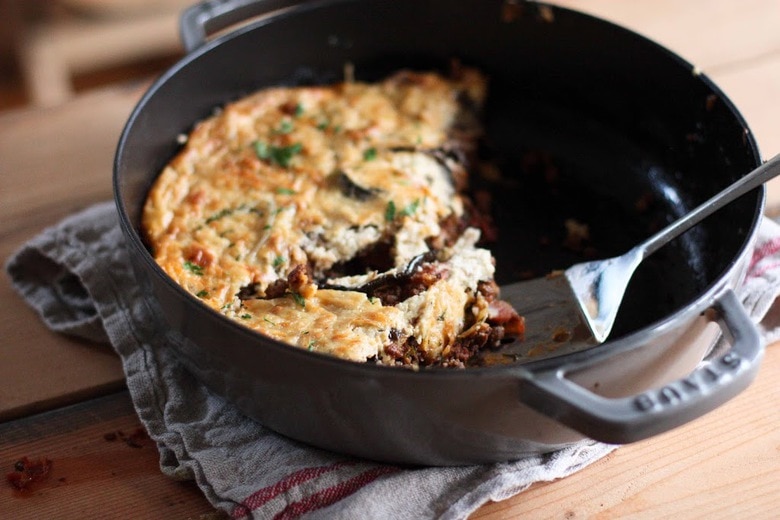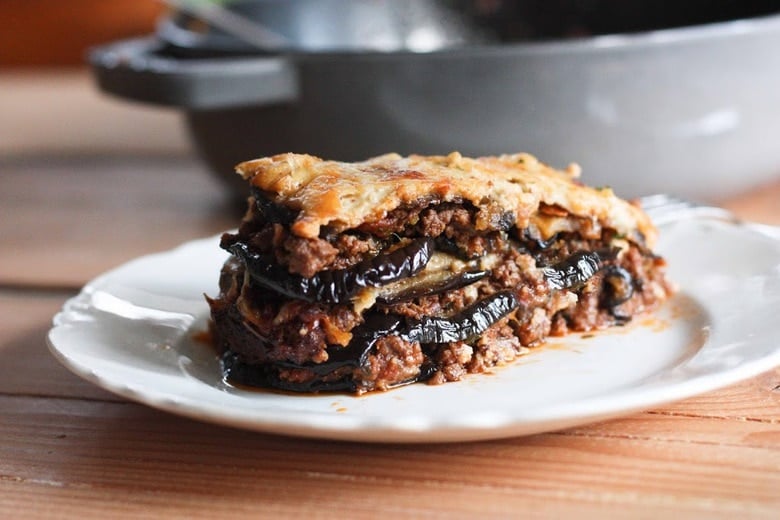 If you are an eggplant lover, I promise, you will love yourself for making this! So satisfying and totally worth the effort!
Happy delicious week!
s.
Print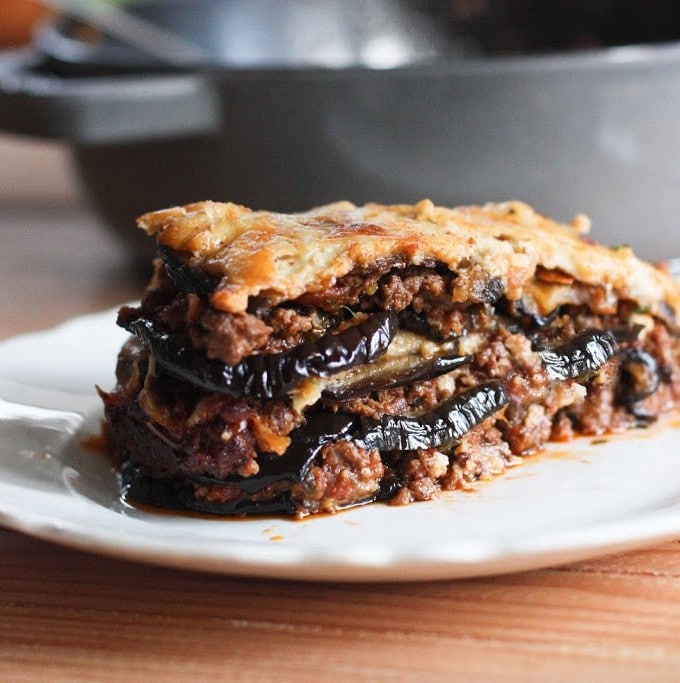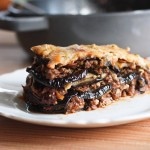 Rustic Eggplant Moussaka
Prep Time:

1 hour

Cook Time:

2 hours

Total Time:

3 hours

Yield:

6-8

Category:

Main, lamb, Entree,

Method:

Baked

Cuisine:

Greek
---
Description
An authentic, delicious recipe for Rustic Eggplant Moussaka- perfect for entertaining or serving at a  special gathering. Can be made ahead and baked prior to serving.
---
Ingredients
3

lbs Eggplant (

2

extra large or

3

eggplants)

3

T olive oil or cooking spray
Tomato Meat Sauce:
2

T olive oil

1

large onion diced

4

cloves garlic, rough chopped

2

lbs ground lamb, beef (or use vegetarian ground meat substitute Gimme Lean or St Ives Meatless Ground.) I prefer lamb.

1 ½ cups

 diced tomatoes ( canned is OK)

2 Tablespoons

tomato paste

½ Cup

 white wine

2

T fresh chopped parsley

1 tsp

sugar

1/2 tsp

cinnamon

1/2 tsp

kosher salt
cracked pepper
Bechamel Sauce:
3

T butter

4

T flour ( or rice flour)

2 cups

whole milk

1/2 tsp

nutmeg ( use fresh grated if possible)

1/4 tsp

kosher salt

1/8 tsp

white pepper

1/4 Cup

grated Parmesan, Pecorino or Kefalotiri Cheese

1

egg, lightly beaten
---
Instructions
Pre heat oven to 400 F. Cut eggplant into ⅓- ¼ inch thick disks (no thinner), sprinkle with a little kosher salt and let sit in a colander or bowl for 20-60 minutes. Eggplant will start to release liquid (making it less bitter) Rinse well, pat dry and brush each side with olive oil (or use spray oil).
Place on a greased sheet pan and roast in a 400 F oven until golden, about 20-30 minutes. Alternatively you can grill the eggplant- wrapping it in foil after, so it steams and cooks through.
While eggplant is roasting -make the meat sauce: Saute diced onion in oil on med high heat for 3-4 minutes, add garlic, turn heat down to med low and saute for 8-10 minutes until onions are tender. Add ground lamb, turn heat up to med-high and brown, stirring often, about 15 minutes. Drain fat if any. Add the rest of the ingredients -diced tomatoes, tomato paste, white wine, fresh chopped parsley, sugar, cinnamon, kosher salt and pepper. Stir and cover and let simmer on med low heat for 20 minutes.
Make Bechamal: Melt 3 T butter. Whisk in 4 T flour ( or rice flour) and let cook for 2-3 on med heat, stirring often. Whisk in 1 C milk. Whisk well, and add the 2nd cup. Stirring constantly bring to a boil, and let simmer on low for an additional 2 minutes. Remove from heat and add nutmeg, 2 T Cheese, salt, pepper. Set aside to cool. In a separate bowl, lightly beat an egg, but do not add it just yet.
Assemble: Divide eggplant slices into three stacks, reserving the best looking largest pieces for the top an bottom layers. The others can be placed in the middle layer which will be concealed. In a greased 8x 13 in pan, place one layer of eggplant. Add half the meat sauce. Add another layer of eggplant, and the remaining meat sauce. Add the third and final layer of eggplant. Whisk in the beaten egg into the bechamel sauce until nice and smooth. Spread the bechamel over the final eggplant layer. Sprinkle the remaining cheese and place in a 350F oven for 50-60 minutes, until beautiful and gold. let stand 10 minutes before serving.
---
Notes
Notes: You can make this ahead and refrigerate for a couple days before baking. You can also freeze this after baking.
An easy way to approach this is to make this in stages. For example, roast or grill the eggplant a couple days ahead, make the meat sauce the next day, make the béchamel the last day and assemble the day of baking.
My personal preferences here are to grill the eggplant if possible and to use ground lamb ( or a mix of beef and lamb). Soooo good!
Keywords: moussaka, eggplant moussaka, moussaka recipe, authentic moussaka, eggplant moussaka recipe, vegetarian moussaka