A simple dessert for entertaining -Mini Pear and Berry Crumbles that can be made in advance!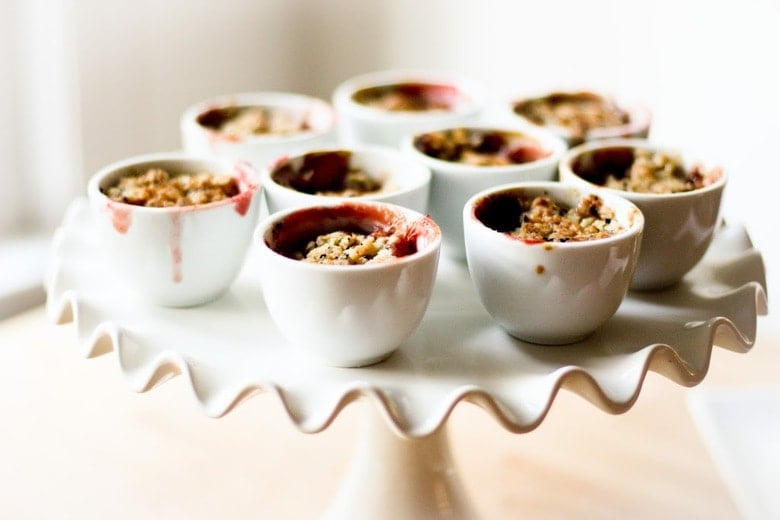 This is a really easy and satisfying dessert to make in the colder months that can be made ahead if you are having guests over or want to bring something to a holiday party.  These inexpensive little oven-proof porcelain cups can be found at World Market and have a multitude of uses. I use them often in catering events, a tiny vessel for both sweet and savory dishes.
You can also use little mason jars.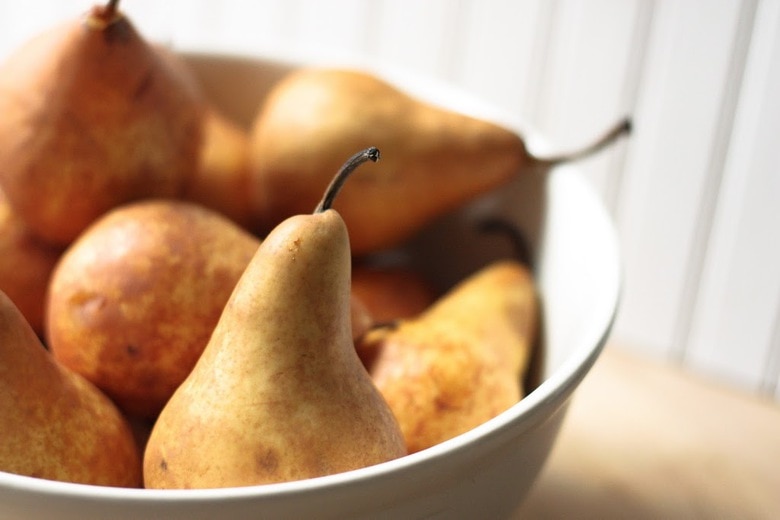 Why I love these Mini Crumbles
I have been making crisps and cobblers for a long time now…and it goes to show, now matter how good you think you are at something there is always room for improvement.
A dear friend of mine introduced me to a delightful new ingredient, Nigella Seeds, and when added to the crumbly topping they add such an exotic twist…pungent and slightly bitter, but in a good way.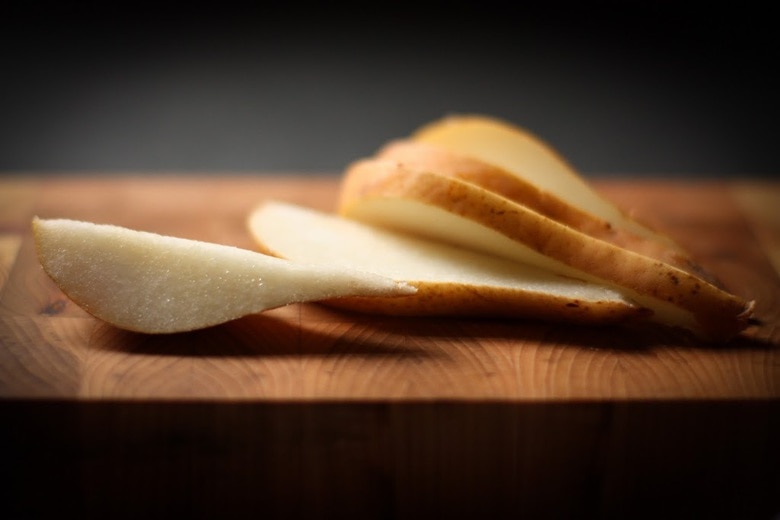 What are Nigela seeds?
They come from a beautiful flower with pale blue and white petals.  Nigella seeds are often used in many different Eastern cultures….mostly Indian cooking (on naan) and even in Egyptian cooking. They have many different names.  Kalonji (Hindi), Kezah (Hebrew), Habbat-el-barakah (literally seeds of blessing Arabic) or Siyah Daneh (Persian).
How to make Mini Crumbles
Start with some really good pears ( or use apples) These are bosc, but you could use bartlett or other ripe pears.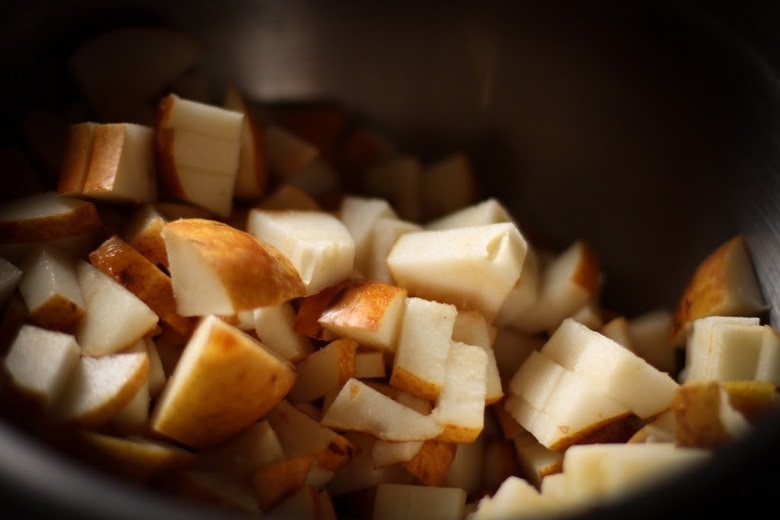 2. Cut them into small 1/2 to 3/4 inch thick pieces. If you cut them too thinly they will cook too quickly and lose much of their texture, so cut them no smaller than 1/2 in thick.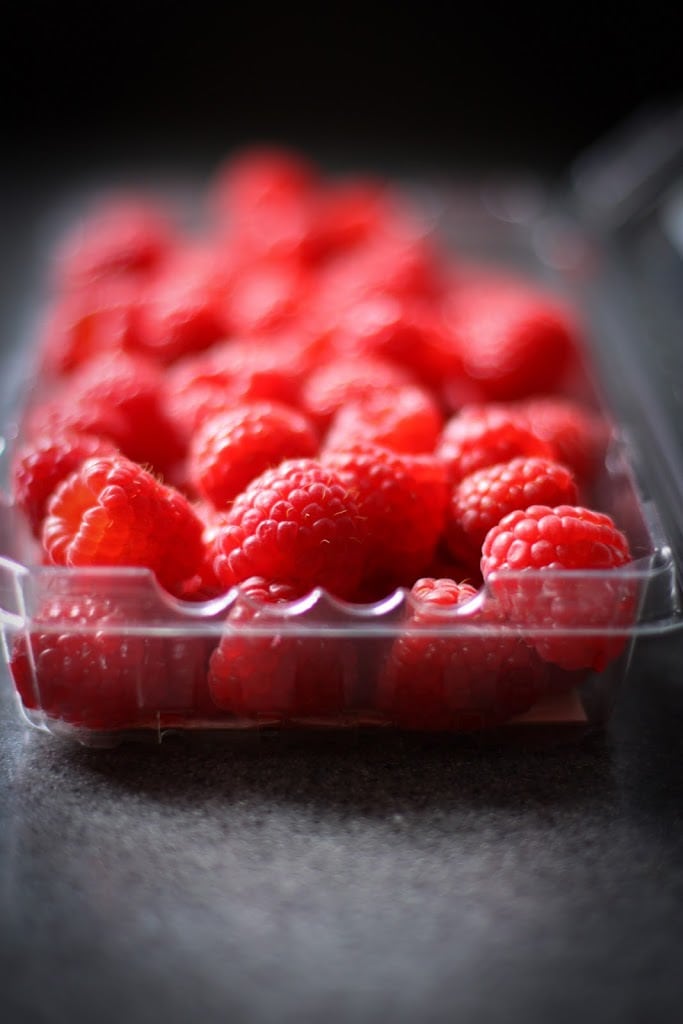 3. Then pick a type of berry.  Normally I would use a blackberry, cranberry or blueberry, but the raspberries actually looked the best in the grocery store, so I bought these. I also really like the tartness.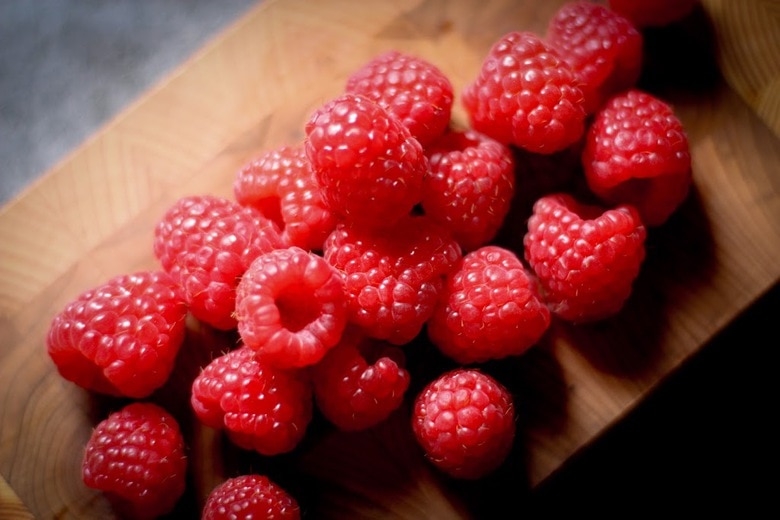 3. Mix chopped pears and lemon juice  ( or you could use red wine) to stop the browning of the fruit.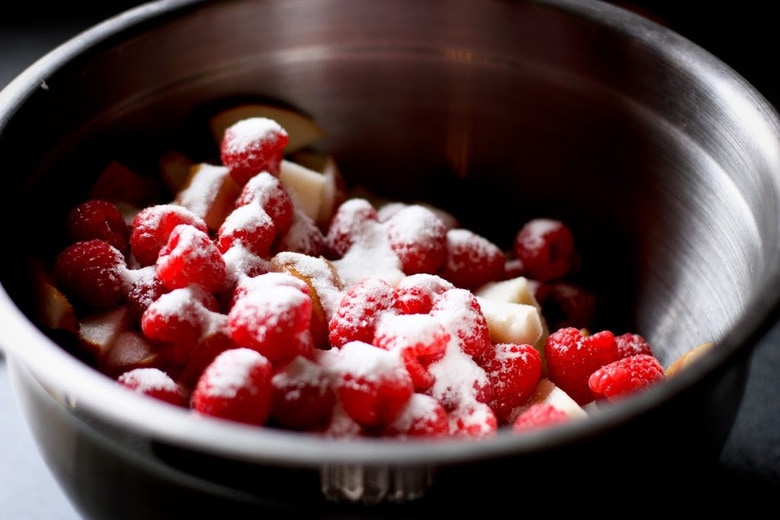 4. Add Sugar, berries and flour.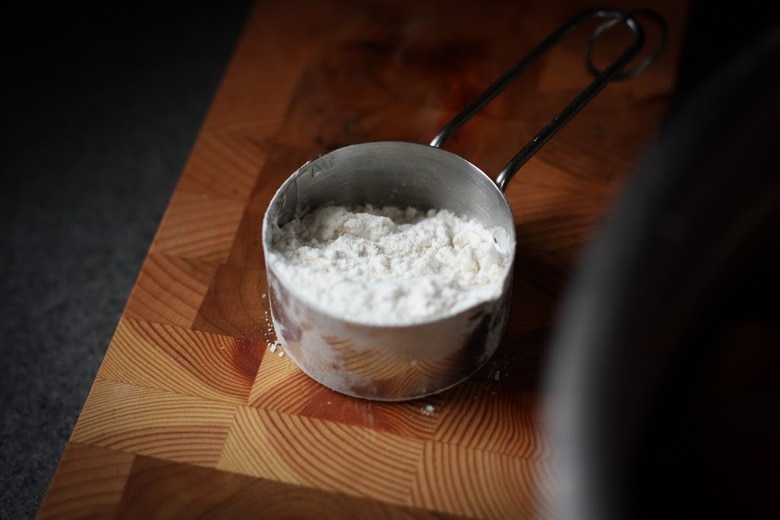 5. At this point please taste your mixture. It should have a balanced sweet and tart flavor. You can adjust sugar and lemon juice. Once it is just right, you can add some flavorings…..zest, cinnamon, nutmeg, allspice,  cardamon, white pepper, ginger, ground cloves (go lightly on this) or anything else you can think of.  Be creative. Be simple and use only 1 or two things.
TIP: Remember that flavors become more concentrated as they cook, because they lose moisture in the baking process, making the the flavor more intense.  So use a light hand.
6. Line up your lightly greased ramekins on a sheet pan and fill.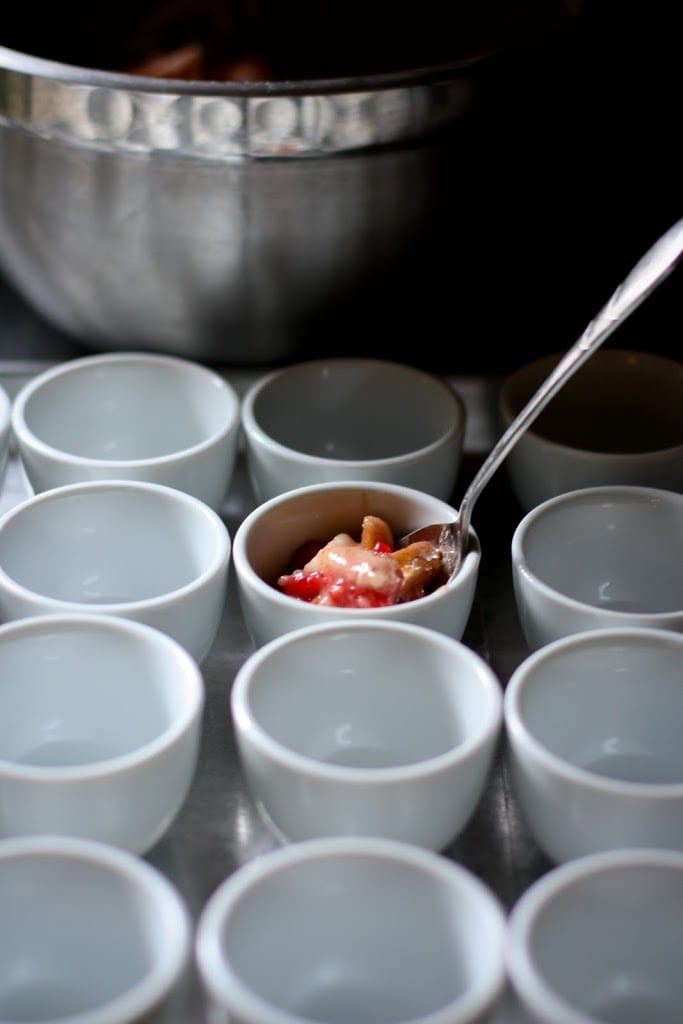 TIP: If you don't mind some of the juices spilling over the sides, fill them up a 1/2 inch to the top. If you want them neat, leave more room and fill them to 1 inch from the top. I like them spilling over.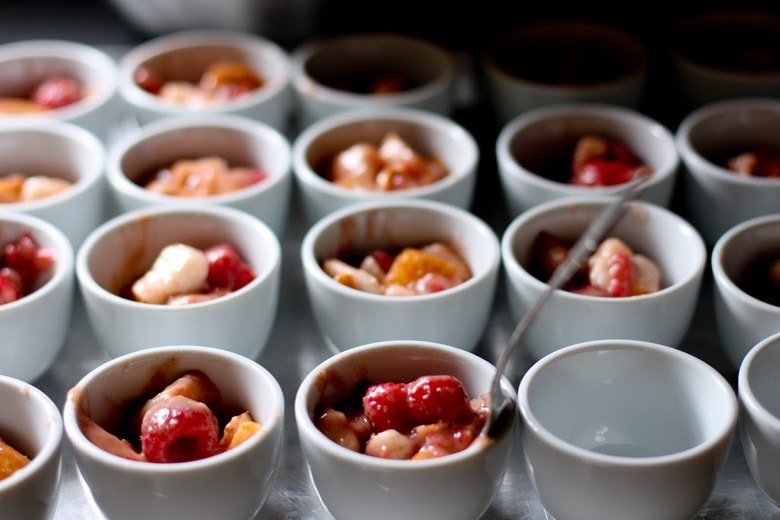 7. Now it's time for the crumble topping. Mix flour, oats, sugar and salt in a bowl.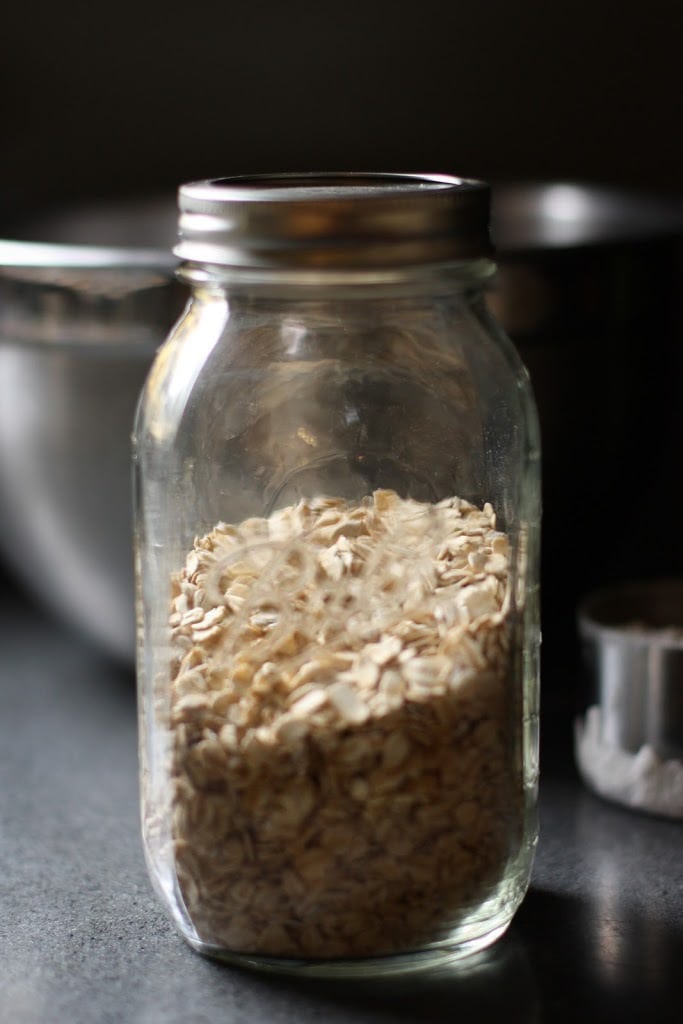 Then comes the fun part. Add seeds to your liking.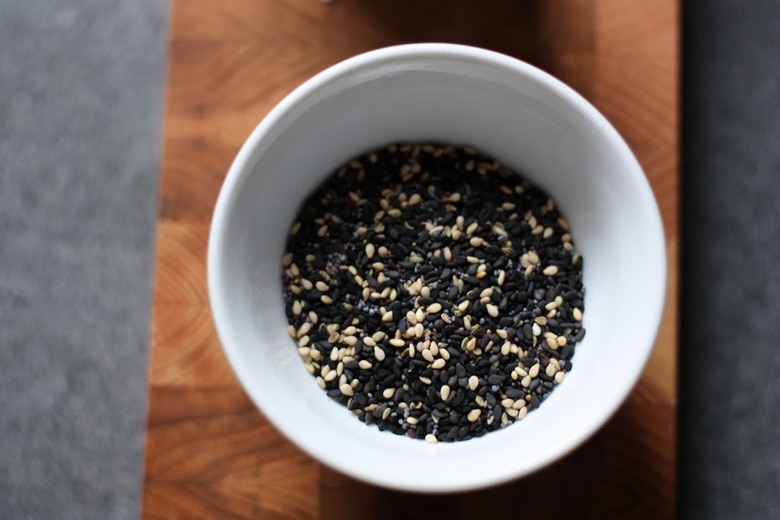 Here I've added Nigella seeds, sesame seeds and poppy seeds. You could also use fennel, anise, or anything else you can think of.
Then add soft butter (or
coconut oil
works deliciously well… actually I almost prefer it).
For you adventurous cooks, you could also trying a little tahini.
Work the mixture with your fingers or a wooden spoon. Freeze the dough for 10-15 minutes before using. I admit, I did not have the time to do this and it turned out just fine. Be careful though because I believe the chilled topping helps prevent it from getting too brown in the oven.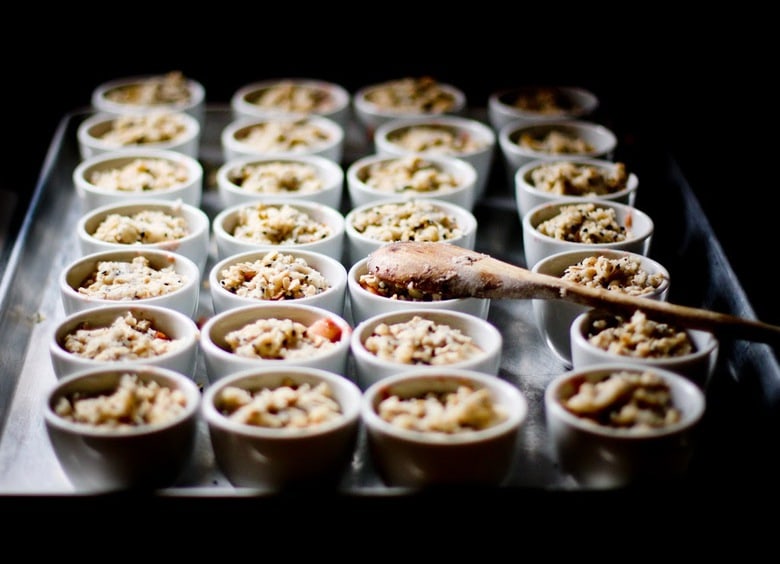 8. Spoon the topping over the top of your fruit mixture…put about a 1/2 inch layer on the top and lightly press down…sealing the fruit.  Bake for 45-50 mins till warm and bubbly, and topping is golden.  Let cool for 10 min before serving.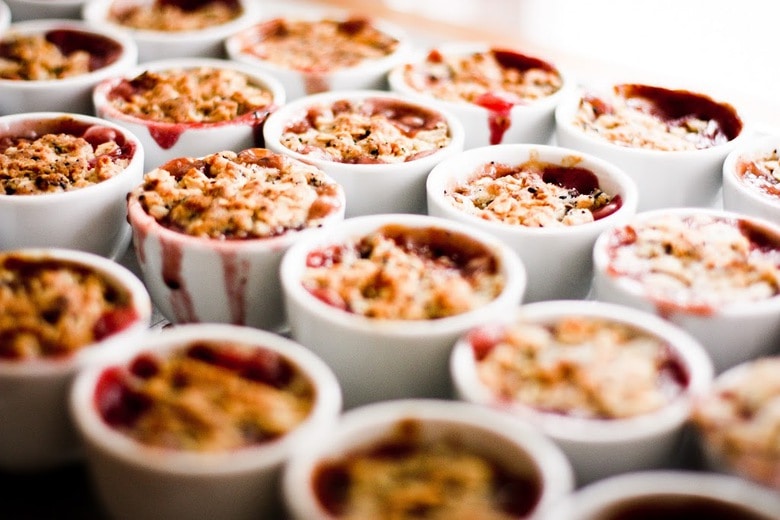 How to serve Mini Crumbles
Serve warm with a dollop of whip cream or vanilla ice cream. Or serve at room temp.
Can these be made ahead?
Make these up to a couple days ahead, store in the fridge,  and bake before serving.  Or you could also bake ahead and reheat.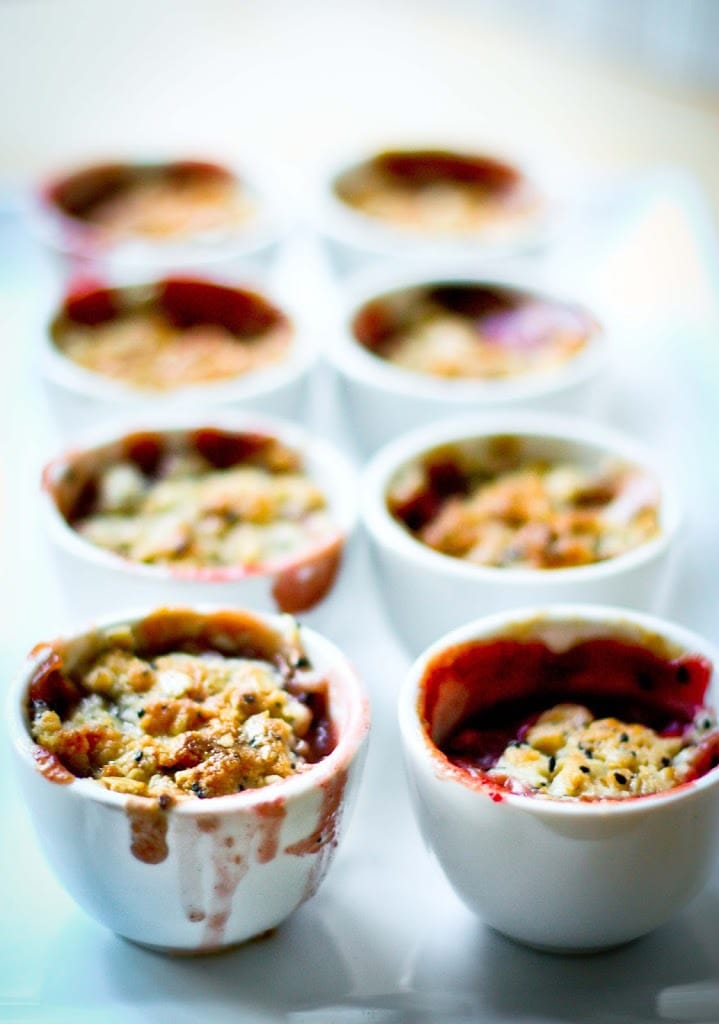 Enjoy the Mini Crumbles and let us know what you think in the comments below.
You may also like
Print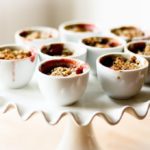 Mini Pear and Berry Crumbles
Author:

Sylvia Fountaine

Prep Time:

20

Cook Time:

45

Total Time:

1 hour 5 minutes

Yield:

1

2

1

x

Category:

Desserts

Method:

Baked

Cuisine:

Northwest
---
Description
Mini Crumbles with pears (or apples) and berries and crispy crumble top.
---
Fruit filling:
6

ripe pears (or apples) diced into 1/2-inch cubes

2

cups

berries (raspberries, blackberries, marion berries, blueberries) fresh or frozen.

1 tablespoon

lemon juice

2 tablespoons

flour

3 tablespoons

sugar

1/4 teaspoon

cardamon or cinnamon ( or pick another favorite spice instead)
Crumble Topping:
1

cup

flour

2/3

cup

oats

2/3

cup

sugar

1/2 teaspoon

salt

1/2

cup

soft butter or coconut oil

1

–

3

tablespoons seeds ( for example,

1 tablespoon

nigella,

1 tablespoon

sesame,

1 tablespoon

poppy seeds)
---
Instructions
Preheat oven to 400F
In a large bowl gently mix the pears and lemon juice, then add the rest of the filling ingredients  and taste. Add sugar if necessary. Some berries are more tart and require a little more sugar. For a nice twist you could substitute a red wine for the lemon juice. You could also add a little bit of zest (orange or lemon)
To make the topping,  mix topping ingredients together tin a medium bowl using a wooden spoon or your fingers.
Fill baking dishes with pear and berry filling leaving room  …about 3/4 inch at top for the topping.
spread a generous layer of the chilled topping about 1/2 inch thick. Lightly pat down sealing the top.
Bake at 400 for about 40-45 mins. Crust should be golden.. and filling bubbly. Let sit for 15 mins before serving. Serve with a dollop of whip cream or ice cream.
This should make 12 small portions.
---
Notes
Use oven-proof ramekins or little mason jars- always place them on a sheet pan in case they bubble over.
Can be prepped ahead, refrigerate for up to 3 days, then bake day of serving. Leftovers can be reheated.
Nutrition
Serving Size:
Calories:

242

Sugar:

22.2 g

Sodium:

98.8 mg

Fat:

10.2 g

Saturated Fat:

7.6 g

Carbohydrates:

36.4 g

Fiber:

3.7 g

Protein:

2 g

Cholesterol:

0 mg
Keywords: mini crumble recipe, mini crumble, mini apple crumble, mini cobbler, mini crisp, mini apple cobbler, mini pear cobbler, pear cobbler, berry cobbler, mini berry cobbler
SaveSave
SaveSave
SaveSave
SaveSave