Spicy Corn Fritters with jalapeno, coriander, lime zest and cheddar, served with a cooling Cilantro Cream – an easy delicious recipe that works as an appetizer or vegetarian main!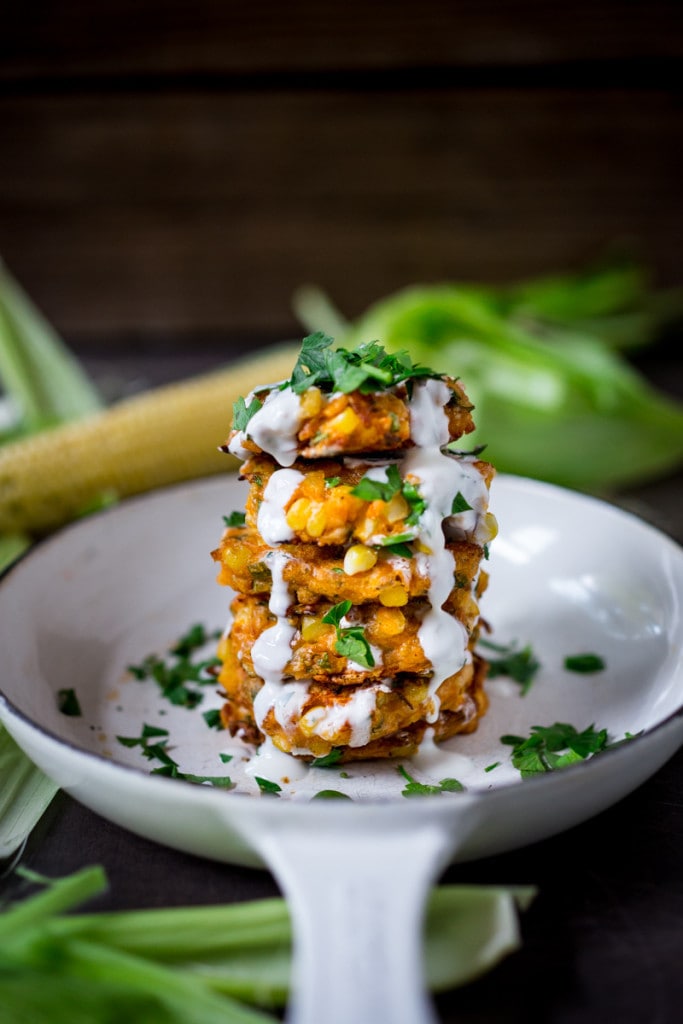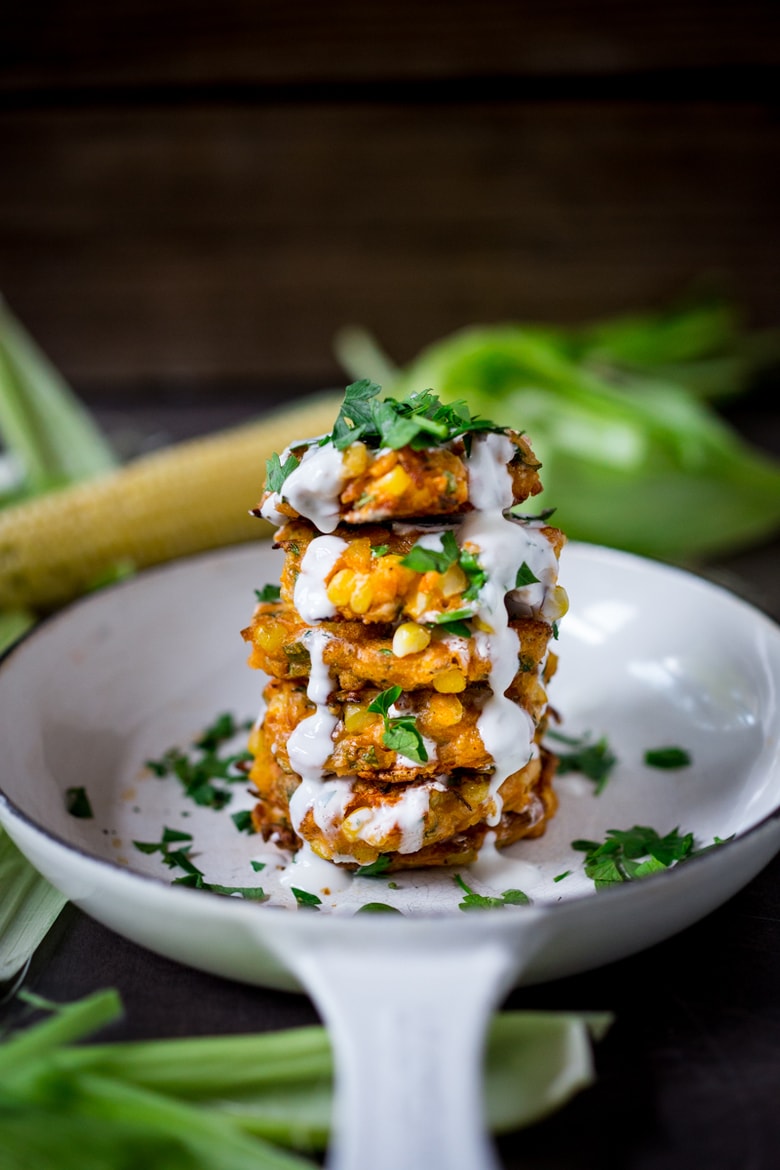 These Corn Fritters are easy to make and packed full of summertime flavor. Fresh corn cut right off the cob with jalapeño, bell pepper, scallions, lime and cilantro are combined with a light batter and pan-seared until golden and crispy. Make them spicy or keep them mild- up to you!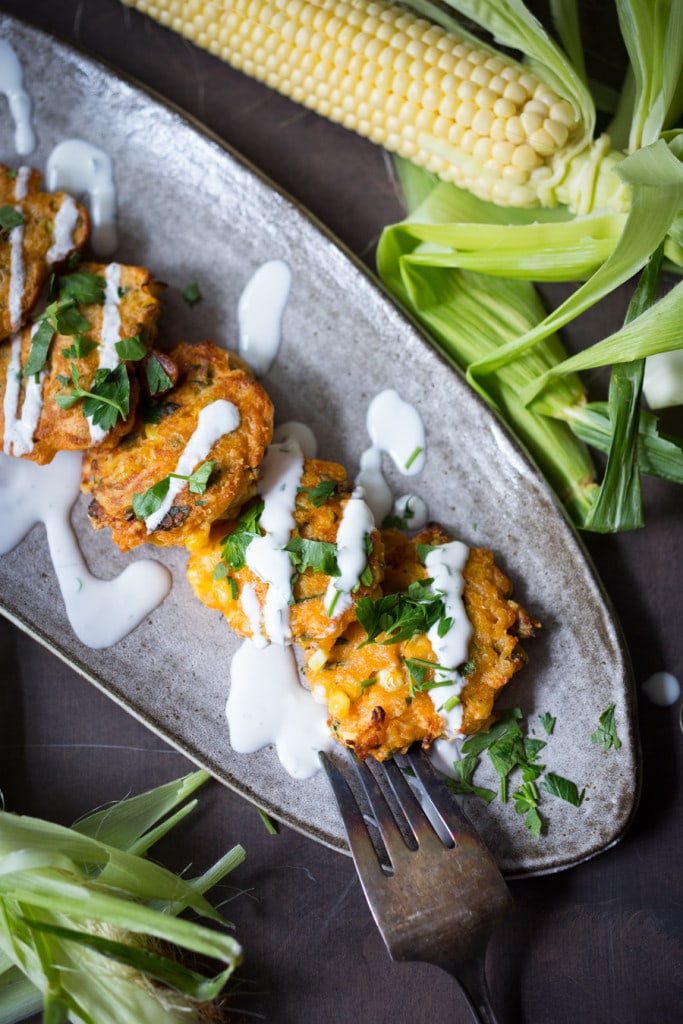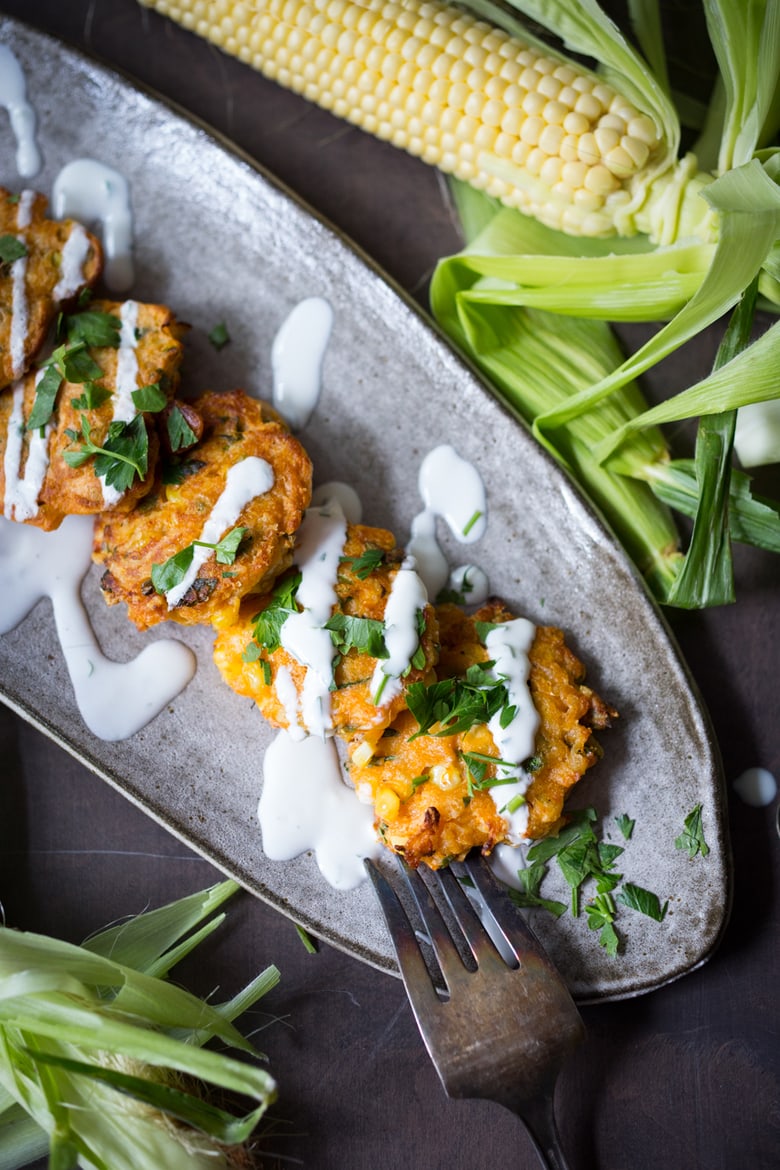 I like this version of corn fritters, because, unlike traditional corn fritters which are heavy on the batter and deep-fried, these are heavy on the veggies, and pan-seared, highlighting the sweet fresh corn.
Served with cooling cilantro cream, these are perfect as an appetizer, or as a light dinner alongside a hearty salad. They will satisfy.
They can be made in less than 30 minutes or made ahead and refrigerated….just heat them in a hot oven to crisp them up before serving.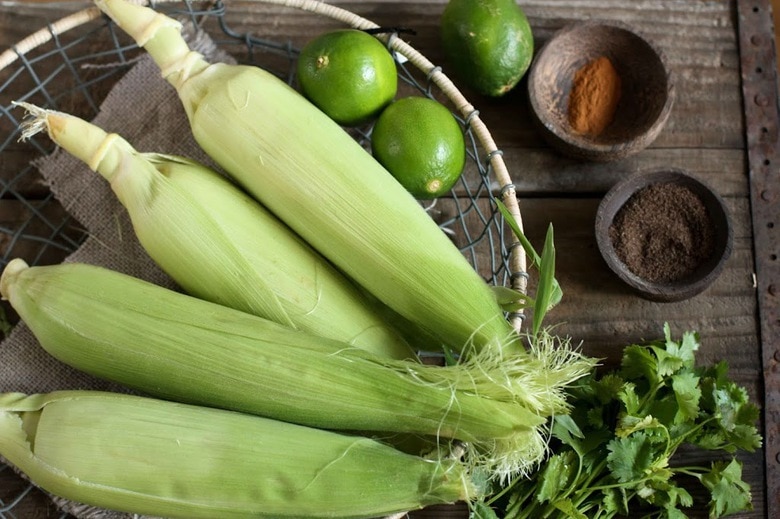 Fresh picked corn, right off the cob has a pleasant earthy sweetness. Juicy plump kernels accentuate the fritters, giving them the perfect texture, and for this reason, I never make these using canned or frozen corn- it just wouldn't do them justice. This is a recipe to save for when fresh corn is in season and readily available.
How to choose the best corn on the cob
Picking out good corn requires a little effort at the market. Husks should be green and feel moist. You can actually feel the kernels through the husk to check for uniformity and plumpness, but if you are not sure, pull back the husks and examine them before buying. This will save you from ending up with corn that is mildewy or shriveled, clearly past its prime.
If the husk looks as if it has already been pulled back, chances are, someone already checked it and ruled it out. Set it aside and dig a little deeper in the pile.  Kernels should be plump and juicy and somewhat uniform and should not have any discolored or slimy spots.
After 24 hours of being picked, the natural sugars in corn start to turn into starch and they begin to lose their sweetness. So if possible, make an effort to buy the freshest corn available.
If you happen to find some really fresh corn, this grilled corn recipe, is another one of my favorites.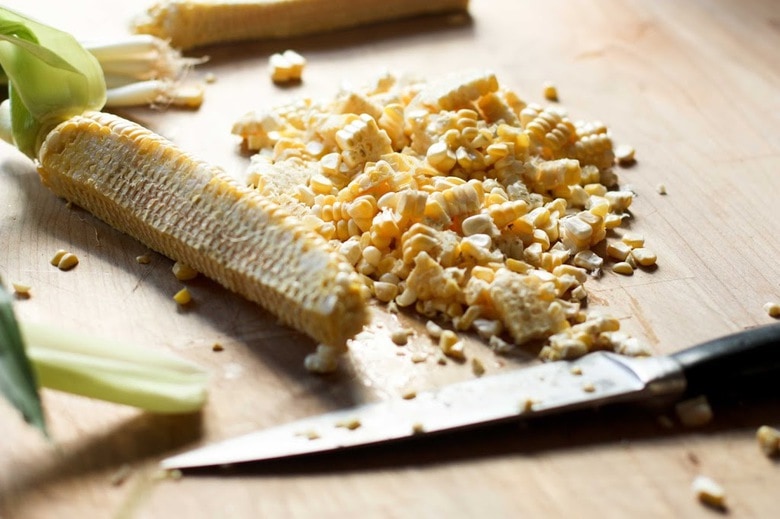 When frying the corn fritters, make sure to use a heavy bottom skillet for even, consistent heat. For me this means, using my trusty old,
cast iron skillet
.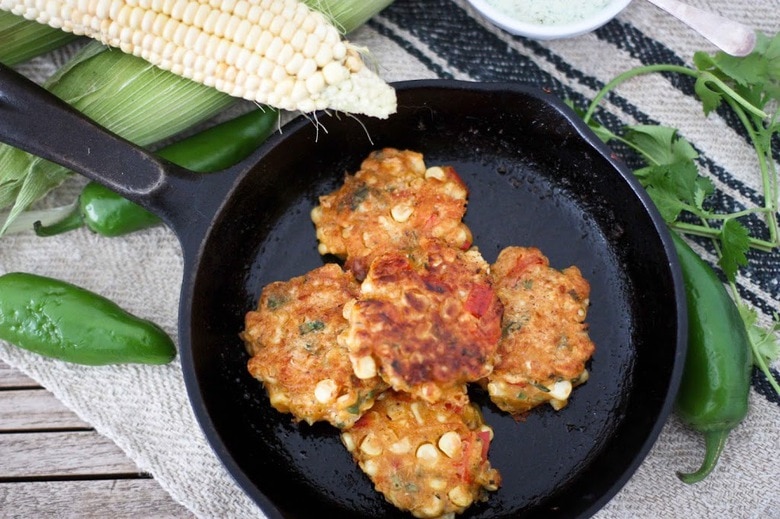 Fry until golden, then continue cooking through in a 350F oven until they puff up!
Make the cooling
Cilantro Cream
 – whipping it up in your
food processor
in seconds.
A tip:
When making sauces or condiments using cilantro, don't waste the stems. They too have great flavor. I will cut off the bottom inch or two of the whole bunch and then include the rest of the stems when making a sauce that is blended. It adds another level of flavor.  For another tasty cilantro sauce, try this
cilantro chimichurri

.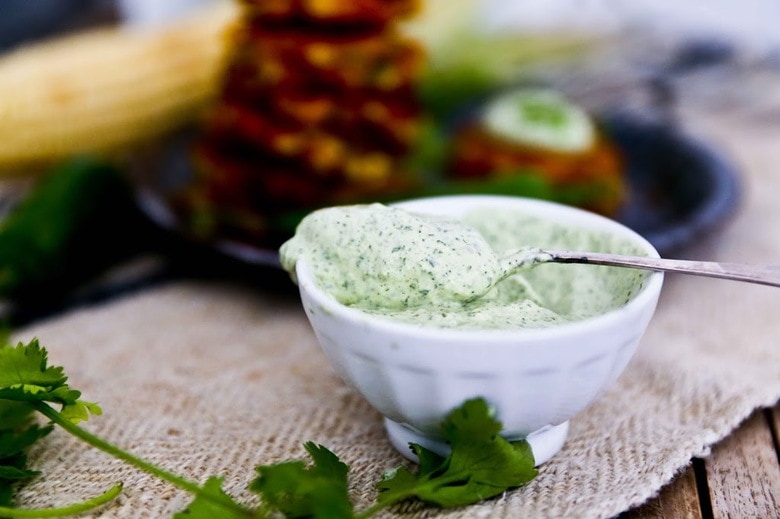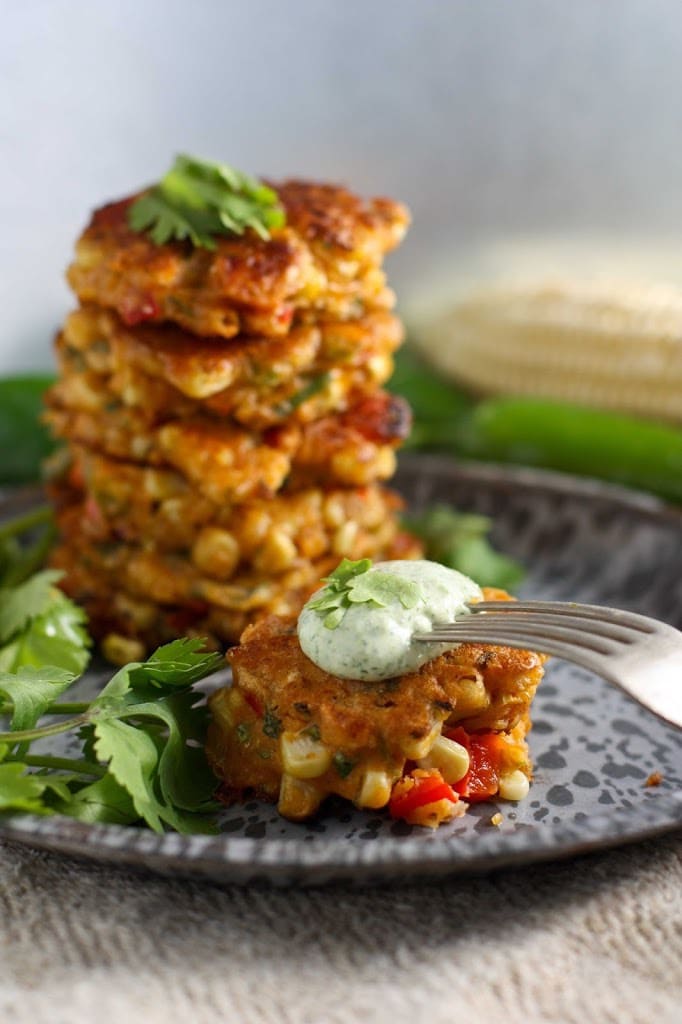 Serve the Corn Fritters as a tasty appetizer, plattering them up with the Creamy Cilantro sauce.
Or serve as a tasty vegetarian main course with a hearty green salad. These would be great served with Cilantro rice and
Mexican Pinto Beans
, a tasty vegetarian Mexican Feast!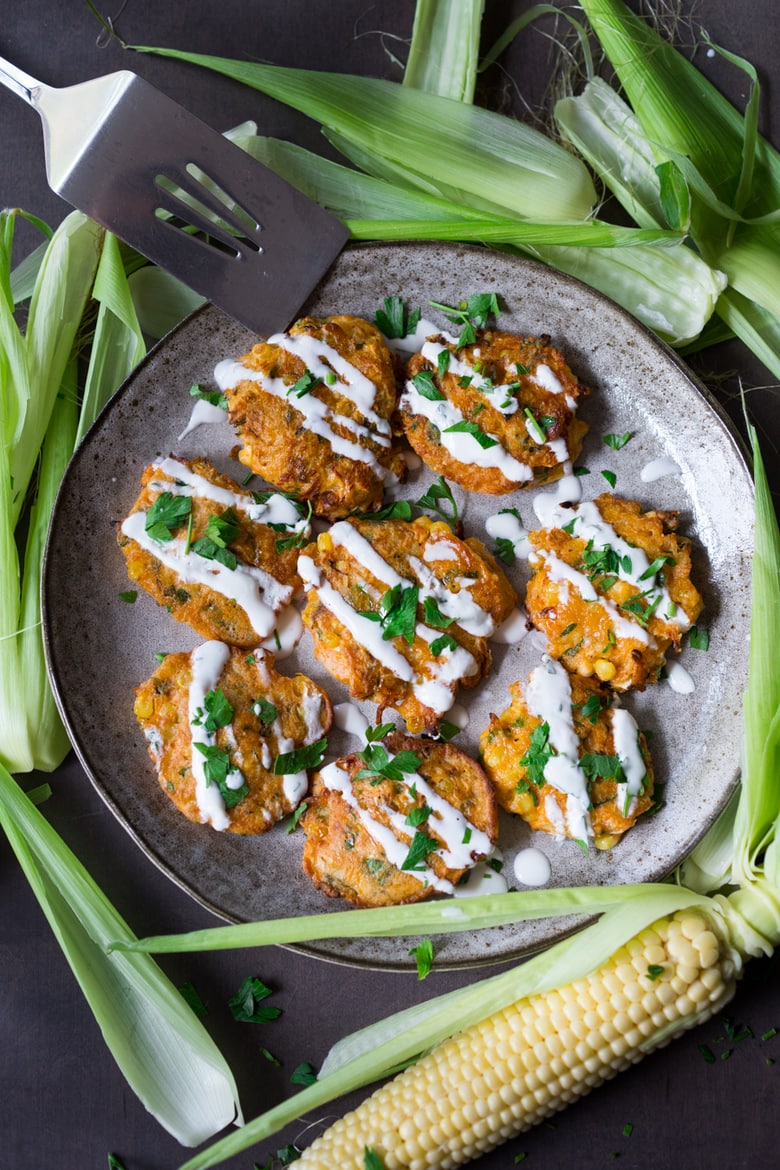 Spicy Corn Fritters with Cilantro Cream – an easy delicious recipe that works as an appetizer or vegetarian main!
xo
More recipes you may like:
Fregola with Corn, Zucchini &  Basil
Coconut Corn Chowder with Leeks
Mexican Street Corn ( Elotes!)
Grilled Corn with Chipotle Lime Butter
Print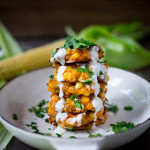 Spicy Corn Fritters with Cilantro Cream
Prep Time:

15 mins

Cook Time:

10 mins

Total Time:

25 mins

Yield:

12

fritters

1

x

Category:

Appetizer, vegetarian main

Method:

stove top

Cuisine:

Northwest
---
Description
Spicy Corn Fritters with Cilantro Cream – an easy delicious recipe that works as an appetizer or vegetarian main! www.feastingathome.com
---
Fritters:
1

cup

flour (or use gluten-free flour blend, like Bob's Red Mill)

1 tsp

baking powder

1 tsp

kosher salt

1 tsp

smoked paprika

1 tsp

sugar

1 tablespoon

coriander ( toasted, ground whole seeds are nice here too)

2

beaten eggs

2/3

cup

whole milk, nut milk or half and half

2 tablespoons

lime juice, and zest of one lime

3

cups

fresh cut corn kernels (2 1/2 – 3 ears) Or use frozen, thawed.

1/2

cup

diced red bell pepper

4

scallions chopped

1/4

cup

chopped packed cilantro

1/4

cup

shredded cheddar cheese (or sub other melty cheese)

1

–

2

tablespoons finely minced jalapeno ( remove seeds, about

1/2

jalapeno)
Cilantro Cream:
---
Instructions
Preheat oven to 350F
Make FRITTER BATTER: In a large bowl, combine first 6 dry ingredients, mix well. In a smaller bowl whisk milk, eggs, zest and lime juice. Whisk wet into dry and making a batter.  It is OK if there are tiny clumps, but work the big ones out with the whisk. Fold in the remainder of the ingredients; corn, bell pepper, jalapeño, cilantro, scallions, cheddar. It should be a relatively thick batter- mounding on a spoon, so feel free to add a little more flour to get consistency right.
Cook Fritters: Heat a large heavy-bottomed skillet ( I use a cast iron skillet) with a generous amount of oil, mixed with a little butter (optional) on medium-high heat. Wait until the oil is hot, and turn the heat down to medium. Place rounded spoonfuls of fritter batter (2 inch round fritters) carefully into skillet and cook for about 3 minutes on each side until crispy and beautifully golden. Add more oil if necessary. Cook in batches, moving fritters to a sheet pan and transferring to a warm 350 F oven. Don't worry if they are still a touch doughy in the middle, they will continue to cook in the oven. Bake until puffed, about 10-15  minutes.
Make Cilantro Cream: In a food processor, pulse cilantro cream ingredients until blend until smooth. Serve on the side.
Garnish with cilantro, lime and your favorite Hot sauce.
---
---
Nutrition
Serving Size:

2 fritters

Calories:

275
Keywords: corn fritters, best corn fritters, corn cakes, corn fritter recipe, corn fritters recipe, corn cakes recipe