This post may contain affiliate links. For more information, please see our privacy policy.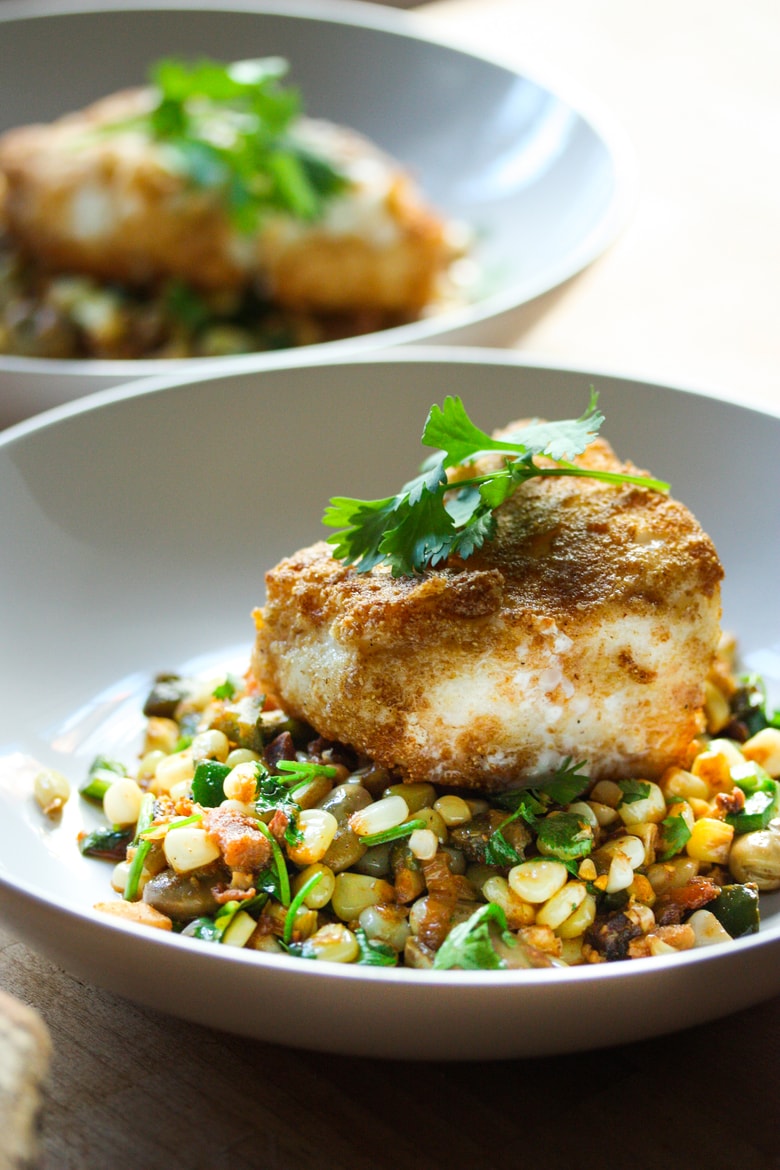 Strolling through the farmer's market this beautiful Saturday morning, I stumbled upon these vibrant fresh fava beans. And this is how this recipe for Cornmeal Crusted Halibut with Summer Succotash came to be. If unfamiliar with fresh fava beans, this is a very easy way to introduce them into your dinner- adding them into a fresh summer succotash. Top the succotash with a piece of crispy,
Coriander
and Cornmeal – crusted  fish ( or tofu filet)  and you have a very satisfying meal.
Fava beans were first introduced to me early on, but in the dried form. Growing up, my Egyptian dad, would often make a dish called Ful Medames. This is a traditional Egyptian breakfast and Egypt's version of street food, sold everywhere and cheaply on the streets of Cairo. It is tasty, filling, full of protein and most importantly, affordable.  It consists of a bowl of slow cooked fava beans, seasoned with garlic, onion, cumin and coriander. My dad would fill the crock pot at night with dried fava beans and spices and it would simmer all night long until morning when the beans were fragrant and tender. Served in bowls and drizzled with olive oil, a squeeze of  lemon, chopped parsley and fresh diced tomatoes, scooped up with toasty pita bread, it was strangely comforting and delicious.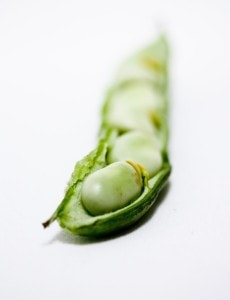 It wasn't until I was older that I saw fresh fava beans still in the pod. After shelling one, I was so surprised by their beautiful pale creamy green color.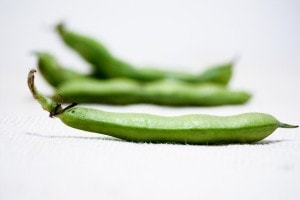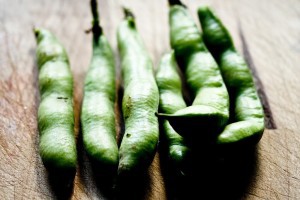 Dried fava beans are brown. It's really hard to imagine that they start off being so vibrant and green.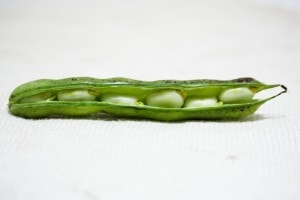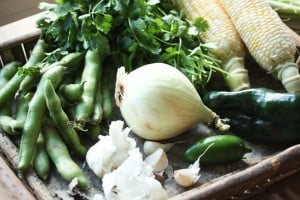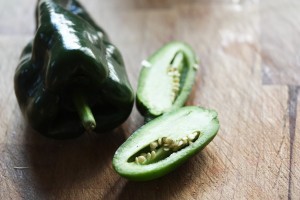 Shelling a fava bean is very much like shelling a pea pod. You just tug on little string and pull it down and the pod opens up easily.  Inside there are four to five plump creamy green colored beans. It really doesn't take long to shell them from their pods.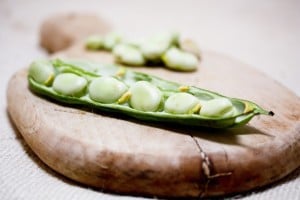 Their "second skin" however is a different story.  Their are many people who are proponents of removing this outer tough skin. To me, it is not that important. I don't really mind the chewy skin, but it may be off-putting to some. In any case, it is not hard to remove the skin, just a little time consuming.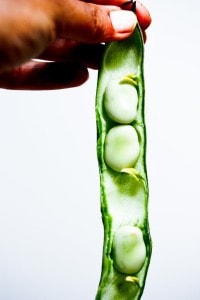 The outer skin of the fava bean is best removed through a quick one minute blanch in boiling salted water.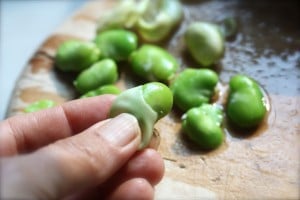 Shock in cold water, and pinch one end of the bean, popping the inner brightly colored bean out.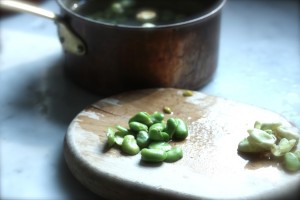 Now I have to admit, for this recipe, I did not remove the second skin. This is up to you. To soften the skin a bit, I sautéd them for a few minutes with the onion and garlic and added a generous splash of veggie stock and simmered on low for 7 minutes. Then I added the rest of the ingredients. They are toothsome, but I don't mind this.
Fresh corn, is sweet and delicious in this recipe.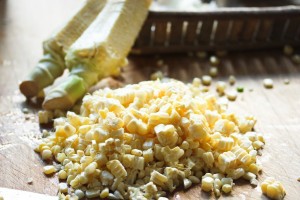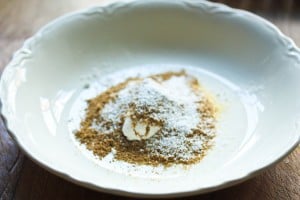 The coating for the fish ( or tofu)  is a mix of flour, coriander, salt and pepper and a little corn meal for a good crunchy texture.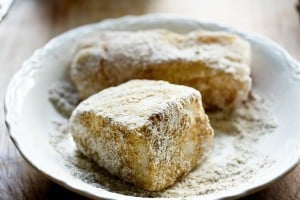 For our dinner, I chose seabass for myself, and halibut for Brian. Brian is not a fan of super oily fishes like sea bass, and the halibut was a great substitution for him. He did however eventually venture over to my plate and try the sea bass, and to my surprise, liked it too. I must say the coriander Tofu is really delicious too!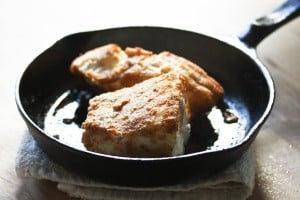 In a hot skillet, with a mix of canola oil and olive oil, brown the coated fish on all sides. If they are a particularly thick cut like these, place in a warm oven for a few minutes until your desired doneness.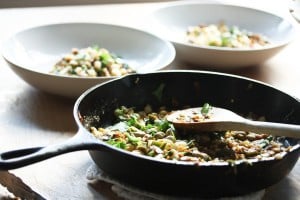 The onions, garlic, fava beans, peppers and corn were sauteed until tender. Once seasoned, toss in a little chopped cilantro and squeeze of citrus right before serving. Place some succotash on the bottom of your bowls or plates.
Top with your fish or tofu and garnish with lime and a few cilantro sprigs. I actually really like this dish with the coriander tofu. It has good flavor and good texture.
I chose fresh cilantro for this because again, it's what I had on hand. And cilantro, being the green herb that actually grows from
coriander seeds
, in my mind, pairs so well with
coriander seeds
. But other herbs would work well too.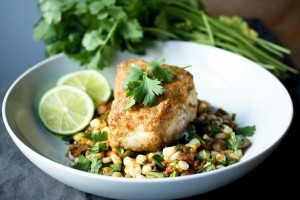 There you have it… Cornmeal Crusted Fish with Summer Succotash, a healthy delicious meal, perfect for summer!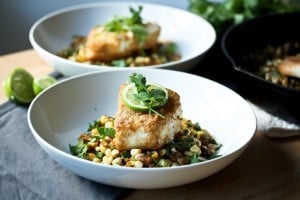 Print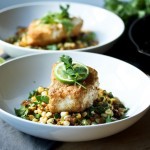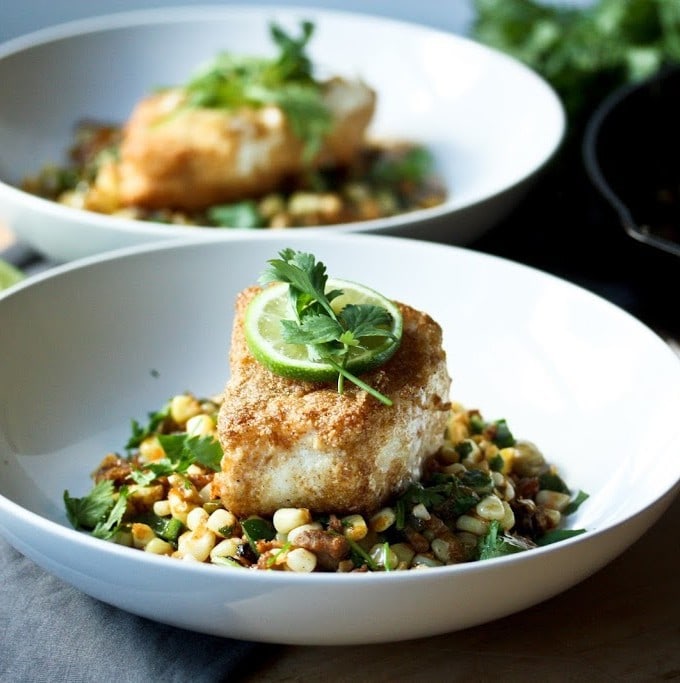 Cornmeal Crusted Fish with Summer Succotash
Prep Time:

25 mins

Cook Time:

25 mins

Total Time:

50 mins

Yield:

2

1

x

Category:

Main

Cuisine:

Northwest
---
Description
A Delicious recipe for Cornmeal and Coriander Crusted Fish ( halibut, sea bass, black cod) OR Tofu with a Fava bean and Corn Succotash, with cilantro and lime.
---
2

x 6 ounce Halibut Filets ( or seabass, black cod, or tofu filets)

1 tablespoon

flour

1 tablespoon

cornmeal

1 tablespoon

coriander

¼ teaspoon

, plus extra pinch of salt

¼ teaspoon

smoked paprika – optional
Summer Succotash:

2 Tablespoons

olive oil

½ cup

onions- diced

10

–

12

fava bean pods, shelled

1

poblano, pasilla or bell pepper, diced

3

garlic cloves- minced

½

a jalapeno- finely diced ( optional)

2

ears of corn, shucked, kernels cut off

½ cup

chicken broth or stock

1

lime- juice

1 tablespoon

cumin

1 teaspoon

coriander

2

large pinches kosher salt
Pinch cayenne, or chipotle powder– optional

2 tablespoons

or more, fresh cilantro
Optional additions- bacon crumbles, butter, other veggies like zucchini, red bell pepper,
---
Instructions
Preheat oven to 350F
Mix flour, cornmeal, salt and spices together in a wide shallow bowl, big enough for dredging the fish or tofu.
To make fish ( or tofu) heat oil in a skillet, over medium high heat. Dredge fish or tofu in the Cornmeal mixture and place in the hot skillet, searing until golden brown, about 3 minutes. Turn over, turn heat down to medium. Cook 2-3 more minutes, and place in a warm oven, until cooked to your desired "done-ness".
Make the succotash – In a large skillet, heat oil over medium high heat. Add onions, and sauté for 2-3 minutes. Turn heat down to medium, add fava beans and poblano pepper and and cook for 5 minutes, stirring occasionally, lowering heat if necessary.
Add garlic, jalapeño, fresh corn and salt and spices and cook 2-3 minutes. Add broth, and simmer until reduced. For extra richness, you could add bacon crumbles or a dollop of butter.
Squeeze a half of a small lime, and fold in the cilantro .
Taste and adjust salt and lime. Turn heat off.
Divide among bowls and place the fish or tofu over top, garnishing with fresh lime and cilantro
---
SaveSave
SaveSave