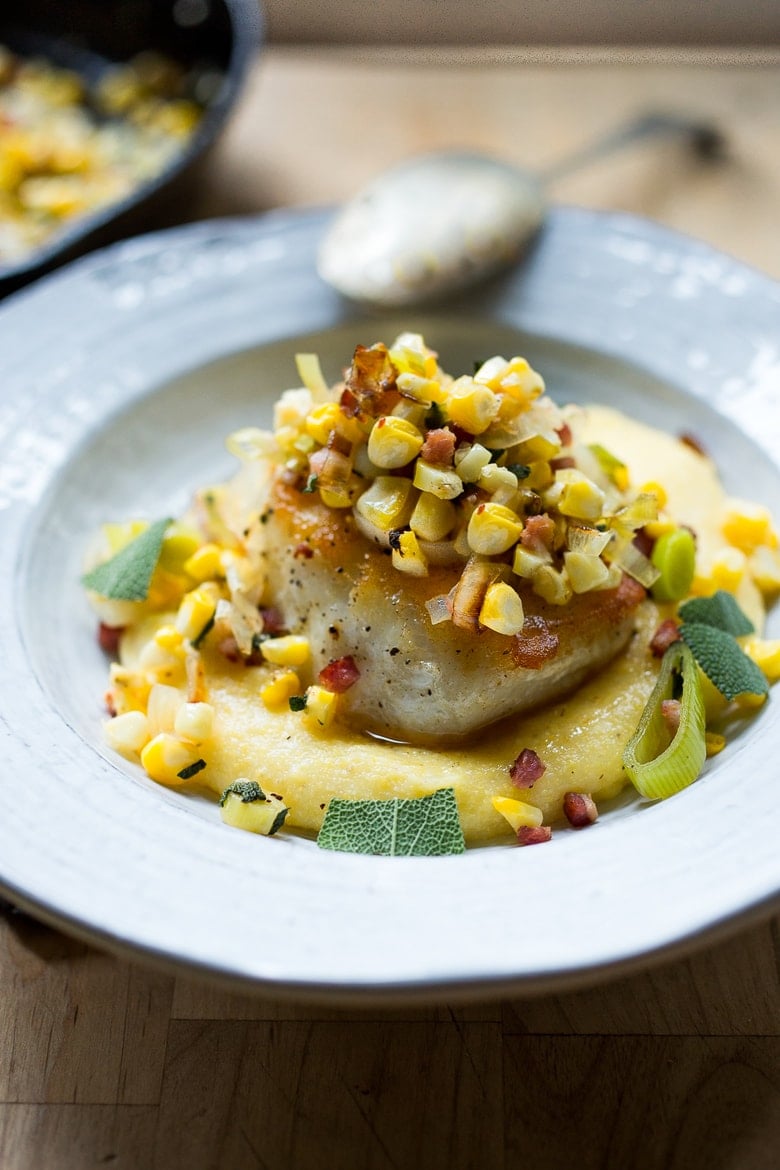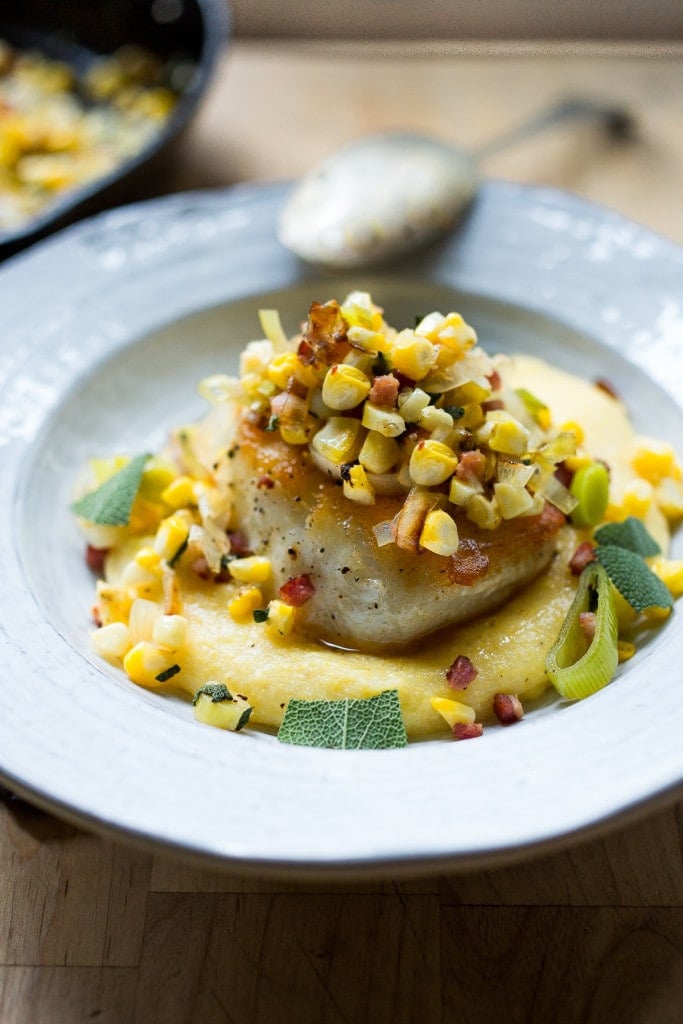 As summer slowly shifts into fall, we are finally able to take a deep breath – another wedding season nearing its end. For weeks, our dining room table has been overrun with backpacking gear which Brian thoughtfully sorts and sifts through –adding, subtracting, before packing it up for his annual trip to the woods. The week apart does us good, allowing us time to recover from the stress of our work and being together perhaps, a little too much.
For the first few days, we both feel this incredible liberation, this freedom of having no one to check in with, or account for our time. But as the first few quiet glorious days pass, I begin to notice how all the little things that seem to "magically" get done around here, strangely don't, while he's gone. And after a few more days, the silence I've yearned for, becomes too quiet, and my thoughts return to him more and more as I begin to feel his absence. Our annoyances with each other gradually fade in to the background, and once more I see him with clearer eyes and a heart that's been softened. I start to appreciate how different we are… and how absolutely necessary this is.
By day six, I'll miss him desperately. And it's this feeling of missing, that over the years I've come to love and trust, for it comes straight from the heart -undeniable, real.
With the cooling fall weather, we find ourselves gravitating more towards homey and comforting meals -and this was one of my parting meals to Brian before his weeklong stint of dehydrated camp food. A simple recipe for Seared Halibut, served over a quick "lightened-up" creamy polenta, topped with sautéed corn, leeks, pancetta (optional) and earthy sage. Comforting, while remaining relatively light. If you are a multi-tasker, this can be made in under 30 minutes. No, it's not a one-pot meal, rather a three-pan-meal, but all three can cook at the same time, making it come together relatively easy and quickly. The flavors compliment each other really well, bridging the gap between summer and fall. You'll be surprised at how decadent the meal feels, with such a short investment of time.
To lighten up the creamy polenta, use a few tablespoons of sour cream instead of cheese. The slightly tangy flavor of the sour cream brings the whole dish together. Give it a try and see what you think. Often I'll use sea bass, scallops, black cod or prawns if I can't get my hands on halibut, and all are good substitutes. You can use mushrooms instead of pancetta and a sweet onion instead of the leeks. The fresh corn and fresh sage are both "musts" though, so don't leave those out.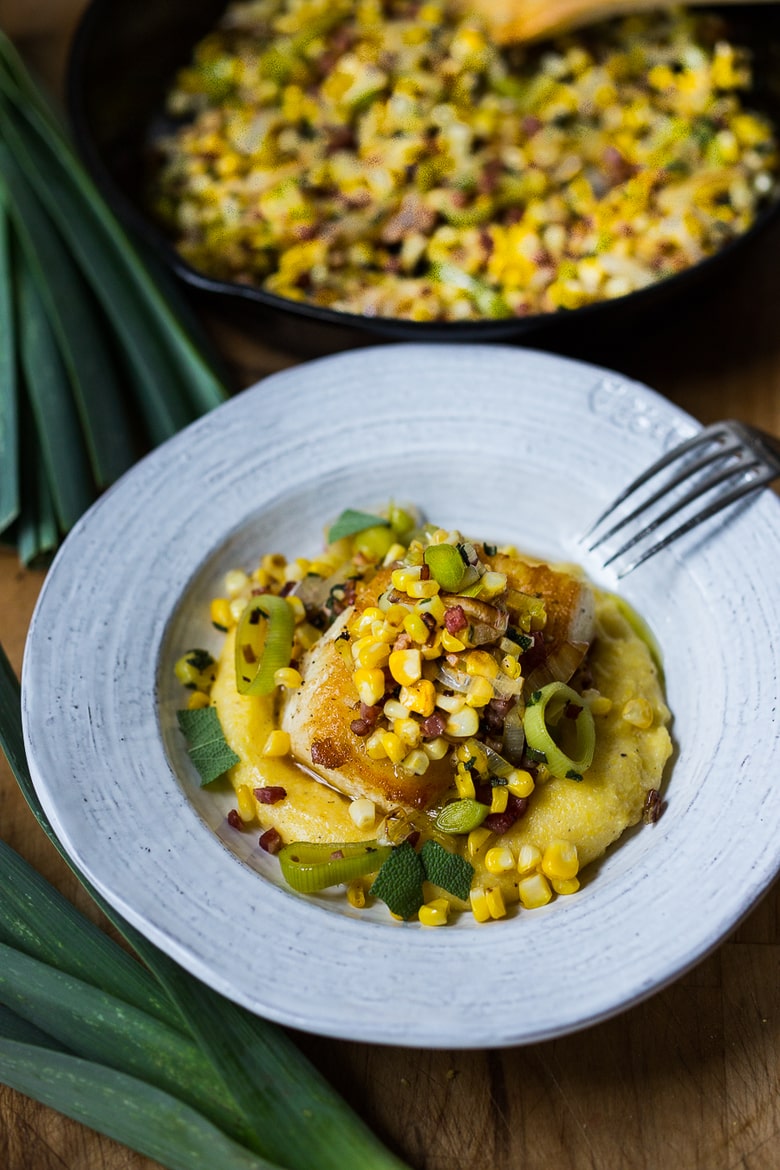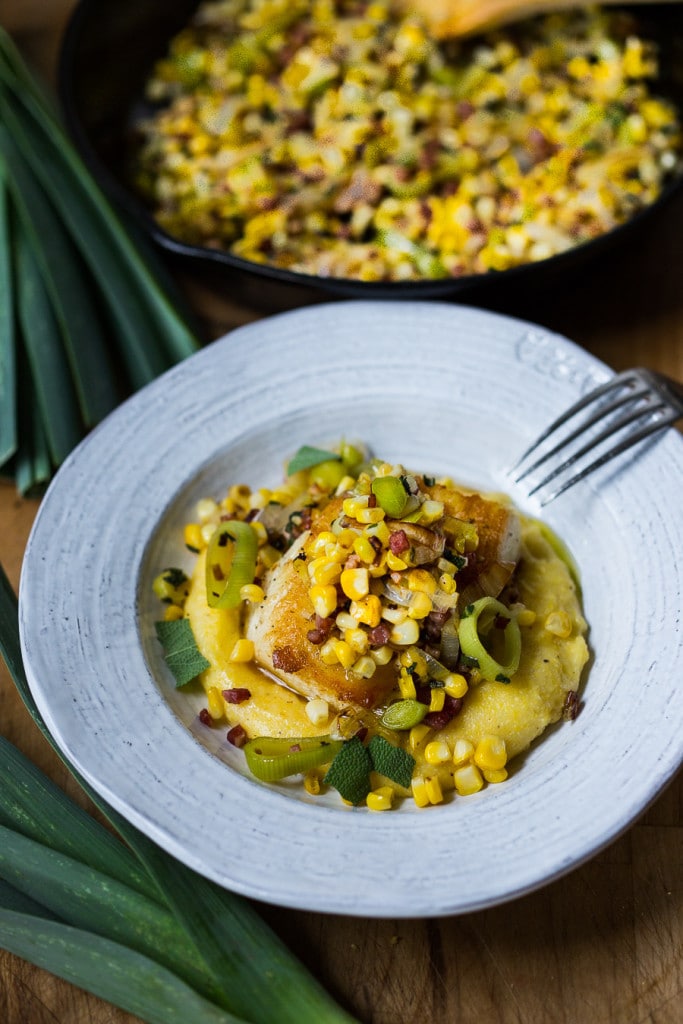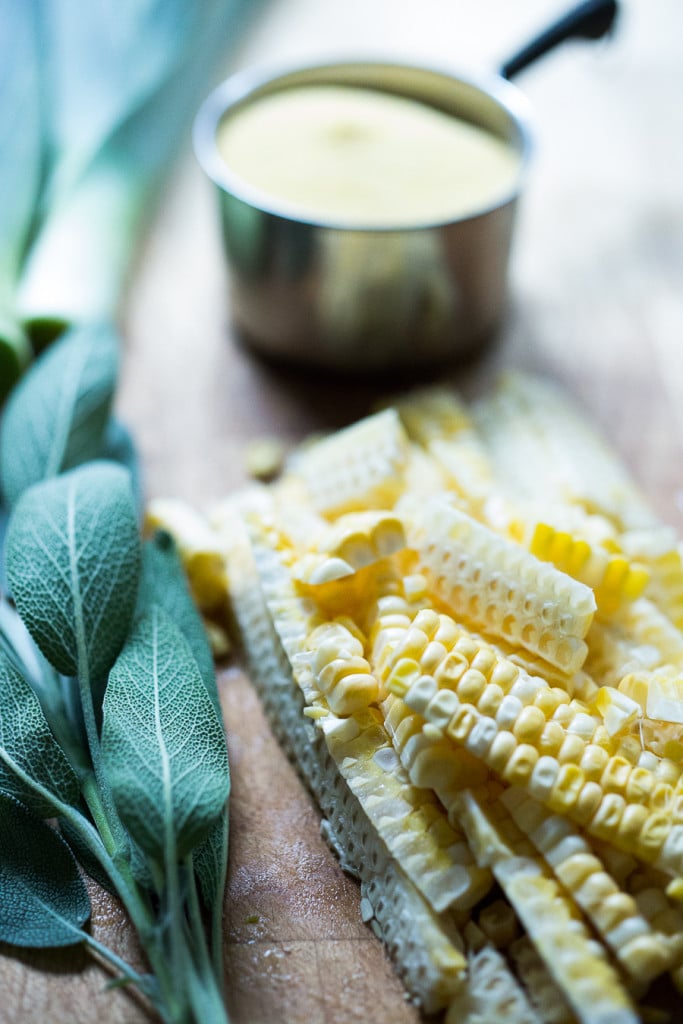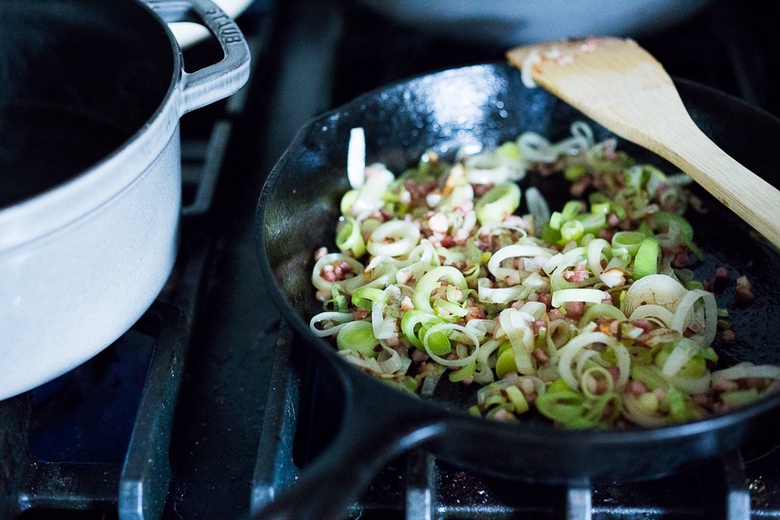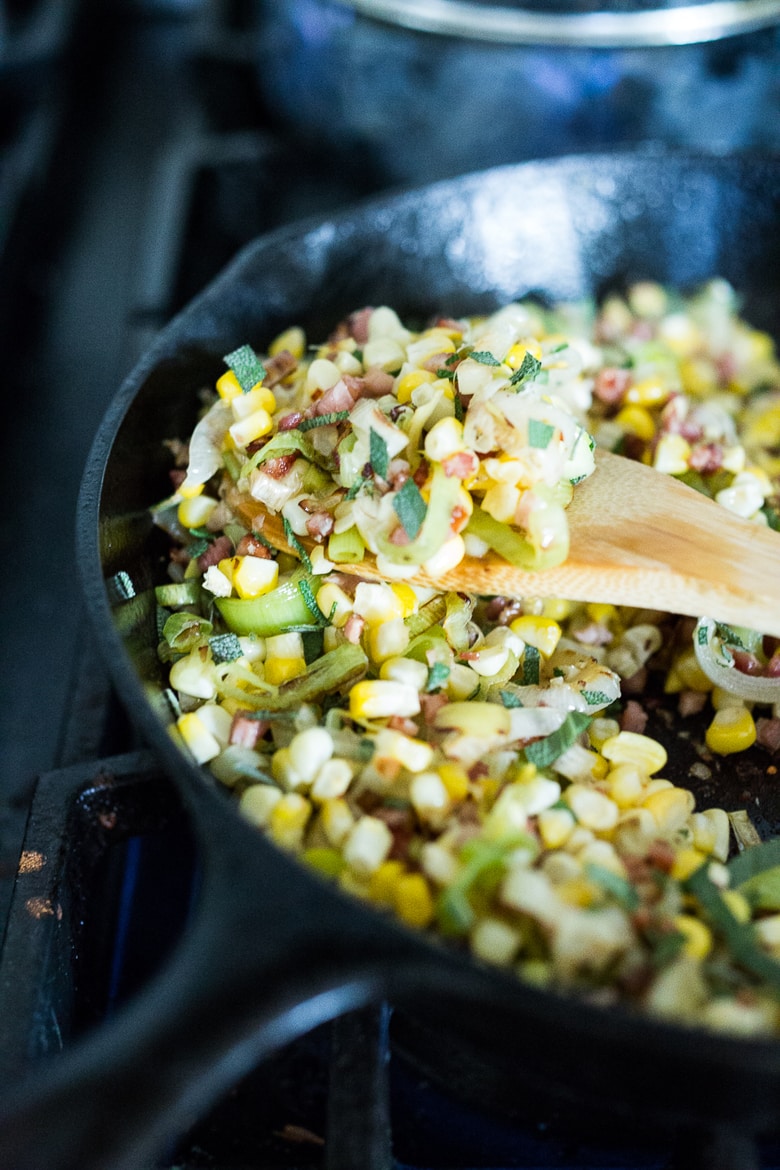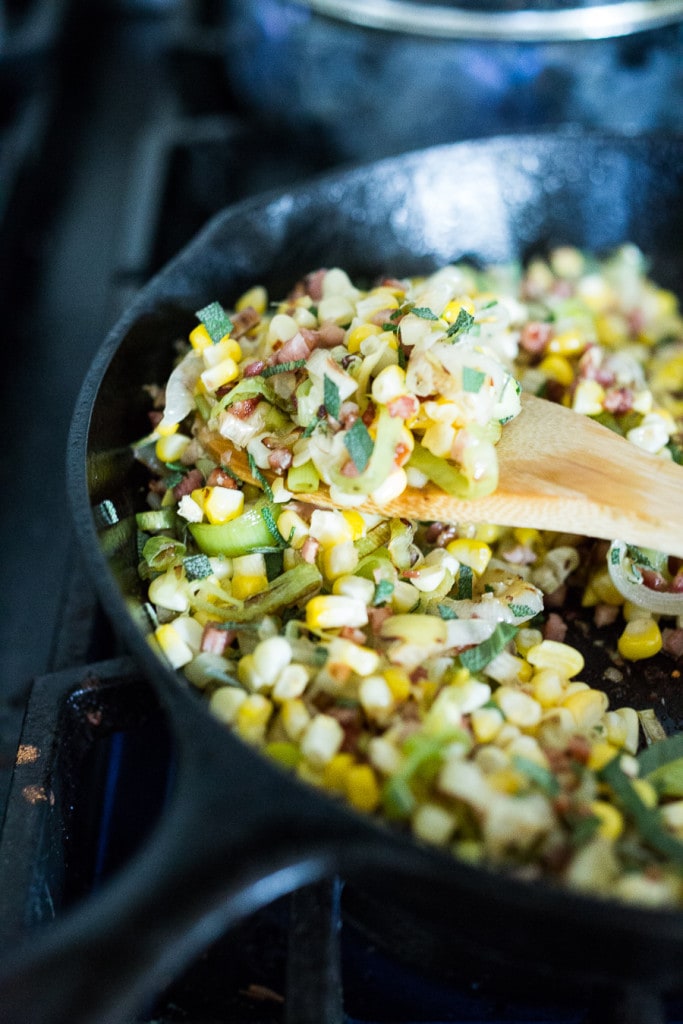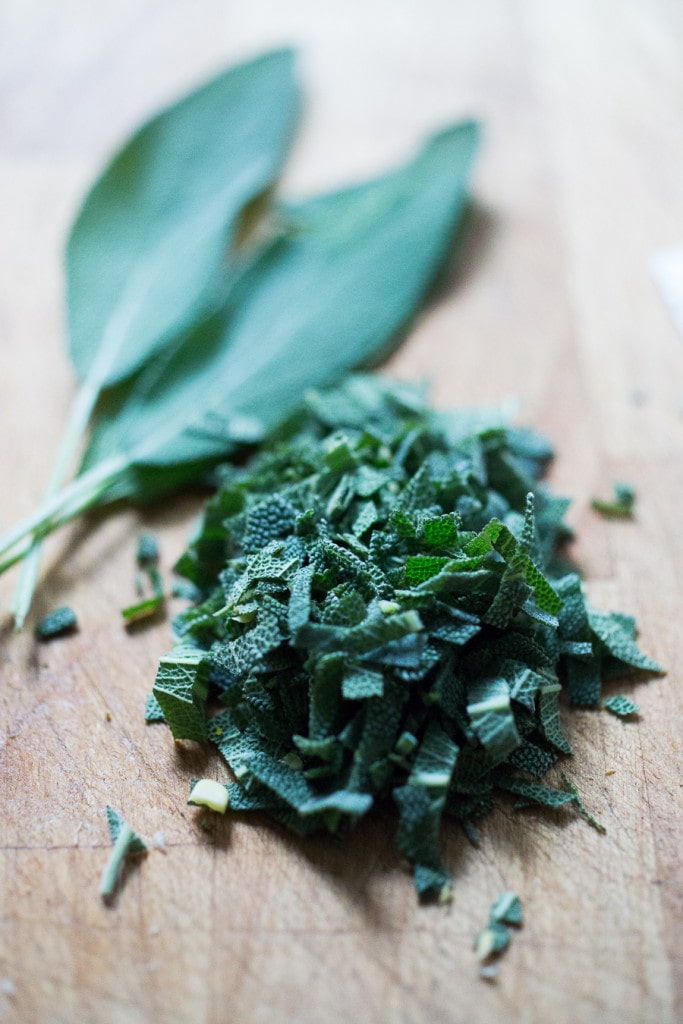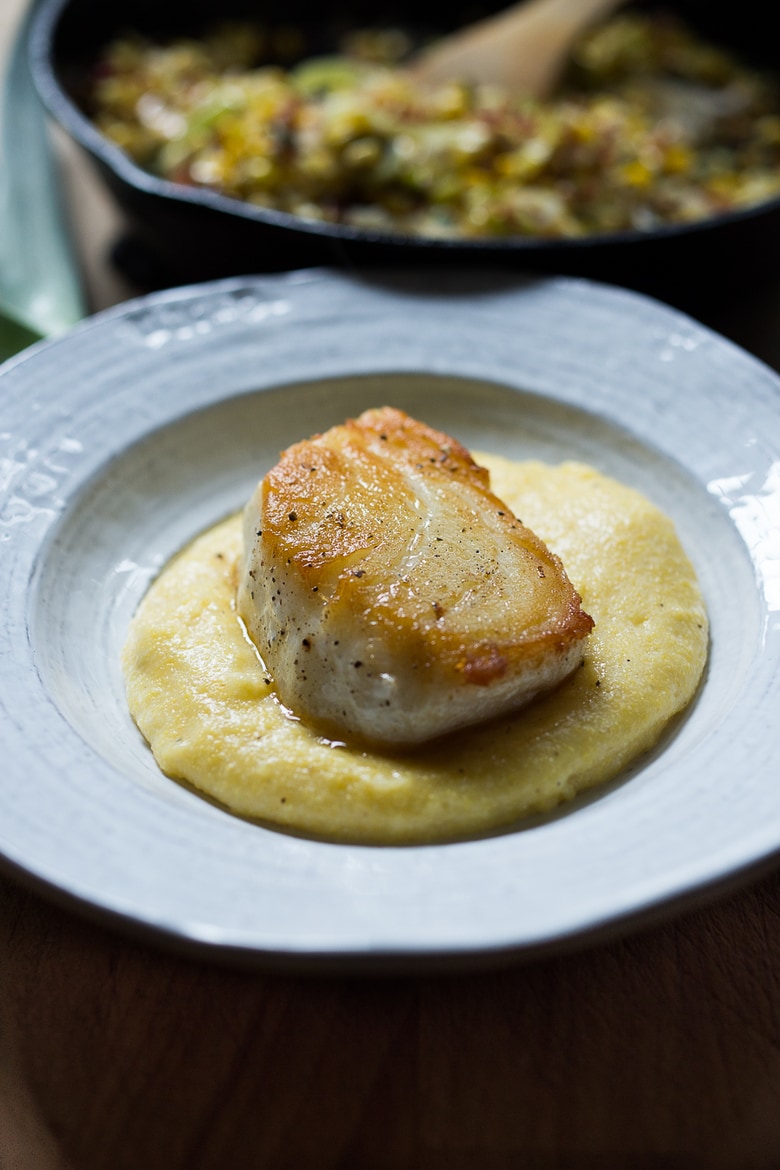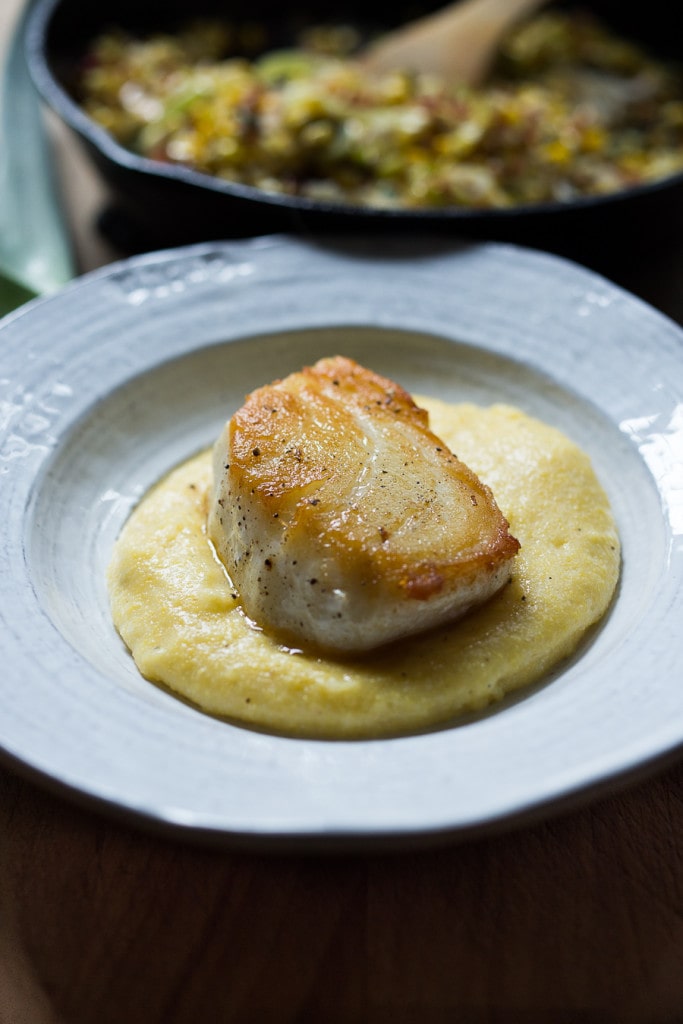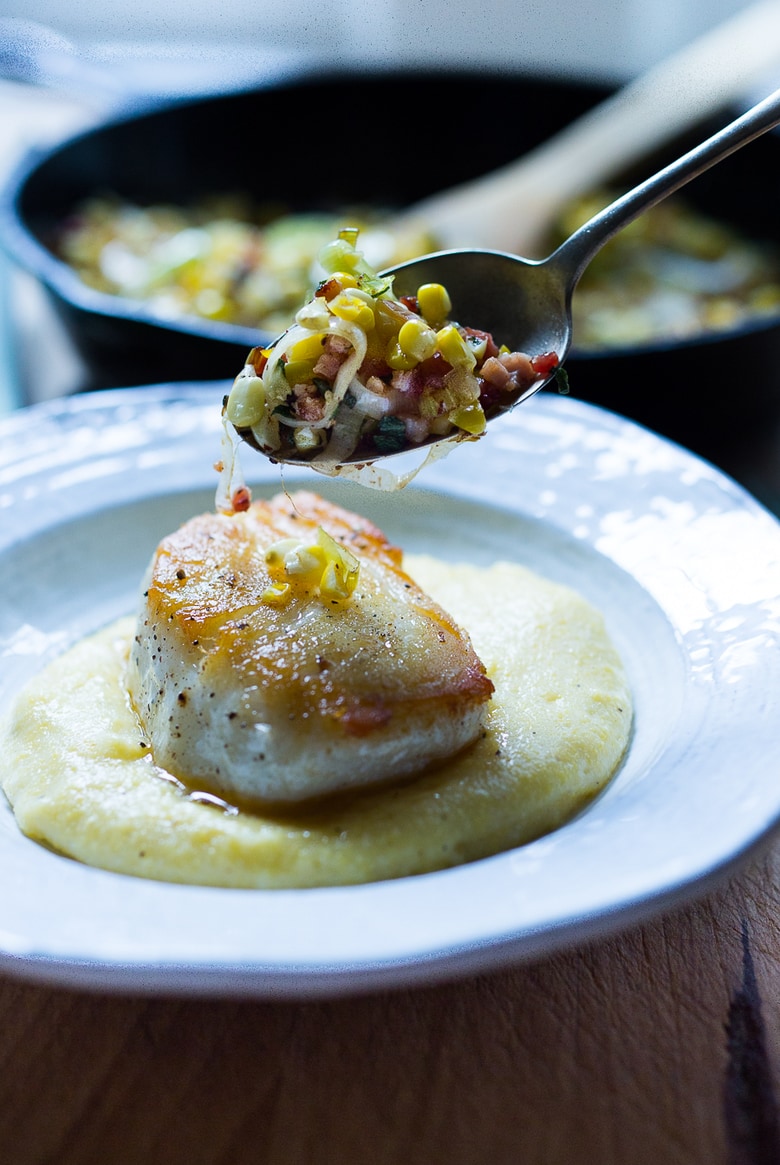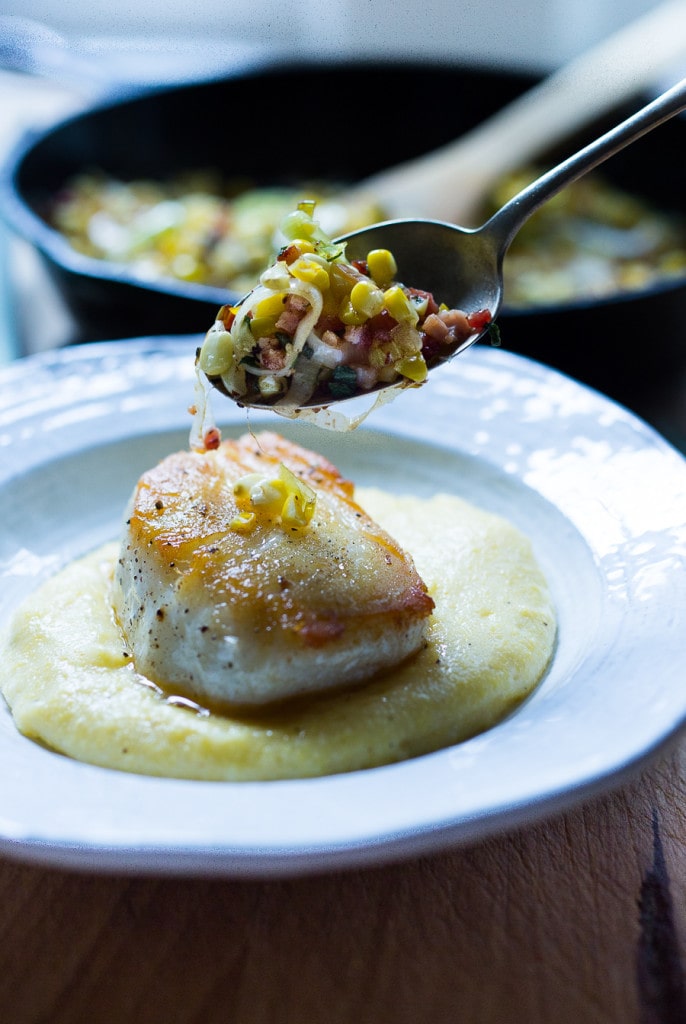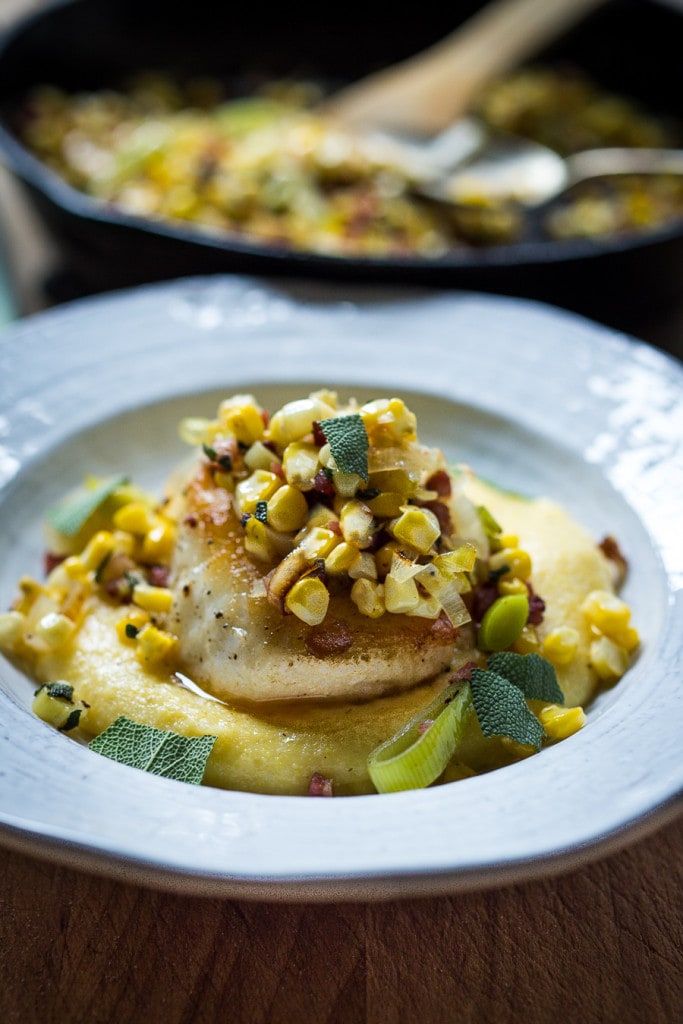 Print Halibut with Corn, Leek, Sage and Polenta
Prep Time:

10 mins

Cook Time:

20 mins

Total Time:

30 mins

Yield:

4

Category:

Dinner

Cuisine:

Northwest
---
Description
A delicious recipe for seared Halibut with fresh corn, leek and pancetta over quick creamy polenta.
---
Sauted Corn -Leek- Sage

2

medium leeks
Tablespoon butter ( or oil)

4 ounces

chopped pancetta (optional)

2

ears corn, shucked, kernels cut off the cob

¼

th teaspoon salt
fresh cracked pepper

⅛ cup

chopped fresh sage
Quick creamy polenta:

4 Cups

water

1

C cornmeal

1 ½ tsp

salt

1 teaspoon

granulated garlic

1 Tablespoon

Butter

4 Tablespoons

sour cream
Fish:

4

4-6 ounce pieces of halibut ( or sea basso black cod)
salt and pepper

1

T oil
---
Instructions
In a medium pot bring 4 cups water to a boil ( for the polenta).
Cut leeks (white and light green parts only) into ⅛ inch thin disks. You should have at least one cup or more. Heat butter in large skillet over medium high heat. Add leeks and pancetta, and stir for 2-3 minutes. Turn heat to medium and continue sauting until leeks become tender and pancetta begins to crisp, about 12 minutes. In the mean time, prep the corn and sage and add it to the mixture.
When the polenta water boils, turn heat to low, and whisk in 1 cup cornmeal ( polenta) until smooth. Add 1 ½ teaspoon salt, 1 teaspoon granulated garlic, and a few cracks pepper. Cover, and let cook on low 15-20 minutes. ( You will add butter and sour cream, at the end.)
In a heavy bottom skillet, heat 1 Tablespoon oil, over medium high. Pat fish dry on all sides and sprinkle with salt and pepper. When oil is hot, add fish, turn heat to medium and cook about 4 minutes, or until perfectly golden. Turn over and cook until done to your liking. Depending on how thick your fish is, cooking times will vary.
Right be fore serving the polenta, whisk in 1 tablespoon butter and ⅛ C plus 1 Tablespoon sour cream.
Divide polenta among 4 bowls. Top with seared fish. Spoon corn leek mixture over and around fish.
Enjoy!
---