Cozy up with a bowl of Coconut Corn Chowder with leeks- a simple, comforting meal that can be made in under 30 minutes. Vegan and Gluten-free!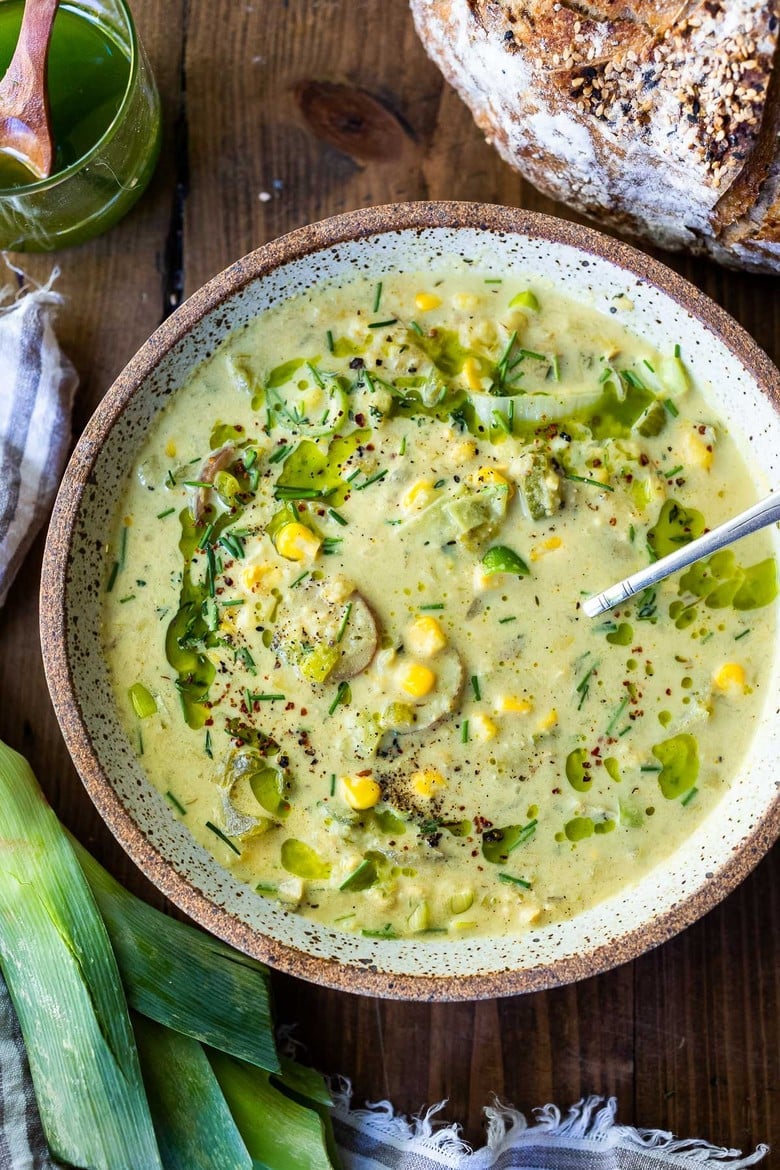 There is an opening in every perceived difficulty through which the majesty of the Divine seeps into our existence. No experience in life, however painful, is ever wasted.
This vegan Corn Chowder recipe is so warm and comforting, that you'll want to make it all winter long. It's made with melted leeks and coconut milk and if you are feeling fancy, you can drizzle it with the optional Leek Oil– made with the green tops of the leeks. Nothing is wasted.
It is a soothing, gentle soup, mildly seasoned, yet not lacking in flavor. If fresh sweet corn is available it gives a lovely boost of flavor. I found it very comforting this week as the nights cooled off here in our area. Serve it up with homemade bread or croutons and call it dinner. You won't be disappointed!
For more chowder recipes try Simple Salmon Chowder and Fresh Corn Chowder with Basil and White Fish.
Corn Chowder| 60-sec Video
Why You'll Love Corn Chowder!
Comforting and Warming: Corn Chowder is a cozy and comforting soup that will warm you up from the inside out. It's perfect for chilly days or when you're in need of some comfort food.
Simple and Quick: This recipe can be made in under 30 minutes, making it a great option for a weeknight dinner. It's a quick and easy meal that doesn't compromise on flavor.
Vegan and Gluten-Free: Whether you follow a vegan or gluten-free diet or simply enjoy plant-based meals, this Corn Chowder is suitable for you. It's packed with wholesome ingredients and doesn't contain any animal products or gluten.
Creamy and Flavorful: The combination of coconut milk and melted leeks creates a creamy and rich broth that's full of flavor. The corn adds a natural sweetness and the other seasonings like garlic and thyme enhance the overall taste of the soup.
Versatile and Customizable: While the recipe is delicious as is, you can easily customize it to suit your preferences. Feel free to add diced carrots, red bell pepper, or your favorite protein to make it even heartier and more nutritious.
Make-Ahead and Freezer Friendly: You can make a batch of Corn Chowder ahead of time and store it in the refrigerator for up to 3 days. It also freezes well, so you can enjoy it at a later time. Just thaw it overnight in the refrigerator before reheating.
Ingredient Notes
Leeks: Make sure to slice the leeks thinly and soak them in water to remove any dirt and sediment. Use the green tops of the leeks to make optional Leek Oil for drizzling over the chowder!
Celery: Adds a nice crunch and flavor to the chowder.
Garlic: Enhances the overall taste of the soup.
Thyme: Provides an earthy and herby aroma.
Baby Potatoes: Slice them thinly to ensure quick cooking and a satisfying texture.
Corn: Use fresh or frozen corn kernels. They add sweetness and succulent texture to the chowder.
Salt and Pepper: Season the chowder to taste.
Water and Veggie Bouillon (or Veggie/Chicken Stock): The liquid base of the soup. Veggie bouillon or stock enhances the flavor of the chowder.
Coconut Milk: Creates a creamy and rich broth. Make sure to use unsweetened coconut milk.
Turmeric: Adds a beautiful golden color to the chowder without altering the taste.
You can customize this recipe by adding other ingredients like diced carrots, red bell pepper, or protein, to make it even more hearty and nutritious.
How to Make Corn Chowder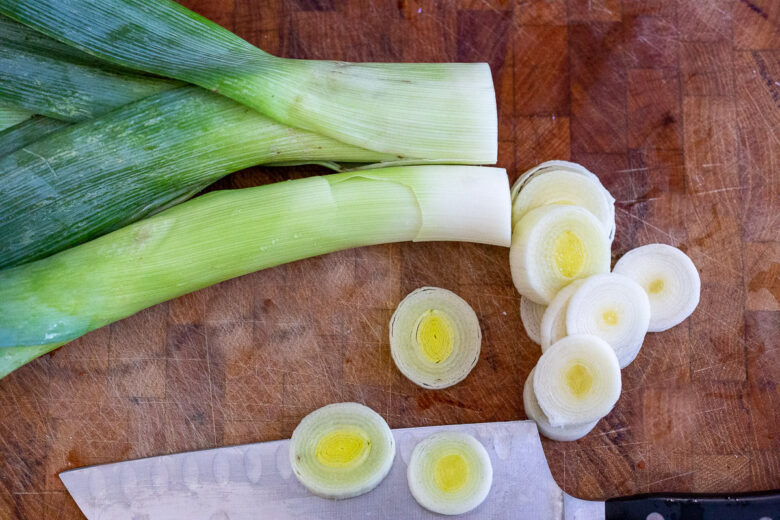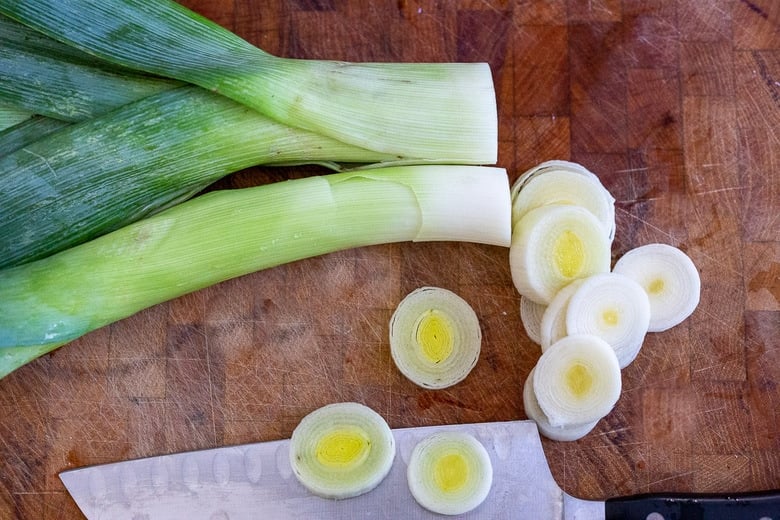 Step One– It starts with the leeks. Slice them thinly and soak in a bowl of water to remove dirt and sediment. The water will also help steam them a bit, so don't skip this step.
Remember to keep the leek tops if you plan to make the leek oil.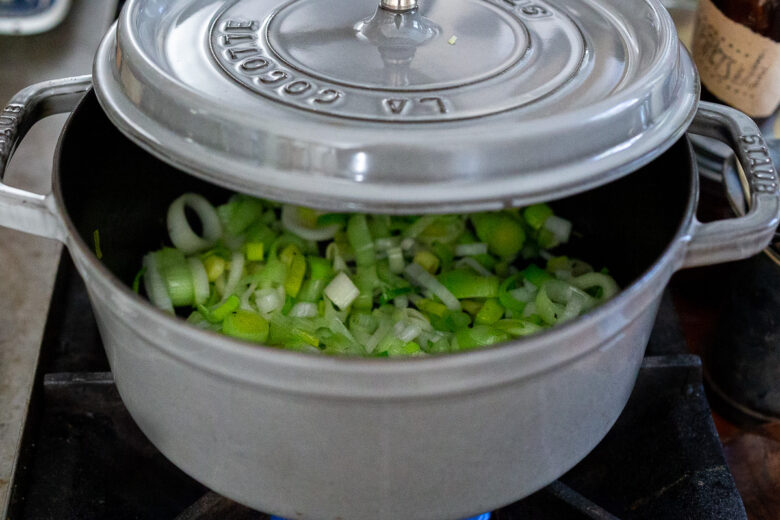 Step Two– Strain the leeks and saute them in a large pot or dutch oven over medium heat. Cover the pan for a few minutes to let them soften. Once tender add the celery, garlic and thyme.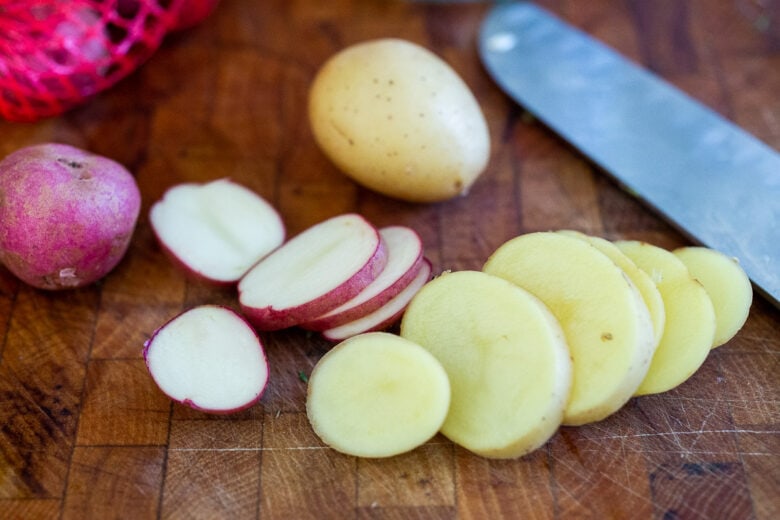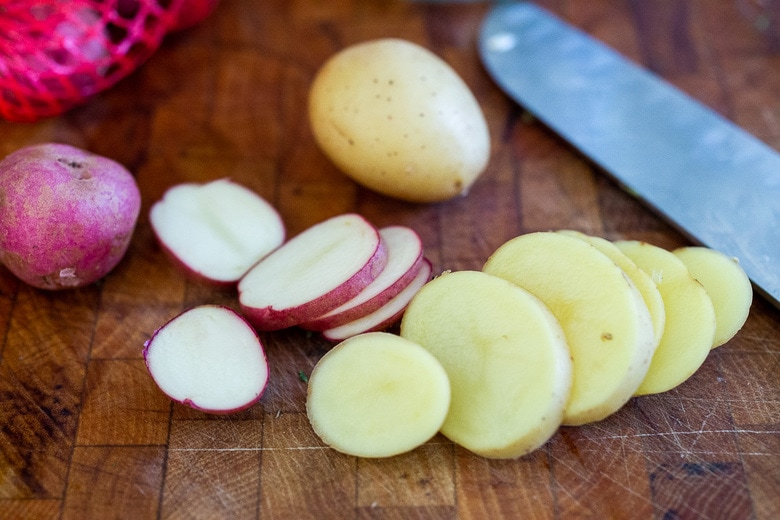 Step Three– Thinly slice baby potatoes. Slicing them thinly is what helps this soup to made in under 30 minutes.
Add the potatoes and corn to the pot and season with salt and pepper.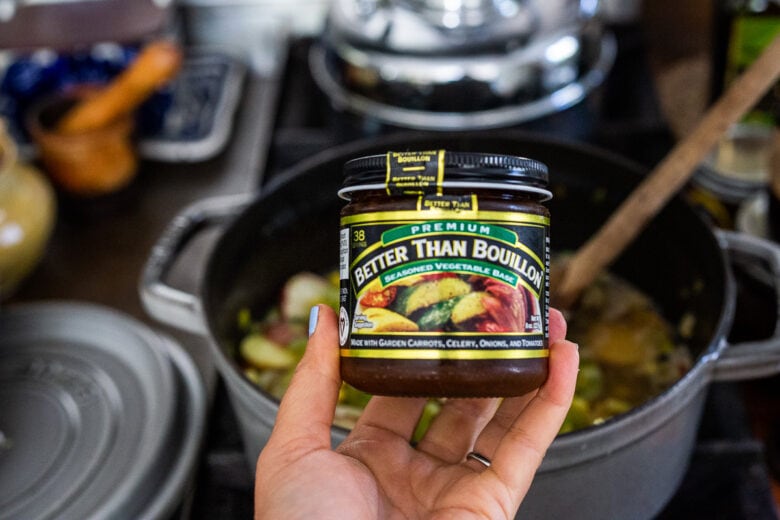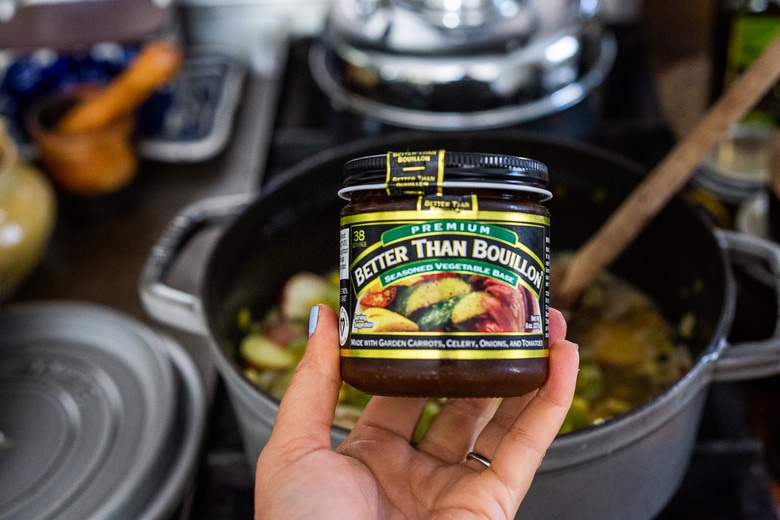 Step Four– Add water and veggie bouillon. I really like this Better than Bouillon brand in soups, it really seems to add the BEST depth and flavor. You can also use Vegetable Broth or chicken stock.
Bring to a simmer, and cover until the potatoes get tender, about 8-10 minutes.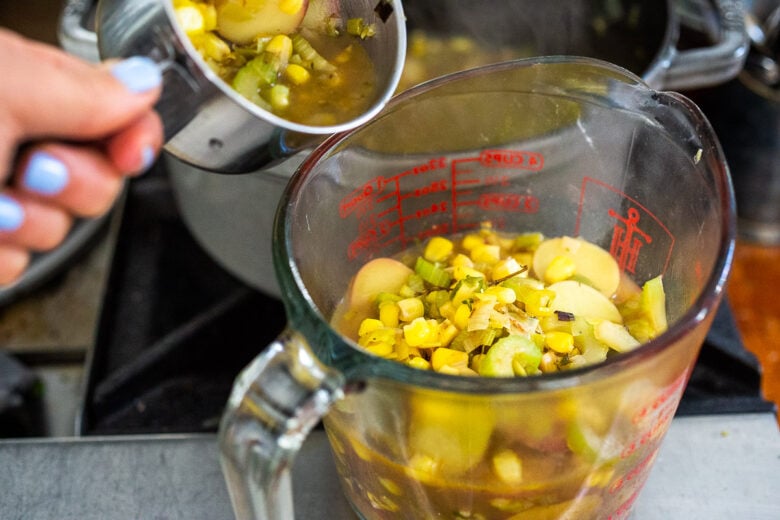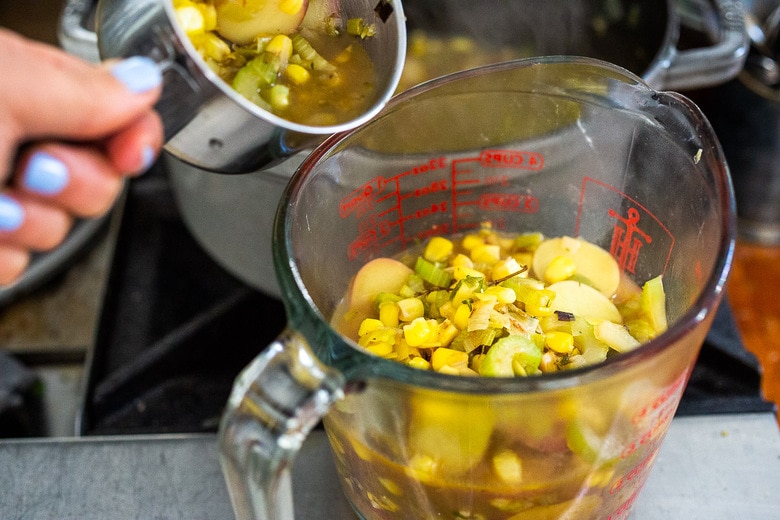 Step Five– Once the potatoes are tender, remove four cups of the veggies from the soup and set aside. Add the coconut milk to the remaining soup. Using an immersion blender, puree until it is a creamy texture.
Basically, you are blending half the soup to thicken it instead of adding flour. You can also use a blender.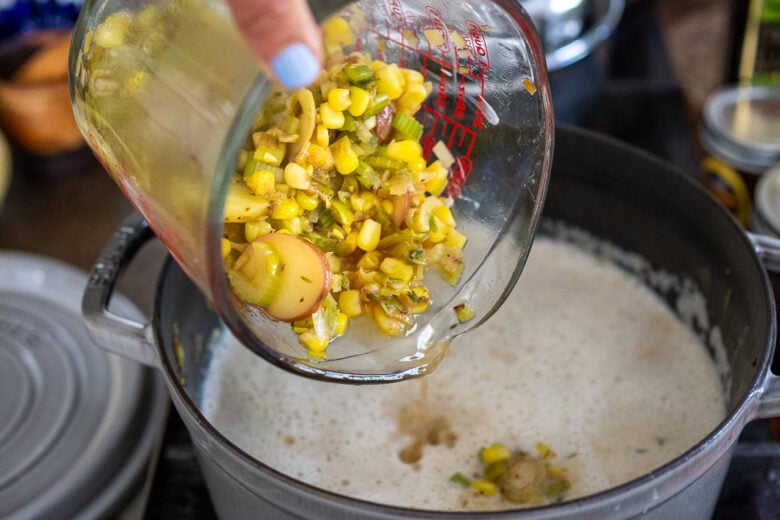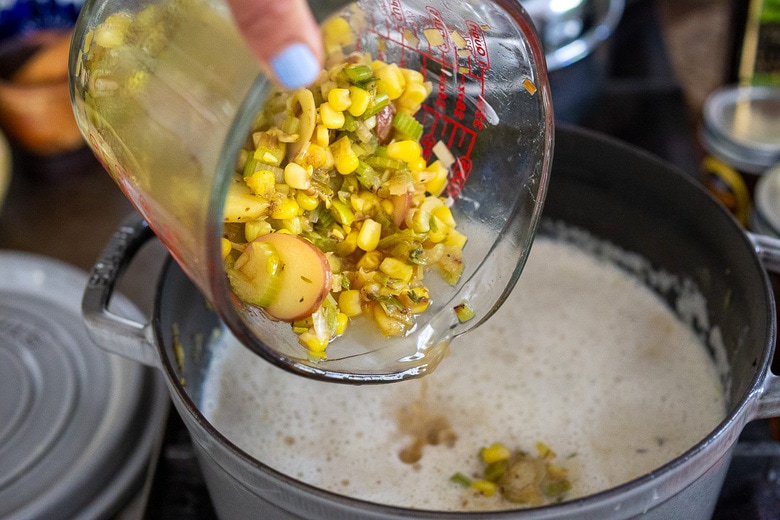 Step Six– Pour back the veggies into the pot. To give a beautiful golden color, add a little turmeric. It makes the soup "happy" in appearance and you really can't taste it.
Serve with croutons or crusty bread.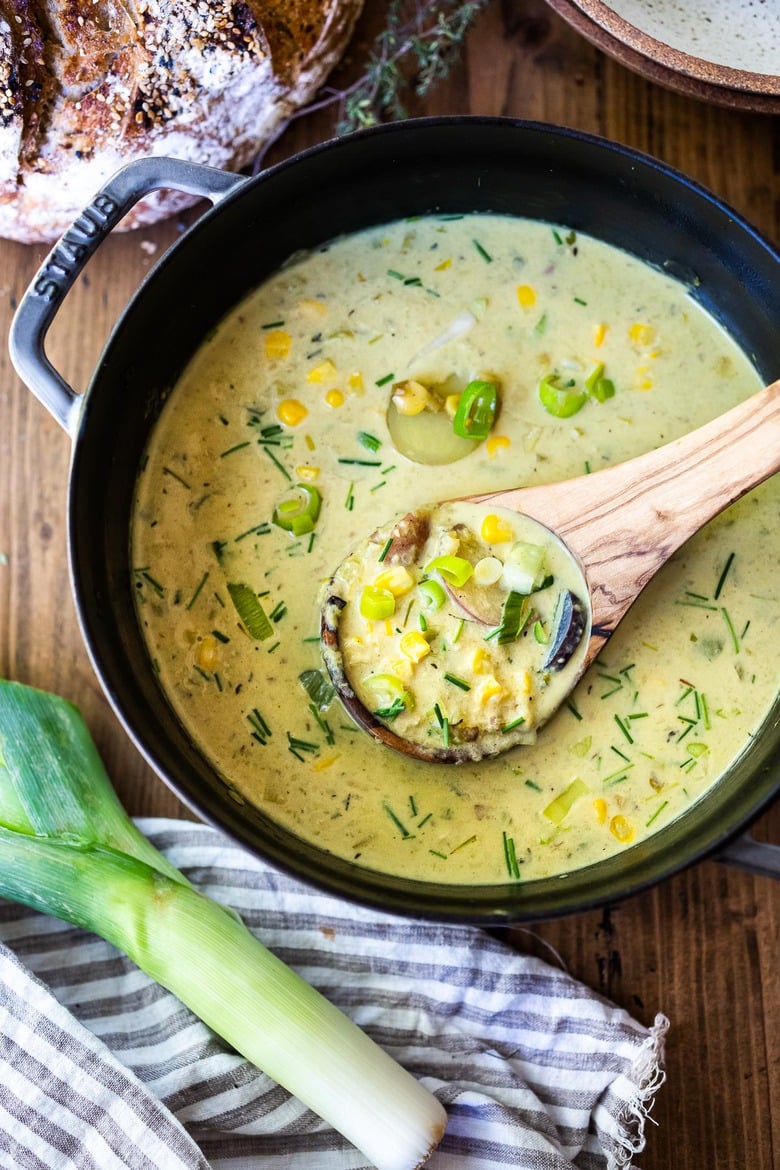 CORN CHOWDER FAQS
Can I make this corn chowder ahead of time?
Yes, you can make the corn chowder ahead of time. Let it cool completely, then store it in an airtight container in the refrigerator for up to 3 days. Reheat on the stovetop over low heat, stirring occasionally, until heated through.
Can I freeze the corn chowder?
Yes, you can freeze the corn chowder. Allow it to cool completely, then transfer it to freezer-safe containers or bags. Leave some headspace for expansion. It can be stored in the freezer for up to 3 months. Thaw it overnight in the refrigerator before reheating.
Can I use regular milk instead of coconut milk?
Yes, you can use regular milk instead of coconut milk if you prefer. Keep in mind that using regular milk will change the flavor and creaminess of the chowder.
Can I add meat or seafood to the corn chowder?
Yes, you can add meat or seafood to the corn chowder if you'd like. Diced cooked chicken, bacon, or smoked sausage can be delicious additions. If adding seafood, such as shrimp, scallops, or crab, cook them separately and stir them into the chowder just before serving.
Can I make this corn chowder gluten-free?
Yes, this corn chowder is already gluten-free. Just make sure to use gluten-free vegetable bouillon or stock.
How can I make the chowder spicier?
If you prefer a spicier chowder, you can in a chopped jalapeno or add a pinch of cayenne pepper or red pepper flakes to the soup. Adjust the amount according to your taste preferences.
Is corn chowder vegan?
This corn chowder is dairy-free. Just make sure to use unsweetened coconut milk or another dairy-free milk alternative.
What To Serve With Corn Chowder
Optional leek Oil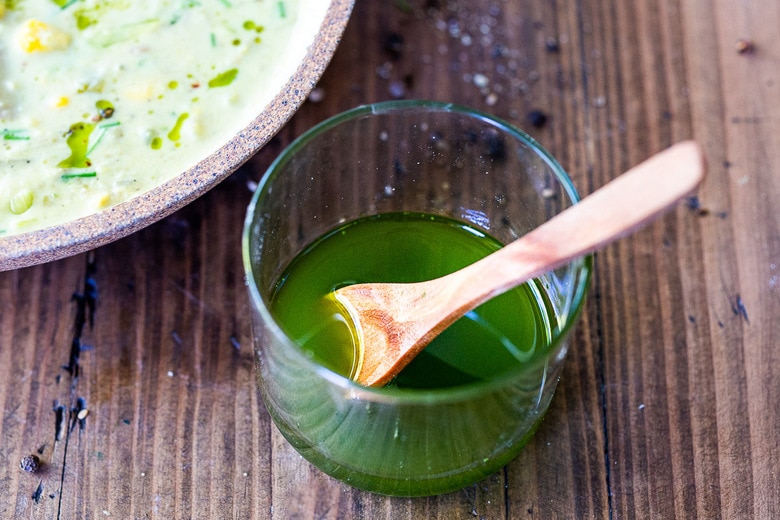 Make the Leek Oil and drizzle it over top for flavor and color! Such a great way to use up those green leek tops!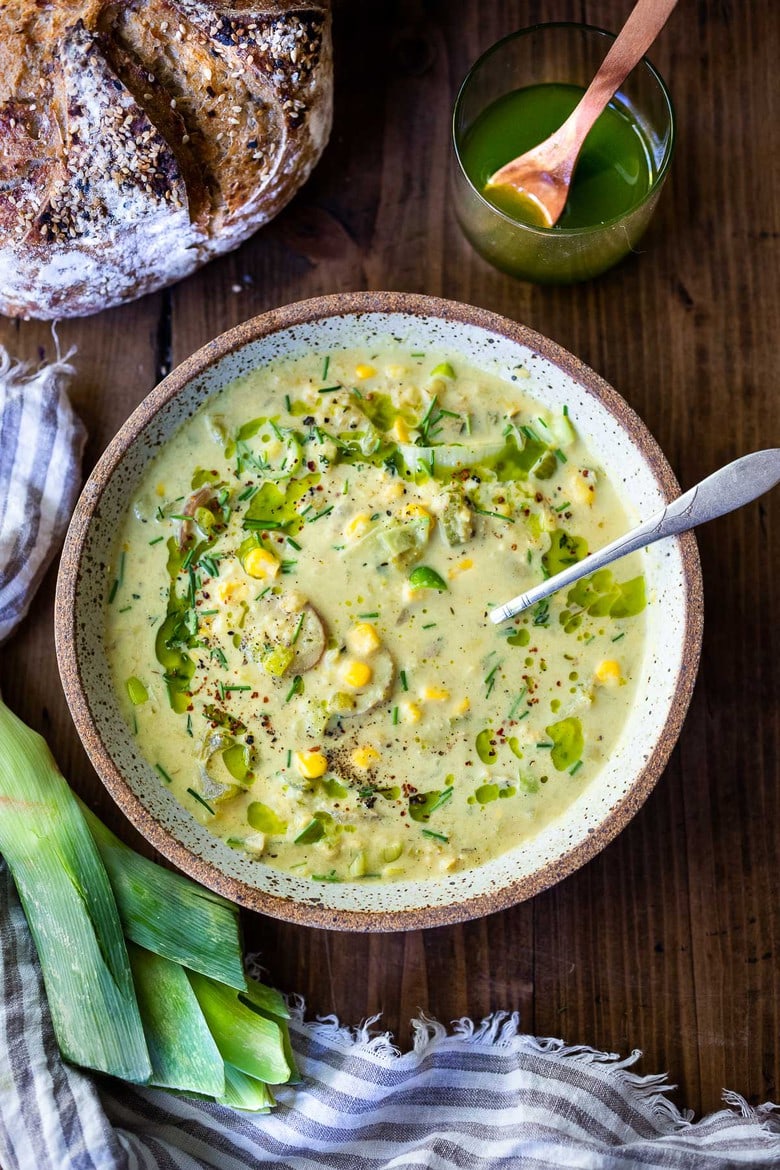 Give this Corn Chowder a whirl this week and let us know what you think in the comments below.
xoxo
More Recipes You May Like
Print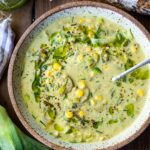 Corn Chowder Recipe
Prep Time:

10

Cook Time:

20

Total Time:

30 minutes

Yield:

8 cups

1

x

Category:

vegan soup, soup recipes

Method:

stovetop

Cuisine:

American

Diet:

Vegan
---
Description
This Corn Chowder recipe is simple and comforting and can be made in under 30 minutes. Vegan and Gluten-free! Elevate this by making the Leek Oil using the green tops.
---
1

–

2

tablespoon olive oil (or ghee or butter)

2

large leeks, thinly sliced into rings

2

cups

celery, diced

4

garlic cloves, rough chopped

3

cups

corn (3 ears fresh cobs, or frozen)

3

cups

diced baby potatoes, thinly sliced into 1/4 inch thick rounds (about 12 -13 ounces)

3

cups

water (see notes)

2 teaspoons

Veggie Bouillion – I like Better than Bouillion (0r

2

–

3

veggie bouillon cubes)

1 teaspoon

salt

1/2 teaspoon

pepper (or sub

1/4 teaspoon

ground white pepper)

2

bay leaves

1 tablespoon

fresh thyme (

1 1/2 teaspoon

dried)

14

–

ounces

full-fat coconut milk (not lite)

1/2 teaspoon

Apple Cider vinegar or lemon juice

1/4

–

1/2

teaspoon ground turmeric (to give it a lovely golden color)
pinch cayenne (optional)
4

cups

boiling salted water

1

cup

leeks tops, packed, sliced

1/2

cup

parsley or chives, packed, rough chopped

1

cup

light olive oil (or mildly flavored, not bitter, oil)
pinch salt
---
Instructions
Slice leeks and soak in a bowl of water, separate rings, rinse and drain to remove all sediment. (The water will also add moisture to the leeks.) Save leek tops for the Leek Oil if you like.
In a heavy-bottomed pot or dutch oven, heat oil over medium-high heat. Add leeks, saute 3 minutes stirring until then just begin to get tender, and lower to medium. Cover for 3-4 minutes and let them get more tender. Add celery and garlic and lower heat to medium-low and saute until leeks are meltingly tender about 5-6 minutes.
Add corn, potatoes, water, bouillon paste, salt, pepper, bay leaves, thyme, and bring to a simmer. Give a few stirs to incorporate the bouillion. Cover, turn heat to medium-low, and let simmer until potatoes are tender, 8-10 minutes.
Remove 4 cups of the veggies from the soup (set aside) add coconut milk to the pot and blend the remaining soup in the pot using an immersion blender. This will thicken the soup without having to add flour. (Alternatively, you could just blend half of the soup in a blender.) Pour the veggies back into the pot.
Taste and season with salt and pepper if needed.
Add the vinegar to taste, to give a hint of brightness. Add a pinch of cayenne if you want a little kick.
Whisk in a little ground turmeric to give it a golden happy color. Start with 1/4 teaspoon. It won't add much flavor here- just adds golden pretty color.
Serve with Crusty Bread, or top with croutons and garnish with scallions, chives, or chive oil.
Bring 4 cups of water with 1 teaspoon salt to a boil in a medium pot. Once boiling add the leek top and simmer for 60 seconds. Add the parsley or chives to the leeks and blanch 15 more seconds. Pour over a strainer and set this in an ice bath for 5 minutes. Blot the leeks and herbs dry with paper towels. Place in a blender with 1 cup oil, making sure your oil is not bitter or overly flavored. A lighter-style olive oil works best here. Blend until smooth, scraping down the sides. You could strain this now, or for even more flavor, let this sit overnight before straining. Strain, season with a pinch of salt, and store in a sealed jar or bottle in the fridge. This can also be frozen.
Equipment
---
Notes
Feel free to use veggie or chicken stock instead of the water and bouillon – but I do really recommend this Veggie Boullion- it has the BEST flavor.
Feel free to add shrimp or pieces of salmon to the soup, after its blended, letting it simmer just briefly to cook through.
Nutrition
Serving Size:

1 ⅓ cup

Calories:

278

Sugar:

7.2 g

Sodium:

465.2 mg

Fat:

15.7 g

Saturated Fat:

11.3 g

Carbohydrates:

33.8 g

Fiber:

4.6 g

Protein:

5.8 g

Cholesterol:

0.1 mg
Keywords: corn and leek chowder, vegan chowder, corn chowder, vegan corn chowder, leek and potato chowder, coconut corn chowder