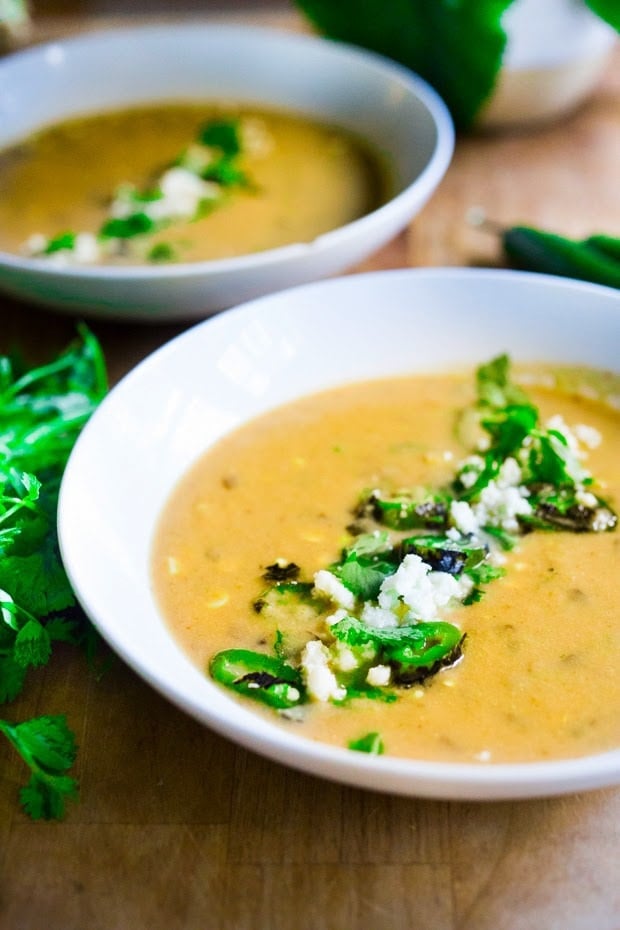 When you arise in the morning, think of what a privilege it is to be alive, to think, to enjoy, to love.
Marcus Aurelius
Happy morning to you …and hope you had a fabulous holiday weekend! We catered two weddings over the weekend both up at Bozarth Mansion. It feels a little Downton Abbey-ish with its grand house and servants quarters, sprawling grounds, courtyards and endless lawn. The lovely old white kitchen, equipped with a large farm table, is always a joy to cook in and one of my favorite places to be in the mansion. (You can see a picture of the kitchen on our
i

nstagram feed
). Anyways, we did get Labor day off, thankfully, and pretty much lounged around for most of it. I made this soup and we started watching Orange is the New Black, and just like everyone said would happen, we're hooked.
This Sweet Corn Soup starts with four ears of corn, cut right off the cob. In general, when working with fresh corn recipes, one ear of corn usually equals one cup of cut corn. The base of this soup is flavored with onion and garlic and fresh thyme ( or sage) and chicken stock. To give the soup body add a cup of cooked diced potato, rather that cream, keeping it leaner. A jalapeno is "charred" right on the stove top to add a smokey heat. Part of the soup is blended to give it a creamy velvety consistency and then the soup is topped with a little queso fresco cheese, cilantro leaves and bits of charred jalapeno for extra heat. The sweetness from the corn and caramelized onion, with the smokey heat of the charred jalapeño pair well together.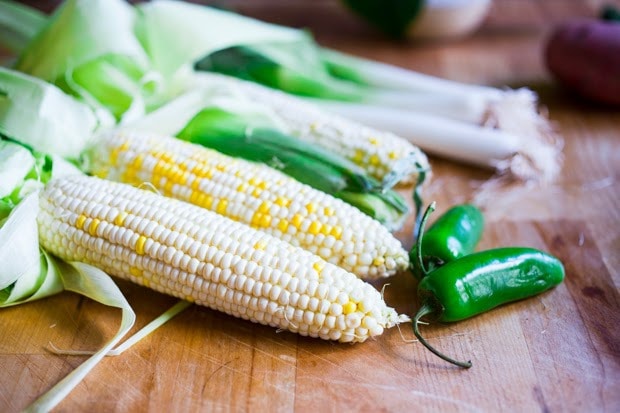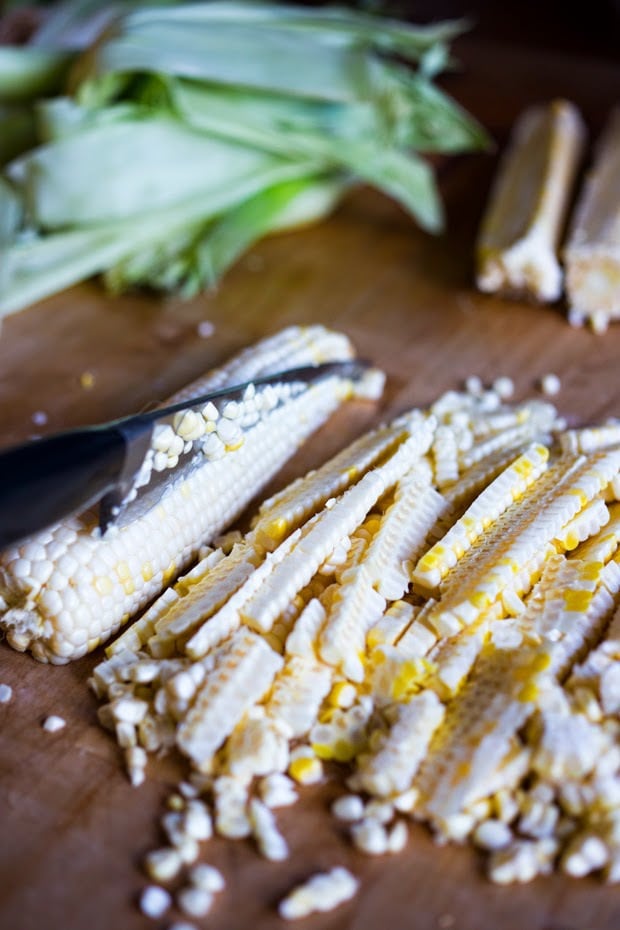 When cutting corn off the cob, the tendency is to stand it on its end, but this creates a mess, with corn flying everywhere. Try laying the corn down on the
cutting board
, and cut downward as close to the cob as possible. The kernels will not shoot across the room this way.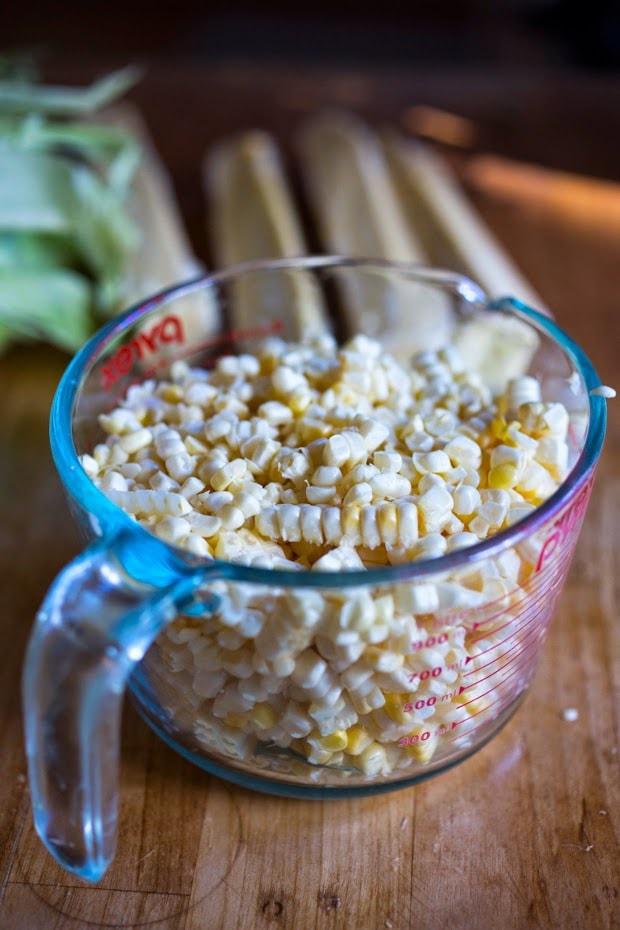 When measuring corn, make sure to pack it down.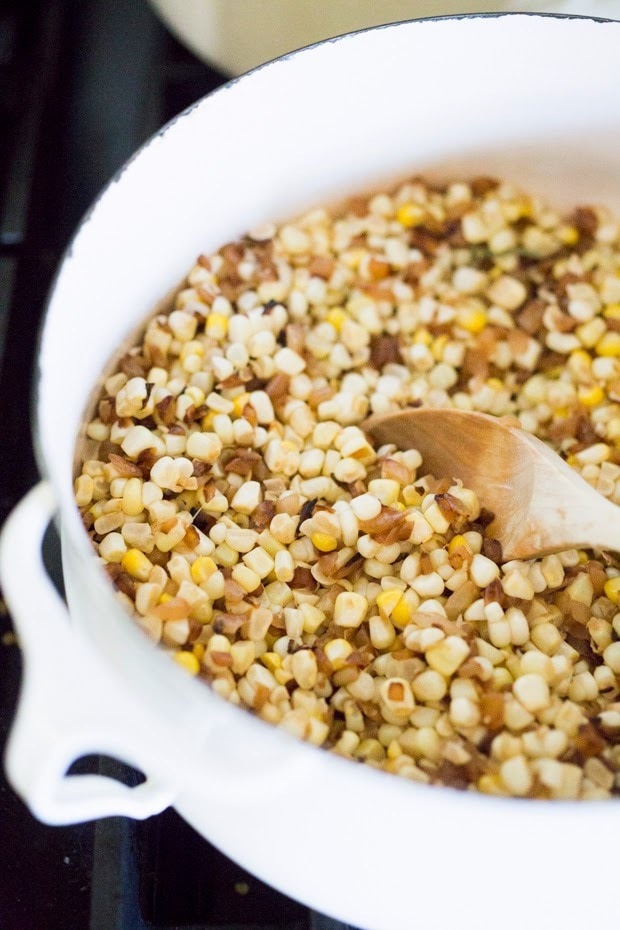 In a heavy bottom pot or dutch oven, caramelize the onion slowly over low heat to allow the sugars to develop. Then add the garlic, corn and herbs, sauteing for 7 minutes.
At the same time, char a jalapeno pepper over medium flame, turning frequently using tongs. If you don't have a gas burner, use a grill, a cast iron skillet over the stove, or the broil setting in your oven. You want the pepper to blacken and blister. Place in foil for 5-10 minutes, to soften.
If you roast the pepper in the oven, it may loose its lovely green color without actually charring it.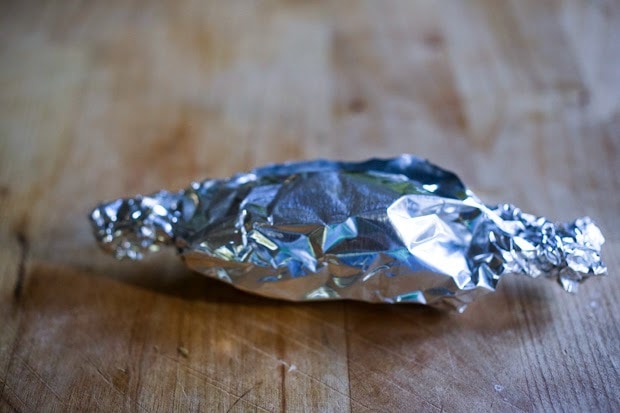 Blanch a cup of diced potatoes…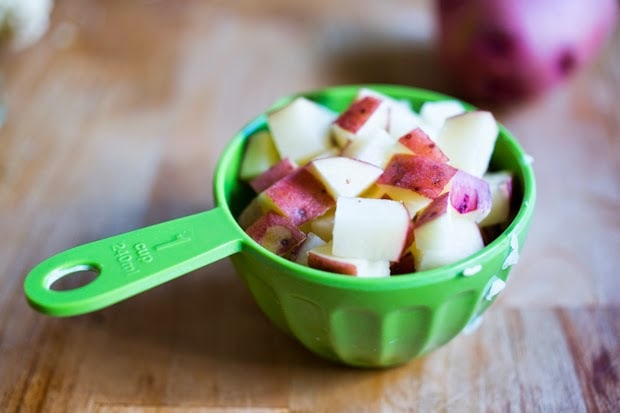 Strain.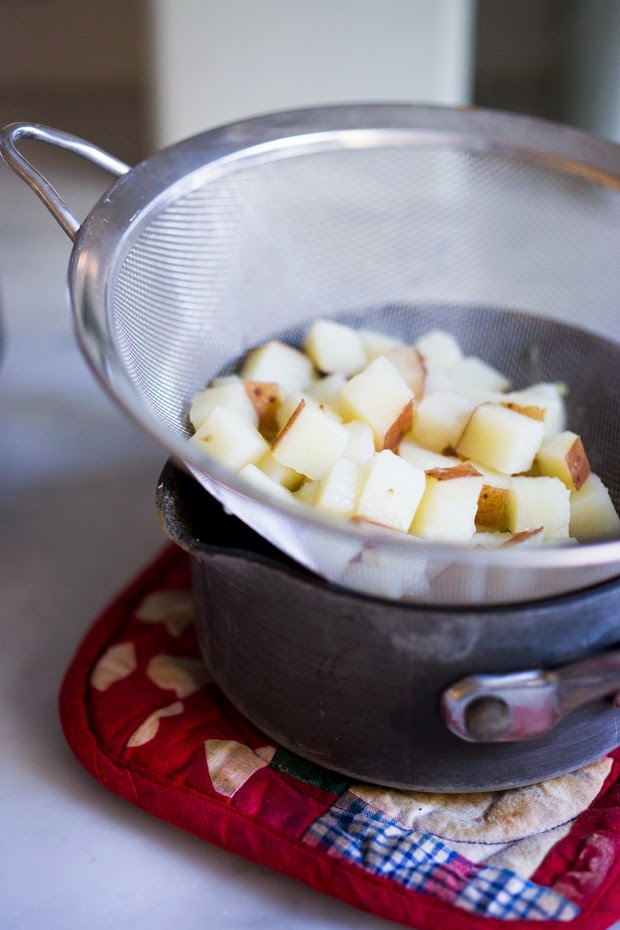 Place the potatoes, along with 3 cups of the corn-onion mixture in a
blender
. Add 2 Cups chicken stock, and half the jalapeño. Add the other two cups of stock to the soup pot.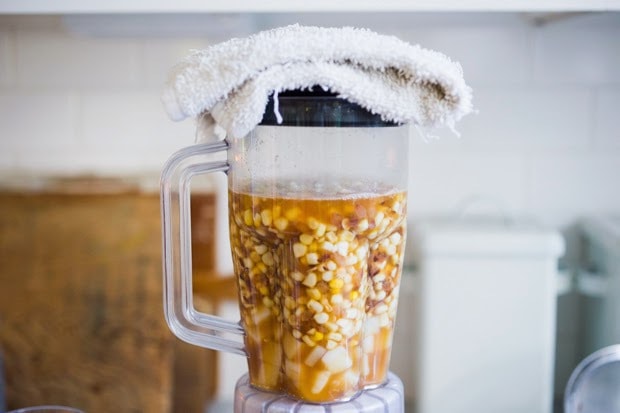 To prevent a
blender
"explosion" …cover the
blender
tightly with the lid,
and a towel
, and while holding the lid down firmly, start the
blender
on its lowest setting, gradually increasing the speed. Blend for a full minute.
Pour it back into the pot, season and bring to a simmer.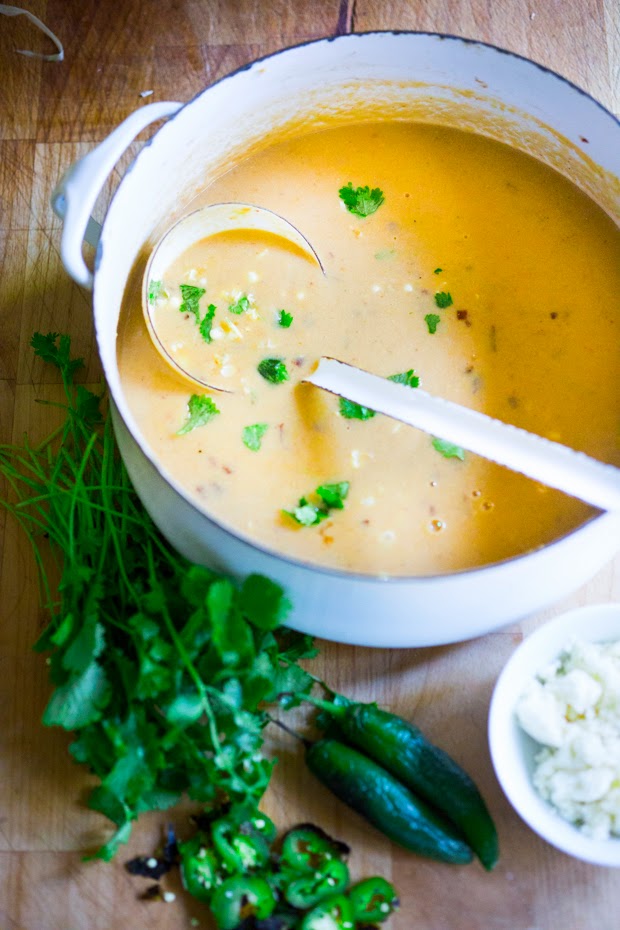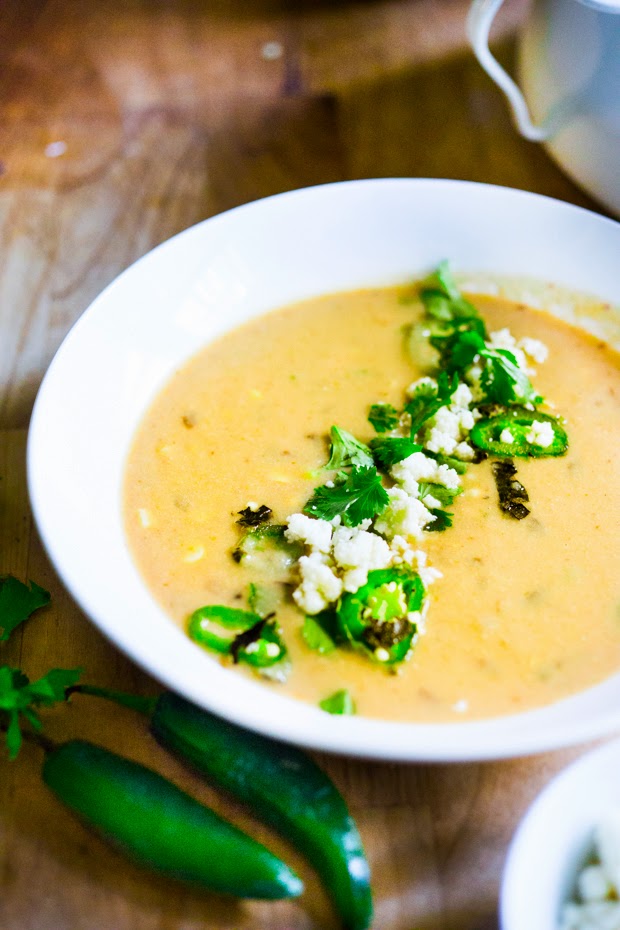 Serve with fresh cilantro, finely chopped jalapeno ( go light) and a little queso fresco cheese.
Warning:
For the photos I left the jalapeno in bigger slices…so people could tell what they were, but these are way TOO big and too spicy to eat. Cut them in a very fine dice, and use sparingly.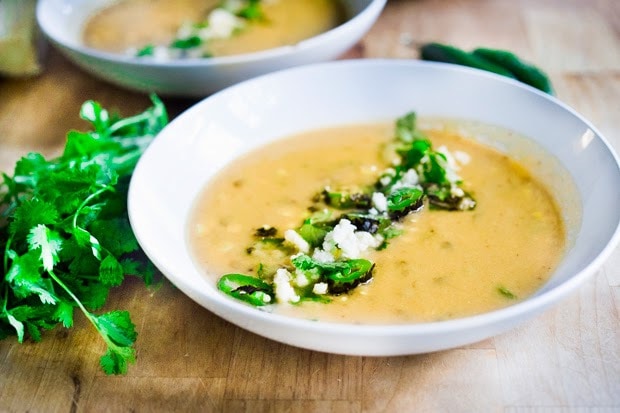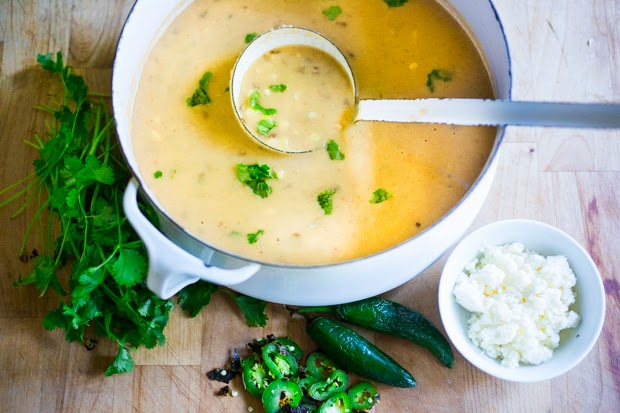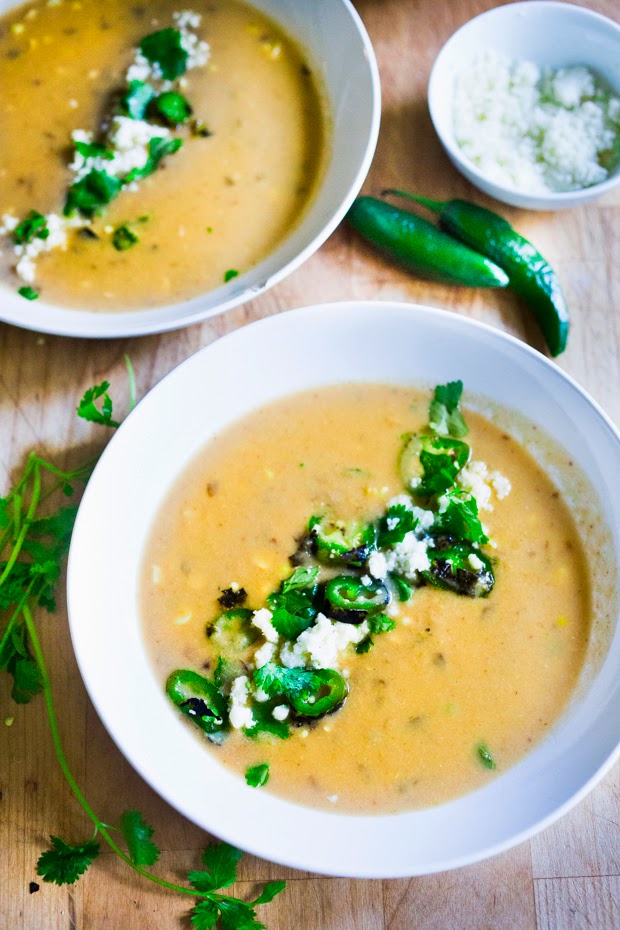 I hope you like it!

print recipe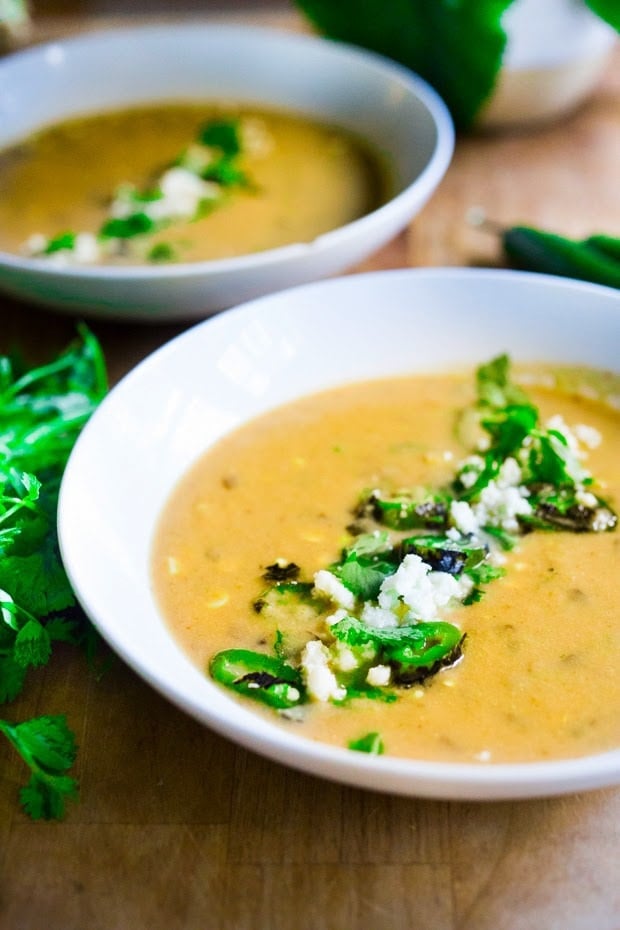 Sweet Corn Soup with Charred Jalapeño and Queso Fresco
by Sylvia Fountaine- feasting at home.com September-1-2014
Ingredients
1 C diced potato ( ¼ inch cubes)-blanched
4 Cups fresh corn ( 4-5 ears)
2 T butter or
olive oil
2 C diced sweet onion (1 large onion)
2 cloves garlic
1 jalapeño
1 T fresh thyme or sage
4 C Chicken stock ( or
veggie stock
)
½ tsp
coriander
½ tsp
cumin
salt
and pepper to taste
¼ C fresh cilantro
½ C crumbled queso fresco cheese ( or mexican sour cream)
Instructions
Dice potato into small ¼ inch cubes, place in a small pot of water, bring to a boil and simmer on med low for 15- 20 minutes or until tender.
Melt butter in a heavy bottom pot or dutch oven, over med-high heat, add diced onion, and stir for 2-3 minutes, turn heat down to low and let onions caramelize slowly, while stirring occasionally. Shuck the corn, wipe off the fine threads and cut kernels off by placing the corn on their side on the cutting board. Using a sharp knife, cut downward. Rotate corn, and cut all the kernels off. You want 4 cups packed of corn kernels.
Add corn, garlic and thyme to the onions, turn heat up to medium low, and stir occasionally for 10 minutes.
Char the jalapeno on an open flame, directly on your gas burner, or on a grill or in a hot cast iron skillet. You want the jalapeno to char, blister and blacken. Once blackened, wrap it in foil and let it steam for 5 minutes. Cut it in half, keeping as much char on as possible. Finely dice ½ of the pepper ( for garnish), leave the other half whole. Set aside for blender.
Once the potatoes are done, strain and place in a blender. Add 3 Cups of the corn-onion mixture, 2 cups chicken broth and half the jalapeno. REMEMBER- if placing hot liquid in the blender, cover tightly with the lid and a towel and while holding the lid on firmly, blend on the lowest setting ( to avoid a blender explosion) and gradually increase the speed to medium high, blending until very smooth, about a full minute.
Pour back into the pot. Add the remaining 2 cups of stock, spices, stir, and taste for salt. I added ¼ tsp kosher salt, but remember every chicken stock is different. You may need more or less. Bring to a simmer. Serve in bowls with fresh cilantro leaves, crumbed queso fresco cheese and a little charred jalapeño ( they are spicy so use a light hand).
Details
Prep time: Cook time: Total time: Yield: 4