Wondering how to cook fava beans? These Simple Marinated Fava Beans (with olive oil, vinegar, garlic, lemon zest, and fresh herbs) are one of my favorite ways to prepare them! Vegan, versatile and delicious!  Use these on toast or bruschetta, in salads or on cheese boards or Mezze platters! Easy and delicious!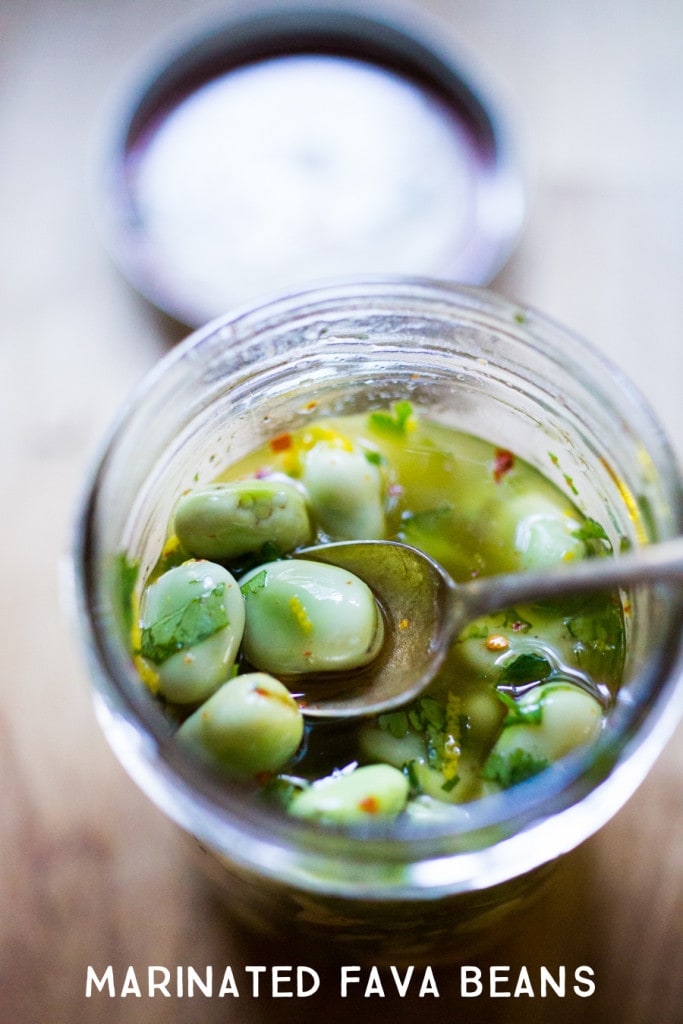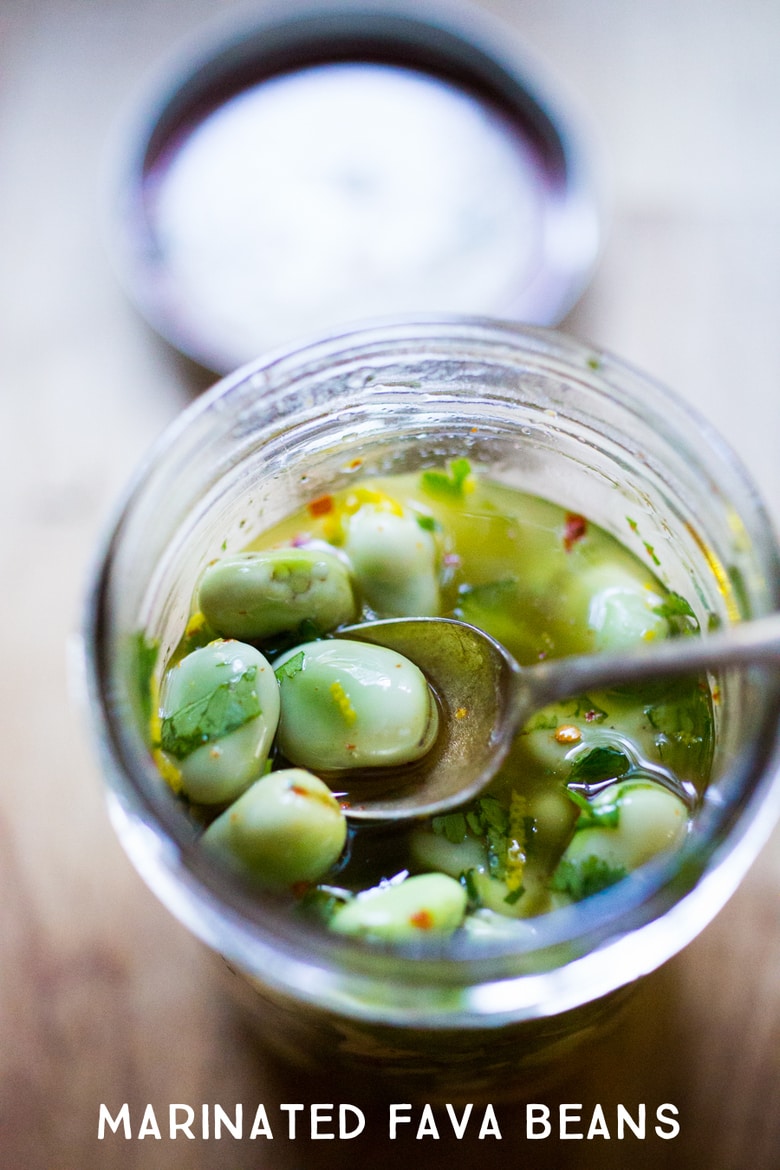 The privilege of a lifetime is being who you are. –Joseph Campbell
This simple recipe for marinated fava beans with
olive oil
, garlic, vinegar, lemon zest, and fresh herbs is delicious on toast, bruschetta or crostini, or tossed into salads and pastas, or added to cheese platters or mezze platters. Such an easy way to prepare one of our most favorite farmer's market ingredients!
This Tuscan-inspired recipe came about when we were packing up to leave for a little getaway to Whidbey Island. I was cleaning out the fridge and discovered these little guys hiding in a forgotten drawer, and I knew that the beautiful beans wouldn't make it until I got back. A conversation I had with the farmer I bought them from floated to the surface… and I recalled how he loved them marinated, like how they do it in Italy.
So as a way to preserve them, I quickly marinated them and packed them up to take with us on the trip.
What I love about this preserving method is that it works with any shelling bean. Blanch them first, then make sure they are completely submerged in the marinating liquid, and they will last in the fridge for weeks!
For other tasty recipes using fava beans, here a couple more!
Cacio E Pepe with Fava Beans  and  Halibut with Summer Succotash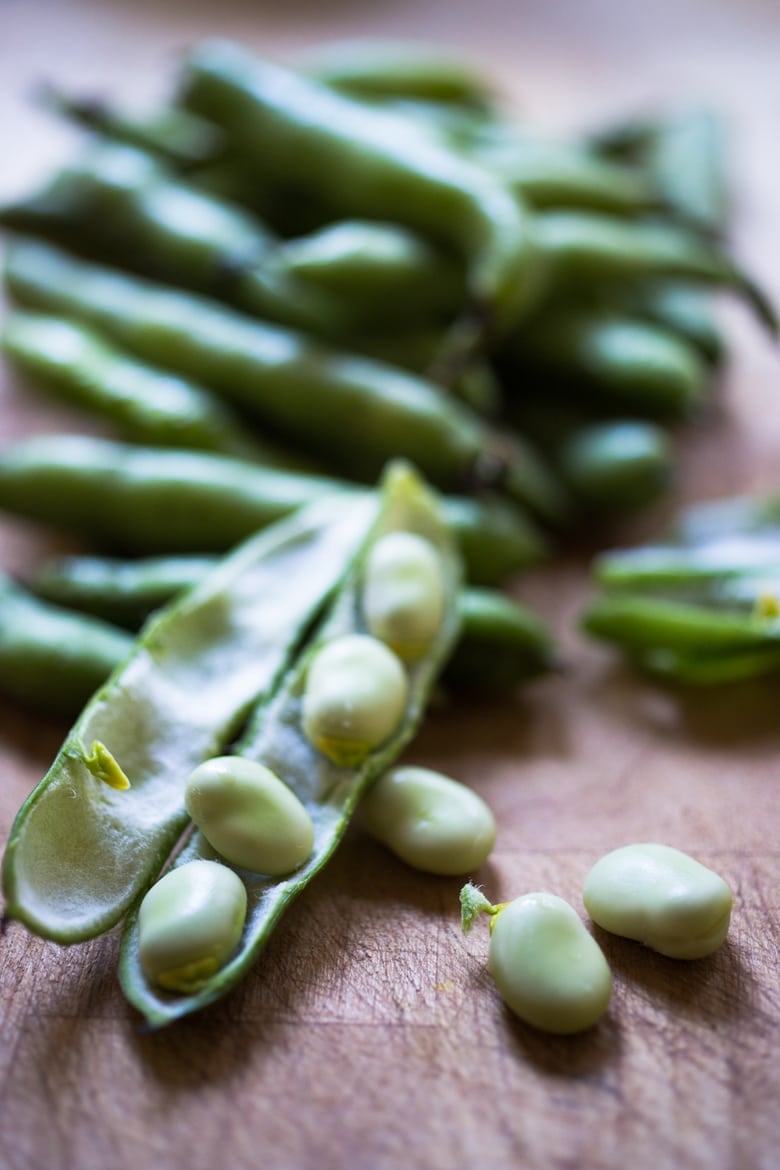 Remove the beans from the pods, then blanch in salted water for 3-4 minutes. Drain.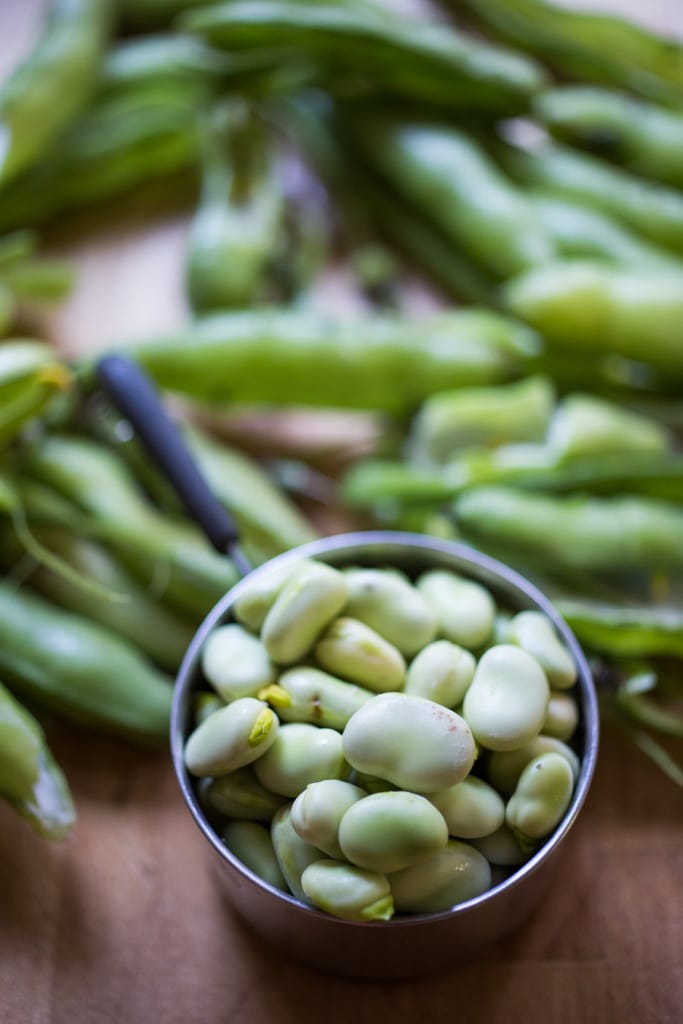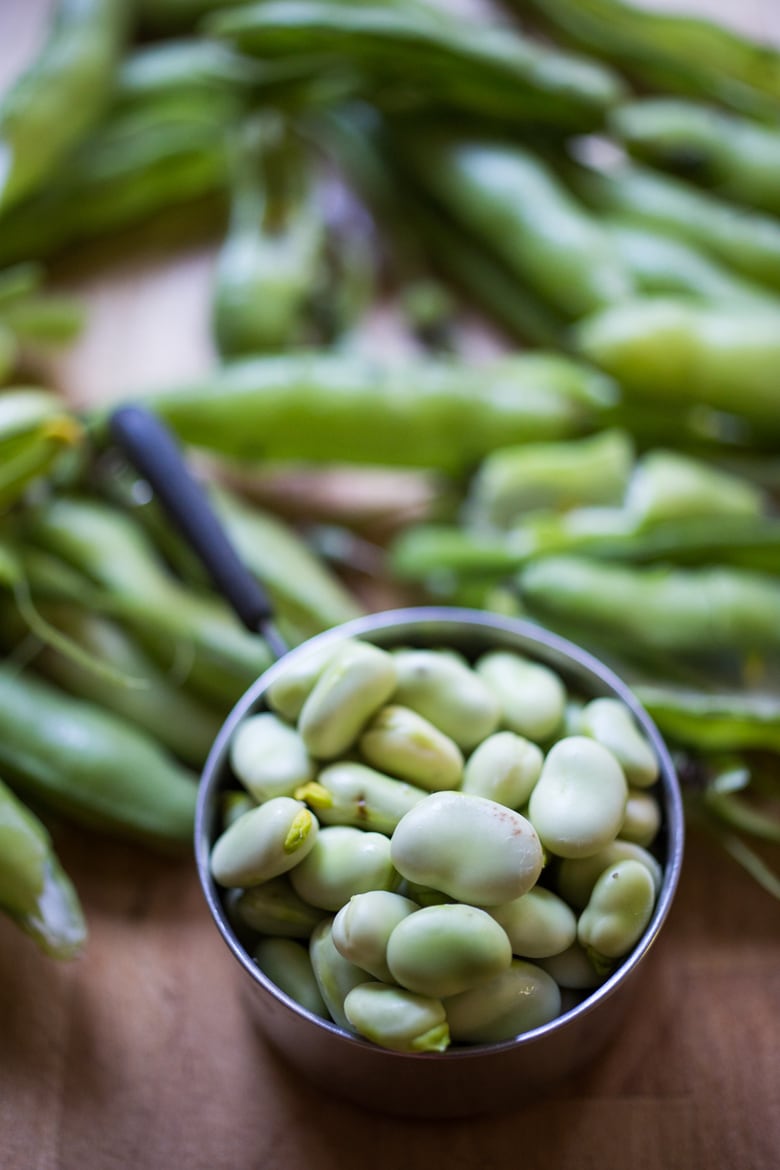 Fava beans have a second "skin" that many people like to remove. Personally,  they don't bother me – I grew up eating this outer skin you see above, so I leave them on. But the skins do have a slight bitterness, although somewhat masked by the marinade, so I don't mind it.
But feel free to do as you like, removing the second skin if you please.
Then make the marinade.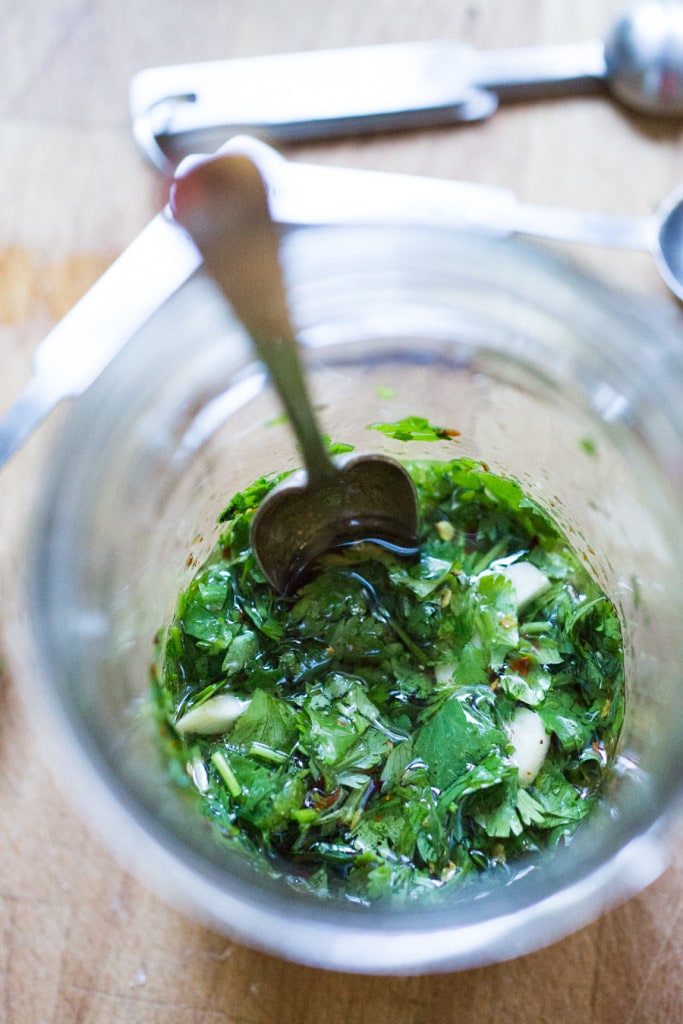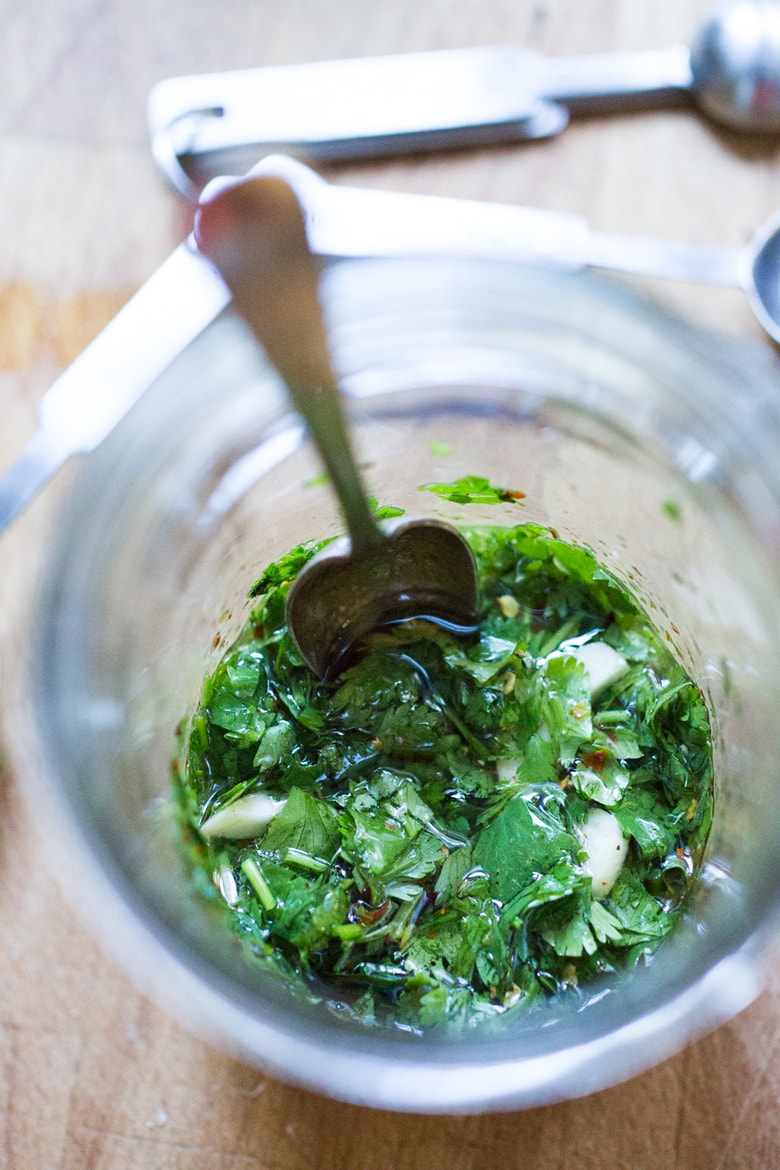 Use ¾ teaspoon salt per cup of shelled beans. Add equal parts of olive oil and vinegar of your choosing. I used red wine vinegar in this recipe and a mixture of parsley and cilantro, because it's what I had on hand in the garden.
Personalize it, play around with it and make it your own. Next time I'll try it with tarragon or dill.  The lemon zest adds a lovely brightness and I also added chili flakes to mine for a little heat. Whole spices are also a nice addition, like coriander seeds, mustard, cumin or caraway.
Serve these marinated fava beans over toast or crostini, or alongside hummus or tahini sauce, scooping them up with warm pita bread, or toss them into green salads, grain salads or pasta salads. Add to charcuterie or cheese boards, or simply serve as a condiment or side.
To preserve, make sure to refill the jar with olive oil and vinegar each time you dip into them, keeping the beans submerged.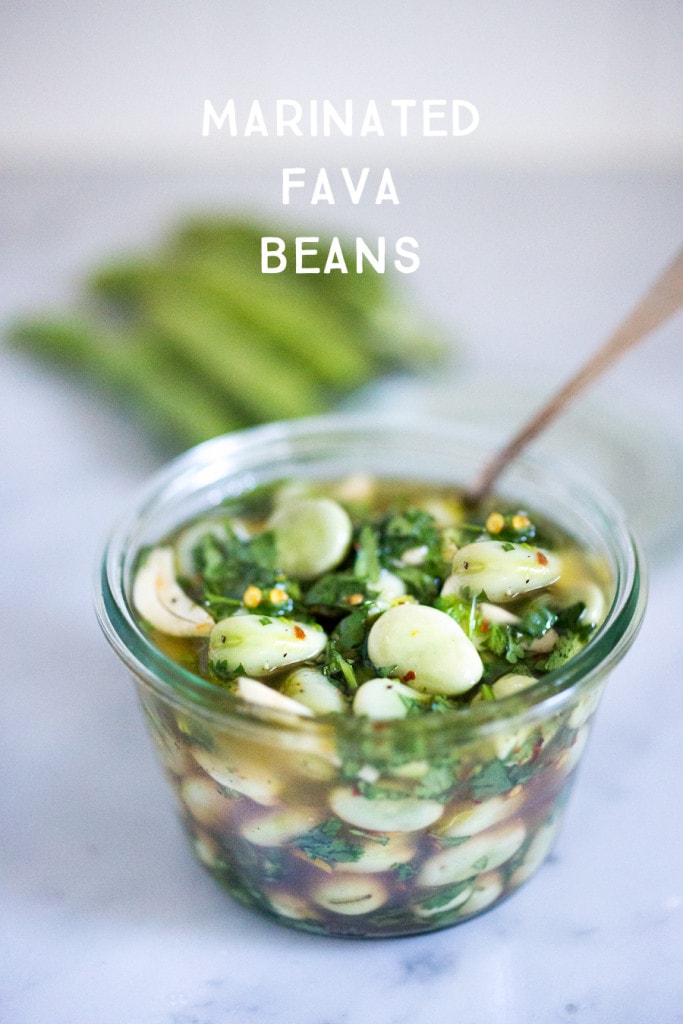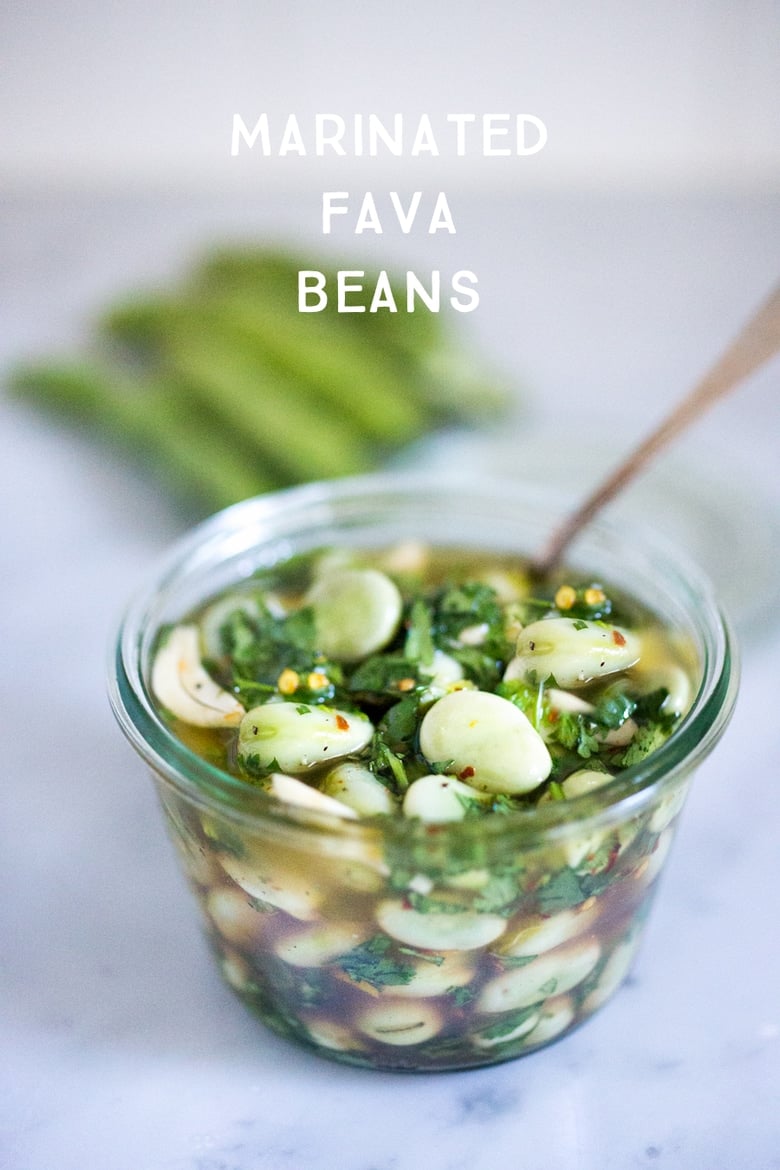 Enjoy!
xoxo
RELATED:   Farmers Market Recipes to celebrate summer! 
More recipes with Fava Beans
Print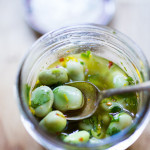 Simple Marinated Fava Beans
Prep Time:

30 mins

Cook Time:

5 mins

Total Time:

20 mins

Yield:

1 Cup

1

x

Category:

Appetizer, preserved

Method:

blanched

Cuisine:

Middle Eastern
---
Description
Simple Marinated Fava beans- with olive oil, vinegar, garlic, lemon zest and fresh herbs- a delicisous way to serve fava beans!  Serve over toast or crostini, or as part of a cheese or mezze platter alongside olive, hummus and baba ganoush. So tasty!
---
1

cup

shelled fava beans (1 1/2 pounds in pods)

4 tablespoons

red wine vinegar or white balsamic

4 tablespoons

olive oil

2

medium garlic cloves, finely minced (about

2 teaspoons

) or sub thinly sliced shallot

2

–

3

tablespoons fresh tender herbs- flat leaf parsley, dill, mint, tarragon, basil, cilantro or oregano
zest of

one

lemon

3/4 teaspoon

kosher salt ( per

1 cup

of beans)

1/4 teaspoon

ground black pepper
pinch chili flakes- optional
---
Instructions
Bring a pot of generously salted water to a boil. While the water heats, remove the fava beans from their long pods. Add the shelled fava beans to the boiling water and cook until bright green and tender, about 3 minutes. Drain and immediately rinse under ice cold water until cold. 
Decide if you would like to peel off the "second skin" ( see post above). If so do this now.
In a pint jar, combine the vinegar, olive oil, garlic, herbs, salt, and pepper. Place a lid on the jar and shake to combine the marinade. Place the fava beans into the jar, replace lid and shake to coat the fava beans. Refrigerate until ready to use.
To keep for longer, up to  2-3 weeks in the fridge, just make sure the oil and vinegar marinade completely covers the beans, adding equal parts oil and vinegar, a tablespoon at a time, pressing down on beans, until completely submerged.
---
Notes
Of course, you can double/triple recipe. Basic ratio is 3/4 teaspoon salt per cup of beans,  and use half olive oil, half vinegar to cover beans. Always refrigerate. Keeping garlic in olive oil without refrigeration can create harmful bacteria.
If your olive oil hardens in the fridge, pull out jar 15-20 minutes before using ( it will liquify) and then just give a good shake.
---
Keywords: fava bean recipe, vegan fava bean recipes, fresh fava beans, how to cook Fava beans, Sicilian fava bean recipe, fava bean dip, fava bean appetizer, fava bean bruschetta